In 1997, Porsche introduced the 993 Turbo S, a limited-production model that served as a magnificent farewell to the era of air-cooled 911 Turbos. These Turbo S variants were lavishly equipped, featuring many of the Turbo's premium options as standard. These included the iconic Aerokit II front and rear spoilers, distinctive side air ducts, front air inlets, and attention-grabbing yellow brake calipers.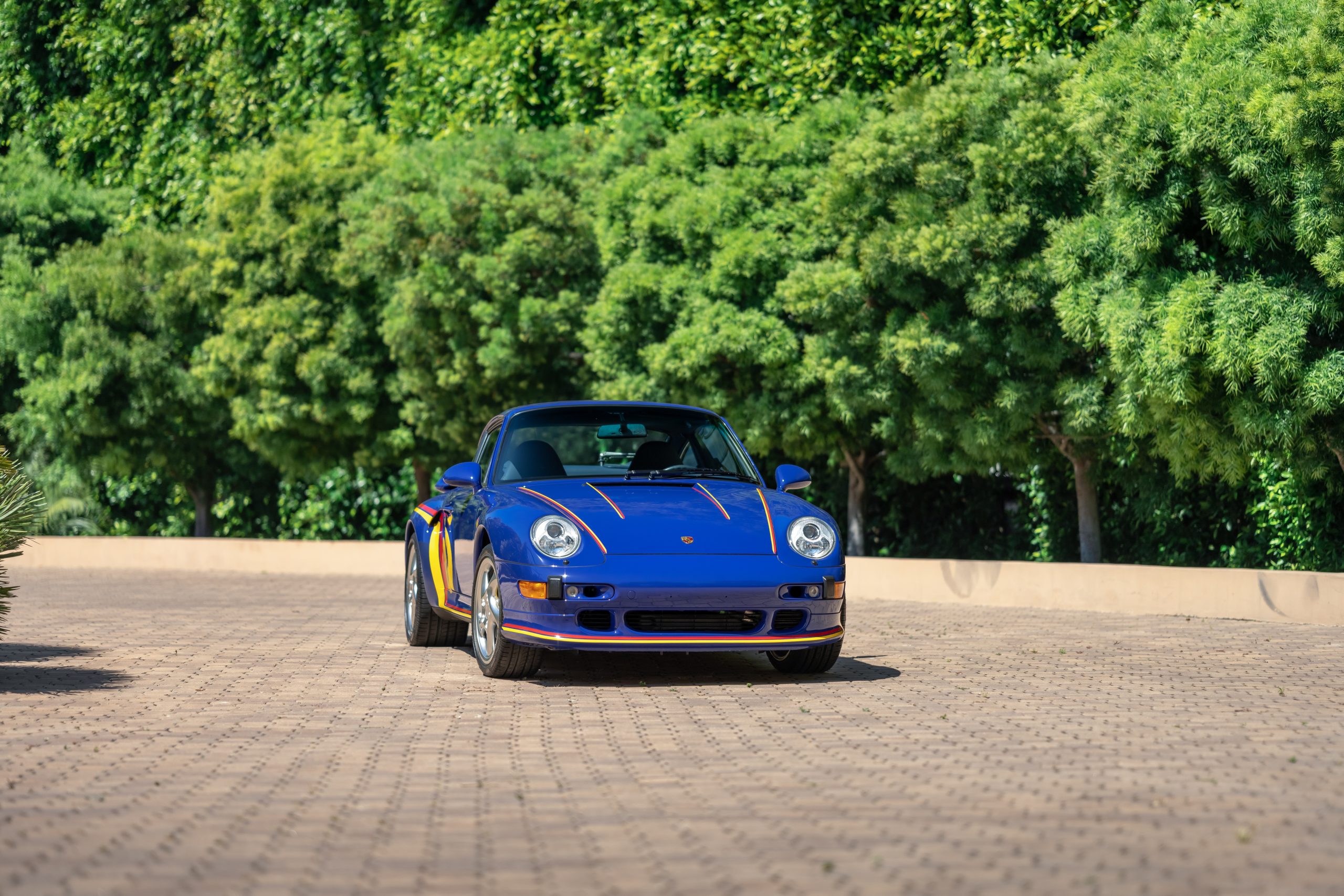 In terms of power, the Turbo S outperformed the standard 911 Turbo. US models delivered an impressive 424 horsepower, while non-US models surged ahead with 450 horsepower. This increased power translated to a brisk 0 to 60 mph acceleration in just 3.7 seconds, with a remarkable top speed of 184 mph. A total of 345 units of the 993 Turbo S were manufactured, with 176 making their way to the US market.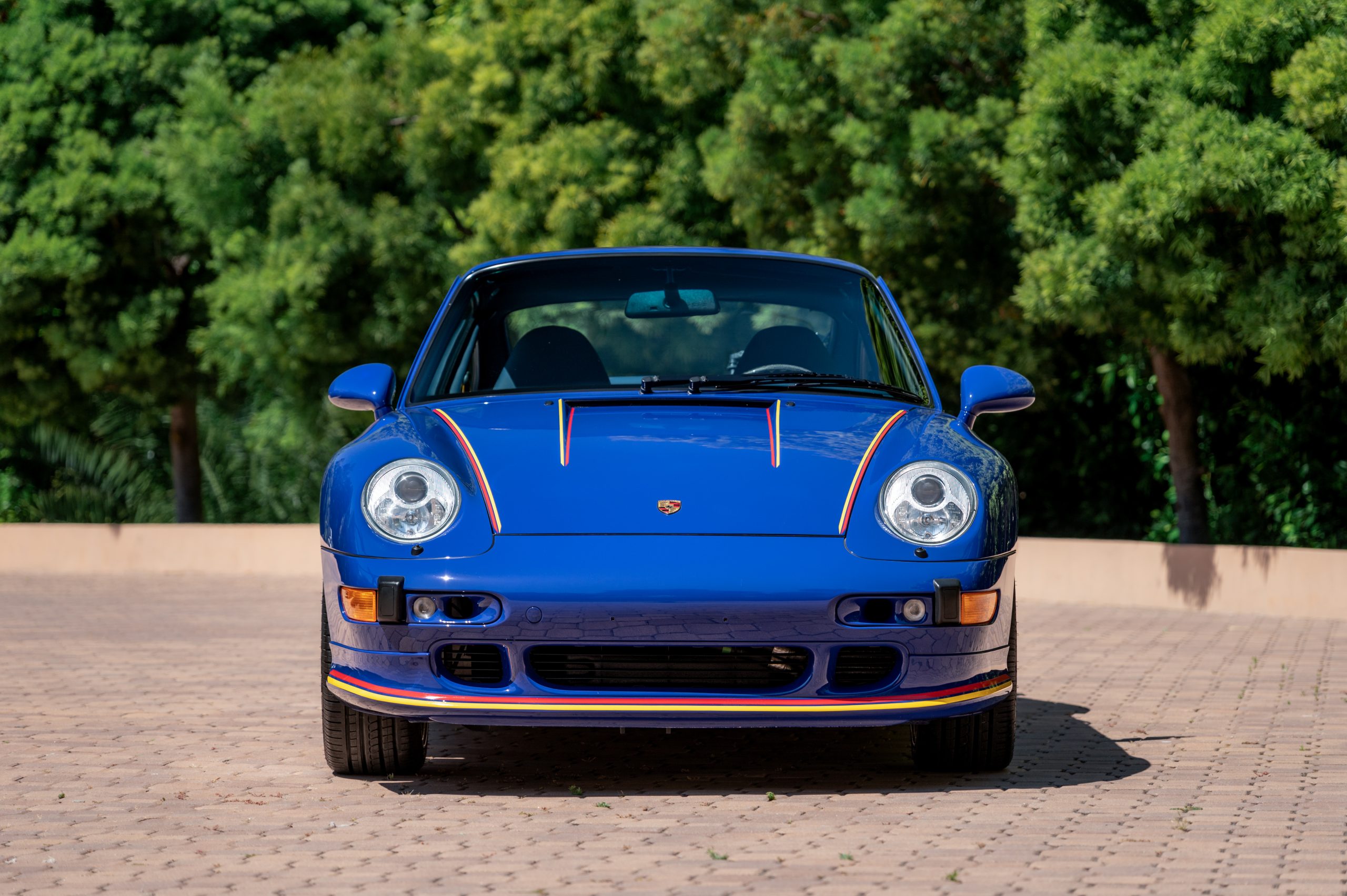 A truly extraordinary 1997 Porsche 911 Turbo S, originally owned by the renowned California car collector Otis Chandler, is set to cross the auction block at the upcoming RM Sotheby's Monterey event. Chandler, a respected figure in the collector community, held the prestigious position of the Los Angeles Times publisher from 1960 to 1980. His connection to the Porsche legacy extended to ownership of a Porsche 917 and 935, both adorned in iconic blue Sunoco liveries. Thus, when Chandler commissioned his new Turbo S in 1997, he carried forward this legendary theme.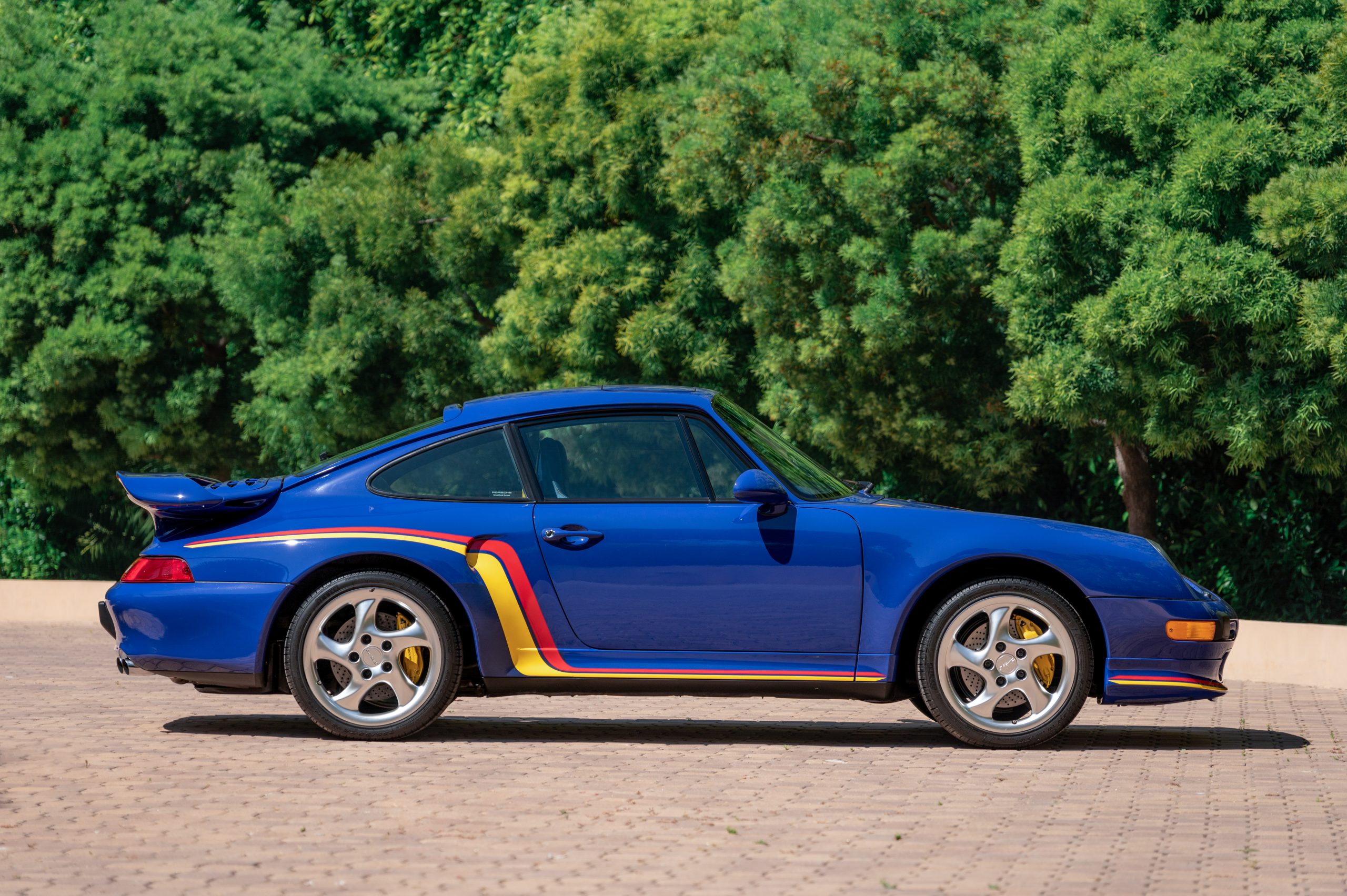 At Chandler's special request, this 993 was customized to pay homage to the Can-Am racing success achieved by American racing legend Mark Donohue. The livery faithfully mirrors the famous Sunoco-sponsored, Penske-run Porsche 917/30 that dominated the competition with Mark at the helm in 1973 (Chandler owned the 917/30 at the time of the Turbo S purchase). The interior received a similar treatment, with contrasting red and yellow details complementing the blue leather interior, along with carbon-fiber accents on the dial fascia and steering wheel.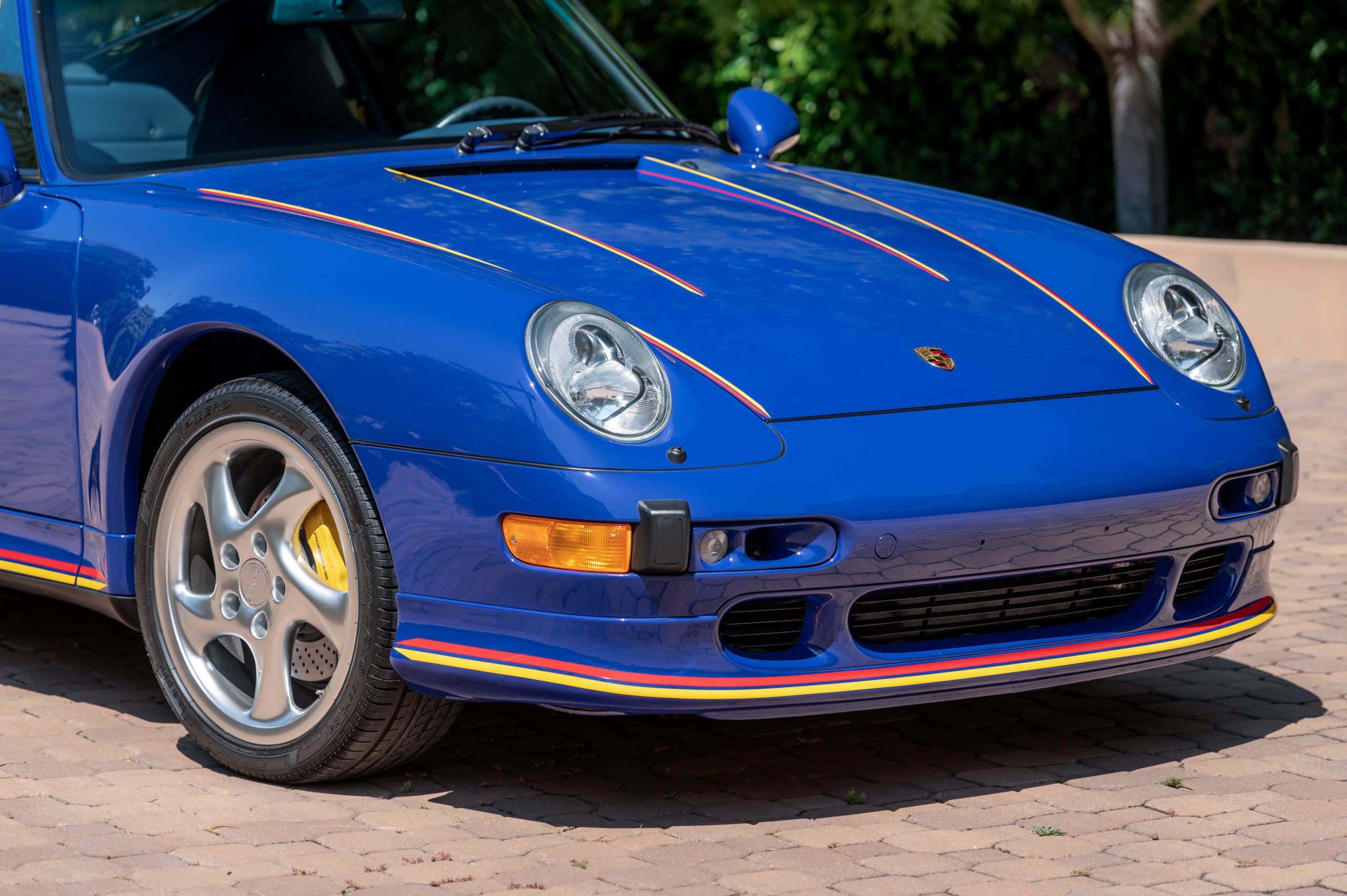 In 2006, His Highness Sheikh Nasser Al-Mohammed Ahmad Al-Jaber Al Sabah, an ardent car enthusiast who also served as the Prime Minister of Kuwait from 2006 to 2011, acquired the Chandler Turbo S to enrich his rapidly growing car collection, numbering several thousand vehicles. In 2021, the Turbo S found a new home with collector Todd Blue, who diligently undertook mechanical reconditioning. Since then, the Turbo S has been cherished and enjoyed as part of Blue's collection, which prominently features an array of blue Porsches.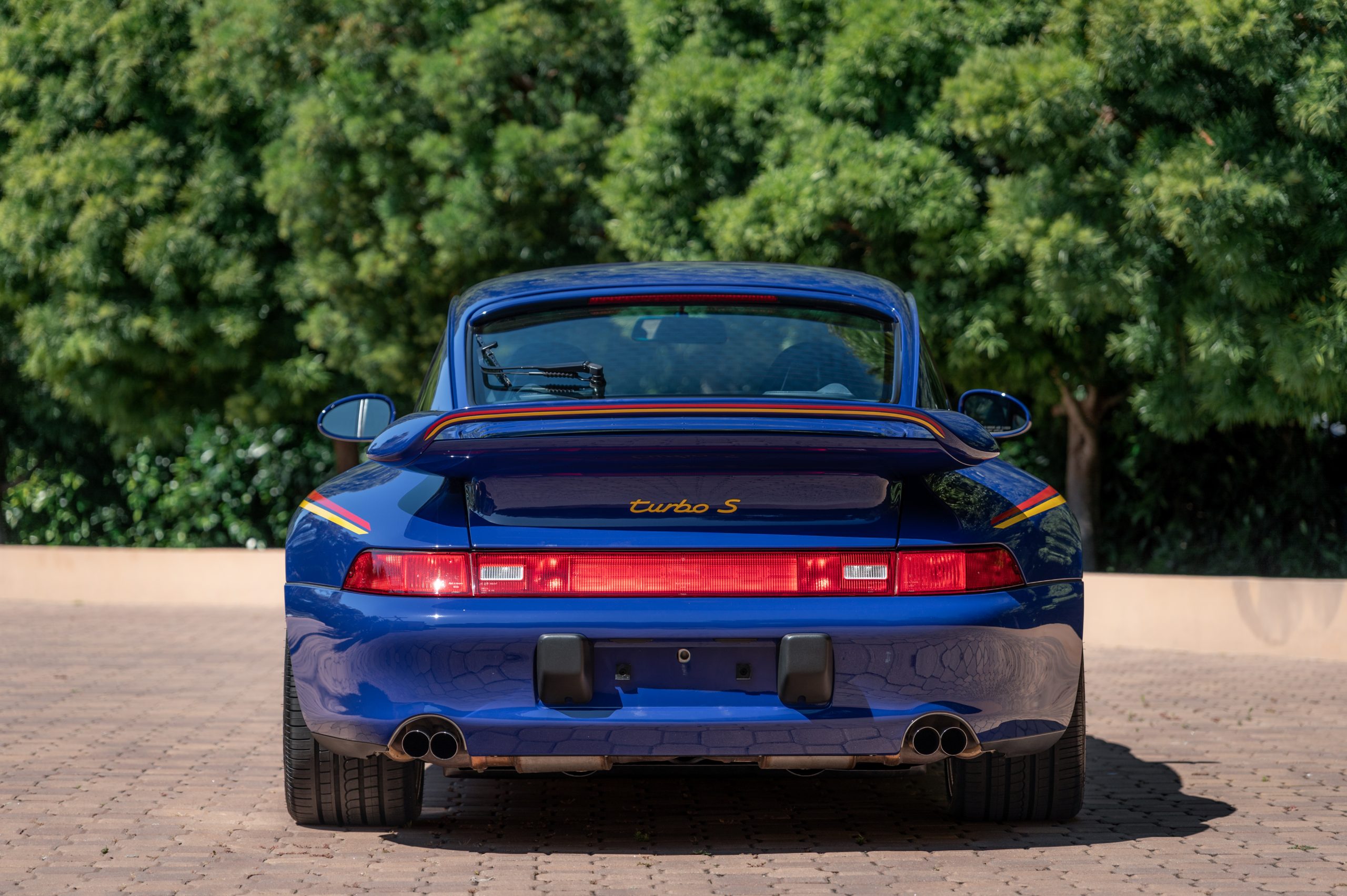 The Turbo S's condition is immaculate in every respect, and despite its limited use, with only 1850 miles on the odometer, it runs flawlessly. The fact that the 993 was the final iteration of the air-cooled 911 Turbos makes this "S" variant even more significant. It presents a unique, long-term opportunity worthy of serious consideration for discerning enthusiasts and collectors alike.
Source: RM Sotheby's