Ferdinand Piëch
(1937 – 2019)
Named car executive of the century in 1999, Ferdinand Piëch transformed Volkswagen into the world's largest carmaker by revenue. Piëch was the grandson of Ferdinand Porsche. Piëch did everything from leading motor racing operations at Porsche during the 1960s, to turning Audi into a true luxury automotive leader, and then reviving VW in the 1990s and 2000s, turning it into a 12-brand empire, including brands like Lamborghini, Bugatti and Porsche.
Bob Lutz perhaps described Piëch the best when he said "one of the greats in the automotive industry . . . There's no question Ferdinand was a brilliant person, a brilliant engineer, and a great leader." He added: "I didn't always agree with his dictatorial style of leadership, but he was certainly results-driven and accepted no excuses for failure." Hans Dieter Pötsch, Piëch's successor as chairman said: "Ferdinand Piëch shaped the development of the car like no other, pushing forward the entire industry and above all Volkswagen."
After earning a degree a technology university in Zurich, Piëch went to work at Porsche with his grandfather. He quickly became head of the motorsport division in the 1960s, and built his reputation by setting out to dominate the Le Mans 24-hour race. He took risks with cars like the 917 that worked out, despite the financial risk it put on Porsche. In 1972, he got a job at Audi where, as head of technical development, he launched the Quattro. He rose up the ranks to become Audi's chief executive, he took the same job at parent company VW in 1993. He saved the company and launched one of the most impressive company-building spending sprees ever conceived. He added Bugatti, Bentley and Lamborghini as well as Scania and MAN, and motorcycle brand Ducati to the sprawling VW empire. He cemented his power in 2002 by becoming chairman
While his commercial success was impossible to ignore, his leadership was also controversial. His tenure at VW was partly overshadowed by a series of scandals that both insiders and outside critics blamed on Piëch's leadership style. There was 1993, when he hired a top executive from GM and the following lawsuits. There was bribery scandal in which VW allegedly paid for prostitutes for workers. The biggest scandal of course was the huge diesel emissions scandal in 2015, which happened only a few months after Piëch had been ousted as chairman following a boardroom struggle with CEO Martin Winterkorn. Piëch himself remained publicly silent about the episode and in April 2017, he ended up selling his 14.7 per cent stake in Porsche SE, the family-owned parent company that owns a controlling stake in VW.
The Full Timeline & Visual History
Background
Ferdinand Porsche's lawyer Anton Piëch became his son-in-law in 1928 and a business partner in 1931 when they together with racing driver Adolf Rosenberger established the Porsche company. The initial shares were as follows: 80% F. Porsche (born 1875, age 55), 10% A. Piëch (born 1894, age 36), 10% A. Rosenberger (born 1900, age 31).
1937
On April 17, 1937, Ferdinand Karl Piëch was born in Vienna, Austria, as the third child of Anton Piëch and Louise Hedwig Anna Wilhelmine Maria Piëch (born Porsche) and as a grandson of Ferdinand Porsche. On May 28, the predecessor to Volkswagen, Gezuvor, was established, with grandfather Ferdinand Porsche as the head engineer and member of the board.
1941
1941 Father Anton Piëch became head of the Volkswagenwerk, the factory that produced the Porsche designed VW Kübelwagens and Schwimmwagens for the army.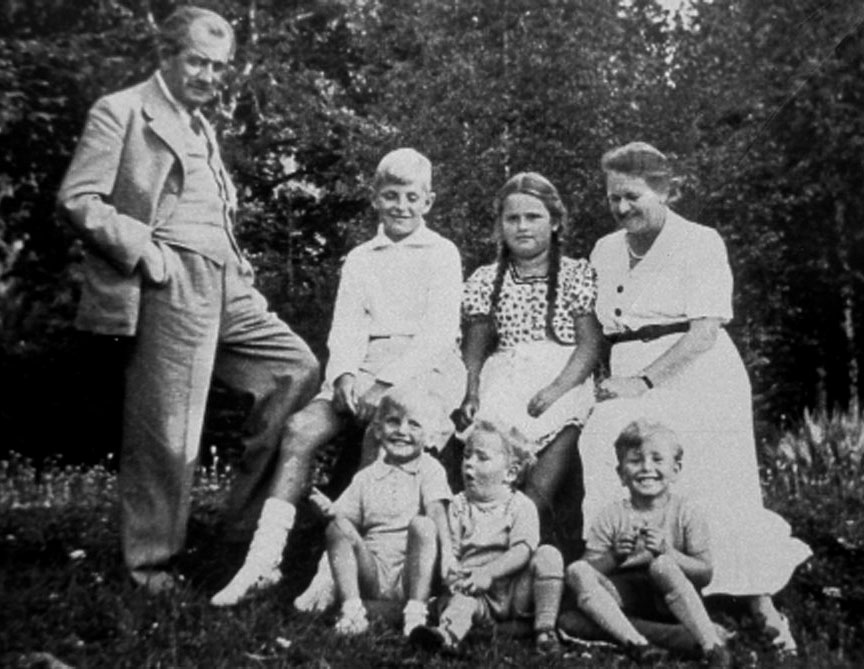 1942
In 1942, brother Hans-Michel Piëch was born.
1945
December 15, 1945, father Anton Piëch, grandfather Ferdinand Porsche and uncle Ferry Porsche were arrested and imprisoned by French as war criminals.
1946
In July, 1946 uncle Ferry was released from jail to bring money to bail out the others.
1947
August 1, 1947 his father and grandfather were liberated.
1948
In 1948, the first Porsche, the 356/1 Roadster, was created by uncle Ferry Porsche's team.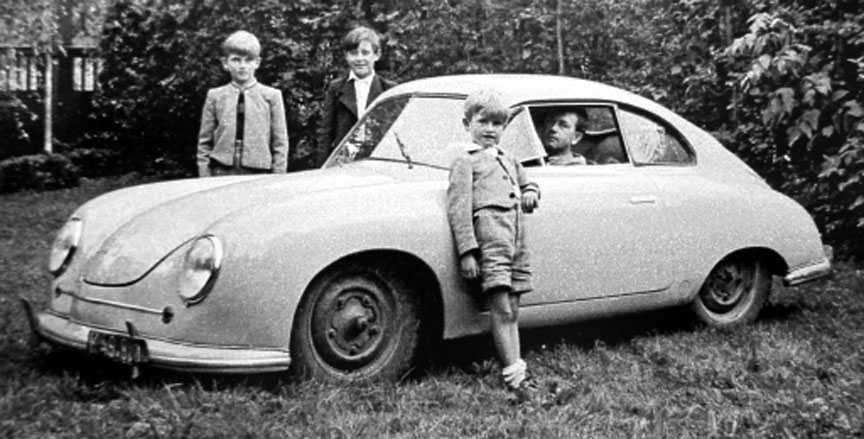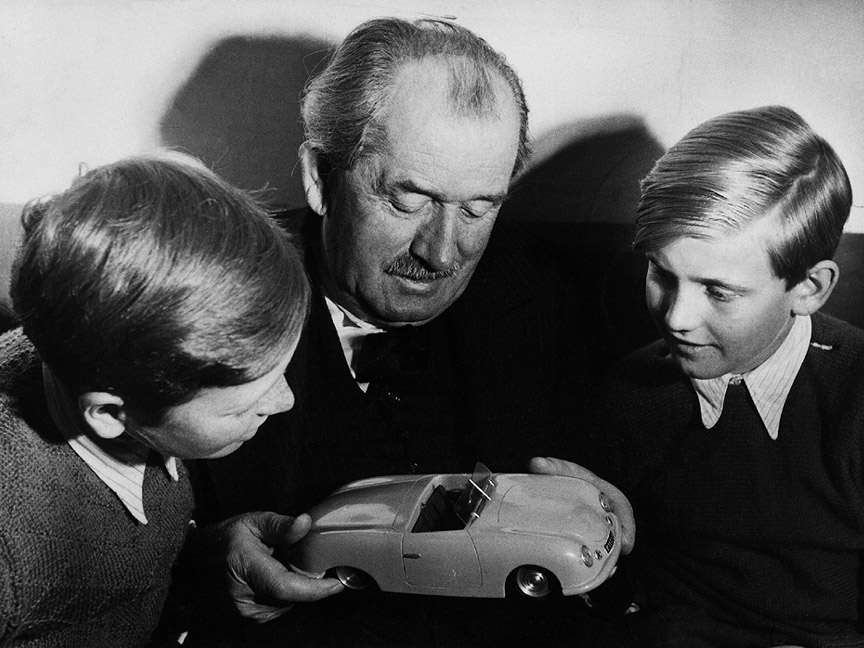 1951
On January 30, 1951 his grandfather and engineering genius Ferdinand Porsche died.
1952
On September 11, 1952 his father Anton Piëch died.
1952 – 1958
Between 1952 and 1958, Burli studied at the Lyceum Alpinum Zuoz in Switzerland
1962
In 1962, F. K. Piëch graduated the ETH Zürich Institute of Technology in Switzerland with a degree in mechanical engineering having written the master's thesis about the development of an F1 engine.
1963
On April 1, 1963 Piëch started working at Porsche, a company founded by his grandfather and co-founded by his father.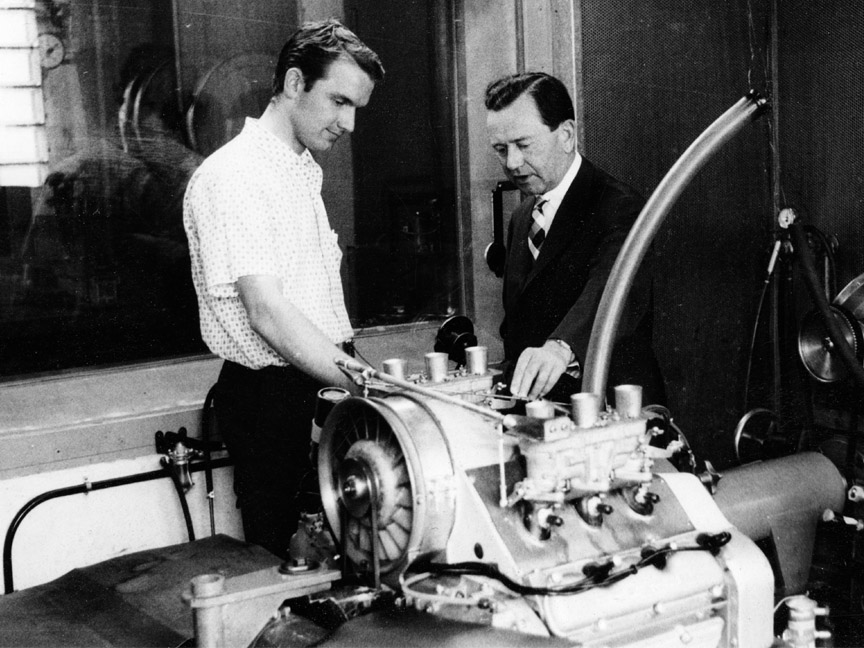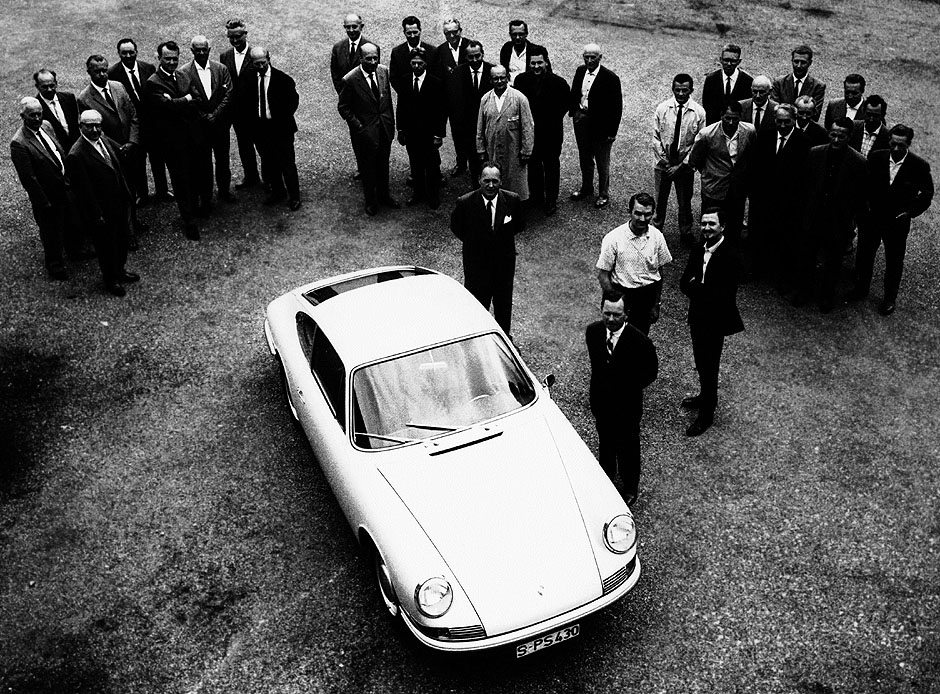 1966
In 1966, Piëch became the head of testing. He was also the main force behind the Porsche 906 Carrera 6 introduced in January. Piëch's idea was to create ultralight racing cars. The 2-litre 6-cylinder 906 weighed only 617 kg / 1360 lbs. Two evolutions of 906 were also made, the fuel-injected 906 E and the 2.2-litre 8-cylinder 906/8.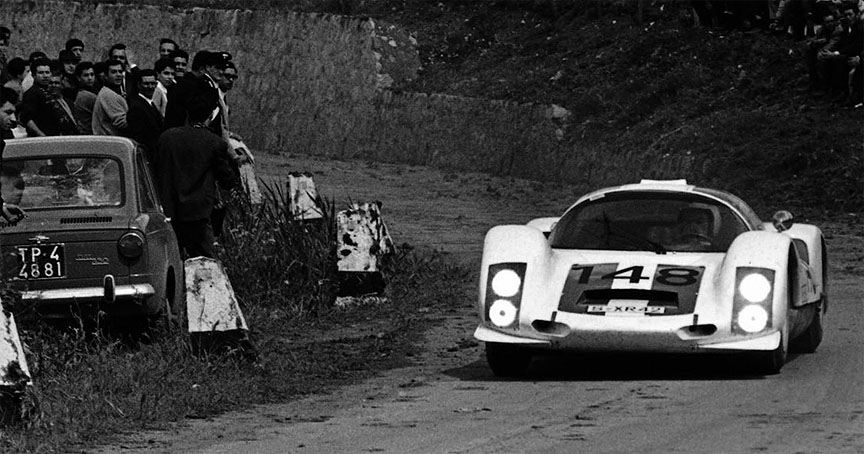 The 906 was a street-legal car, so it had the 15″ 5-bolt wheels, which were not the best for racing as no 15″ racing tyres were available. So, 13″ central nut Formula 1 wheels with special tyres were adapted, and with smoothed-out exterior design the 910 was born. It was then made in three modifications: 910/6 Targa, 910/8 Targa and the 910/8B "Bergspyder".
1967
In 1967, Porsche's wave of racing victories started to arrive. The Targa Florio was completely conquered – all podium places to Porsche! Porsche proved that it can do better than the 1-2-3 victory and just two weeks after the Targa Florio they took the 1-2-3-4 victory at the 1967 Nürburgring 1000 km race. Piëch, just at the age of 30, was about to become the world king of racing technology.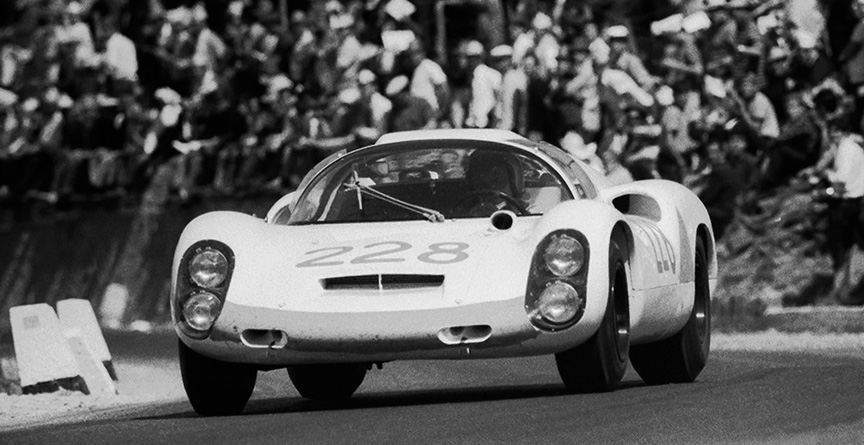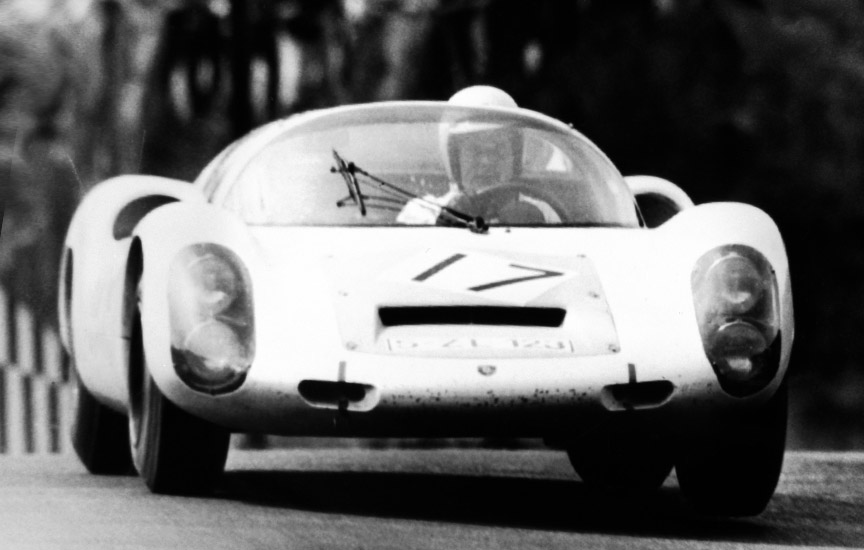 1967 July 11, the new 907 was introduced at Le Mans. As suggested by Ferdinand Piëch, the position of the driver was moved from the traditional left (as in German road cars) to the right as this gave advantages on the predominantly clockwise race tracks. Porsche did very well at Le Mans, taking 5th place with their 2-litre 907 against the 7-litre GT40s and 4-litre Ferraris that took the first four places. 907 was made in three versions: 907 LH (long-tail) 2.0, 907 K (short-tail) 2.0 and the 907 K 2.2 (8-cylinder). The brake discs of the 907 were vented.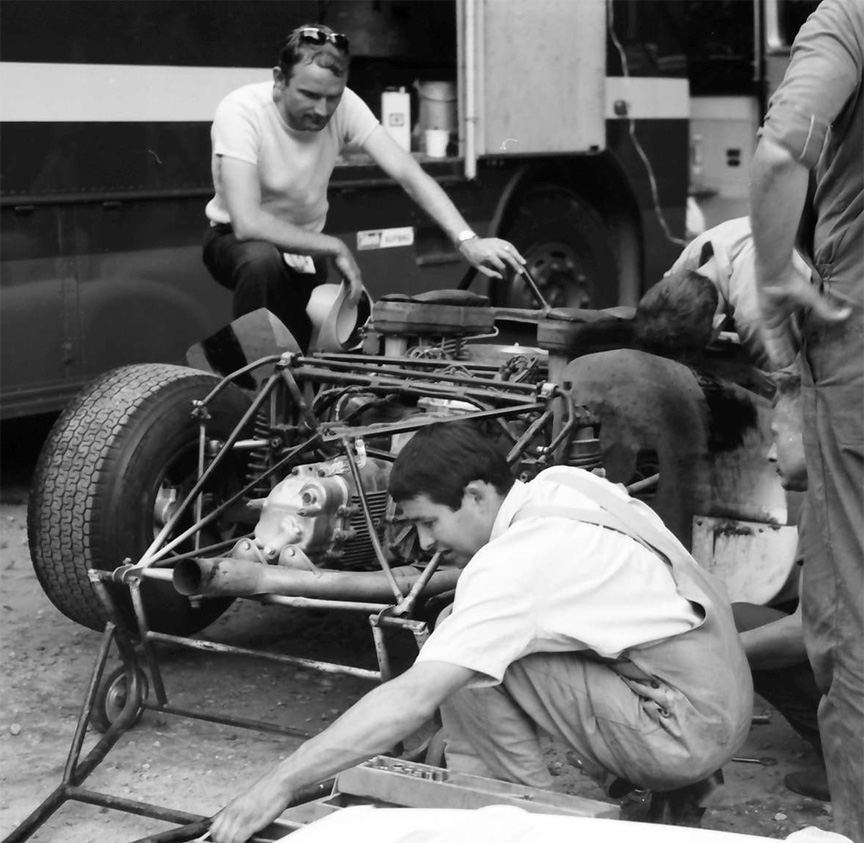 1968
1967 July 28, Ferdinand Piëch watching as his creation is checked before the Freiburg-Schauinsland hill climb competition. This is a 910/8 Bergspyder.© Willy Pragher / Landesarchiv Baden-Württemberg, reference no. LABW_5-797835-1
1968 Piëch became head of development at Porsche. On February 4, Porsche achieved its first overall victory in 24 hour racing – with 907 LH at Daytona. After Gerhard Mitter had crashed the #53 car because of the oil dropped by a competitor, his teammate Rolf Stommelen supported the #54 driven by Vic Elford/Jochen Neerpasch. When the #52 car of the longtime leaders Jo Siffert/Hans Herrmann dropped to second due to a technical problem, these two also drove car #54 in the case their's breaks down. Due to this, five pilots won the race, and two of them scored also second. Jo Schlesser/Joe Buzzetta with car #51 were there to make Porsche's first 24 hour overall victory a 1-2-3 victory!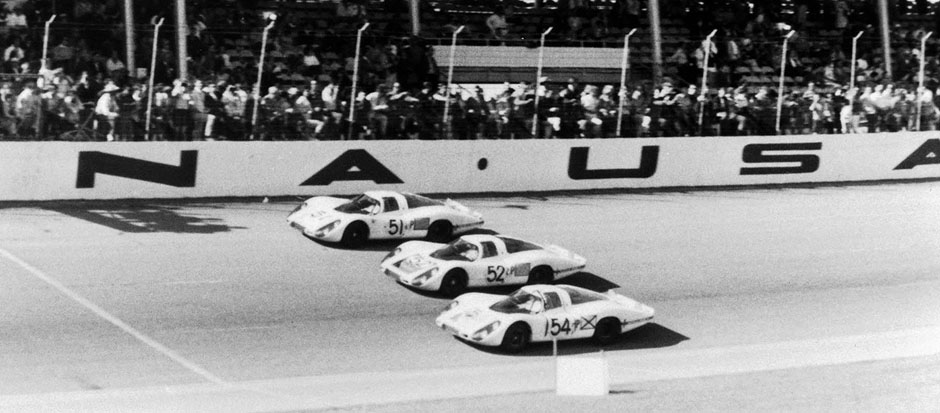 On March 1, 1968, the prototype of the Porsche 914 road car was presented. Piëch, as the head of development, was the type 914 project leader. The 914 was a collaboration project between VW and Porsche.
On March 23, two 8-cylinder Porsche 907 K take 1-2 victory at the Sebring 12 hour race.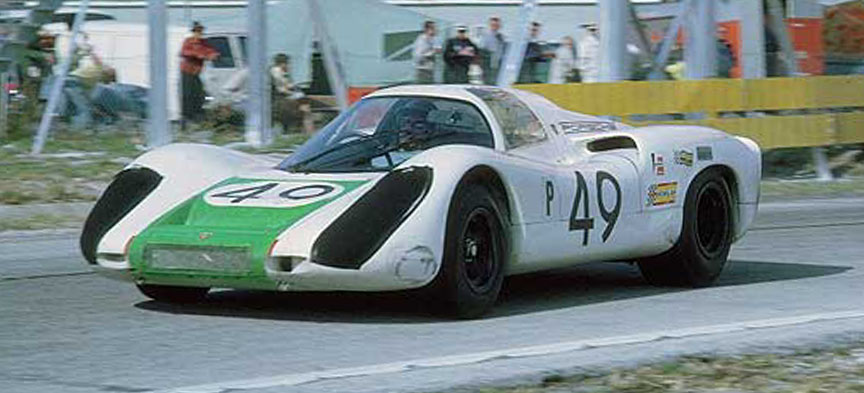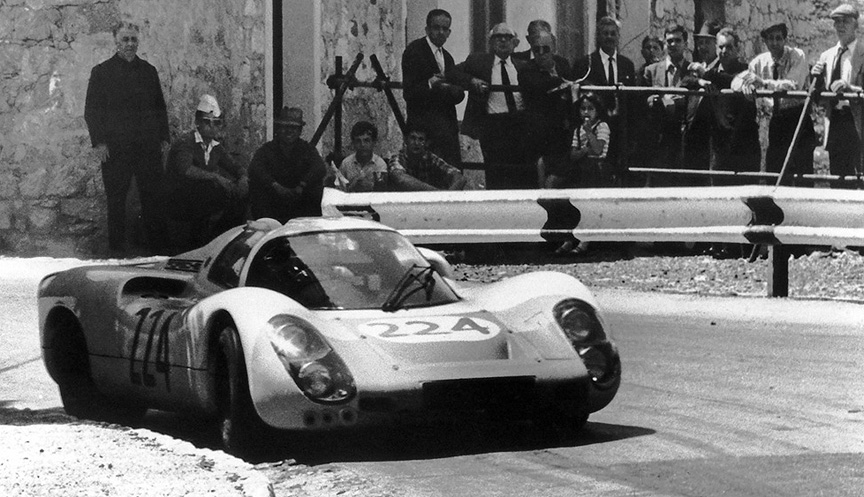 The 3-litre Porsche 908 was introduced in 1968, being the first Porsche that was engineered to use the maximum allowed engine size.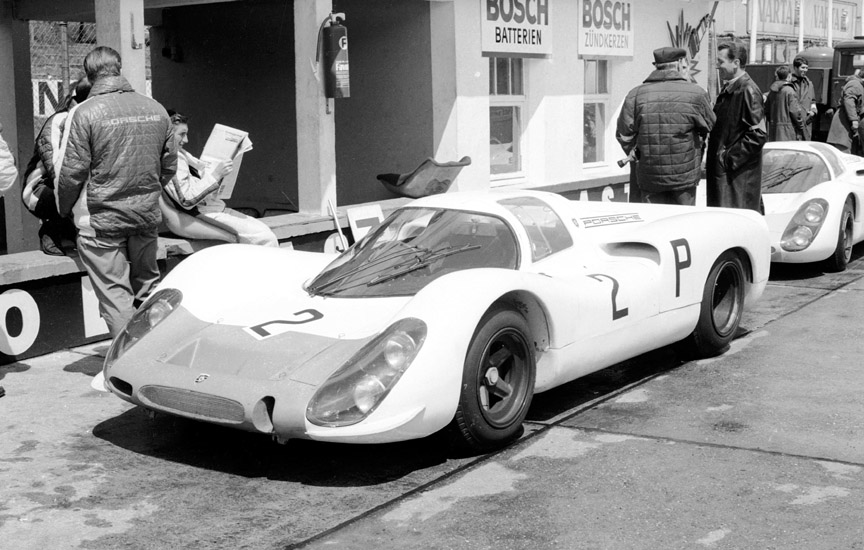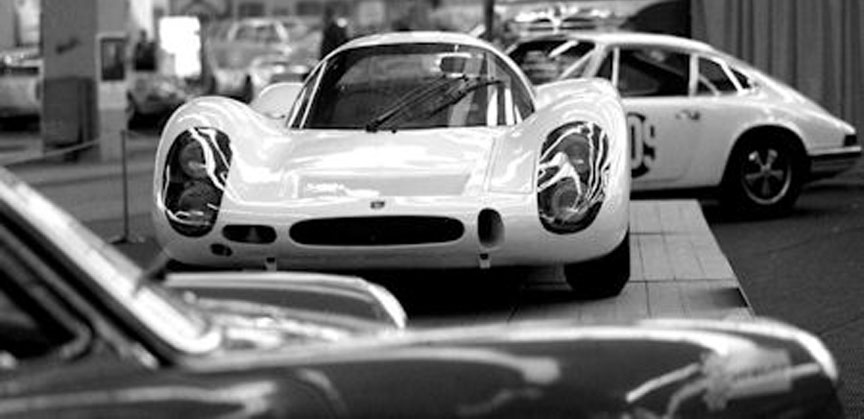 1969
For the new racing season in 1969, an absolutely new 12-cylinder Porsche 917 racing car was created under the commandership of Ferdinand Piëch. The 917 was offered to motorsport customers for a price that was approximately 10 times the price of a 911, but less than the actual development costs.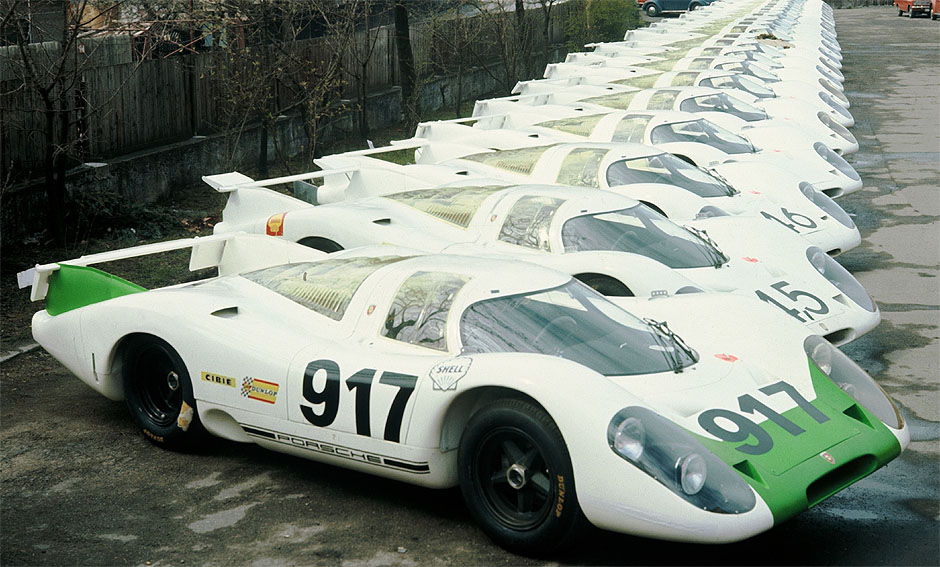 The first version of the 917 was a cool-looking longtail coupé, but it had problems at top speed – the long tail created aerodynamical lift, making the car nervous. It was the fastest racing car ever built, so nobody really knew how it would handle at the top speed. Porsche driver Brian Redman is quoted to have said "It was incredibly unstable, using all the road at speed".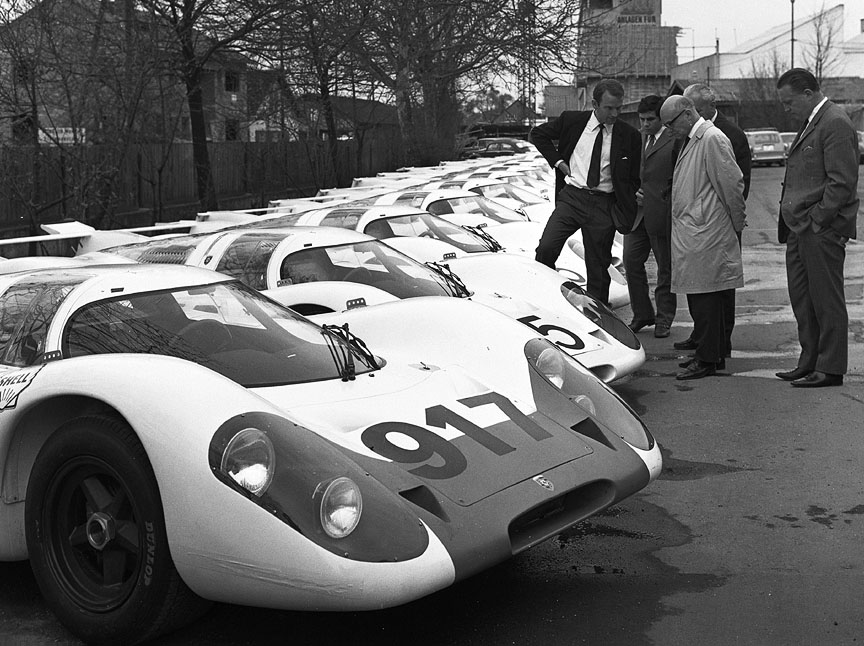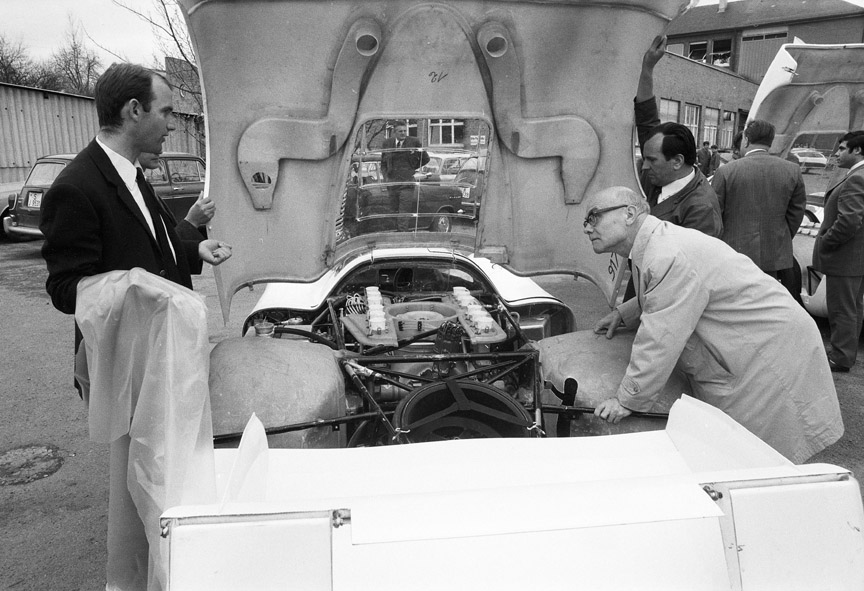 Type 914, the entry-level Porsche, was offered for sale. In Europe it was called as the VW-Porsche 914 and in USA as the Porsche 914. The 4-cylinder VW-engined versions were made at the Karmann plant in Osnabrück and the 6-cylinder models with 911 engine were finished in Stuttgart. The affordable 914 became Porsche's best seller.
In April 1969 the "VW-Porsche Vertriebsgesellschaft mbH" (VW-Porsche Marketing Company Ltd) was founded by the two firms and had its head office in Ludwigsburg. Both parties had a 50% share in the marketing company. Sales operations for the types 914/4, 914/6 and 911 were carried out by the marketing company through the head office in Ludwigsburg. Key positions in the marketing company were held on an equal authority basis by Otto-Erich Filius of Porsche and Klaus Schneider of VW.
Also in1969, Porsche 1-2-3 wins were becoming natural and so was the case at the 1969 Monza 1000 km race.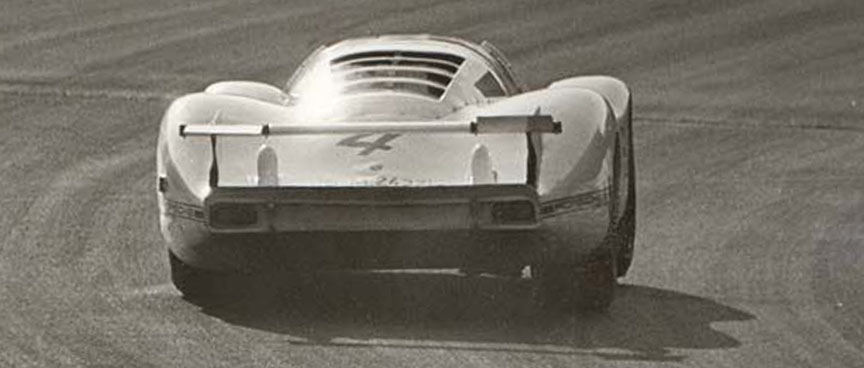 For 1969 the rules were changed and Porsche had built a lighter 908/02. It was only available as a Spyder, either a K Spyder, K Flunder Spyder or a LH Flunder Spyder. Aluminium tube frames were used and they were pressurised. The air pressure gauges were installed to understand when the tubeframe got damaged during the race.

The 909 Bergspyder was developed for hillclimb events. Competition rules dictated a 2.0-litre engine and Piech wasn't sad to use a lighter 2-litre instead of the heavier 3-litre unit. The 2-litre 8-cylinder flat engine developed 205 kW and the car weighed only ~400 kg/~900 lbs.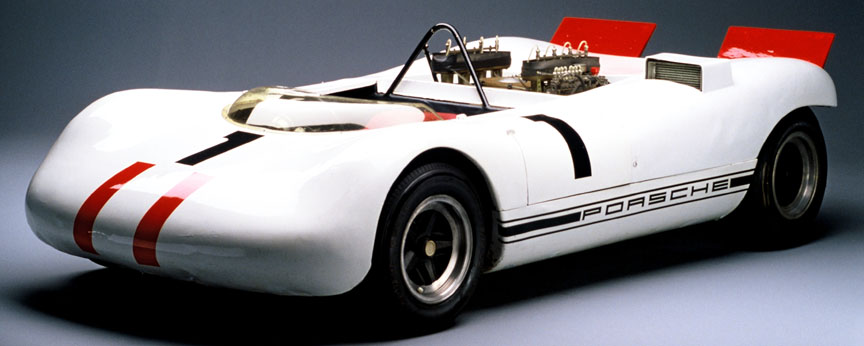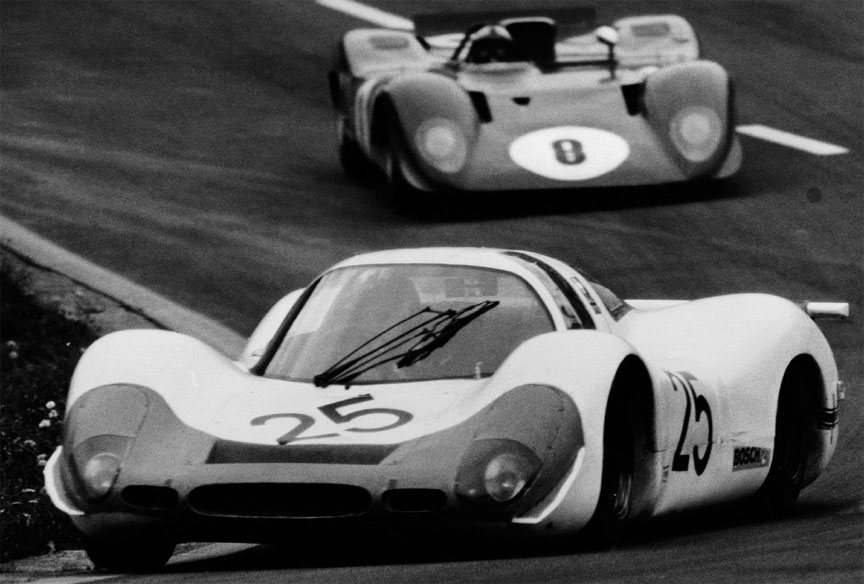 Following the Porsche 1-2-3 win at the 1967 Targa Florio, 1-2-3-4 at 1967 Nürburgring 1000 km, 1-2-3 at 1968 Daytona 24 hours, 1-2-3 at 1969 Monza 1000 km and a 1-2-3-4 at 1969 Targa Florio, it was time for the 1-2-3-4-5 Porsche victory at the Nürburgring 1000 km on June 1, 1969. The finishing order was:
908/02 K Spyder #1 Jo Siffert/Brian Redman
908/02 K Flunder Spyder #4 Rolf Stommelen/Hans Herrmann
908/02 K Spyder #3 Vic Elford/Kurt Ahrens Jr.
908/02 K Spyder #6 Rudi Lins/Richard Attwood
908/02 K Spyder #5 Willy Kauhsen/Karl von Wendt.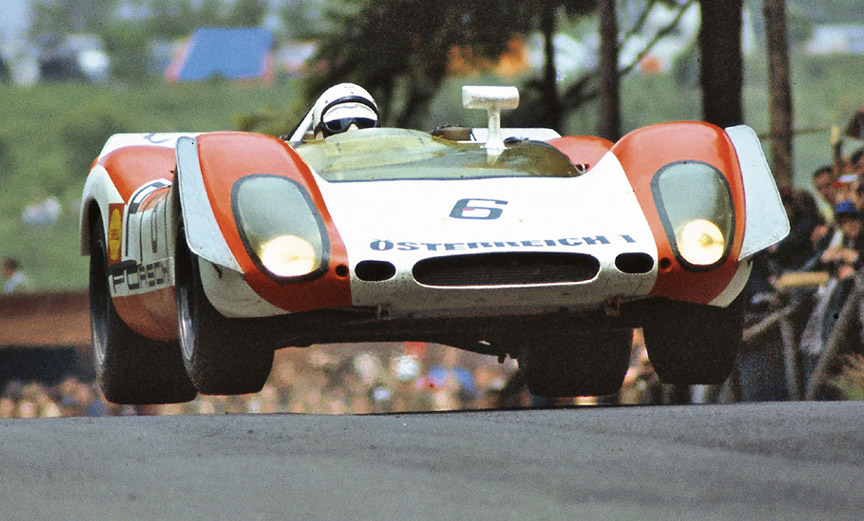 Piëch had engineered the 917 to be able to take overall victory at the 1969 Le Mans 24 hours. In the practise the 917 was the fastest and did lead the race until all the 917s failed. Despite the 917s failing, the 908/01 LH Coupé #64 of Hans Herrmann/Gérard Larrousse took the second place losing only by 120 meters to the winner. Imagine losing 120 meters on a 4.997.880 meter distance!
The first 917 victory came at the Austrian long distance race, Zeltweg 1000 km, on August 10, 1969. It was the shorttail version, the 917K that started to win race after race from now on.
Two 8-cylinder prototypes of the 914 were made, one for the project leader Ferdinand Piëch and the other as a surprise for the company leader Ferry Porsche.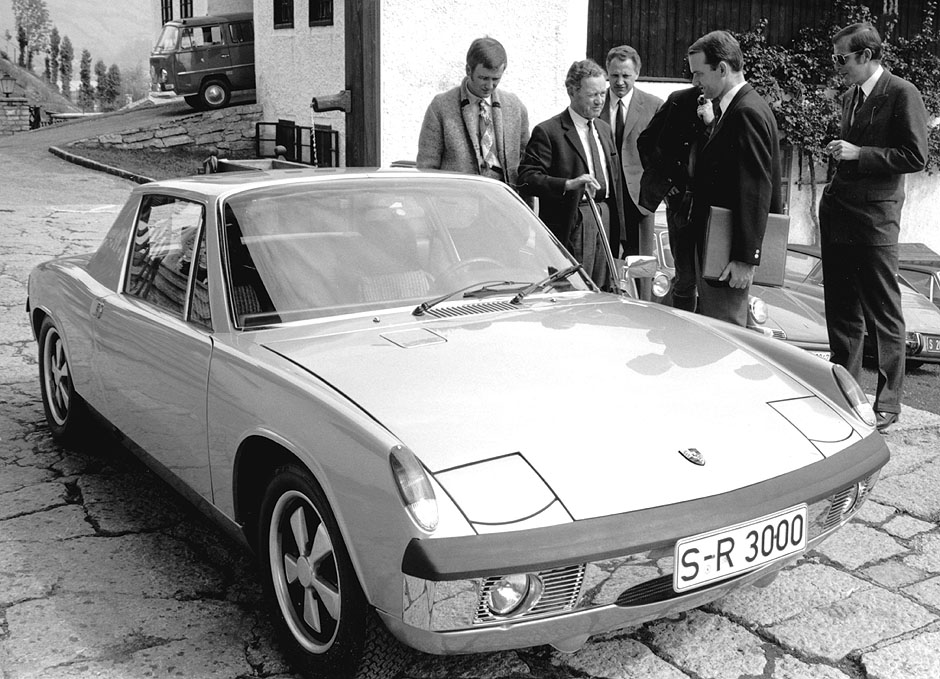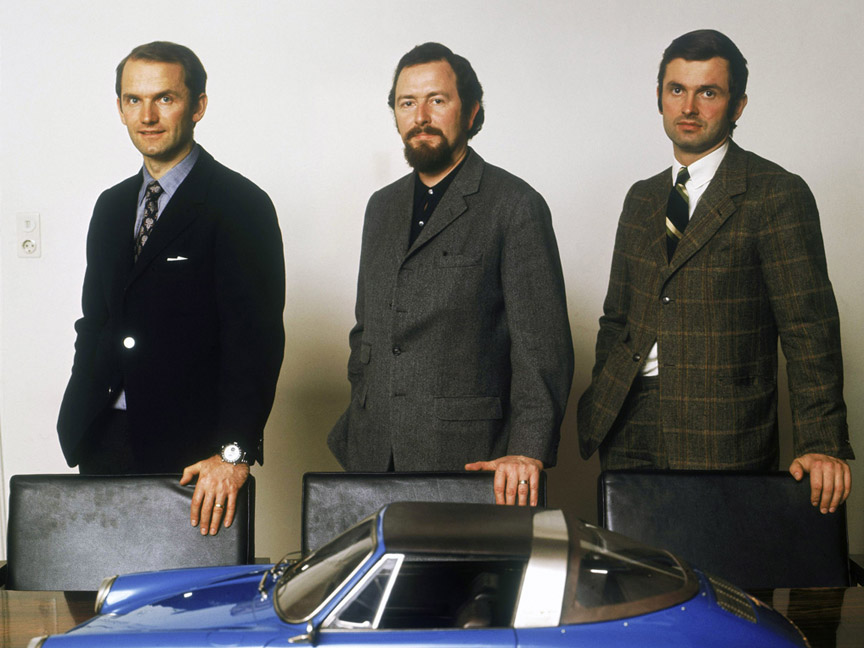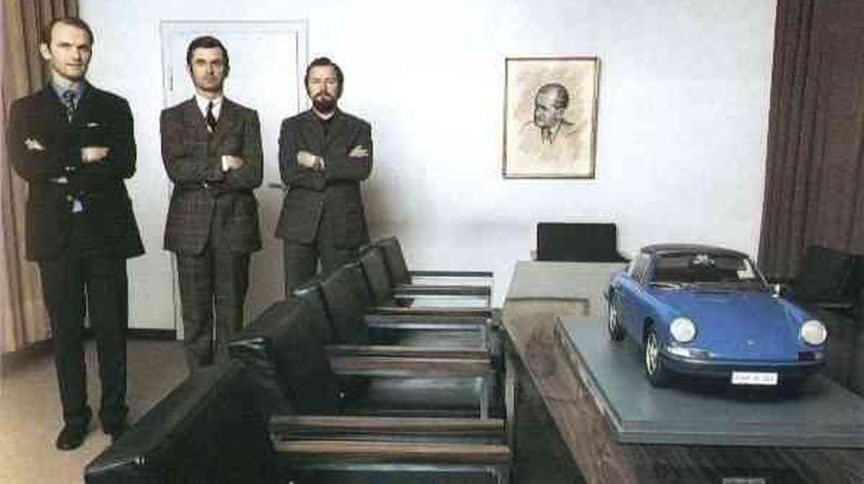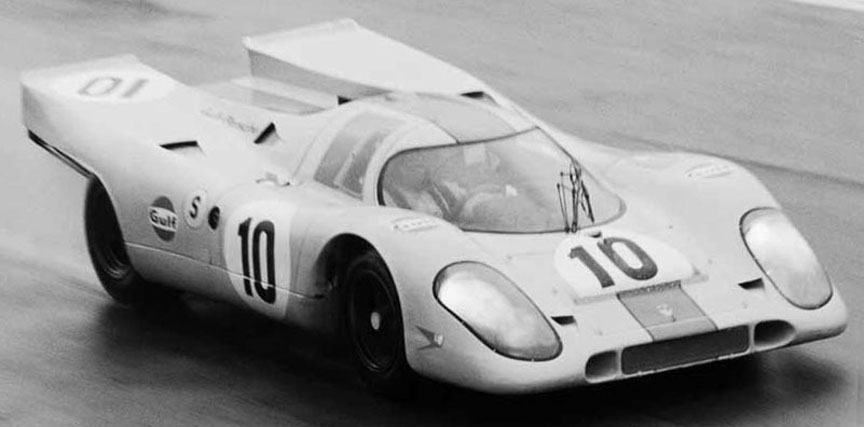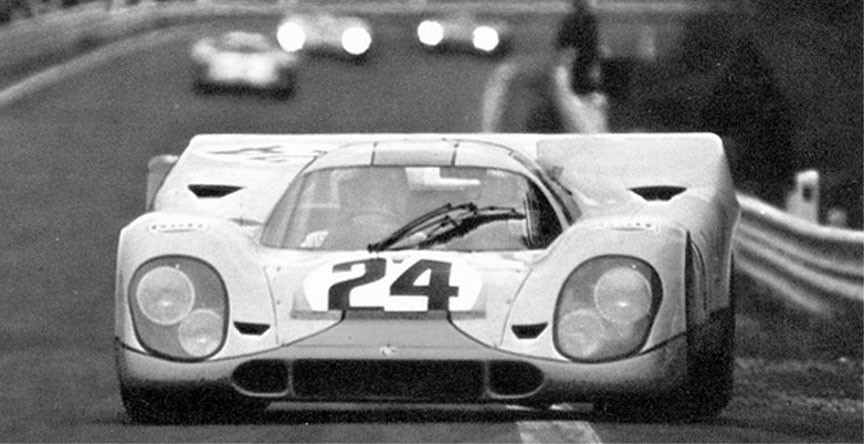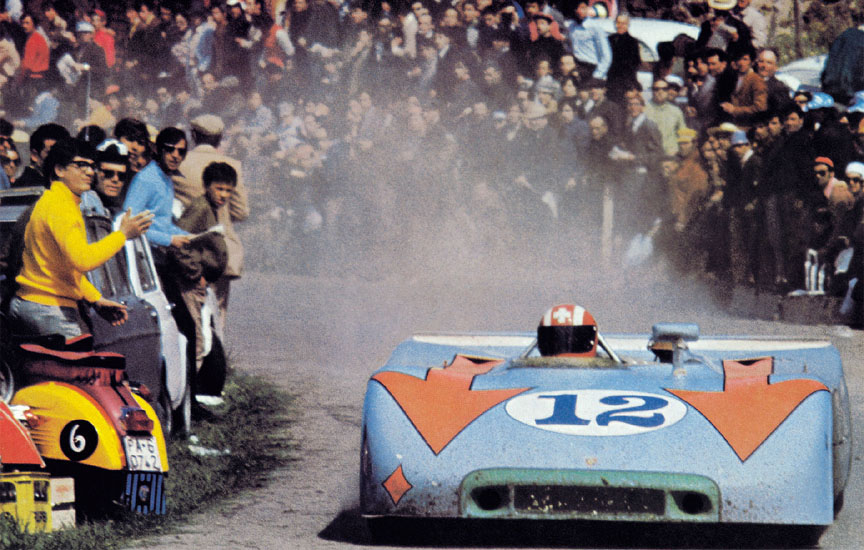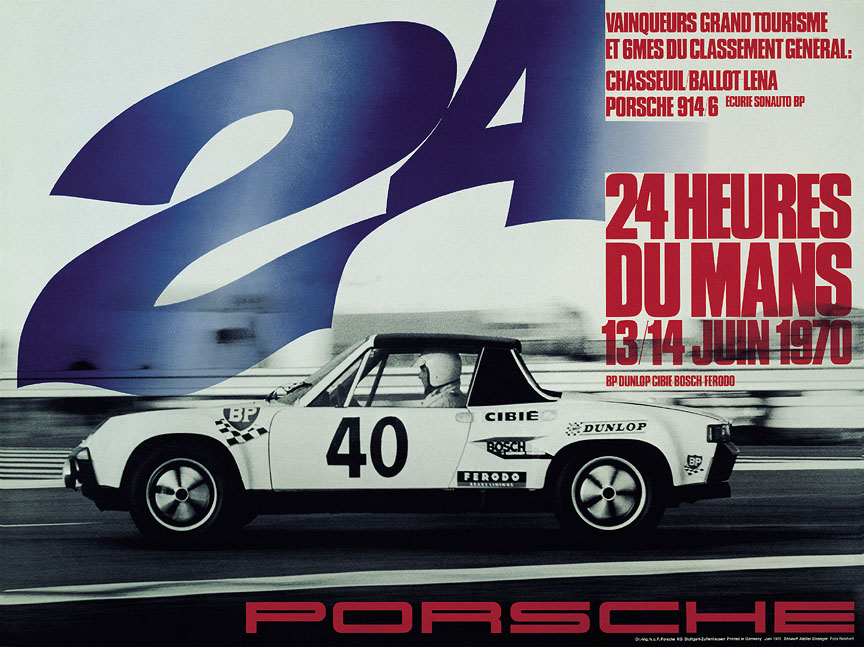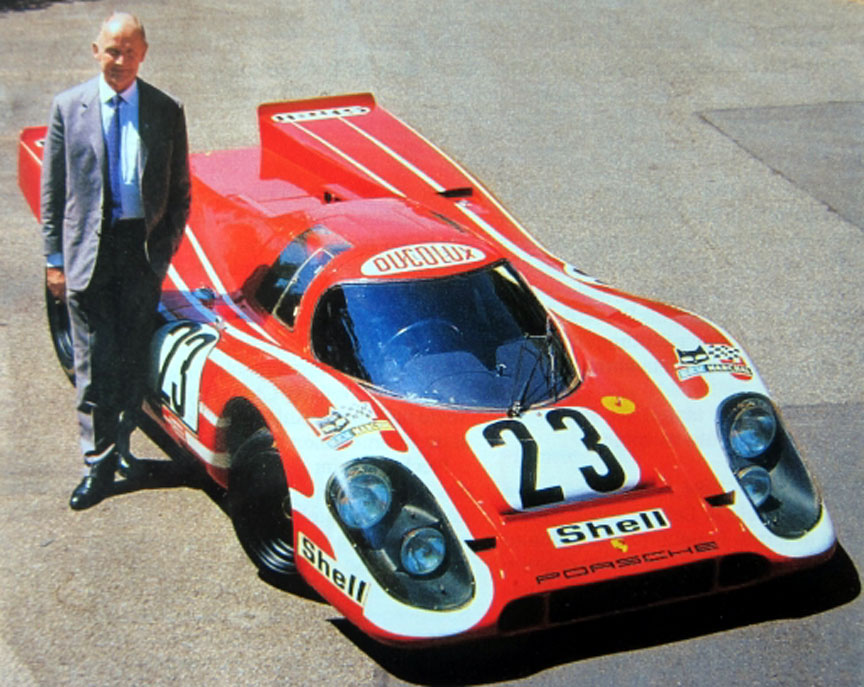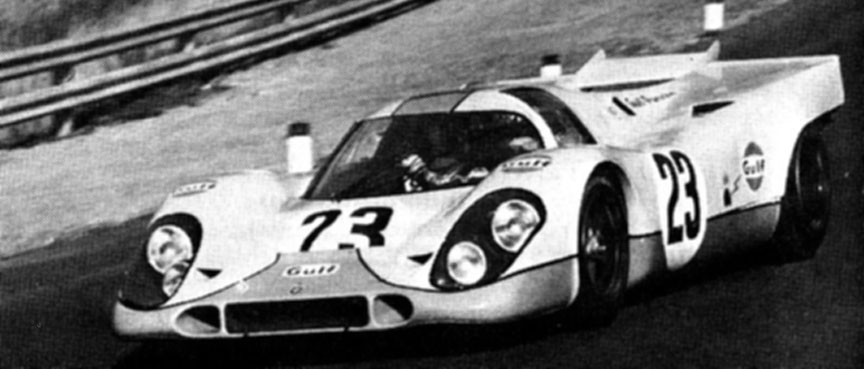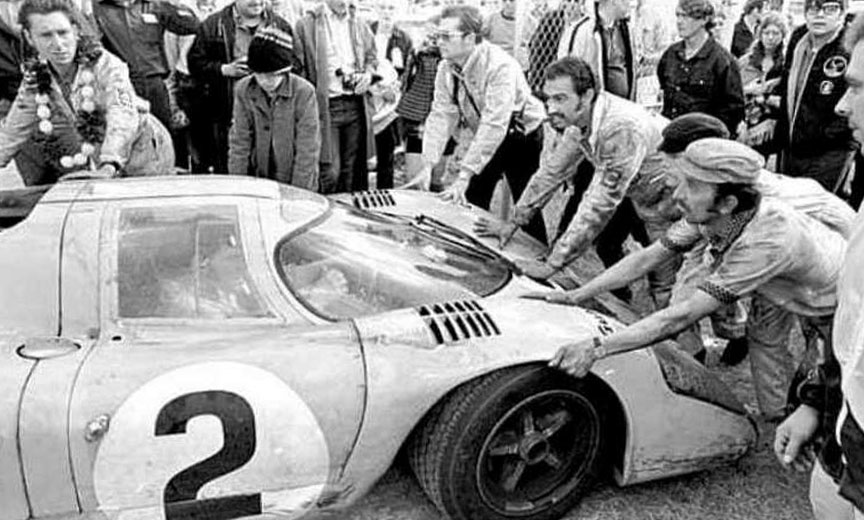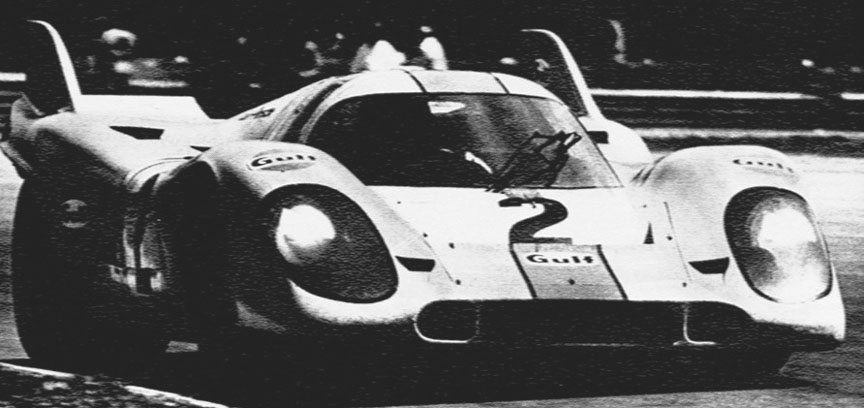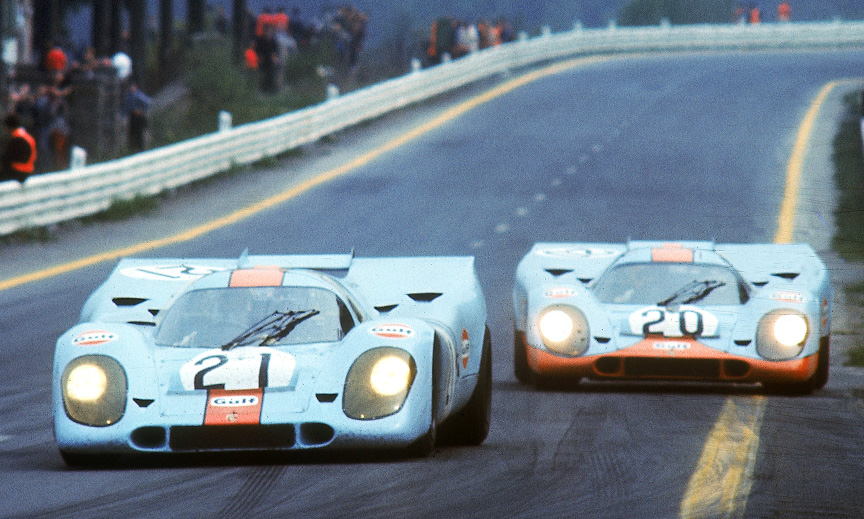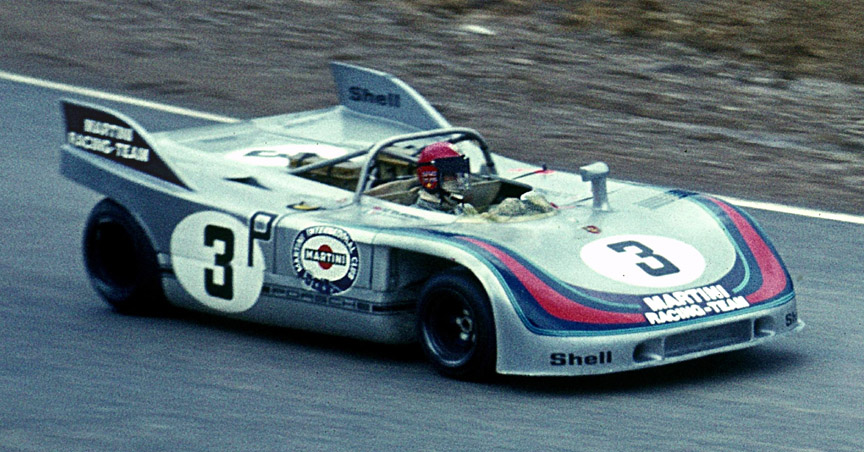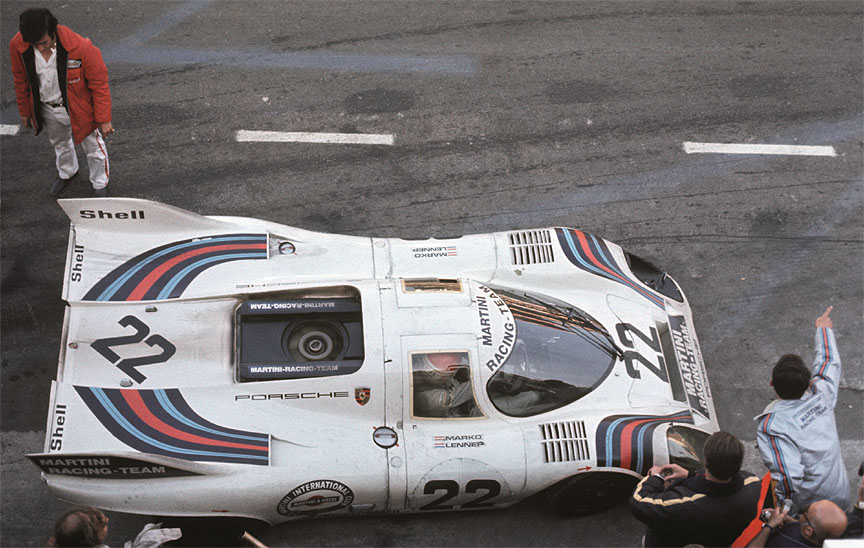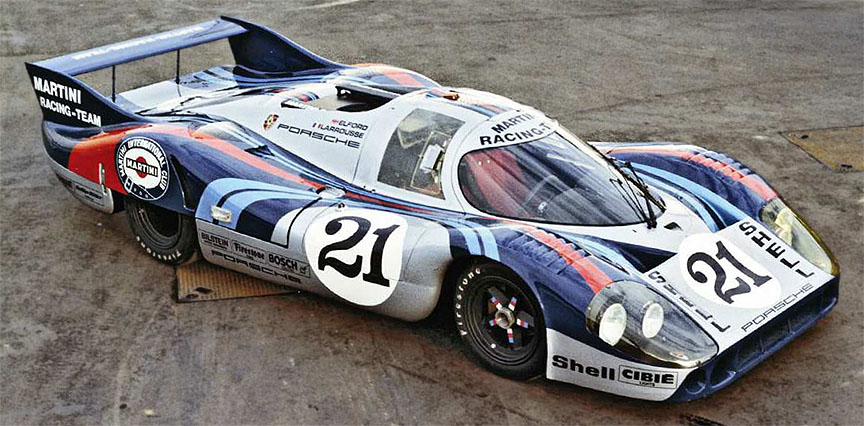 1971
By 1971, Piëch was director of engineering and a hot prospect for CEO. However, dark clouds were gathering over Piëch's career at Porsche. The Porsche and Piëch halves of the family (each of which held 50%) became increasingly fractious. Porsche family suggested that in the future no family member (from neither side) should be involved in company's day-to-day operations.
As Porsche was interested in winning the Can-Am Championship, they needed more power to their cars. Always thinking big, Piëch started the development of the 16-cylinder engine. The experimental turbocharged 12-cylinder was also created. When they understood that it was easier to get the power out from the turbocharged 12-cylinder than from the normally aspirated 16-cylinder, the flat-16 engined 917 PA Spyder remained a one-off prototype. The 917/10 K Turbo became the first turbocharged Porsche.
1972
On March 1, 1972, a policy was established that no Porsche family member was allowed to be involved in the management of the company. All the family members left the company for a back seat on the supervisory board, only Ferry Porsche leaving active for the time period needed. As Piëch had to leave, he established his own small engineering office.
August 1, 1972, Piëch moved to Audi NSU Auto-Union AG as head of technical development in special tasks department.
With a power output of around 1000 hp, the 917/10 K Turbo won the 1972 CanAm and European Interserie championships.

After Piëch had left the Porsche company, the evolution of the 917/10K Turbo, the 917/30 was created. It developed between 1100-1580 hp and repeated the success in 1973. Porsche 917/30 was the most powerful circuit racer ever made and 917-series cars were the most successful racing cars of all time.
To understand Piëch's work at Porsche, let's list the cars he is credited for:
906 Carrera 6, 906 E, 906/8, 910/6, 910/8, 910/8B "Bergspyder", 907 LH, 907 K 2.0, 907 K 2.2, 908/01 K Coupé, 908/01 LH Coupé, 908/01 Spyder, 908/02 K Spyder, 908/02 K Flunder Spyder, 908/02 LH Flunder Spyder, 909 Bergspyder, 908/03 '70 Spyder, 908/03 '71 Spyder, 914/4, 914/6 street version, 914/6 competiton version (unofficially 914/6 GT), 914/8, 917 K-69, 917 K-70, 917 K-71, 917 LH-69, 917 LH-70, 917 LH-71, 917 PA Spyder 12-cylinder, 917 PA Spyder 16-cylinder, 917/10-'71, 917/10-'72, 917/10 K Turbo, 917/20…. So, Piëch's work at Porsche can be described as a new car or modification averagely every second month.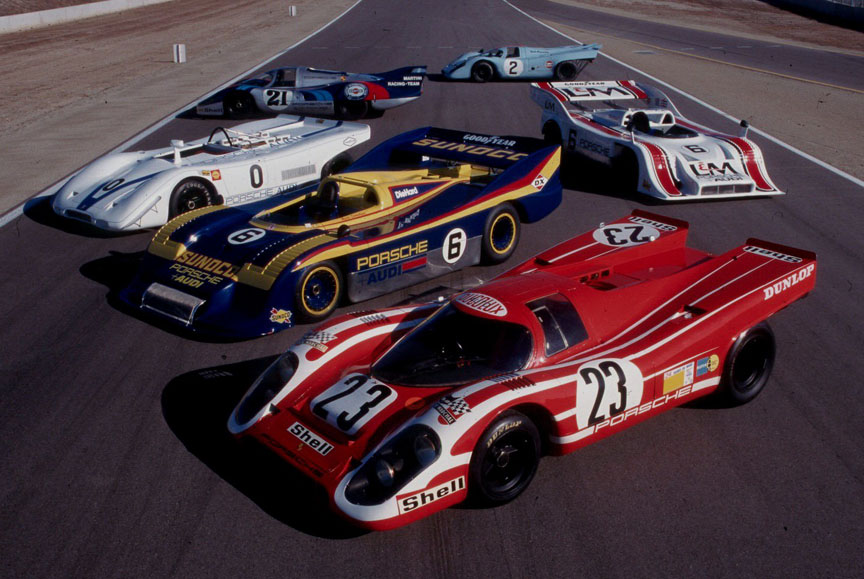 1975
In August 1975, Piëch became Head of Technical Development and Board member at Audi.
1977
In 1977 Piëch began development of a car for the World Rally Championship
1980
On March 3, 1980 the Audi Quattro Coupé was presented at the Geneva Motor Show.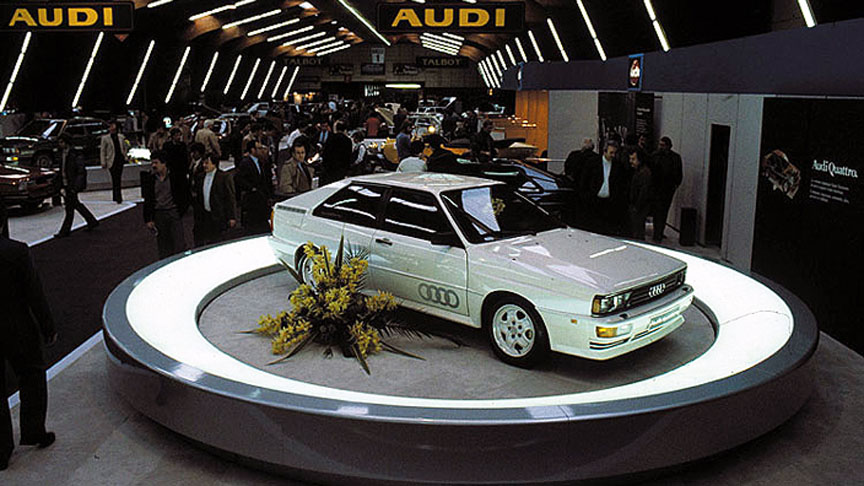 1981
In 1981, Piëch became the member of the supervisory board of Porsche.
1982
In 1982, the World Rally Championship was won by Audi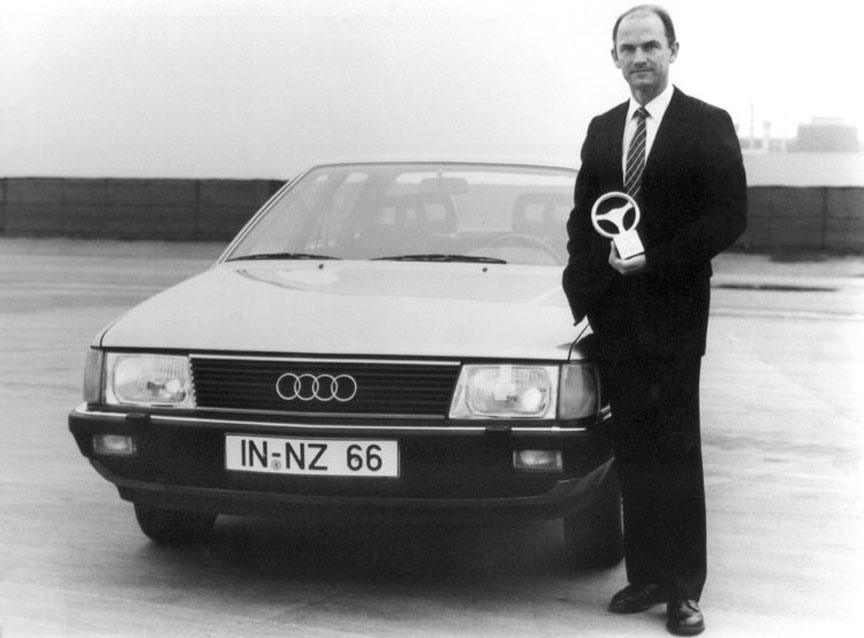 1983
On September 1, 1983, Piëch became deputy CEO of Audi. Audi scored second in WRC season, 2 points down from Lancia.
1984
In 1984 Piëch was awarded honorary doctorate ("Dr.h.c.") by Technical University of Vienna. WRC was won again by Audi.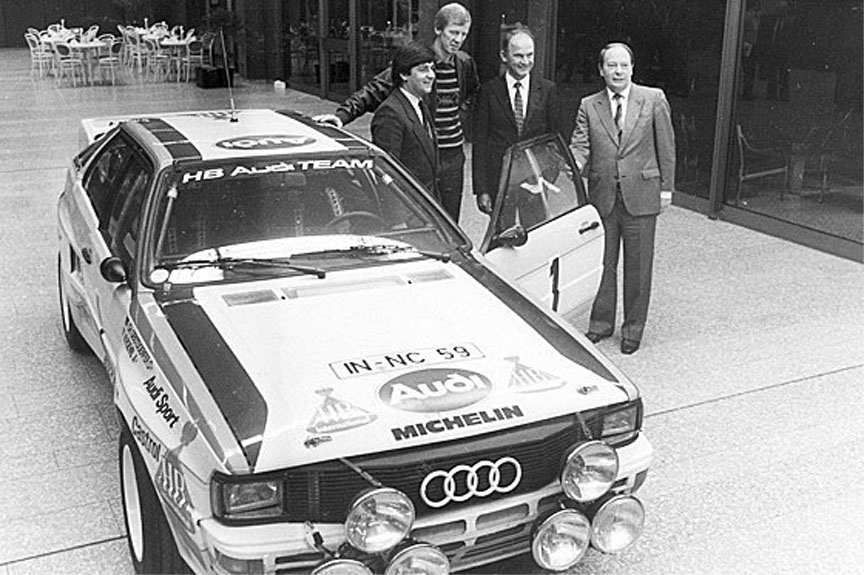 1985
In 1985 Audi NSU Auto-Union AG was renamed to Audi AG.
1988
1988 January 1, Piëch became CEO of Audi AG. In October started the production of the Audi V8 Quattro.
1990
In 1990, DTM-series was won by Audi V8 Quattro in front of BMW M3 Sport Evolution and Mercedes 190E 2.5-16 Evo2.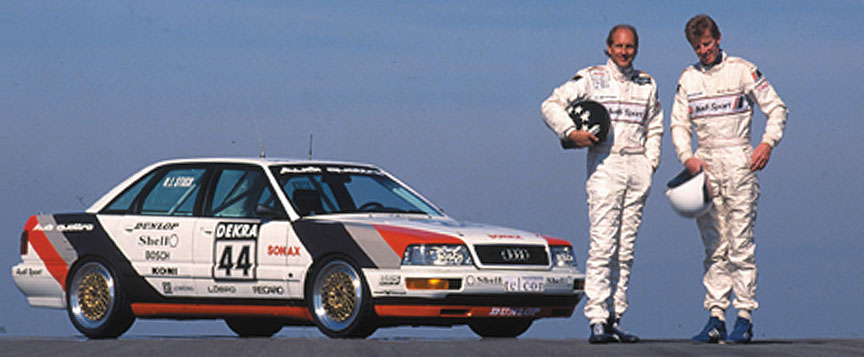 1991
In 1991, Audi won DTM again. Two amazing all-aluminium concept cars were unveiled: Audi Quattro Spyder concept in September and even more amazing Audi Avus W12 concept in October.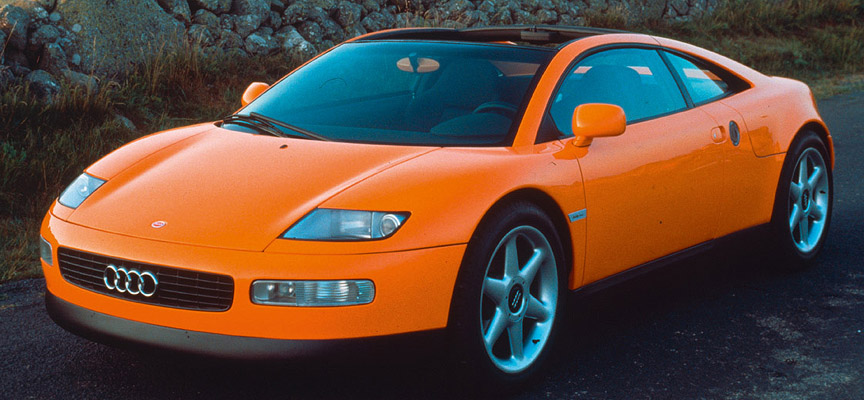 1993
January 1, 1993 and Piëch becomes CEO of Volkswagen AG, the parent company of Audi. At the Porsche Annual General Meeting, shareholder Piëch said: "Porsche will be independent for as long as I live." (Now we know, in 2012 he bought Porsche for Volkswagen which had become the most important company for him).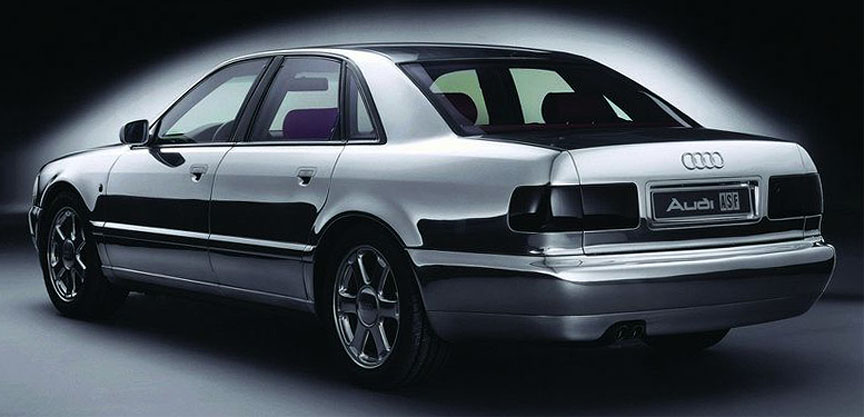 1994
In 1994, production of the all-aluminium Audi A8 started.
1997
In 1997, the Audi W12 engine concept (with VW origins) was rebadged with "VW" and carried over to Volkswagen concept cars. Big engines were Piëch's desire.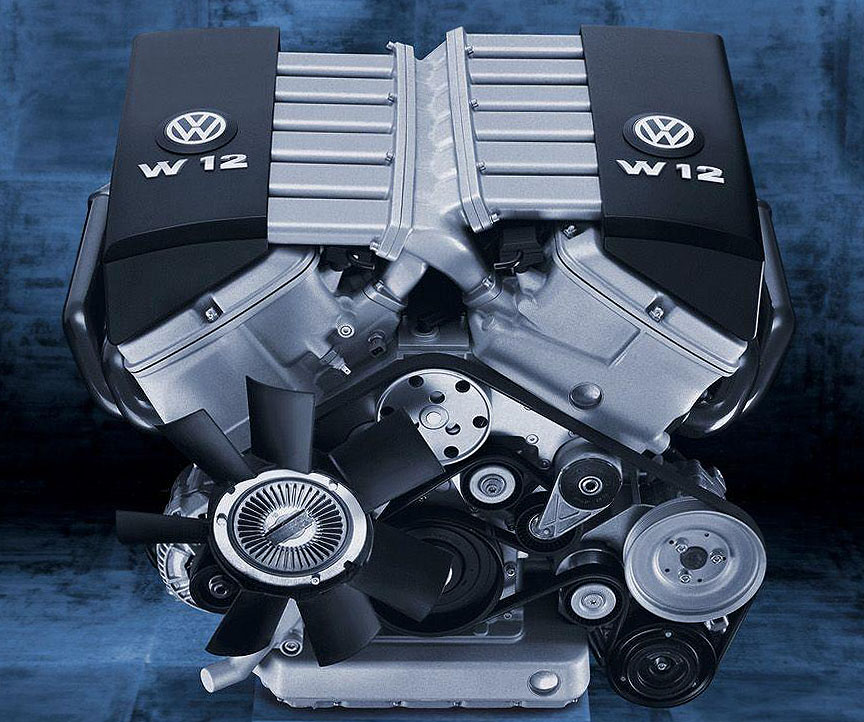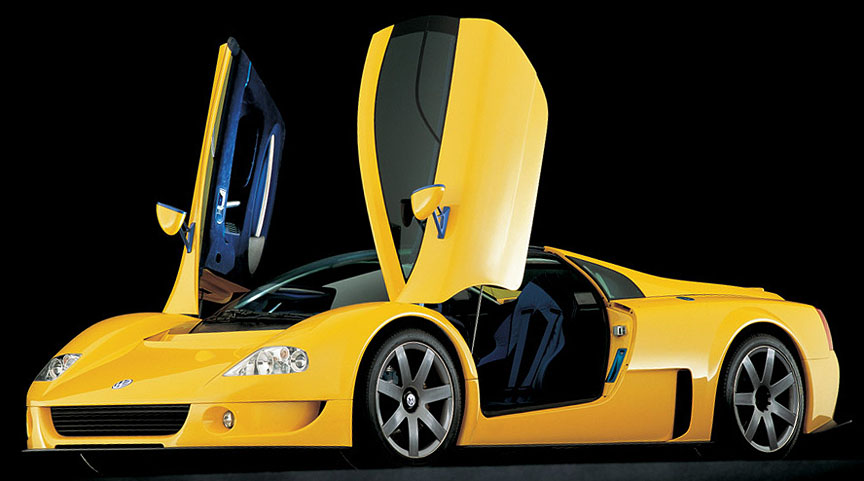 1998
In 1998, Volkswagen acquired the rights to the Bugatti trademark.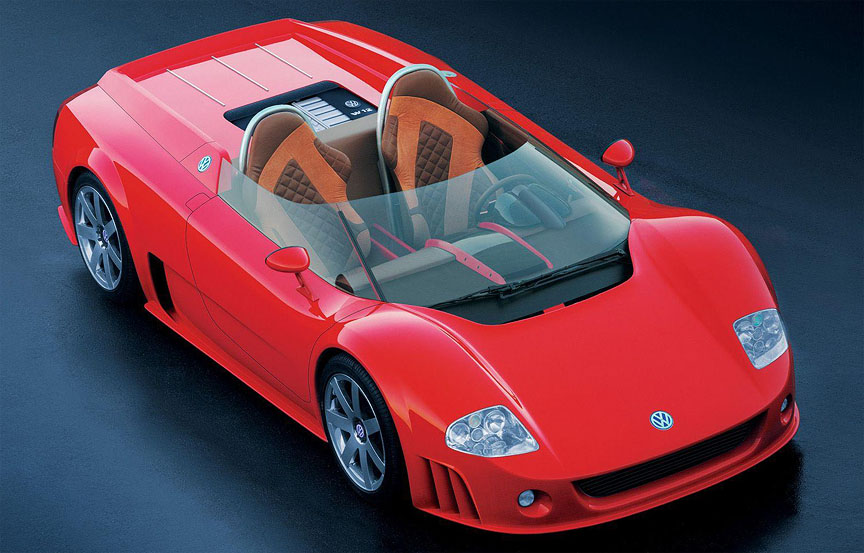 On March 27, 1998, Piëch's uncle, Ferry Porsche died at the age of 88. VW acquired Bentley in May, and Lamborghini through Audi in July. In September 1998, the Bugatti EB118 concept car was unveiled at the Paris Motor Show. The four seat, two-door coupé featured a 6.3 W18 engine.

1999
On February 10, 1999, his mother Louise Piėch died. That year, Piëch was named the Car Executive of the Century, ETH Zürich awarded him honorary doctorate and City of Zwickau named him honorary citizen.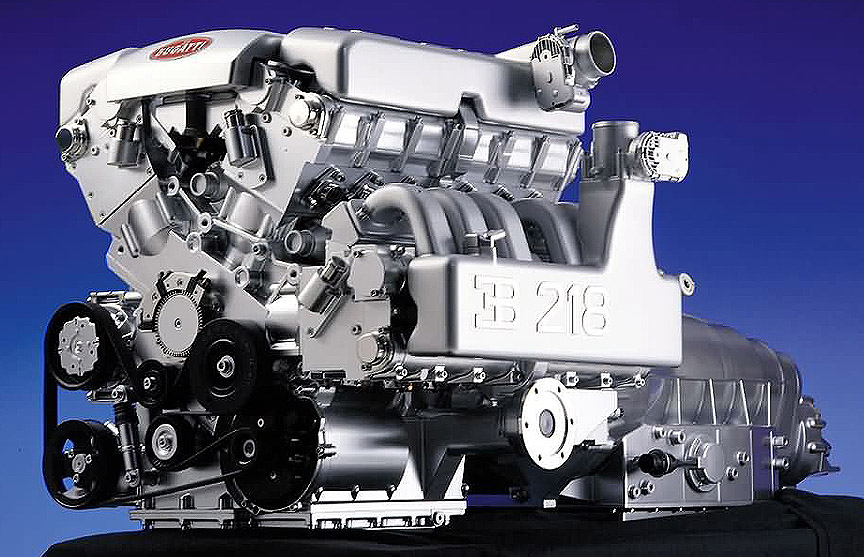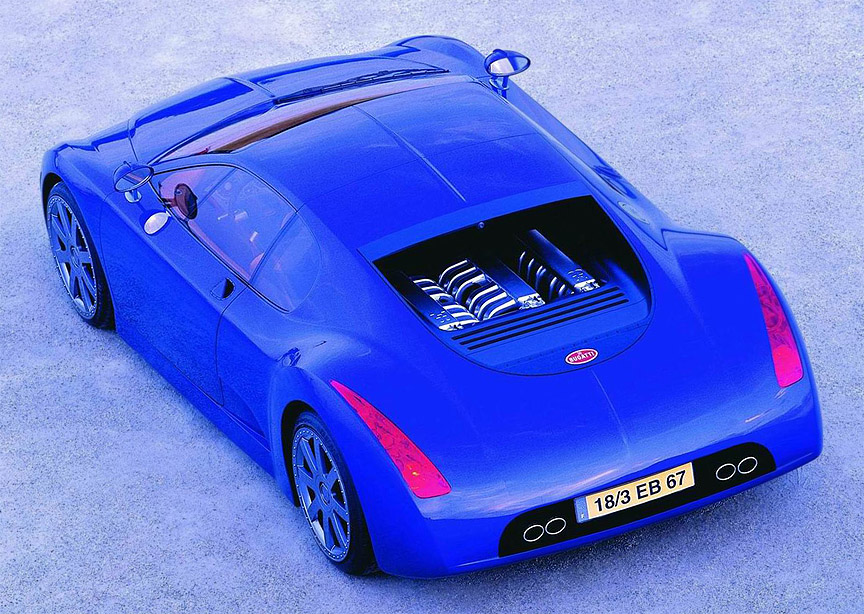 2000
In 2000, Piëch was also named as the chairman of Scania truck company (in 2000 VW became shareholder in Scania).
Already in 1994 the idea was born to build AutoStadt (Car City) in Wolfsburg beside the VW factory. The Car City would be an amusement park for all car fans. Its first pavillion was opened in May 2000.
2001
2001 10 years after the birth of the Volkswagen-Audi W-engine concept, it finally found its way into series production – as 6.0W12 for Audi A8 and as 4.0W8 for VW Passat. A Volkswagen W12 unpainted carbon fiber version set seven 24-hour world speed records at the Nardò track. Audi's home city Ingolstadt named Piëch as a honorary citizen.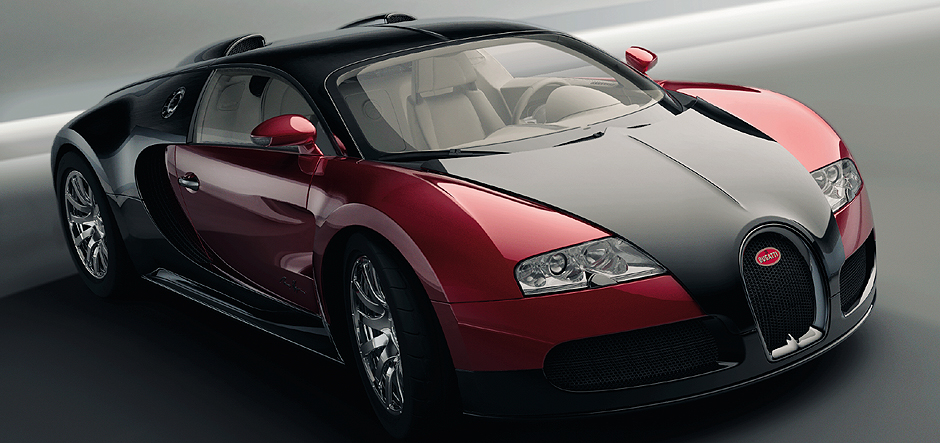 December 11, 2001, Ferdinand Piëch and Gerhard Schröder opened the new exclusive Volkswagen factory in Dresden. It is called "Gläserne Manufaktur" which means "Transparent factory". The place was created only for the final assembly of the high-end models (VW Phaeton, Bentley Continental Flying Spur).
2002
In 2002, the VW Phaeton was introduced in March and the new Bentley based on it, the Continental GT, in September. Continental GT used Phaeton's platform and engine, which was turbocharged for Bentley. For many, the new Bentley was the best Bentley ever, meaning Piëch was able to make British luxury cars even better.

Piëch had to retired from the Board of Management due to the company policy (reached the age of 65), but remained as Chairman of the Supervisory Board. Volkswagen's home city Wolfsburg named Piëch honorary citizen and he also received the 2002 Wilhelm Exner Medal for excellence in research and science (Piëch's grandfather Ferdinand Porsche had received the Exner medal in 1936 and his uncle Ferry Porsche in 1979).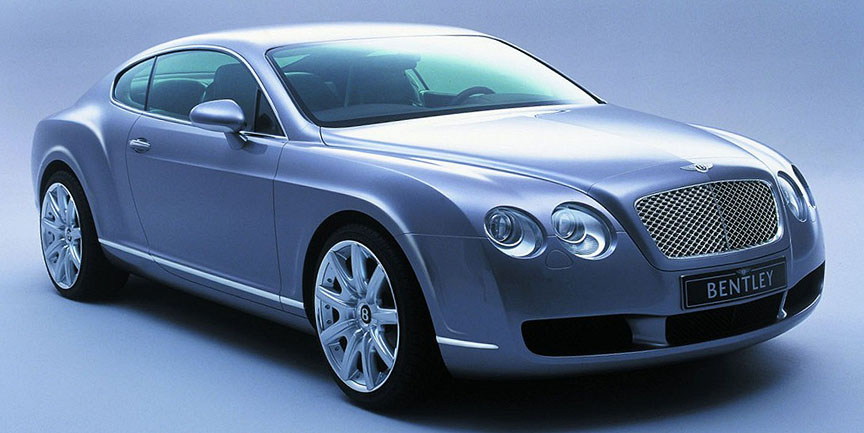 2006
2006 October 21, sister Louise Daxer-Piëch died.
2011
In 2011 Porsche became part of the Volkswagen Group. Piëch won the "Man of the Year" award of the Automobile Magazine.
2015
In 2015 Piëch resigned from the position of the head of the supervisory board of Volkswagen AG and from the supervisory board of Porsche.
2019
On August 2, 2019, a special Bugatti Chiron did 304 mph / 490 km/h. The world would not have seen such a car without Ferdinand Piëch. The 21st century Bugatti was Piëch's brainchild.
On August 25 2019, Ferdinand Piëch died at the age of 82.
Personal life
Piëch lived for twelve years with Marlene Porsche (cousin Gerd Porsche's ex). Piëch's fourth and last wife was Ursula "Uschi" Piëch. Ferdinand Karl Piëch had more than 10 children with 4 wives. One of his sons is also named Ferdinand Piėch. Although Ferdinand Porsche's name was carried on with his son and grandsons, Ferdinand Piëch, the son of F. Porsche's daughter, was the one to carry on the Porsche engineering genius. In addition, F. K. Piëch was a business genius.