Foreword
For the would-be Porsche owner, the cost of entry can at first glance seem pretty discouraging: a fully specified 911 Carrera S will set you back at least $130,000 new, and a 718 Boxster/Cayman S two-thirds of that.
And while the Panamera, Cayenne, and Macan depreciate almost as quickly as other sedans and SUVs, eternal demand for Porsche sports models ensures their values stay high, even into their second decade.
But for the buyer on a budget, all is not lost and as our survey will show, anyone with up to $25,000 USD to spend can do very well: there are plenty of cars out there, especially if you are prepared to travel.
Of course, the usual buying-used caveats apply, even more so with desirable cars like Porsches where some sellers may pitch at distinctly 'optimistic' prices.
The Appreciation of Porsches
Let's get the bad news out of the way first: at $25,000, you won't find any working air-cooled cars, not even at double that price. Like any used car they depreciated as buyers sought the latest model, but after 2000 this began to change as the market realized that these quirky air-cooled 911s were no more and its 21st century equivalent, the 996 (though quicker, more economical and easier to drive) lacked some of the character of Ferry Porsche's original design.
Then came the Lehman Brothers crash and investors began to look for other refuges to place their funds. Rare cars became fashionable again (Ferraris and Bugattis to name but a few) and soon reached and exceeded their values in the boom of the late 1980s.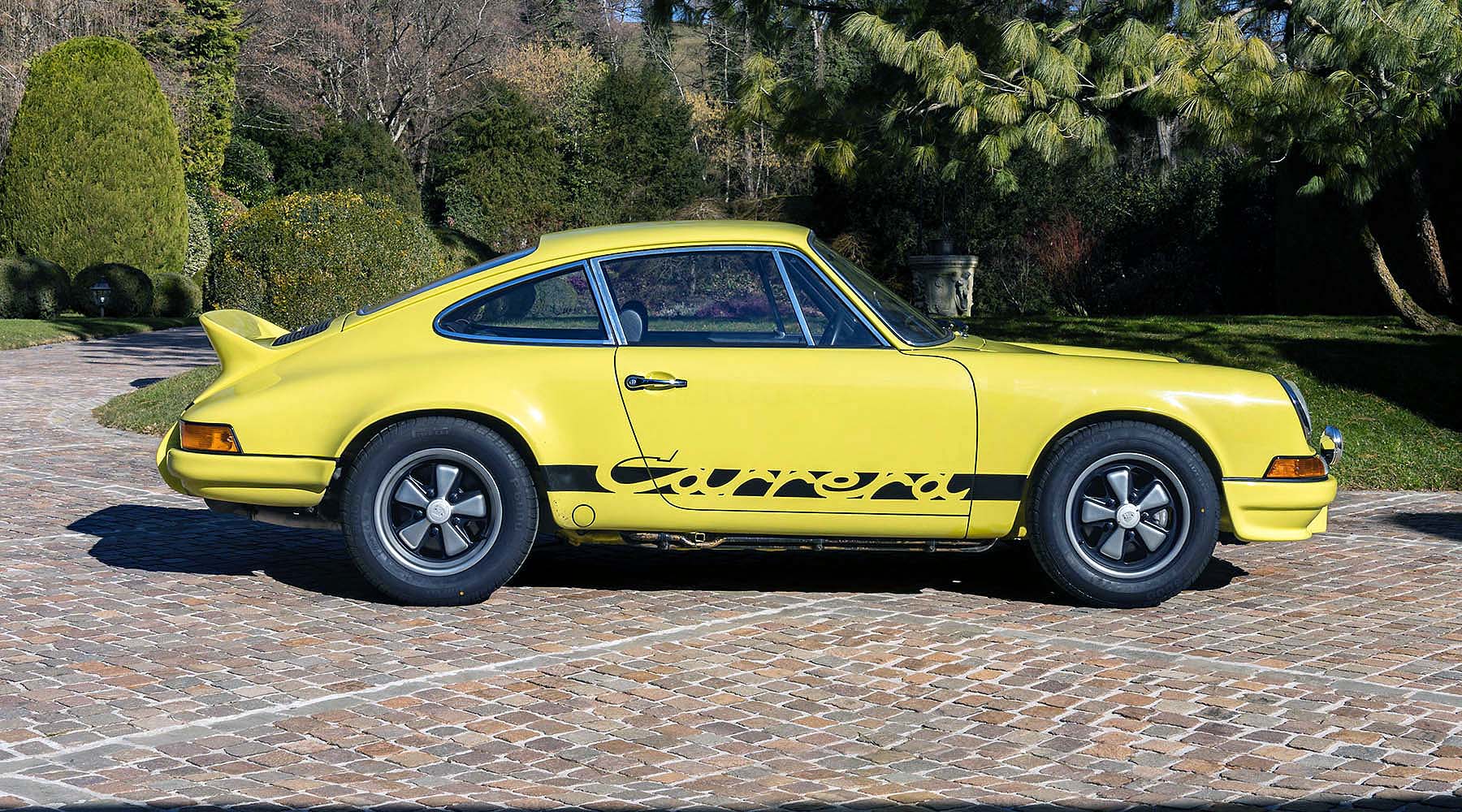 This time however the market did not falter: naturally rare 911s such as the Carrera 2.7 RS, a car which sold for around $40,000 in the 1990s, had by 2013 risen to ten times which had the effect of invigorating the car on which it was based, the 2.4S and then the lesser models, not just the earliest 911s,  but 'forgotten' models like the Carrera 3.0 of 1976/7. By 2017, even the humble SC, which buyers had once readily transformed into track day cars because they were cheap, was far from the entry-level 911 it had once been.
Driven by the prospect of an electric future where enthusiasts fear that the challenge of the combustion engine with its gears and torque curves will be lost, all Porsche models, the water-cooled 911, the mid-engine Boxster and Cayman sisters as well as the long-discontinued front-engine transaxle cars have all seen their resale values increase remarkably.
The Four-Cylinder Transaxle Cars: 924, 944, 968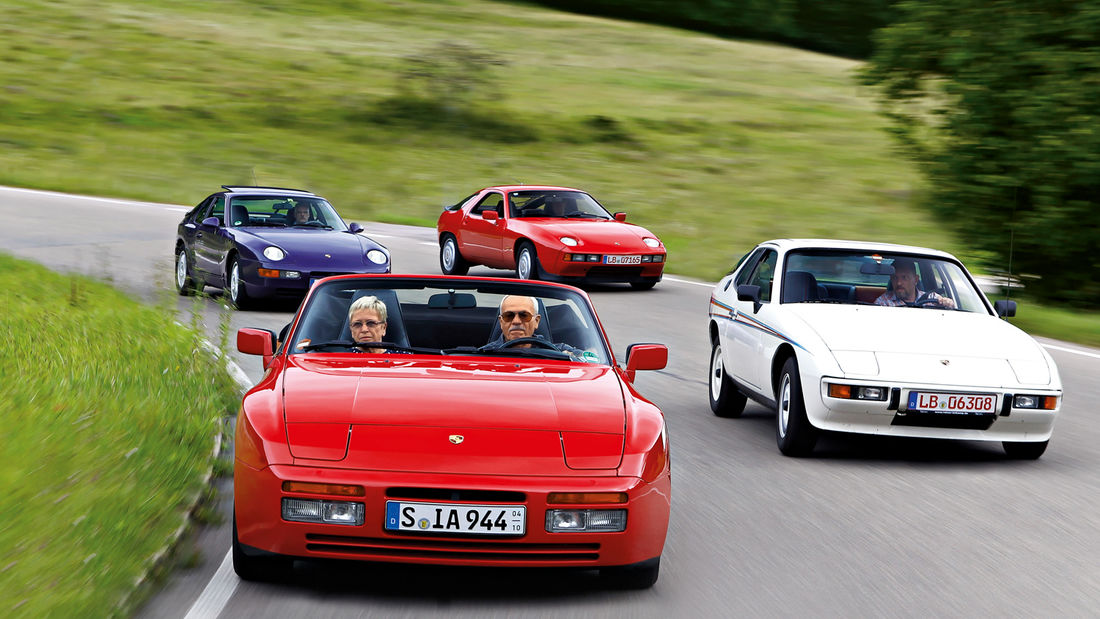 So-called because while the engine was at the front, the rear axle comprised both differential and gearbox. This resulted in also 50:50 weight distribution and a series of fine-handling cars.
Intended as entry-level Porsches, a four-cylinder single camshaft water-cooled engine was used. Initially based on a stock Audi 1.8, over ten years Porsche developed the design considerably and in its final three-litre iteration, the 16-valve Variocam (variable valve timing) head would be a testbed for the coming water-cooled flat-six of the Boxster and 996.
924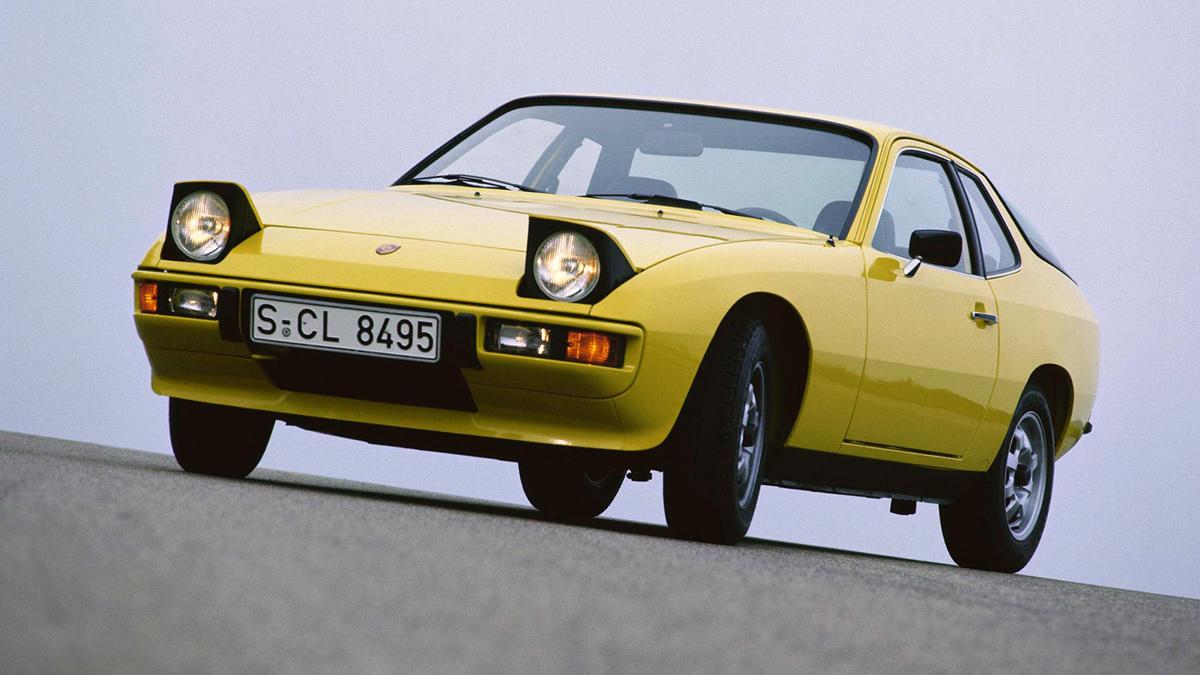 First seen in the US in 1976, this front engine coupé replaced the mid-engine 914 and the re-introduced 912. Initially intended to be a joint venture with VW, political shifts at Wolfsburg meant that Porsche, which had designed and engineered the 924, inherited the whole project.
Though derided by some Porsche aficionados, the 924 sold well, providing income for dealers at slack times and introduced a new stratum of drivers to Porsche ownership. While it demonstrated comprehensively that the MGB to take one competitor was simply a pre-war sports car in a pretty dress, the 924 had its shortcomings: its Audi-derived engine was rough and especially in US detoxed spec, with only 95bhp performance was lacking.
Production ended in 1988 and very few are left on the market. The Turbo version is rare, often pricey, complicated and the best 924 bet is probably the run-out 924S which shared the 2.5 engine of the concurrent 944. A well-used but working S might cost $7000 to $10,000 and a West Chester seller is offering a 'restored' 1987 S for $20,000.
944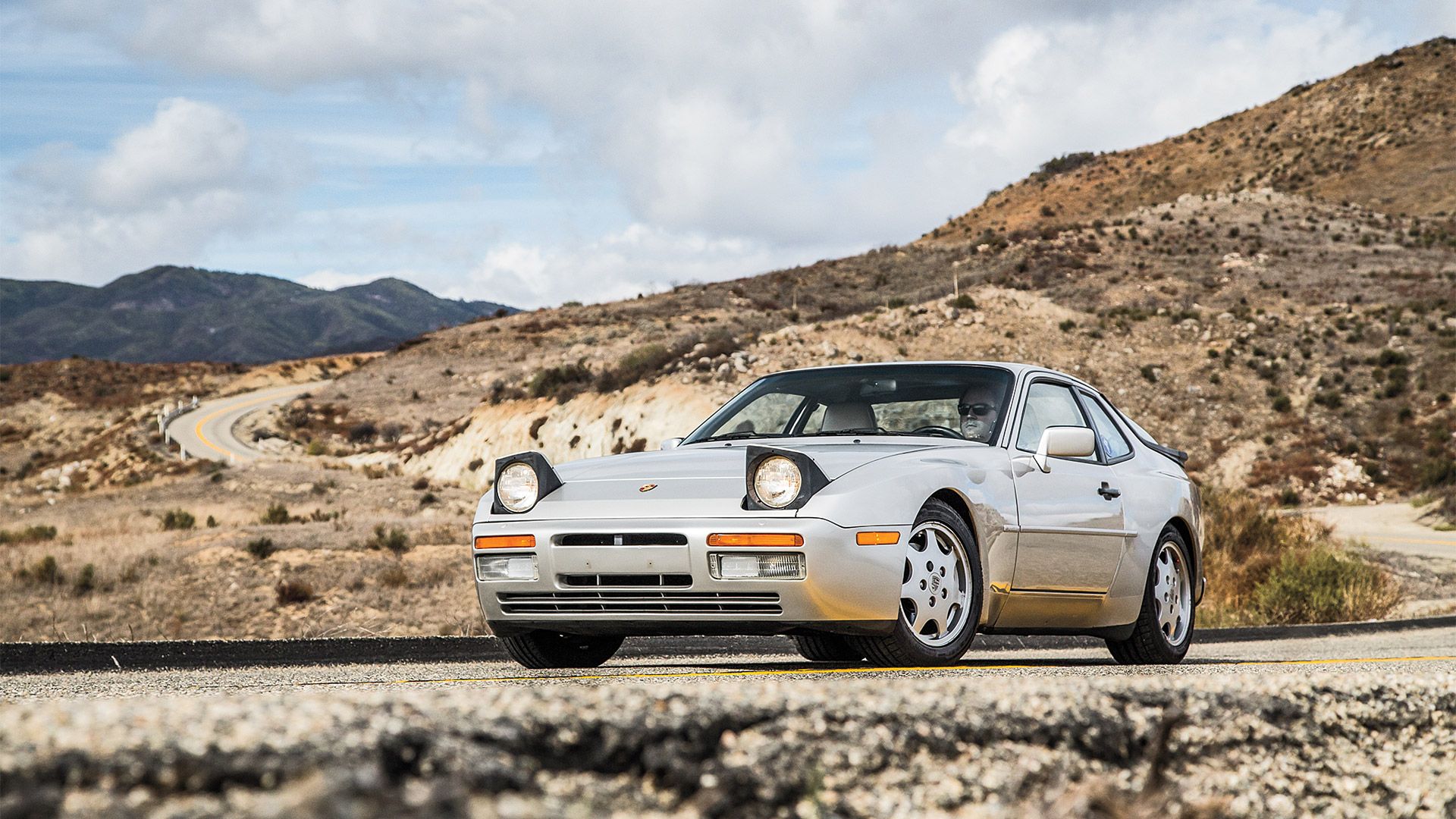 Hailed by critics as a "proper Porsche," the 944 which sported the more aggressive look of the works 924 GTS le Mans cars, one of which had finished sixth in the 1980 edition, is preferable to the 924 as a much more developed sports car.
Its re-worked engine, now 2479cc, was more potent –147 as opposed to 95 horsepower and though never as smooth-running as a 'six', Porsche used twin balancer shafts (a patented design for which they reportedly paid Mitsubishi $8 per engine) to offset the inevitable vibrations which had dogged the 924.
The 944's ten-year inning saw two capacity increases –2.7 in 1986 and 3 litres in 1989 by which time the 944 sported 210hp. A turbo version based on the 2.5 was rated at 220bhp and provided almost the same acceleration and top speed as the concurrent 911 Carrera 3.2, an example of in-house competition which handed car magazines at the time great material for comparison tests. Unlike the 924, the 944 was also available as a cabriolet and from 1986 with automatic transmission.
The 944 is phenomenally hard wearing and it is not unusual to see examples advertised with lunar mileages and while the basic engineering is reliable, parts wear out, plastic fittings shrink and corrosion and sun damage after three decades is inevitable.
Cars priced at the low end will be projects: a private seller in Georgia is asking $10,000 for a 1984 model that mechanically is partly refurbished, but which he hasn't had time to finish. It's a convincing sales pitch: life happens after all. And as a buyer, such a project may well suit you provided you can satisfy yourself that the initial outlay will not be doubled by the further improvements needed.
Nearer our $25,000 budget, expect a 944 which is not perfect, but entirely usable every day. Crucially it should have recent evidence of a rebuilt cooling system and water pump, new cam belts and drive belts and absence of significant oil leaks.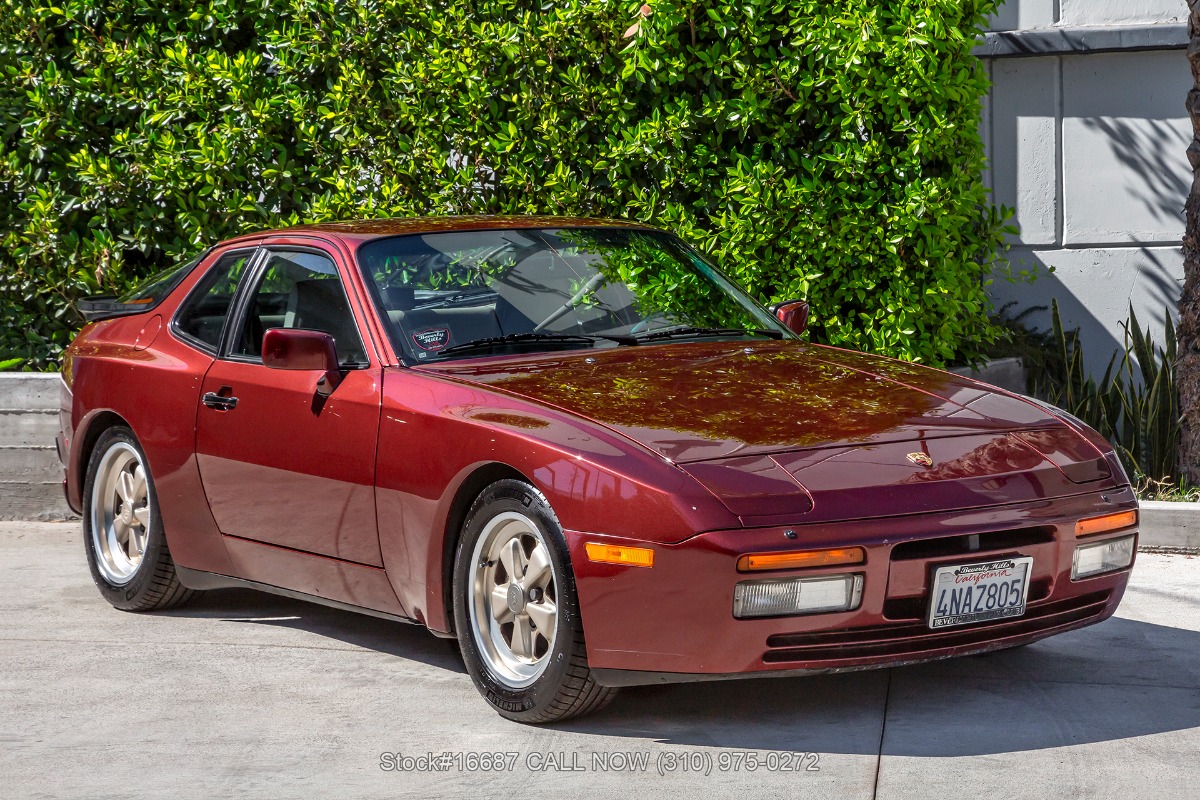 This 1986 Porsche 944 Turbo is selling for $19,750 USD. Credit: Beverly Hills Car Club
On a car showing 150,000 miles, some rebushing of the suspension, perhaps even new anti-sway bars, should be in evidence. A leak to be wary of is power steering fluid: repairs here are usually expensive.
A serious dealer should be able to produce invoices to demonstrate critical maintenance, camshaft and timing belts, ignition and cooling system overhauls, has been done or undertake these specific tasks as part of the sale.
968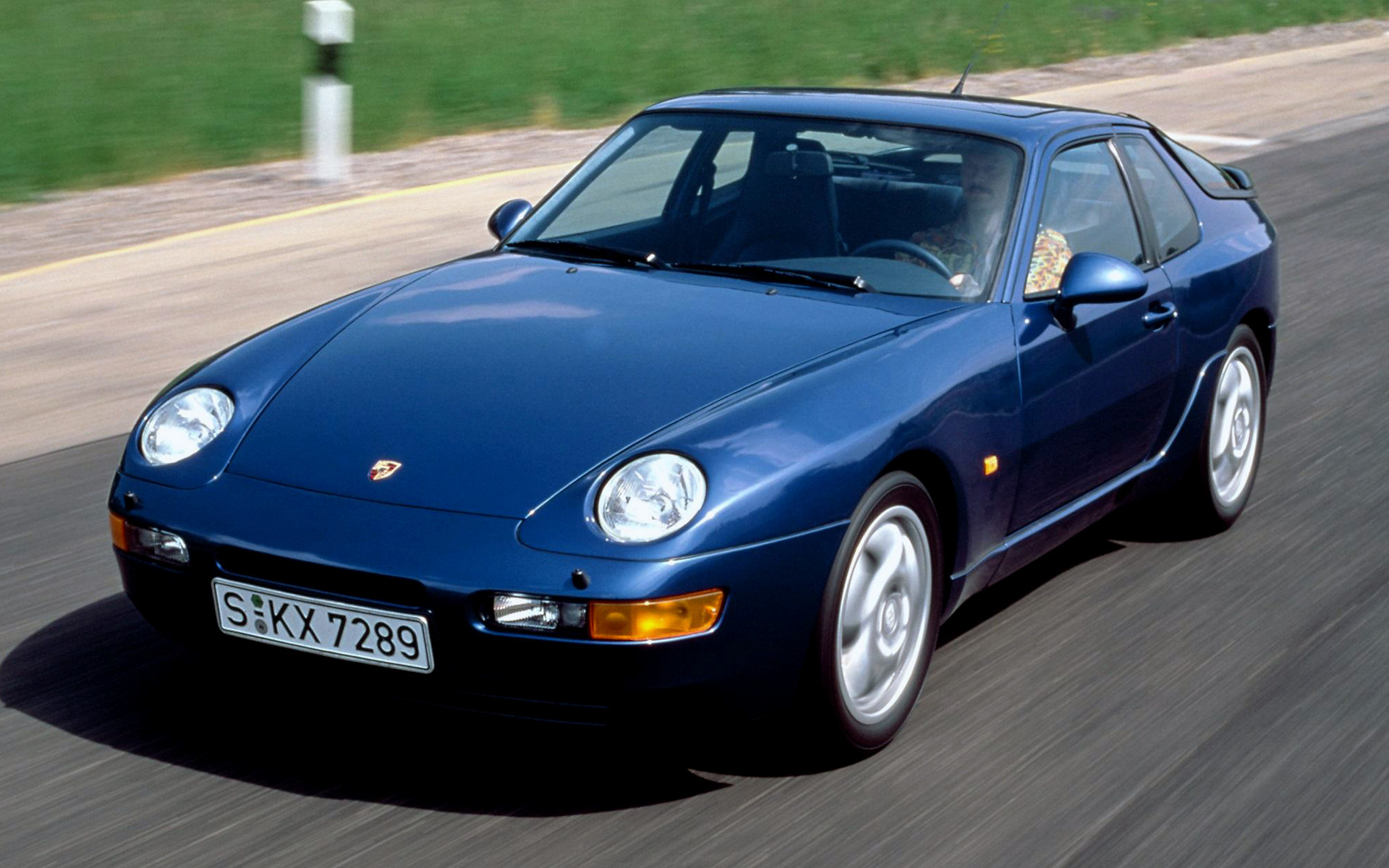 By the late 1980s the 944 looked old-fashioned and the 968 was effectively a 944 makeover, its new front designed to embody the corporate look of the 928 and the soon-to-be-released 993.
Built for a little over three years, the understated 968 was  a powerful performer with 236 SAE horsepower from its 3-litre engine and in coupé form, weighing much the same as the contemporary 964, it was less than a second slower in the 0-60 dash.
But at $44,500, American buyers expected more from their entry-level Porsche, not the least of which was smooth six-cylinder engine (and Porsche had two possible candidates on the stocks at Weissach, a compact V6 which it had designed for Volvo and a BMW six-in-line with a substantially reworked head).
However, it was not to be: on Porsche's drawing boards by 1991 were designs for the forthcoming Boxster (the concept would be revealed to great acclaim at the New York Motor Show in 1993) and the 968 quietly disappeared in 1995 its production total a mere 11,000 units compared with 163,000 944s.
Like its predecessor, the 968 tolerates huge mileages provided its maintenance regime is systematically adhered to, the same buying advice as the 944 applies. Many 968s sold in the US were the cabrio, often with 4-speed Tiptronic transmission; coupés and the six-speed manual gear box cars, usually the enthusiast's choice, are harder to find.
Prices begin once again below $10,000, but at this level the buyer needs to have enough practical Porsche experience to have a clear idea of what further expenditure would be needed to make the car a reliable runner.
For $25,000, the buyer may still have to make some compromises as many of the best examples are advertised well into the thirty-thousands.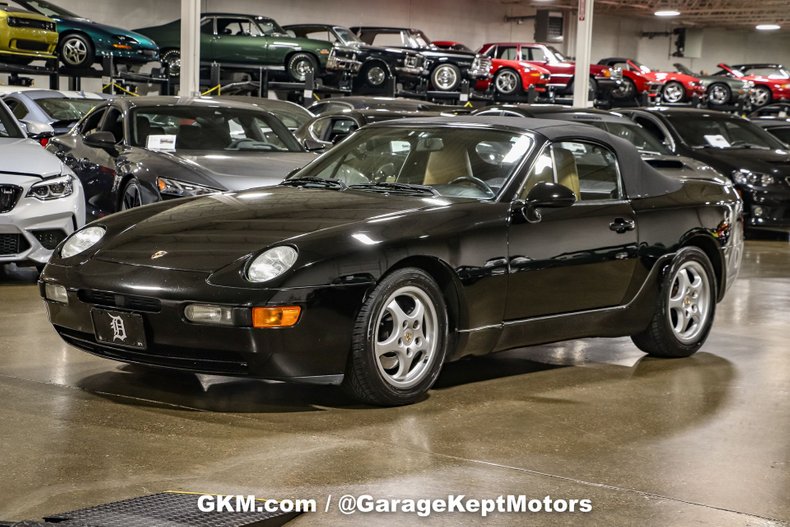 This 1993 Porsche 968 Cabriolet is listed at $24,900. Credit: Garage Kept Motors
The transaxle cars' reputation for nicely balanced handling has made them popular for track days and the slightly lighter 968 Clubsport, though no quicker, has long since been 'discovered' and commands a significant premium.
V8 928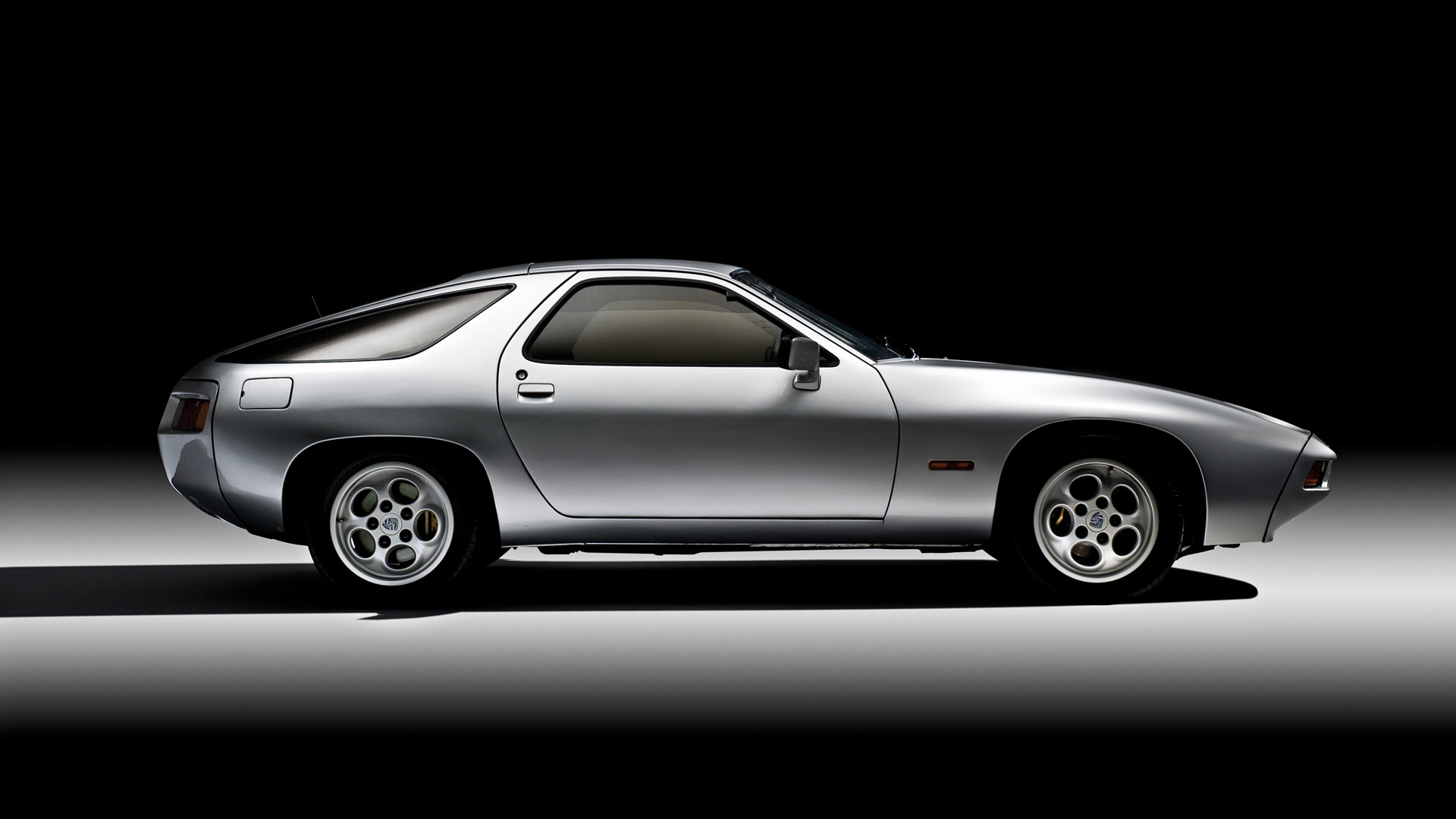 Porsche's front engine-rear drive was more GT than pure sports car, but its high degree of innovation, an efficient light alloy V8, aerodynamic body with moulded polyurethane front and rear was enough to win the European Car of the Year Award in 1977, the only time a sports car of any description has ever taken this prize.
As is now well-known, uncertainties regarding the future of the 911 in its most important market, the US, led to the development of the 928, described by Styling director Tony Lapine, an ex-GM man, as a "better Corvette." An entirely new direction for Porsche, designing and testing the 928 took over four years and by the time it was launched, the threat to the 911 had evaporated and Porsche under Peter Schutz abandoned plans to shelve it. Instead, 911 and 928 ran side-by side, the 928's sales diminishing steadily until in the mid 1990s, with the 968, it faded away.
The problem was that however brilliant the design, and there was little question of that, the 928 was not a Porsche as conceived by Ferry Porsche in the late 1940s and many Porsche enthusiasts as well as long-serving managers in the company could not take it into their hearts. As observers opined, it was a great car made by the wrong company.
In its 17-year career, the 928 evolved, gained more power, a more aggressive look and finished as a particularly fine 350 horsepower GT. Its subsequent value however declined to the point where Top Gear presenter Jeremy Clarkson was able to make a semi-comedy episode of the programme with three early 928s purchased for £1500 or less ($2500) competing against each other.
That was the 928's lowest point and though never enjoying the popularity of the 911, its values and reputation have improved, especially since the mid 2010s (and Clarkson has since repented for mocking it). No longer will you find a 928 however badly running for $2500. Indeed, very little under $10,000 will be driveable or usable but well-worn examples start at around $20,000.
And therein lies the rub: the 928 is an immensely complex car which like most old Porsches will struggle on even when wildly out of tune. Its engine and systems need specialist maintenance often beyond the compass of your local air-cooled shop and in our sub $25k bracket, an example bought through a reputable 928 specialist may be a wise move for all but the most confident buyer.
The Water-Cooled Flat Sixes
There is no shortage of sub-$25,000 Boxsters, Caymans or 911s, but almost all cars will be pre-2008 models.
Boxsters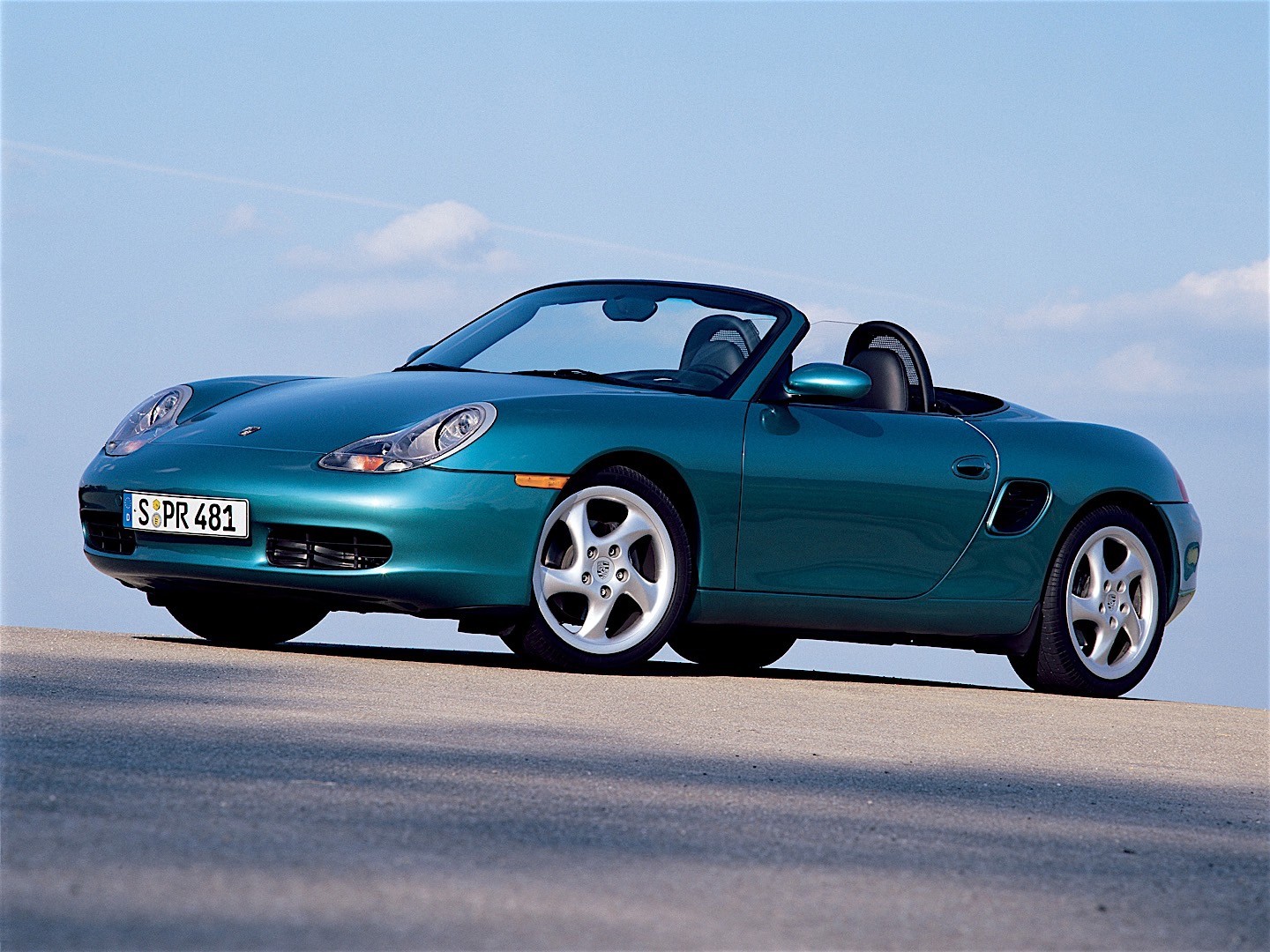 These arrived in the US in 1997 and their immediate popularity has been sustained through several revamps. On the market inside our $25K are the early 986 2.5 of 1997-9 through the 2.7 of 2000-6 and the 250 bhp 3.2S, which had 260 bhp in its final incarnation.
With 314 Boxsters to choose from, a glance at Autotrader.com confirms the continuing popularity of Porsche's versatile convertible, but this also means that later cars, the 987 and even more the 987 gen 2 models are rare finds in our price segment.
Caymans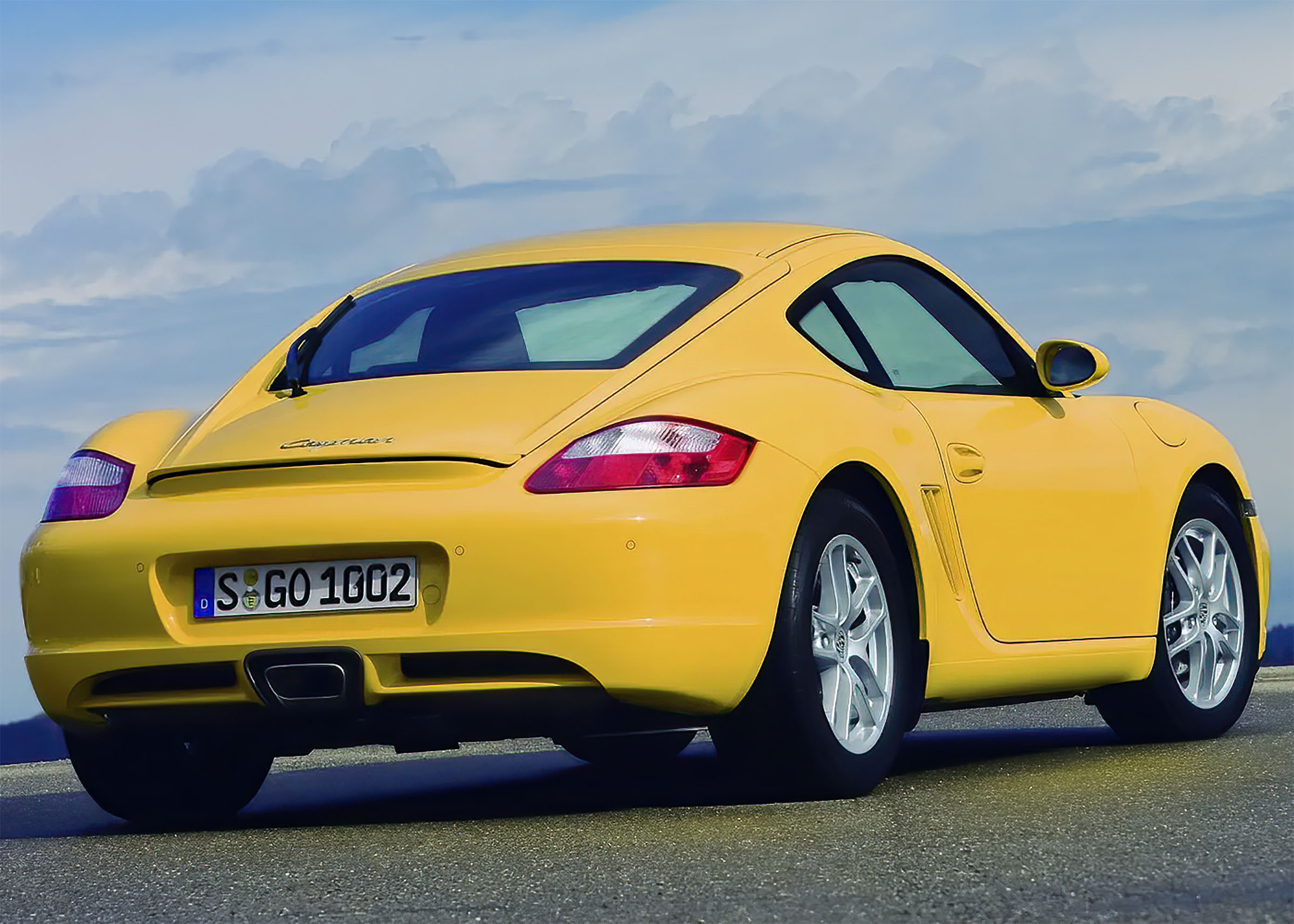 Not launched till 2005, the hardtop version of the Boxster is less common and Car.com for instance has only 19 sub-25K examples listed. Nearly all the offers are for the 2.7 Cayman from the 2005-8; there are few 3.4 Caymans Ss. Diligent searching may unearth a high-mileage 987 gen 2 car with the 2.9 9A1 engine.
911
Our $25K limit suffices to cover the gamut of 996s from the earliest 3.4 cars to the last 3.6s of 2005. One or two gen 1 997s may sneak under $25,000, such as the high-mileage (153,000) coupé on offer in Wisconsin.
Even two decades on, used prices for 996s can go well over $50,000 for the base C2 or C4 models so cars in our price bracket are unlikely to be pristine and any Turbo which turns up is sure to be a project and not for the neophyte.
What to Look For
These cars share many components including the M96 engine family in differing capacities and same platform. Indeed, the 996 and the 986 Boxster were designed alongside each other and have the same body as far as the A pillar. Such duplication was a prerequisite for a Porsche which had almost bankrupted itself having two entirely separate inventories for the air-cooled and transaxle cars.
Because of their many commonalities, it is convenient to look at all three models together.
Engines and Gearboxes
The M96 was a light alloy design where the opposed cylinders were made in a complete unit unlike its air-cooled predecessor which had individual cylinders design. Cheaper to build, lighter and with four valves/cylinder higher revving, these were performance engines, but a major design flaw marred its reputation: the intermediate shaft (IMS) which transferred drive to the camshafts from the crank could fail without warning. Potential failure and destruction of the engine was a vexed topic in Porschedom in the 2000s. The M96 engine was replaced by a total redesign 2008, but in the interim, the aftermarket, led by innovators such as LM Engineering offered a variety of replacement shafts as part of preventive maintenance.
It's much less of an issue today: examination of the oil filter during an oil change will usually reveal any telltale swarf from a failing bearing and changing the IMS in conjunction with clutch change for example has become routine for workshops. But the "if it ain't broke don't fix it" philosophy, particularly for 100,000+ miles engines, is worth bearing in mind. A minor oil leak or weep is not worth fixing until a major service.
Porsche never acknowledged the IMS problem though they modified the IMS bearing four times between 2001 and 2006, which did reduce the incidence of failure. If a car is advertised as having had the IMS replaced as part of preventive maintenance and it is worth asking whose replacement has been fitted: a French buyer acquired a 996 with bills that showed the IMS had been replaced. However, when this failed after three years, he looked again at the invoice and from part numbers saw that the dealer had fitted a replacement shaft from Porsche's original stock!
As with any used car, check coolant and evidence that the water pump has been replaced, not forgetting the brake rotors: new brakes all-round will cost over $1000. Ideally have the car on a ramp to assess the underside and state of the exhaust – gaskets can fail, and the coil packs give up.
If one of these is failing, cracks should be visible in its body, but in any case, the car will misfire and feel unresponsive. These are all eager, high revving engines and a 150,000 miles example should be just as keen as a low mileage example, perhaps even more so because Porsche sports cars' racing pedigree means they thrive on constant and demanding use. The only caveat is regular attention and on twenty-year-old cars, changing the oil and filter every 6000, rather than the factory interval of 12,000 miles is a sensible precaution.
The five- and six-speed gearboxes rarely cause trouble, though the change can lose some of its precision and might benefit from rebushing. The Tiptronic automatic is equally reliable. Any reluctance to shift may well be resolved by replacing the transmission fluid.
Bodywork
No external corrosion should be apparent. If it is, suspect a substandard repair at some point. On the other hand, few cars will have escaped without some respraying, especially the nose cone which is especially vulnerable to stone and parking damage and may have been replaced at some point.
If carried out properly, and this goes for any replacement panels, the shut lines (panel gaps) will match manufacture settings. On Boxsters and convertible 996s, check that the roof opens and closes smoothly and the material is undamaged. On very early Boxsters, the rear window was plastic and can craze over.
Interior
The 986/7 and 996 were premium priced automobiles, reflected in the quality of cabin fittings, but they do wear if neglected. An interior with a minimum of chips and scuffs is a sign that the rest of the car has been cared for. Check under the carpets on the convertibles for signs of dampness (especially in the northern states) as moisture eventually causes corrosion and enough of it will upset the Boxster's floor-mounted electronic control box. All-leather interiors were an expensive option but hide use well and are worth seeking out.
Suspension
Bushes, steering and suspension arms all wear. Any vagueness of a Porsche's precision steering can be remedied by new top mounts and steering arms; clonks and squeaks from the rear suspension mean worn components, but initially do not materially affect handling and are usually more of an aural irritation.
Many specialists reckon on a seven-to-ten- year service life for suspension components. The new owner needs to decide whether spending a further $2000 on a Boxster purchased for say $10,000 is worth it for pin-sharp handling.
Conclusion
Despite the inflation of prices in the last ten years, for the careful buyer there is still a lot of Porsche car to be had for $25000 or less.
The transaxle cars are thirty and more years old and more suited to the enthusiast who expects to have to take a spanner to the car from time to time; at this price the more complex 928 is perhaps the Porsche for the specialist.
Boxsters and 996s if not Caymans are numerous in our price bracket. All cars will show signs of twenty years' use, but high mileages matter far less than service records which show the oil has been drained regularly.
This is even more important on low mileage examples which may have sat unused for long periods and never extended. Porsches are thoroughbreds which need to stretch regularly. The state of wearing surfaces in the cabin also speaks volumes for how the Porsche has been treated.
Externally, non-matching tyres suggest a car run on a budget. Always look for signs that previous owners have not shied from opening their wallets.
As ever, the conventional second-hand car buying advice still applies:
Don't fall for the first car you see and do plenty of research beforehand
Unless experienced, take a knowledgeable pal for a second opinion
Purchasing from a dealer, try to see the underside of the car and agree what servicing or repairs the dealer is prepared to carry out within the sale price.
A test drive should be long enough to determine whether the engine is on song, that the automatic shifts smoothly, whether the Porsche steers correctly and the car feels right.
Keep a proportion of your budget for potential repairs or improvements after purchase