California-based luxury specialist Singer just released their first reimagined Porsche 911 (Type 964) Cabriolet. After getting some requests from owners, Singer responded with their latest restoration services as a result of the company's Turbo Study that will be used on the cabriolet body style of the Type 964. Singer's research about forced conduction to celebrate the Porsche 930 Turbo.
The coverage of the Turbo Study that represents Singer's next generation of services includes:
– Working with owners on the first road-going restoration equipped with forced-induction
– Capable grand-touring and sports performance for the couple and the cabriolet
– Reimagined iconic turbo body, shark fin, and whale tail spoiler
– A perfect combination of luxury and sporting character that matches their owners' needs
Every restorations starts with a Type 964 Porsche 911 Cabriolet
Singer Group Inc Founder and Executive Chairman Rob Dickinson shared, "The first Porsche, the Sport 356/1 known as "Number 1", was a cabriolet, and high-performance, open-roof glamour has been part of the story ever since. I've long wanted to celebrate that part of Porsche heritage at Singer and doing so as part of our recently announced Turbo Study seems a perfect place to start. Our goal with the Turbo Study is to distill the awesome thrill of Porsche's first 'supercar' while reimagining its performance and refinement. We're excited that owners can now choose to enjoy these traits with the roof down."
Singer Group Inc. Chief Executive Officer Mazen Fawaz added, "Singer's growth as a luxury brand continues. Our new expanded facilities in California and the UK have enabled us to expand the team with world-class talent and respond to growing demand around the world. The team in the US is diligently focused on completing Classic Study restorations while, in the UK, our team is carefully executing each of the restorations enabled by the Dynamics and Lightweighting Study. The response to the Turbo Study from owners has been incredible and it's very exciting to be able to extend our services to the cabriolet body style for the first time."
Technical Specifications
The newest restoration is a Porsche 911 reimagined by Singer guided by the specifications set by the client from the results of the Turbo Study to show his personal vision. Specifications of the owners include:
• Lightweight carbon fibre bodywork in Cadiz Red
• 3.8L twin turbocharged flat-six with air-to-water intercooling
• 510 HP
• 6-speed manual transmission
• Rear-wheel drive and touring-focused suspension
• Carbon-ceramic braking system
• Electrically adjustable sports seats in Black with Tartan seat centres
• Wood accents in Black Forest – Red
• Automatic fabric hood
• Air-conditioning and inductive phone charging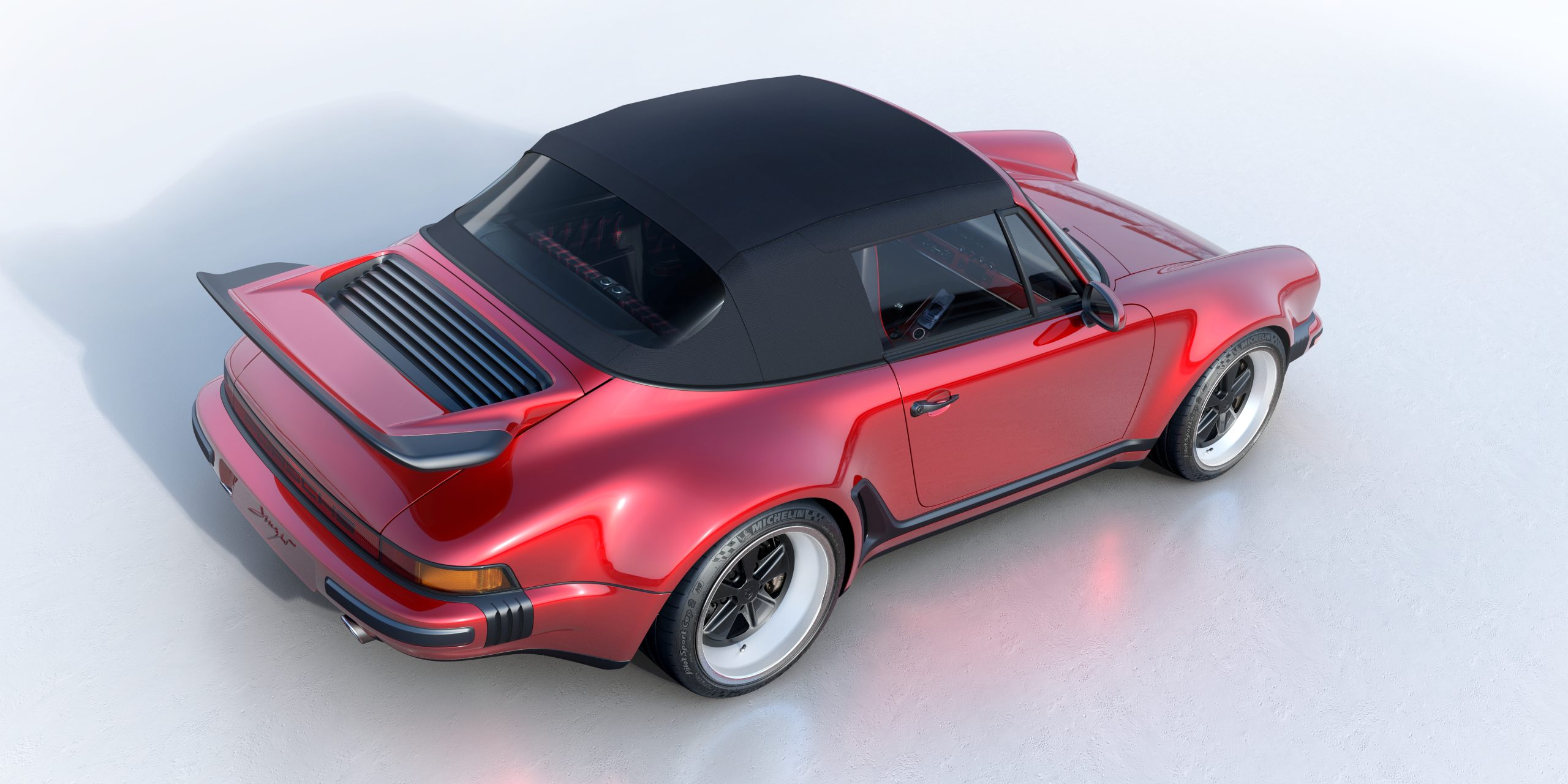 Engine
The Turbo Study used the Type 964 generation of air-cooled cars as its starting point for Singer's restoration services as they worked closely with their client. The study showcases a new evolution of the "Mezger" air-cooled flat-six engine. Singer upgraded it to 3.8-liters and features twin turbochargers with electric wastegates. They mounted bespoke air to water intercoolers inside the intake plenums. The rear fender's 'shark fin' is reimagined as an intake so it now supplies cold air to the engine bay to maximize combustion and cooling performance. As per owner's preferences, power outputs start at 450 HP up to 510 HP.
Advanced Materials
To keep the balance between iconic DNA with state-of-the-art engineering and material science, they created a bespoke carbon fiber body. To pay tribute to the iconic 930 Turbo, they reimagined the bodywork to really bring out the aesthetic and functional performance. Using carbon fiber has allowed Singer to lower the mass, improve stiffness, and dynamic responses, features and traits that Singer's clients have com to expect and enjoy about their reimagined 911 Cabriolet.
Drive
The Turbo Study results also showed Singer's usual focus on optimization and technical development. The study also tapped on the all-wheel-drive experience that was developed in-house in 2014 when they did their first AWD Classic Study restoration. The past research was used in conjunction with the research on turbocharging and high-performance ride and damping expertise.
As per owner's request the Turbo Study enabled both rear-wheel-drive and all-wheel drive restorations. In both situations, the optimized six-speed manual transmission showcases the driver engagement that Singer is famous for.
Performance
Forced induction has allowed power outputs starting at 450 HP. It has improved refinement, minimized noise levels, and the capability to choose a more complaint damping and suspension performance. This feature enables owners to simply focus on the long-range, high-speed touring capability of they want. The turbocharged torque provides effortless speed-matching from alpine pass to autobahn as well as deep reserves for overtaking ability.
The owner can also specify a higher power output. For those who prefer more focus on sporting, there is also a sports exhaust system and suitable damping characteristics which can be modified as desired.
Singer and the owner work closely together in all aspects of the project so they can concentrate on their preferences from grand touring to sports focus, and both styles can be accommodated for both coupe an cabriolet body styles. In reserve are parts like ABS, brakes, and traction control so they are available anytime they are needed. Carbon-ceramic discs can also be chosen by the owner if they so desire.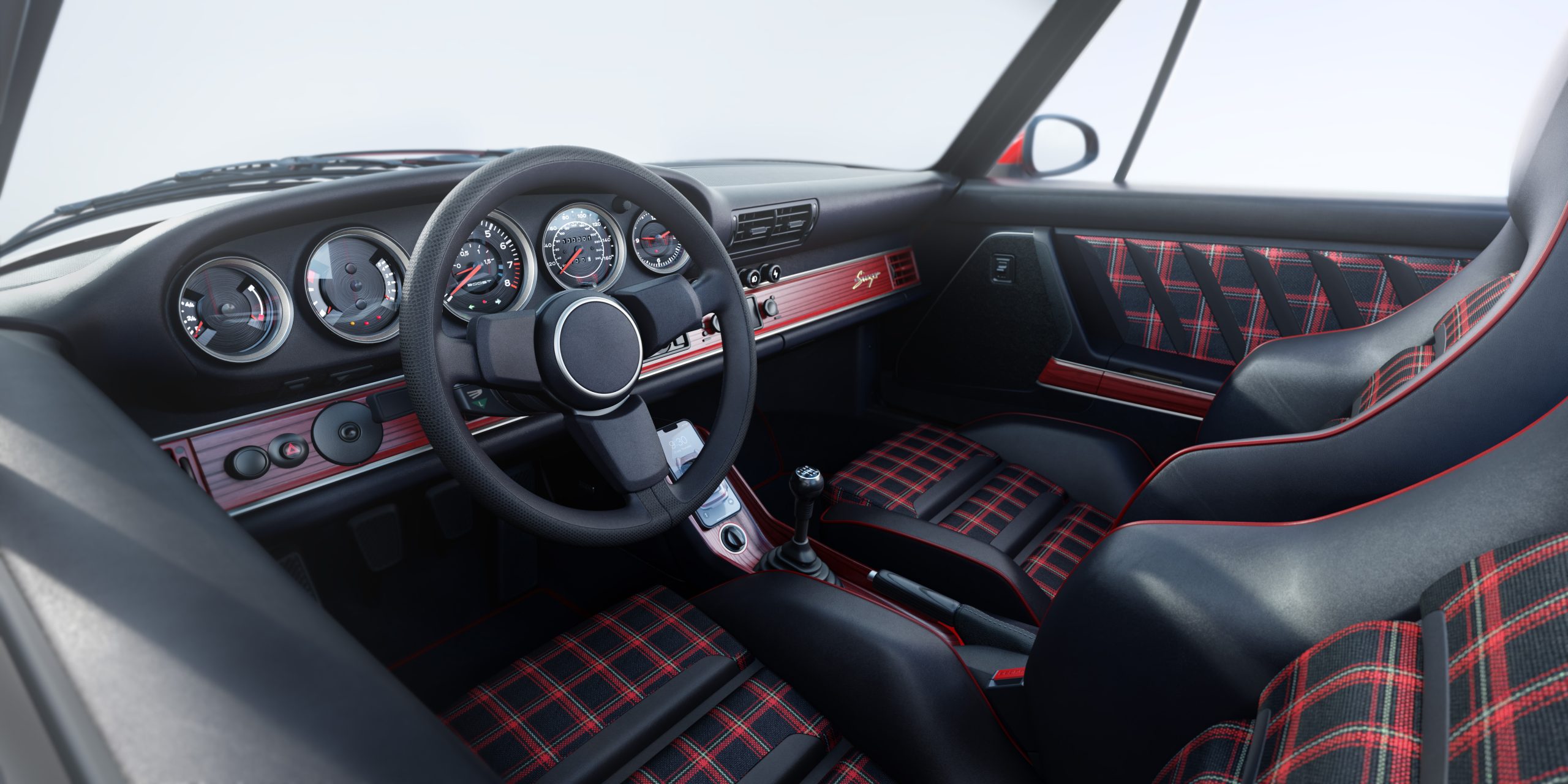 Price
Turbo Study prices for restorations are dependent on the specification requested by the car owner. For additional bespoke engineering, clients can also add their preferences and engage with special wishes department.
Turbo Study At Quail During Monterey Car Week
The first Turbo Study restoration was recently showcased at the UK's Goodwood Festival of Speed. For North America, it will be making its debut on August 19, Friday, at The Quail, a Motorsports Gathering during the much-awaited Monterey Car Week.
They will be presenting the Porsche 911 reimagined by Singer – Turbo Study. Presented in Wolf Blue, the client has specified the example to have a focus on high-performance, luxury grand touring capabilities. This example represents Singer's 'Third Act' after they presented their Classic and Dynamic and Lightweight Studies, with each of them getting their North American debuts at The Quail as well.