The 13th and final Porsche 911 Stinger GTR Limited Carbon Edition have just been announced by Russian tuner TopCar Design. For this particular example, it was wrapped completely in green carbon fiber.
It was August 2021 when TopCar announced the project of creating carbon-bodied 911 Turbo S. By January of this year, they showcased a brown carbon fiber example which was one of the first examples that they made. The recently showcased green carbon fiber Stinger GTR is a whole new level.
Pagani, Koenigsegg, and in a lesser degree, even McLaren were the first to make colored carbon fiber popular. Traditionally, to give color to carbon fiber, they had to weave different materials and dyeable yarns like polyester, glass, and aramid into the carbon. It can also be painted on a colored clear coat on the carbon. TopCar has not released information on the process that they use, but the results are nothing short of stunning.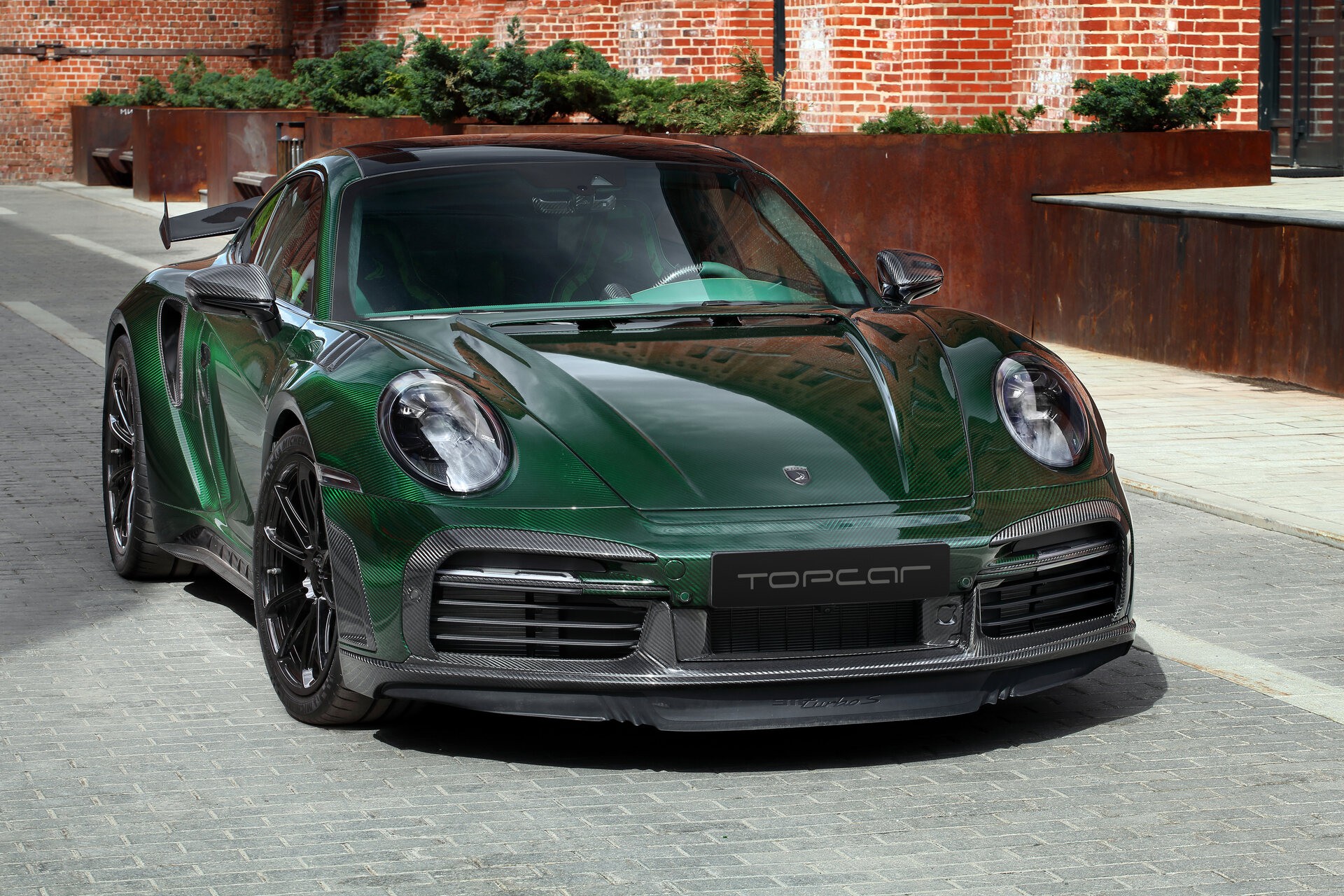 TopCar also did a lot of other modifications to the Stinger GTR Limited Carbon Edition. Some of the modifications done on the example include a revised aerodynamic splitter as well as an overhauled bumper. They also engineered a completely new hood adding a new front quarter panels and even added louvers. The modifications can also be seen on the sides of the car as they added unique skirts and even offered the option of forged aluminum wheels that measures 20×9 inches for the front and 20×11.5 inches at the rear.
Modifications can also be seen at the rear of the car where they added a fixed wing and a unique bumper with an aggressive diffuser. For an additional €5,000 ($5,869) customers can also add an Akrapovic titanium exhaust.
TopCar did no modifications to the engine. It still has its unmodified 3.8-liter twin-turbo flat-six engine from the 992-generation 911 Turbo S which produces 641 hp and 590 lb-ft (800 Nm) of torque. This Stinger GTR can accelerate from 0 to 62 mph (100 kph) in just 2.7 seconds, and have a recorded top speed of 205 mph (330 kph).