The "Perlglanz 928 GTS"
We have done lots of research on the Porsche 928 over the years so when we see that a very special Porsche 928 GTS starting to get all sorts of social media attention, we knew we had to find out what was going on. It turns out that in the world of Porsche 928s, there is one example that is more special than any other and that very car is bound for the United States after spending some of its life residing in France.
The 928 in question is known as the 'Perlglanz' car and was the final 928 GTS to roll off the production line and be sold to the public. It is also the most heavily-optioned 928 GTS ever built. The car was originally built for the U.S. market and sold by Champion Porsche in Florida. It wore a sticker price of $184,938 which is roughly $340,000 in today's money. Immediately making the car stand out is the Perlglanz paint that was a $2,664 option and interestingly, the car was sold with an additional 20 liters of the paint just in case it ever needed touching up.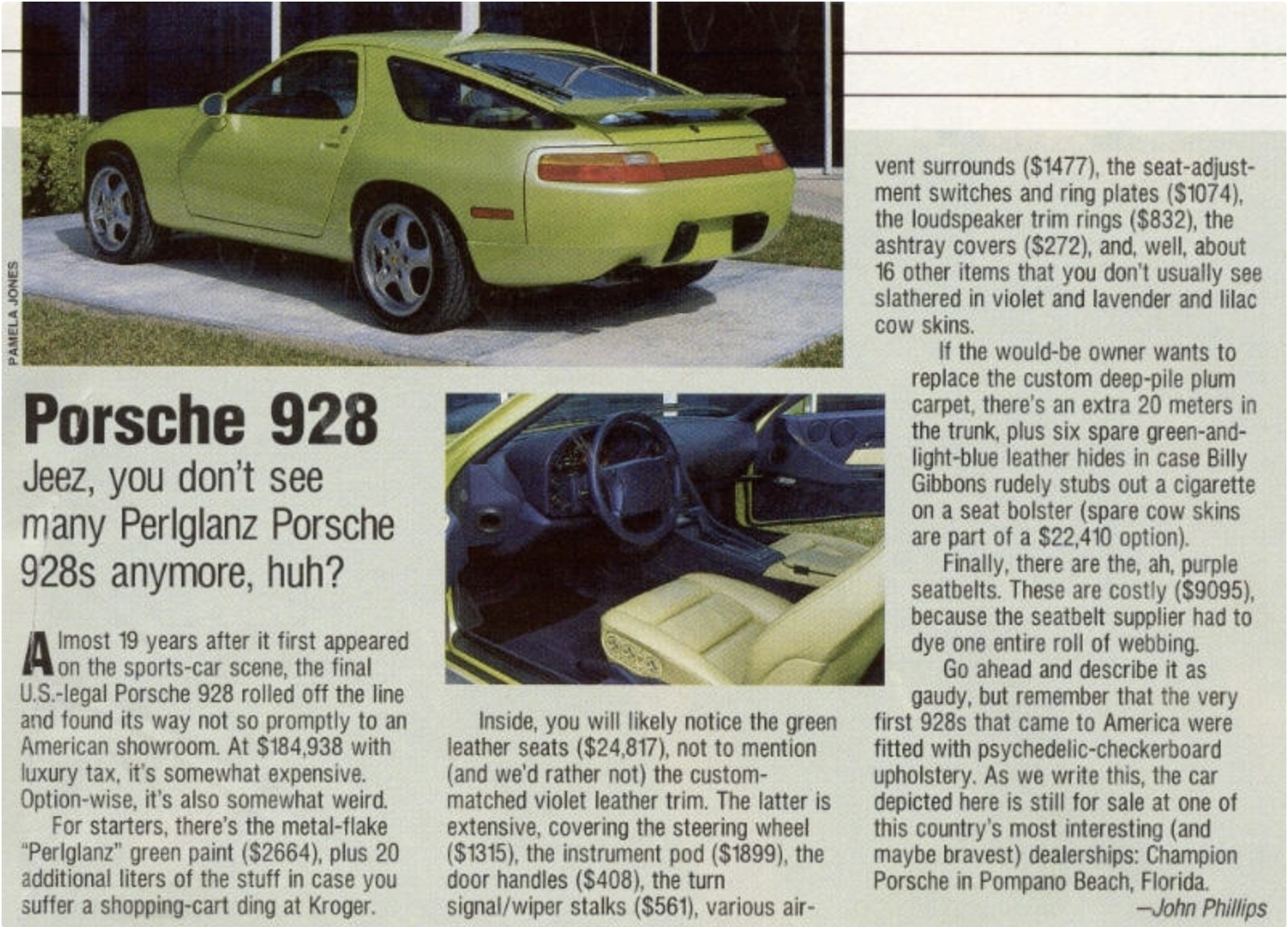 The unique set of options continues in this 928's interior. For example, it has been equipped with bright green leather seats, an option that set back the original buyer an eye-watering $24,817. Other interior components are clad in violet-colored leather, including the steering wheel, instrument shroud, door handles, steering wheel stalks, air vent surrounds, seat adjustment switches, speaker trims, and ashtray covers. The carpets are also plum-colored and the car was also sold with an extra 20 meters of plum carpet.
As if that wasn't enough to make the car stand out, it also features purple seatbelts that were a $9,095 option as Porsche's seatbelt supplier had to dye an entire roll of webbing to make them. Details such as how many miles the car currently has are unknown, as is the price the new owners had to pay for the Perlglanz 928. However, we do know that the car is being returned to the United States.
Picture Gallery