2021 – Present Porsche 911 Carrera 4 GTS Cabriolet (992) Pictures & Gallery...
2021 – Present Porsche 911 Carrera 4 GTS (992) Pictures & Gallery...
2017 – 2019 Porsche 911 Carrera 4 GTS Cabriolet (991.2) Pictures & Gallery...
2017 – 2019 Porsche 911 Carrera 4 GTS (991.2) Pictures & Gallery...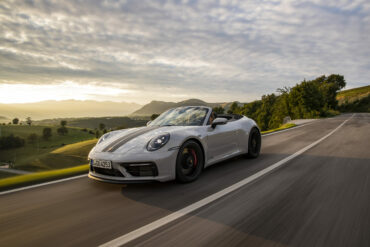 Porsche has also decided to gift the GTS a more distinct and dynamic personality that can't be duplicated via the Carrera S's options list (even if you could get the engine, which you cannot). The downside is that the price has gone up too and ticking a few more options boxes can get the Carrera 4 GTS Cabriolet into 911 Turbo territory price-wise. In the engine department, the 3-litre twin turbo flat six develop 473 bhp and 420 ft lbs.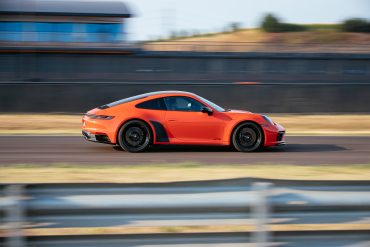 The engine is the same 3.0-litre, twin-turbocharged flat-six petrol engine as in the 911 Carrera S, but it has been fettled to produce 473 bhp. The GTS also has a bespoke suspension set-up that sits 10mm lower than the standard 911, and that's true no matter whether you choose two- or four-wheel drive. Most of the time, there's absolutely no difference between the standard GTS and the all-wheel-drive version. But when you need it, the AWD Carrera 4 GTS will save you.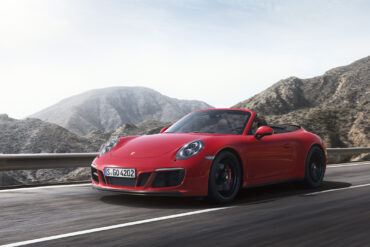 The GTS 4 Cabriolet reminds us how awesome Porsche cars are. This is a 911 that can be used as a regular car, an all weather convertible 911 that does everything really well. And when you want to push hard, the car transforms into a true sports car, a car that no enthusiast will ever complain about. Drop-top 911s have always played a supporting role to the fixed roof versions, but in GTS specification the Cabriolet is now better than ever.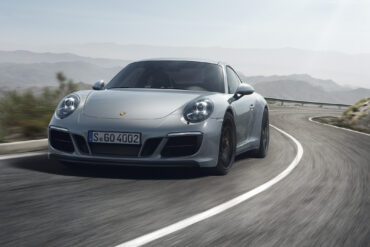 Ultimately, the Carrera 4 GTS is the ideal all-round 911. Its bag of tricks gives you accessible, astonishing performance on the right road – but its price tag and comfort levels make it a little more acceptable for everyday use than a GT2, GT3 or Turbo. The GTS scores particularly well on the practicality to performance ratio. Its rear seats can accommodate people and its all-wheel drive system means you can really use this car all-year round. The GTS-spec 3.0-litre flat-six develops 30bhp more than a Carrera S (at 444bhp) and 37lb ft more torque (at 406lb ft).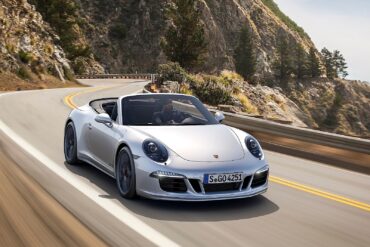 So what else do you get when you buy a 991 Carrera 4 GTS Cabriolet? First of all you get a  30 hp bump over the Carrera 4S to 430 hp from the 3.8L naturally aspirated flat-six. You get forged centre-lock black 20-inch wheels, dynamic engine mounts, the Sports Chrono Package, PASM adaptive damping with a lowered ride height, an interior swathed in Alcantara, a sinister front fascia with black intakes and custom rear apron with black tailpipes that broadcast the goods through an uber-nasty sport exhaust system. Other trim details include black lettering and smoked headlights.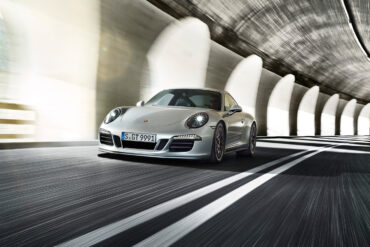 With all-wheel drive and all the GTS goodies, the Carrera 4 GTS sits in a very practical place in the Porsche 911 lineup. The 4 GTS is a Carrera 4S with all the items Porsche thinks you should have at a price that is less than choosing them yourself. Standard equipment on the GTS that is normally optional on the Carrera S includes the Sport Chrono Package, Sport Exhaust, bi-xenon lights with PDLS (Porsche Dynamic Lighting System) and PASM (Porsche Active Suspension Management). Inside, four-way adjustable sport seats are standard.