Porsche Cayman (First Generation) Sales Brochures
We found several Porsche sales brochures for the first generation Cayman, which is known as the Type 987. Note that on this page we actually cover the 2006 to 2008 model years, which we specifically known as the Type 987.1. The update came in 2009 model year and was known as the Type 987.2 and you can find those sales brochures here.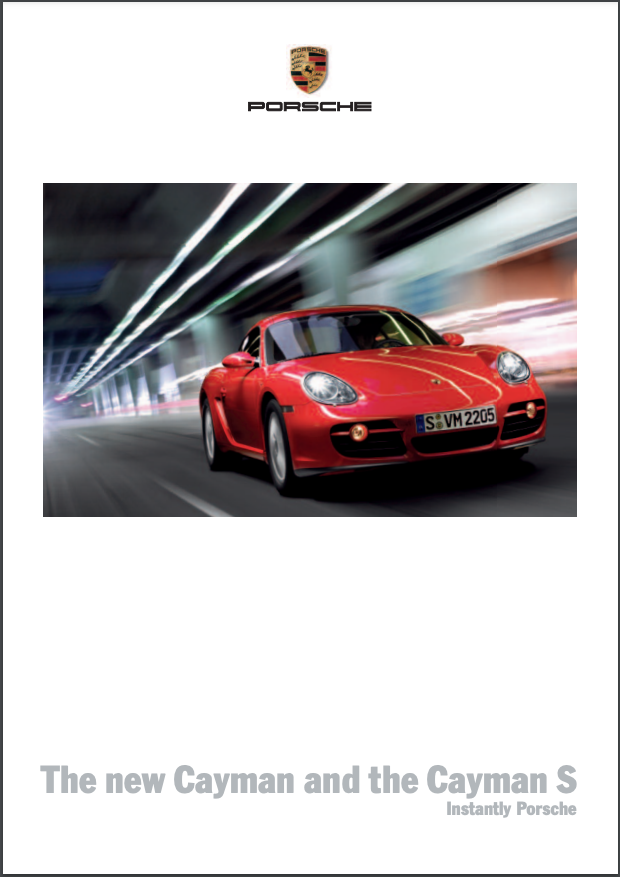 2006 Porsche Cayman Sales Brochure
The Porsche Cayman has always been there, waiting for the right opportunity. Mysterious yet familiar, its presence could be felt throughout the history of Porsche. So we chose to explore it, giving free rein to our wilder, more intuitive side. Naturally, we incorporated all of our experience in both road and race engineering. The new Cayman and the Cayman S are a challenge to conventional ways of thinking.They successfully resolve so many apparent contradictions, uniting the extremes of design, practicality and performance. Together, they epitomise the sportscar experience with absolute clarity and precision. They represent a fundamental idea that has always been instantly Porsche….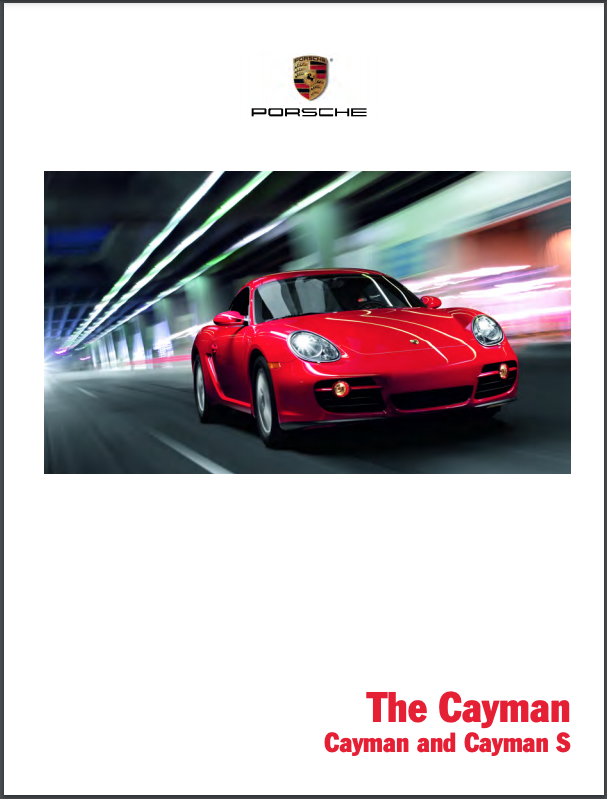 2007 Porsche 987.1 Cayman Sales Brochure
A 2.7-liter, 245-hp flat-six engine serves as an open invitation to twist the key with your left hand and begin climbing through five perfectly spaced gears on the manual gearbox. Forged-aluminum pistons produce up to 201 lb.-ft. of thick, silky torque between 4600 and 6000 rpm, making the Cayman alert, alive and quick as it pours on
the power in fluid, lump-free surges. A rigid race-bred chassis makes the steering action deliciously precise, while a Porsche-tuned suspension exploits the Cayman's mid-engine layout to deliver intoxicating agility and control. The Cayman's option list includes many of the features found in the Porsche 911's high-performance arsenal. Porsche Active Suspension Management (PASM), which can program the engine and suspension for a more comfortable ride or more aggressive damping…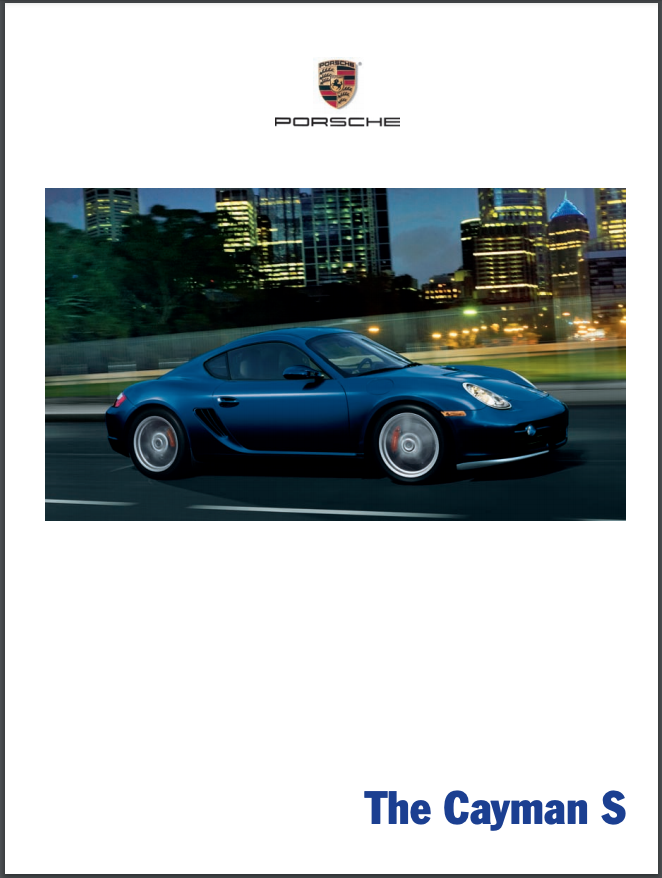 2006 Porsche 987.1 Cayman S Sales Brochure
Many a carmaker builds both race and road cars. What makes Porsche unique is our resolve to bring the best of both worlds together—to create uncompromised sports cars that can be enjoyed every day. In the Cayman S, Porsche engineers have built on ideas first tested on the track a half century ago. In 1953, Porsche created the 550 Coupe, a closed-top version of the legendary 550 Spyder, specifically for the 24 Hours of Le Mans. The streamlined hardtop gave the car additional top-end speed on the over-three-mile Mulsanne Straight. As with the 550 Spyder, the engine was located midship, which provided…