Porsche Cayman (Second Generation) Sales Brochures
We found several Porsche sales brochures for the second generation Cayman, which is known as the Type 981. The 981 Porsche Cayman was announced on 13 March 2012 at the Geneva Motor Show with sales starting in early summer 2013 as 2014 model year. The differences between the 981 and 987 were significant, but not unexpected as many of the new technologies were already introduced in the new 991 and 981 Boxster. This is a big year with lots of changes in many areas.  This page covers the 2014 to 2016 model years.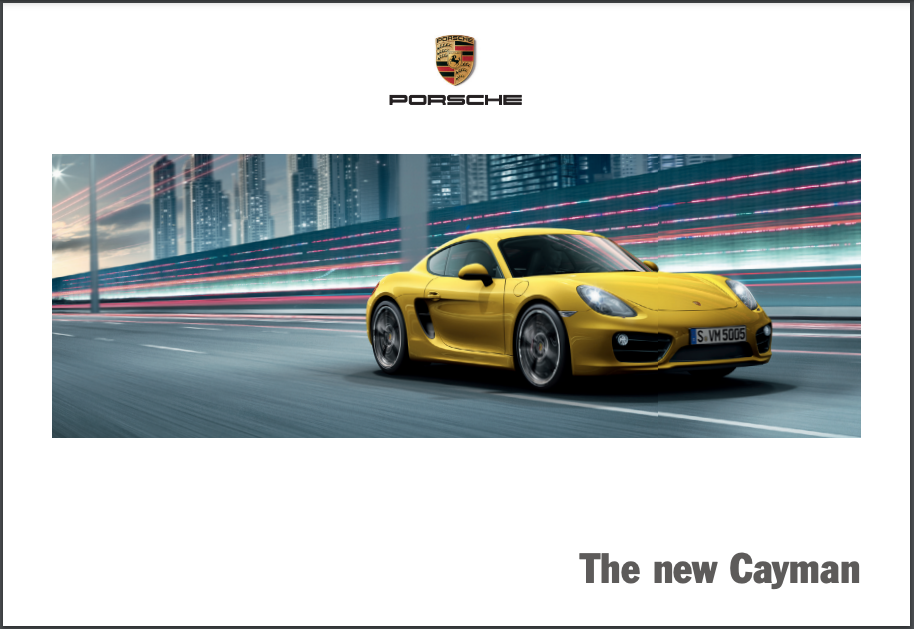 Porsche Cayman 981 Introduction Sales Brochure
There are some laws that we simply cannot avoid. The laws of physics, for example. That's not to say that we have to accept them. Of course, we could refuse to respect them and we could choose to ignore them. On the other hand, we could study them, test them and redefine their limits. This is exactly what we did and, in doing so, we discovered a new law: the code of the curve. The code is purposefully enacted by a sports car that eschews the more…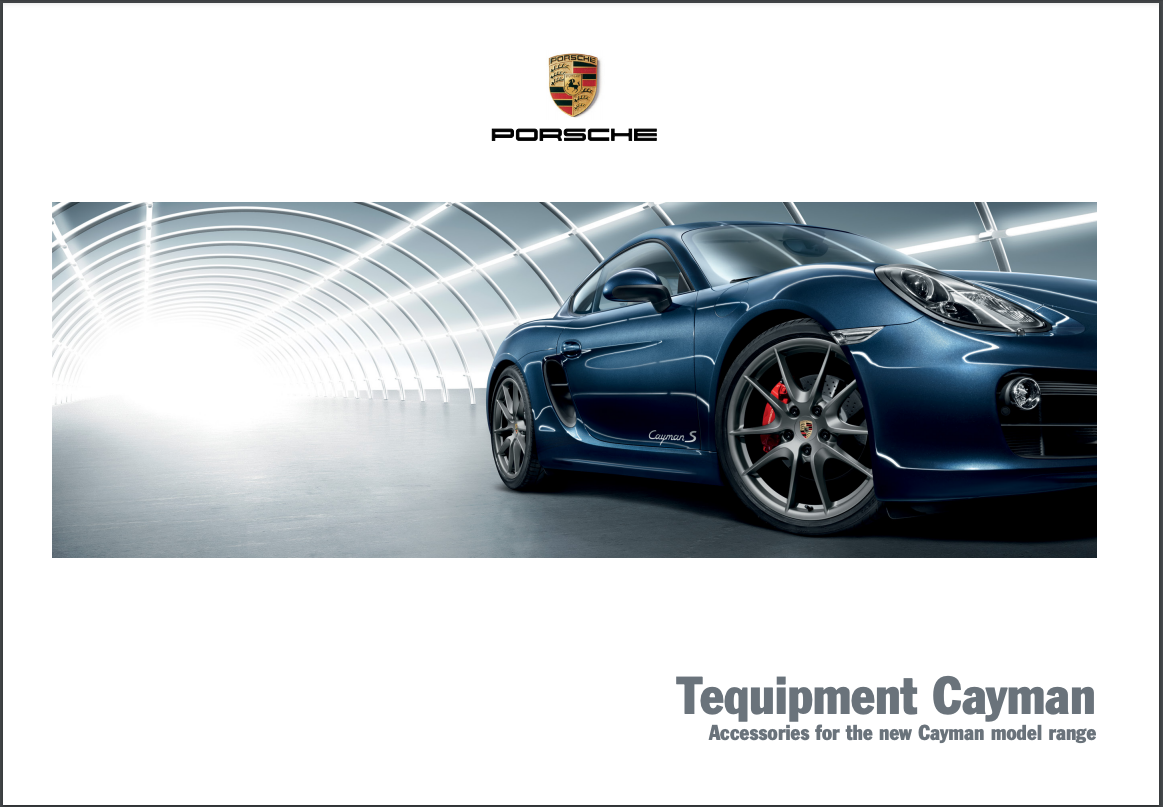 Porsche Cayman 981 Tequipment Brochure
Imagine a car whose exceptional performance is matched by exceptional design. A car with taut proportions and a smooth silhouette. With defined lines and edges, a long wheelbase and a wide track. That car is the Cayman. Built to resolutely master one particular code: the code of the curve. For anything that so selfevidently goes its own way, there can be no compromises. Dreams and reality. Sometimes they're one and the same thing. Just like there can be no compromises for you – or indeed for the Porsche development team at Weissach. Every single one of them strives to get the best out of everything. The result: a very special vehicle which you can subsequently personalise with model-specific products provided by Porsche Tequipment. Products designed by the same Porsche engineers and designers who made your car…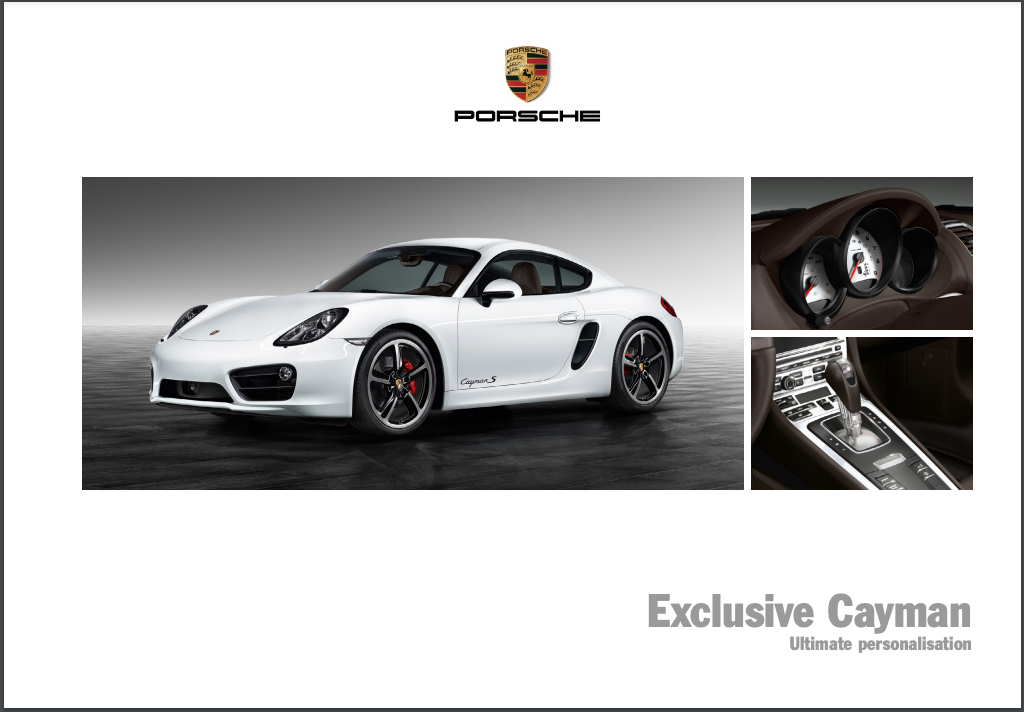 2014 Porsche Cayman 981 Exclusive Brochure
Our challenge is to realise your dream car, just the way you envisioned it. With visual and technical enhancements for the interior and exterior, from a single alteration to extensive modifications. Tell us what you would like and we will do our utmost to make it happen, provided that it is technically feasible and does not compromise on quality. We can make your vehicle even sportier, even more comfortable and even more individual. What can you expect? Originality, inspiration and enthusiasm, beginning as early as the consultation. Focusing on what is most important: your particular wishes. Even with the choice of materials. Whether high-quality leather, Alcantara, wood, aluminium or carbon – we give every detail our full attention…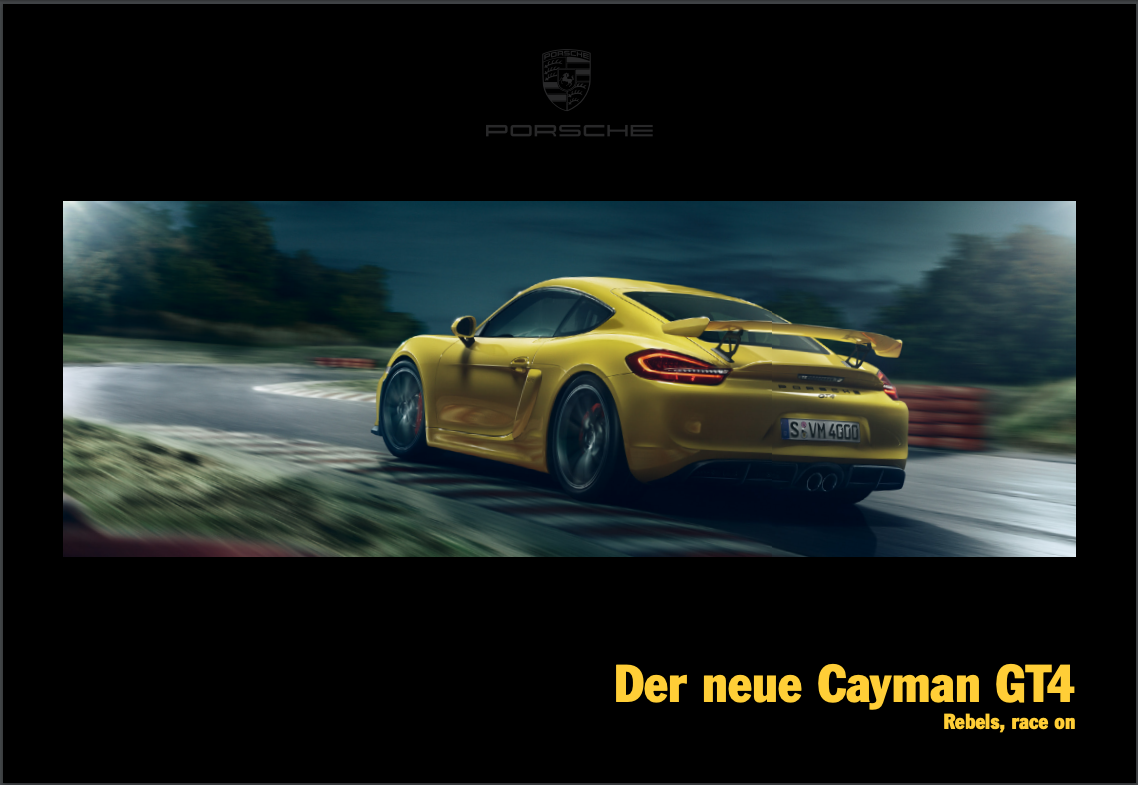 2015 Porsche Cayman GT4 Exclusive Brochure (German)
Der neue Cayman GT4 ist der lang erwartete Schritt über die Grenze. Der Schritt auf die andere Seite des Zaunes –
auf die Rundstrecke. Er ist unser Tribut an all die Rennsportenthusiasten und Performancetreiber. An alle, die es wirklich ernst meinen. An all die Siege von morgen, an die Bestzeiten, die es noch zu fahren gilt…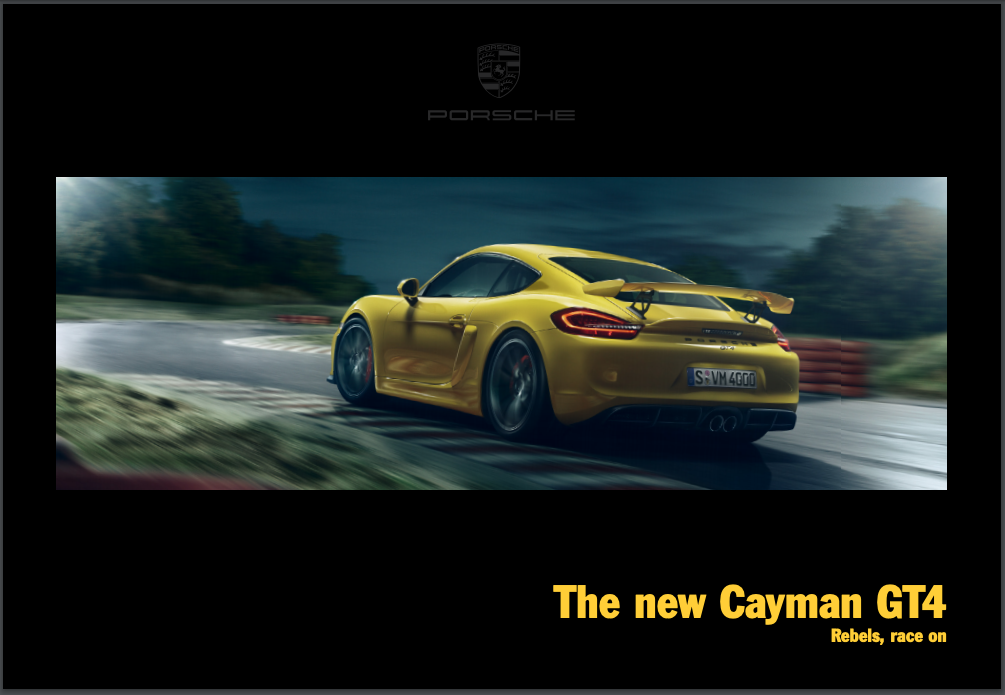 2015 Porsche Cayman GT4 Sales Brochure
The new Cayman GT4 sports cars is the long-awaited step beyond the boundary. The step over to the other side of the frontier – onto the racetrack. It's our tribute to all the motorsport enthusiasts and performance motivators. To all those who really do mean business. To all the victories of tomorrow, to all the personal bests still to be achieved.
For this reason, we've given it everything it needs – not just to survive on the racetrack, but to blow it away. More downforce. More traction. More capacity. More thrust. More power. More than any Cayman has ever had before. That's what makes it the Cayman GT4: the super GT with the distinctive mid-engine layout; the hero of weekends; the rebel of the racetrack. The new Cayman GT4. Rebels, race on.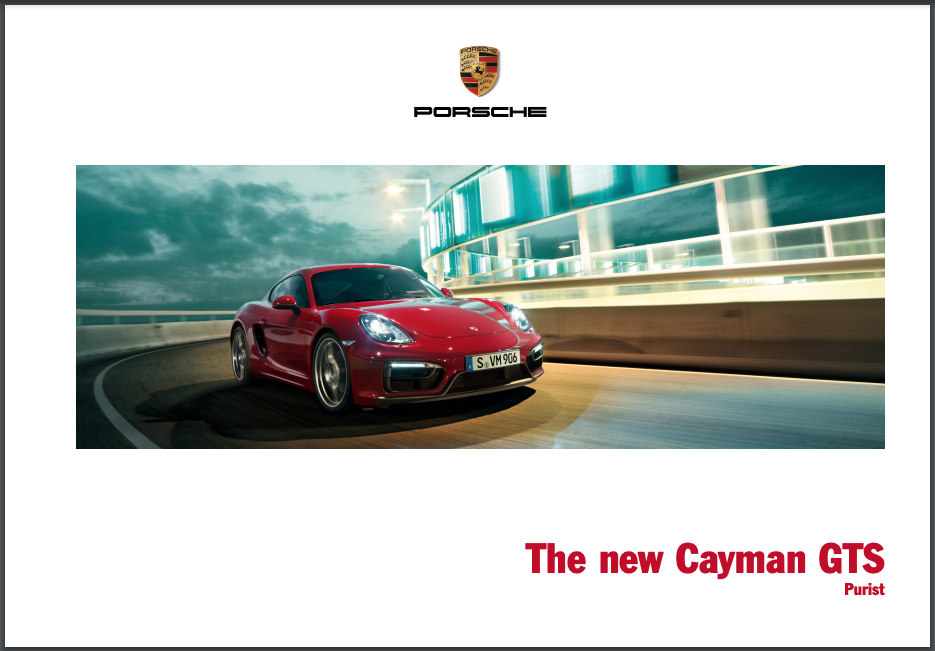 2014 Porsche Cayman GTS PDF Brochure
The car your mother always warned you about. The Cayman GTS concept. The unadulterated driving experience. The direct transition between road and driving pleasure. Sports car sensations that feel more puristic than ever. Do such things exist? They do now. The Cayman concept. A sports car that seeks out the curve like no other and then takes full advantage. A concept so intimate with the road that it can hardly be improved. But it can be intensified thanks to three letters: GTS. Three letters that we adopted for the first time in 1963 with the 904 GTS, a sports car equipped with a mid-mounted engine. Three letters that have since caused a stir among motorsport enthusiasts both on and off the track. Today, they stand for even greater power and an even sportier specification. Revisited and intensified, from the styling to the flat engine. Purity without sacrifice: the new Cayman GTS.