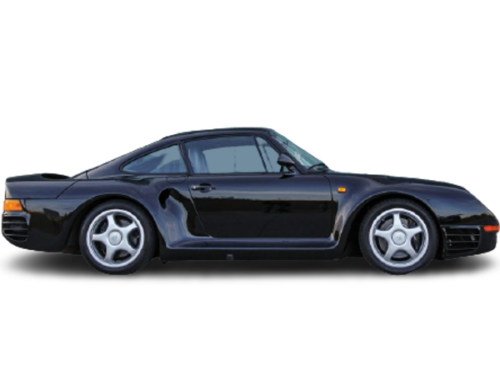 (1986 – 1993) Porsche 959 Komfort – Ultimate Guide
The powerplant is a sequential twin-turbocharged DOHC flat-six engine equipped with 4 valves per cylinder, fuel fed by Bosch Motronic 2.1 fuel injection with air-cooled cylinders and water-cooled heads, with a bore x stroke of 95 mm × 67 mm (3.74 in × 2.64 in) for a total displacement of 2,849 cc (173.9 cu in). It was coupled to a unique manual transmission offering five forward speeds plus a off-road gear, as well as reverse. The engine was largely based on the 4-camshaft 24-valve powerplant used in the Porsche 956 and 962 race cars.
These components allowed Porsche to extract 450 PS (331 kW; 444 hp) at 6,500 rpm and 500 N⋅m (369 lb⋅ft) of torque at 5,000 rpm from the compact and efficient power unit.[7] The use of sequential twin turbochargers rather than the more usual identical turbochargers for each of the two cylinder banks allowed for smooth delivery of power across the engine speed band, in contrast to the abrupt on-off power characteristic that distinguished Porsche's other turbocharged engines of the period. The engine was used virtually unchanged in the 959 road car as well.
To create a rugged, lightweight shell, Porsche adopted an aluminium and Aramid (Kevlar) composite for the body panels and chassis construction along with a Nomex floor, instead of the steel floor normally used on their production cars.
Porsche also developed the car's aerodynamics, which were designed to increase stability, as was the automatic ride-height adjustment that became available on the road car (961 race cars had a fixed suspension system). Its drag coefficient was as low as 0.31 and aerodynamic lift was eliminated completely.
The 959 also featured Porsche-Steuer Kupplung (PSK) all-wheel-drive system. Capable of dynamically changing the torque distribution between the rear and front wheels in both normal and slip conditions, the PSK system gave the 959 the adaptability it needed both as a race car and as a "super" street car. Under hard acceleration, PSK could send as much as 80% of the available power to the rear wheels, helping make the most of the rear-traction bias that occurs at such times. It could also vary the power bias depending on road surface and grip changes, helping maintain traction at all times. The dashboard featured gauges displaying the amount of rear differential slip as well as transmitted power to the front axle. The magnesium alloy wheels were unique, being hollow inside to form a sealed chamber contiguous with the tyre and equipped with a built-in tyre pressure monitoring system.
The 959 was actually produced at Karosserie Baur, not at the Porsche factory in Zuffenhausen, on an assembly line with Porsche inspectors overseeing the finished bodies. Most of Porsche's special order interior leather work was also done by the workers at Baur.
The road version of the 959 debuted at the 1985 Frankfurt Motor Show as a 1986 model, but numerous issues delayed production by more than a year. The car was manufactured in two levels of trim, "Sport" and "Komfort", corresponding to the trim with more creature comforts and a more track focused trim. First customer deliveries of the 959 street variant began in 1987, and the car debuted at a cost of DM431,550 (US$225,000) each, still less than half what it cost Porsche to build each car. Production ended in 1988 with 292 cars completed. In total, 337 cars were built, including 37 prototypes and pre-production models.
In 1992/1993, Porsche built eight more cars assembled from spare parts from the inventory at the manufacturing site in Zuffenhausen. All eight were "Komfort" versions: four in red and four in silver. These cars were much more expensive than the earlier ones. The later cars also featured a newly developed speed-sensitive damper system. The cars were sold to selected collectors after being driven by works personnel for some time  and are today by far the most sought-after 959 models.