Porsche 935/2.0 'Baby' (1977)
The 935 'Baby', based on the successful 935 Group 5 race sports car, was created in 1977, after only four months of development, specifically for entries in the small division (up to 2000cc) of the German Sports Racing Championship. Compared to the Group 5 car, this little 935 had a six cylinder turbo engine of 370bhp, reduced to a displacement of 1.4-litres. A thorough diet helped 'Baby' meet the minimum weight of 750kg as dictated by the rules.
At the Hockenheim circuit in Germany, on only its second race start, the 'Baby' set the fastest qualifying time and went on to score an outright victory by nearly a minute, driven by Belgian ace Jacky Ickx. Having provided proof that Porsche could be competitive when they wished, even in an engine capacity class – of up to 2000cc – which was not typical of Porsche, after only two races the 'Baby' entered a noble retirement in the Porsche Museum in Stuttgart
The Story
For the 1977 season, Porsche had very little in the way of serious competition from other manufacturers, so they sought to find new racing challenges inside the Group 5 category. They came up with the idea of building a car to race in the national German DRM series under 2 liter class – a stomping ground for BMW 320s and Ford Escorts.
Since it ran in an under 2 liter class, a newer, smaller motor needed to be built to keep in line with the rules of the class. With the turbo equivalency formula of 1.4, this meant the car (which was nicknamed "the 935 Baby") needed to be built with a 1.4 liter motor to a target weight of 735kg – far less than the 970 kg of the 935/77. The steel floor and front/rear bulkheads were cut from the car and replaced by an aluminum cage, creating an essentially tube framed chassis. At the time, this was quite a radical bit of race car engineering for a GT.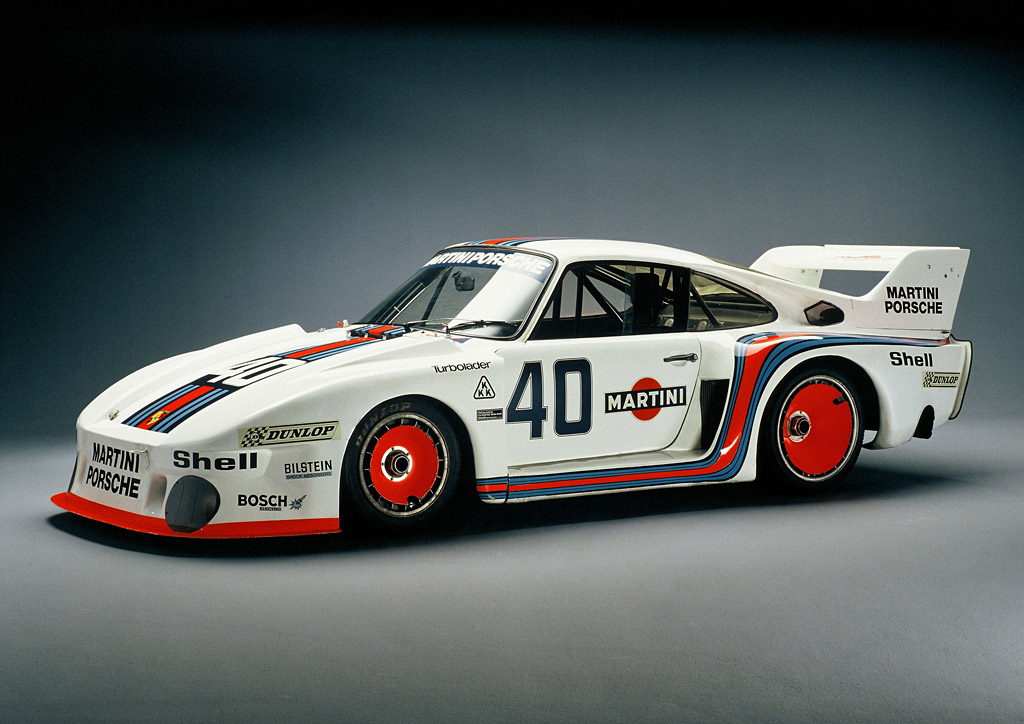 The car debuted at the Norisring DRM sprint race, but it was too new to make a strong mark, and its driver Jacky Ickx retired from the race, suffering from heat exhaustion. The Baby was then taken back to the factory for a quick development program in preparation for the German GP support race to be held at Hockenheim three weeks later. Fortunately, the hard work paid off and Ickx walked away with a 51 second victory over the competition. Porsche had proved their point over BMW and Ford and the 935 "Baby" was retired to the Porsche Museum.
Specs & Performance
| | |
| --- | --- |
| engine | Boxer-6 |
| fuel feed | Mechanical Bosch Injection |
| displacement | 1425 cc / 87.0 in³ |
| power | 275.9 kw / 370 bhp @ 8000 rpm |
| specific output | 259.65 bhp per litre |
| bhp/weight | 493.33 bhp per tonne |
| body / frame | Steel & Plastic Body over Tubular Space Frame |
| f brake size | mm / in |
| r brake size | mm / in |
| curb weight | 750 kg / 1653 lbs |
| wheelbase | 2271 mm / 89.4 in |
| length | 4680 mm / 184.3 in |
| transmission | 5-Speed Gearbox |
| gear ratios | :1 |
| top speed | ~270.4 kph / 168 mph |
Photos of the 935 Baby in Porsche Museum collection