1998-2006 Porsche 911 Fuses Box Diagram and Amperages List
This fuse box information is ONLY for the following Porsche models and years:
1998 to 2006 Porsche 911 (996) Carrera, 4, S, 4S, Targa and Turbo – years 1998, 1999, 2000, 2001, 2002, 2003, 2004, 2005 and 2006
Fuse Box Location
The fuse box in the Porsche 911 (996 series) is located on the doors side of the drivers footwell, under a black cover. Once the cover is removed you'll see the fuse box.
Fuse Box Diagram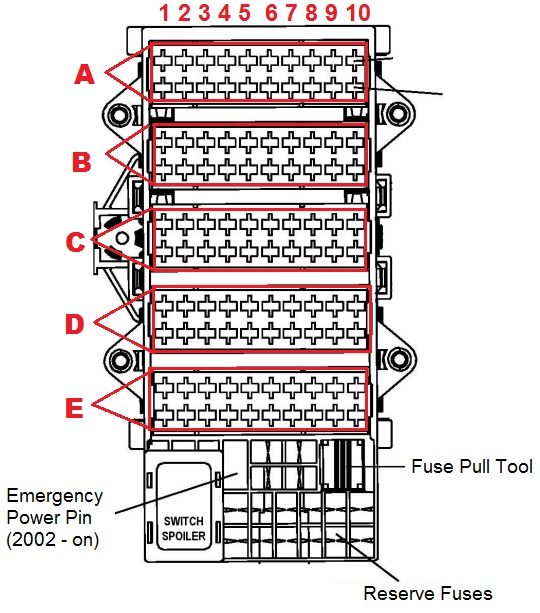 There are 5 rows of fuses in the fuse box diagram (A to E). Each row have 10 fuses. Fuses nomenclature is A-5, C-7, etc. The fuse list and amperage is different depending on the model year of your 996. Click below on the year of your car to jump to the fuse box list of your car.
996 MY1998 Fuses List and Amperage
| | | |
| --- | --- | --- |
| A1 | 7.5A | HIGH BEAM RIGHT |
| A2 | 7.5A | HIGH BEAM LEFT |
| A3 | 7.5A | SIDE MARKER LIGHT RIGHT |
| A4 | 7.5A | SIDE MARKER LIGHT LEFT |
| A5 | 15A | LICENSE PLATE LIGHTS, INSTRUMENT LIGHTS |
| A6 | 25A | SEAT HEATER M139/M340 |
| A7 | 25A | FOG LIGHT, REAR FOG LIGHT |
| A8 | 7.5A | LICENSE PLATE LIGHTS CANADA M113 |
| A9 | 7.5A | LOW BEAM RIGHT |
| A10 | 7.5A | LOW BEAM LEFT |
| B1 | 15A | CLUSTER, TlPTRONIC, BUTTON ASR ON/OFF, DIAGNOSIS, POWER TOP |
| B2 | 7.5A | RADIO, INFOSYSTEM |
| B3 | 25A | TWO-TONE HORNS |
| B4 | 15A | ENGINE COMPARTMENT CLEANER FAN |
| B5 | 7.5A | BACKUP LIGHT, CU POWER TOP, CU MEMORY |
| B6 | 15A | HAZARD-WARNING LIGHT SWITCH |
| B7 | 15A | STOP LIGHT, CRUISE CONTROL |
| B8 | 15A | CU CLS ALARM, CU DME, CU TIPTRONIC M249 |
| B9 | 15A | CU ABS TRACTION CONTROL |
| B10 | 15A | INSTRUMENT CLUSTER DIAGNOSIS |
| C1 | 25A | RELAY MFI~DI |
| C2 | 30A | RELAY IGNITION, OXYGEN SENSOR |
| C3 | 15A | CU ALARM SYSTEM, CENTRAL LOCKING SYSTEM, POWER WINOOW |
| C4 | 25A | RELAY FUEL PUMP |
| C5 | | |
| C6 | 25A | WIPER |
| C7 | 7.5A | TERM.X CONTROL WIRES |
| C8 | 30A | RADIATOR FAN 2 |
| C9 | 25A | HEADLIGHT CLEANING SYSTEM M288 |
| C10 | 30A | RADIATOR FAN 1 |
| D1 | 30A | POWER WINDOW |
| D2 | 30A | MIRROR, REAR WINDOW DEFOGGER |
| D3 | 30A | DRIVE POWER TOP |
| D4 | 30A | POWER WINDOW REAR |
| D5 | 15A | CIGAR LIGHTER |
| D6 | 30A | RELAY HEATER |
| D7 | 15A | HAZARD WARNING LIGHT SWITCH |
| D8 | 15A | SPOILER EXTENSION |
| D9 | 15A | AUDIO OPTION PACK M490 |
| D10 | 7.5A | MOUNTING POINT FOR RETROFIT, WARNING MAXIMUM OF 5 A |
| E1 | 7.5A | TERM.86S, CU-CL ALARM, RADIO, CLUSTER CU INFO SYSTEM |
| E2 | 7.5A | CU MEMORY M537 / M538 |
| E3 | 30A | POWER SEAT, CU MEMORY SEAT LEFT M537 |
| E4 | 30A | POWER SEAT, CU MEMORY SEAT RIGHT M538 |
| E5 | 7.5A | INFOSYSTEM M662 |
| E6 | 7.5A | TERM.30 TELEPHONE/HANDY, NAVIGATION CONTROL UNIT M614IM618/M662? |
| E7 | 7.5A | AIR CONDITIONING SYSTEM M573 |
| E8 | 7.5A | TERM.15 TELEPHONE/HANDY INFOSYSTEM M614 / M618 / M662? |
| E9 | 30A | FDR M476 |
| E10 | 30A | FDR M476 |
996 MY1999 and MY2000 Fuses List and Amperages
| | | |
| --- | --- | --- |
| A1 | 15A | HIGH BEAM RIGHT, HIGH BEAM CONTROL |
| A2 | 15A | HIGH BEAM LEFT |
| A3 | 7.5A | SIDE MARKER LIGHT RIGHT |
| A4 | 7.5A | SIDE MARKER LIGHT LEFT |
| A5 | 15A | LICENSE PLATE LIGHTS, INSTRUMENT LIGHTS |
| A6 | 25A | SEAT HEATER M139/M340 |
| A7 | 25A | FOG LIGHT, REAR FOG LIGHT |
| A8 | 7.5A | LICENSE PLATE LIGHTS CANADA M113 |
| A9 | 15A | LOW BEAM RIGHT |
| A10 | 15A | LOW BEAM LEFT |
| B1 | 15A | CLUSTER, TlPTRONIC, BUTTON ASR PSM, DIAGNOSIS, CU POWER TOP |
| B2 | 7.5A | RADIO |
| B3 | 25A | TWO-TONE HORNS |
| B4 | 15A | ENGINE COMPARTMENT BLOWER |
| B5 | 7.5A | BACKUP LIGHT, CU MEMORY MIRROR ADJUSTMENT, CU POWER TOP |
| B6 | 15A | TURN SIGNALS, POWER WINDOW |
| B7 | 15A | STOP LIGHT, CRUISE CONTROL |
| B8 | 15A | CU CLS ALARM, CU ENGINE ELECTRONICS, CU TIPTRONIC M249 |
| B9 | 15A | CU ABS, ASR, PSM |
| B10 | 15A | INSTRUMENT CLUSTER DIAGNOSIS, HEADLIGHT VERTICAL AIM CONTROL |
| C1 | 25A | ENGINE ELECTRONICS |
| C2 | 30A | IGNITION, INJECTION, OXYGEN SENSOR HEATER |
| C3 | 15A | CU CLS ALARM, POWER WINOOW, SUN ROOF, CU POWER TOP, INSIDE LIGHT |
| C4 | 25A | FUEL PUMP |
| C5 | | |
| C6 | 25A | WIPER |
| C7 | 7.5A | TERM.X CONTROL WIRES |
| C8 | 30A | RADIATOR FAN RIGHT |
| C9 | 25A | HEADLIGHT CLEANING SYSTEM M288 |
| C10 | 30A | RADIATOR FAN LEFT |
| D1 | 30A | POWER WINDOW FRONT |
| D2 | 30A | REAR WINDOW DEFOGGER, MIRROR HEATING |
| D3 | 30A | CONVERTIBLE TOP DRIVE, SUN ROOF |
| D4 | 30A | |
| D5 | 15A | CIGAR LIGHTER |
| D6 | 30A | HEATER AIR CONDITIONING SYSTEM |
| D7 | 15A | HAZARD WARNING, A.TURN SIGNAL SYSTEM |
| D8 | 15A | REAR SPOILER |
| D9 | 15A | AUDIO OPTION PACK M490 |
| D10 | 7.5A | MOUNTING POINT FOR RETROFIT, WARNING MAXIMUM OF 5 A |
| E1 | 7.5A | TERM.86S/ CU-CL ALARM/ RADIO/ CLUSTER/ DAYTIME RUNNING LIGHT/ CU INFO SYSTEM/ CU SENSOR OVERTURN |
| E2 | 7.5A | CU MEMORY M537 / M538 |
| E3 | 30A | POWER SEAT, CU MEMORY SEAT LEFT M537 |
| E4 | 30A | POWER SEAT, CU MEMORY SEAT RIGHT M538 |
| E5 | 7.5A | INFOSYSTEM M662 |
| E6 | 7.5A | TERM.30 TELEPHONE/HANDY, NAVIGATION, ORVR, M614IM618/M662 |
| E7 | 7.5A | AIR CONDITIONING SYSTEM M573 |
| E8 | 7.5A | TERM.15 TELEPHONE/HANDY INFOSYSTEM M614 / M618 / M662 |
| E9 | 30A | PSM M476 |
| E10 | 30A | PSM M476 |
996 MY2001 Fuses List and Amperages
| | | |
| --- | --- | --- |
| A1 | 15A | HIGH BEAM RIGHT, HIGH BEAM CONTROL |
| A2 | 15A | HIGH BEAM LEFT |
| A3 | 7.5A | SIDE MARKER LIGHT RIGHT |
| A4 | 7.5A | SIDE MARKER LIGHT LEFT |
| A5 | 15A | LICENSE PLATE LIGHTS, INSTRUMENT LIGHTS |
| A6 | 25A | SEAT HEATER M139/M340 |
| A7 | 25A | FOG LIGHT, REAR FOG LIGHT |
| A8 | 7.5A | LICENSE PLATE LIGHTS CANADA M113 |
| A9 | 15A | LOW BEAM RIGHT |
| A10 | 15A | LOW BEAM LEFT |
| B1 | 15A | CLUSTER, TlPTRONIC, BUTTON ASR PSM, DIAGNOSIS, CU POWER TOP |
| B2 | 15A | HAZARD WARNING LIGHT SWITCH |
| B3 | 25A | TWO-TONE HORNS |
| B4 | 15A | ENGINE COMPARTMENT BLOWER |
| B5 | 7.5A | BACKUP LIGHT, CU MEMORY MIRROR ADJUSTMENT, CU POWER TOP |
| B6 | 15A | TURN SIGNALS, POWER WINDOW |
| B7 | 15A | STOP LIGHT, CRUISE CONTROL |
| B8 | 15A | CU CLS ALARM, CU ENGINE ELECTRONICS, CU TIPTRONIC M249 |
| B9 | 15A | CU ABS, ASR, PSM |
| B10 | 15A | INSTRUMENT CLUSTER DIAGNOSIS, HEADLIGHT VERTICAL AIM CONTROL |
| C1 | 25A | ENGINE ELECTRONICS |
| C2 | 30A | IGNITION, INJECTION, OXYGEN SENSOR HEATER |
| C3 | 15A | CU CLS ALARM, POWER WINOOW, SUN ROOF, CU POWER TOP, INSIDE LIGHT |
| C4 | 25A | FUEL PUMP |
| C5 | | |
| C6 | 25A | WIPER |
| C7 | 7.5A | TERM.X CONTROL WIRES |
| C8 | 30A | RADIATOR FAN 2 |
| C9 | 25A | HEADLIGHT CLEANING SYSTEM M288 |
| C10 | 30A | RADIATOR FAN 1 |
| D1 | 30A | POWER WINDOW FRONT |
| D2 | 30A | REAR WINDOW DEFOGGER, MIRROR HEATING |
| D3 | 30A | CONVERTIBLE TOP DRIVE, SUN ROOF |
| D4 | 30A | |
| D5 | 15A | CIGAR LIGHTER |
| D6 | 30A | HEATER, AIR CONDITIONING SYSTEM |
| D7 | 15A | REAR SPOILER |
| D8 | 15A | RADIO |
| D9 | 15A | AUDIO OPTION PACK M490 |
| D10 | 7.5A | MOUNTING POINT FOR RETROFIT, WARNING MAXIMUM OF 5 A |
| E1 | 7.5A | TERM.86S/ CU-CL ALARM/ RADIO/ CLUSTER/ DAYTIME RUNNING LIGHT/ CU INFO SYSTEM/ CU SENSOR OVERTURN |
| E2 | 7.5A | CU MEMORY M537 / M538 |
| E3 | 30A | POWER SEAT, CU MEMORY SEAT LEFT M537 |
| E4 | 30A | POWER SEAT, CU MEMORY SEAT RIGHT M538 |
| E5 | 7.5A | INFOSYSTEM M662 |
| E6 | 7.5A | TERM.30 TELEPHONE/HANDY, NAVIGATION, ORVR, M614IM618/M662 |
| E7 | 7.5A | AIR CONDITIONING SYSTEM M573 |
| E8 | 7.5A | TERM.15 TELEPHONE/HANDY INFOSYSTEM M614 / M618 / M662 |
| E9 | 30A | PSM M476 |
| E10 | 30A | PSM M476 |
996 MY2002 Fuses List and Amperages
| | | |
| --- | --- | --- |
| A1 | 15A | HIGH BEAM RIGHT, HIGH BEAM CONTROL |
| A2 | 15A | HIGH BEAM LEFT |
| A3 | 7.5A | SIDE MARKER LIGHT RIGHT |
| A4 | 7.5A | SIDE MARKER LIGHT LEFT |
| A5 | 15A | LICENSE PLATE LIGHTS, LOCATING LIGHT, INSTRUMENT LIGHTING |
| A6 | 25A | SEAT HEATER M139/M340 |
| A7 | 25A | FOG LIGHT, REAR FOG LIGHT M465/M466 |
| A8 | 7.5A | LICENSE PLATE LIGHTS CANADA M113 |
| A9 | 15A | LOW BEAM RIGHT |
| A10 | 15A | LOW BEAM LEFT |
| B1 | 15A | CLUSTER, TlPTRONIC, BUTTON ASR PSM, DIAGNOSIS, CU POWER TOP |
| B2 | 15A | HAZARD-WARNING, A.TURN-SIGNAL SYSTEM |
| B3 | 25A | TWO-TONE HORNS |
| B4 | 15A | ENGINE COMPARTMENT BLOWER |
| B5 | 7.5A | BACKUP LIGHT, CU MEMORY MIRROR ADJUSTMENT, CU POWER TOP |
| B6 | 15A | TURN SIGNALS, POWER WINDOW |
| B7 | 15A | STOP LIGHT, CRUISE CONTROL M454 |
| B8 | 15A | CU ALARM-CL, CU ME, CU TIPTRONIC M249 |
| B9 | 15A | CU ABS, PSM |
| B10 | 15A | INSTRUMENT CLUSTER DIAGNOSIS, HEADLIGHT VERTICAL AIM CONTROL |
| C1 | 25A | ENGINE ELECTRICS |
| C2 | 30A | IGNITION, INJECTION, HEATER OXYGEN SENSORS |
| C3 | 15A | CU ALARM-CL, POWER WINOOW, SUN ROOF, CU POWER TOP, INSIDE LIGHT |
| C4 | 30A | FUEL PUMP |
| C5 | | |
| C6 | 25A | WIPER |
| C7 | 7.5A | TERM.X CONTROL WIRES |
| C8 | 40A | RADIATOR FAN RIGHT |
| C9 | 25A | HEADLIGHT CLEANING SYSTEM M288 |
| C10 | 40A | RADIATOR FAN LEFT |
| D1 | 30A | POWER WINDOW FRONT |
| D2 | 30A | REAR WINDOW DEFOGGER, MIRROR HEATING |
| D3 | 30A | CONVERTIBLE TOP DRIVE, SUN ROOF M650 |
| D4 | 30A | |
| D5 | 15A | CIGAR LIGHTER |
| D6 | 30A | HEATER, AIR CONDITIONING SYSTEM |
| D7 | 15A | REAR SPOILER COVER OPENER |
| D8 | 7.5A | RADIO |
| D9 | 15A | AUDIO OPTION PACK M490 |
| D10 | 7.5A | TELEPHONE |
| E1 | 7.5A | TERM.86S/ CU-CL ALARM/ RADIO/ CLUSTER/ DAYTIME RUNNING LIGHT/ INFO SYSTEM/ CU SENSOR OVERTURN |
| E2 | 7.5A | CU MEMORY M537 / M538 |
| E3 | 30A | POWER SEAT, CU MEMORY SEAT LEFT M537 |
| E4 | 30A | POWER SEAT, CU MEMORY SEAT RIGHT M538 |
| E5 | 7.5A | INFOSYSTEM M662 |
| E6 | 7.5A | TERM.30 TELEPHONE/HANDY, NAVIGATION, ORVR, M614IM618/M662 |
| E7 | 7.5A | AIR CONDITIONING SYSTEM M573 |
| E8 | 7.5A | TERM.15 TELEPHONE/HANDY INFOSYSTEM M614 / M618 / M662 |
| E9 | 25A | PSM M476 |
| E10 | 15A | PSM M476 |
996 MY2003 Fuses List and Amperages
| | | |
| --- | --- | --- |
| A1 | 15A | HIGH BEAM RIGHT, HIGH BEAM CONTROL |
| A2 | 15A | HIGH BEAM LEFT |
| A3 | 7.5A | SIDE MARKER LIGHT RIGHT |
| A4 | 7.5A | SIDE MARKER LIGHT LEFT |
| A5 | 15A | LICENSE PLATE LIGHTS, LOCATING LIGHT, INSTRUMENT LIGHTING |
| A6 | 25A | SEAT HEATER M139/M340 |
| A7 | 25A | FOG LIGHT, REAR FOG LIGHT M465/M466 |
| A8 | 7.5A | LICENSE PLATE LIGHTS CANADA M113 |
| A9 | 15A | LOW BEAM RIGHT |
| A10 | 15A | LOW BEAM LEFT |
| B1 | 15A | CLUSTER, TlPTRONIC, BUTTON ASR PSM, DIAGNOSIS, CU POWER TOP |
| B2 | 15A | HAZARD-WARNING, A.TURN-SIGNAL SYSTEM |
| B3 | 25A | TWO-TONE HORNS |
| B4 | 15A | ENGINE COMPARTMENT BLOWER |
| B5 | 7.5A | BACKUP LIGHT, CU MEMORY MIRROR ADJUSTMENT, CU POWER TOP |
| B6 | 15A | TURN SIGNALS, POWER WINDOW |
| B7 | 15A | STOP LIGHT, CRUISE CONTROL M454 |
| B8 | 15A | CU ALARM-CL, CU ME, CU TIPTRONIC M249 |
| B9 | 15A | CU ABS, PSM |
| B10 | 15A | INSTRUMENT CLUSTER DIAGNOSIS, HEADLIGHT VERTICAL AIM CONTROL |
| C1 | 25A | ENGINE ELECTRICS |
| C2 | 30A | IGNITION, INJECTION, HEATER OXYGEN SENSORS |
| C3 | 15A | CU ALARM-CL, POWER WINOOW, SUN ROOF, CU POWER TOP, INSIDE LIGHT |
| C4 | 30A | FUEL PUMP |
| C5 | | |
| C6 | 25A | WIPER |
| C7 | 7.5A | TERM.X CONTROL WIRES |
| C8 | 40A | RADIATOR FAN RIGHT |
| C9 | 25A | HEADLIGHT CLEANING SYSTEM M288 |
| C10 | 40A | RADIATOR FAN LEFT |
| D1 | 30A | POWER WINDOW FRONT |
| D2 | 30A | REAR WINDOW DEFOGGER, MIRROR HEATING |
| D3 | 30A | CONVERTIBLE TOP DRIVE, SUN ROOF M650 |
| D4 | 30A | |
| D5 | 15A | CIGAR LIGHTER |
| D6 | 30A | HEATER, AIR CONDITIONING SYSTEM M573/M574 |
| D7 | 15A | REAR SPOILER COVER OPENER |
| D8 | 7.5A | RADIO |
| D9 | 15A | AUDIO OPTION PACK M490 |
| D10 | 7.5A | TELEPHONE |
| E1 | 7.5A | TERM.86S/ CU-CL ALARM/ RADIO/ CLUSTER/ DAYTIME RUNNING LIGHT/ INFO SYSTEM/ CU SENSOR OVERTURN |
| E2 | 7.5A | CU MEMORY M537 / M538 |
| E3 | 30A | POWER SEAT, CU MEMORY SEAT LEFT M537 |
| E4 | 30A | POWER SEAT, CU MEMORY SEAT RIGHT M538 |
| E5 | 7.5A | INFOSYSTEM M662 |
| E6 | 7.5A | TERM.30 TELEPHONE/HANDY, NAVIGATION, ORVR, M614IM618/M662 |
| E7 | 7.5A | AIR CONDITIONING SYSTEM M573 |
| E8 | 7.5A | TERM.15 TELEPHONE/HANDY INFOSYSTEM M614 / M618 / M662 |
| E9 | 25A | PSM M476 |
| E10 | 15A | PSM M476 |
996 MY2004 Fuses List and Amperages
| | | |
| --- | --- | --- |
| A1 | 15A | HIGH BEAM RIGHT, HIGH BEAM CONTROL |
| A2 | 15A | HIGH BEAM LEFT |
| A3 | 7.5A | SIDE MARKER LIGHT RIGHT |
| A4 | 7.5A | SIDE MARKER LIGHT LEFT |
| A5 | 15A | LICENSE PLATE LIGHTS, LOCATING LIGHT, INSTRUMENT LIGHTING |
| A6 | 25A | SEAT HEATER M139/M340 |
| A7 | 25A | FOG LIGHT, REAR FOG LIGHT M465/M466 |
| A8 | 7.5A | LICENSE PLATE LIGHTS CANADA M113 |
| A9 | 15A | LOW BEAM RIGHT |
| A10 | 15A | LOW BEAM LEFT |
| B1 | 15A | CLUSTER, TlPTRONIC, BUTTON PSM PSM, DIAGNOSIS, CU POWER TOP |
| B2 | 15A | HAZARD-WARNING, A.TURN-SIGNAL SYSTEM |
| B3 | 25A | TWO-TONE HORNS |
| B4 | 15A | ENGINE COMPARTMENT BLOWER |
| B5 | 7.5A | BACKUP LIGHT, CU MEMORY MIRROR ADJUSTMENT, CU POWER TOP |
| B6 | 15A | TURN SIGNALS, POWER WINDOW |
| B7 | 15A | STOP LIGHT, CRUISE CONTROL M454 |
| B8 | 15A | CU ALARM-CL, CU ME, CU TIPTRONIC M249 |
| B9 | 15A | CU ABS, PSM |
| B10 | 15A | INSTRUMENT CLUSTER DIAGNOSIS, HEADLIGHT VERTICAL AIM CONTROL |
| C1 | 25A | ENGINE ELECTRICS |
| C2 | 30A | IGNITION, INJECTION, HEATER OXYGEN SENSORS |
| C3 | 15A | CU ALARM-CL, POWER WINOOW, SUN ROOF, CU POWER TOP, INSIDE LIGHT |
| C4 | 30A | FUEL PUMP |
| C5 | | |
| C6 | 25A | WIPER |
| C7 | 7.5A | TERM.X CONTROL WIRES |
| C8 | 40A | RADIATOR FAN RIGHT |
| C9 | 25A | HEADLIGHT CLEANING SYSTEM M288 |
| C10 | 40A | RADIATOR FAN LEFT |
| D1 | 30A | POWER WINDOW FRONT |
| D2 | 30A | REAR WINDOW DEFOGGER, MIRROR HEATING |
| D3 | 30A | CONVERTIBLE TOP DRIVE, SUN ROOF M650 |
| D4 | 30A | |
| D5 | 15A | CIGAR LIGHTER |
| D6 | 30A | HEATER, AIR CONDITIONING SYSTEM M573/M574 |
| D7 | 15A | REAR SPOILER COVER OPENER |
| D8 | 7.5A | RADIO |
| D9 | 15A | AUDIO OPTION PACK M490 |
| D10 | 7.5A | TELEPHONE |
| E1 | 7.5A | TERM.86S/ CU-CL ALARM/ RADIO/ CLUSTER/ DAYTIME RUNNING LIGHT/ INFO SYSTEM/ CU SENSOR OVERTURN |
| E2 | 7.5A | CU MEMORY M537 / M538 |
| E3 | 30A | POWER SEAT, CU MEMORY SEAT LEFT M537 |
| E4 | 30A | POWER SEAT, CU MEMORY SEAT RIGHT M538 |
| E5 | 7.5A | INFOSYSTEM M662 |
| E6 | 7.5A | TERM.30 TELEPHONE/HANDY, NAVIGATION, ORVR, M614IM618/M662 |
| E7 | 7.5A | AIR CONDITIONING SYSTEM M573 |
| E8 | 7.5A | TERM.15 TELEPHONE/HANDY INFOSYSTEM M614 / M618 / M662 |
| E9 | 25A | PSM M476 |
| E10 | 15A | PSM M476 |