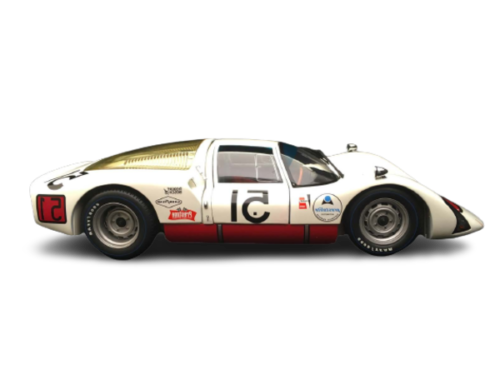 Porsche 906 E (1967)
Throughout the racing world the fueling system old, Carburetors, was replaced with Fuel Injection. In the preceding ten years much experimentation was done with injection, but it was not until the second half of the 1960s that a setup was developed that was really superior to a good carburetor set up.
For the 906 engine Porsche turned to Bosch to replace the Webers with a state of the art system. Equipped with the Bosch injection the engine's performance did not increase by much, but it was much easier to fine-tune and offered better throttle response.
Together with the new engine, a slightly revised bodywork was introduced, which brought drag levels back to the 904's figures without sacrificing any downforce. The revised bodywork of the 906 included a more protruding long-nose configuration and a shorter rear overhang.
Nine factory vehicles received this 2-liter, six-cylinder boxer engine and injection system. The engine output increased by 7 kW (10 hp) to 162 kW (220 hp) while the engine speed remained unchanged.
For the 1967 season, this new evolution of the 906 was dubbed 906 E for Einspritzung, or "injection", and was forced to run in the prototype class. These were some of the last 906s produced and the factory raced 906-159 and 906-160.
One of the first outings for the injected 906 was the 1966 24 Hours of Le Mans race where they filled places four to six behind three Ford GTs. It also secured a top spot in the Index of Performance.
For the 1967 season, the 906Es were made to support the new 910s. This was true at the Sebring season opener where the Porsche Auto 906-159 of Joe Buzzetta and Peter Gregg placed a respectable 7th overall. It was joined by the sister 906-160 which retired due to accident damage.
After Sebring both the factory 906Es were sold and retained in America for the United States Road Racing Championship (USRRC). These often won the the S2.0 class. Chassis 906-159 was sold to Otto Zipper and he made an S2.0 champion out of Scooter Patrick. Joe Buzzetta frequently raced the other car.
Our feature car is chassis 906, the 1967 Under Two Liter Championship-winning example. It was used up until the 1970s by Gustav Mason O'Keiff. After 15 years of storage, the car was comprehensively restored to it's championship-winning livery. During the process a new body was made by Autocraft.
After the restoration the car appeared at the 1992 Monterey Historic Races not to be seen much until the August 2006 Quail Event. Afterward it was purchased for inclusion into the Jerry Seinfeld collection.
A second evolution of the 906 was the installation of the advanced eight cylinder engines in the chassis, becoming known as the 906/8 which we cover here.