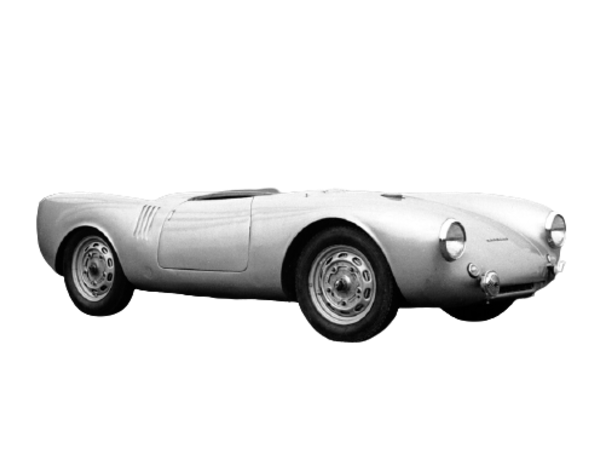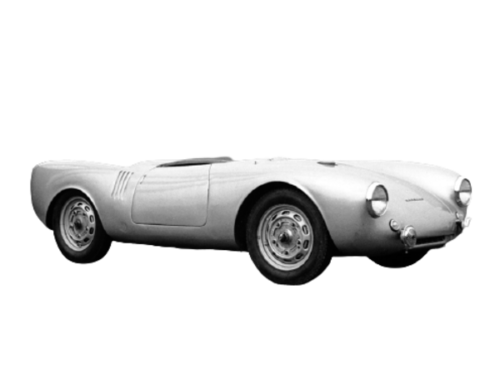 Porsche 550 Prototype Spyder (1953-1954)
Chassis #550-03 & #550-15
In 1953 Porsche created a series of 550 prototypes and 550-03 became the most important car in Porsche history by winning the 1954 Carrera Panamerica with Hans Herrmann at the wheel. This singular victory lent the Carrera nameplate to future models and also marked the first international victory of a mid-engine car. Only 15 prototypes (including two coupes) were made until regular production began in 1954 of the Porsche RS Spyder. Of these, Porsche historian Steve Heinrichs believes nine cars currently survive.
Below we have a summary on each chassis number from the original prototypes. For more detail, please check out Type550 for the in-depth details.
Porsche 550 Prototype Spyder Chassis Numbers
Porsche 550 Chassis #550-03
550-03 and 550-04 were both fabricated in May 1953 by coach builder Weinsberg. There were slight variations in both the bodies and finishes. They were both built on a new frame manufactured by Weinsberg with a new layout where the rear torsion bar tube was moved ahead of the engine instead of positioned behind the transaxle like it was found on 550-01 and 550-02. This allowed the set up for trailing arms rather than leading arms. The front suspension was a typical VW type design with twin parallel trailing arms and torsion-bar springing.
This was the first 550 prototype to have the latest Ernst Fuhrmann's designed type 547 quad cam engine installed. The engine had duel overhead cams, duel distributors, twin plug ignition and a complicated, multi-section Hirth roller bearing crank. Overall, the design was more refined and sharp and mechanically sorted than the two earlier builds. Built as both a roadster and a hard top coupe, it was first tested as a roadster in August 1953 at the Nürburgring with Huschke von Hanstein behind the wheel. Designed for a range of races from short course and hill climbs through to long distance endurance races, the engine and longer trailing arm suspension set up was different on the purpose built frame.
Porsche 550 Chassis #550-04
The first configuration of 550-04 was as a Buckelwagen with a raised rear bulkhead which was bolted onto the existing rear deck but without the louvered gills in the sides behind the doors as found on 550-03. It was fitted with a full size windscreen and sloping side door windows for greater aerodynamics. As Porsche was still in the phase of testing prototypes and trying different body configurations, 550-04's production was complete a month after 550-03 during August 1953. Both cars had a raised hump between the two rear deck lid grills to clear the fan shroud of the type 547 engine. Porsche had entered 550-03 and 550-04 in the November 1953 Carrera Panamericana in Mexico as Werks cars.
Porsche 550 Chassis #550-05
550-05 was completed in September 1953 and displayed on the Porsche stand at the 1953 Paris car show. The first of the Fuhrmann Type 547 quad-cam engines shown to the public in a Porsche, the roadster was Porsche's projection of what a new customer roadster could look like.
Of note was the single middle grill plus a bulge in top of the engine bay door to clear the new engine fan shroud of 547-02. All future 550s featured two side by side grills centered to the hinged rear for air flow and no bulge. The body was by Weinsberg and even had practical things like a glove box and side windows. The car also was fitted with knock off disc wheels which was thought to be the future in racing wheel.
Although both 550-05 and 550-07 were constructed using the same body designed by Porsche, both bodies were built by two different coach builders. 550-05 was built by Weinsberg while 550-07 was the first to be built by Wendler in secret to see if their production process was more efficient.
Porsche factory driver Hans Stuck raced 550-05 on behalf of Porsche in the Rio de Janeiro GP and Sao Paulo GP races with a  Porsche push rod 1500 engine fitted (the new quad-cam engine was expensive and Porsche wanted to use it in a factory racing spyder). It was raced a few more times in South America and Europe through 1958)
Porsche 550 Chassis #550-06
Chassis #550-06 was built as a show car for Porsche and we first saw it on stage at the 1954 Brussels Auto Show. It was a hit instantly, the design getting lots of rave reviews and set Porsche up to sell their new range of customer spyders through their European dealerships and to export to the US.
Chassis #550-06 had a body design that was different than earlier 550 prototypes and with its wide, high rear deck and smooth surface it was direction of all future 550 Spyder designs. It had also had a buckle rear. The hinged rear was first seen on #06 (previous 550 prototypes had a fixed rear with a hood door). This feature made access to the engine easy and fast.
The buckle was removed for the 1954 Paris show and the new streamlined rear was fitted to the body and painted blue with red tail fins and rims. This design was to be adopted for the following season's Wek's Le Mans cars. After a year of touring the auto shows including London and New York, 550-06 remained in the US and raced by Porsche dealer John von Neumann. The body went through another transformation designed to maximize performance.
Porsche 550 Chassis #550-07
Chassis #550-07 was completed around February 1954 and was given to Wendler Karosserie in Reutlingen in a special arrangement to demonstrate their coach building skills to Porsche to try and secure the contract for the remaining prototypes and the type 550 customer production builds. Porsche had not allocated a Weinsberg designed chassis frame (550-07) to this build, but one of the new Wendler frames – 550-0043, from the supply allocated for customer cars specifically for Porsche builds. Porsche welded a new identification plate of '550-07' over the existing chassis plate '550-0043' already on the frame, which is the only 550 chassis known to have been renumbered.
550-07 was built as a race-test car for Porsche and was the first Wendler built car on a Wendler built frame. It was built initially as a Buckelwagen prototype, which consisted of a high rear body starting at the firewall between the upholstered rear of the seats and the engine bay. With a full frame windshield and angled side windows, it was one of the most aerodynamic designs tested by Porsche test pilots. Unfortunately it did not meet design regulations when assessed by the German Federal Ministry of Transport.
550-07 was then rebodied with the same fixed rear body design of 550-05 and fitted with Rudge wheels. It was first sold to the Paris Porsche dealer Sonauto, owned by Auguste Veuillet who promoted the upcoming Montlhéry Coupe du Printemps race in it. The 550 was entered into a number of races including the Tour de France with Annie Bousquet and Marie Claire Beaulieu as drivers. It also entered many more races including hill climbs and saw lots of modifications (and repairs) over the years.
Porsche 550 Chassis #550-08
550-08 was a Weinsberg body and frame Porsche 550 and was completed in April 1954. It was tested for a short period on the German Autobahns before its first scheduled race. This 550 was the first of the new race cars to be configured with the hinged rear clamshell to enable easy access to the engine bay. Taking the design cue from 550-05, it was also fitted with a glove compartment and the ignition key was positioned below the gauge cluster behind the steering wheel. With two grills on top of the rear clamshell, along with two cooling louvers in the side of the body, Porsche engineers thought this would provide sufficient cooling for the quad cam engine #547-05.
550-08 was entered into the May 1954 Mille Miglia privately because Porsche wasn't sure if the 550 would be good enough for long races. It did really well, finishing sixth overall and first in the 1500cc class. 550-08 raced in a number of other endurance races like the Tour de France, finishing first in class before it was sold.
Porsche 550 Chassis #550-09
Chassis #550-09 was produced along side 550-08 in April 1954. Similar to 550-06, the car was both a test car and a show car for Porsche. Finished in silver, it was in a Buckelwagen configuration built by Karosseriebau Weinsberg with a red interior. It had a quad cam engine – #547-06.
It was first used at Campione by factory drivers Hans Herrmann and Richard von Frankenberg as a demonstration car. The Buckelwagen was also fitted with a hardtop for racing in inclement weather at the track. Following the victory of 550-08 at the 1954 Mille Miglia, 550-09 was painted with the race car's livery along with #351 and toured around the different Porsche dealerships throughout Germany for the next few months with the winning wreath displayed on the front hood.
The car had the buckel removed and the low hinged rear fitted, along with a new special smaller bore 1100cc engine installed #547-10, and was shipped to the US where it was sold to John von Neumann, who raced it at the 1955 Sebring 12 hour race, finishing in first position in the 1100cc class and a respectable 23rd overall.
Porsche 550 Chassis #550-10
Chassis #550-10 was completed in May 1954 by coach builder Weinsberg in silver with green darts along its rear fins. It was fitted with quad cam engine # 547-07 with Weber carbs and a 26 gallon endurance fuel tank with external fuel filler cap through the front bonnet, in preparation for the Werks entry into the 1954 Le Mans race. It was further fitted with an external oil filler cap on the side of the rear engine bay for topping up the oversized dry-sump tank (only the four 'Le Mans Prototypes' have this feature). The frame, body, brackets, starter motor and suspension components were all drilled and lightened to reduce weight.
It had some initial bad luck in its racing career but then things looked up. In its first race, 550-10 did not finish due to engine problems. After repairs and was then entered into the 12 Hours of Reims race, where it finished 2nd in class and 9th overall. On August 1st, 1954 it entered Nurburgring Sports Car Race, where, driven by 18 year old factory driver Hans Herrmann the car finished 1st overall (2nd, 3rd and 4th were also filled by Factory Porsche Team 550s). Chassis 550-10 was then entered in the September 19th running of the Avus Sports Car Race where it was prepared with a different windshield and rear wheel covers in a further attempt to create better aerodynamics around the banked track. The last race was the Hockenheim in May 1955 where Mathieu Hezemans finished 5th.
Porsche 550 Chassis #550-11
Chassis #550-11 was completed in May 1954 by coach builder Weinsberg in silver with red darts along its rear fins and a red interior. It was fitted with quad cam engine # 547-08 with Weber carbs and a 26 gallon endurance fuel tank in preparation for the Werks entry into the 1954 Le Mans race.
The spyder had a very short but distinguished career with its racing debut in the 1954 Le Mans race as car number 41, piloted by Hans Herrmann and Helmut Polensky but unfortunately unable to complete the race. It had better success in the 12 h Reims race with Helmut Polensky and Richard von Frankenberg finishing 8th overall, but 1st in class. Followed by a race at the Nürburgring GP – Rheinland-Pfalz Prize, Polensky finished 3rd. After a couple of races in Switzerland with Arthur Heuberger winning behind the wheel, Porsche shipped 550-11 across to the US where John von Neumann took ownership of the car are entered it into the March Field Race. During practice there was a leak in the fuel line causing the car to be engulfed in flames. Von Neumann quickly escaped from the driver's seat before the flames took hold causing the fuel tank to explode.
Porsche 550 Chassis #550-12
As 550-12 was one of the four Werks cars, Porsche made ​​an extra effort in building the cars for their first Le Mans race in 1954. Additional supports were added to the beams of the Weinsberg chassis, while everything else was drilled and lightened including brake drums (still 40mm at both ends), the passenger seat was made of rattan, and a small driver's windshield fitted with an aluminium tonneau covering the passenger side of the cockpit for greater aerodynamics. The fins were tall and thin with aqua blue painted darts along and a hinged rear. A pan was fitted underneath the engine bay, with louvered slots to expel the hot air and to maintain the aerodynamic flow along the underside of the car. The car had a 95 litre fuel tank weighing about 545 kg dry and a balance of about 50-50 with a full tank, 55-45 in a vacuum.
Fitted with a third series type engine, number 547-09, it developed about 115 hp. It was also fitted with Weber carburetors for improved midrange power compared to the Solex carburetors. During the Le Mans race, in the 19th hour, 550-12 holed a piston and while running on only three cylinders, the car limped to the finish line to secure first in class ahead of a rival Osca.
Porsche 550 Chassis #550-13
Chassis #550-13 was completed in May 1954 by coach builder Weinsberg along with the other three Le Mans Werks cars in silver with yellow darts along its rear fins and a beige interior. It was fitted with quad cam engine # 547-10 which was a smaller capacity engine of 1100cc.
As race number 47, the spyder was entered in the 1954 Le Mans race in the 1100cc class with Gonzague Olivier and Zora Arkus Duntov as pilots. It finished first in class. The advantage of having a smaller engine was that it was very competitive in its class for all races. In July, the car was shipped to the UK where Huschke von Hanstein raced it to victory at Silverstone. From England it was then shipped to South America to compete in the Carrera Panamericana race driven by Fernando Segura and Herbert Linge, finishing 12th overall and 4th in class.
Porsche 550 Chassis #550-14
Chassis #550-14 was the first of the 550 prototypes where it was a joint collaboration between Porsche and Weinsberg to build the body, completed in July 1954. The body design was a prelude to what would become the RSK Porsche, with a more aerodynamic nose positioned lower to the ground and integrated slanted headlights into the front fenders. With all the wind tunnel testing Porsche had performed, this configuration incorporated all the design cues to produce the most streamlined design to date, including full wrap driver's windscreen, full passenger seat tonneau, small driver's head faring, half wheel covers on the rear and crest covers on the front wheel openings. It had the latest version of the 1,498cc quad cam engine – # 547-12.
After closed circuit testing, 550-14 was entered into the September 1954 Avus GP in Berlin. Along with 550-12 and 550-13 (did not start due to an accident in the qualifying race), both cars started on the front grid and led for the entire race, with 550-12 claiming the checkered flag and 550-14 finishing second.
Porsche 550 Chassis #550-15
Chassis #550-15 was the last prototype 550 to be built by Porsche, even though it was after the first production run of the customer 550 spyders which had commenced at the Wendler factory. Using the quad cam engine from 550-14 – #547-12, it was a Weinsberg and Porsche body build, possibly using a spare body from the Le Mans Werks 550s, which featured the high fins, side gills and external oil filler behind the passenger seat, but incorporated the new slanted headlight front found on the customer cars. The production wasn't finished until 12th March 1955, a couple of months after the new Wendler bodied cars had been delivered.
The spyder was sold new to Wolfgang Seidel who registered it in Frankfurt, in the region of Hesse. Seidel was an accomplished German driver and raced 550-15 from April 1955 until August 1956. He raced throughout Europe and the UK, usually finishing on the podium each time. Seidel entered the 1955 Mille Miglia (car #541) with co pilot Helm Glöckler, finishing 8th overall and first in the 1500cc class. By mid 1955, 550-15's finned rear clamshell was replaced with a Wendler built one, which had the more rounded fenders and round tail lights, but without the side gills.