Reviewed and Edited by Rex McAfee
Impeccable numbers matching 356B S90 Roadster
In 1959, Porsche introduced a complete update of the 356 as the 356 B with a body that was more suitable for the American market. The largest changes came in the form of front and rear bumpers that were raised nearly four inches, and the repositioning of the headlights to meet American regulations. It was offered in three body styles- Coupe, Cabriolet, and Roadster. The Roadster was essentially an evolution of the 356 A Speedster and effectively replaced the Convertible D that was produced between 1958 and 1959. Like the Convertible D, it was a sporty open-top model that featured a larger, taller windshield with an unlined convertible top to match for more headroom, a larger rear window, and larger side windows with conventional wind-up mechanisms.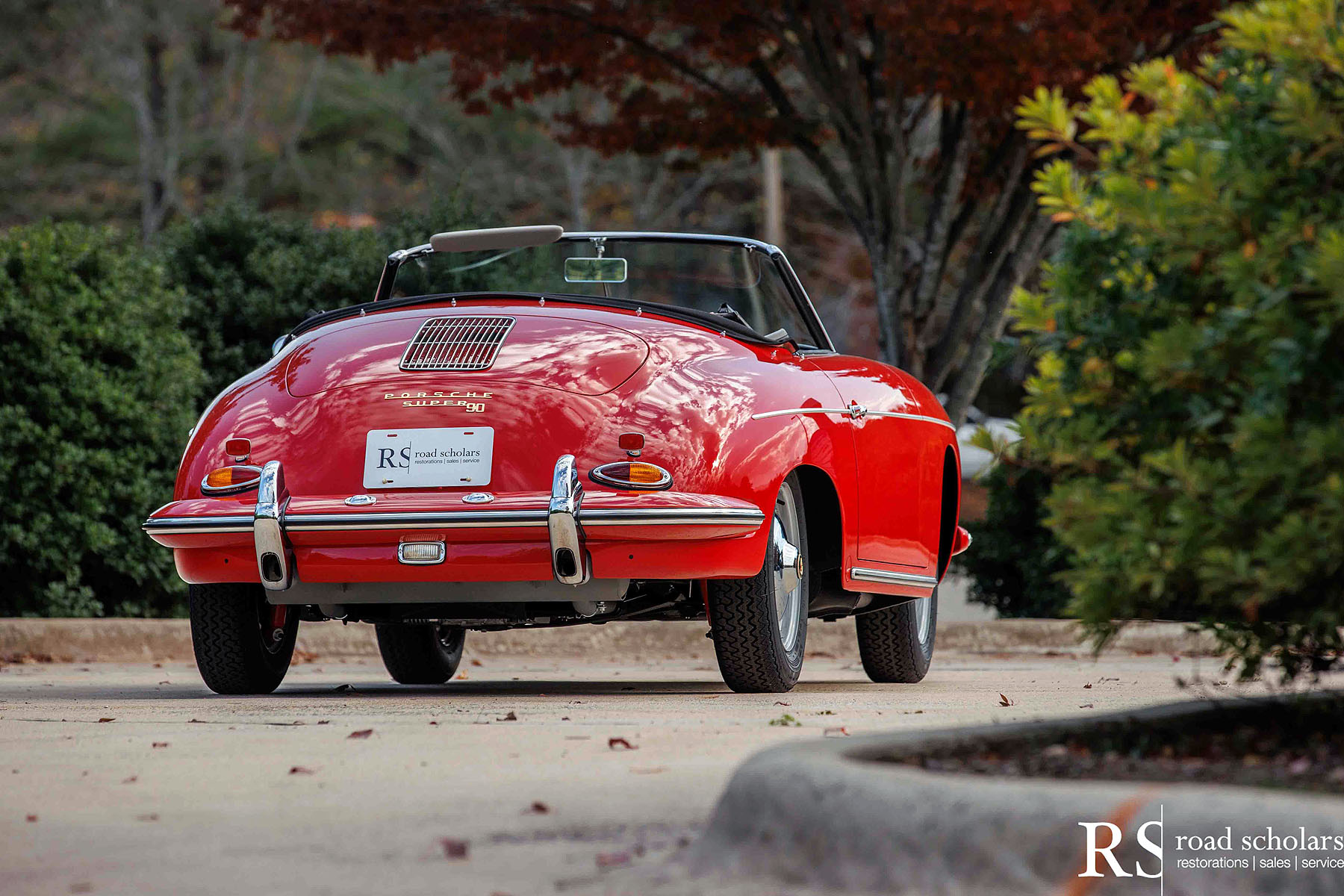 The T5 body 356 B Roadster bodies were constructed at the beginning of production by the Drauz (the coachbuilder who constructed the Convertible D models) and later by the Belgian coachbuilding firm of D'Ieteren Freres S.A. in Brussels. The Type 616/7 Super 90 engine was new to the model was and an indirect replacement for the Carrera de Luxe models. Super 90 engines were fitted with a new intake manifold, a larger Solex 40 PII-4 carburetor with and Carrera-type air filters, along with 9.0:1 pistons, stronger valve springs, and a different crankshaft with 55mm main bearings.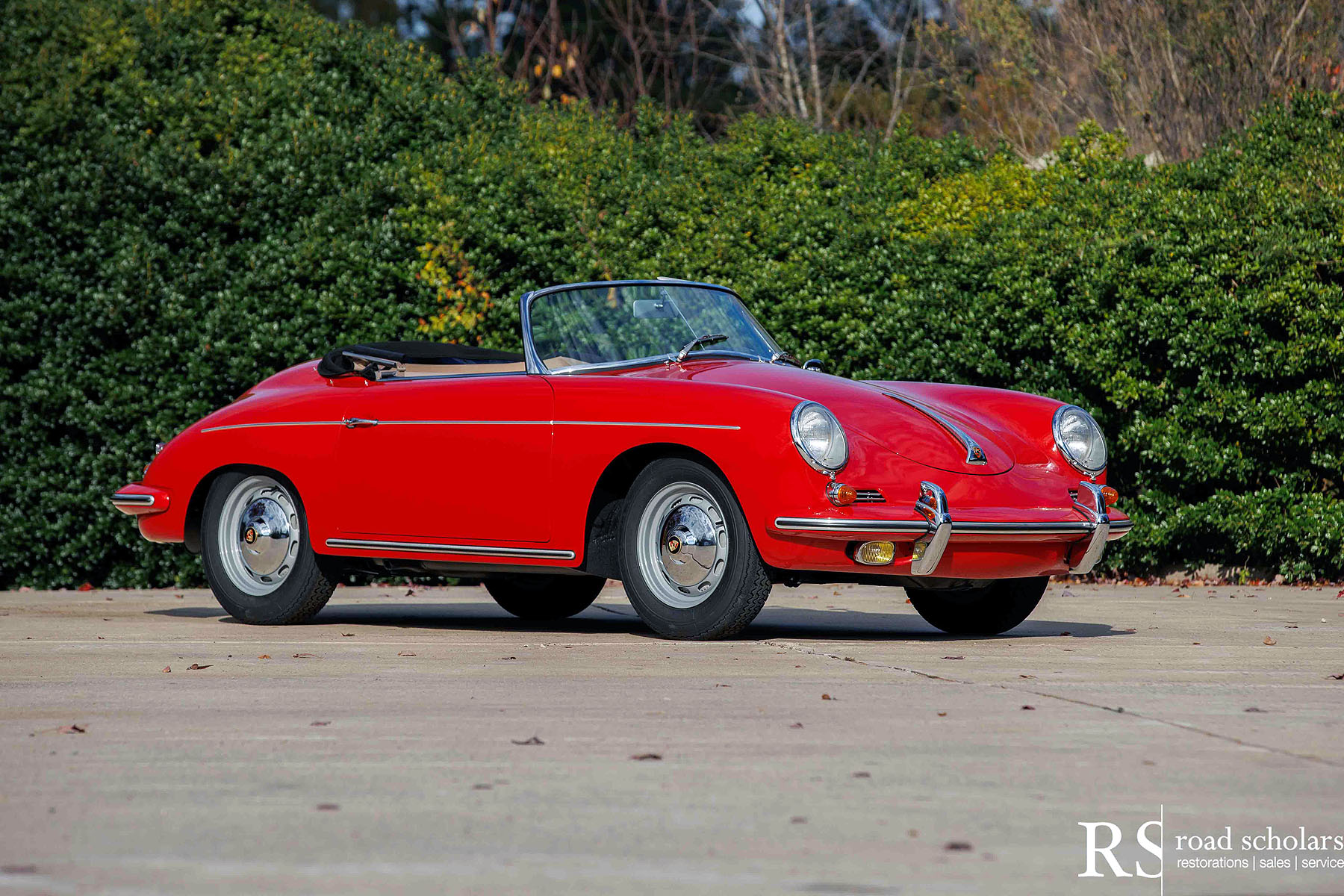 Chassis #89305
Chassis #89305 is a complete numbers-matching drivetrain and original body car. According to the Kardex, it was delivered to its first owner in Kalamazoo, Michigan through Hoffman Motors in New York. It was delivered in Signal Red paintwork with a black interior, and the option list specifies reclining seats and ashtray. It was ordered with the Super 90 engine option toward the end of the model production run. Just 1,033 356 B Roadster examples were produced on the T5 chassis and 249 on the succeeding T6 with its revised body. Among Porsche 356 aficionados, the Super 90 optioned 356 B Roadsters are among one the most desirable models ever produced.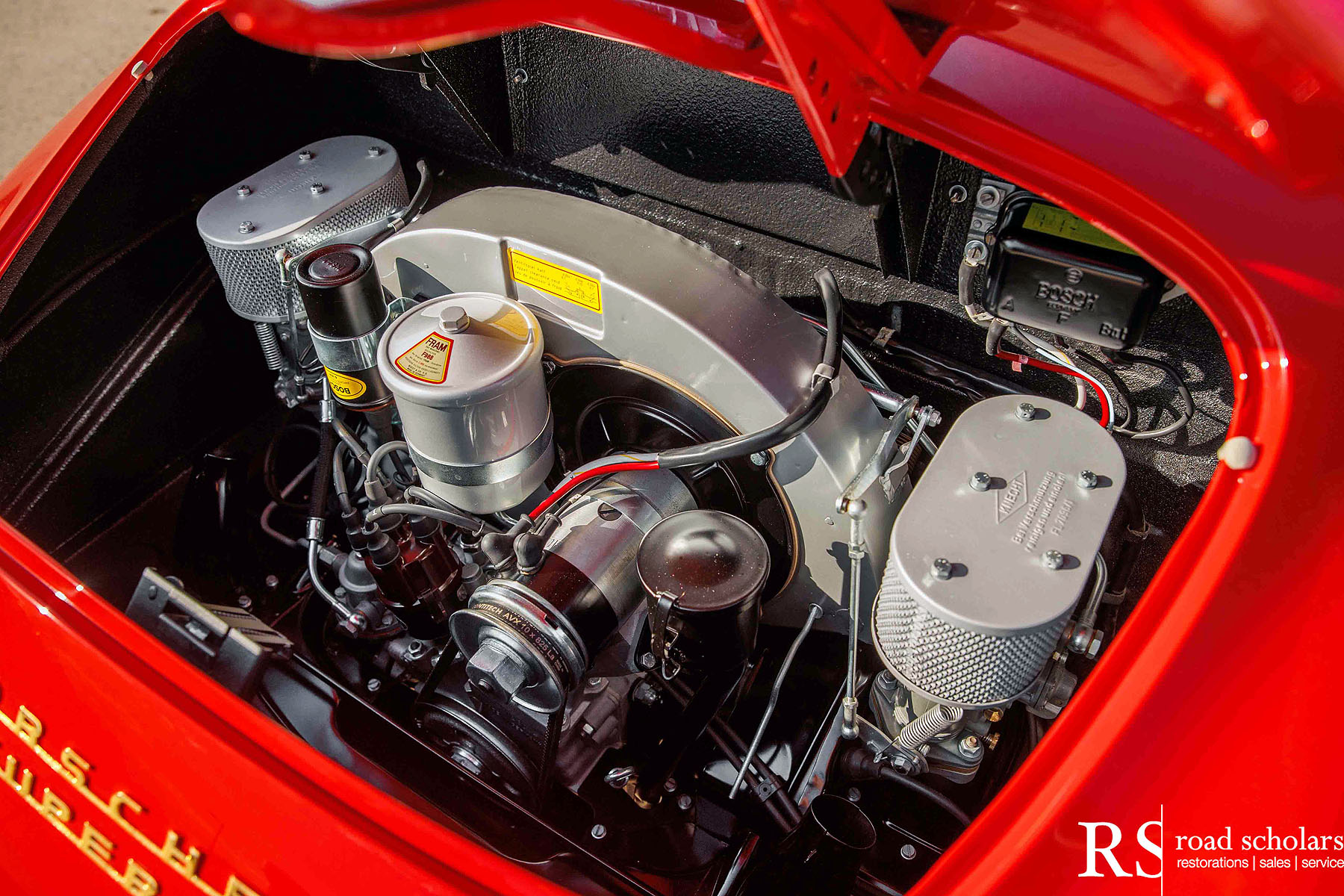 Previous Ownership
Road Scholars purchased this car in 2012 from Gordy Goltz, who helped his best friend Ron Gilbertson purchase the car in 1976. A 2017 article written by Greg Ellis, a mutual friend of Ron and Gordy's, recounts their search for a 356 B Roadster for Ron to purchase and their adventure through a Midwestern blizzard while transporting the Super 90 Roadster 350 miles back to Minneapolis after purchasing the car.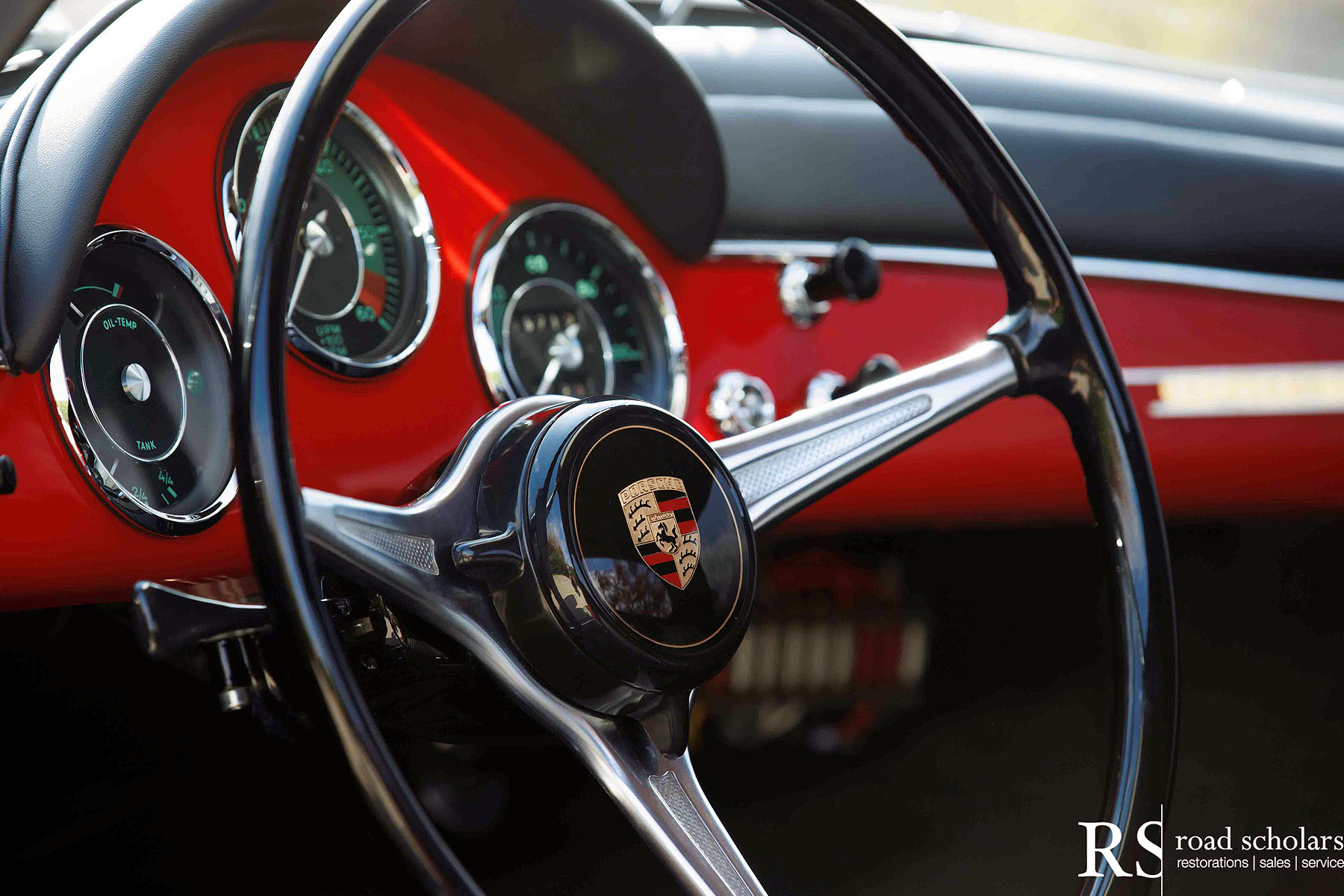 Restoration
Shortly after arriving on our campus, chassis 89305 was treated to a no-expense-spared Concours restoration. It was completely disassembled and scrutinized, and its body was stripped to bare metal to address any areas that needed repair before being primed and repainted in its original Signal Red paintwork. The original driveline was also disassembled and rebuilt to factory-fresh standards. Every component throughout the restoration was replaced with new-old-stock original components or originals that were refinished to a Concours level.  Every detail from the original tool kit to date stamped parts are present throughout the restoration.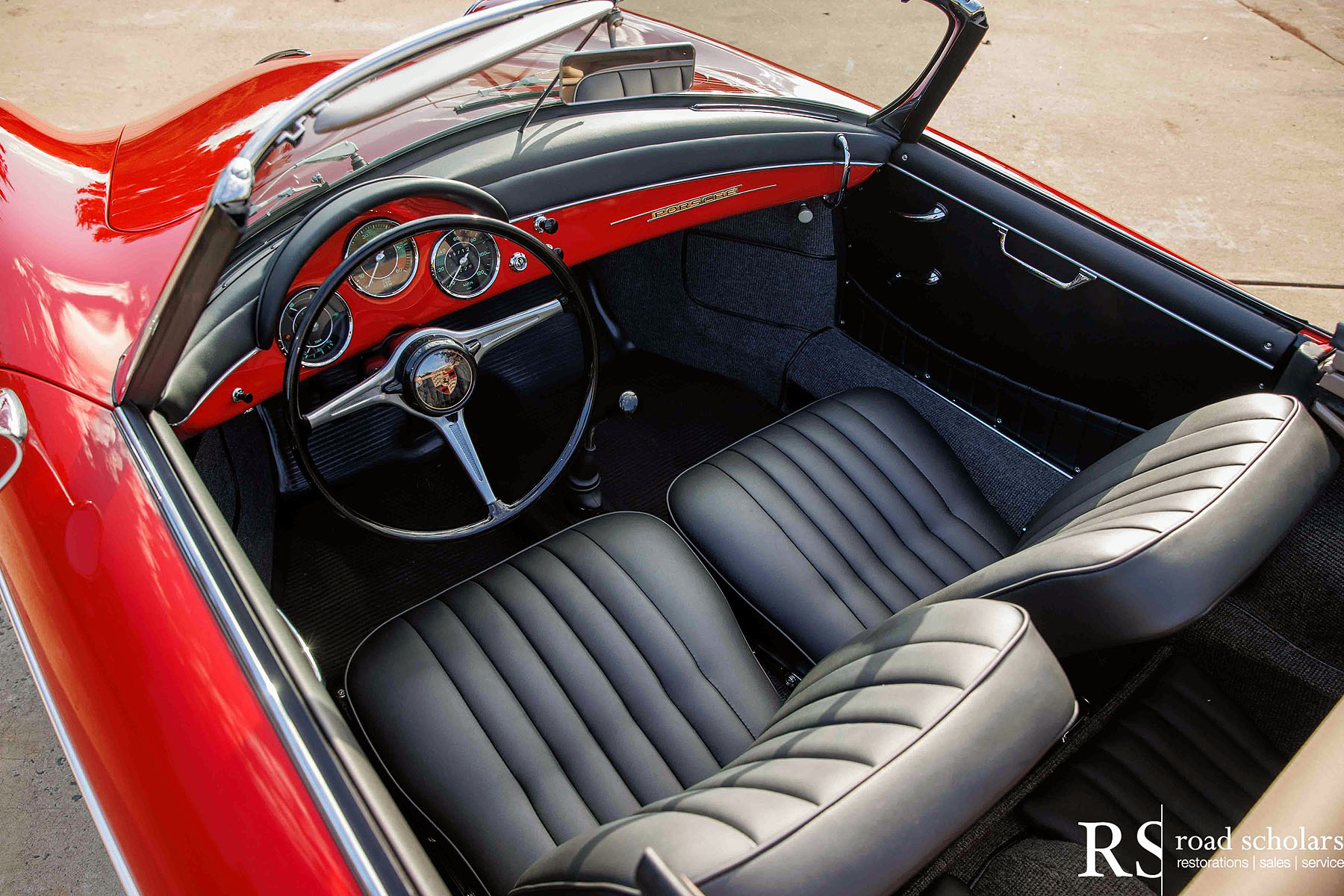 After a painstaking, 10-year-long restoration, the finished result is nothing short of exceptional. As one would expect, chassis 89305 is in impeccable condition throughout and is as close as one could get to obtaining a factory-fresh 356 B Super 90 Roadster today. It would perform just as well on the Concours circuit as it would through the corners of winding country roads as Ron Gilbertson had done throughout his years of ownership.
Highlights
OFFERED AT: $475,000
Chassis no.89305
Exterior color: Signal Red Paint (Code 6011)
Interior color: Black
ODOMETER: 66,712 miles
Engine N0. 802309 (Super 90)
Transmission No. 43780
Numbers Matching
All content and images © Road Scholars
Road Scholars at Pebble Beach Concours d'Elegance