Live on Bring A Trailer is a low mileage example of a 2024 Porsche 911 GT3 RS that's been specified with the Weissach Package out of the factory. This optional package reduces the weight of the car by utilizing a carbon-composite roof panel, front lid, anti-roll bars, and interior trim.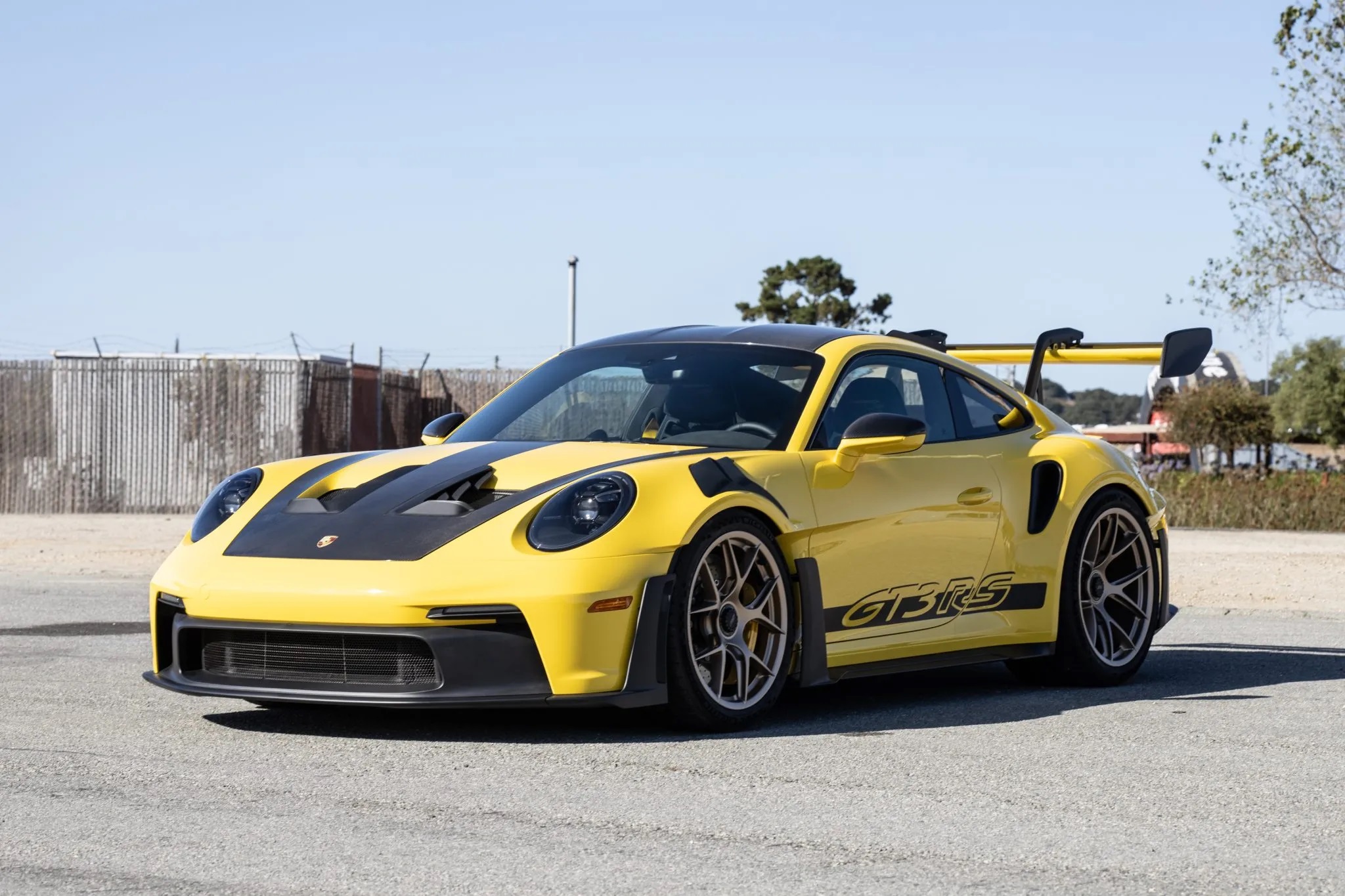 The Porsche 992 GT3 RS, designed for both road and track use, is arguably the most extreme 911 in production. It boasts aerodynamic enhancements, including striking radiator outlets, vented front fenders, and a remarkable carbon-fiber wing that stands taller than the car's roof, efficiently managing the impressive 1,900 pounds of downforce generated by the GT3 RS.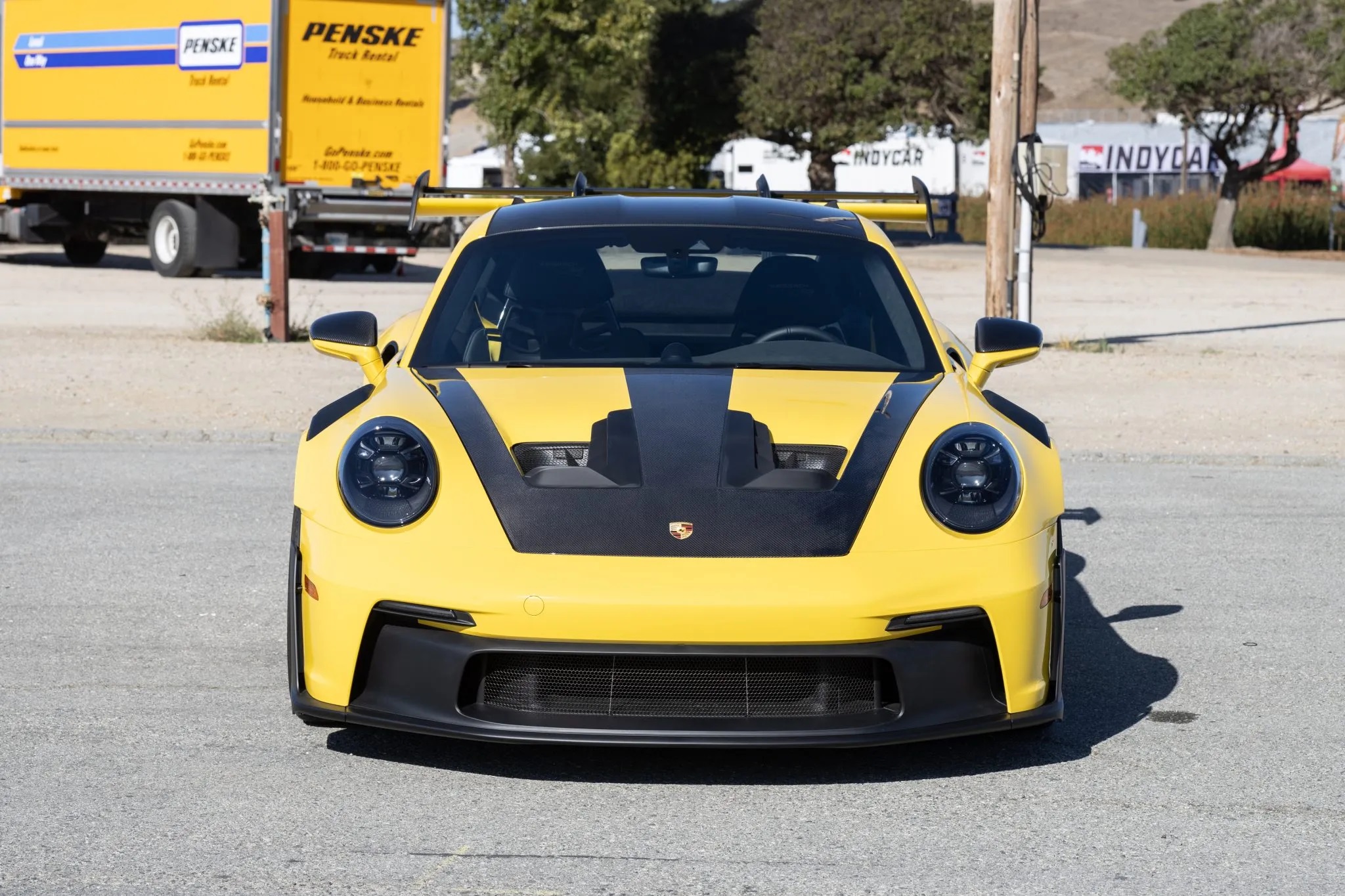 This particular example is finished in Racing Yellow with black leather upholstery and comes equipped with the Chrono Package, 20″ and 21″ center-locking wheels, rear-axle steering, a front-axle lift system, ceramic-composite brakes, LED-Matrix headlights, a rear swan-neck-hinged wing with DRS, rear parking sensors, an extended-range fuel tank, carbon-fiber bucket seats, automatic climate control, cruise control, Porsche Communication Management, and a Bose sound system.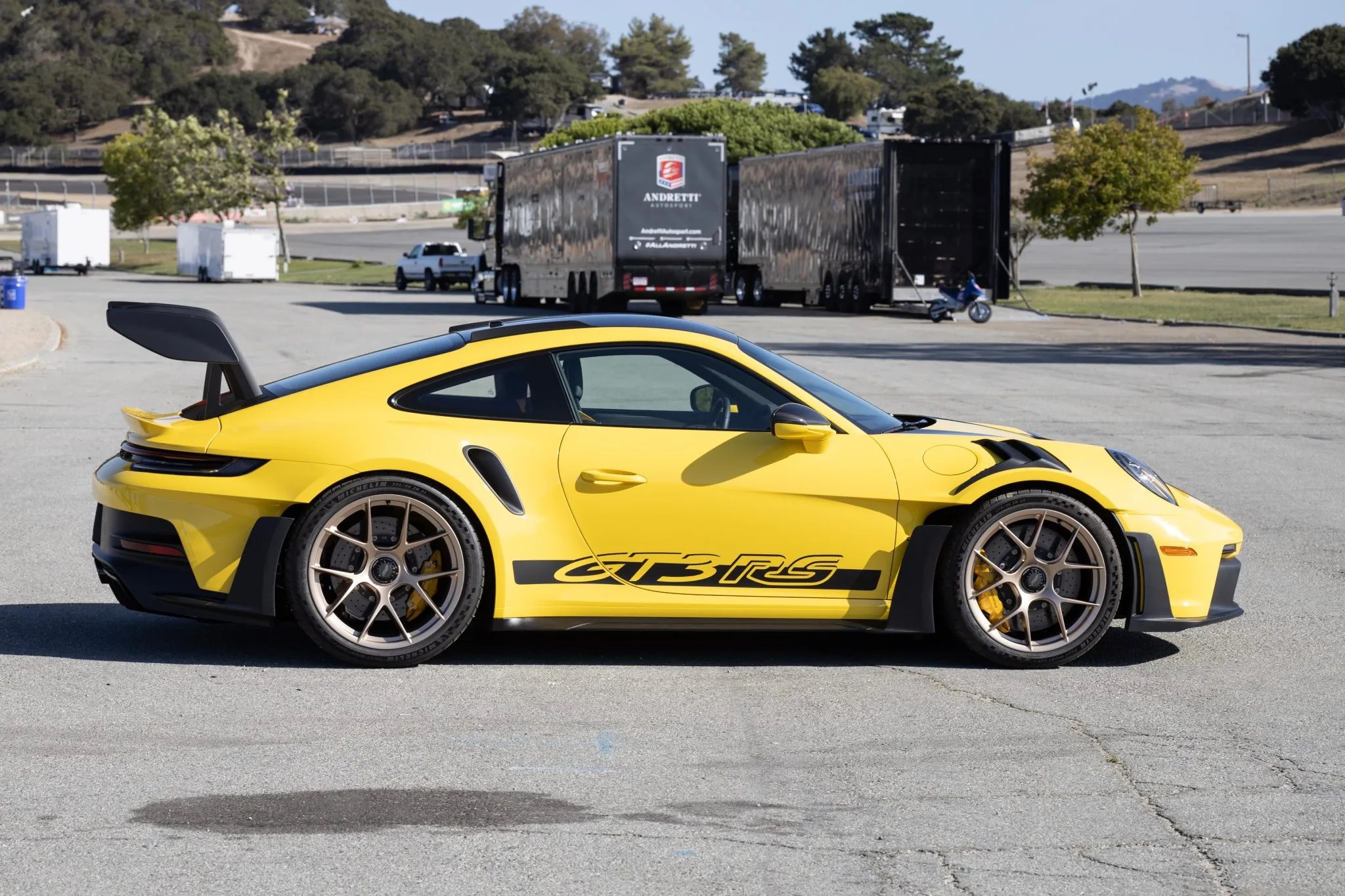 The car features lightweight glass, vented front fenders, and a carbon-fiber-reinforced plastic (CFRP) front trunk lid and raised rear wing. Additional features include LED-Matrix headlights with the Porsche Dynamic Light System Plus (PDLS+), rear parking sensors, side air intakes, and dual center-exit exhaust outlets.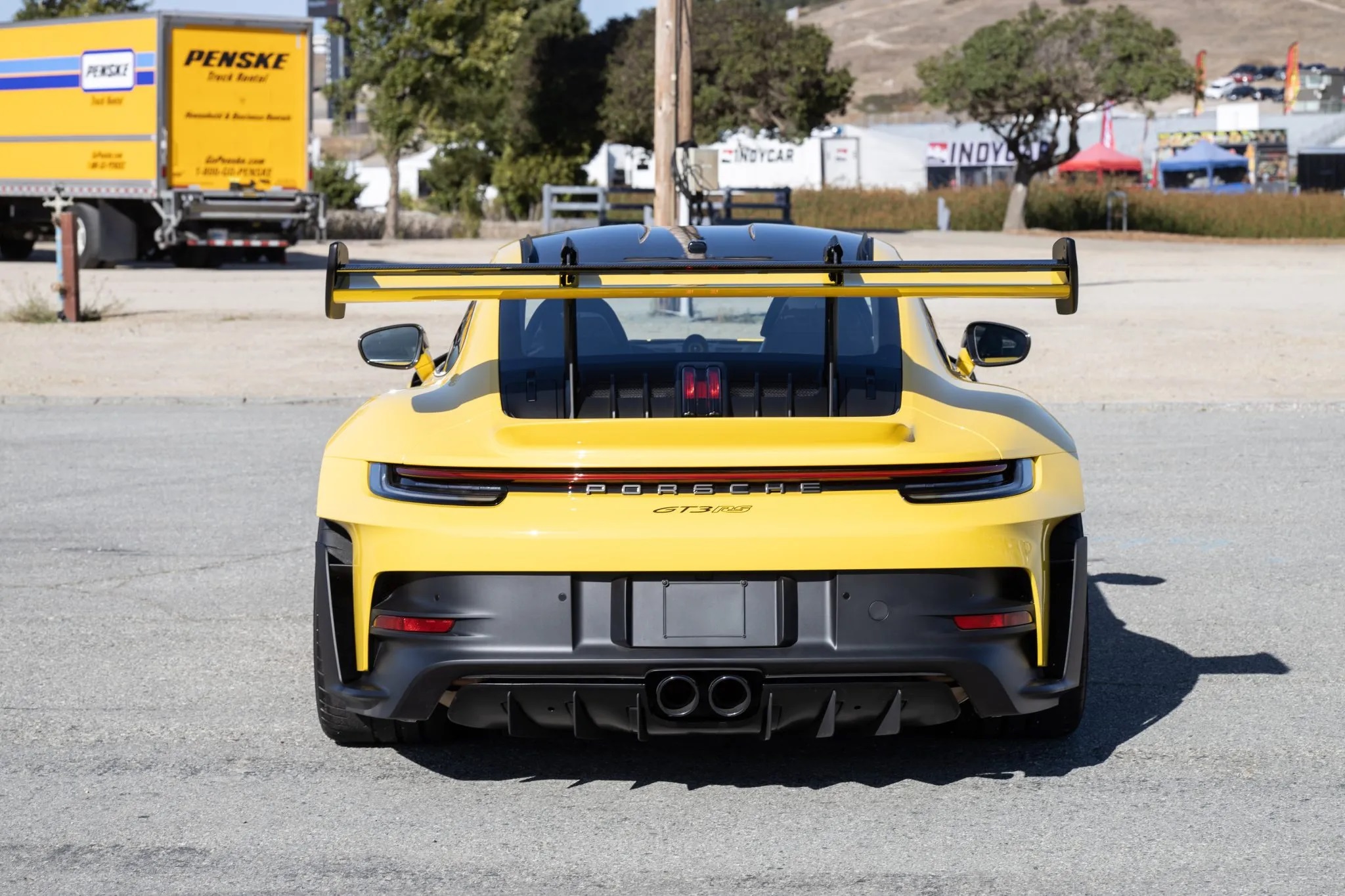 Boasting Porsche's well-known 4.0-liter flat-six engine, the GT3 RS unleashes a formidable 518 horsepower and 343 pound-feet of torque, propelling it from zero to sixty in a mere 3.0 seconds, with a top speed reaching 184 miles per hour. Power is transmitted to the rear wheels through a seven-speed PDK dual-clutch automatic transaxle and an electronically locking rear differential with Porsche Torque Vectoring (PTV) Plus.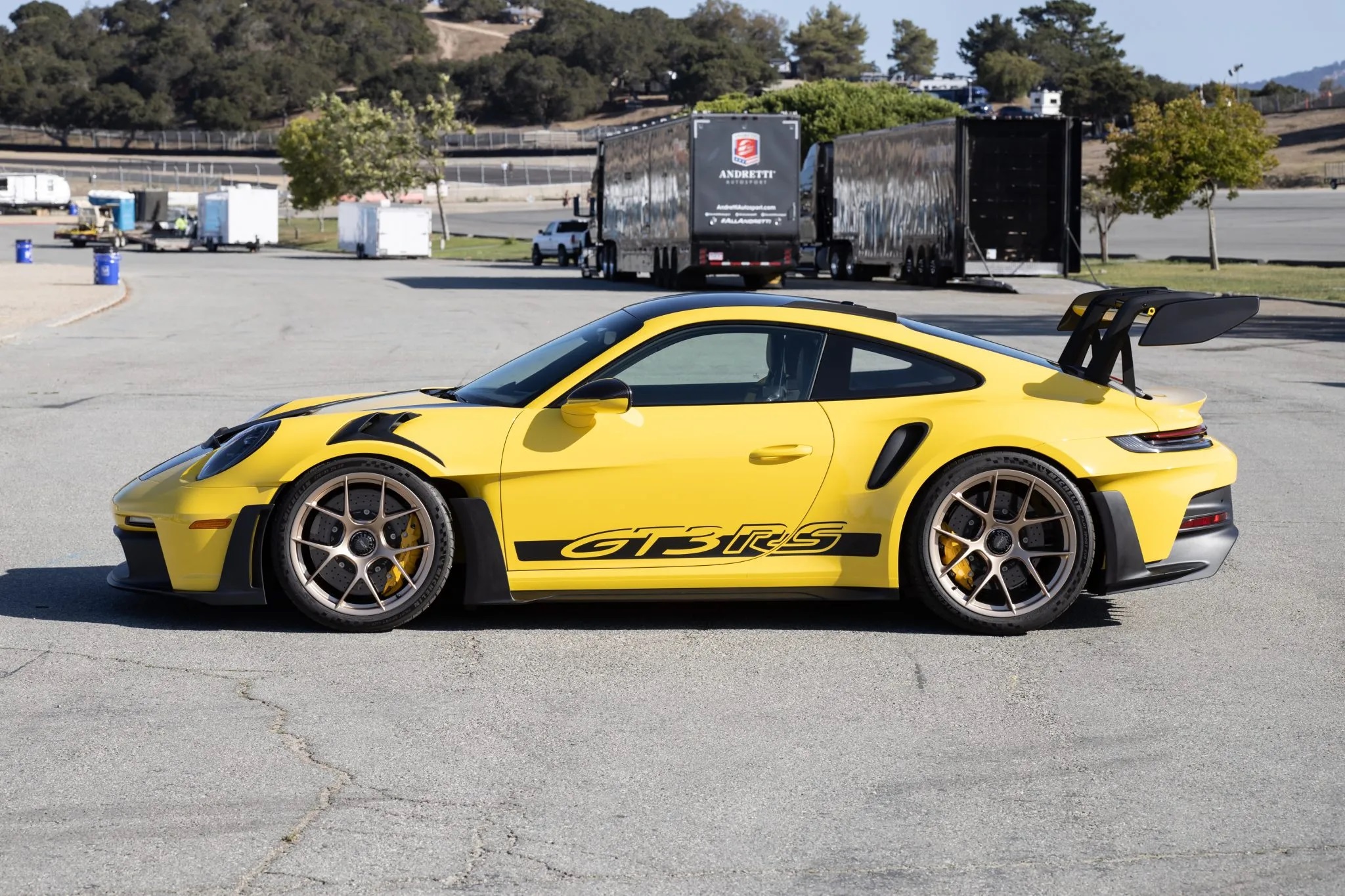 With only 128 miles on the odometer, this Porsche 992 GT3 RS is equally capable both on the road and on the track, courtesy of the upgraded components in the Weissach Pack.
Source: Bring A Trailer