Images courtesy of CocoMats.com.
For those that collect Porsches and need to replace old bits, have a restoration 911 in the garage as their project, or are just looking to make their Porsche 911 that little bit more unique and personal, one of the easiest bits to change out are the floormats. "But Porsche's factory supplied ones are great," we hear you saying, and you are right. Germans do not mess around when it comes to quality and precision, one of the reasons we all love these nimble, powerful sports cars from Stuttgart.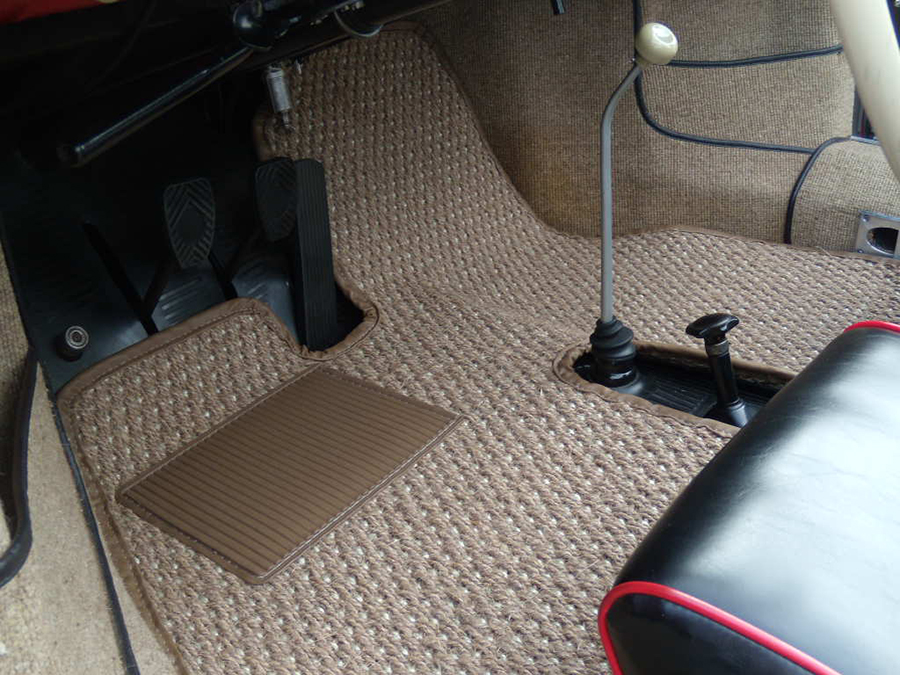 1955 Porsche 356 Speedster (pre-A) with beige CocoMat floor mat.
Yet, they are still mostly synthetic fibers, and if you get any oil or grease on those mats during a day wrenching under the tail on your classic car, you know that unless you get degreaser on there right away, it'll be stained for good. Also, as mentioned, maybe you have a Type 930 Turbo restomod project going on in your garage, and want to make it have a little more "You" in the car. It's rarely thought about as a key detail, but floor mats can be that final piece to bring your interior restoration together, or place that stamp of "this is my car" to a new, fresh from the factory car.
Of course, once you type "Porsche replacement floor mats" into your search engine of choice, you're immediately going to be drowning in hundreds of thousands of sites, Amazon sales, Etsy shops with handmade, handknit mats, and everything in between. To save you time, and frankly some sanity, we've done the legwork (Internetwork?) for you here, and we can safely say that CocoMats is one of the, if not the, best replacement floor mat for your Porsche. 
Why?
The all important question. Why do we recommend CocoMats? The answer to that is threefold.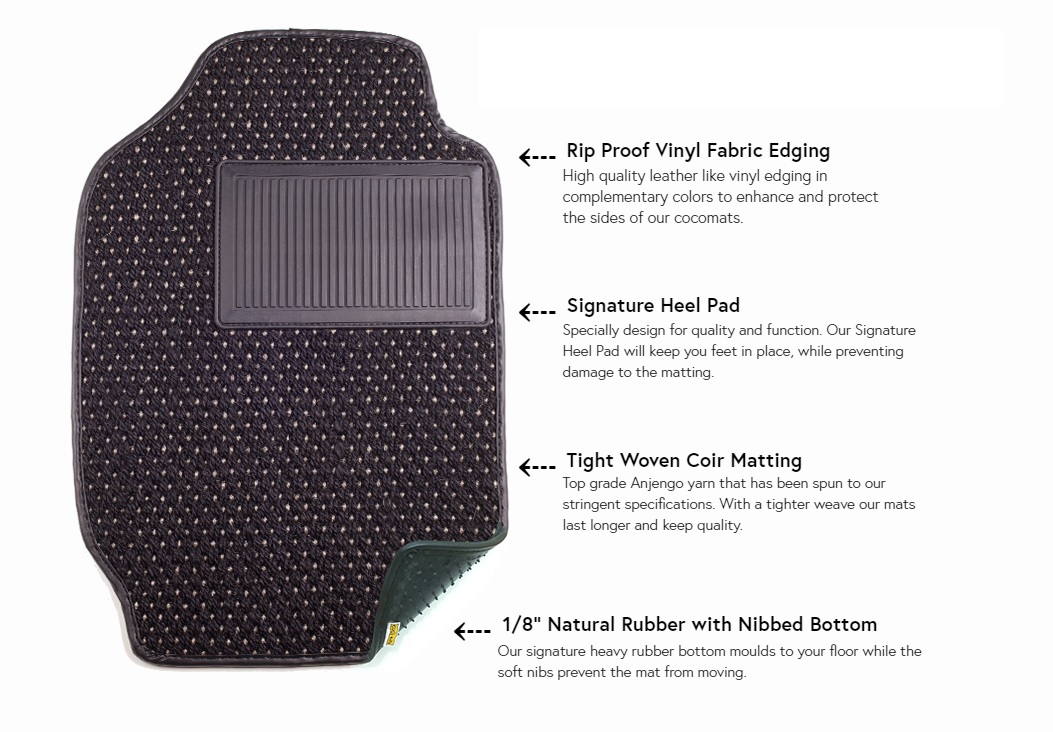 High Quality Materials
Firstly, they use very high quality materials in the construction of the mats, beating many OEMs in quality control and build quality. Most OEM mats and "off the shelf" replacement mats are made using a three or four component build, with a hard plastic or semi-flexible PVC base, a trim piece of vinyl or rubber, and the matting itself either glued on or held in place by the trim. The fourth part of some of those mats are a secondary trim piece around the outer periphery to add stability.
CocoMats, on the other hand, use a six component build, with a natural rubber backing that has nibs to grip the carpet on the floor of the cabin, a bespoke mat attachment layer, reinforced vinyl edging, super high grade natural fiber matting, and a driver's heel pat on the mat that goes, surprisingly, on the driver's side. While this may not sound like anything special, it's the way that CocoMats goes about sourcing their materials that makes them the clear choice.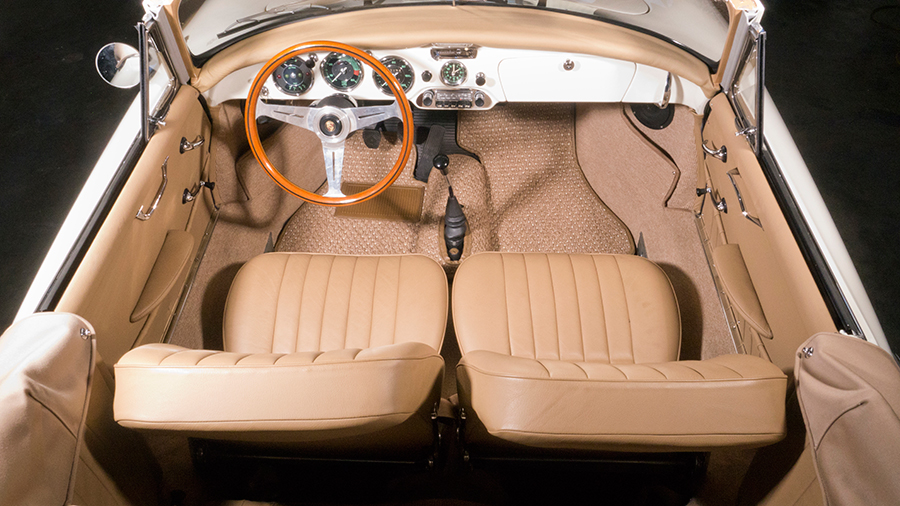 1963 Porsche 356 with beige/white interwoven CocoMat.
All Natural Rubber Material
Secondly, all the rubber on the mat is 100% natural, meaning no synthetics or chemical treatments that could eat away at older carpets in classic Porsches. The main mat material is what the company is called CocoMats, as the weave is made from husk and natural fibers that have been shaved from the outside of coconut shells after the milk and meat have been processed at food packers in India. The Anjengo style of husk, the toughest and most resilient, are the only ones used, and the fibers are woven, dyed, and processed in Alappuzha. Even better, to ensure quality, semi-automatic looms are used to create the mats, with the ability of a skilled weaver to interrupt the manufacture to fix small issues before they become big ones. 
Hand-made in the USA
Thirdly, the components are then shipped to the USA, and each mat is hand assembled to ensure absolutely nothing leaves the company's premises without being absolutely perfect. The fact that CocoMats was also founded with the intention of providing the look and feel of classic 50s and 60s European floormats, but manufacturer them to an eco-friendly and sustainable standard that also didn't cause any reactions with materials that are up to 70 years old by now… that's attention to detail.
Okay, What Options Do They Have?
In terms of what vehicles they fit in, everything from the first 356 to the latest Type 992 911 is in their sizing lists. As each mat is made to order, there is barely any inventory of mats that are not used, and if there are surplus mats, they get sent back to India to be deconstructed and the coir fibers rewoven or trimmed to a new shape and size. 
There are 16 standard color combinations that allow you to find just the right match for your project or that is your favorite color, whatever you need! All floor mat attachment types are selectable through the order form, and there are even options regarding mats for AWD or 4WD vehicles with full passenger and cargo area mats.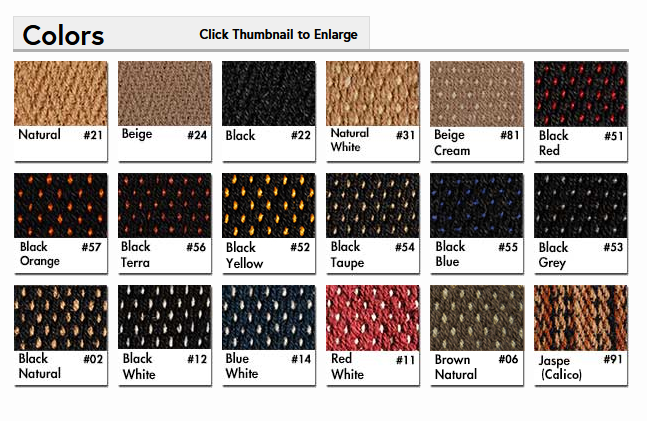 The color selecting is impressive, and covers all the major colors used throughout the history of Porsche.
Yes, there are less expensive options out there if you are on a tight budget, but that really doesn't speak to the spirit of Porsche. A Porsche is an instant classic, no matter the year or model, because it is the result of the relentless and dedicated pursuit of engineering excellence. Everything from the feel of the gear shift settling home, to the bite of the clutch as you lift your left foot and lower your right, the way you get that little buzz through the chassis of an aircooled model as the engine puts out that distinctive flat-six howl… Tossing a mass manufactured synthetic mat feels almost sinful.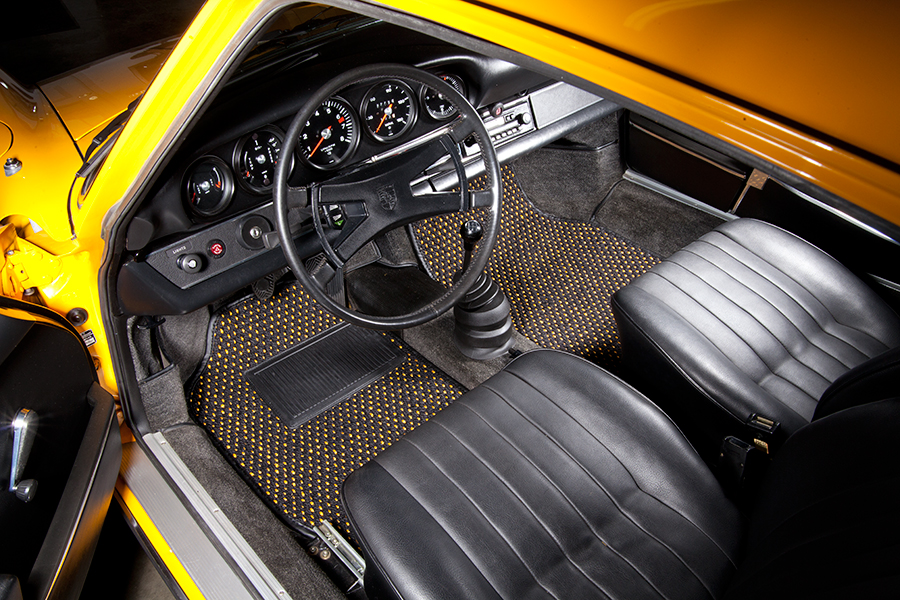 1971 Porsche 911 with a stunning black/yellow colorway CocoMat.
That, truly, is why CocoMats is what we recommend. Yes, a set of two starts at $199. Yes, delivery will take time as each mat is made to order. But you are getting a floor mat that was not made to be the cheapest and easiest to make, you're buying a mat that was designed to be tough, durable, recyclable, and sustainable, through the use of sheer engineering and technical prowess. That sounds like something that belongs in a Porsche.
Head over to CocoMats.com to check out their large selection of custom-made, hand-crafted floor mats.