Mecum Auctions' Kissimmee 2023 is right around the corner and one of the main features is a 1959 Porsche 718 RSK Center Seat from the Rick Grant III Estate Collection. Kissimmee 2023 will be held from January 4-15, 2023 at the Osceola Heritage Park in Kissimmee, Florida.
1959 Porsche 718 RSK Center Seat
The Porsche 718 RSK Spyder made its debut in 1957 with a purpose-built competition spaceframe, Type 547 roller-crankshaft, and DOHC powerplant which was introduced by the 550 Spyder. It became extremely successful and popular with factory drivers and skilled, well-heeled privateers. It was capable of defeating what are seemingly more formidable opponents. For the first time, Porsche was able to finish third overall at Le Mans in 1958 with the 718 RSK.
With the FIA approval to a full envelope-type bodies for the 1957-58 Formula 2 seasons, Porsche also produced the 718 RSK with a center-mounted steering box, enabling them to claim more victories at Reims and Avus.
Only 34 units of the Porsche 718 RSK were produced, and out of that, only around six 718 RSK Spyders were produced with center-steering, and of them, only four were factory-built with the capability to quickly switch from center-steering to offset-steering configurations for F2 and sports-car races. This example is one of them.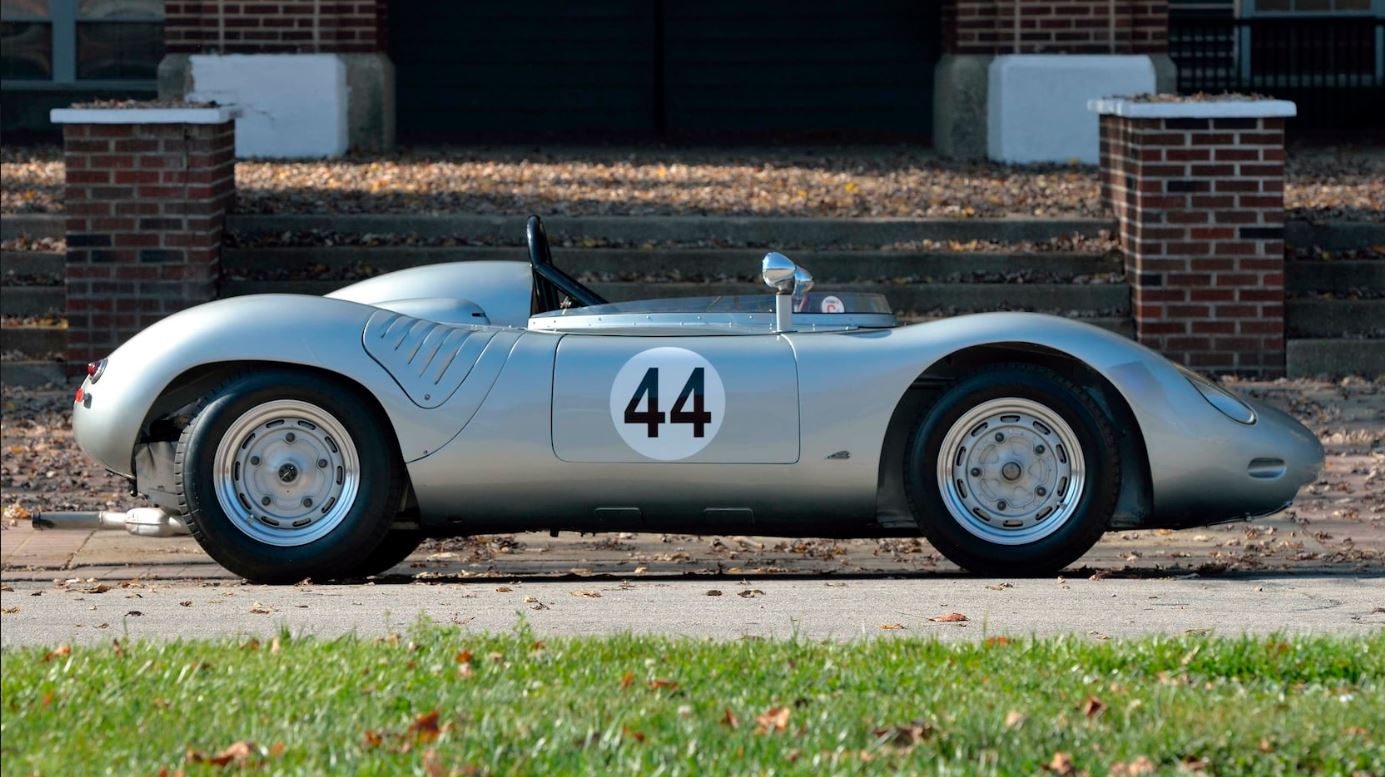 Chassis no. 718-028 was built in April 1959 and delivered new with the center-seat adaptation to Christian Goethals, a successful privateer racer in Belgium. In the car's first race at the 1959 German Grand Prix, it was able to finish fourth. Goethals drove this 718 RSK at the 1959 Leopoldville Grand Prix in the Belgian Congo where he claimed victory. In 1960, Goethals and Curt Delfosse were co-drivers in the 718-028, where they were able to get third in class and sixth overall at the Buenos Aires 1000km Grand Prix. Other notable victories that the 718-028 have are a class win at the Formula Libre Prix de Paris at Montlhery, a second-place podium finish at Spa, as well as two overall victories at Belgium's Lance Anvers hillclimb with Goethals behind the wheel.
After the season, Goethals had Porsche install a 1600cc engine at the Stuttgart factory. It stayed in Stuttgart until it was sold to Carmelo Guiffre of Mohawk, New York. From Germany, Guiffre shipped 718-028 to the United States. Eventually, it was sold to G.F. Leydorf Jr. in a lucrative trade offer, Rick Grant of Dayton, Ohio acquired the example from Leydorf. Grant had the 718-028 restored and subsequently entered it into more than 100 events with John Higgins behind the wheel.
With most of its original Wendler alloy bodywork, 718-028 was displayed at the 2009 Amelia Island Concours d'Elegance where it was the Class Award Winner.
Porsche 4-cam expert Bill Doyle from California's Rennwagen Motor Company rebuilt the twin-Weber carbureted type 547/3 engine (No. 90220).
The sale would come with documents which include letters and telegrams dated 1963-64 from Goethals to Guiffre, shipping invoices from 1964 for when the car was exported to New York from Germany, a Telefax from Jurgen Barth of Porsche stating the factory engine and gearbox numbers of the 718-028, and the original Porsche 718 RSK Spyder driver's manual.