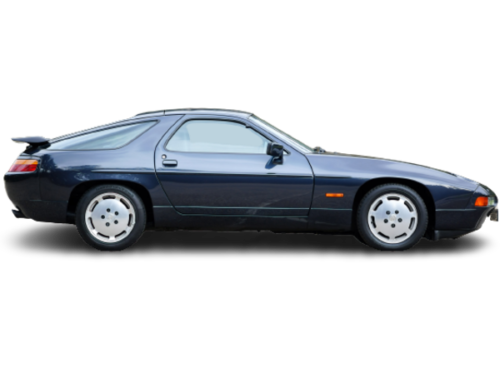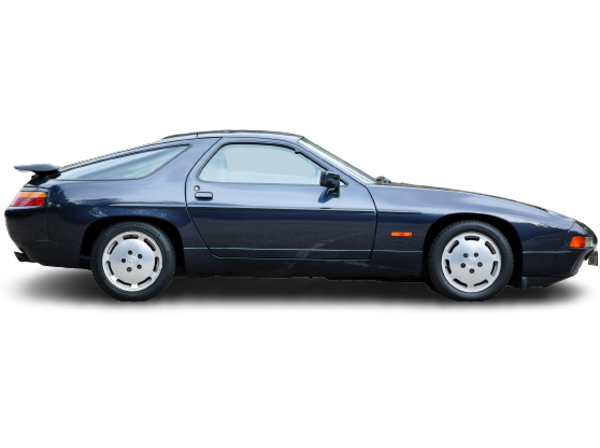 (1987 – 1991) Porsche 928 S4 – Ultimate Guide
The 928 S4 variant debuted in the second half of 1986 as a 1987 model, an updated version of the 5.0 L V8 for all markets producing 235 kW; 320 hp (320 PS), sporting a new single-disc clutch in manual transmission cars, larger torque converter in cars equipped with automatic transmission cars and fairly significant styling updates which gave the car a cleaner, sleeker look. S4 was much closer to being a truly world car than previous models as only major differences for North American models were instrumentation in either kilometers or miles, lighting, front and rear bumper shocks and the availability of catalytic converters in many other markets. The Australian market version was the only one with different horsepower rating due to preparation for possible low grade fuel. The S4 ended production at the end of the 1991 model year, making way for the final version of the 928.
The Porsche 928 S4
The 928 S4 arrived for 1987 in all markets except Australia with a 48-valve, 5.0-liter V-8 good for 320 horsepower and 317 pounds/feet of torque. The engines revised cylinder heads with larger valves, combustion chambers that were shallower by 3 mm, a narrower valve angle (27.4 degrees versus 28), altered valve timing, and a new, more compact two-stage intake manifold. The last comprised twin resonance chambers or tracts — one long, one short — feeding air to the intake pipes via a Y-shaped passage from the throttle body. Below 3,500 rpm the engine breathed only through the long tract; above that, depending on throttle position, a butterfly valve in the second tract opened to increase airflow. Porsche claimed this setup ensured at least 300 pounds/feet of torque from 2,700 to 4,750 rpm, a "fat" torque curve, indeed.
Putting the power to the ground was a larger-diameter single-disc clutch instead of the previous dual-disc unit. The ABS brakes also got attention, with a shorter-travel booster and larger pistons for the front calipers. Further bolstering S4 performance was the 928's first facelift, a minor one that reduced aerodynamic drag. Fog and driving lamps were newly flush-mounted in a smoother nose cap that added 2.3 inches to overall length, and the chin spoiler was now fully integrated with it. A revised cooling system featured thermostatically operated radiator shutters that opened only when needed to minimize drag in high-speed driving. Twin variable-speed electric fans replaced a single engine-driven fan that consumed more power.
A "detached" wing-type spoiler flew above a smoother tail (again with flush-mount lamps). Also easing airflow were deeper rocker panels, a new belly pan beneath the engine, a bonded-in windshield, and wipers that parked 20 mm lower than before. All this added "down" to a drag coefficient of 0.34, versus 0.41 for the original 928 and 0.38 for the previous S. That was commendable considering that, in Porsche tradition, the rear tires had grown wider than the fronts: 245/45VR16s versus 225/50VR16s (on respective rim widths of eight and seven inches). The S4 cockpit remained familiar 928-style.
Body-hugging sports seats were still available, but there were two new options for the standard power seats. One was electric lumbar support adjustable for height as well as firmness. The other was "Positrol," a memory system that stored the positions of seat, lumbar support, and even the door mirrors for recall at the touch of a button. Both were available for either the left or right seat which, as in '86, could be fitted with heating elements as a separate option. As before, and as with recent 911s, Porsche would decorate a 928 interior to special order in any materials and/or colors a customer wanted. One example was done completely in ostrich leather for Jordan's King Hussein.
Cosmetically, the 928 S4 received rounder and budging turn signals, auxiliary lights, and foglight assemblies to modernize the front end. At the back, the taillights departed from the original four-chambered appearance to a single wraparound lens design integrated into the rear bumper. The taillights also sit flush with the bodywork, rather than being concave.
"Porsche raises the price and rewards of automotive hedonism one more time" Car and Driver.
In all, the Porsche 928S 4 was the kind of thorough, timely update expected of Porsche. With it, the 928 was even more of what it always had been: a luxurious, supremely comfortable high-speed tourer capable of astounding performance on straights and curves alike. Porsche said the manual 928S 4 would reach 60 mph in 5.7 seconds, but Road & Track got 5.5. And though claimed top speed was now no less than 165 mph, Al Holbert, longtime Porsche racer and chief of Porsche Motorsport in the United States, took a virtual stock Porsche 928S 4 to 170 mph his first time out in a series of USAC-certified speed runs at Bonneville in August 1986. He eventually coaxed the car to 171.110 mph in the flying mile and 171.296 mph in the flying kilometer, both new world records for normally aspirated production cars. With that, the Porsche 928S 4 vied with the vaunted 911 Turbo as the fastest production Porsche — and not just in acceleration.
The 928S 4 achieved truly incredible stopping distances in R&T's March 1987 road test: 137 feet from 60 mph, 234 feet from 80. "That's shorter than any production car we've ever tested save the Ferrari 412, which does [80-0 mph] in 230."
The 928 celebrated its tenth birthday with the 1988 model year, yet changes were restricted to standard three-point rear seatbelts and driver's-seat Positrol, plus a newly optional factory cellular-telephone hookup and warmer-looking "Supple Leather" upholstery. Price, however, was drastically changed, especially in America. After several years of relative stability, the dollar began another retreat against the German Deutschmark, which forced Porsche to raise sticker prices twice on all its U.S. models during the 1988 season. The increases added up to about 6 percent across the line, which didn't sound too bad except that it meant paying up to $3,800 more for a 928, which ended the year just $620 shy of $70,000 before options. On top of that were the new U.S. gas-guzzler and luxury taxes.
That more than anything explains why Porsche sales began a full-fledged slide in 1988, with the biggest losses coming in the ever-important U.S. market. The 928 was the biggest loser among Porsches, with total production plummeting from just over 8,000 for '89 to barely 4,100 for 1990. The '89 base price was higher still at $74,545, but the Porsche 928S 4 itself was a virtual rerun. The only differences involved a new, standard 10-speaker sound system and an automatic transmission with a shorter final drive, revised intermediate gear ratios, and higher full-throttle shift points, all for improved standing-starts. As explained in earlier articles, a management crisis compounded Porsche's dwindling sales and cash reserves as the 1990s approached. Yet even as the firm struggled to get back on track, the 928 continued to evolve, even if reduced development funds meant that progress was somewhat slower than before.
Among advancements, the 1990 Porsche 928S got standard dual air bags as well as two features pioneered by Porsche's recently deceased 959 supercar. One was a variable-ratio limited-slip differential, comprised of a multidisc hydraulic clutch with electronic controls linked to the ABS wheel-speed sensors. Based on sensor input, the diff could vary its lock-up from 0 to 100 percent to compensate for traction loss as well as variations in cornering and braking loads.
The other improvement was a tire-pressure monitoring system. This used a separate set of sensors, housed within the wheels, to warn when pressure in any tire fell below a set level, as signaled by a light in the central array. Yet even with these pluses, the 928S cost not one extra penny in the United States, Porsche holding the price line on all its 1990 models in hopes that the dollar would soon firm up. Unfortunately, the greenback wouldn't strengthen for awhile because America was entering a sharp new recession, making Porsche's decision to forgo another price hike all the more laudable.
Extra power packed into manual-shift 928Ss was achieved in the time-tested Porsche way of revised cam profiles and altered intake system. The result was a boost in horsepower — to 326 at 6,200 rpm — and some 200 extra revs to work with. Torque, however, was unchanged and still the same as the automatic version's 317 pounds/feet. With that, Porsche's official performance claims proved optimistic for once. Where the factory said 5.6 seconds 0-60, Road & Track replied 6.1 — a 0.6-second deficit from the magazine's previous S4 result. The self-shift version was claimed to need 6.0 seconds flat, but R&T clocked a comparatively disappointing 6.3.
Despite the 928's undeniable abilities, Porsche was worried by a growing perception of the V8 Porsche as a dinosaur in the automotive world of 1990 — a too-heavy, too-thirsty, and never-too-practical tourer that had been allowed to live too long with too few meaningful changes.
Perhaps that's why Garrat Lai felt compelled to defend it in Road & Track's 1990 Sports & GT Cars issue. "The 928 set the standard for its class," he argued, "embodying the very definition of the luxurious sports car. Moreover, it heralded a number of changes in automobiles. Rounded, aerodynamic shapes are now the norm, and the entire genre of luxury-sport automobiles came into being shortly after the 928. Many cars…now incorporate rear suspension geometry designed to emulate Porsche's Weissach axle. Furthermore, the large engine is making a comeback, borne witness by BMW's V-12 [and] a crop of V-8s from Japan. It's true [the 928] has undergone little more than cosmetic changes over its lifetime.
The S4 and GT variants halted production at the end of the 1991 model year, making way for the final version of the 928.
Porsche 928 S4 Evolution
1987 MY Porsche 928 S4
Different style pistons, cylinder heads, camshafts, intake and larger intake valves compared to earlier 5.0 L engines. Nominal static compression ratio 10.0:1 (True ratio between 9.4:1 and 10.0:1, depending on parts used). Cylinder head studs used in all earlier engines replaced with bolts making it easier to remove heads while engine is in engine bay. Updated LH-Jetronic injection and ignition changed to EZK system, two knock sensors added to engine. Single disk clutch on manual transmission cars, larger torque converter on automatics. Modified front brake calipers used with 2 mm diameter increase for larger pistons. Cars sold to U.S., Canada, Australia and Arab countries got new parts once remaining old design calliper stock was used up. New style front & rear bumpers and rear wing spoiler. Older style S wing still available as option M471. This is the same option number as 1980-82 Competition Group. Porsche has used same numbers several times in different model years and models. In different years they can mean different things. Redesigned front and rear bumper light assemblies. Body changed compared to earlier models to accommodate larger rear lamps, rear seat area modified to give room for new torque converter. Upwards folding rear spoiler and piston oil squirters in engine block on early cars only. The Australian market had to make do with 300 PS (296 hp, 221 kW) due to different ignition map used because of possible low grade fuel.
1988 MY Porsche 928 S4
Lighter 928 CS "Club Sport" version available in Continental Europe and USA, 928 SE (S4 Sport) in UK. Only model year for "CS" (USA) and "SE" (UK). "CS" uses different VIN sequence than normal "S4". Stronger torque tube with 3 mm thicker center shaft for automatic transmission. Pistons with strengthened skirt installed in February 1988. Oil drainage improved in piston skirts. The rest of the lineup stays the same.
1989 MY Porsche 928 S4
February 1989, manual transmission-only "928 GT" debuts as a better equipped version (all markets). Digital trip computer/warning system added to dashboard, ignition circuit monitor system added. For Australian cars same ignition maps resulting the same horsepower rating as in other markets. North America manual transmission model now uses same shorter final drive ratio as used elsewhere, to simplify production. RDK tyre pressure monitoring system optional on S4, standard on CS and GT. Thicker cylinder head casting taken into use early in model year to strengthen head against cracking. Longer head bolts needed because of the change. Modified front brake calipers with improved seals taken into use early in model year. 928 CS now had the same VIN sequence as 928 S4. CS model dropped from production during the model year at the end of 1988.
1990 MY Porsche 928 S4
GT pistons into use in S4 also resulting true 10.0:1 compression ratio for all engines. RDK tyre pressure monitoring system standard on all cars. Computer controlled 0-100% PSD locking differential added to both models. Sadly, the 928 S4 is no longer available with manual gearbox. Dual airbags now standard across all Porsche models in U.S. Driver's and front passenger airbag optional elsewhere, only driver's side bag available in RHD markets.
1991 MY Porsche 928 S4
Improvements to cooling in exhaust side at cylinder heads, steering rack, power steering pump, soundproofing, front cooling flaps deleted, new style shift knob with integrated leather booth in manual gearbox cars, etc. Temperature sensors for ignition circuit monitor system moved from #4 and #8 cylinders to #3 and #7 cylinders to improve their efficiency. Check engine warning light added to all US models due to California regulatory demands. Two airbags as standard in LHD models during model year production for most markets.
Porsche 928 S4 Production
A total of 15,682 928 S4 cars were produced from 1987 till 1991.