Background
In the early 1970s, a new European Grand Touring Championship gave the competition 911s a fresh lease of life. This model almost completely filled race grids. By the Autumn of 1972, Porsche launched its new 911 'Carrera' with engine capacity raised from 2.4 to 2.7-litres, and a batch of 500 lightweight-bodied 911s was built to achieve governing-body sporting acceptance (homologation) for it. Three variants were offered – the RS (RennSport), RST (touring) and the ultimate racing RSR of which 'R7' here is one of only four such Martini Racing works team cars – from the eight built – known to have survived.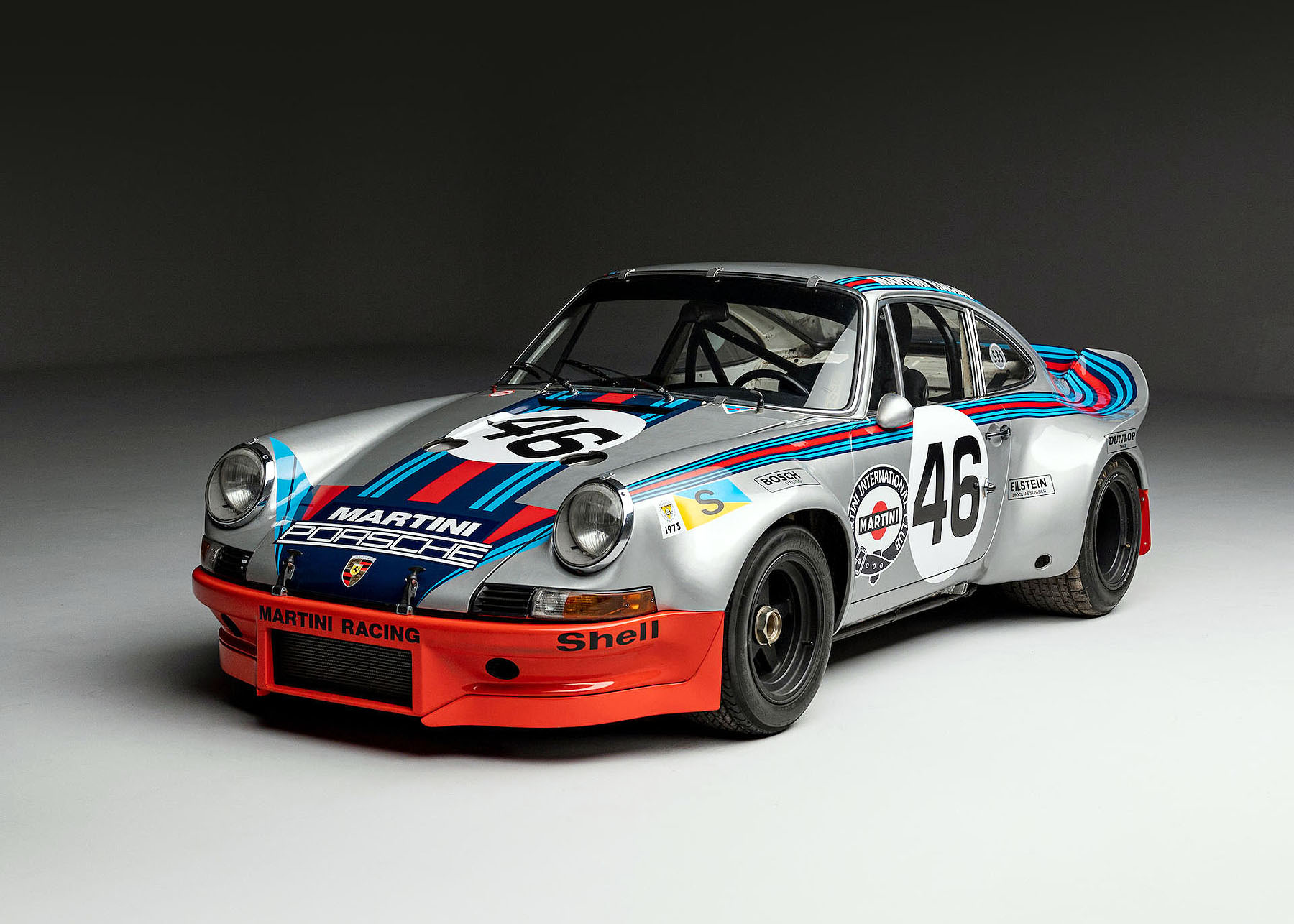 Evidently, when Porsche first considered what became their 911 RSR model in preparation for the 1972-73 racing seasons it was believed that model homologation could be achieved by manufacturing only 25 special lightweight-bodied 911 Coupés. However, the FIA governing body then decreed that the minimum acceptable batch size to achieve the lowest possible model weight would be 500 units. The German company's decision to blast ahead without prior dealer commitment to buy such cars bears testimony to their racing bloodline. And some 1,580 units would be produced with 0.88mm thick body skins instead of the accepted standard 1mm, saving some 9Kg, 19.8 lbs, in bare body shell terms. Further weight was saved by the RSR's unique use of 3mm thick Belgian-made Glavabel glass in its windows. In engine terms, 1973 was the last year of the naturally-aspirated pre-turbocharged 911 RSR series.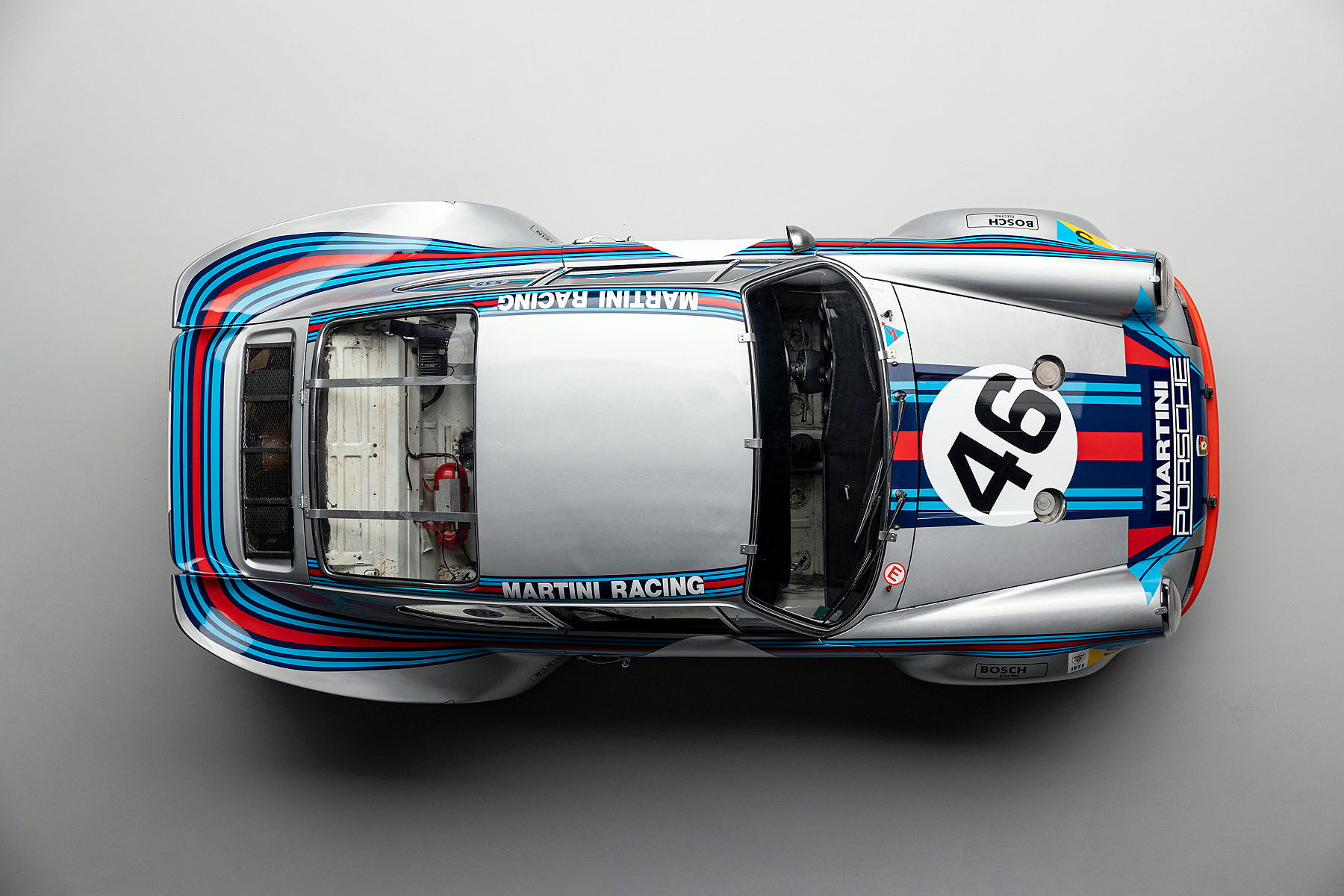 Race history
This particular car – known within the factory team as 'R7' – was co-driven by works drivers Herbie Müller and Gijs van Lennep into a rousing fourth place finish overall in the 1973 Le Mans 24-Hour race, the most prestigious crown-jewel qualifying round of the FIA's endurance-racing World Championship of Makes. Following its success at Le Mans, 'R7' was then entrusted by Martini Racing to the junior pairing of young Austrian Helmut Koinigg/Manfred Schurti for the next World Championship round, the Osterreichring 1,000 Kilometres race, in which they finished ninth, one place behind Müller/van Lennep in the sister car that day, 'R6'.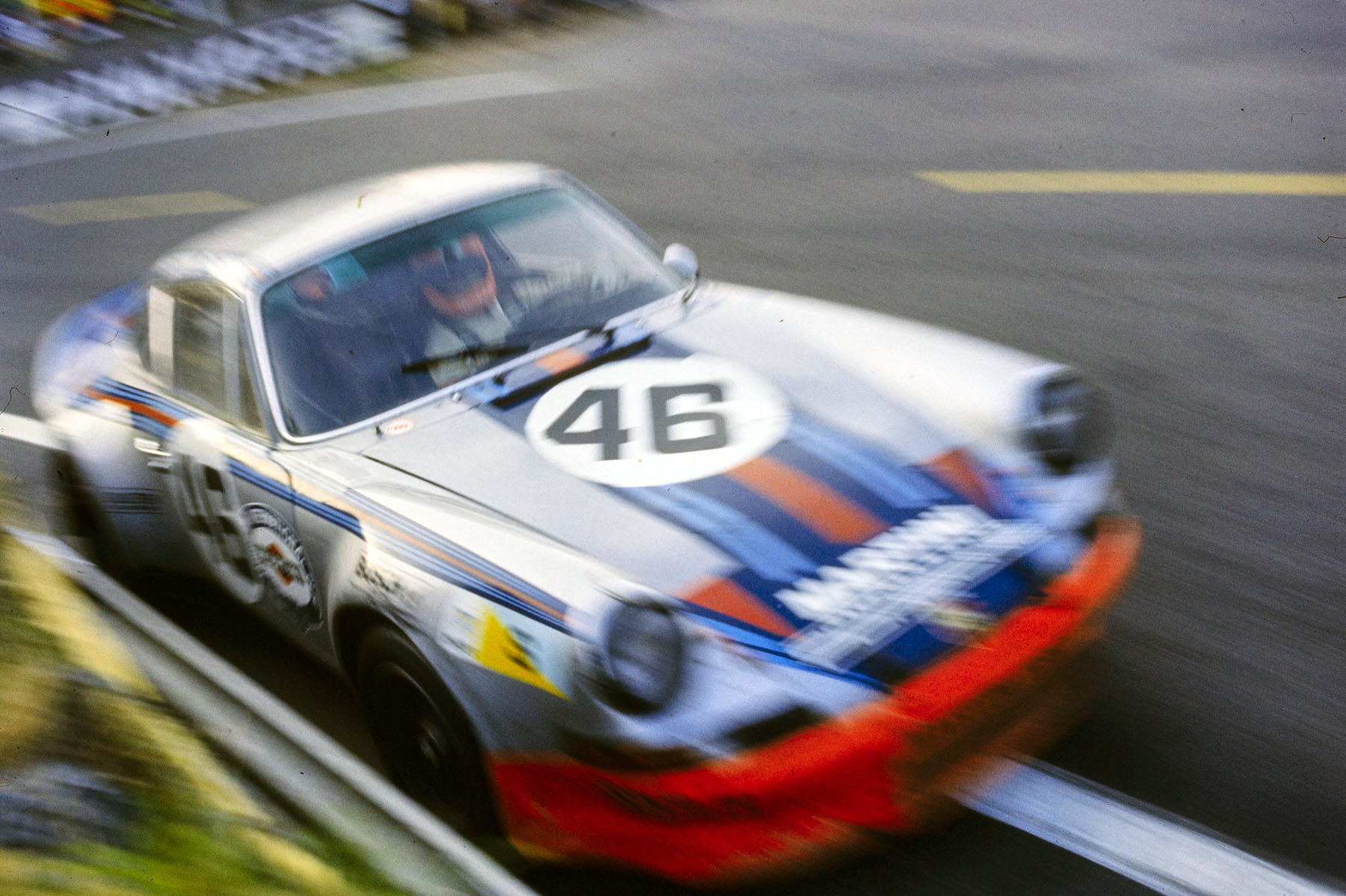 Only one more World Championship round remained on the 1973 sporting calendar, the Watkins Glen 6-Hours in up-state New York. In preparation for it 'R7' was supplied by Porsche to the leading American marque exponents, Brumos Racing. They ran the car there in their own livery of overall white with broad red-and-blue centerline stripes. The distinctive 'ruff' type 'Mary Stuart' tail treatment used on this particular car at both Le Mans and the Osterreichring was replaced by a long-tail/narrower wing treatment, and the car was co-driven by the experienced (and earlier in the year the Daytona 24-Hour race-winning duo) Peter Gregg and Hurley Haywood.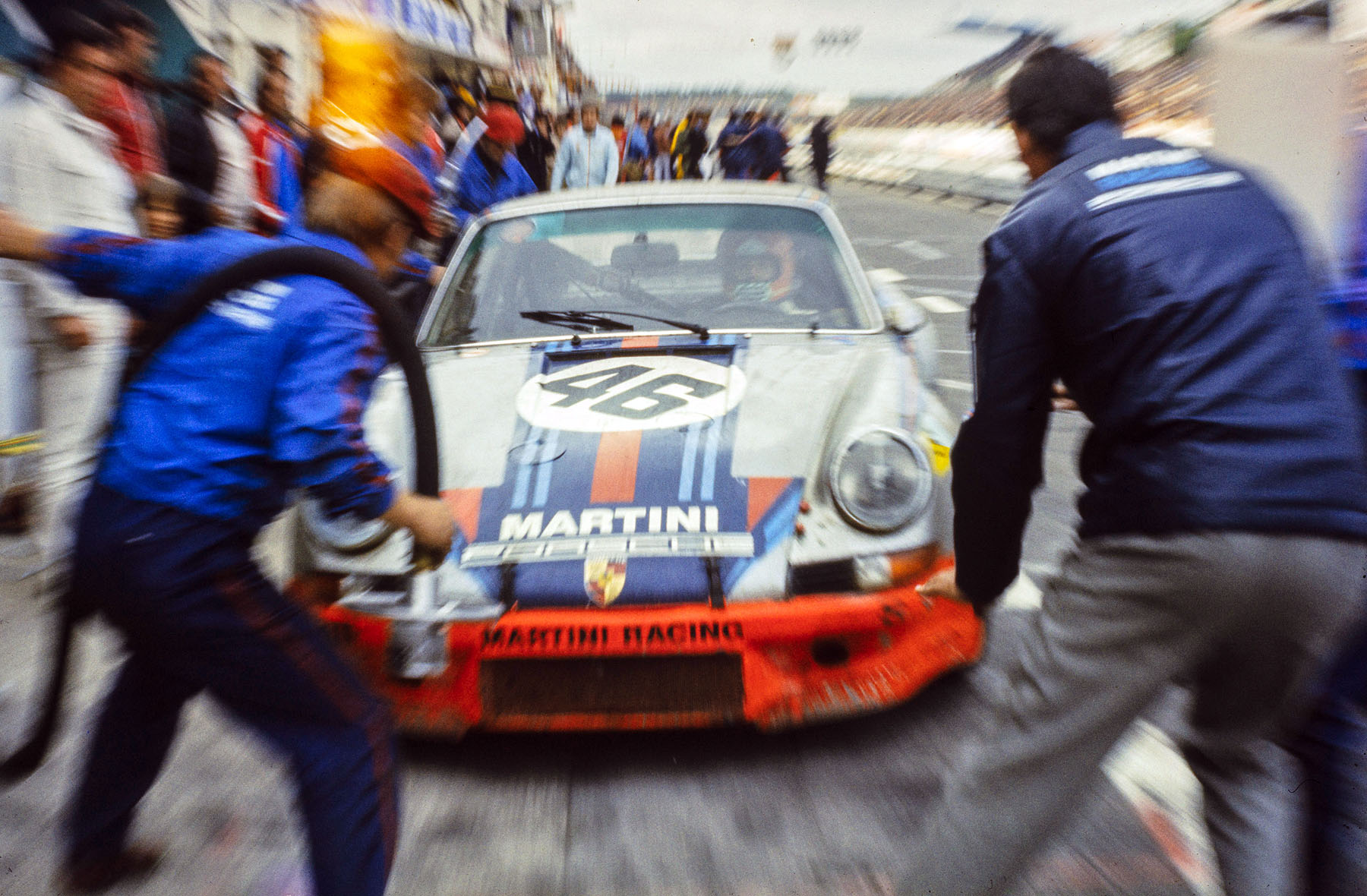 On July 21, 1973, they first competed in the 6-Hour race in which this historic Porsche finished seventh overall. Then next day Peter Gregg drove the car solo in the accompanying Watkins Glen CanAm Championship round, finishing ninth there, amongst the unlimited-capacity 'anything goes' Group 7 sports-racing cars. It appears that part of Porsche's agreement to supply 'R7' to Brumos was for them subsequently to find a private buyer for it, and they succeeded – the car then passing to Hector Rebaque Sr in Mexico for his aspiring racing driver son, also named Hector. The car would be entered under the Rebaque Rojas team title.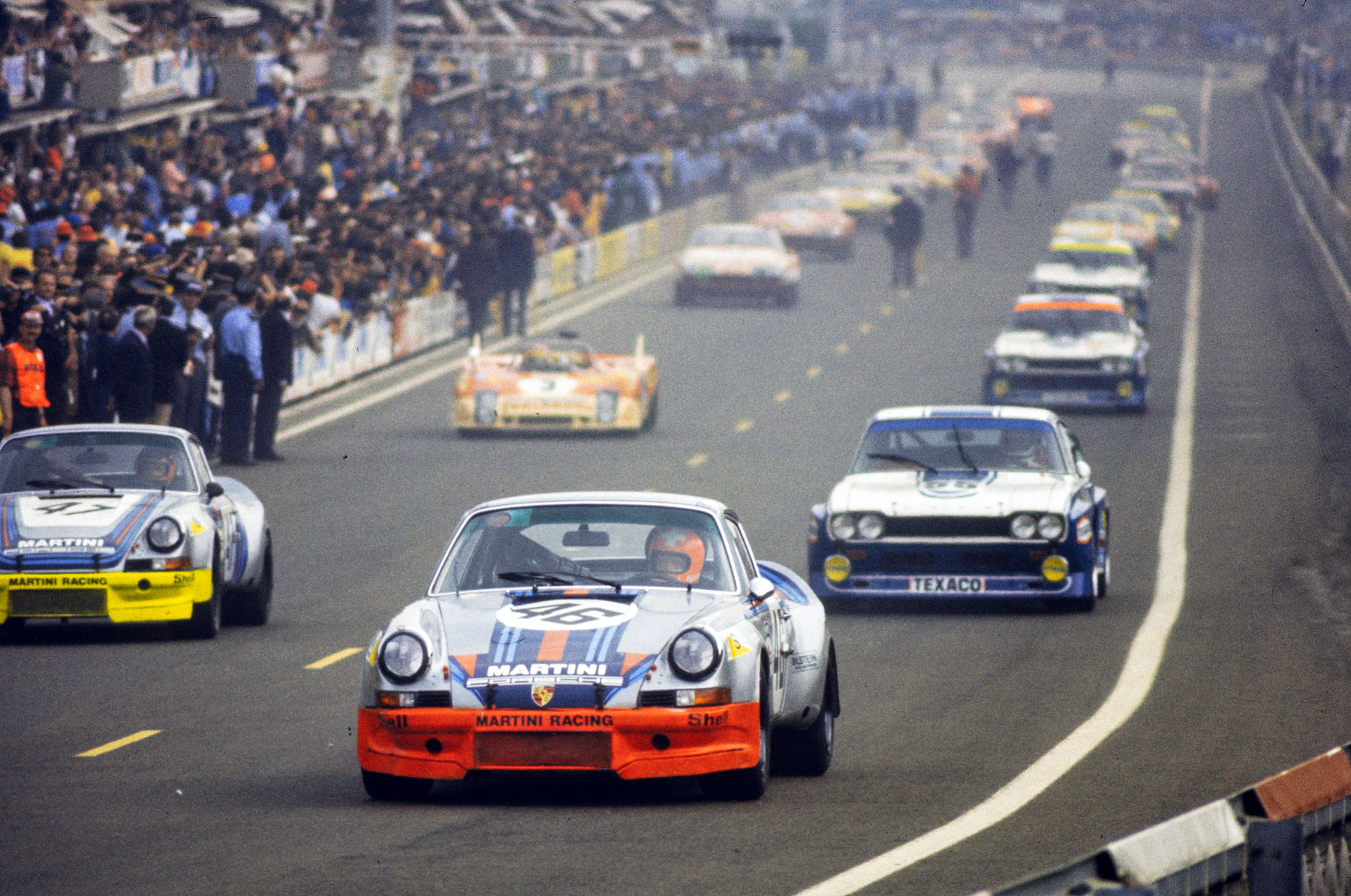 They then campaigned 'R7', essentially in its Watkins Glen 'long-tailed' configuration, repainted in white, red and yellow 'Viceroy' cigarette-brand/Cafe Mexicana coffee livery before Hector Jr aspired to Formula 1 with ex-works Lotus 78 and 79 Grand Prix cars, followed by his own Rebaque-Cosworth HR100 venture late in 1979. Mr Rebaque was then engaged by Bernie Ecclestone's Formula 1 Brabham factory team for 1980-81 before moving to American CART Indycar racing. His considerable driving prowess was demonstrated by winning at Road America in his first CART season – displaying the skills he had previously honed in nothing less than 'R7', now offered here.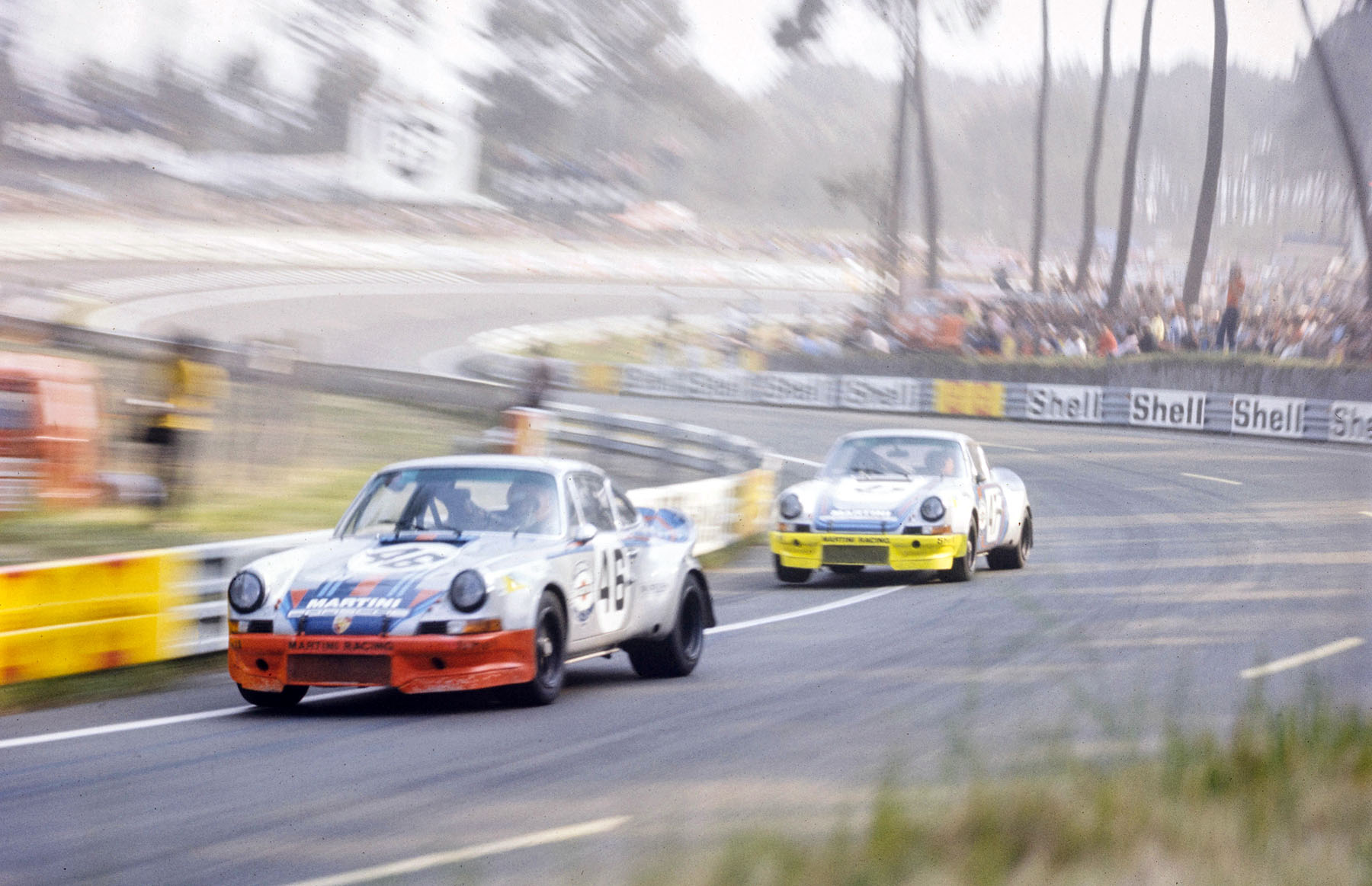 This ex-works Porsche RSR's 1974 season had also seen it entered by the Rebaques in its second consecutive Le Mans 24-Hour race, running there in Viceroy colors co-driven by young Hector with Guillermo Rojas and Fred van Beuren Jr as his teammates. Suffering this time from ignition problems, the car failed to finish. In Rebaque's hands 'R7′ featured most prominently in home Mexican events – as one of no fewer than five RSRs which the Rebaques owned in all (of the 55 built) – before its story became distorted by a long-time commonly-held belief – within some Porsche circles – that it had been damaged beyond economic repair in an incident which involved it having fallen from the Rebaques' trailer in an accident on the public road.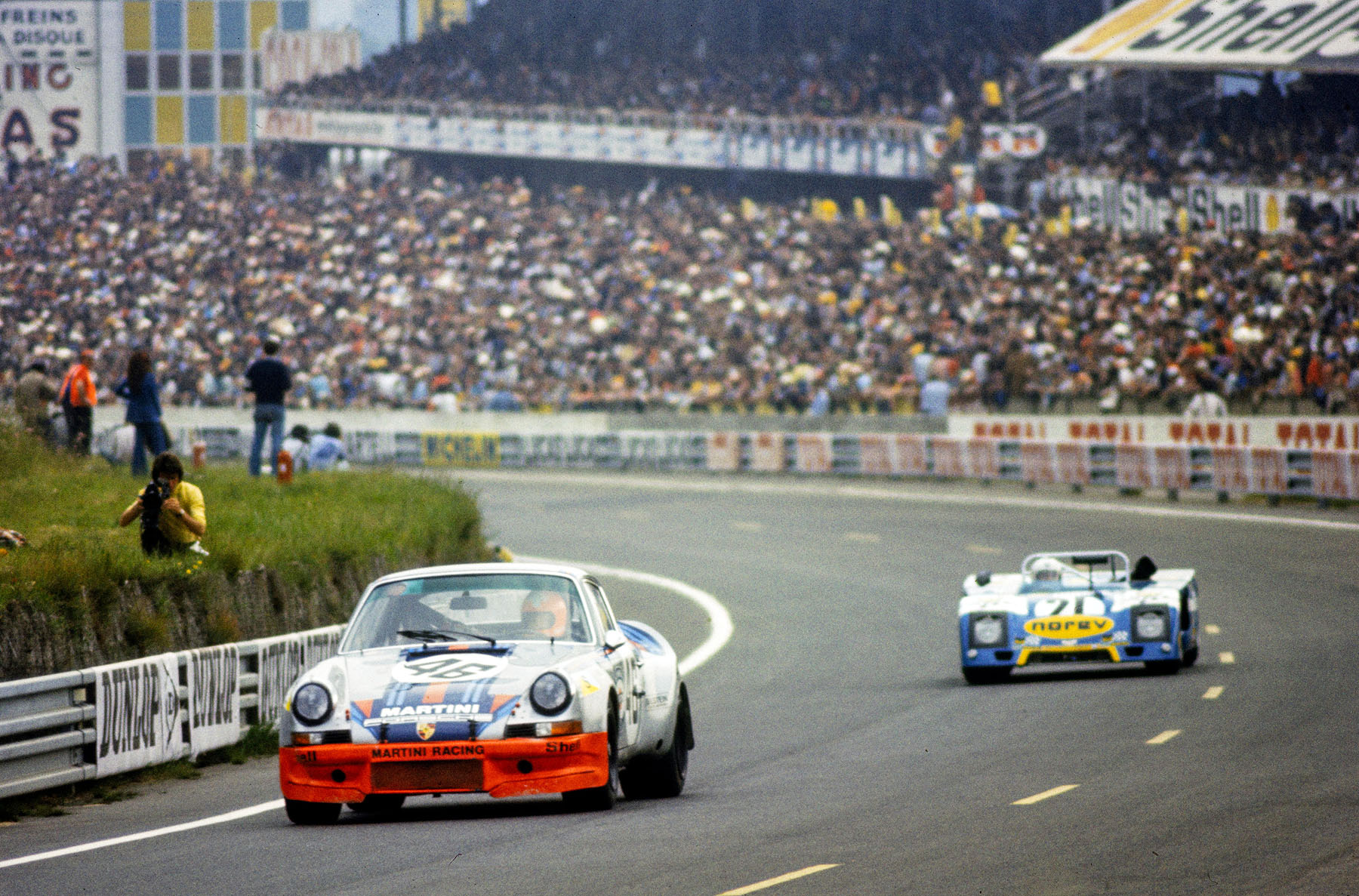 Details of Chassis no. 9113 600686
Engine no. 6930047
Uniquely original ex-works Martini Porsche RSR
Uniquely verified by 1973 team chief Norbert Singer
Uniquely confirmed identity by US Court
Best-finish ever at Le Mans by a Porsche RSR
Embodies dozens of original Porsche works 'tweaks'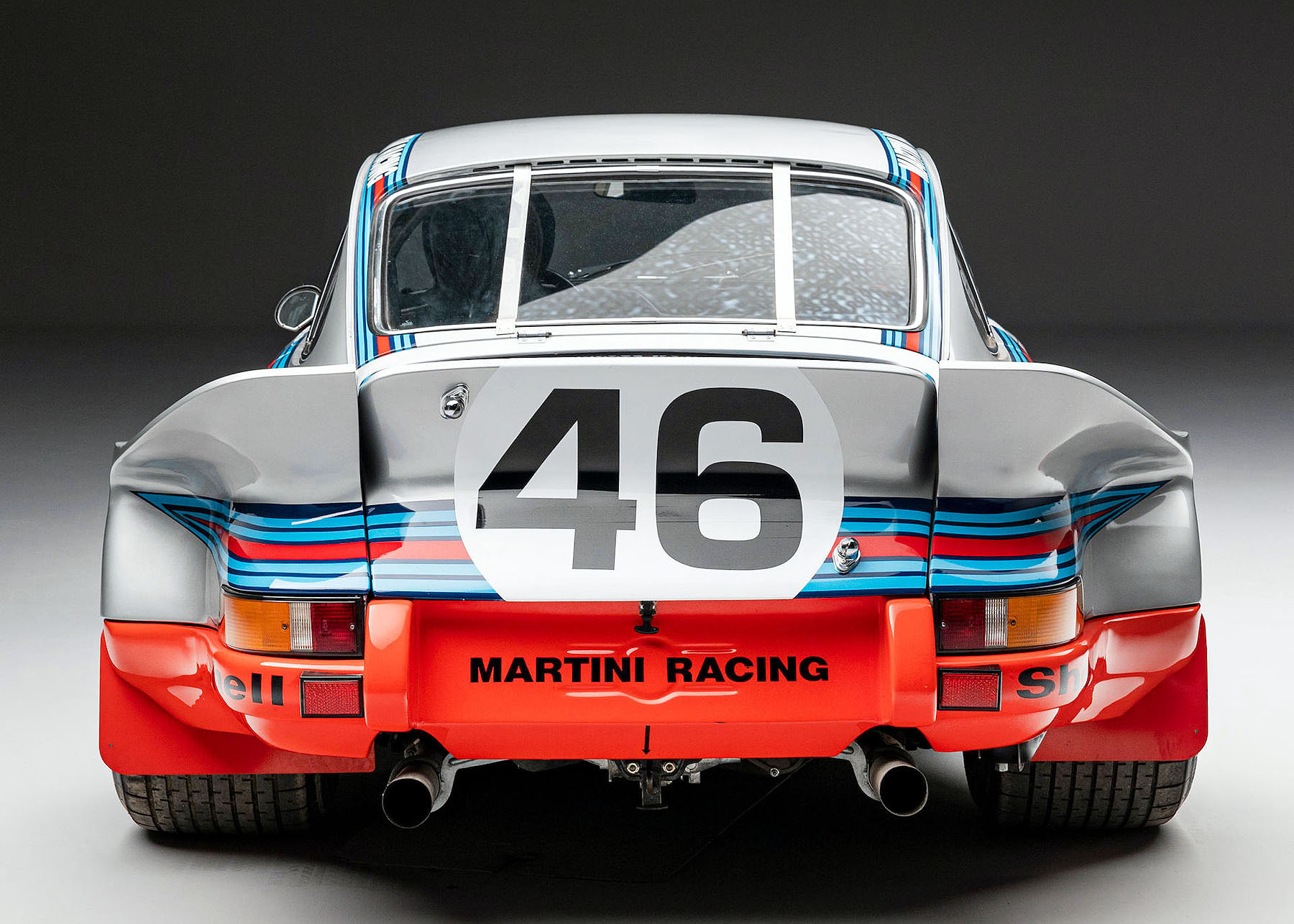 Hidden for decades
"R7" eventually passed to a very private, security-minded Italian collector named Massimo Balliva. This historic ex-works/Martini Racing Porsche Carrera RSR then remained within his care for over thirty years, effectively hidden away, almost entirely out of sight of the international Porsche fraternity, and out of mind… In 2009, prominent Porsche specialist Yvan Mahé of Equipe Europe was then running a rather similar RSR at an historic race meeting at the Monza Autodrome, outside Milan, Italy. During that meeting he was approached by a gentleman who expressed great interest in his car, later mentioning that he had an apparent sister RSR "back home". They talked about their shared interest and sometime later – apparently unheralded – an open truck delivered the genuine and effectively long-lost 'R7', now offered here, to Mr Mahé's workshop in Paris, France, for some remedial work to be undertaken. In fact the car was returned cosmetically to more or less its 1973 Le Mans form by French specialist Raymond Touroul, restoring it to its distinctive so-called 'Mary Tudor' rear wing/aerodynamic spoiler form, and renewing its original-style Martini Racing livery.
Subsequently another well-known Porsche-world figure found a purchaser for the car – the current vendor – in the USA. With the re-emergence there of this perfectly genuine ex-Martini Racing/Brumos/Rebaque/Balliva 'R7' – the owner of the supposedly reconstructed 'parts-based" vehicle then initiated litigation to bolster his rival claim to this car's historic identity. This litigation was vigorously resisted, yet ground on for some seven years until May 23 this year when the case was ordered dismissed by a New York court, following a settlement. As part of that settlement the replica owner was permitted to keep his car but agreed to make no further claim to ownership of 'R7' – while continuing to represent his vehicle as "…a reconstruction of the long tail RSR, currently presented in Viceroy livery raced by the Rebaque Rojas team…" – only.
As part of the background to this litigation – to establish authenticity, as far back as April, 2016, 'R7′ as offered here had been transported to Porsche Classic in Germany where it was inspected by the manufacturer's veteran senior engineer and former works team manager, Norbert Singer. He had supervised the construction and preparation of the factory's Martini Racing RSRs in 1973, so was uniquely placed to comment on the cars' originality. After a full day of careful examination, covering every part of this car, Mr Singer positively identified it as RSR 911 '360 0686' (aka 'R7') and provided a formal statement to that effect, comprehensively confirming this body shell's historical identity.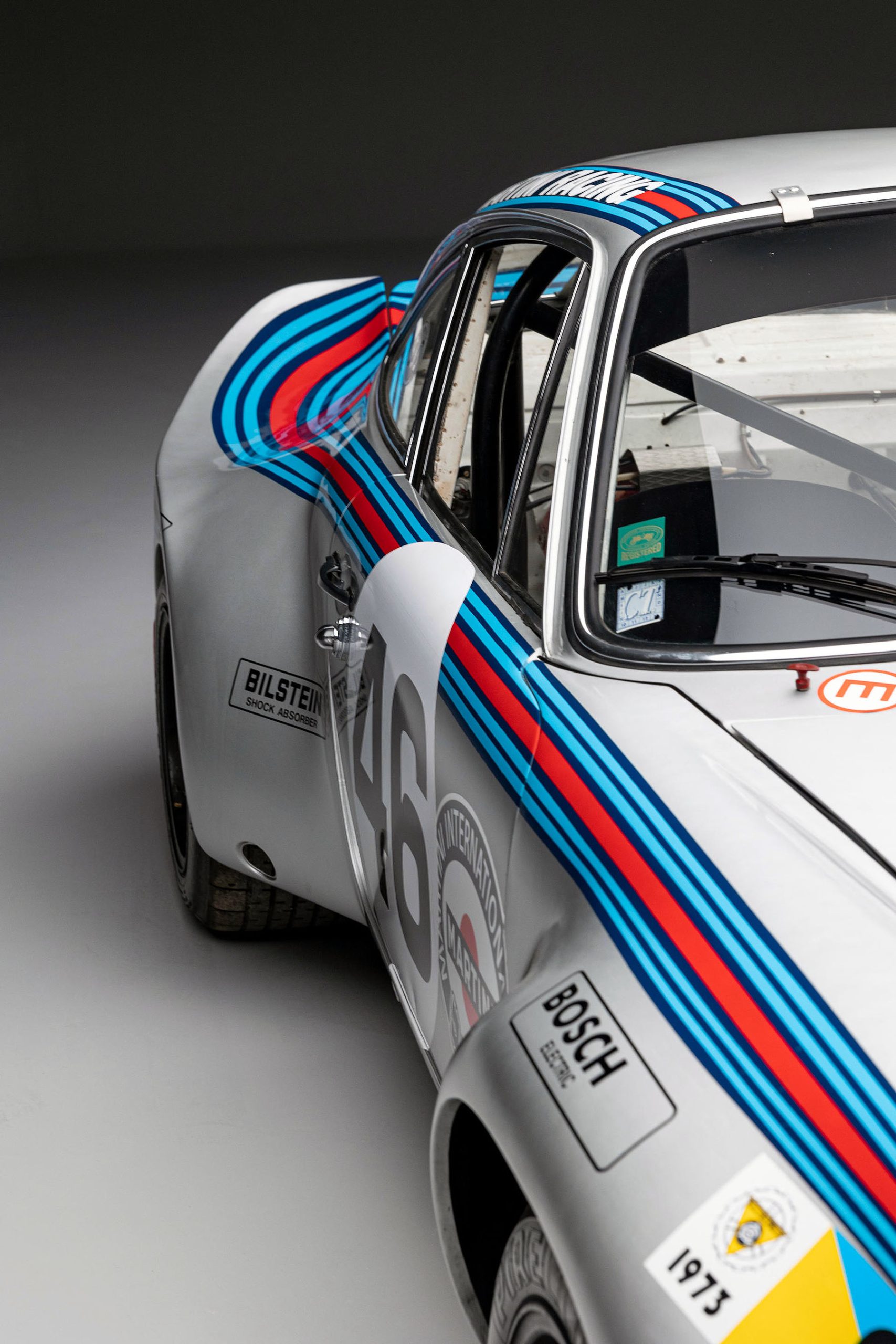 "R7" today
'R7' is now considered to be the best-preserved of that rarefied group of only eight works cars built – of which two were written-off in period, and only four then surviving extensive subsequent modification – and now resplendent in its classical Martini Racing livery. It is the world's standard-setting ex-works Porsche RSR. As Norbert Singer's inspection report summed up: "In conclusion, it remains my opinion that (this) is the authentic Porsche 'R7'. As I confirmed in my original report, the key elements of the car which are essential to the question of authenticity for a racing car of this type are originals."
"R7" coming to market
Info HERE.
All photos © 2023 Bonhams