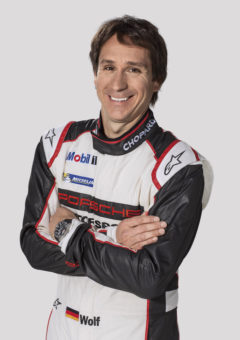 Born: 5 April 1975
Where: Nürtingen, Germany
Lives: Nürtingen, Germany
Marital status: Married, 2 children
Height/Weight: 1.74 m/69 kg
Hobbies: Mountain biking, skiing, fitness, golf
Wolf Henzler has an accolade that none of his works driver colleagues have achieved yet. In December 2011, the 2010 Le Mans winner put in an hour's overtime on the Thunderhill Raceway in California, and was handsomely rewarded with victory at the spectacular 25-hour race. His two victories at Petit Le Mans (2013, 2014) also turned heads. The Swabian was signed on as a Porsche factory pilot in 2008 and promptly rewarded the company with a GT victory at the Sebring 12-hour race and the American Le Mans Series title.
In 2004 he won the Porsche Michelin Supercup, in 2005 he clinched victory at the Daytona 24 Hours from pole position, and in 2006 Henzler was awarded the Porsche Cup as the most successful private driver. Victories at the long distance classics of Le Mans and Spa followed in 2010.
Wolf Henzler contests the 24 Hours of Le Mans (GTE-Pro class) with the Porsche 911 RSR of the Dempsey Porsche Racing team as well as the Nürburgring 24-hour race for the Falken Tyre customer team in the Porsche 911 GT3 R. He now dedicates his spare time to sharing the secrets of kart racing with his talented offspring.
Career
2016 Porsche works driver
2015 Porsche works driver; 1st TUSC Watkins Glen (GTLM); 3rd Sebring 12 Hours (GTLM)
2014 Porsche works driver; 1st Petit Le Mans (GTLM); 2nd Tudor United Sports Car Championship in Virginia (GTLM)
2013 Porsche works driver; 1st Petit Le Mans (ALMS, GT); 2nd Laguna Seca (ALMS, GT); 3rd Sebring 12 Hours (ALMS, GT)
2012 Porsche works driver; 2nd Daytona 24 Hours (GT); 1st Baltimore (ALMS, GT)
2011 Porsche works driver; 1st Daytona 24 Hours (GT); 1st Mid-Ohio (ALMS, GT) 1st Baltimore (ALMS, GT); 1st Thunderhill 25 Hours (overall)
2010 Porsche works driver; 1st Le Mans 24 Hours (GT2); 3rd Daytona 24 Hours (GT); 1st Spa 24 Hours (overall); ALMS
2009 Porsche works driver; 3rd ALMS (GT2), 3 podiums; 3rd Grand-Am Watkins Glen (GT); 3rd Nürburgring 24 Hours (overall)
2008 Porsche works driver; Winner ALMS (GT2), 3 wins; 1st Sebring 12 Hours (GT2); 2nd Petit Le Mans (GT2)
2007 3rd ALMS (GT2), 6 podiums; Grand-Am Series (GT), 2 podiums
2006 Winner Porsche Cup; 1st Mid-Ohio (ALMS, GT2); 2nd Grand-Am Series (GT), 5 wins, 5 podiums
2005 1st Daytona 24 Hours (GT), pole position; 4th ALMS (GT); 4th Speed World Challenge (GT), 2 wins
2004 Winner Porsche Michelin Supercup; 2nd Porsche Carrera Cup Deutschland; 2nd Petit Le Mans (ALMS/GT); Speed World Challenge, 2 wins
2003 2nd Porsche Michelin Supercup, 3 wins; 4th Porsche Carrera Cup Deutschland, 1 win
2002 4th Porsche Michelin Supercup, 3 wins; 6th Porsche Carrera Cup Deutschland
2001 6th Porsche Pirelli Supercup
2000 8th Porsche Pirelli Supercup
1999 FIA Formula 3000 Championship
1998 3rd German Formula 3 Championship, 2 wins
1997 4th German Formula 3 Championship, 2 wins; 2nd Formula 3 Monaco Grand Prix
1996 German Formula 3 Championship
1995 3rd German Formula 3 Championship (B-classification), 5 wins
1994 5th German Formula Opel, 2 wins
1993 4th German Formula BMW, 2 wins
1992 German Formula BMW, Rookie of the Year
1990-1991 Karting
Source: Porsche