The Rennsport Reunion VI just concluded on September 30 in Monterey, California as Porsche celebrates its 70th birthday. Happy birthday, Porsche!! If anyone is wondering, Rennsport (renn-sport) translates into "race-sport".
Before the event began, it seemed that four days of event duration might be excessive. But that really is insufficient time to explore all offerings thoroughly while watching only part of the races too.
The Rennsport only occurs once each three years or so, and only in one location. At Rennsport, Porsche is revealed on the grandest of scales. Raceway officials hinted that attendance over these four days may have reached 80,000 Porsche-Nation fans!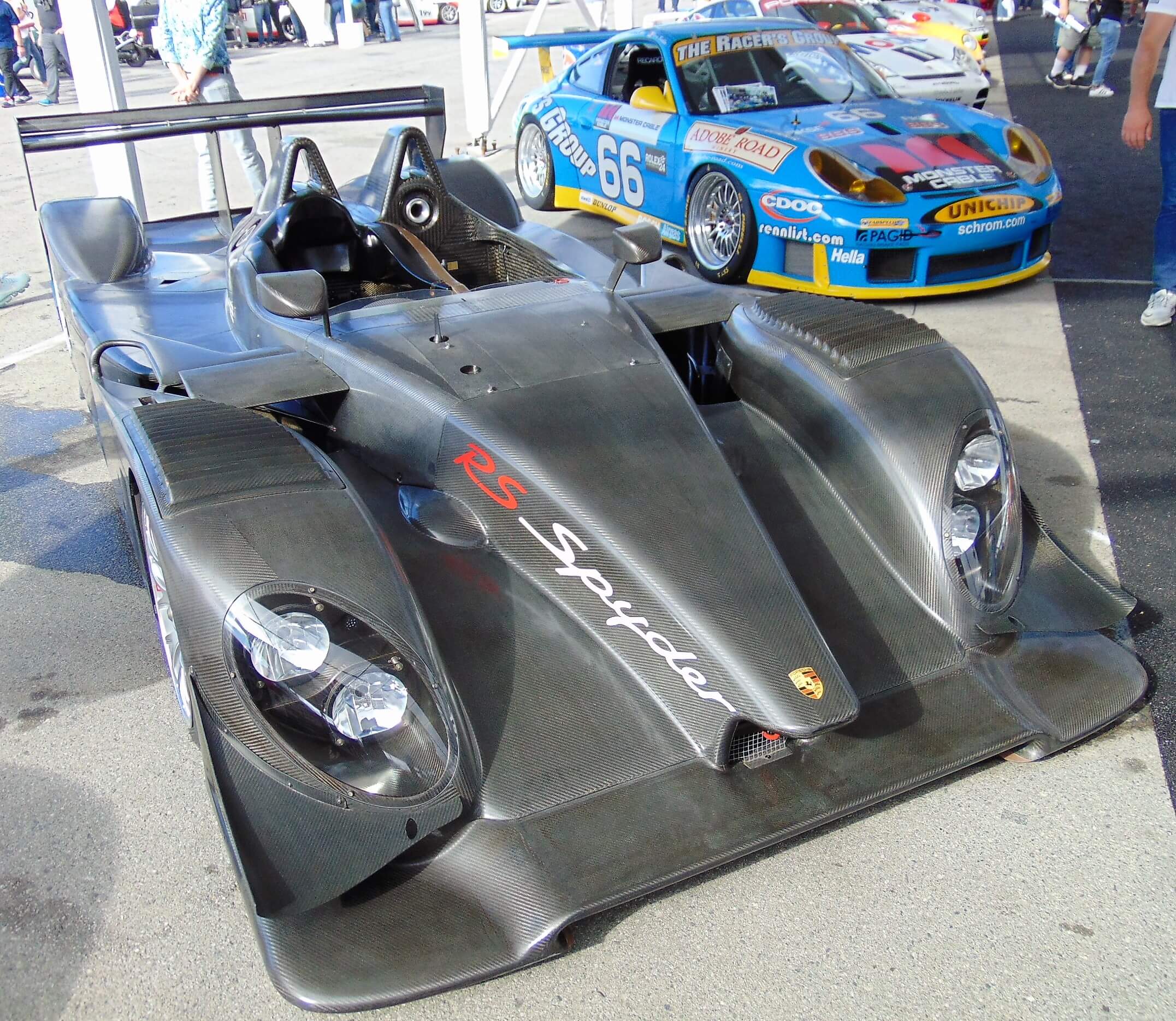 The chief displays included seventy noteworthy race cars revealed in the massive Porsche Heritage Tent. Champions Garage was located in Auto Alley displaying 11 more triumphant Porsche race cars. In the large parking area beyond Barbecue Island near Turns 2 and 5 lied the bulk of the Porsche Club of America corrals, reputed to have over 1,300 cars.
Adjacent was the Michelin and Mothers exhibits of still more exotic Porsches. The paddocks included a veritable menagerie of Porsches that also raced in the wheel to wheel competition on the track.
Beginning of a Legacy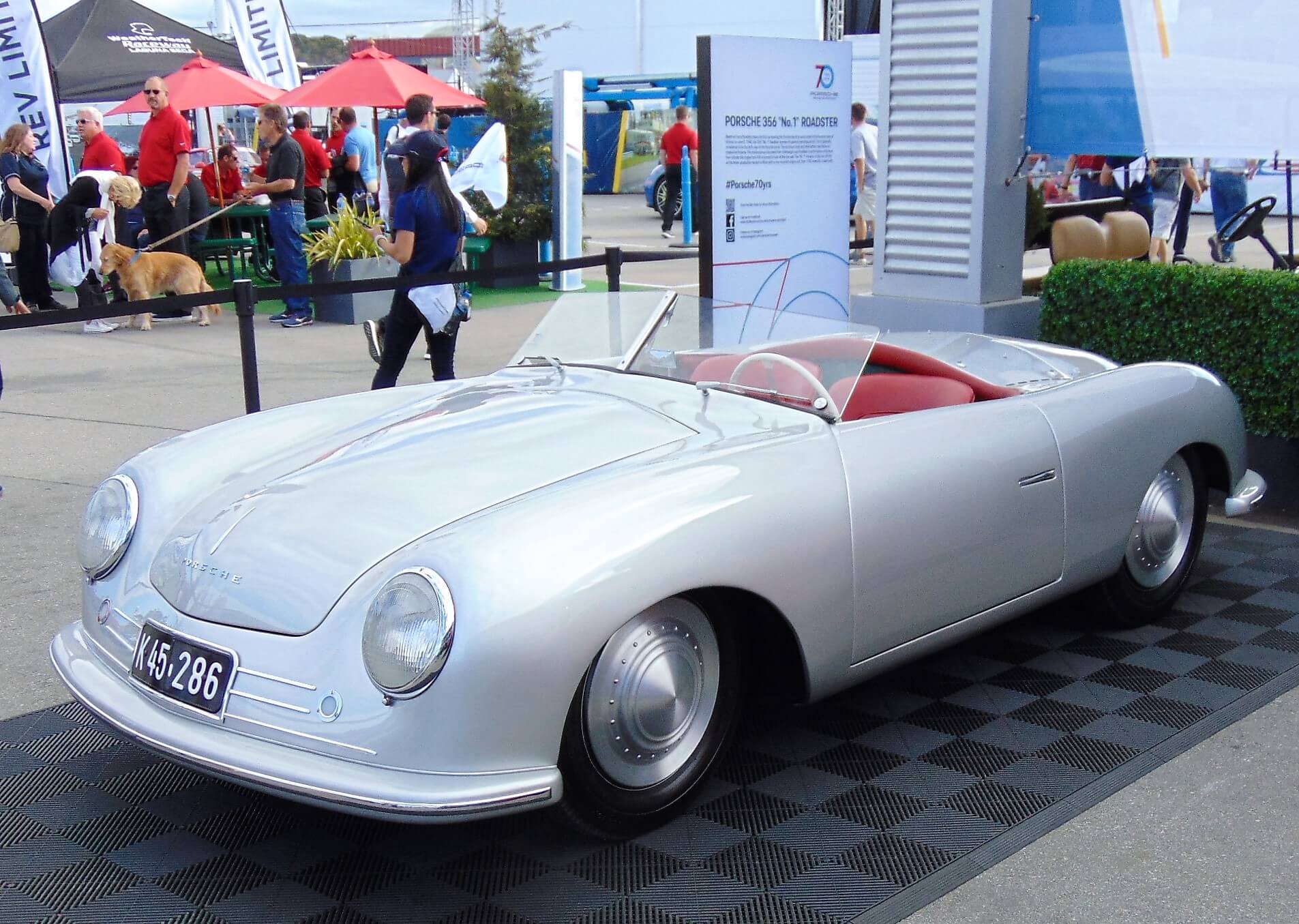 On Sunday morning, a replica of the car that began the celebrated Porsche legacy, Porsche's 356 "No. 1" Roadster, was positioned in front of Champions Garage in a bright metallic silver paint.
"No. 1" was the very first Porsche that Ferdinand "Ferry" Porsche created. It received its "street certification" on June 8, 1948.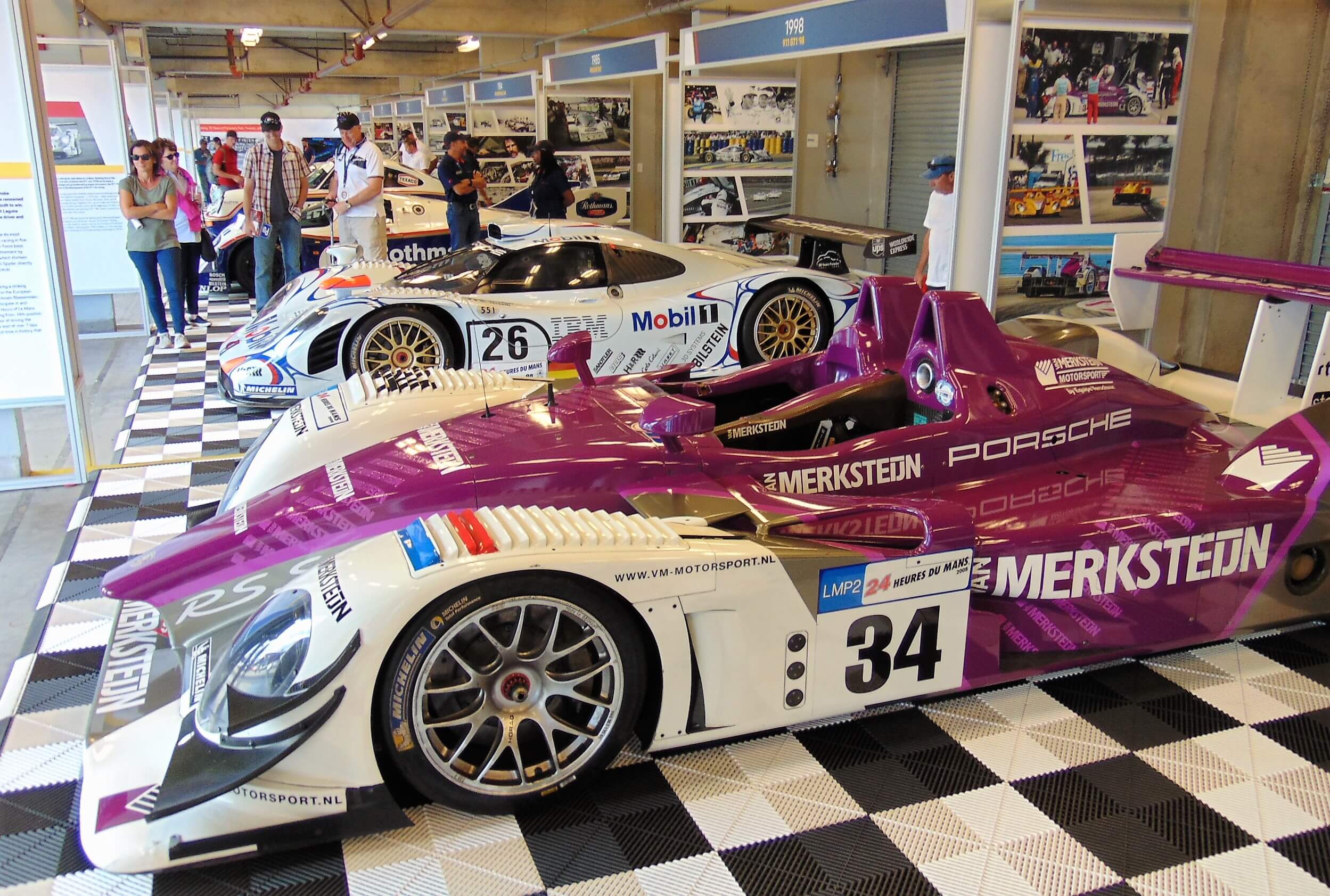 On a Mission for the Future
Porsche's 70th birthday was a fitting time to review their progress on Mission E.
This project helps elucidate how far Porsche has come from the 356 "No. 1", to the 911, to Porsche's first fully electric car on display at Rennsport VI in the Exclusive Manufaktur area showing really stunning styling and wheels.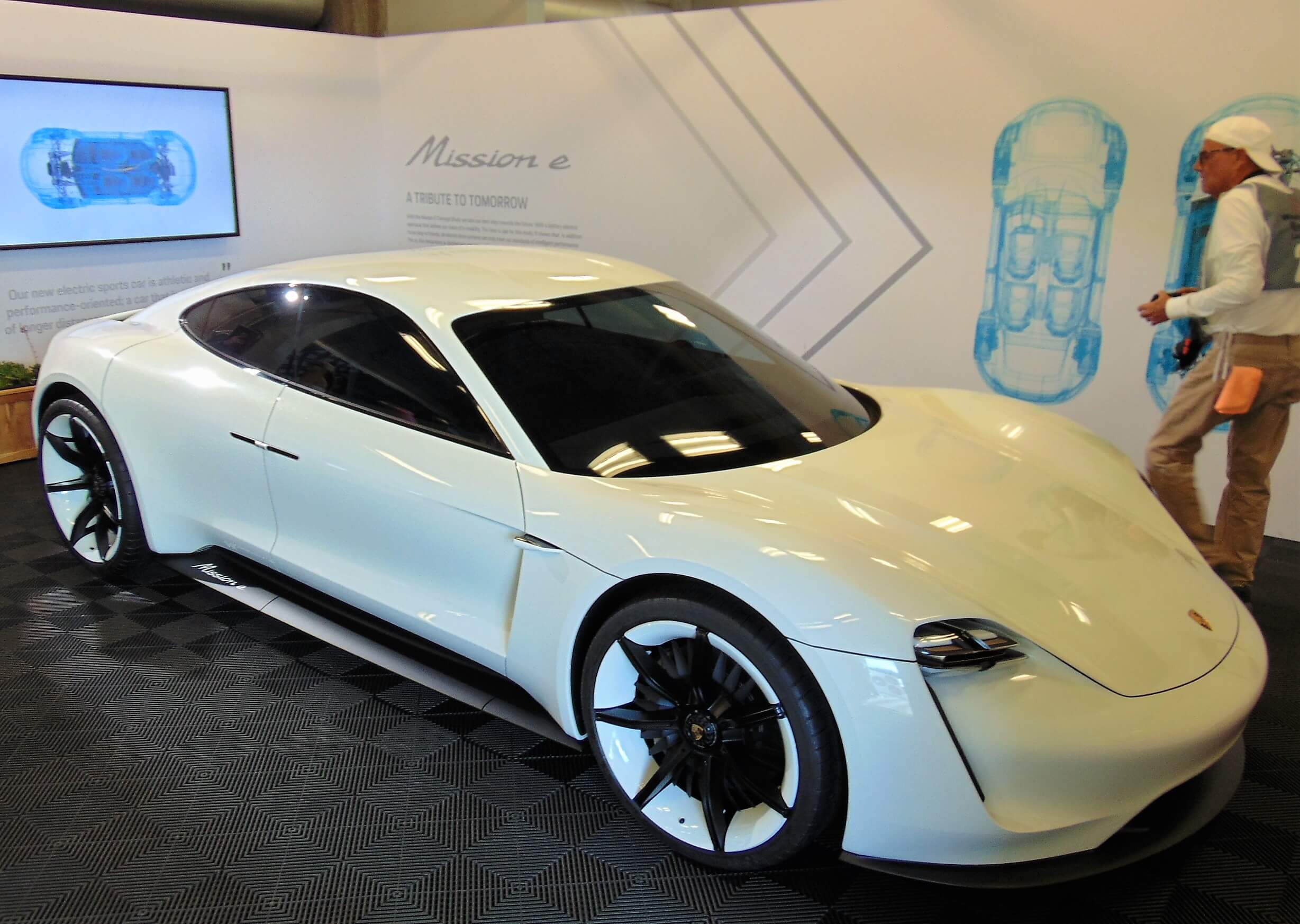 Porsche stated, "Mission E represents the future. A possible future. A fascinating future." Porsche held that this is the form their first completely electric sports car could take. Importantly, the concept-car would meet all Porsche standards for fuel efficiency, daily-drive practicality, and performance entirely based on groundbreaking technology.
They called it "the 911 of e-cars." Porsche proclaimed their mission statement: "Our core area of expertise lies in complex, efficient, and high-performance powertrains." The car's driving range is 300 miles, and a 15-minute charge gives another 250 miles. "Turbo-charging" Porsche says!
Klaus Zellmer, Porsche President and CEO of Porsche Cars North America, Inc. said the vision of Mission E recently received the name Taycan. He added, "Next year the vision becomes reality."
There She Blows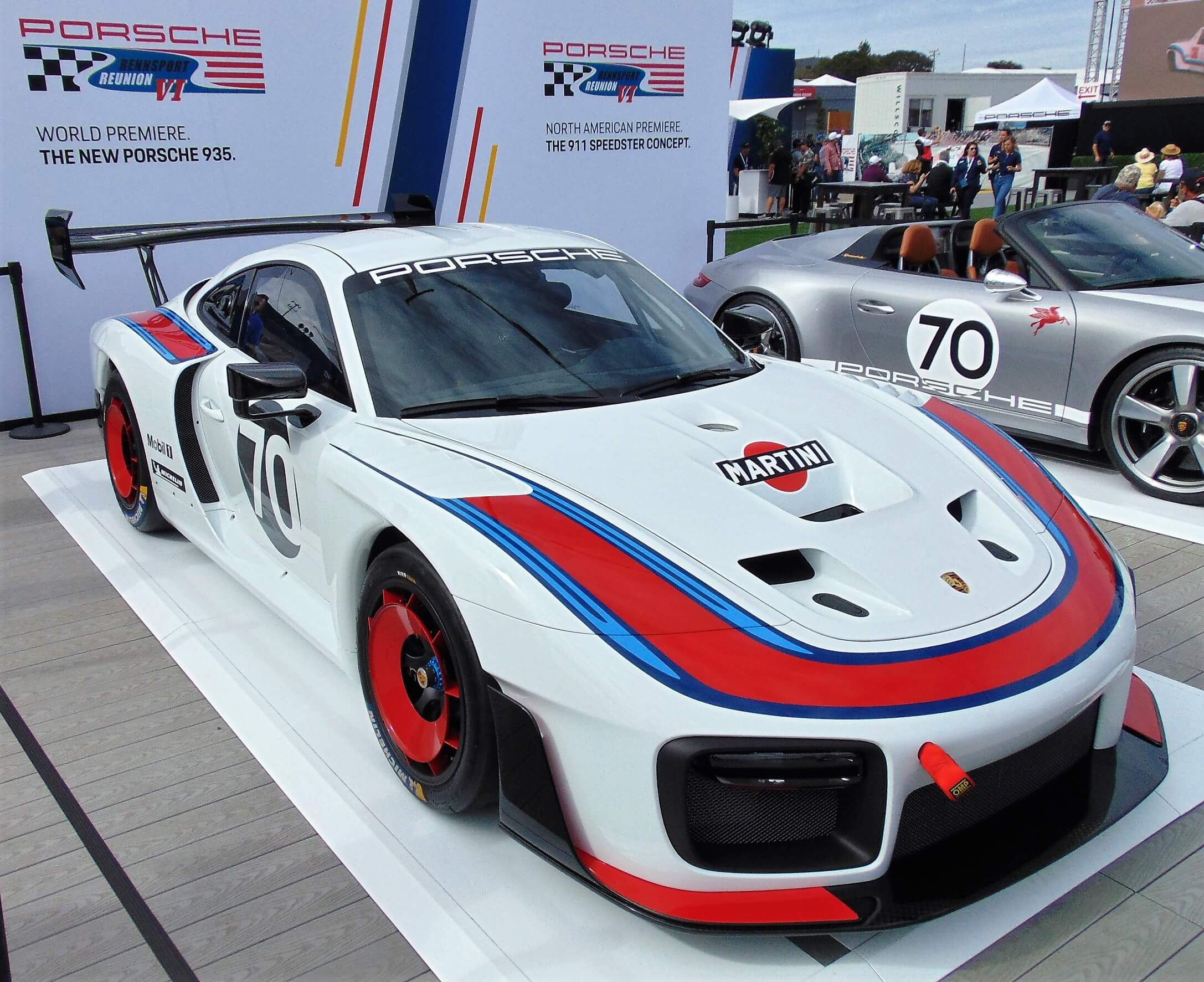 Also at Rennsport VI, Porsche unveiled a new 700 hp race car with the body based upon its renowned 935/78, "Moby Dick".
Vice President Motorsport and GT Cars, Dr. Frank-Steffen Walliser said, "This spectacular car is a birthday present from Porsche Motorsport to fans all over the world." The car will have a limited produced run of 77 units.
Porsche-Nation fans came and revered the iconic make during the four days appropriately themed, "Marque of Champions". Why does Porsche have such a large and faithful clan of devotees? There are several reasons.
First, it is because Porsche stands for excellence and innovation in automotive engineering. Another reason is due to the uniqueness in the way Porsche does things. Porsche's following also derives from its many achievements, which represent milestones of greatness.
Finally, the performance of Porsche automobiles and race cars are unequaled in many cases, which is the ultimate recognition.
Roundup at Porsche Corrals

Porsche excellence and innovation in automotive engineering is universally renowned. Brilliance in design and production is a given. Quality and performance are taken for granted in Porsche road and track cars.
Reliability is a byword for Porsche production, as exemplified in their victories in the 24 Hours of Le Mans, an endurance race. A first-drive in a Porsche indicates quality. Importantly, owning a Porsche delivers reliability.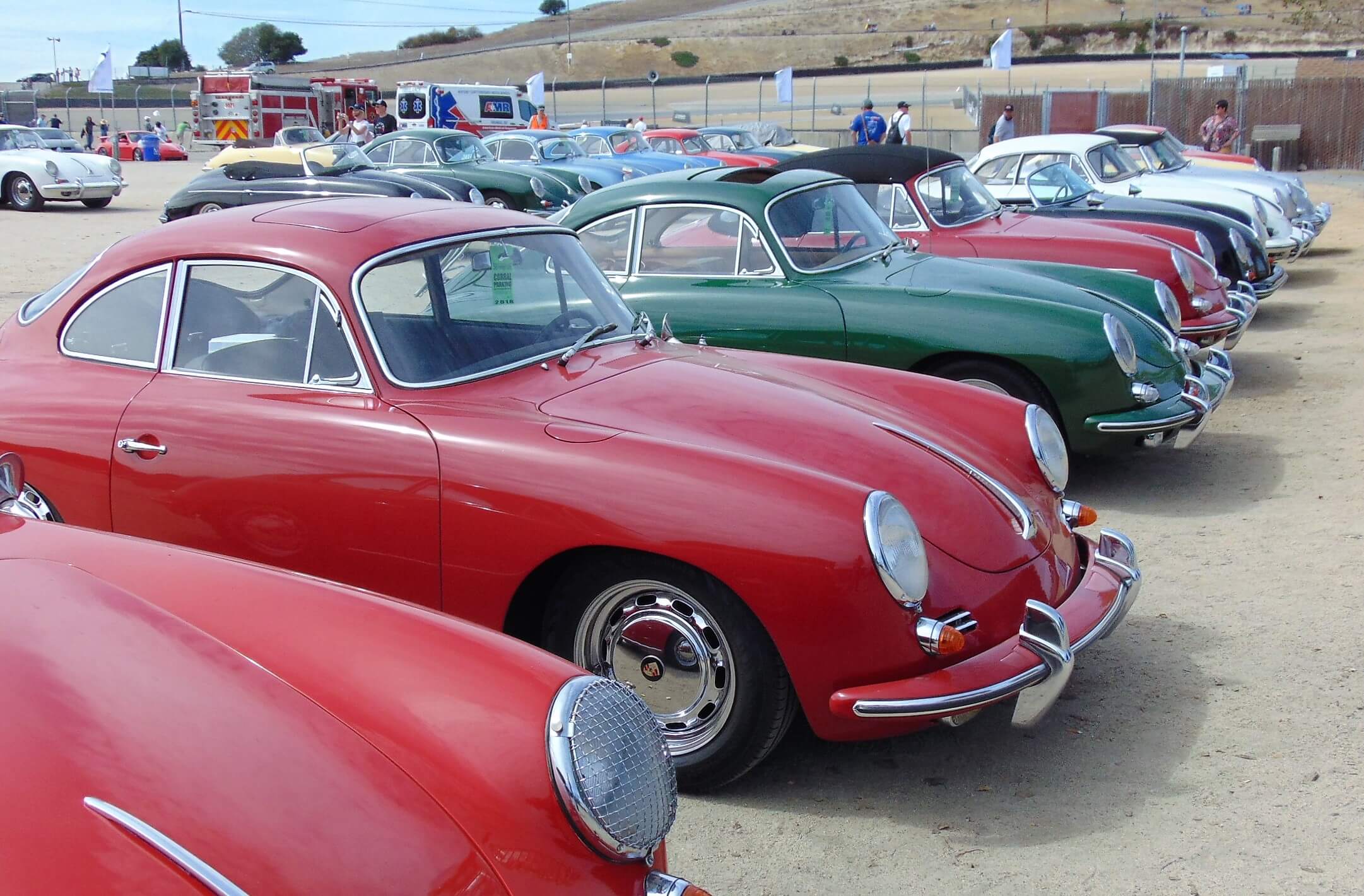 Porsche seems to have unique views in their approach to automotive design. Their engineers practice the mantra "form follow function", and performance derives from function.
Examples of uniqueness at Porsche, or at the very least adhering to "the path less followed" are their opposed-cylinder engines, long-time use of air-cooling for engines, rear, and mid-engine positioning, and retaining the same basic style for the 911 model for 55 years.
Porsche's achievements are too numerous to be mentioned. But some of the cars that I will describe will elucidate a few of Porsche's accomplishments.
To experience Porsche performance, all one must do is to drive the 911 model. The overall feeling is of lightness, agility, and well tied together. The much-used phrase, "You are one with" the car actually applies here.
The brakes are unequivocally superb, and grand touring on roads with long curves is a dream. The engine revs high, sounds silky-smooth, and performs professionally and faithfully.
The Eternal 911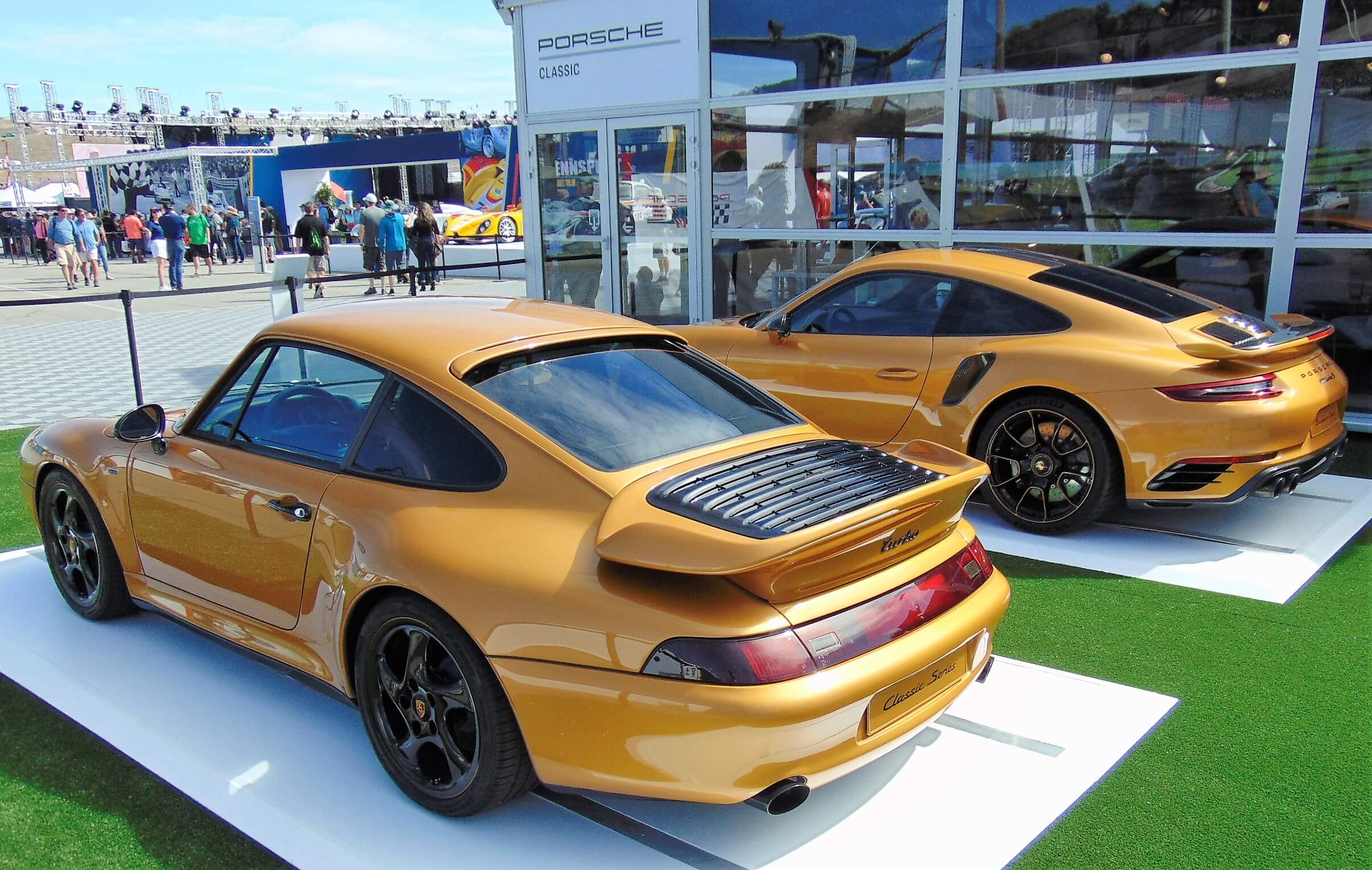 As I entered the large square with the interview stage complete with giant screen, autograph tables, the Porsche store, picnic tables, and much, much more, I first stopped to admire two 911's strategically placed at the main entrance in "golden yellow metallic" paint.
Yes, the "eternal 911" and its many variants, the car that best exemplifies Porsche and its philosophy. These were two cars restored from 993 chassis to be auctioned off with proceeds to charity and representing Porsche's new 2018 Porsche 911 Turbo S Exclusive Series, limited to 500 units with prices starting in the $250,000 range.
While I wandered about exploring the astoundingly massive extravaganza called the Rennsport VI, I mused if there were an all-Porsche Hall of Fame, which street cars or race cars might be in it? In this writing, I will mention several Porsche street cars and Porsche race cars, past and present at the event that, I think, deserve special recognition. No secrets here, I believe we all know them.
Porsche race cars are a little greater challenge. There are so many of them, and with 20,000 to 30,000 racing victories over the years, a little time is required to consider the candidates. If Porsche blesses us with a Rennsport VII, that may be a good opportunity.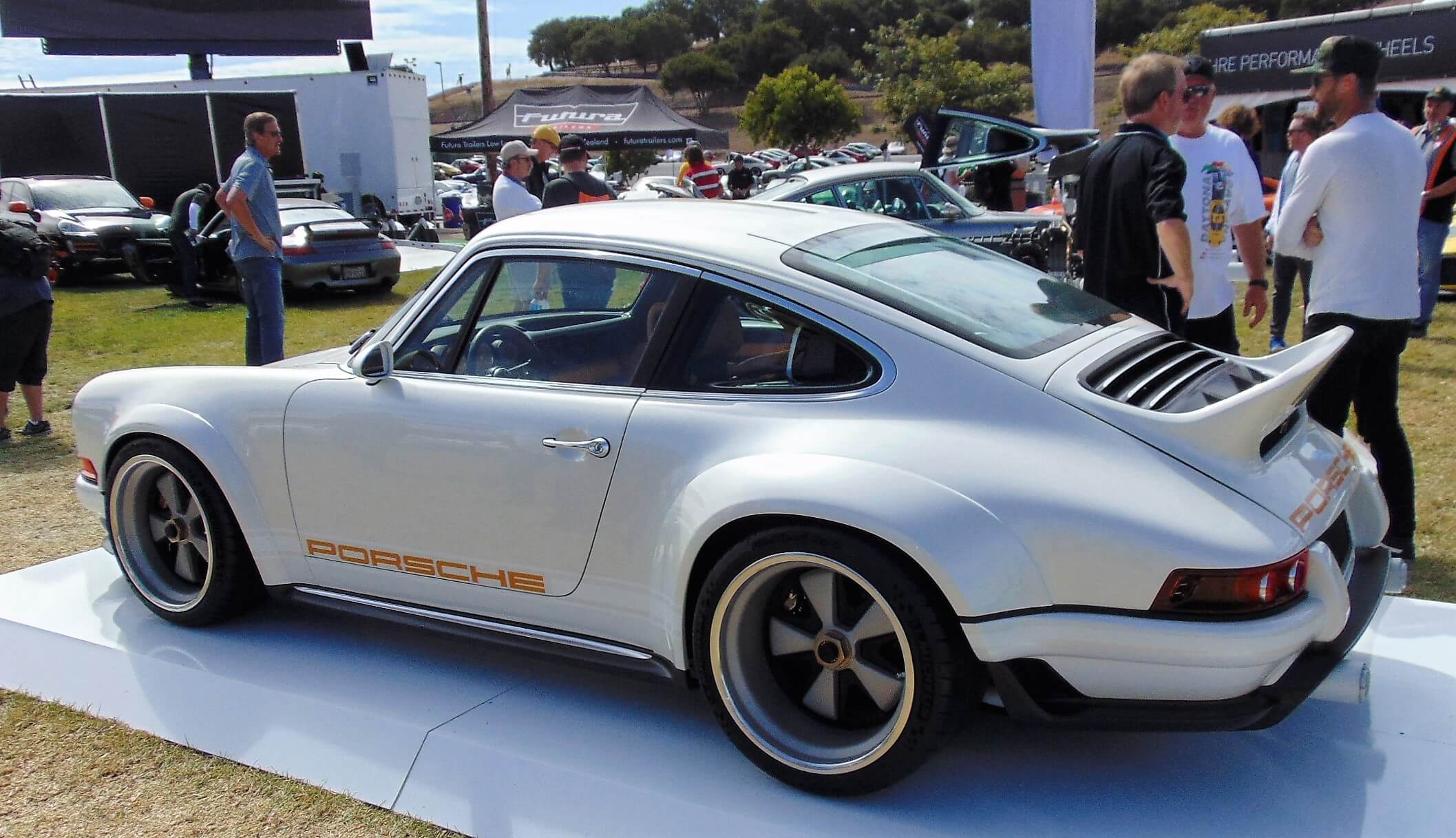 In any case, the premier member of a Porsche Hall of Fame would be the "eternal 911". At 55 years of age and still going strong, it would blow completely off the charts in terms of kudos, accomplishments, and enthusiasts! Nothing more need be said.
Porsche 917's Blaze the Track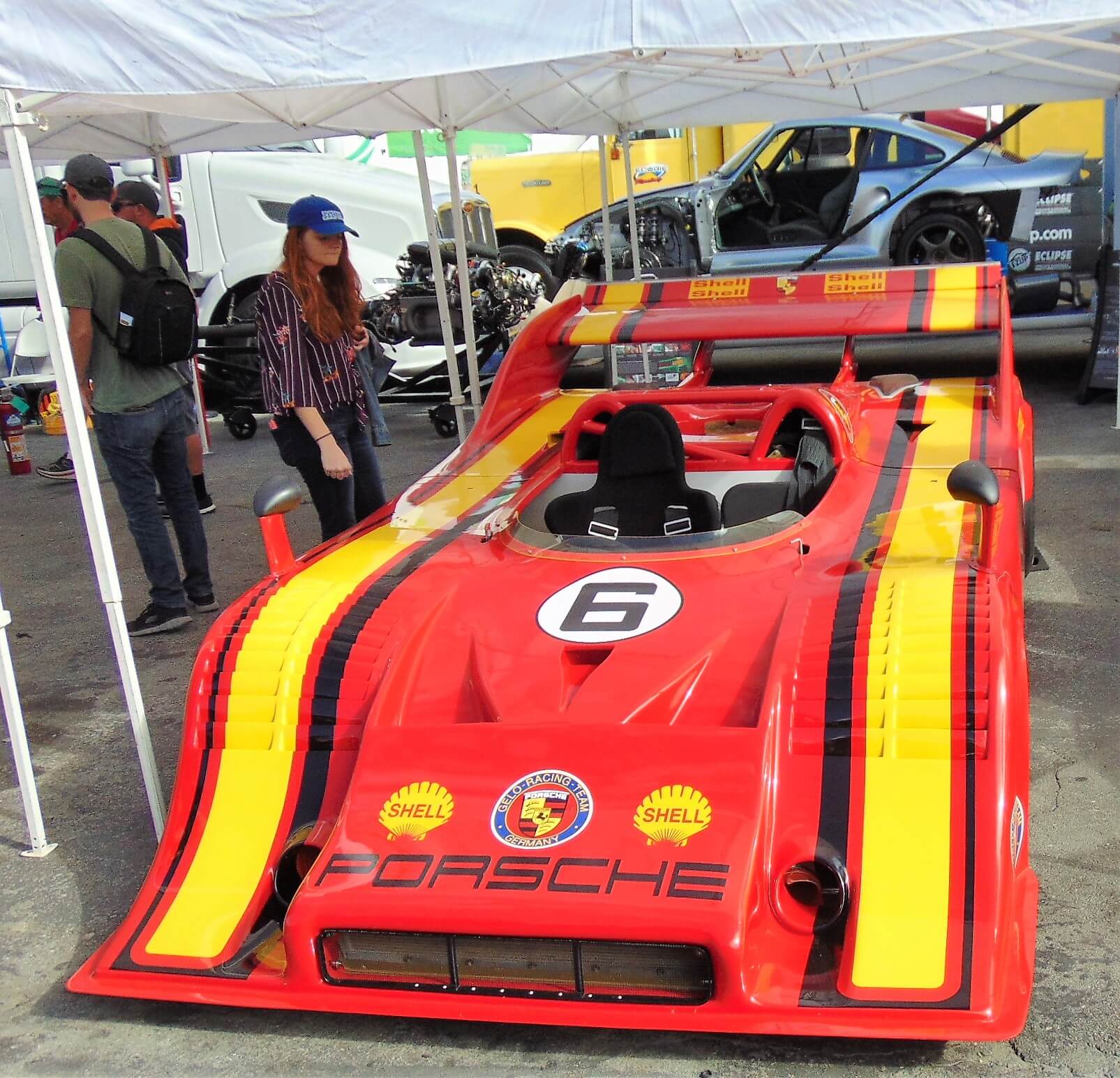 Another lock for special recognition would be the 12-cylinder 917 juggernaut, along with the variants it parented. There were several 917s at Rennsport VI with most located in the Porsche Heritage tent, or in the Paddocks where I spotted American Patrick Long, a factory Porsche driver, mounting one.
The 917K, meaning Kurzheck (short-tail), won the 24 Hours of Le Mans in 1970 and again in 1971. In 1972 the 917/10 won the Can-Am Challenge. In 1973 the 917/30, the most powerful racing sports car ever built at 1,580 bhp, also won the Can-Am Challenge. Known as the Can-Am killer because it won so often, Mark Donohue said the 917 was the only car he ever drove that could generate wheelspin at 200 mph!
Notably, Donohue turned in a blistering lap at Atlanta's Talladega race track in 1975 piloting a 917/30 to a new world record of over 221 mph average speed, yes average! A 16-cylinder 917 version was made but never actually raced due to handling issues of the longer chassis. Perhaps thankfully, because what could have challenged it?
I think it's safe to say that the Porsche 919 hybrid race car deserves special recognition. This car has already won the 24 Hours of Le Mans three times, in 2015, 2016, and 2017. Also, in 2018 the Evo version of the 919 became the fastest race car in history to circulate the Nürburgring in Nürburg, Germany, smashing the previous record, set 35 years ago by a Porsche 956, by over 51 seconds.
Earl Bamber and the 919 Evo
At the Rennsport VI, I watched Earl Bamber pilot the 2018 Porsche 919 Evo as it clocked 186 mph through the speed traps. What impressed me most was how effortlessly it negotiated the Andretti Hairpin and Turn 5. The EVO was as smooth as silk – no smoking, flat-spotted tires, no broadsided curves.
Exiting the curves, it was almost shot out of a gun and back to speed in no time. I say "almost" because the car was absolutely glued to the track without any jerkiness. It appeared to be locked onto a rail, gobbling up the track with robot precision with ever-increasing speed until the next curve arrived.
This car is a real piece of work! Back in Champions Garage, see my photo below where a hoard of mechanics swarmed the car attending to every potential need.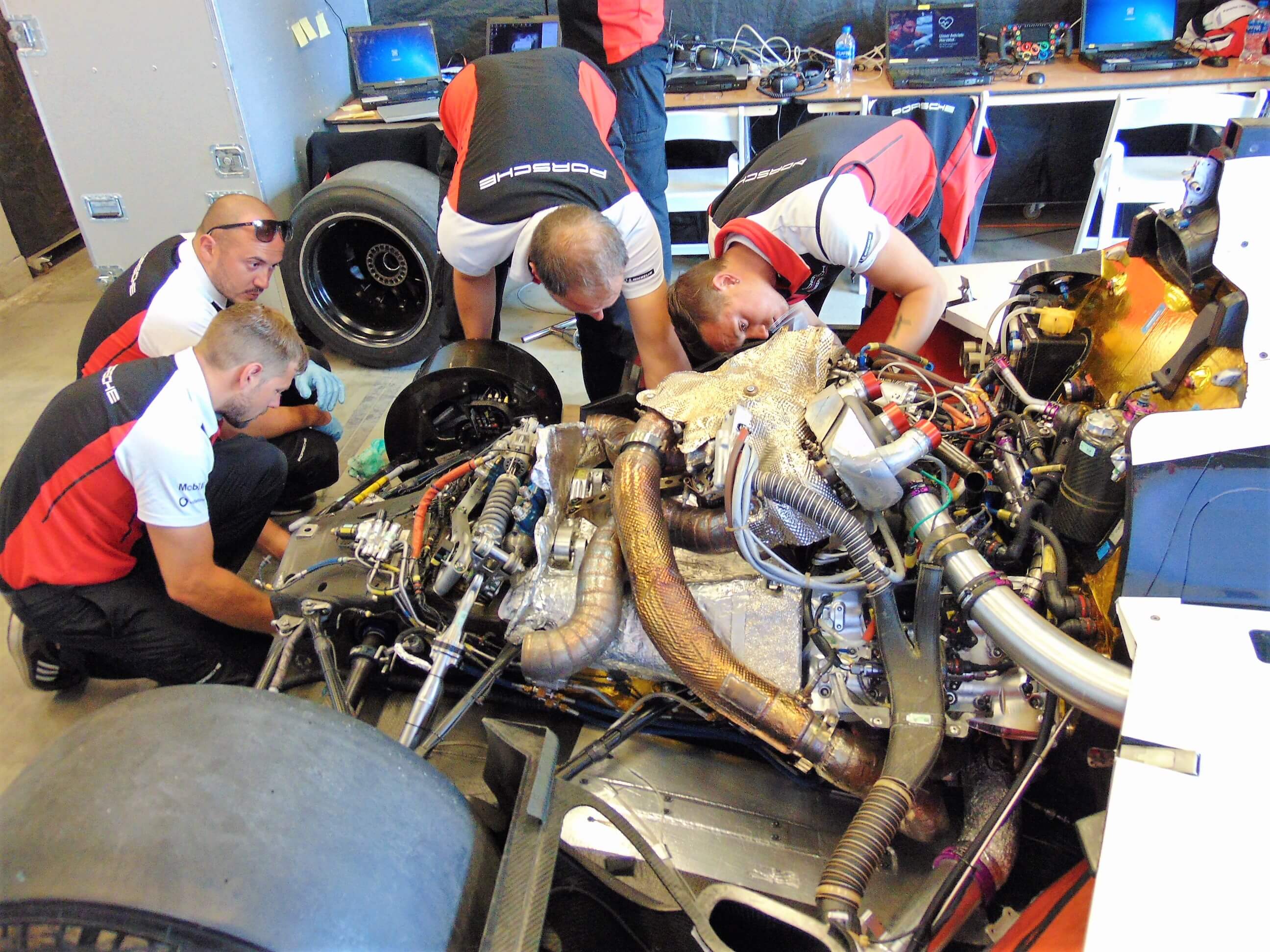 I was always curious about how massive downforce felt to the driver of a race car. So, I made a point of catching Porsche factory drivers Bamber and Laurens Vanthoor just as they sat down at the autograph tables before lines formed. Bamber has overall victories in the 24 Hours of Le Mans in 2015 and 2017 in Porsche's 919 hybrid, and Vanthoor races a Porsche 911 RSR.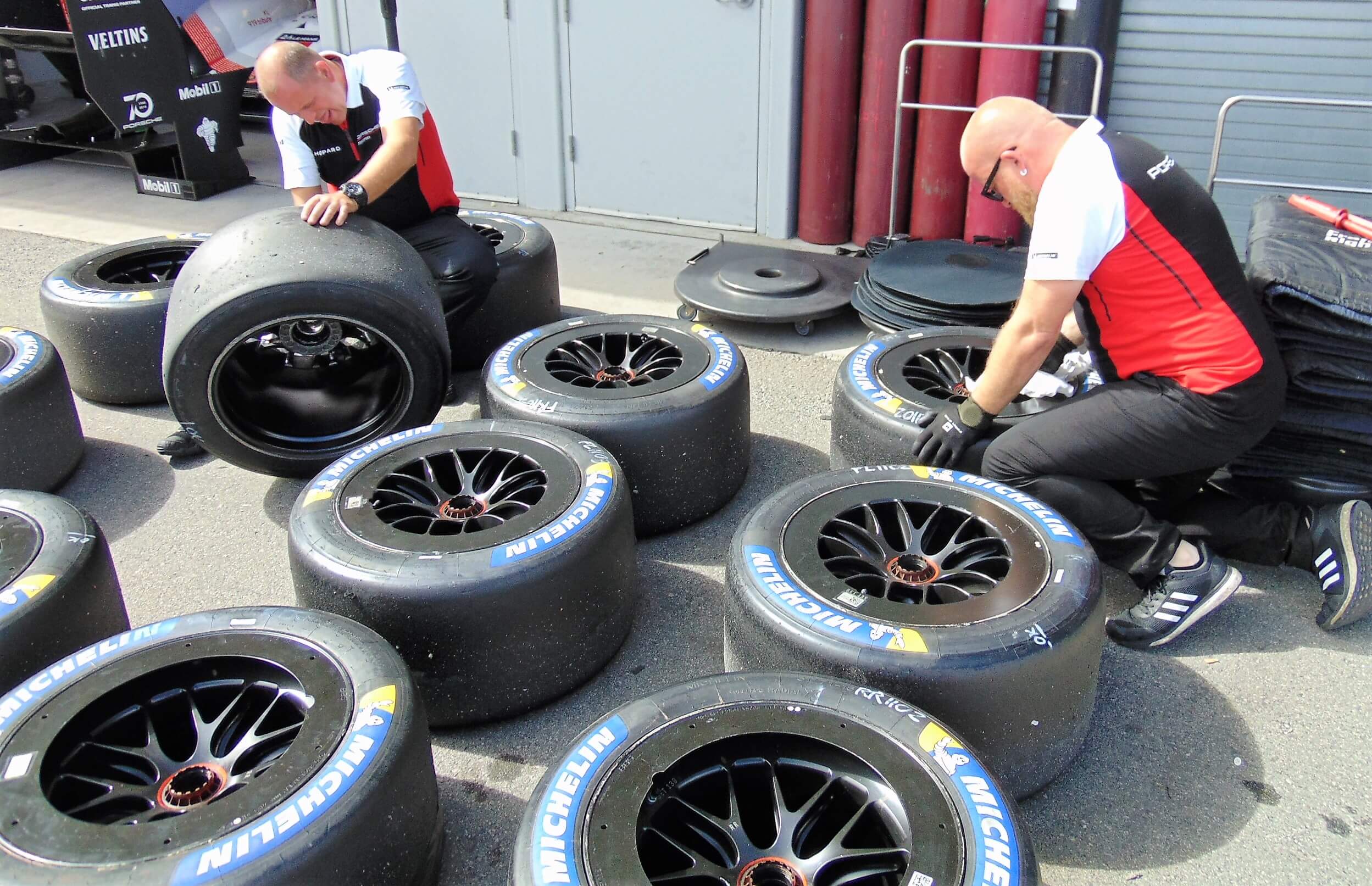 I requested of Vanthoor "What does the aerodynamic downforce feel like when you are racing"? He replied, "You have to actually experience it to understand it".
Not much chance in my driving his factory RSR soon, so I asked: "How much G-force do you experience in cornering and braking?" Vanthoor responded, "Three to four Gs in the 911 RSR." That would definitely result in a sore neck.
Sufficient downforce is generated on some race cars such that if they could be placed on the roof of a tunnel at speed, they would remain stuck there. That intrigued me greatly, so I asked Bamber the same questions. He replied, "Downforce makes you feel like the car is really glued to the track. Due to large downforce, in cornering and braking, you experience about four to five Gs in the 919."
We talked about driving at a race car's limits, and both explained that is where driver experience enters. My only hope is for someone to give me a seat in historic races someday. I thanked my hosts and moved on.
Hype for the 918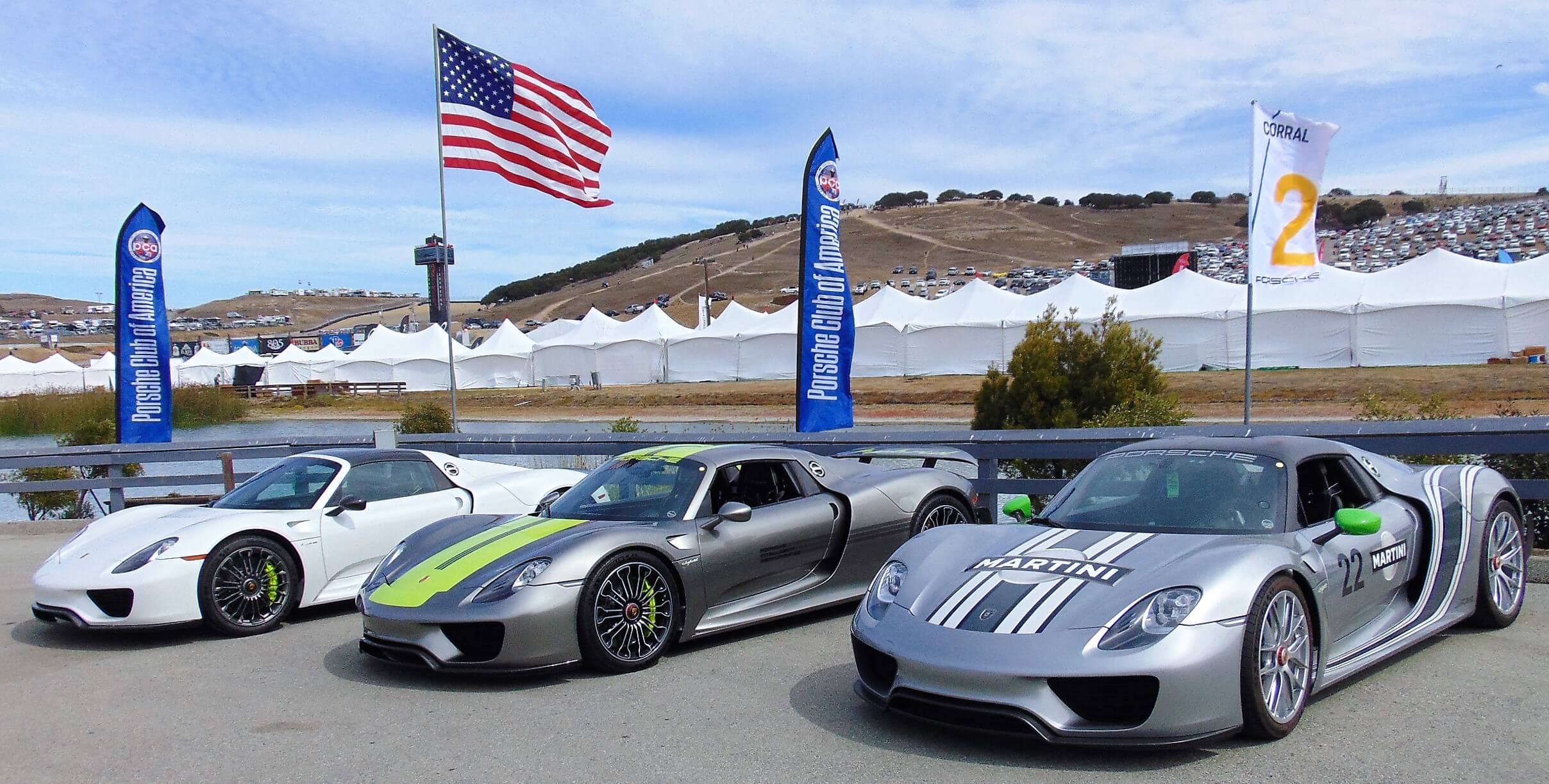 Next, I found Porsche's latest hypercar, the Porsche 918 hybrid, in a dozen-sized-group on Barbecue Island near Turns 2, 3, 4, and 5. I believe this car also deserves special recognition on an all-time list. Its merits are too great not to be left in awe.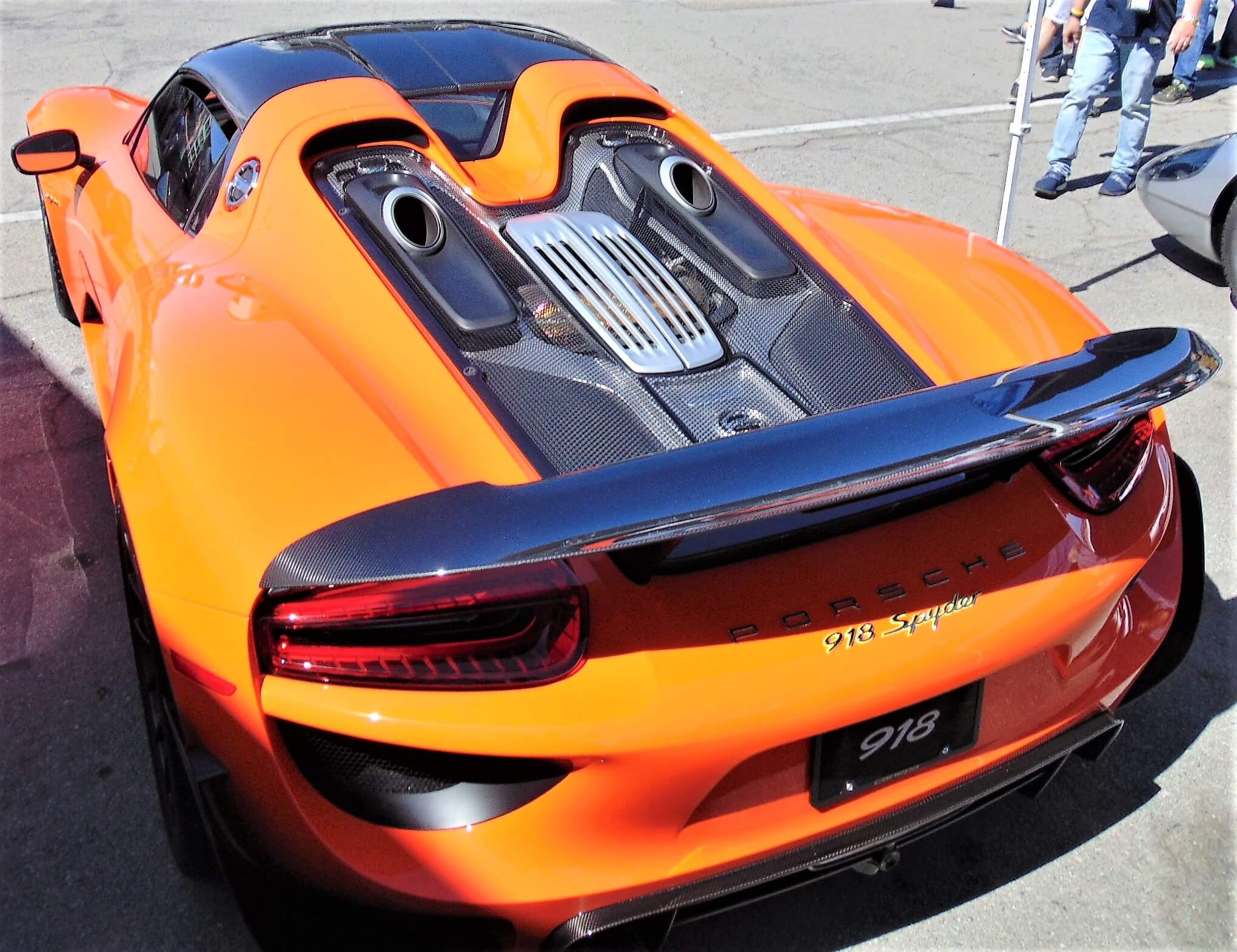 To start, this astonishingly complex car possesses absolutely stunning, creative styling, remembering that at Porsche form follows function. The 918's engineering is also state of the art, and frankly, beyond.
Innovative features abound, like the exhaust pipes exiting high on the car and not below the engine, allowing extension of the rear diffuser resulting in improved aerodynamics. The high exhaust pipe design also assists the lithium batteries to remain within their operating temperature range.
One might say, "The car should offer something at $998,000." But the aftermarket voted quickly and the 918 appreciated to $1,700,000, nearly doubling!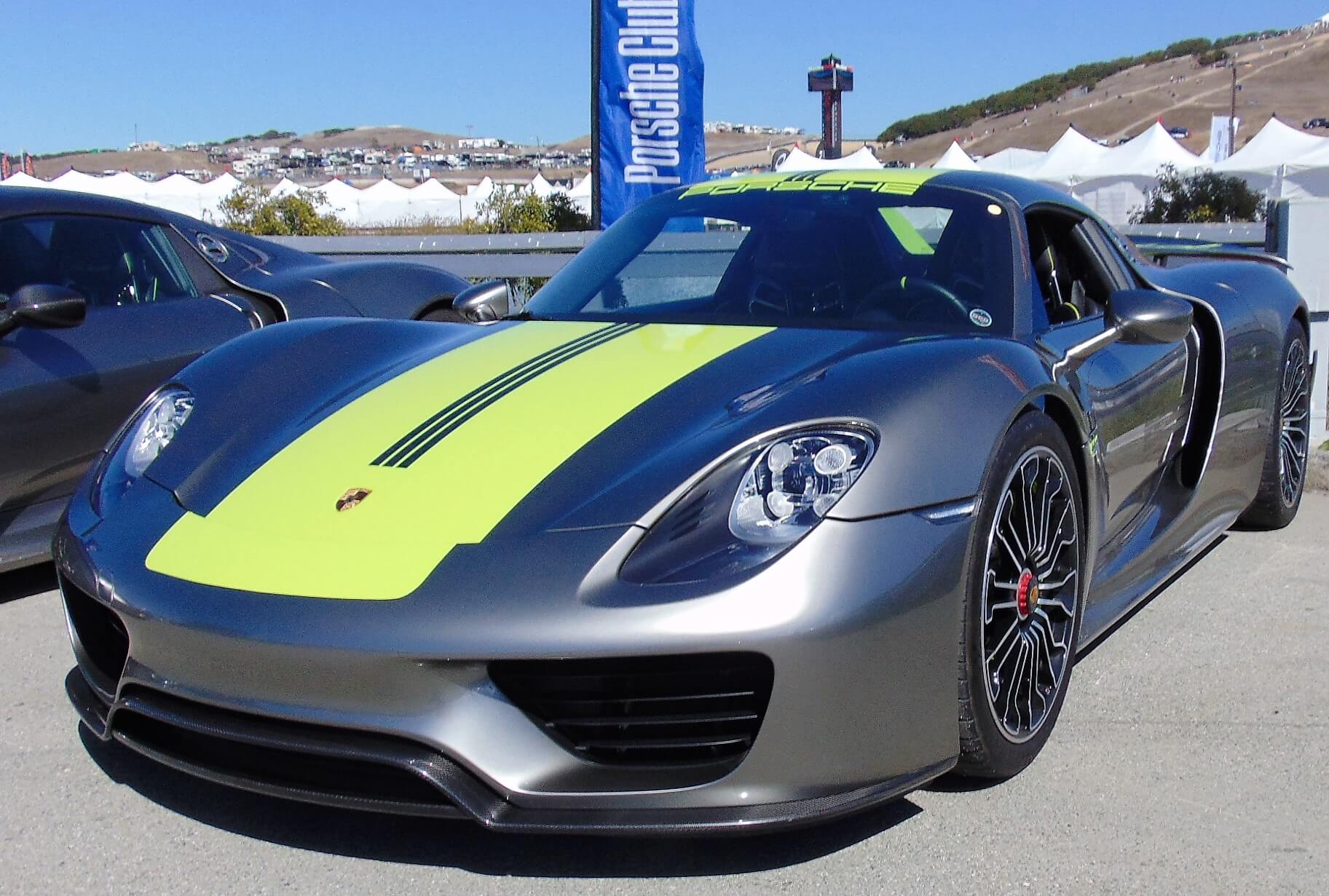 The 918 was first introduced as a concept car in 2010 at the 80th Geneva Motor Show along with the 911 GT3 R hybrid race car, while the racing version, the 918 RSR, followed the next year at the North American International Auto Show in Detroit. The street production model was finally introduced at the Frankfurt Motor Show in 2013 and produced through 2015.
The 918 Spyder is powered by a mid-engine, naturally aspirated, 4.6-liter V8 through a 7-speed PDK dual-clutch gearbox driving the rear wheels. The V8 yields 600 bhp at 8,500 RPM, but that's not all. Two electric motors provide an added 286 bhp to the front wheels. The combined total of gasoline and electric yields 875 bhp and 944 ft-lb of torque! Weight lies between 3,600 and 3,800 lbs.
A flexible and very practical feature is that the battery can be refreshed either by a plug-in or regeneratively while driving and braking similar to the KERS system used in Formula One racing. KERS stands for "kinetic energy recovery system". A flywheel accumulator rotating near 40,000 RPM located in the passenger compartment stores the energy. The car's 6.8 kwh liquid-cooled lithium-ion battery alone gives a 12 mi (19 km) driving range.
Internally at Porsche called "race lab, the 918's performance numbers deliver a knockout:
0-100 km/h (0–62 mph) in 2.5 seconds
0–200 km/h (0–124 mph) in 7.2 seconds
0–300 km/h (0–186 mph) in 19.9 seconds
Maximum speed is 350 km/h (217 mph)!
In September 2013 a 918 fitted with the optional 'Weissach Package' which reduces weight nearly 100 lb recorded a record lap time of 6:57 min on the 20.7 km (12.8 mi) Nürburgring uncombined course. The 918 truly exemplifies engineering brilliance!
All-Time Greatest in the Carrera GT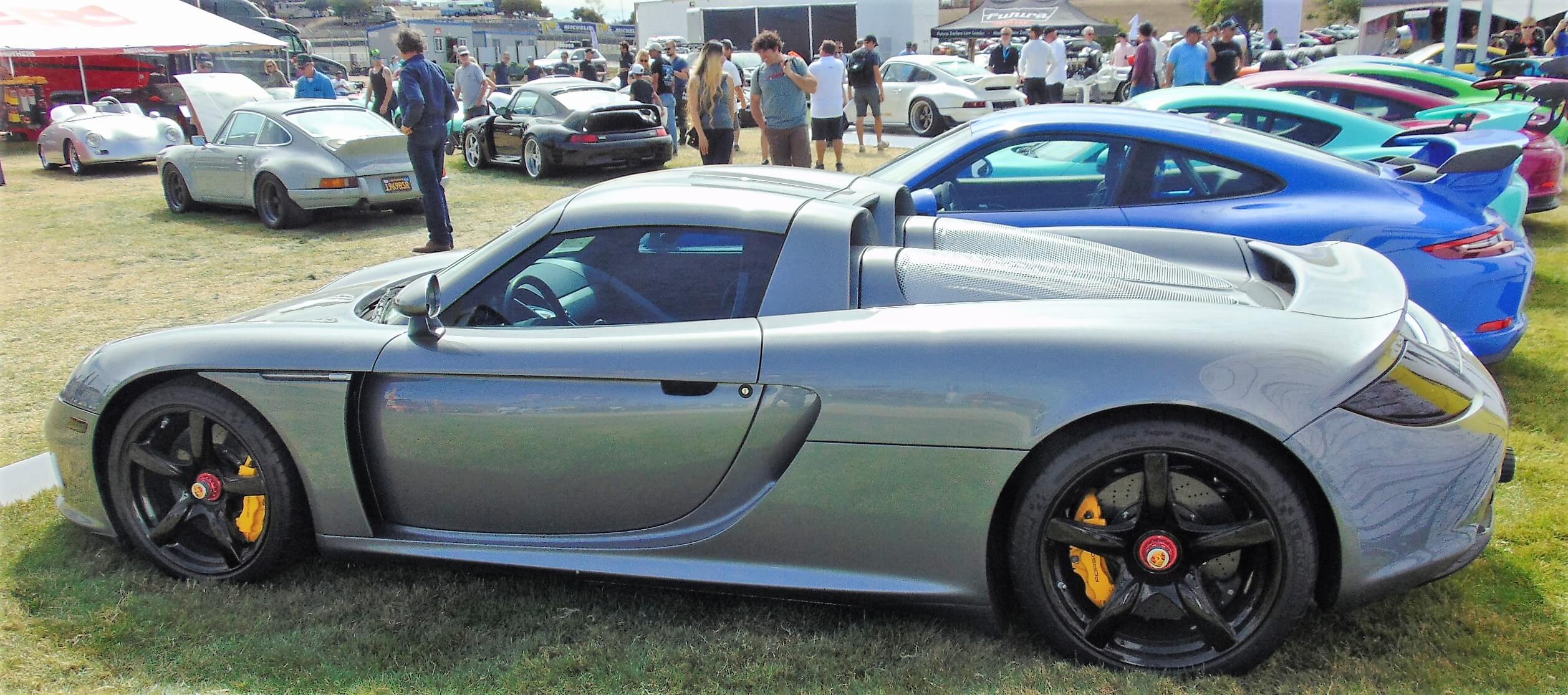 The Carrera GT (2003-2007) should definitely receive special recognition for Porsche's all-time greatest. This mid-engined sports car preceded the 918 and is high on, or at the top, of many lists for best petrol-powered sports cars, some for all time.
The GT project was a sporadic one, occurring in starts and stops over a long period of time. In the beginning, a Porsche engine was built for a Formula One effort in 1992. That task was canceled, then revived for a Le Mans project. However, concern about conflicting with Audi's Le Mans plans caused termination of this project too. Eventually in 2000, a decision was taken to build 1,500 cars.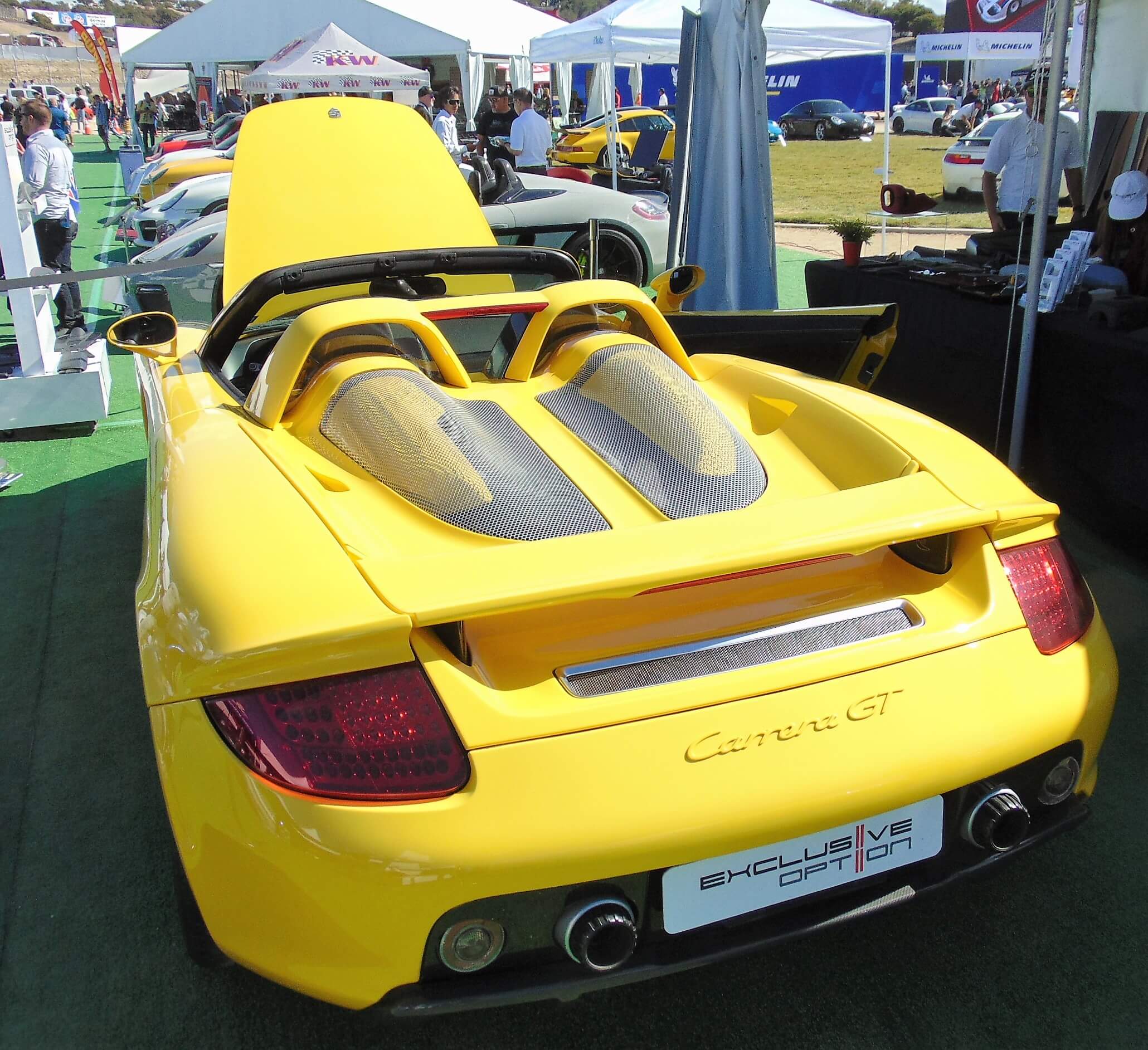 The Carrera GT two-door roadster is powered by a naturally aspirated 5.7-liter V10 engine employing 4 valves per cylinder which produces 603 bhp, 435 lb⋅ft of torque at 5,750 rpm, with red-line at 8,400. The lack of turbochargers might appeal more to those with purist tendencies, but the car performs quite well without them. Adhering to the simpler path generally offers reliability and weight savings.
The car will do 0-60 mph in 3.5 seconds, 0-100 mph in 6.8 seconds, and achieves a maximum speed of 205 mph. The curb weight of this rear-mid-engine V10, rear-wheel-drive car is 3,040 lb. Its predecessor is the Porsche 959, and the successor the Porsche 918 Spyder.
The Carrera GT's rear wing is electronically operated, deploying at speeds over 70 mph. The sizeable side inlets and air dams add cooling to the engine. Weight is reduced by a carbon fiber monocoque and chassis. Porsche brakes are usually superior and the GT's are no exception sporting a carbon fiber-reinforced silicon-carbide ceramic-composite braking system.
Face to face, the GT appears very low and wide, and somehow you just know it will perform. The V10 engine does not sound large but presents a rather beguiling note. Yes, the Carrera GT is one for the ages!
The 959, a Rare Sighting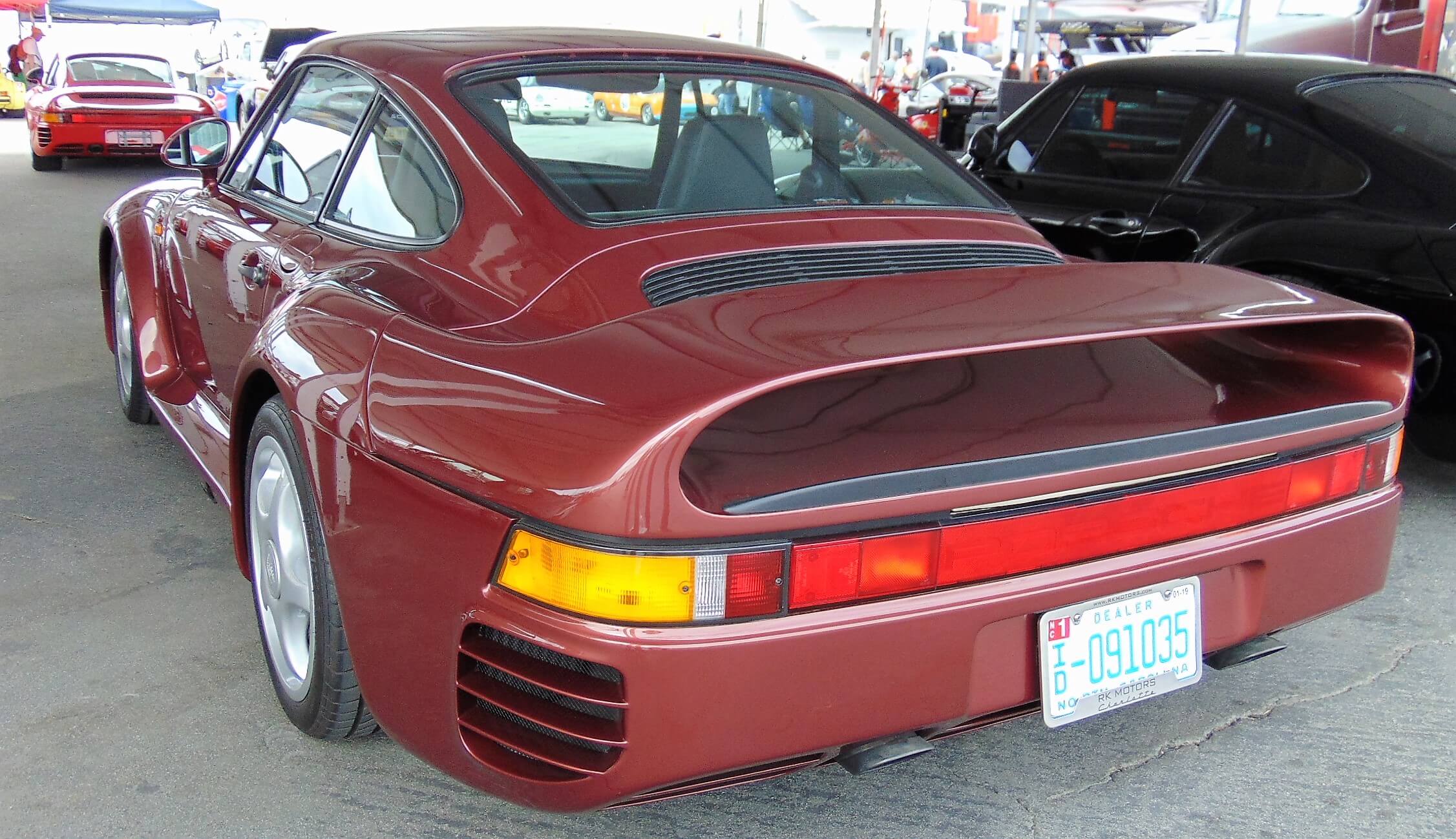 The Porsche 959 sports car (1986-1993) should also receive special recognition among Porsche's best. However, the car's intended use as a race machine was brief and had issues finishing races.
The 959 was initially envisioned as a Group B rally car. Later it was produced for road use but did not comply with US street requirements until billionaire Bill Gates assisted in getting the "Show or Display" law passed.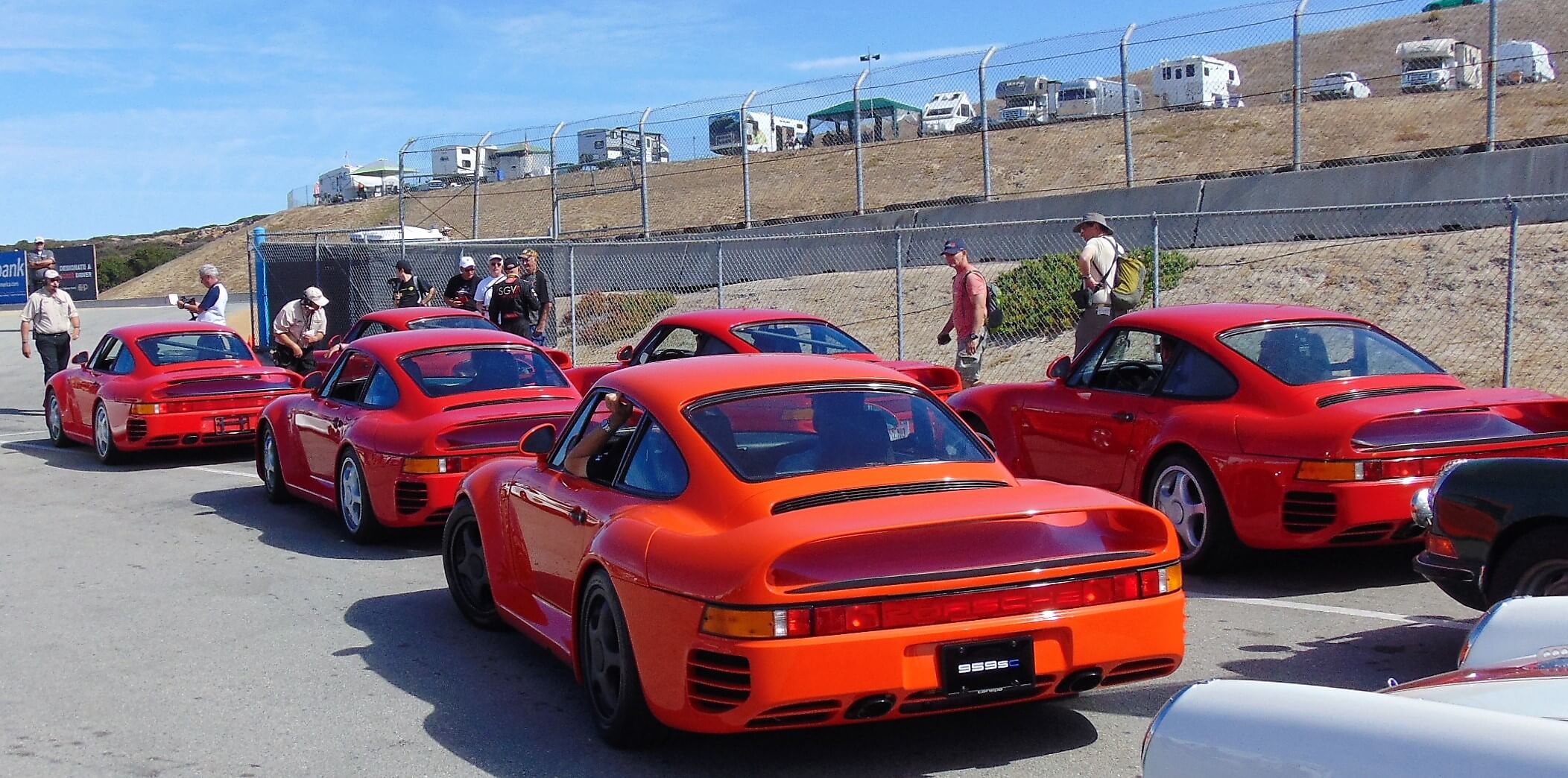 The 959 is rarely seen as only 345 were ever produced. When one does appear, it is almost certainly alone. As I perused the paddocks I was astonished to come upon nearly a dozen under one of the large tents. A little later this rare grouping formed a line and entered on track in the exhibition.
The technological achievement in creating the 959 in the 1980s was noteworthy. The twin-turbo vehicle was then considered the most technically advanced sports car ever made. It was the world's fastest street car clocking 197 mph.
The 3,200 lb 959 was powered by a 2.8-liter twin-turbo flat-6 generating 444 bhp and 369 ft-lb of torque applied through a 6-speed manual gearbox. One of the earliest high-performance cars offering all-wheel drive, the car also automatically adjusted its ride-height.
Porsche Heritage Tent
The 936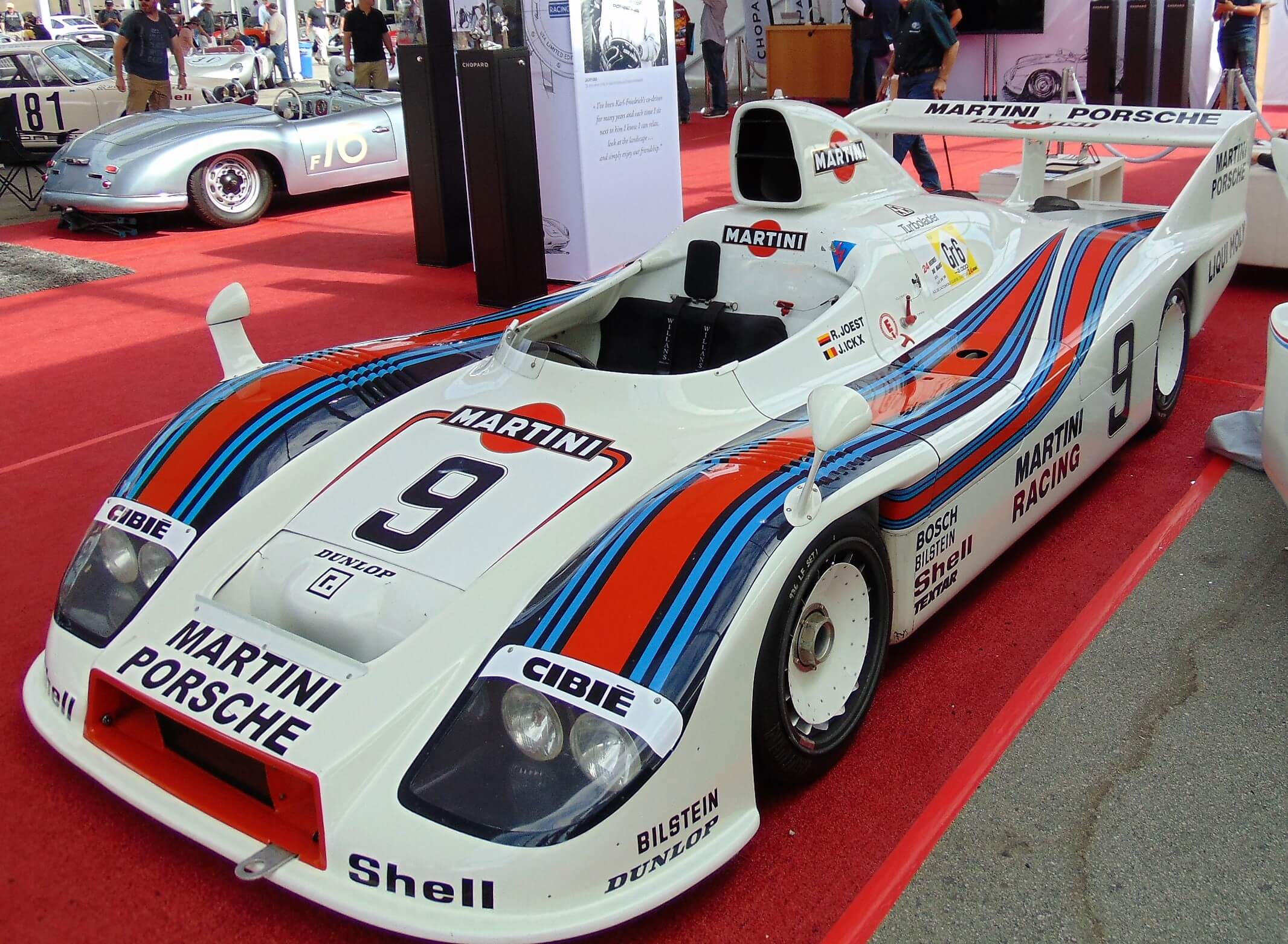 Text – 1979 Porsche 936
There were 70 Porsche race cars under the Porsche Heritage tent, and the 936 was the first to catch my attention. It looked racy with stylistic, gracefully flowing lines, remembering that at Porsche "form follows function" when it comes to styling.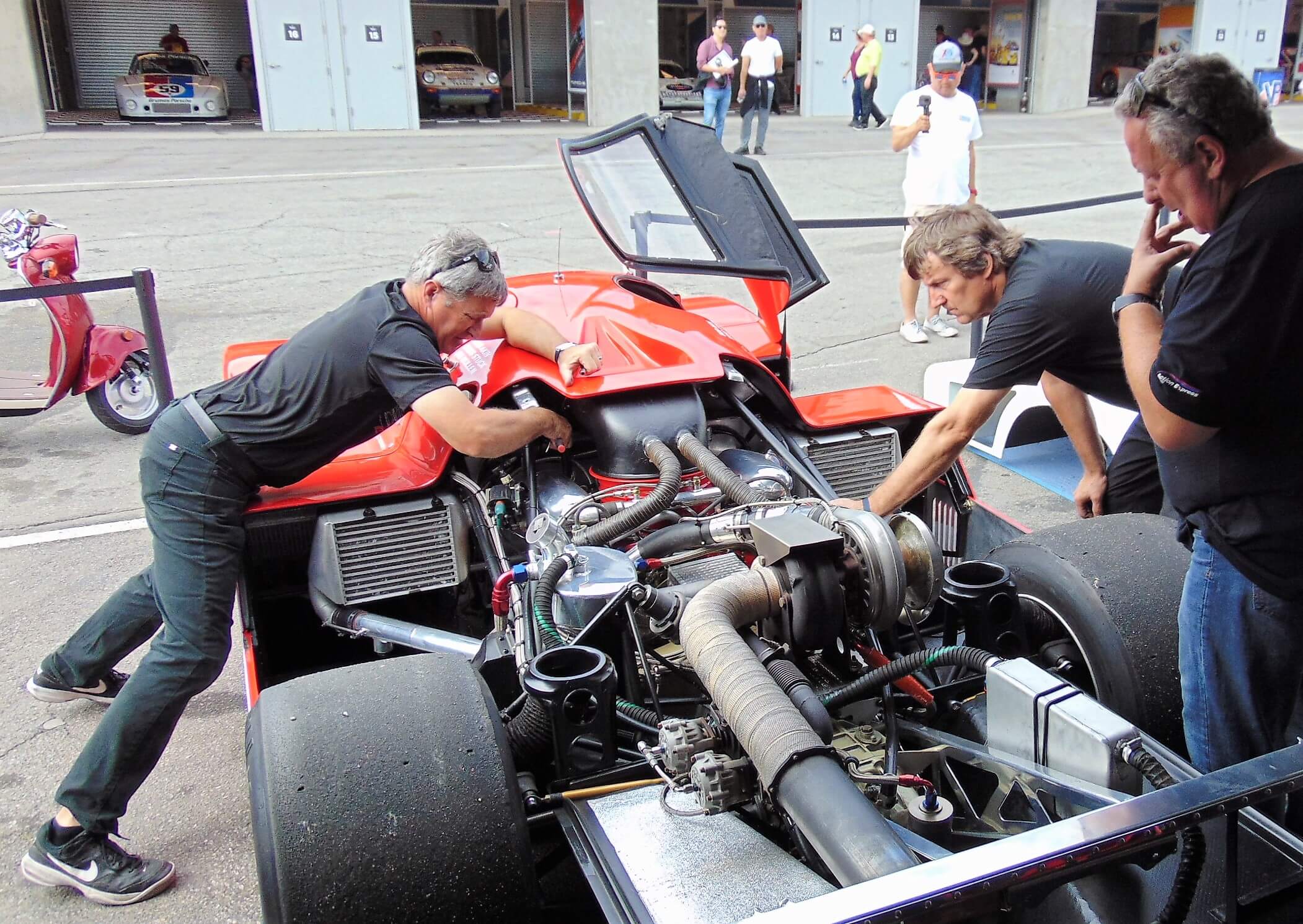 The Porsche 936 (1976-1981) was developed to compete in the World Sportscar Championship Group 6 category in 1976 by Porsche as a successor to the 917 and 908.
The power in this 1,587 lb race car was provided by a 2.1-liter opposed-six-cylinder twin-turbocharged engine generating 540 hp at 8,000 RPM, transmitted through a five-speed gearbox.
The Porsche factory entered the 936 in the 24 Hours of Le Mans with Jacky Ickx piloting to wins in 1976, 1977, and 1981.
The 935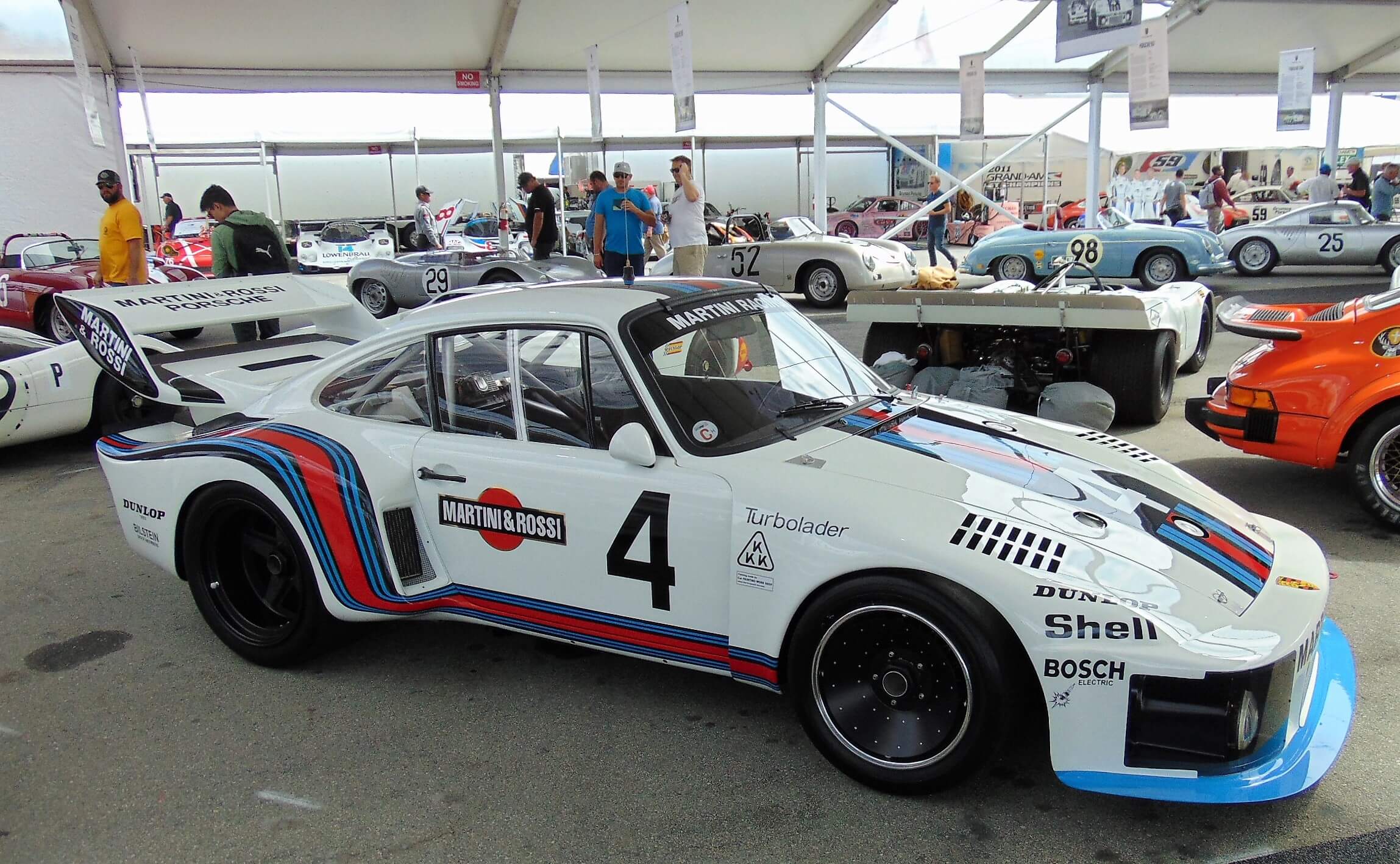 Nearby I spotted a Porsche 935 (1976–1981), a 911-based race car introduced in 1976 as the factory entry for the FIA's new Group 5 rules. It derived from the Carrera RSR 2.1 turbo prototype. Group 5 rules allowed liberal alterations to production-based cars.
Power was supplied to the 2,138 lb 935 by a twin-turbo flat-six of 2.9 to 3.3-liter employing mechanical fuel injection producing from 540 to 845 hp through a 4-speed manual gearbox.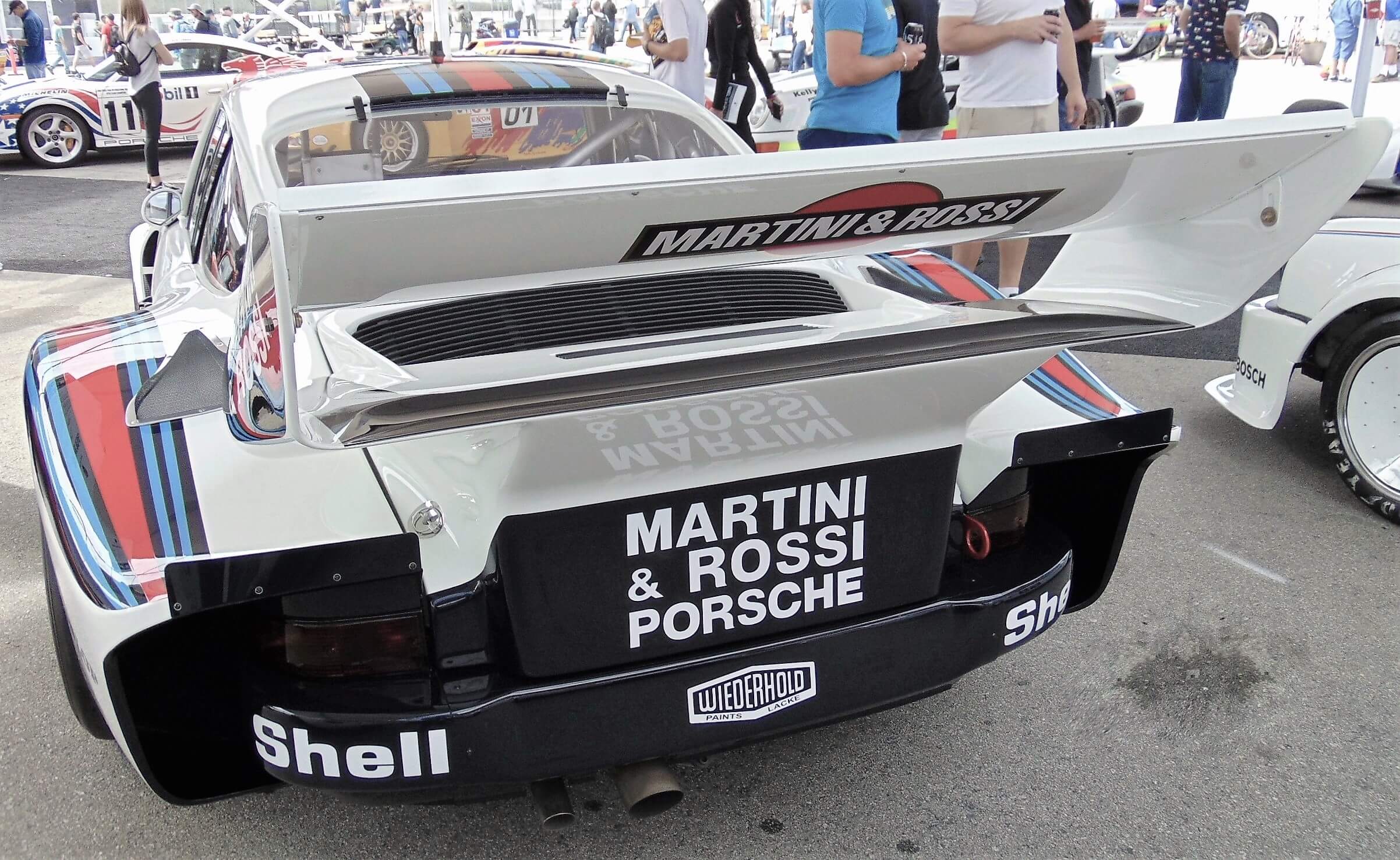 Few were able to challenge the 935 in major endurance races, and the car eventually won the 24 Hours of Le Mans in 1979, overall. The 935's domination ended in 1982 with FIA rule changes.
Derek Bell Pilots the 962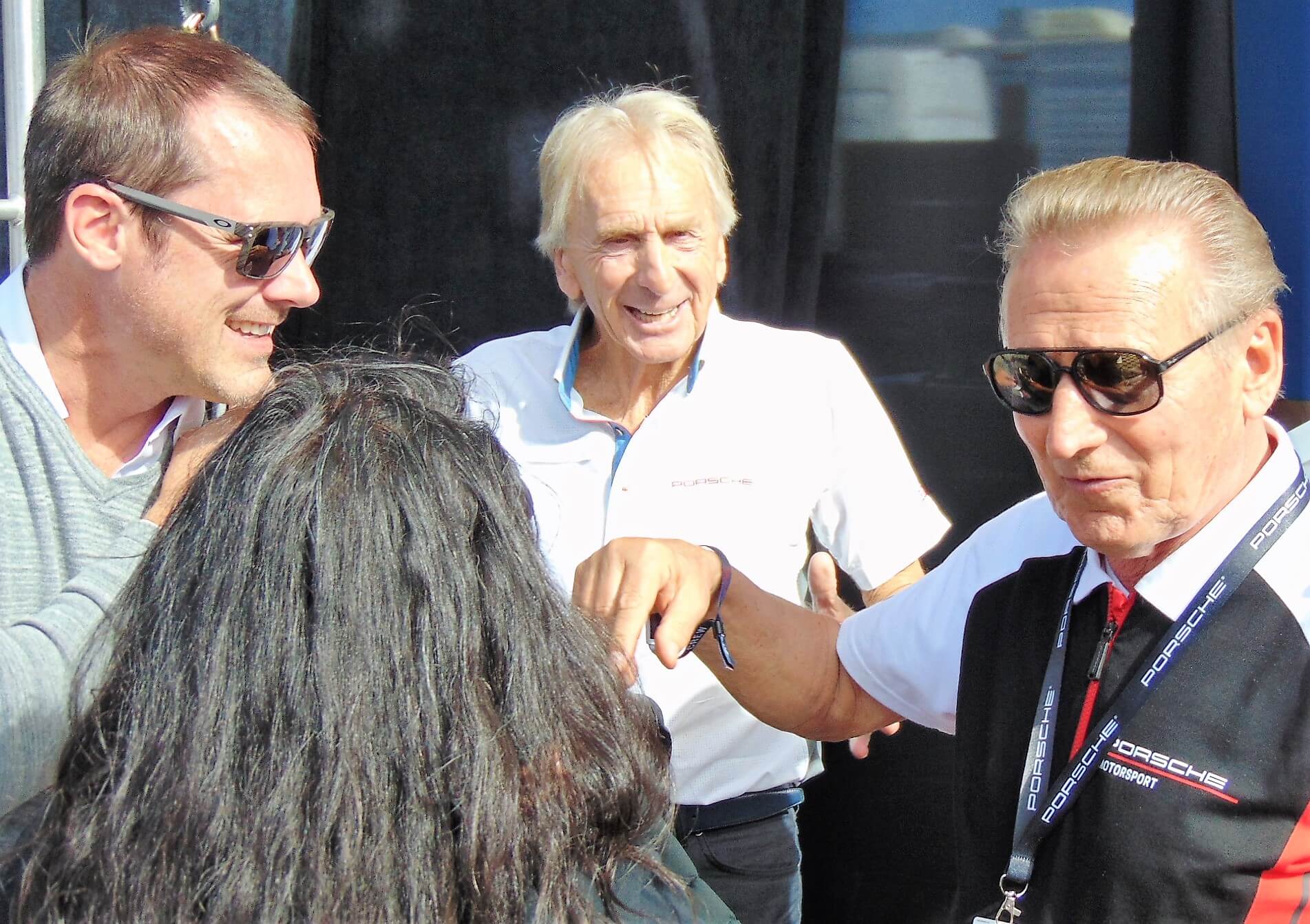 A 1984 Porsche 962 (1984-1991) was also under Porsche Heritage Tent. This sports-prototype racing car was made (91 units) to replace the 956 in order to meet IMSA's GTP regulations. The 1,874 lb car was powered by a 3.0 to 3.2 liter bi-turbo flat-6 engine through a 5-speed transmission generating 760 hp at 8,200 RPM, pushing the car to 220 mph.
Famed Hurley Haywood (Porsche "ambassador) and Derek Bell (24 Hours of Le Mans winner four times in Porsches) were among the pilots. The 962 achieved an overall win at the 1987 24 Hours of Le Mans. In its initial years, the 962 was one of the most successful cars in racing. The car was succeeded by the WSC-95.
In Closing Tribute
Sincere compliments should always be given. This was an enriching Rennsport VI, and honestly, I am already anticipating the next. Surely most Porsche fans are too. Porsche, please bless us with another Rennsport soon!
Porsche Rennsport Reunion VI Image Gallery