Porsche Panamera (Second Generation) Sales Brochures
We found quite a few Porsche sales brochures for the second generation Panamera, which is known as the Type 971. Note that there was a 970 first generation Panamera. The 970.1 that ran from 2009 till 2013 and then an update and the 970.2 which ran from 2013 till 2016 (both the 970.1 and 970.2 are considered first generation), and you can find those sales brochures here.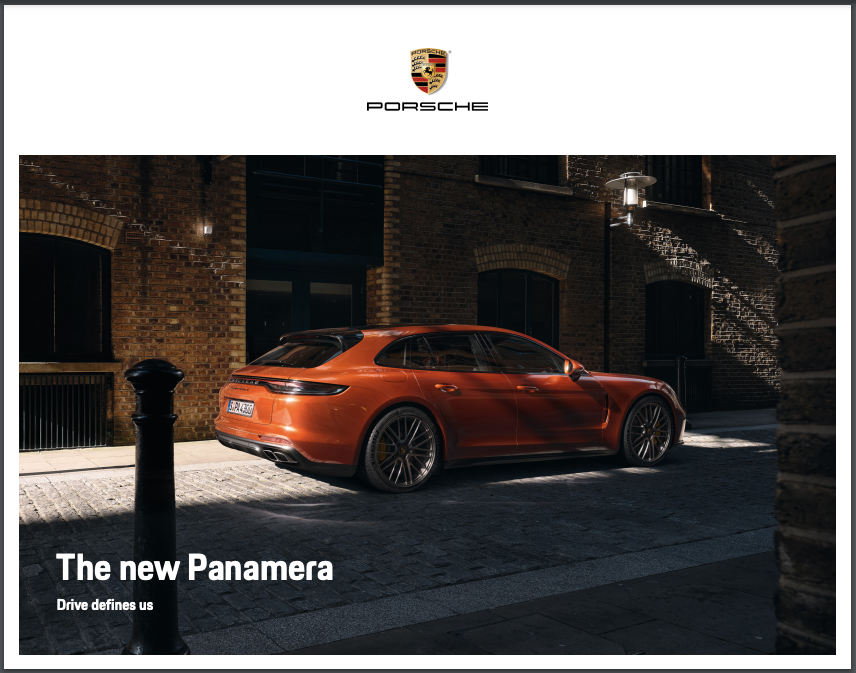 2021 & 2022 Porsche Panamera Sales Brochure
With the Panamera, we consistently went our own way, always stayed true to our roots – and have thus injected the typical Porsche DNA into the luxury sedan segment. With the new Panamera, we are now pursuing this path just as consistently. The design of the new Panamera models was carefully refined. The Panamera 4S E-Hybrid is a new member of the family with a significantly increased electric range and a newly coordinated operating strategy. A special feature that highlights the sports car nature of the new Panamera GTS models is the naturally aspirated engine character of the 4.0-liter twin-turbo V8 engine with a linear unleashing of power. Thanks to an in-depth revision of the engine and standard interior, the Panamera Turbo has become the new Panamera Turbo S.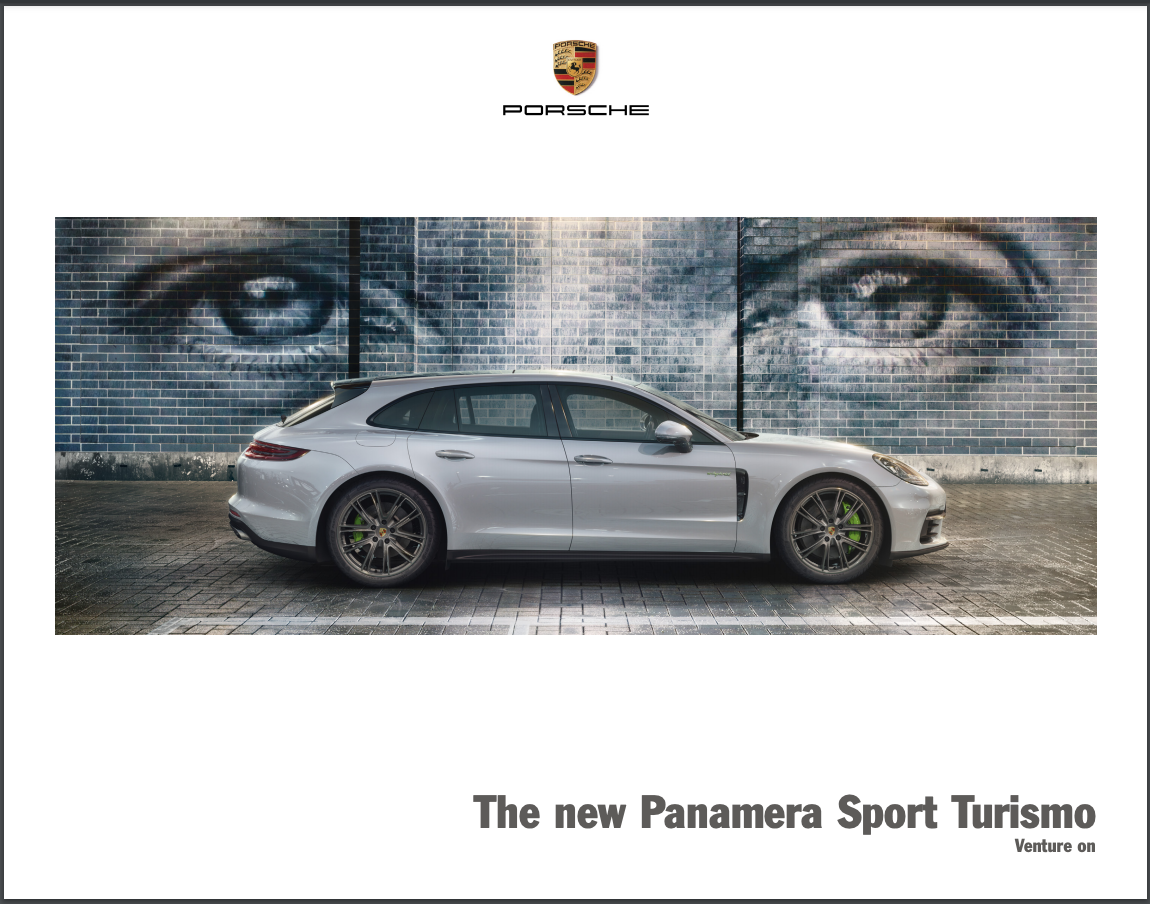 2018 Porsche Panamera Sales Brochure
The new Sport Turismo models precisely encapsulate the Panamera principle: performance and comfort are not contradictory notions, but a single entity. Neither are dynamics and efficiency – our engineers strive to enhance both in equal measure. In Sport Turismo form, the new Panamera goes one step further, not only in terms of design. In unrivalled style, it manages to strike a dynamic balance between career, family, leisure time and driving pleasure. 4+1 seating concept. Generous head- and legroom. Substantial load capacity – for presentation folders, for the carbon-fibre race bike, for your travel luggage. Or for that meeting with a special VIP: you…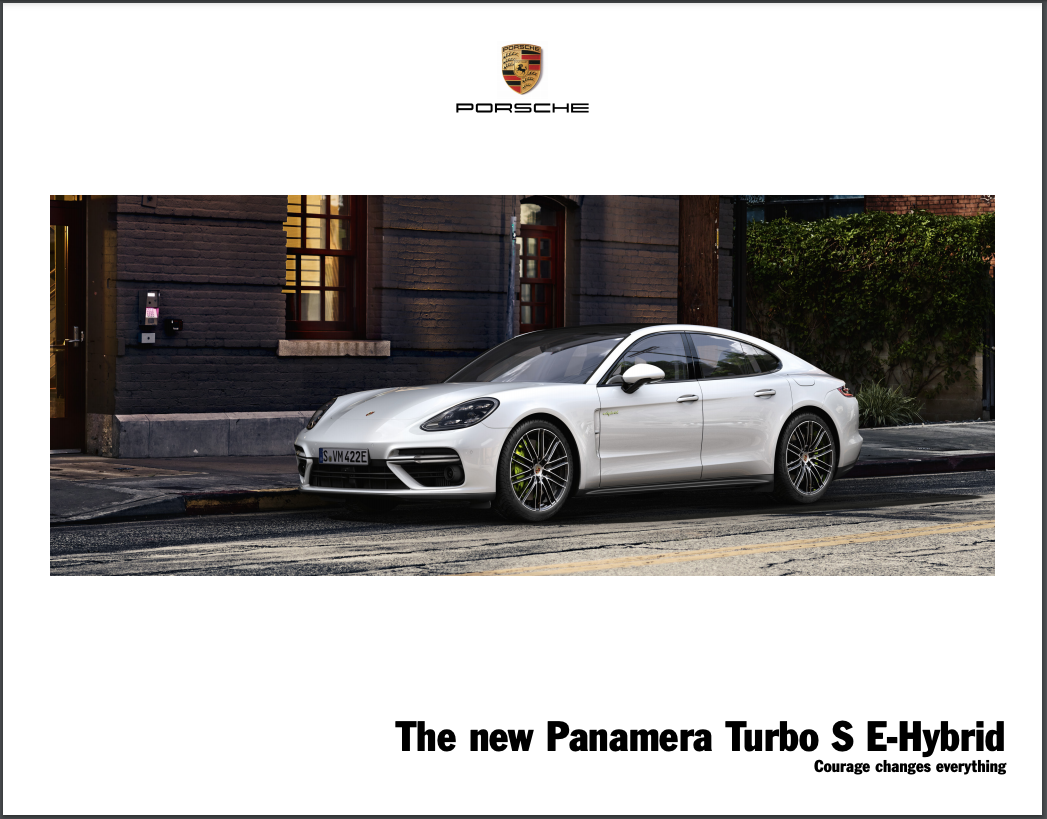 2017 Porsche Panamera 971 Turbo S E-Hybrid Sales Brochure
The Panamera Turbo S E-Hybrid accelerates from 0–62 mph in 3.4 seconds and breaks barriers to a new dimension with a maximum total system power output of 500 kW (680 hp) and a top speed of 192 mph. Meanwhile, the Panamera Turbo S E-Hybrid Executive offers the freedom to flourish: extra legroom and greater comfort in the rear compartment. Business class in fact – on the way to the airport or a meeting.
Porsche Panamera E Performance Range Sales Brochure
The sales brochure covers the full range of Porsche E-Performance cars. This includes the Panamera 4 E-Hybrid, Panamera 4 E-Hybrid Sport Turismo, Panamera 4 E-Hybrid Executive, Panamera Turbo S E-Hybrid, Panamera Turbo S E-Hybrid Executive and Cayenne 958.2 S E-Hybrid. The hybrid drive is formed by the optimum combination of combustion engine and electric machine. As soon as it presses you hard back against the driver's seat, you will feel what Porsche E-Performance means. For your everyday life. For your driving feel. For the future of the sports car…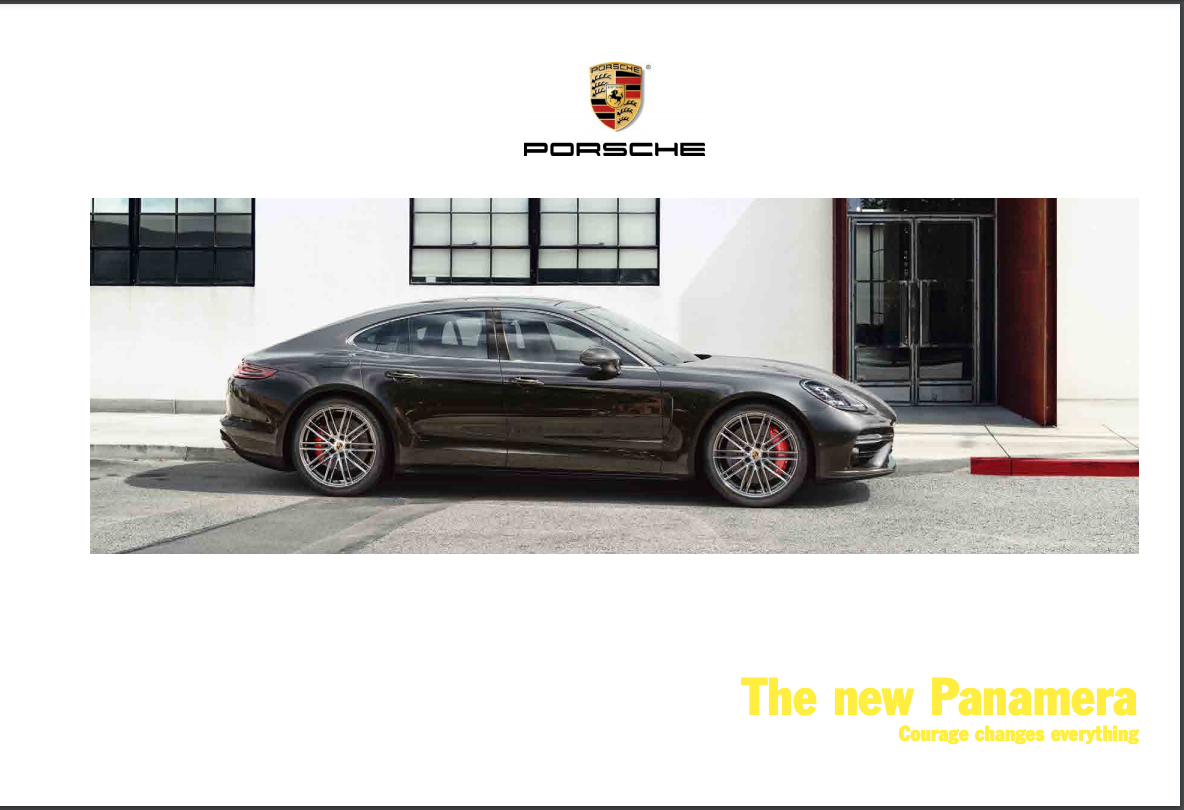 2017 Porsche Panamera v3 Sales Brochure
You have to fight for a big dream. And bold vision. The next victory? Rarely will it simply fall into your lap. Often though, there are innate factors you must fight against: resistance, conventions, and rigid patterns of thinking.
Whatever your dream is, nothing is achieved without passion, grit, and determination. Dr. Ferry Porsche gave his all to create the sports car of his dreams. His dream came true. Not because he hesitated, dwelled, or got lucky. It was because he went the extra mile…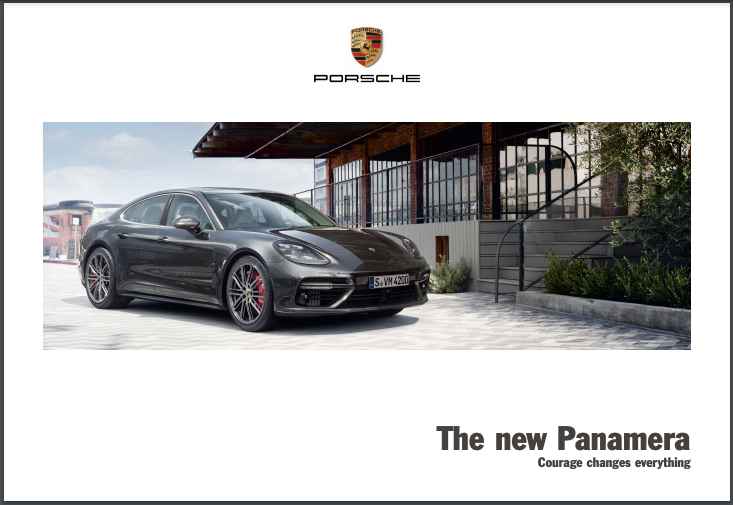 2017 Porsche Panamera v2 Sales Brochure
A few years ago, everything to do with the saloon suddenly changed. Large, cumbersome and thickly padded instantly seemed outmoded qualities. On the road, something happened – something rather fast and dynamic: a sports car came along. A sports car with four seats, an unmistakable silhouette and performance figures normally associated only with a Porsche. The Panamera. It changed everything. For drivers of saloons first and foremost. Sporting spirit – in business and in personal life – found its automotive counterpart. The courage to perform found a matching performer…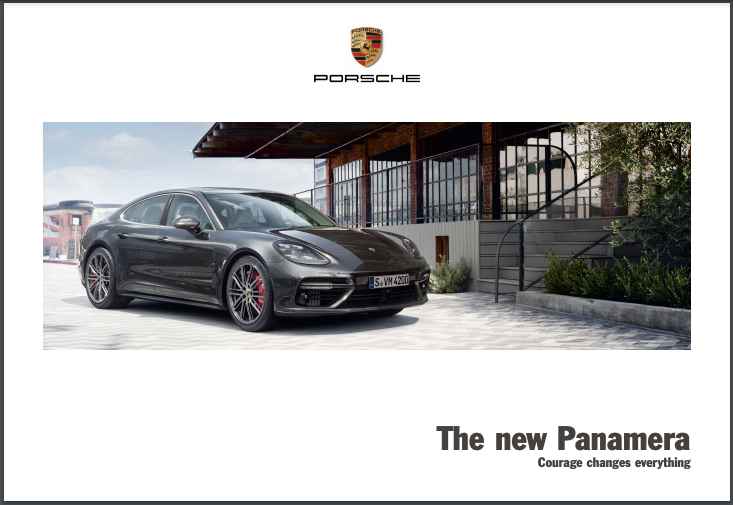 2017 Porsche Panamera v1 Sales Brochure
Founding a company. Not simply continuing down the chosen path, but forever reinventing oneself along the way.
Doing things differently from others. All this takes courage. Courage that breaks with conventions, draws a clear line, and creates the future. In Los Angeles, London, Berlin, Singapore – and in Zuffenhausen. Without courage, nothing would be different from yesterday. Porsche would not be Porsche. And you would not be you…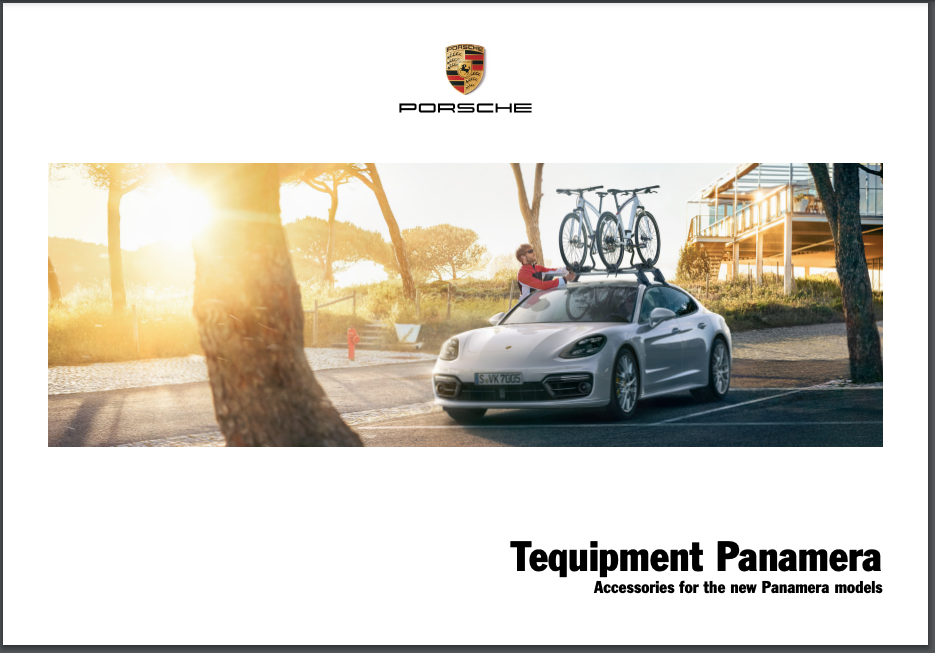 2017 Porsche Panamera 971 Tequipment Brochure
After sales equipment incl. SportDesign package, sideskirts, wheels, tinted lamps, rear seat entertainment system, luggage, cool box, roof rack, bike holder, different roof boxes, rear-mounted bike carrier, baby and junior seats, car cover, electric charging pedestal, dock, cable etc.