Porsche Macan Sales Brochures
We found quite a few Porsche sales brochures for the Macan.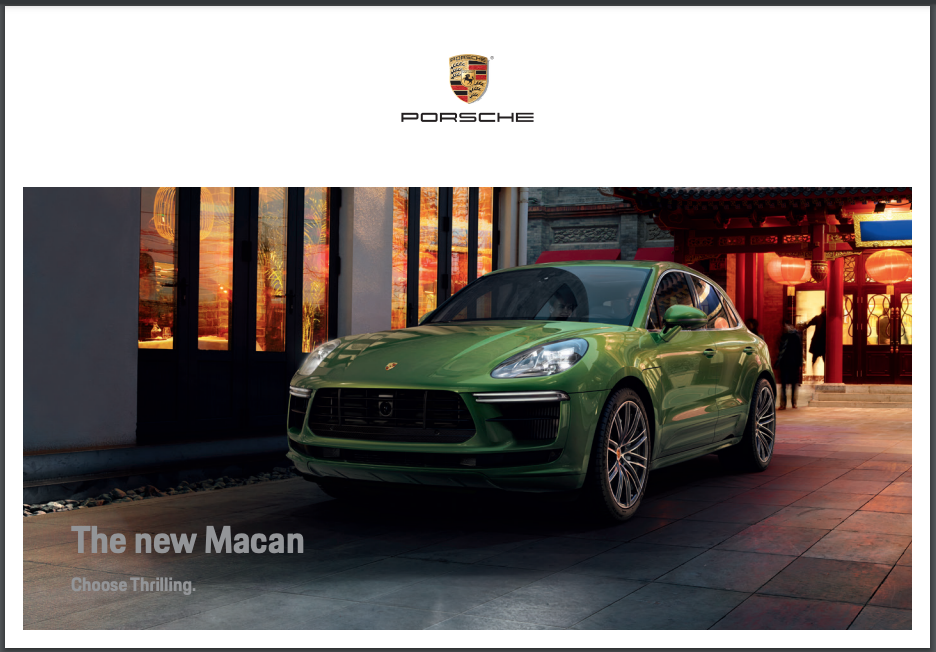 2022 Porsche Macan Sales Brochure
You have to fight for a big dream. And a bold vision. The next victory? Rarely will it simply fall into your
lap. Often though, there are innate factors you must fight against: resistance, conventions, and rigid patterns of thinking. Whatever your dream is, nothing is achieved without passion, grit, and determination. Dr. Ferry Porsche gave his all to create the sports car of his dreams. His dream came true. Not because he hesitated, dwelled, or got lucky, but because he went the extra mile. This attitude is in every Porsche we've created since 1948. It's there in the smallest part and in every race we've won…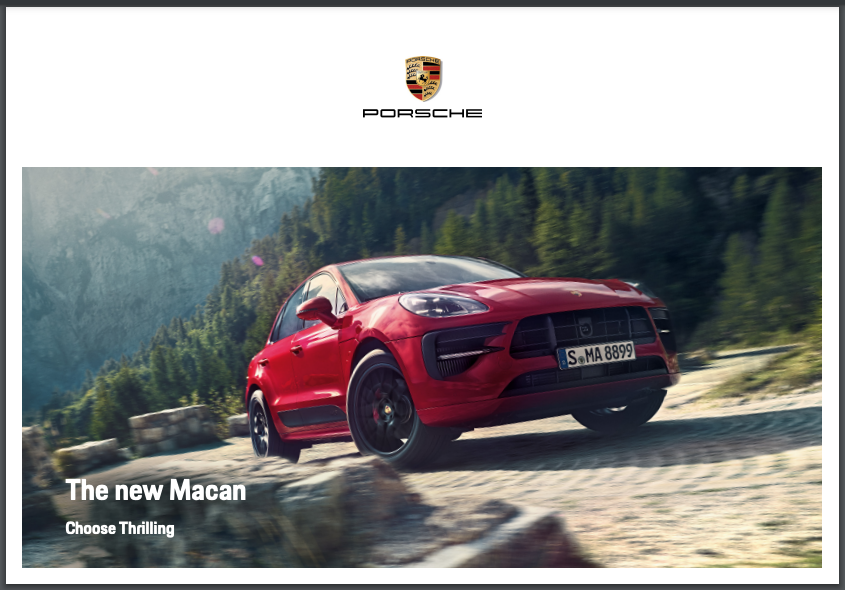 2021 Porsche Macan Sales Brochure
The 2.9-liter twin-turbo V6 engine in the Macan Turbo and Macan GTS. Producing 434 hp, the 2.9-liter twin-turbo V6 engine in the Macan Turbo proves to be extremely powerful. It accelerates to 60 mph in just
4.3/4.1 seconds¹⁾. Top track speed is 167 mph. Maximum torque of 405 lb.ft. is achieved at 1,800–5,600 rpm. The lightweight design not only delivers improved performance. But also reduces emission values. VarioCam Plus ensures improved efficiency and performance: a system that adjusts  the camshafts and valve lift. The Macan GTS transfers 375 hp to the road. Top track speed: 162 mph. Acceleration from 0 to 60 mph takes just a sporty 4.7/4.5 seconds¹⁾. Its maximum torque is 383 lb.ft.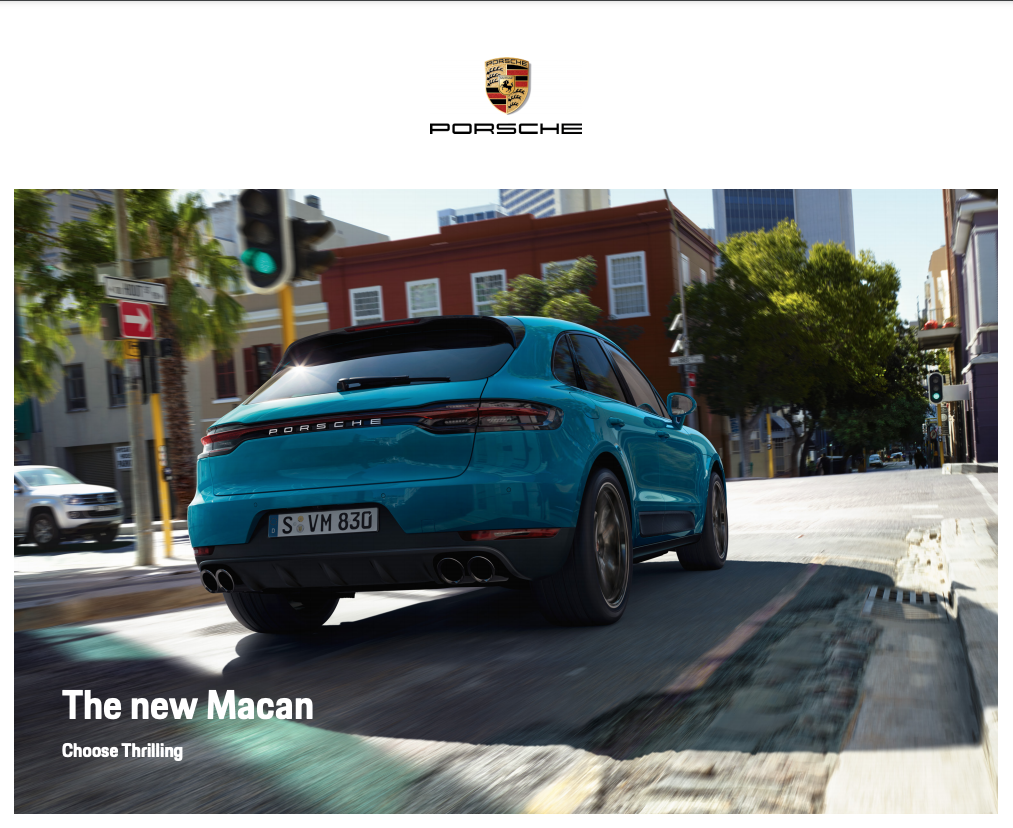 2019 Porsche Macan Sales Brochure
We are constantly on tour. Because our life is a live concert. We immediately take to the stage. And make the air crackle. Our pulse sets the beat. Then the performance starts. The first chord shakes our world. We experience the sound with every fibre of our body, swept along into a torrent of possibilities. Mainstream has never been our thing. We prefer to remain unconventional. And feel alive. We never compromise. We always make our own decisions. More adventure. More life. More thrills. And even more acceleration…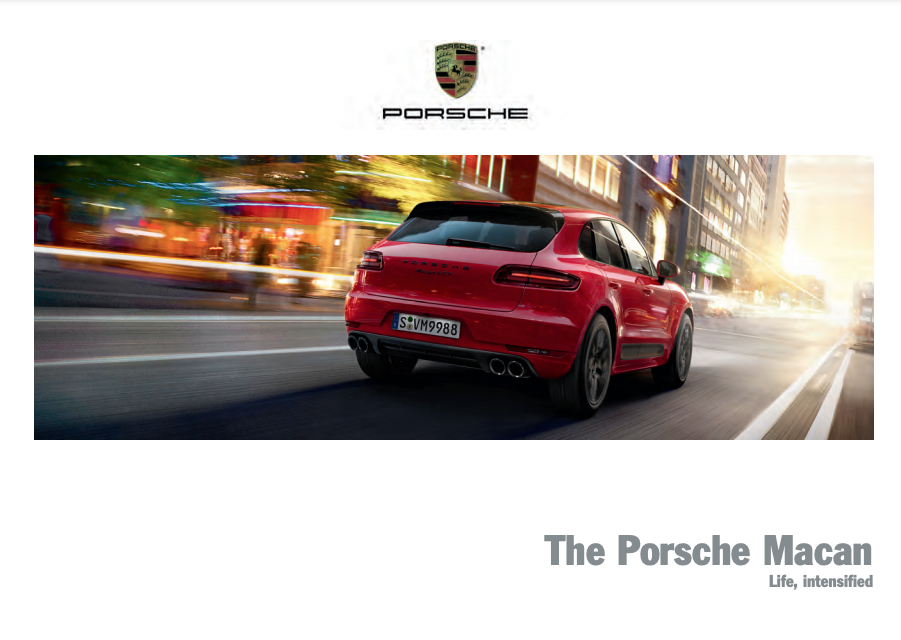 2017 Porsche Macan Sales Brochure V2
Those who prefer to blaze a trail of their own don't need to follow the lead of others. We're thinking specifically about cars known as compact SUVs, characterized by five doors, five seats, all-wheel drive— and, of course, a higher sitting position. But aren't they lacking a certain something? Something that adds a little life, lets us enjoy a more intimate relationship with the road and delivers great driving pleasure. A concept that boasts plenty of space for hobbies, leisure and sport. But no room for compromise. Compact, concentrated and intensive, but still powerful. Practical, but never ordinary…

2017 Porsche Macan v1 Sales Brochure
What makes a Porsche a Porsche? The fact that it is instantly recognizable, some would answer. Others might say it's the face that stands out from the crowd. Our engineers would say that it's the Porsche DNA. It's what gives every Porsche its own unmistakable character, and makes the Macan what it is, too. An extraordinary sports car. That's also proven by the most recent addition to the family: the new 4C Macan. This latest model lines up on the starting grid looking muscular, sharp and imposing. Bi-Xenon™ headlights in black and tinted LED taillights catch the eye, attracting every gaze. And the Sport exhaust system catches the ear, emitting a particularly intense and resonant sound…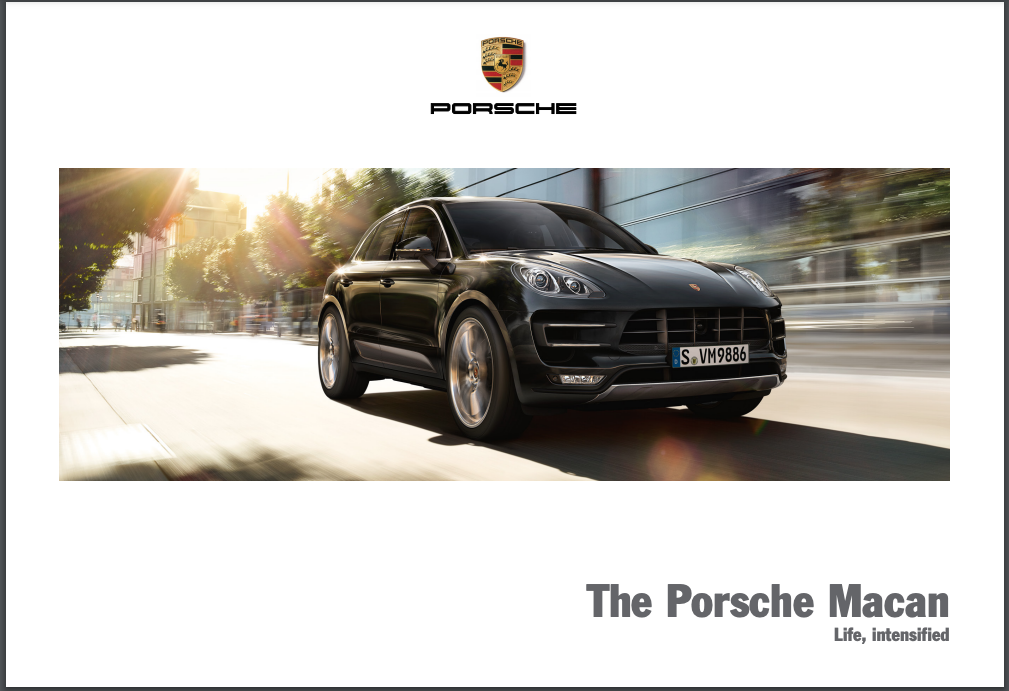 2016 Porsche Macan Sales Brochure
Must intensity really have any limits? In the areas of design, performance and exclusivity, we have at the very least
redefined them. The distinctly muscular front apron, with the side airblades of the conspicuously large cooling air intakes, is found nowhere else but on the Macan Turbo. It's a visual promise of thrilling performance. Bi-Xenon headlights with dynamic cornering lights provide optimum illumination of the road – and therefore a high level of safety. These are supplemented by the extraordinary four-spot LED daytime running lights. The Macan Turbo also stands out thanks to its front spoiler lip, the design of which is based on that of the 918 Spyder. The direction indicators and position….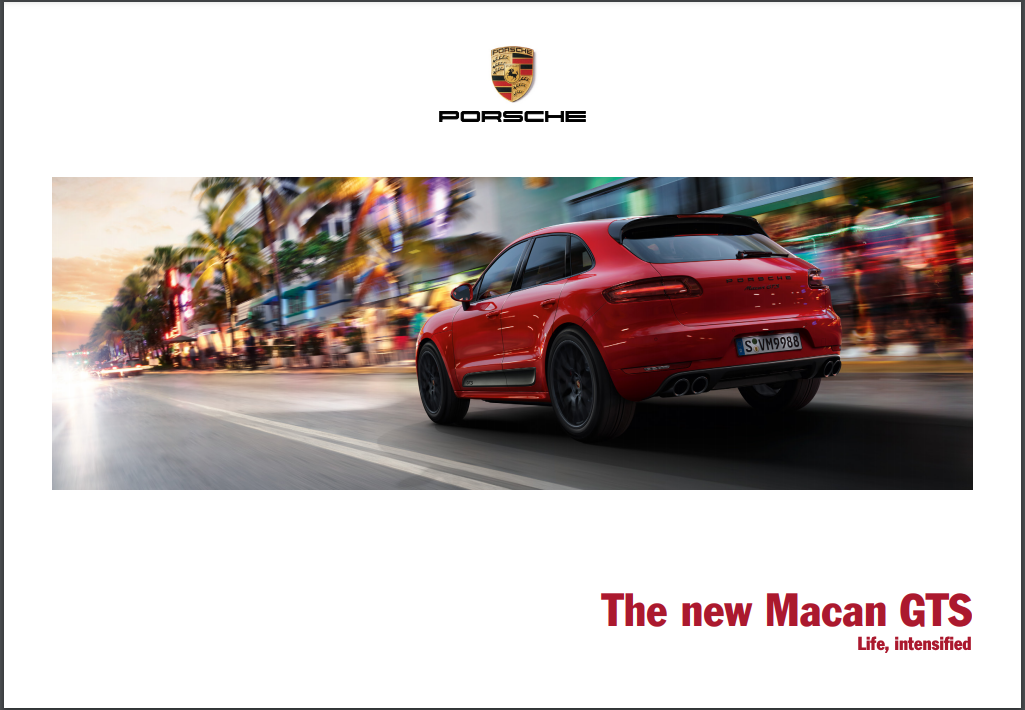 2016 Porsche Macan GTS V2  Sales Brochure
There's no freewheeling in life. It drives us to new things every day. Not going from A to B, but to the limit. To take it all in. And set yourself the challenge – 24 hours of each and every new day. 1As sports car manufacturers, we have this attitude in our blood. And we never stand still. We have driven the new Macan GTS in numerous tests on the race track so that in everyday life you can experience a new form of high performance. We have made it sharper to generate more…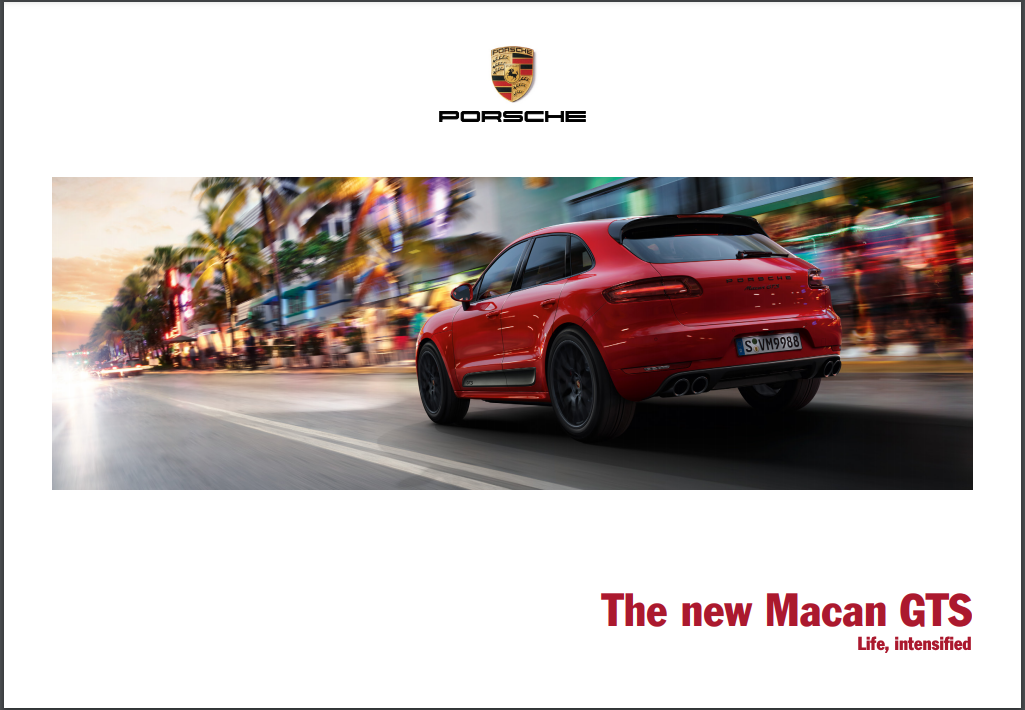 2016 Porsche Macan GTS v1 Sales Brochure
Only a few adventures are unforgettable. Only a few experiences get under your skin. Only a few events carry you away. Only a few corners are legendary. Only a few designs stay in your head. Only a few sports cars deserve three letters. The new Macan GTS. Life, intensified….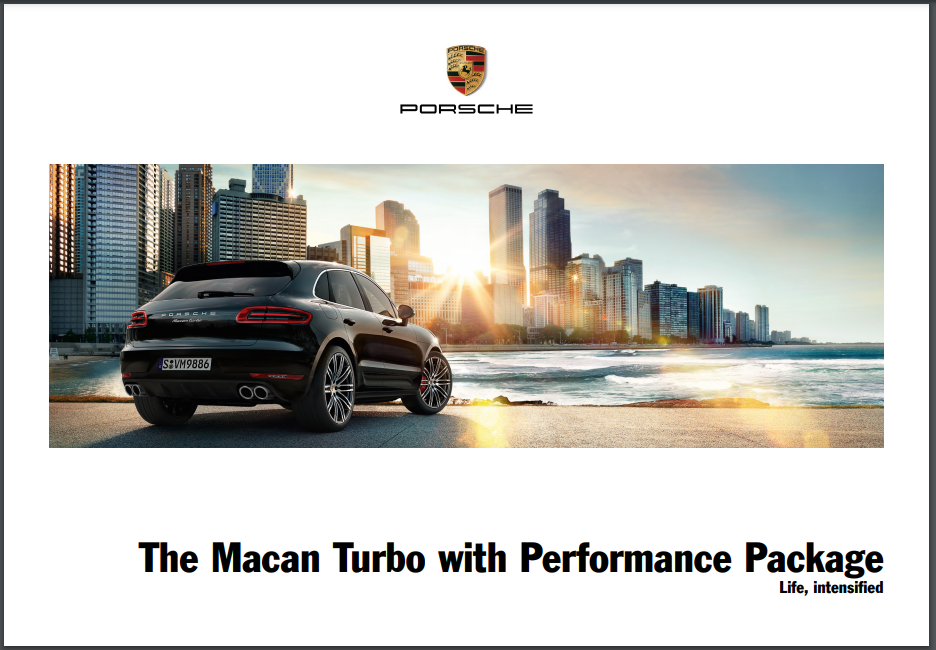 2016 Porsche Macan Turbo Sales Brochure
All your senses instantly ignite. Especially when the key turns. The Macan Turbo with Performance Package. 100% is not enough. At least when building a Porsche. This is what repeatedly drives us. And spurs us on to greater things. The most recent being the Macan Turbo with Performance Package…
2015 Porsche Macan Sales Brochure
There are those who understand that power is derived from precision. That acceleration is a form of relaxation. And satisfaction is found around every corner. No question. This is who we created the new Macan for. For the passionate, the driven. After all, life is not a spectator sport….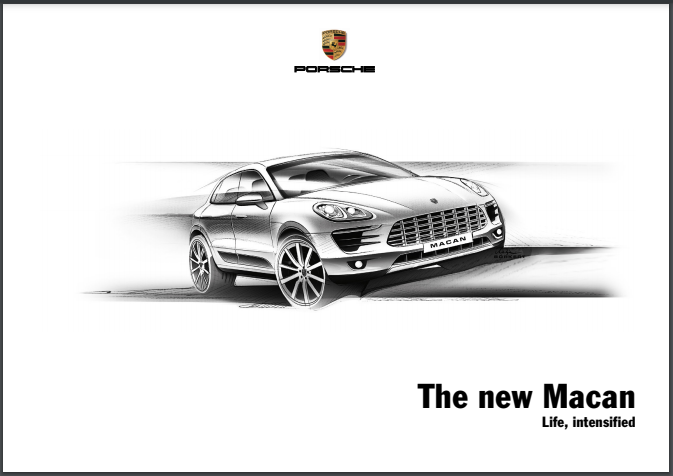 2014 Porsche Macan Sales Brochure