The Carrera GT, often hailed as one of the greatest supercars ever created, made its debut as a concept car at the 2000 Paris Motor Show. It boasted a V10 engine derived from a Le Mans prototype race car design. Production of the Carrera GT started in 2004 at Porsche's Leipzig manufacturing facility and concluded in May 2006, with a total production of around 1,270 units.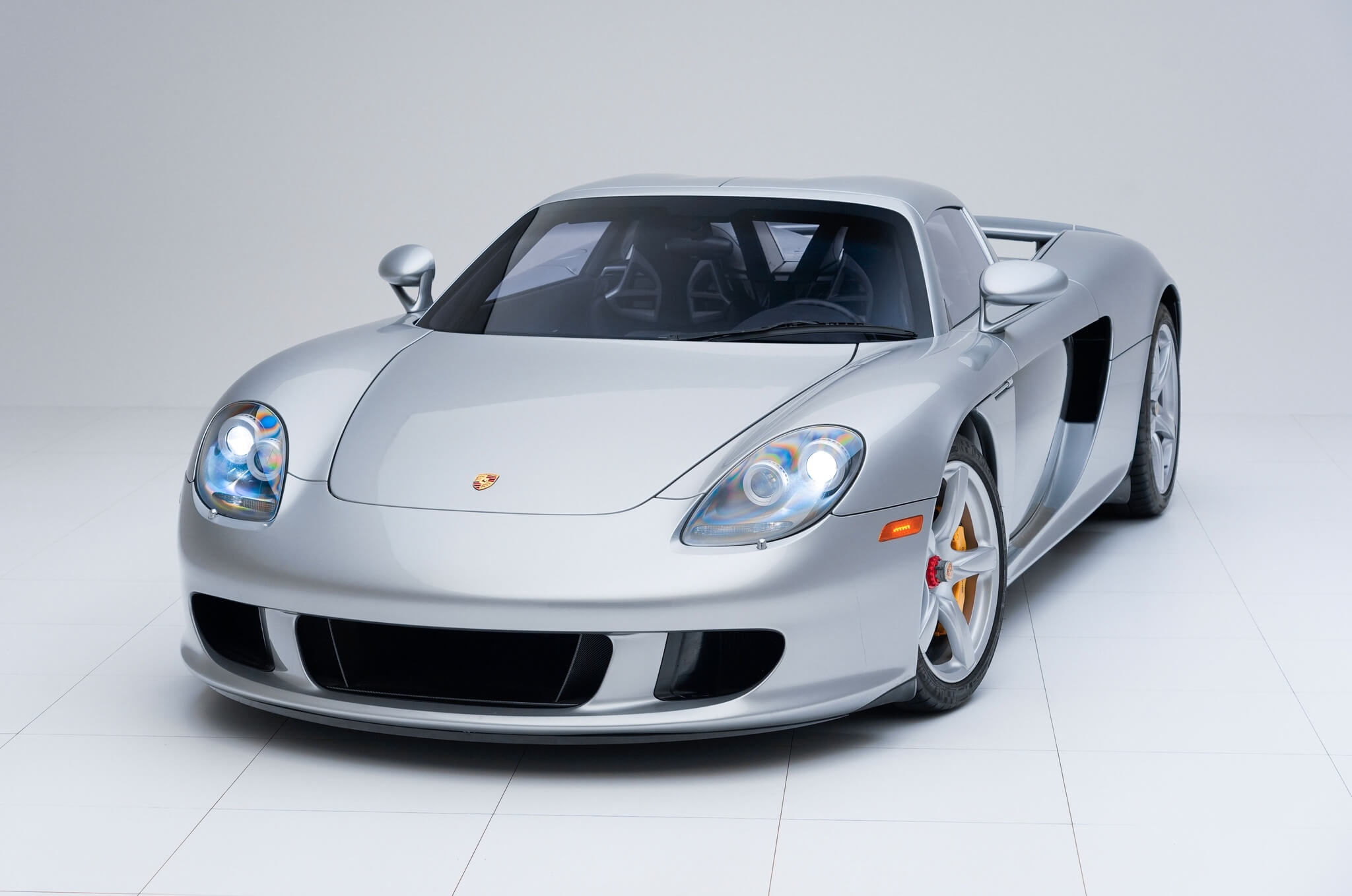 One of these remarkable vehicles is now available for auction on PCARMARKET. This particular model is one of the 644 units sold in the United States and is presented in the striking GT Silver Metallic finish. Its carbon fiber bodywork is expertly fitted over an advanced carbon fiber reinforced plastic (CFRP) monocoque chassis crafted by ATR Group of Italy. Notable features include a two-piece removable roof panel, prominent side air intakes, flush-fitting door handles, an electronically operated rear spoiler, and a carbon-fiber engine cover adorned with NACA air ducts and dual silver mesh grilles. It is equipped with yellow-painted brake calipers behind factory 19"/20" forged magnesium center-lock wheels.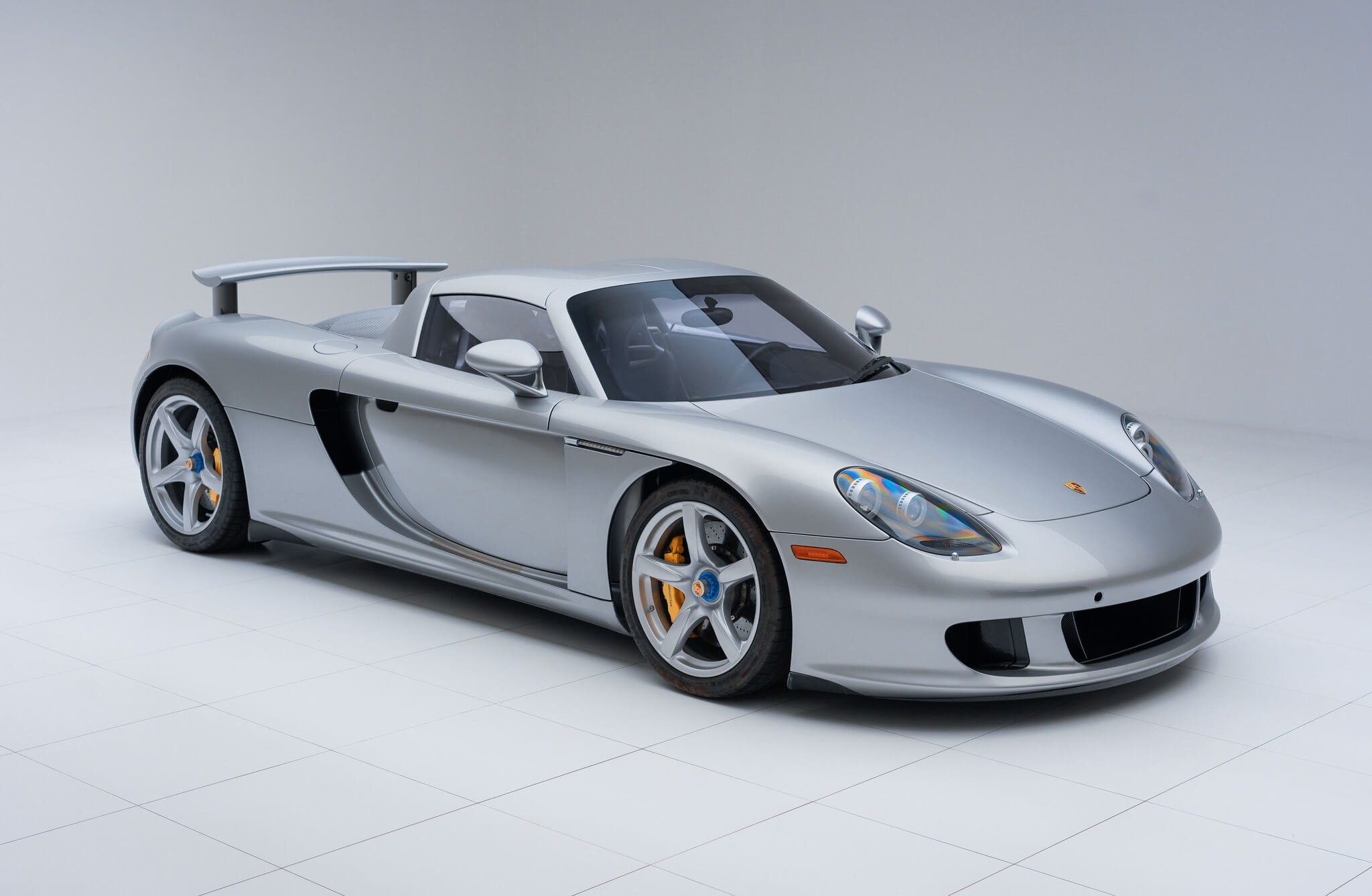 Inside the cabin, you'll find an interior appointed with Dark Grey leather, complemented by magnesium, carbon fiber, and aluminum accents. The cabin showcases racing-style XT bucket seats featuring carbon-Kevlar shells, along with a laminated beechwood shift knob paying homage to the iconic Porsche 917 race car. Standard equipment includes air conditioning, power-adjustable and heated side mirrors, and a Porsche Online Pro stereo system. The three-spoke leather steering wheel sits ahead of a central 10k-RPM tachometer flanked by a 220 MPH speedometer and various gauges for monitoring coolant temperature, fuel level, oil temperature, and oil pressure.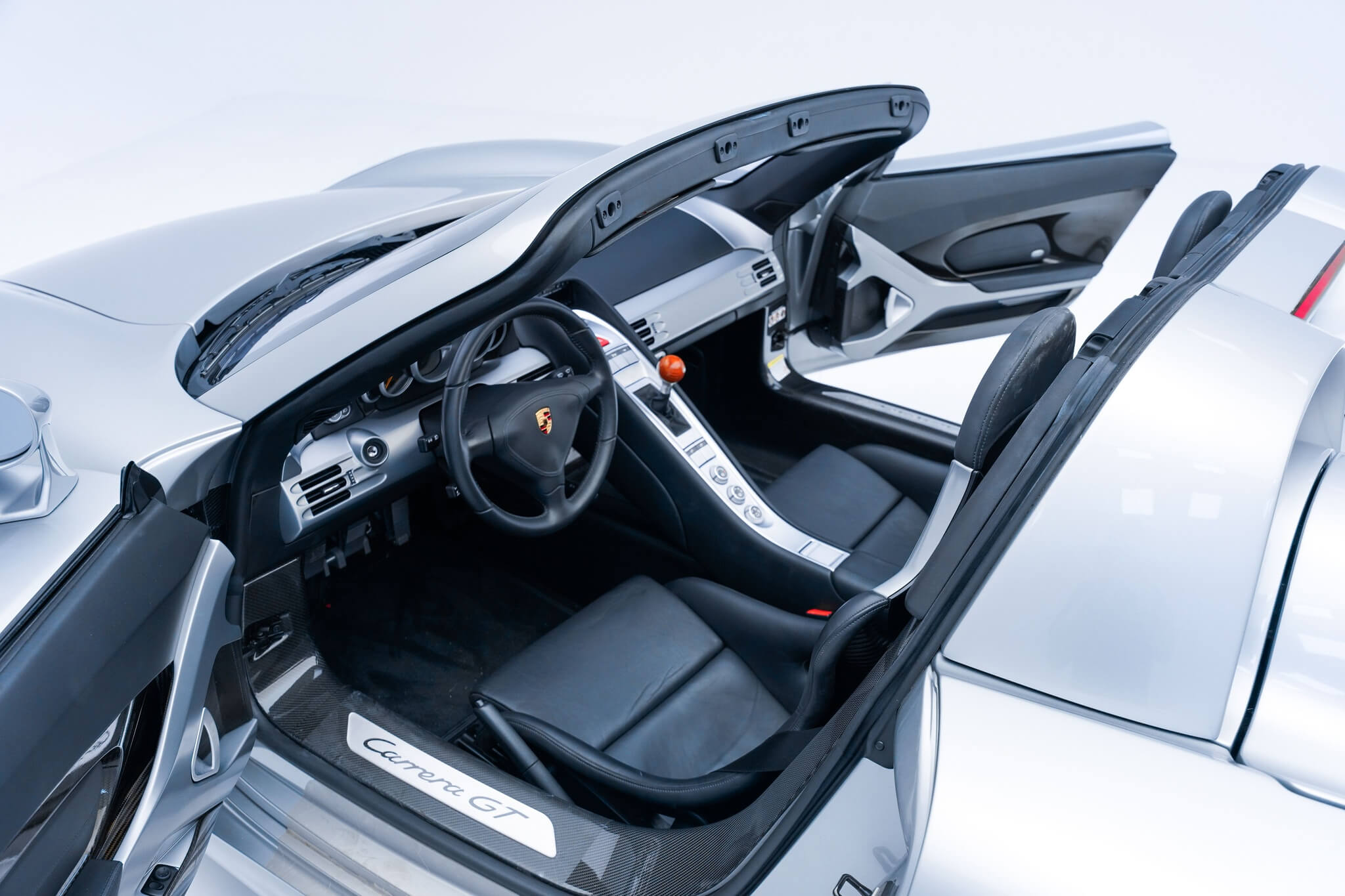 The Carrera GT is propelled by an engine derived from a confidential project initiated by the Footwork Formula One racing team back in 1992. This high-revving 5.7-liter V10 powerplant delivers a staggering 600+ HP and incorporates Nikasil-coated cylinders, forged titanium connecting rods, forged pistons, dry-sump lubrication, and dual overhead camshafts with variable intake timing. The power is efficiently channeled to the rear wheels through a 6-speed manual transmission with a specialized twin-plate Porsche Ceramic Composite Clutch (PCCC).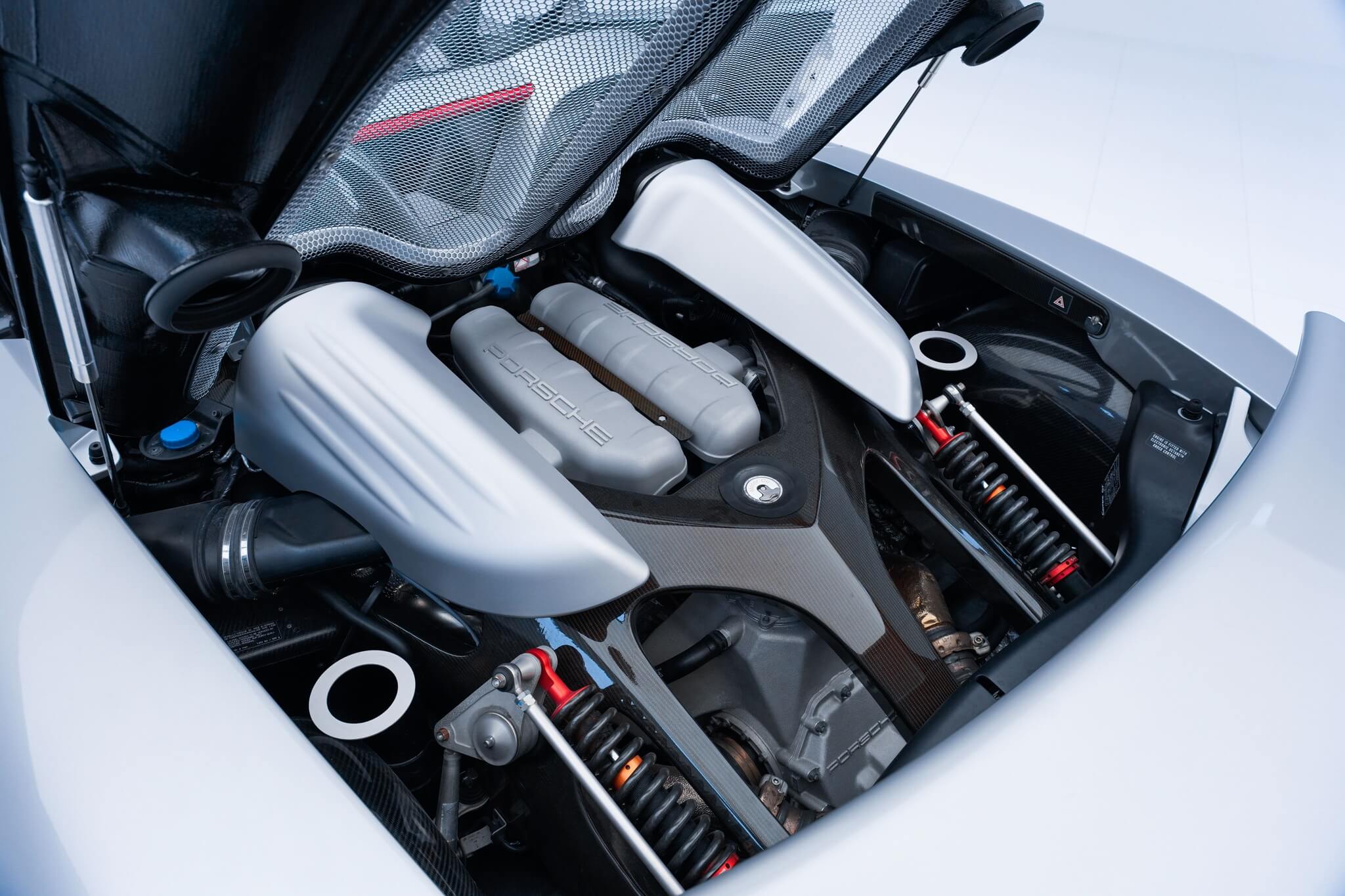 The suspension system comprises unequal-length control arms equipped with horizontally mounted pushrod-actuated shock absorbers and anti-roll bars. Braking performance is harnessed by Porsche's Carbon fiber-reinforced Silicon Carbide (C/SiC) ceramic composite braking system, featuring 15" SGL Carbon discs. Official figures from Porsche indicate a 0-62 MPH acceleration time of 3.9 seconds and an impressive top speed of 205 MPH.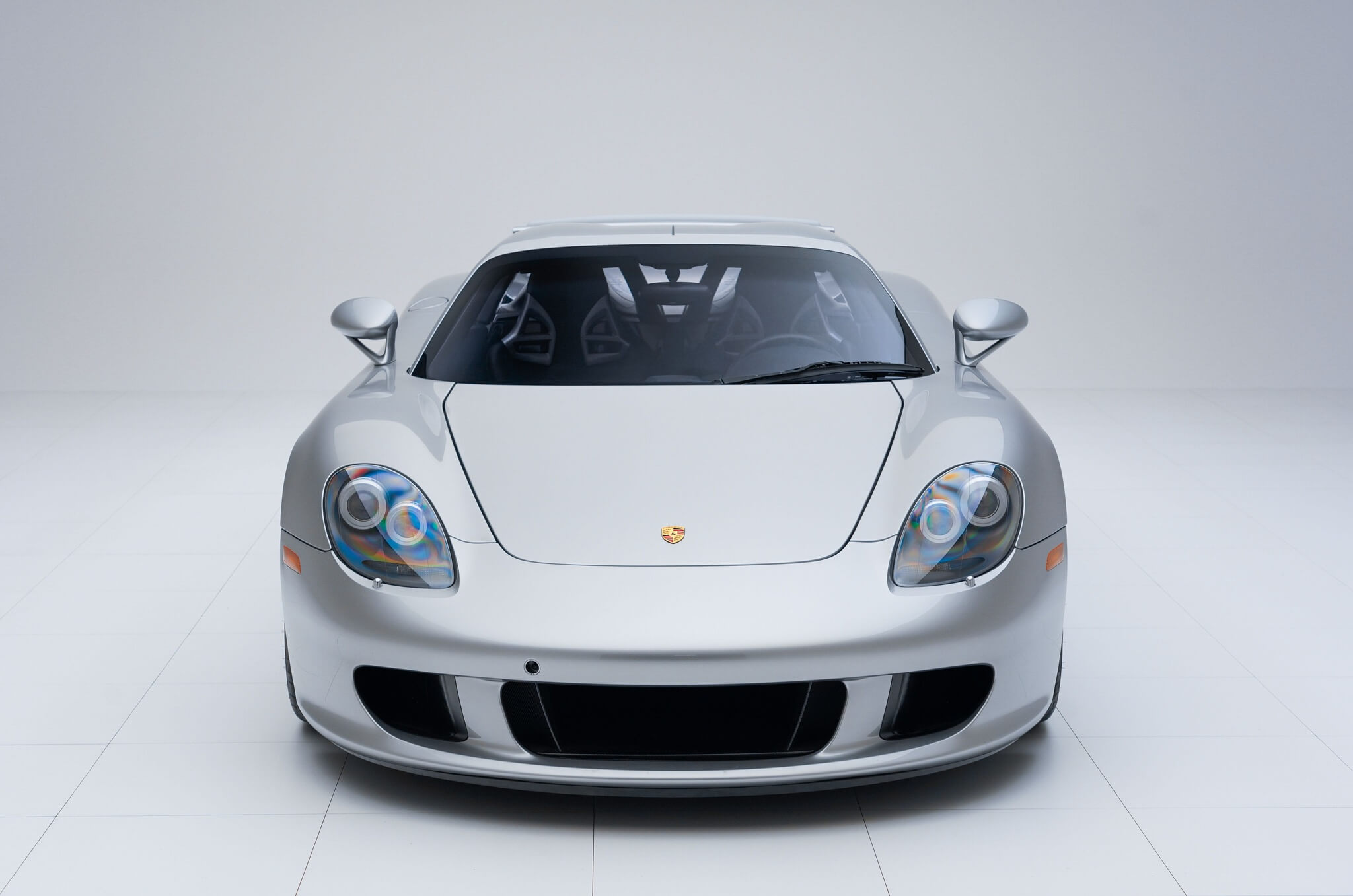 This Porsche Carrera GT is outstanding example of Porsche's renowned V10 supercar. It comes with less than 4,000 miles on the odometer, offering a fantastic opportunity for Porsche enthusiasts who seek a car ready to be driven as intended.
Source: PCARMARKET