In a life that feels like ages ago, but was really only a handful of years, I reviewed watches. As the former-founder of Watches You Can Afford, a niche watch blog focused on sub-$1,500 wristwatches, I got my wrists into more than 200 timepieces in the six years I owned and managed WYCA.
At one point, my collection ballooned to over 70 timepieces before a few years of careful divestment left me with just 38. Just.
So, it's with a small sense of nostalgia that I find myself penning this review.
Ferro & Company, a niche watch brand based in Vancouver, Canada, connected with me a few months ago asking if the StuttCars audience would be interested in a very-Porsche-inspired timepiece, and now having had said timepiece on my wrist for the past two months, I can say with confidence that "yes indeed, I think they'll enjoy this watch very much."
Ferro gave me my pick of the litter regarding which timepiece to photograph, and I opted for the single-handed Distinct 3, clad in Gulf livery.
Available in your choice of automatic or quartz, as well as with various complications and dial arrangements, the single-handed version is the one that I think best captures the understated beauty of the iconic Porsche 917's that famously rocked this livery (like the 917K-69).
If you're looking for an affordable themed timepiece to add to your collection or gift to a friend or family member, this handsome model will surely capture your eye. It has mine.
Words & Photography: Cameron Martel
Disclosure: Ferro & Company sent me this Distinct 3 GLF at no charge so I could photograph and review it.
Ferro & Company Distinct 3 GLF Specifications
MSRP:

$685 USD

Where to Buy:

FerroWatches.com

Warranty:

2-year

Movement:

Automatic, Seiko NH35A

Diameter:

42 mm

Crystal:

Domed Sapphire

Water Resistance:

100 meters / 330 feet

Colorways:

26 colorways total

Complications: None for this colorway; chronographs, date display, and small seconds complications available
Getting a Good Look of This Race-Inspired 24-Hour Watch
Tucked away neatly inside its wooden box, the Distinct 3 GLF wastes no time in making a strong first impression. The dial is largely uncluttered, save for the brand and watch name at the 6 o'clock marker, allowing the Gulf livery to stand out.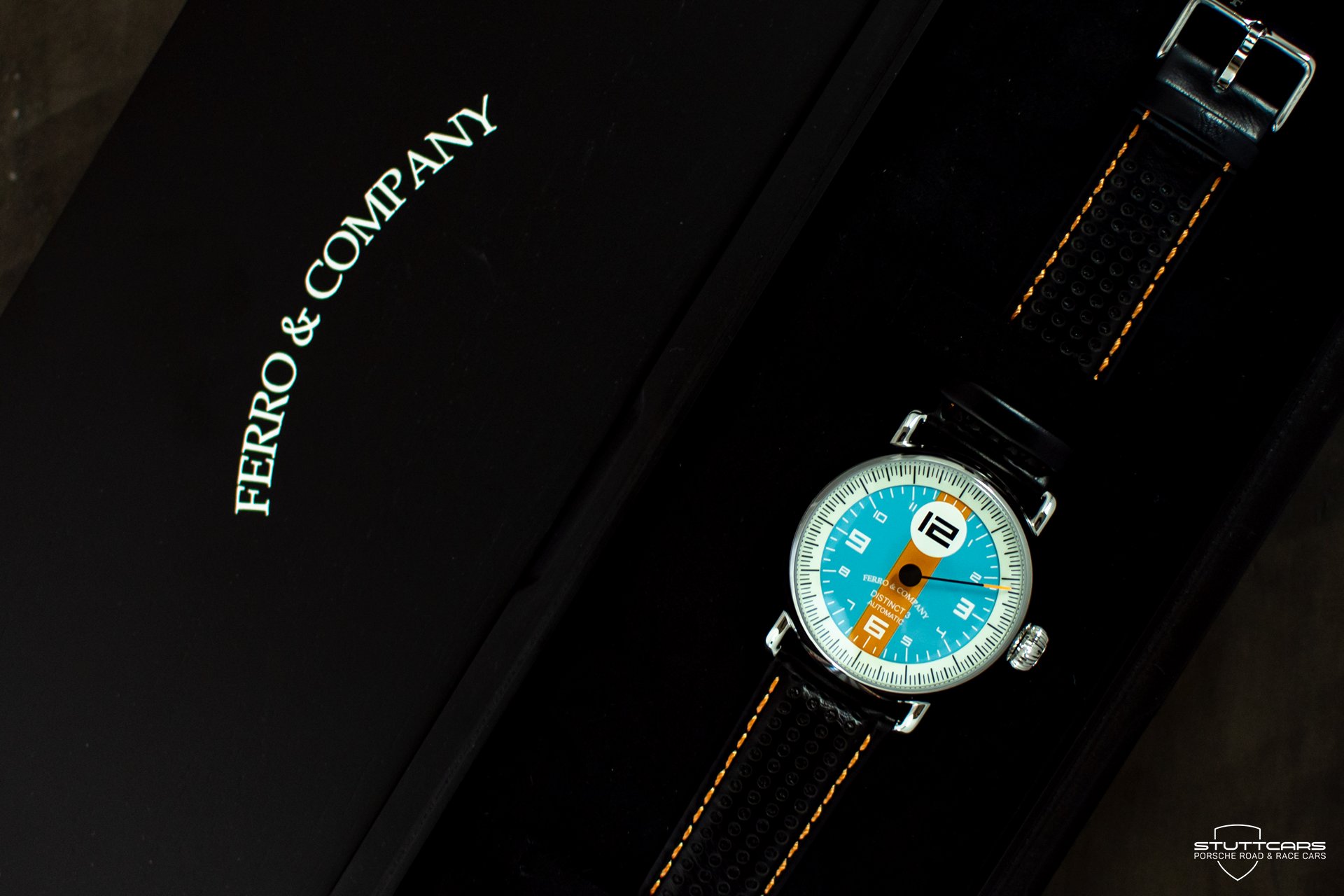 The big and bold 12 o'clock marker draws the eye, and the gulf livery will certainly keep it for a second or two. I like that the key hours – 3, 6, 9, and 12 o'clock – are oversized compared to the rest, again serving as a natural focal point. Considering how you're intended to read time on this watch, having something to grab your eye at a glance quickly is important.
I also like the all-white outer ring, which helps sell the tachometer-inspired design. However, I find the orange-tipped hand more difficult to see against the white ring than I do the rest of the blue dial.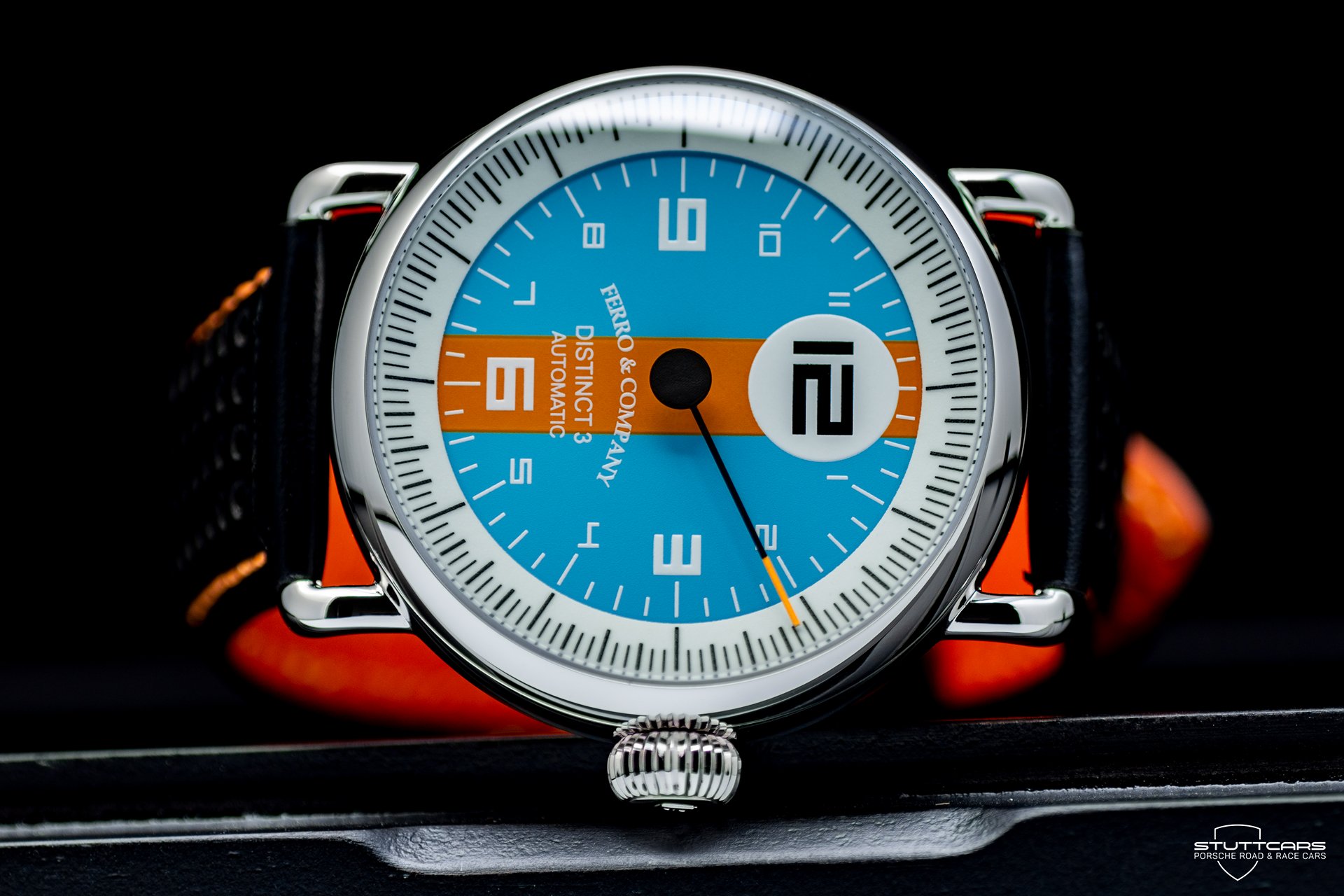 Something that you won't notice until the lights go out, but will absolutely appreciate in those moments of darkness, is how tastefully and intelligently Ferro & Company has made use of lume on this dial. It is an excellent design and visibility choice.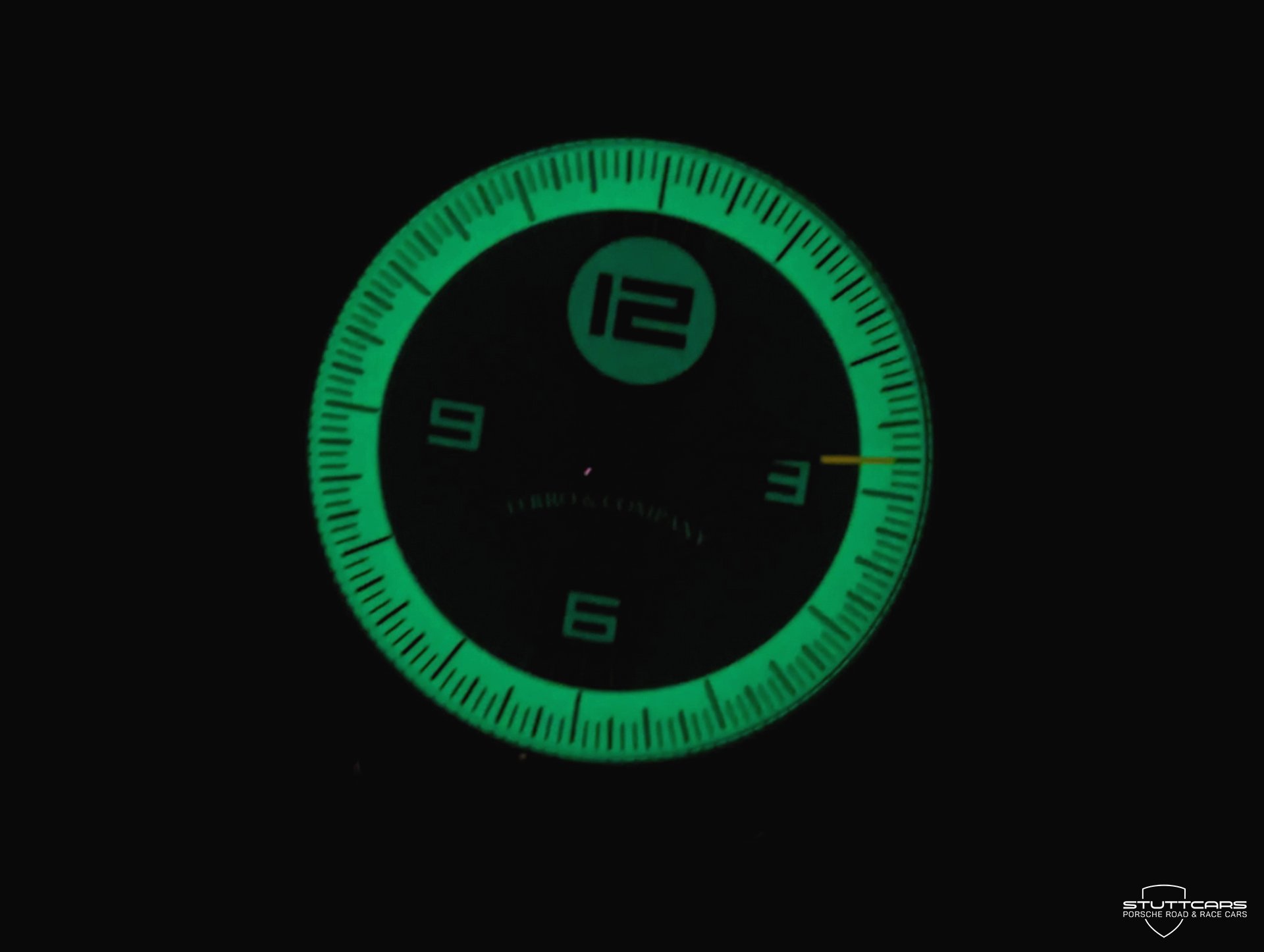 I appreciate how the indices are contrasted, and how the 12 o'clock marker is cut out of the lume. It's the little things like this that excite me about watches. Ferro, I applaud you: Not only have you made this watch easy to see at night, but in doing so, you've made it look spectacular during moments that many watch designers would not think to consider.
Even the logo is lume, and you can clearly see the orange-tipped hand against the outer ring. I love it.
Case & Crystal
The case has also been given some thought, as like the organic shape of the venerable 917, the Distinct 3 is made up of flowing curves and rounded surfaces.
Likewise, the domed sapphire crystal is tastefully rounded off, leading to attractive views of the dial from every angle. As with effectively every other watch using a domed crystal, you'll get a bit of glare in the sun or in direct light.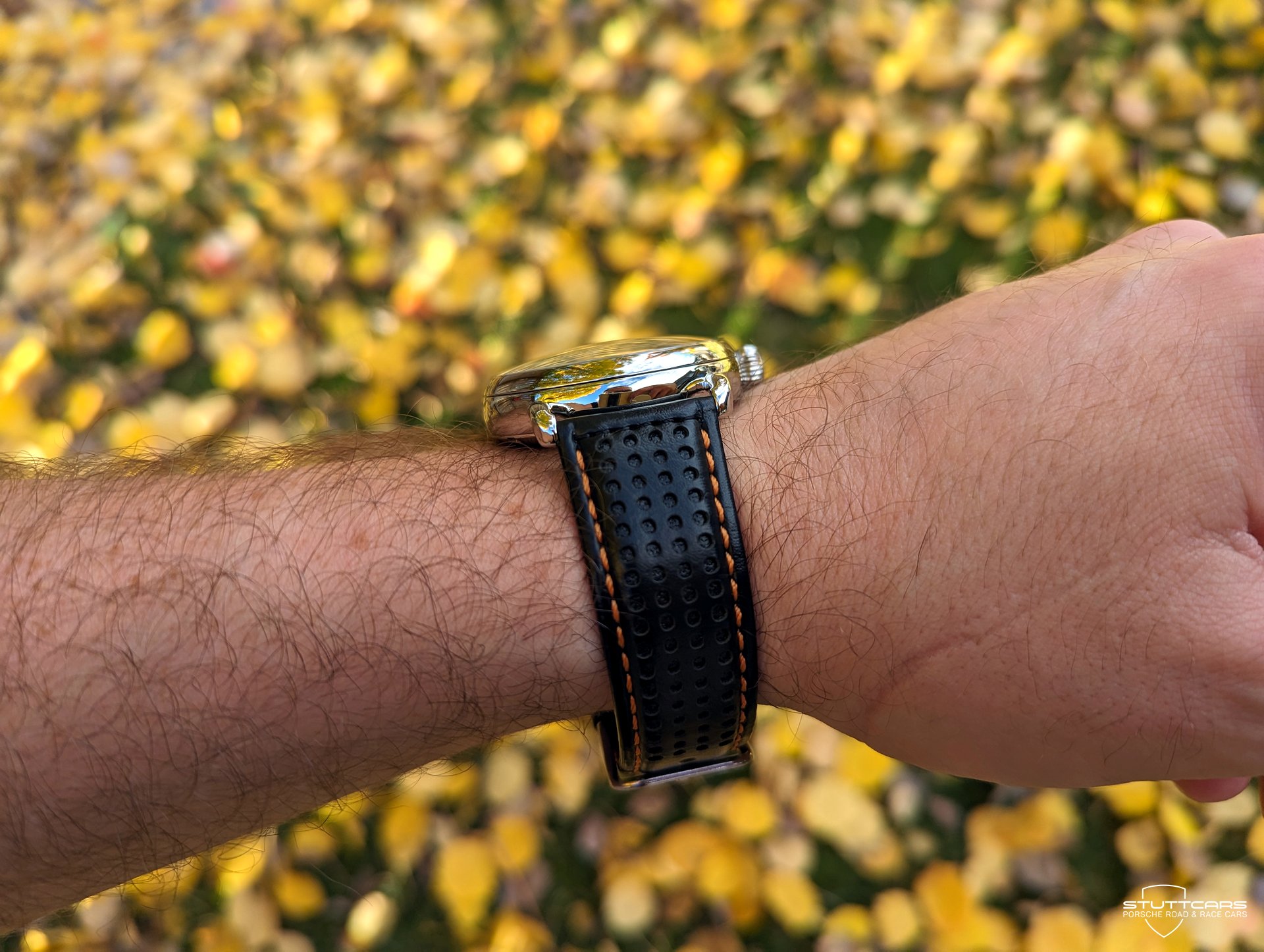 My only complaint – if this qualifies as one – is that the watch is sized at 42 mm, which makes it a touch too big for my diminutive wrists. I'd have loved to have seen this piece in a 40 mm diameter, which makes it more accessible (and more size appropriate for women, too). 
I understand that the larger case size helps legibility, but damn it, we wimpy-wristed people need tastefully sized watches too!
But if your wrists aren't tiny, you won't complain about the size; in fact, if your wrists aren't tiny, you probably prefer 42 mm.
Caseback & Movement
Turn the Distinct 3 over and you're treated to a large exhibition caseback, with an unobstructed view of the Seiko NH35A automatic movement.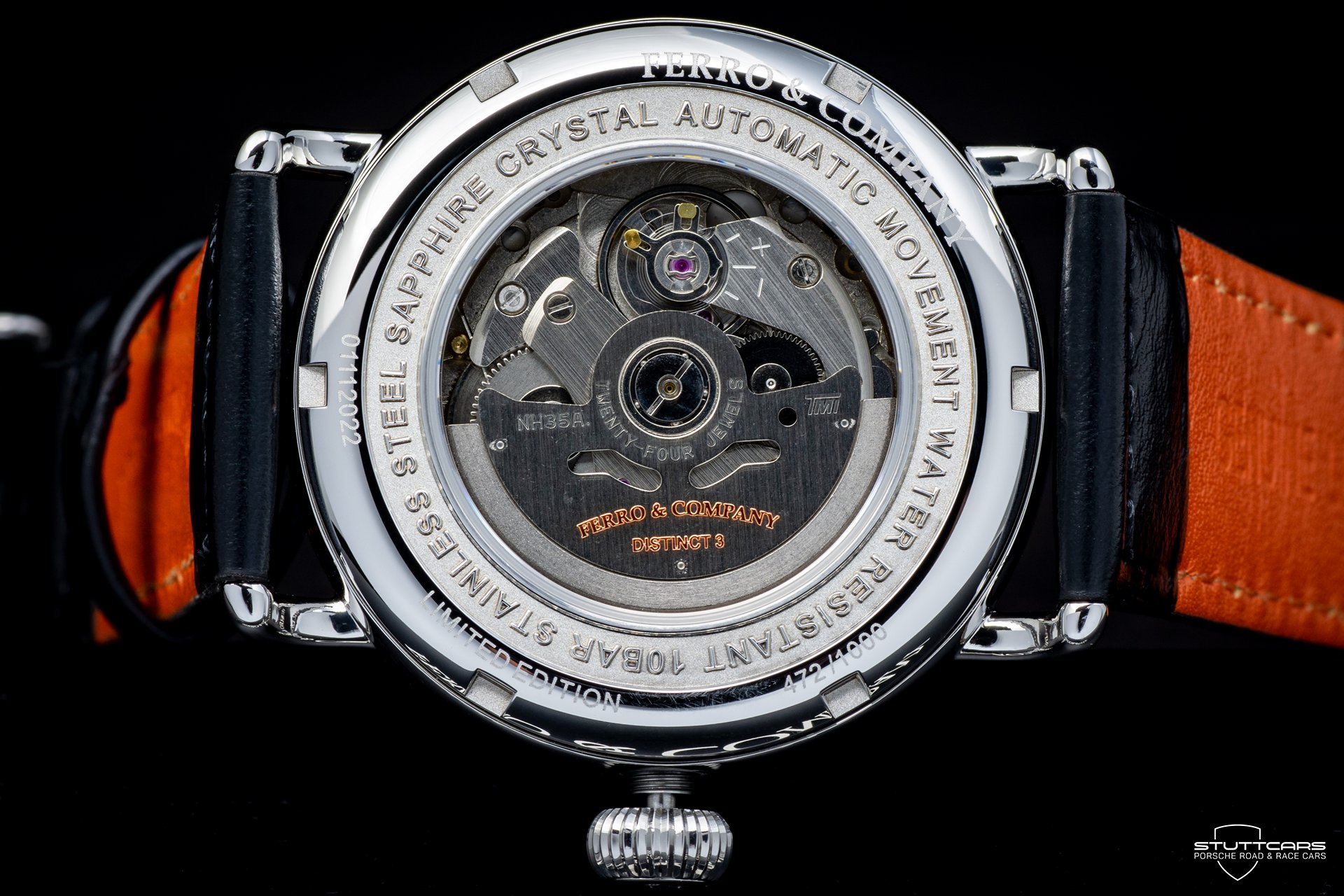 The movement is largely undecorated, except for the gold "Ferro & Company Distinct 3" embossed on the rotor. I'm of mixed opinion here, as the rotor would have been an excellent opportunity to bring an additional element of Porsche personality to the watch, or perhaps the movement itself could have been styled more elegantly. 
As is, the movement looks rather spartan, and the finishing on it is average. There are some small machining marks that you'll notice with the aid of a 90 mm macro lens, for example, but won't see with your naked eye.
The lack of decor aside, the movement itself is presented well: it is clean and free of obvious visual blemishes (such as visible scratches on gears or rotors), and there are no fine dust particles or small hairs trapped inside the case (both of which I've seen on watches costing twice or thrice the price of the Distinct 3).
The NH35A is a movement I am very familiar and comfortable with: 10 of the watches in my collection are sporting this movement, most of which I've had for several years, and none of which have ever presented a mechanical problem. 
Like the flat-six engine that is admired across the automotive industry, the NH35A is a movement known for its robustness and longevity. It requires very little maintenance – just a servicing every five years or so – and will reward you with years of trouble-free ticking.
The caseback also calls out some key features of the watch: its number in the series (each colorway is a limited-run production), water resistance, crystal material, etc. 
A piece of feedback for watch designers everywhere: use this space to make the watch feel special; repeating the specifications here is not as impactful as something more deliberate would have been (such as a quippy slogan, a colorful catchphrase, etc.).
However, that small gripe is hardly unique to Ferro & Company, and once the watch is on your wrist, it's hardly a thought anyway.
Strap
The race-inspired two-tone black and orange-accented leather strap is comfortable and compliant, which is all you can hope for from a leather strap.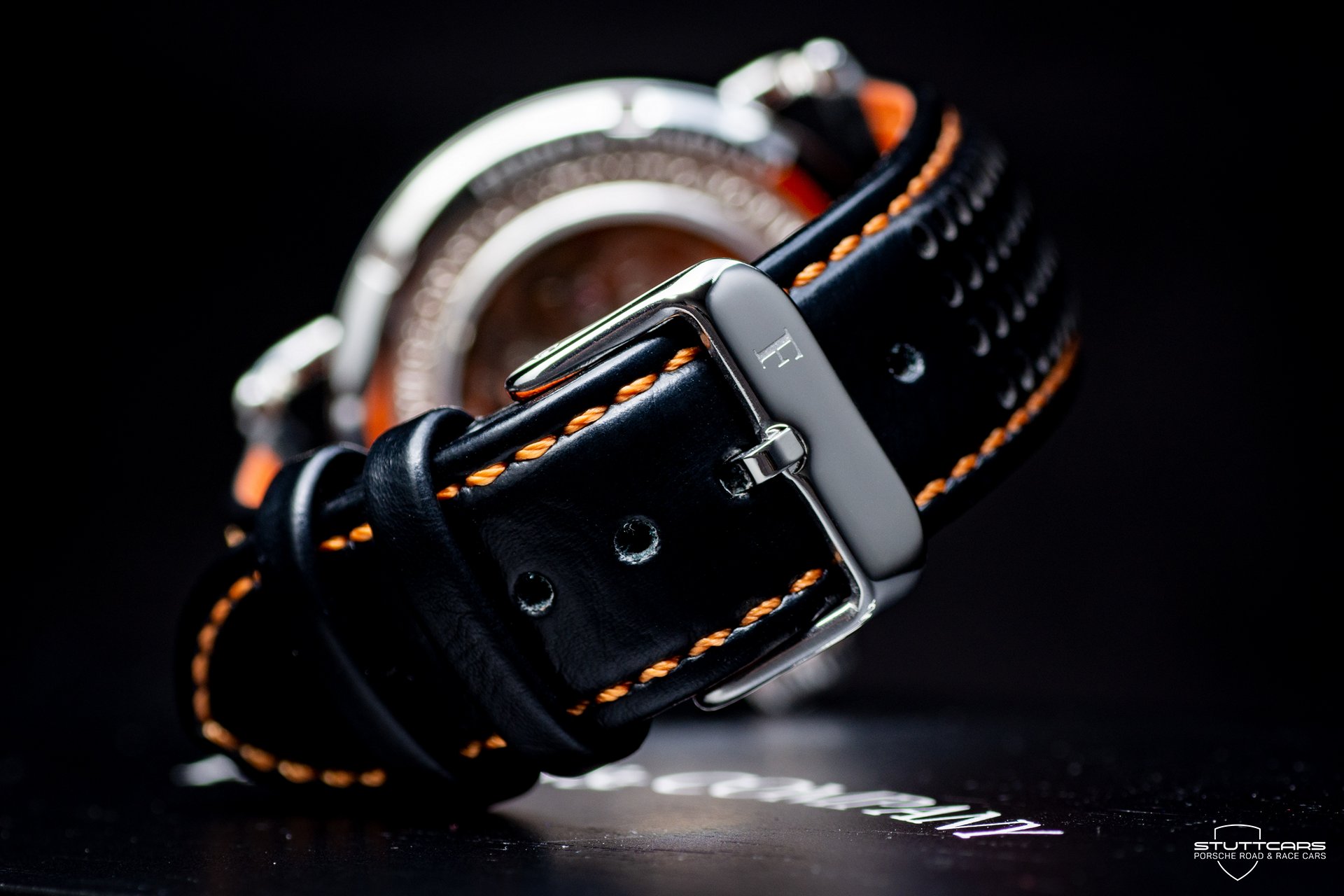 The strap is made of genuine leather, with orange accents up top and an orange underside. Since the strap is genuine leather, you don't need to worry too much when water splashes on it (just wipe it off); top or full-grain leather straps require a care regimen to stay looking good for a long time (but they are more plush and comfortable in exchange).
The buckle is engraved with a capital "F" and is otherwise a typical stainless steel clasp. I'd have preferred a quick-release pin bar so that I didn't scratch up the lugs when replacing the strap, though.
Considering the price, the strap is a fitting accompaniment and helps the Distinct 3 look, well, distinct.
Telling Time on the Distinct 3 GLF
Why did I pick a single-handed model when chronographs, small seconds, and other perhaps more visually complicated watches are available? Because I like the lack of complications on this watch.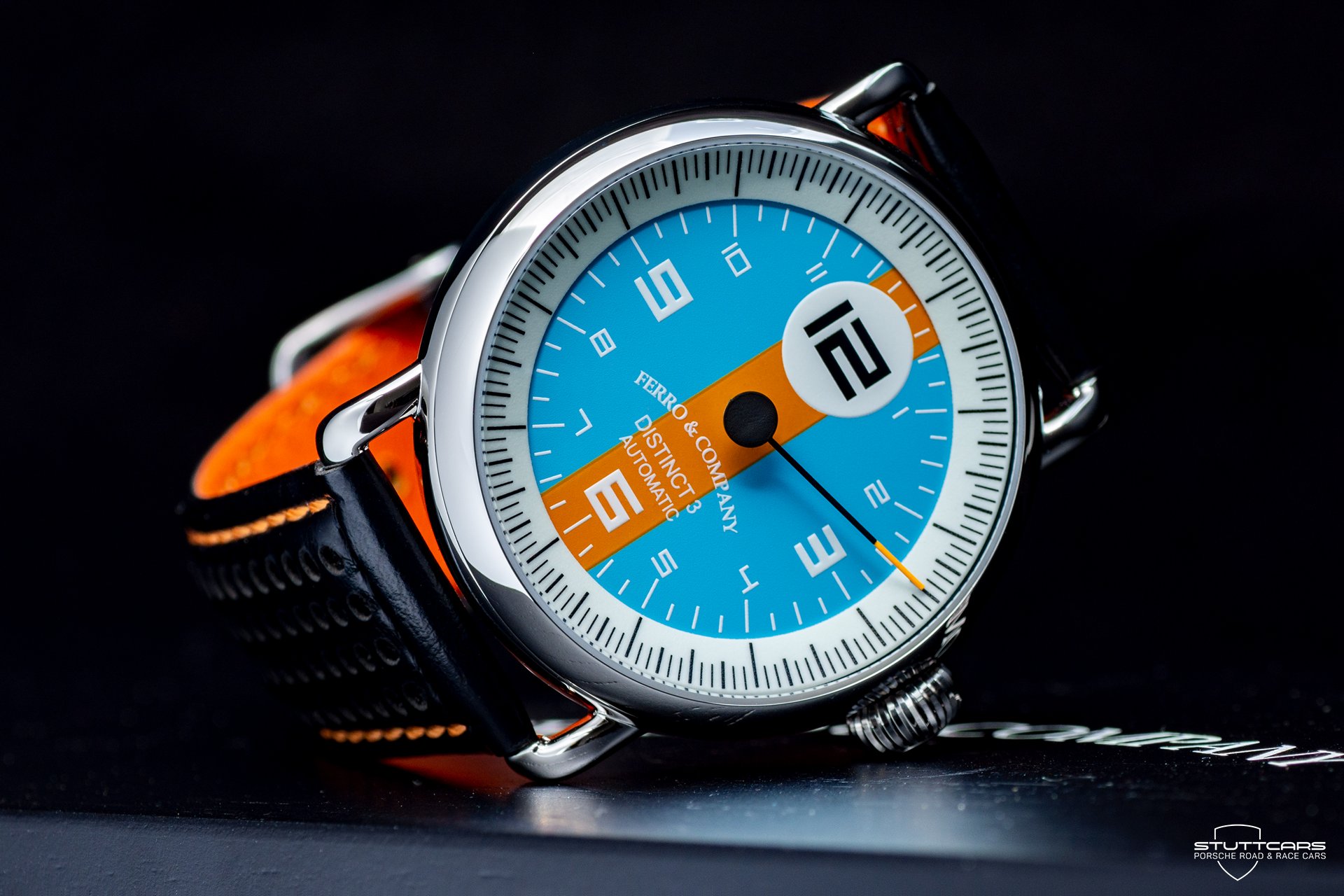 However, you do have to read a single-handed watch differently than a traditional timepiece. It will take you a few hours to get used to, but once you've got it, you'll tell the approximate time with ease.
Why approximate? Because the dial is a 24-hour dial, and time is told by a single hand. This means that it takes an hour for the hand to traverse from the 1 to 2 o'clock position, with each white line on the inner dial representing 15 minutes.
Due to this layout, it's impossible to tell precise time, which is ironic considering that the cars this watch celebrates competed in events where seconds and even milliseconds mattered. However, this was the layout I chose, and the one I prefer, and I'm happy to make the exchange of precision for aesthetics. They do offer a chronograph version for those counting seconds, after all.
Closing Thoughts on the Ferro & Company Distinct 3
The lack of criticisms I have of the Distinct 3 isn't because the watch is perfect, but because the elements of it that I'd change or do differently to suit my tastes are changes I wouldn't actually do in order to maintain its sub-$700 price.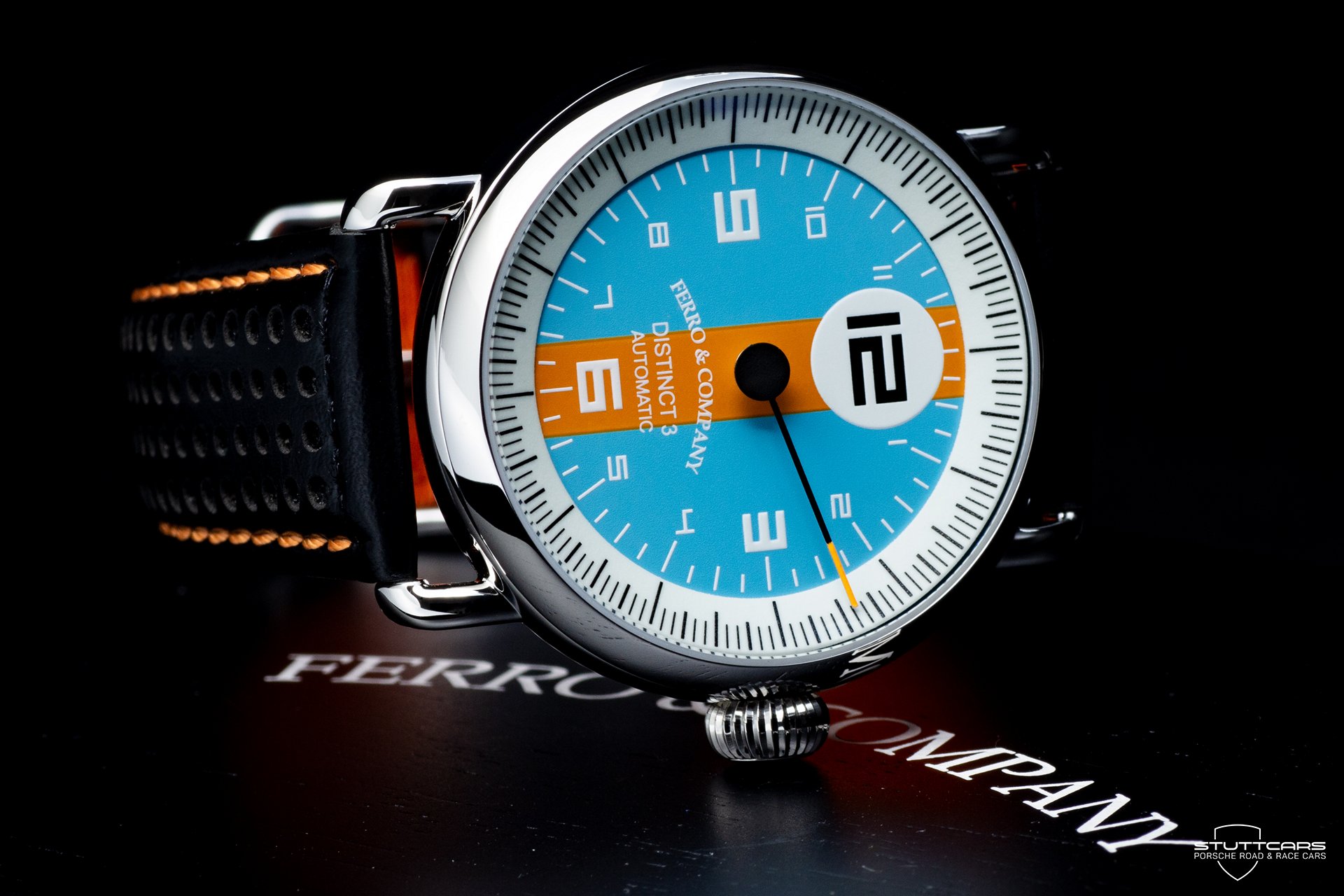 Decorating the movement to be more auto-inspired, for example, not only raises the cost of the movement, but does so for something that you won't see 99% of the time you own and wear this watch. 
Of the critiques I've levied against the Distinct 3, the only one I'd actually implement would be shrinking the case from 42 mm to 40 mm. But, then again, just as Porsches seem to get bigger every year, perhaps the same is true of the watches inspired by them.
Anecdotes aside, this is a great timepiece with a tasteful dial and solid movement and material choices. It will last a long time if cared for, and because it's sporting 100 m / 330 feet of water resistance and a sapphire crystal, it can be worn with confidence every day.
I like its looks, movement choice, and most of the design considerations its designers carefully considered. When they make the 40 mm one, though, the formula can be considered perfected 😉
FERRO & COMPANY DISTINCT 3 REVIEW Conclusion
Bottom Line
Take an unconventional layout, tie in a purposeful Le Mans-inspired Gulf livery, and then pair it with a racey strap, and you've got a combination that any watch aficionado or Porsche fan will appreciate. Timeless design and tasteful elements elevate the Distinct 3 GLF and help it standout among a sea of racing-inspired timepieces. Sized to fit most men, there is very little about the Distinct 3 to criticize, and that's before you factor in its accessible price.