The Auburn Auction, hosted by Worldwide Auctioneers from September 1 to 3, 2022, is just over a week away, and more and more lots are getting added daily to the listings. While we were perusing the listings, especially looking at some of the Porsche's up for grabs (many without reserve too!), out of the corner of the list a little blue car was quietly sitting there, waiting to be noticed. When we did, however, we had to do a double take. Lot 665, as it turns out, is one of the rarest cars at the auction, a 2002 RUF R Turbo Cabriolet.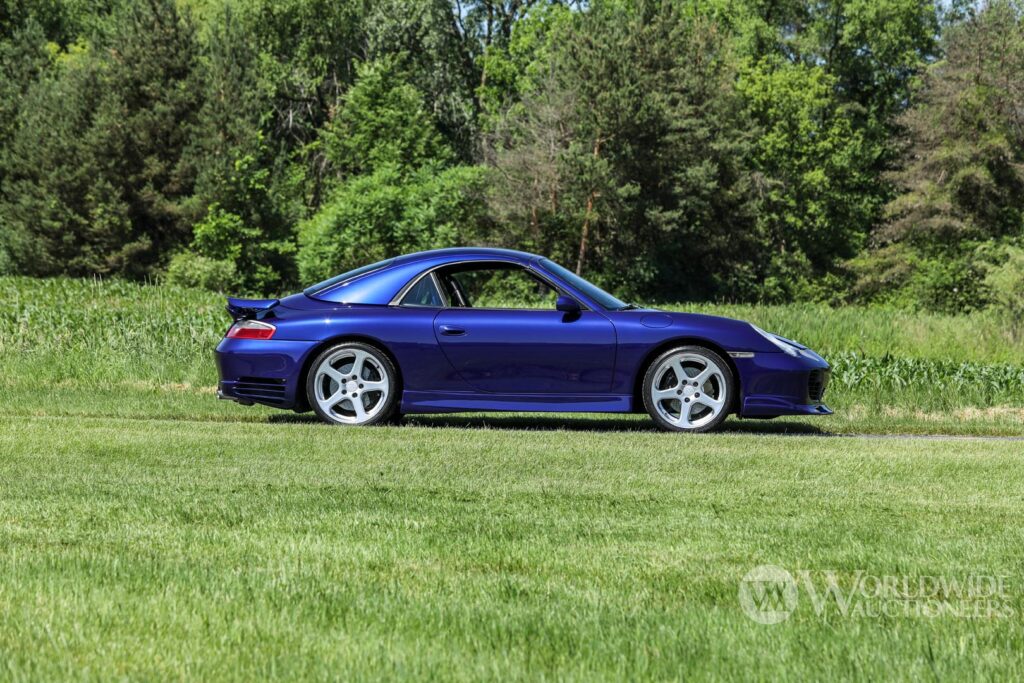 To understand what makes this car so incredibly rare is that during the early 2000s, you could get your RUF R Turbo one of two ways. By far the more common way was to buy a Type 996 911 Carrera 4S or Turbo model coupe or cabriolet, drive it over to RUF, and then have them work their magic. This would give you a RUF R Turbo, but with a Porsche VIN and all original registrations as a Type 996. The extremely rare, but far more collectible way, was to buy a RUF-manufactured R Turbo, where they would get all the Type 996 parts from Porsche directly as a "body-in-white," or coming only with the paint primer applied. The engine would be worked over, the chassis prepped and stiffened, and the whole car built in-house, giving it a very desirable RUF VIN, which all start with W0. Most of the cars sold this way were Coupes, but a few Cabriolets were ordered as well.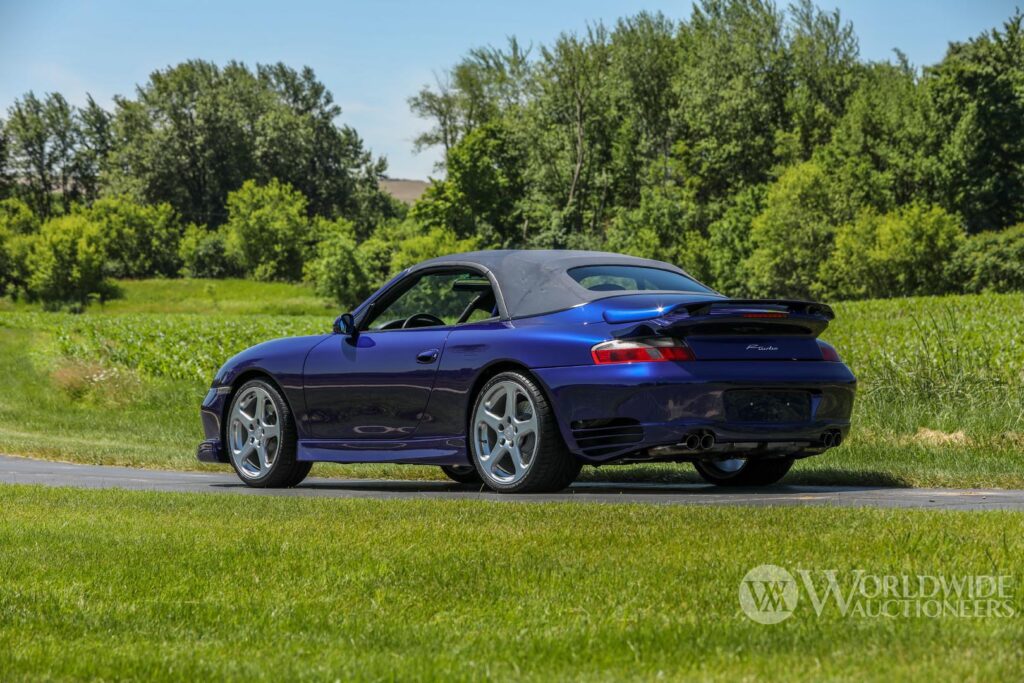 This specific example is one of those very rare RUF-built R Turbo Cabriolets. An original first generation spec, it has a 3.6L flat-six, tuned and perfected to 520 HP, with a pavement-shredding 546 lbs-ft of twin-turbocharged torque. That power would get to the ground through a 5-speed tiptronic transmission feeding a RUF-reinforced Porsche AWD system. While the power is awesome and the fact that the car will soar past 60 in a hair under 3.6 seconds, what makes this car go from rare to one-of-one are what the one owner specified for their options.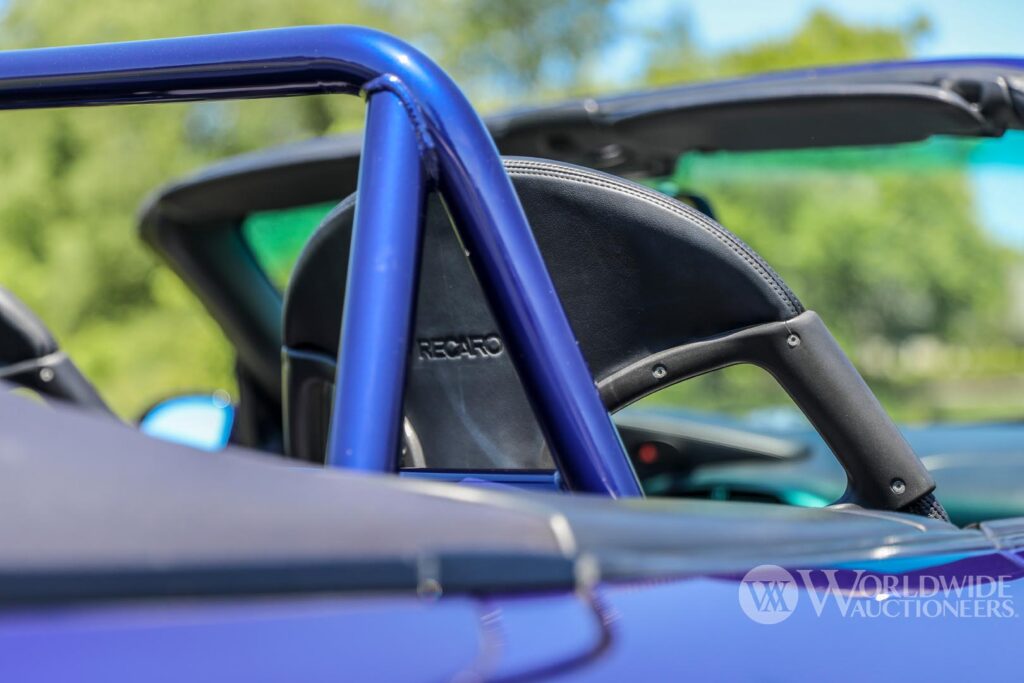 As seen from the pictures so far, this example is dressed in RUF Iris Blue Metallic paint, which has been refinished and paint sealed, and then had paint protection film applied over top. That paint is on, however, the rarest option of all, the then-priced $20,000 (just under $33,000 today) narrow Carrera body. Attached to, and in some cases inside or covered by that amazing body are a full RUF spoiler kit, including lip, tail, and side spoilers and skirts, GT3 sports seats by Recaro, RUF-specific 18-inch alloys, RUF-Brembo upgraded brakes, and RUF sports suspension. It also has a removable roll bar, painted Iris Blue Metallic, should you want to have some open top track-day fun. A matching hard-top is also included.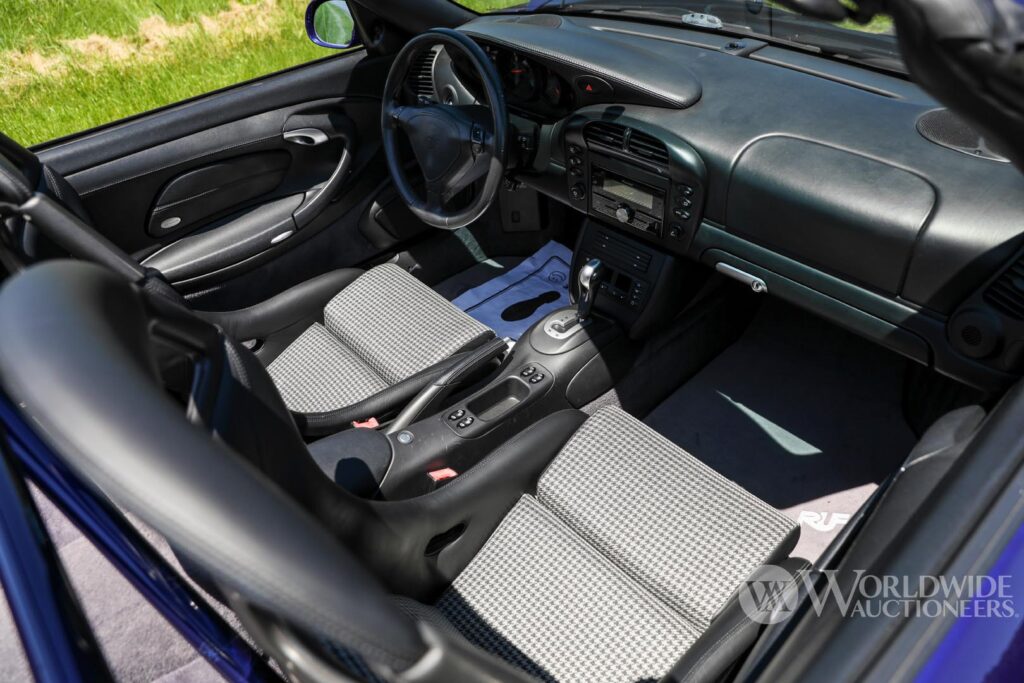 Part of that suspension includes the use of Bilstein gas-pressure shocks specifically designed for the car, supported by stiff RUF springs. Stabilizer bars at both ends also increase the handling and rigidity of the R Turbo, taking it from being an excellent handling Type 996 Turbo to nearly supercar levels of track performance and handling. That's saying something, as the Type 996, especially the Turbo AWD, was renowned for it superb handling that some competitors could not even hold a candle to. While the suspension is impressive, the drivetrain is even more so. The car uses a RUF-modified version of the 996 GT2's transaxle, with an upgraded clutch pack and a limited slip differential on the rear axle. Inside the engine, the valvetrain was completely overhauled and reshaped, with a RUF ECU replacing the standard Porsche unit, which combined with the twin modified KKK turbochargers and the nearly straight piped exhaust to make the car not only go like it'd been shot, but also produce a roar to match the speed.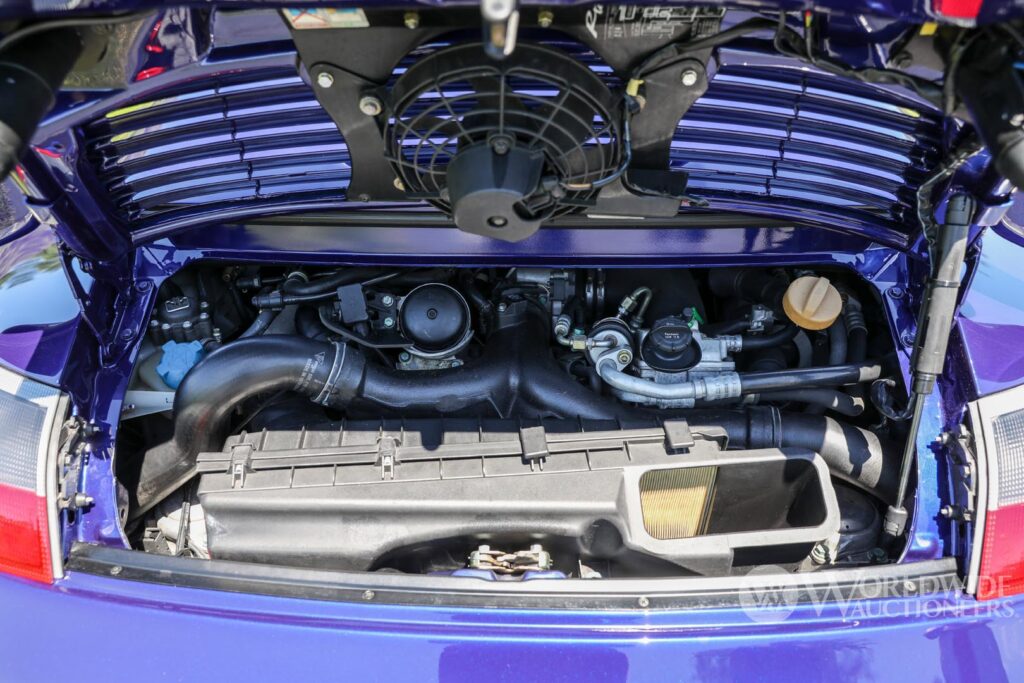 For the collector, however, there is one very important thing about this specific RUF R Turbo Cabriolet. The transaxle, engine, and chassis are all numbers matching, meaning that despite the just over 42,000 miles that the car has been driven, it's still carrying everything it came out of the factory with, except the tires. No restoration work apart from a refinishing and sealing of the paint has been done. A verified and tracked service history is part of the lot, as well as an official, signed Certificate of Authenticity that this car was, in fact, built in Pfaffenhausen, Germany, and a signed and stamped delivery report on company letterhead. The VIN has been verified against RUF's registry and confirmed authentic as well.
Basically, this is one of the few opportunities to potentially buy, if you place the winning bid, one of the rarest RUF cars ever made.