Now in its fourth year of competition, the Porsche 919 hybrid continues to be developed into a more efficient racer. Retaining its same 4-cylinder petrol-driven engine, the LM P1 regulations require that the 919 be ever-more efficient while delivering similar performance.Team Principal and acting technical director, Andreas Seidl, said, "For the 2017 season, 60 to 70 per cent of the vehicle is newly developed. The basic concept of the 919 Hybrid still offers scope to optimise the finer details and further boost efficiency. The monocoque has remained unchanged since 2016."
After dabbling with a trio of 919s in 2015 at Spa and Le Mans, Porsche returned to a two-car setup last year and they will retain this combination in 2017. Many of the technical specs of the 919 are carried over from 2016 as Porsche is still using Lithium-ion batteries for energy storage, and the car will still run in the 8MJ class. The 4-cylinder engine produces just under 500bhp while the two separate energy recovery systems which recover energy on both acceleration and under braking, generate a further 400bhp.
Approximately 60 per cent of the recovered energy comes from the KERS on the front-axle brakes, while the remaining 40 per cent is generated by the exhaust energy recovery system.
Two aerodynamic packages instead of the previous three have been mandated, and these aerodynamic restrictions are designed to lower the cornering speeds of the 919 and other LM P1 cars. This will have effect of raising lap times slightly.
Together with the mechanical enhancements made to the chassis, a number of software innovations have helped to further improve the driving quality of the 919, in terms of both traction control and hybrid management. Both of these factors have a significant impact on the service life of the tyres, as LMP1 teams will now have three sets of tyres fewer available to them for each race weekend and car. This means that tyre sets will need to withstand double stints of racing on a more frequent basis, lasting the equivalent of two tanks of fuel, or a driving time of around one and a half hours.
In 2017, the two Porsches will be driven by: #1 – Neel Jani (33, Switzerland), André Lotterer (35, Germany) and Nick Tandy (32, Great Britain). The second car will be driven by: #2 –Timo Bernhard (36, Germany), and the two New Zealanders Earl Bamber (26) and Brendon Hartley (27).
Porsche 919 Hybrid technical specs
| | |
| --- | --- |
| Model | Porsche 919 Hybrid (2017) |
| Vehicle type | Le Mans Prototype, class LM P1 |
| Monocoque | Composite fibre construction made of carbon fibres with a honeycomb aluminium core |
| On-board system battery | Lithium-ion battery |
| Engine | |
| Combustion engine | V4 engine with turbocharging |
| Displacement | 2000cc |
| Combustion engine power | <500bhp rear axle |
| Engine management | Bosch MS5.6 |
| Engine lubrication | Dry-sump lubrication |
| MGU | >400bhp front axle |
| Max. power | Approx. 900bhp |
| Drive/power transmission | |
| Drive type | Rear wheel drive, all-wheel drive via KERS on the front axle |
| Clutch | CFRP clutch |
| Transmission | Sequential, hydraulically activated 7-speed sequential racing transmission |
| Differential | Rear differential lock |
| Transmission housing | Hybrid construction in CFRP with titanium inserts and cast aluminium housing |
| Drive shafts | Constant-velocity sliding tripod universal joints |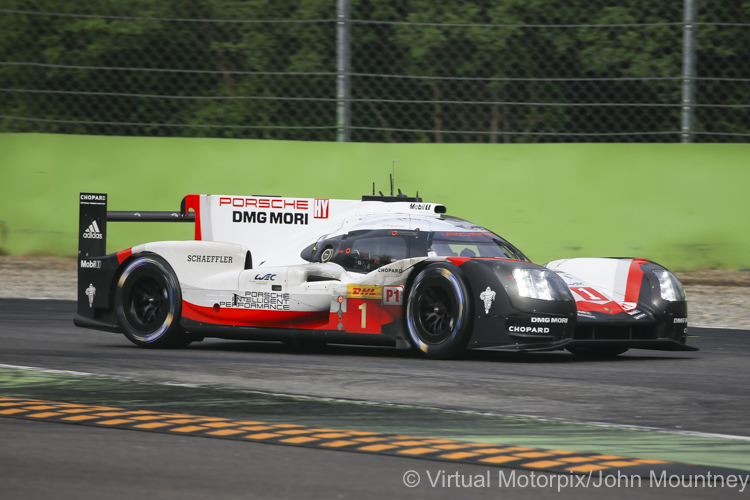 | | |
| --- | --- |
| Chassis/steering/brake | |
| Chassis | Front and rear multi-link pushrod independent wheel suspension with adjustable shock absorbers |
| Steering | Hydraulically assisted rack-and-pinion steering |
| Brakes | Hydraulic dual-circuit brake system, light-alloy monobloc brake callipers, internally ventilated carbon fibre rear and front brake discs |
| Rims | Forged magnesium wheels |
| Tyres | Michelin Radial, front and rear: 310/710-18 |
| Weight/volume | |
| Length/width/height | 4650mm/1900mm/1050mm |
| Minimum weight | 875kg |
| Tank capacity | 62.3-litres |
| Performance | |
| 0-100km/h (0-62mph) | 2.2 seconds |
| 0-200km/h (0-124mph) | 4.8 seconds |
Written by: Glen Smale
Images by: Virtual Motorpix/John Mountney