Porsche Carrera GT
The Porsche Carrera GT has become one of the most iconic and sought after Porsche models in the realm of exotic car idolization and ownership. It  is hard to believe, that things didn't really start off that way.
When the Porsche Carrera GT was released in 2004, it was anticipated to stir up plenty of fervor. It certainly had all the attributes to do so. It was a mid-engined V10 hypercar – one of the first to be considered a step beyond supercar status – and introduced a variety of industry-first technologies and features to the production car market. 
It was hard to argue against the Carrera GT having the performance, appearance, and stature to justify its $440,000 USD price tag when brand new. Nevertheless, Porsche dealerships would have a difficult time selling them despite costing over $200,000 USD less than a new Ferrari Enzo; the Carrera GT's intended target and rival.
The slower than forecasted sales are likely the cause for Porsche ending production after just 1,270 units. Though a run 1,500 units were originally planned, the German marque went on record to blame "changing airbag regulations" for their decision to ax the car. Thankfully, this turn of events would not prove ominous for the Porsche Carrera GT over the long run. In fact, quite the opposite.
Interestingly enough, we can thank the ongoing technological advancements taking place in the automotive industry for the Porsche Carrera GT's resurgence into the limelight. Besides being equipped with a wicked state-of-the-art, naturally aspirated, 612-horsepower engine which was ahead of its time, the Carrera GT was otherwise an extremely analog machine and it is this very characteristic that would elevate its appeal over time.
This was helped on mainly by the fact that since the Porsche Carrera GT was released, the exotic car landscape has shifted dramatically to the production of more user-friendly, techologically refined and easy-to-live-with supercars – the fastest for the masses, if you will.
This generally means that certain features have become standard issue in today's highest performing vehicles – electronic assists and nannies which prioritize safety, dual-clutch automatic transmissions to make driving easier, hybrid powertrains designed to lower fuel consumption, and so on. You don't have to be a professional driver to wring out the most, if not all of the performance potential in a modern supercar – that predictably appeals to more people.
While all of these changes are welcome and generally considered to be advancements in the supercar space, the pace at which the technology has been improving often feels too fast and overwhelming. In the midst of all the craziness, people began to catch on to just how special of a car the Porsche Carrera GT really is.
That is because it is one of the last hypercars/supercars that isn't like anything that is produced today – in all the best ways possible, of course. For instance, it is one of the last mass production supercars to be fitted with a true manual transmission.
Today, this sentiment is reflected in the Carrera GT's sky-high prices in the used market, which would have translated to a very reasonable return on investment if you had bought one new, kept it and then decided to sell now.
Engine & Performance
Specifications:
Engine Type & Size: 5.7L Naturally Aspirated V10
Horsepower: 612 hp @ 8,000 rpm
Torque: 435 lb-ft @ 5,750 rpm
Transmission: 6-speed Manual
O-60 mph: 3.8 seconds
What makes the Porsche Carrera GT engine so special is that it is technically a race car engine. Not in that loosely-based sense, often used as a sales gimmick in marketing ads these days, but in the true sense of the word.
In the late 1990s, Porsche engineers in Zuffenhausen were assigned the task of developing a naturally aspirated V10 concept engine which was to later be used in a race car for the infamous 24 Hours of Le Mans endurance race.
Sadly, the completion of that race car never came to fruition, but the efforts of the engine builders would not be wasted. Porsche decided to adapt the engine for the use in the Carrera GT and took the necessary steps to not only refine it in order to satisfy production car protocols but still managed to make it a more powerful version than the original unit.
The result is a naturally aspirated 5.7L V10 midship engine, which produces 612-horsepower @ 8,000 rpm and 435 lb-ft of torque at 5,750 rpm. This allowed the Carrera GT to accelerate to 0-60 mph in 3.8 seconds and 0-100 mph in 6.9 seconds, with a top speed of 205 mph.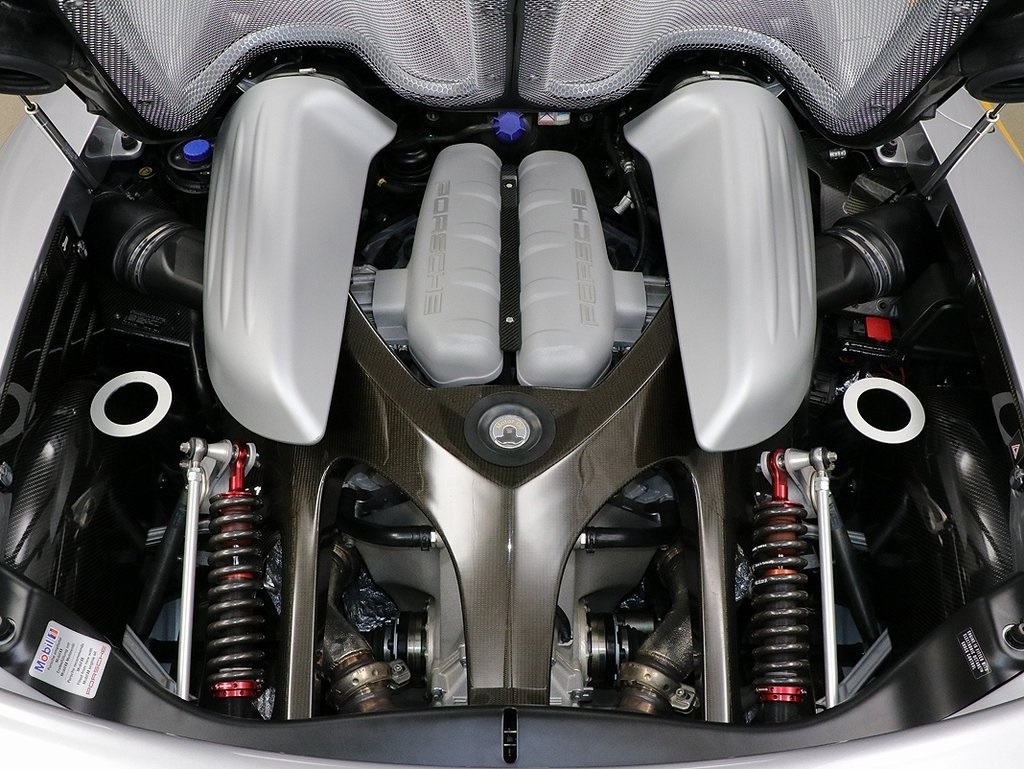 The engine wasn't just all brawn, as it was meticulously designed to be just one element of something that was greater than the sum of its own parts. For example, the optimized V-angle of the cylinders and the extremely low-to-the-ground crankshaft helps to give the car a very low center of gravity which enhances its overall handling and chassis capabilities.
The Carrera GT's V10 engine, in spite of its large displacement, weighs in at just 472 pounds thanks to the extensive use of lightweight forged alloy materials which provides bulletproof engine internals which have the highest levels of temperature resistance.
Mated to the powerplant is a six-speed manual transmission developed especially for the Carrera GT. Like the rest of the car's driving components, the transmission was also designed to be compact and ideally specced to reduce overall weight and maintain an optimum weight distribution.
For the first time in a production car, Porsche introduced a factory-installed ceramic clutch known officially as Porsche Ceramic Composite Clutch – or PCCC. While sharing the characteristics of some race car clutches such as compactness and low mass, PCCC was also designed to meet or exceed the life expectancy of conventional clutch plates, making it suitable for everyday driving applications and importantly, fit for use on a production car.
The transmission, in an overall sense, is able to smoothly translate the car's massive power into something that is as manageable as it is robust. Although the grabby and sensitive ceramic clutch will likely take some time to get acquainted with, it will soon reward the driver with solid, mechanical shifts which could be most accurately described in one word as "satisfying".
Chassis & Handling
The Porsche Carrera GT continues to benefit from the manufacturer's experience in endurance racing, through which their carbon fiber technology had undergone the most rigorous of trials by the turn of the millennium.
The most notable use of carbon fiber in the formation of the chassis is the Carrera GT's pure carbon fiber monocoque and subframe. This would be the foundation on which the car's rigidity, lightweightedness and agility would be showcased.
Many of the technologies used in the Carrera GT's suspension components were adapted from the Porsche 911 GT1 race car, which won the 1998 24 Hours of Le Mans endurance race.
The suspension configuration was designed with double-wishbone axle pushrods in the front and rear which improved the car's responsiveness to driver inputs while enhancing road feel – something that the more common McPherson spring/strut design would not have provided adequately. The majority of the components were also made of aluminum to save weight.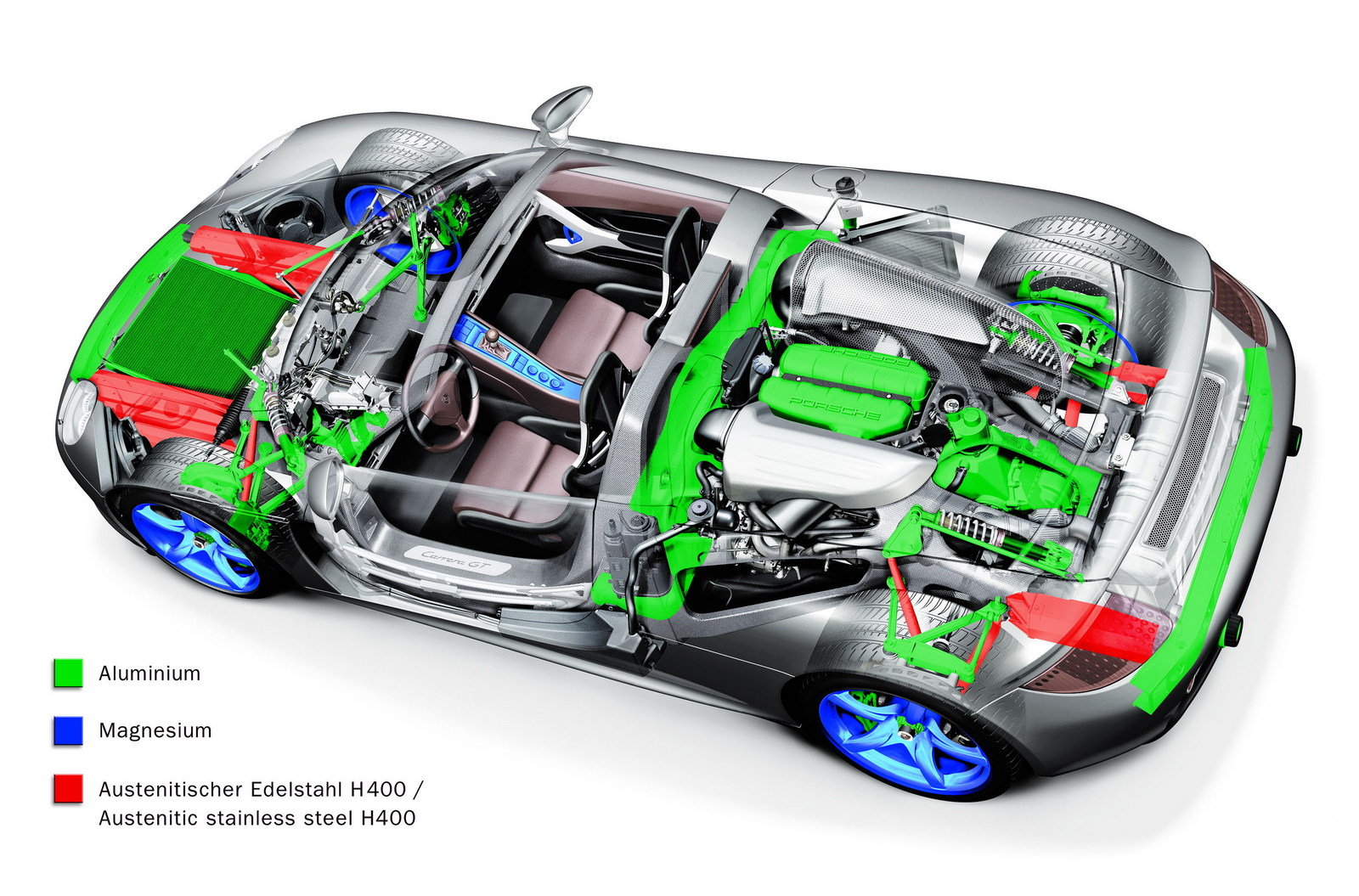 The electronic driving aids in the Carrera GT does nothing to detract from the purest of driving experiences, while at the same time allowing the car to feel compliant when driving at the limits. A meticulously thought-out power steering system accentuates the car's agility and is perfectly weighted at both low and high speeds to elevate communication between man and machine.
The ABS and traction control systems are adaptive to a variety of different road surfaces and conditions, to allow for a spirited driving style in any circumstance. Working in tandem with each other, both systems enhance stability under hard braking and acceleration to give the driver dynamic control of the vehicle's steering capabilities, even in the most demanding situations. Safety without sacrifice of performance or driving pleasure is paramount in the philosophy on the Carrera GT.
Porsche Carbon Ceramic Brakes – or PCCB – come standard on the Carrera GT and were the first of its kind in the production car world, when Porsche introduced them on the 2001 Porsche 911 GT2.
Besides being considerably lighter than conventional rotors, Porsche had the technology improved for use in the Carrera GT, which featured enlarged cross-drilled ceramic brake discs which have the highest level of heat resistance and an exceptionally consistent frictional coefficient. Completing the braking system were set 6-piston monoblock calipers, employed at all four corners of the car.
Last but not least, the Porsche Carrera GT meets the tarmac a set of staggered center-locking forged magnesium wheels wrapped in Michelin tires specially developed for the Carrera GT (F: 265/35/19, R: 335/30/20).
This combination allowed for the extremely strong and lightweight wheels to complement the chassis in its unsullied responsiveness to driver inputs, while also reducing the rate of wear on the extra-wide and grippy tires.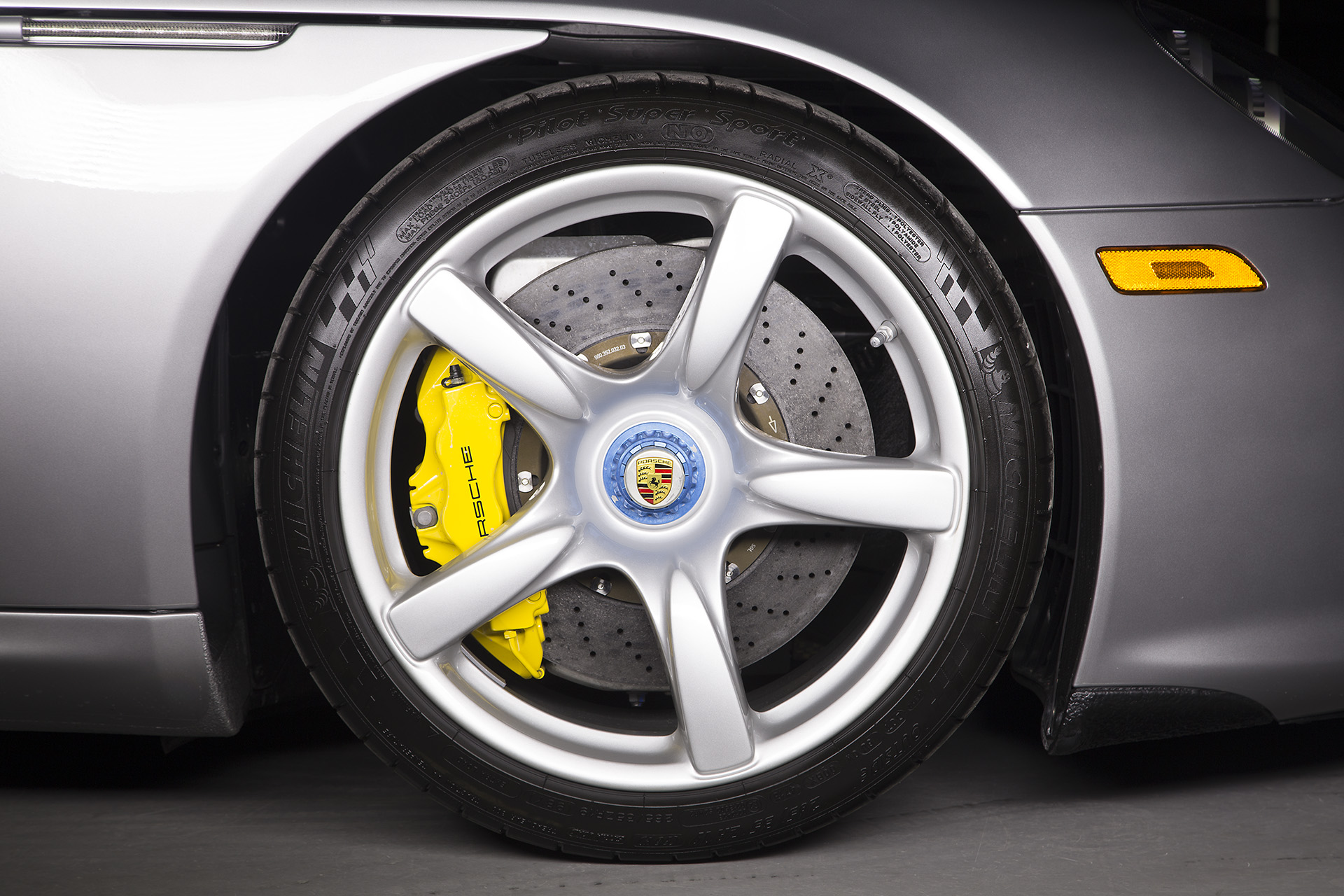 Design, Styling, & Interior
On the outside, there is nothing to suggest that the Porsche Carrera GT should be anything but a purpose-built super/hyper sports car. The silhouette of the car is a properly executed amalgamation of sleek and muscular features which certainly feels applicable to the Carrera GT's overall demeanor.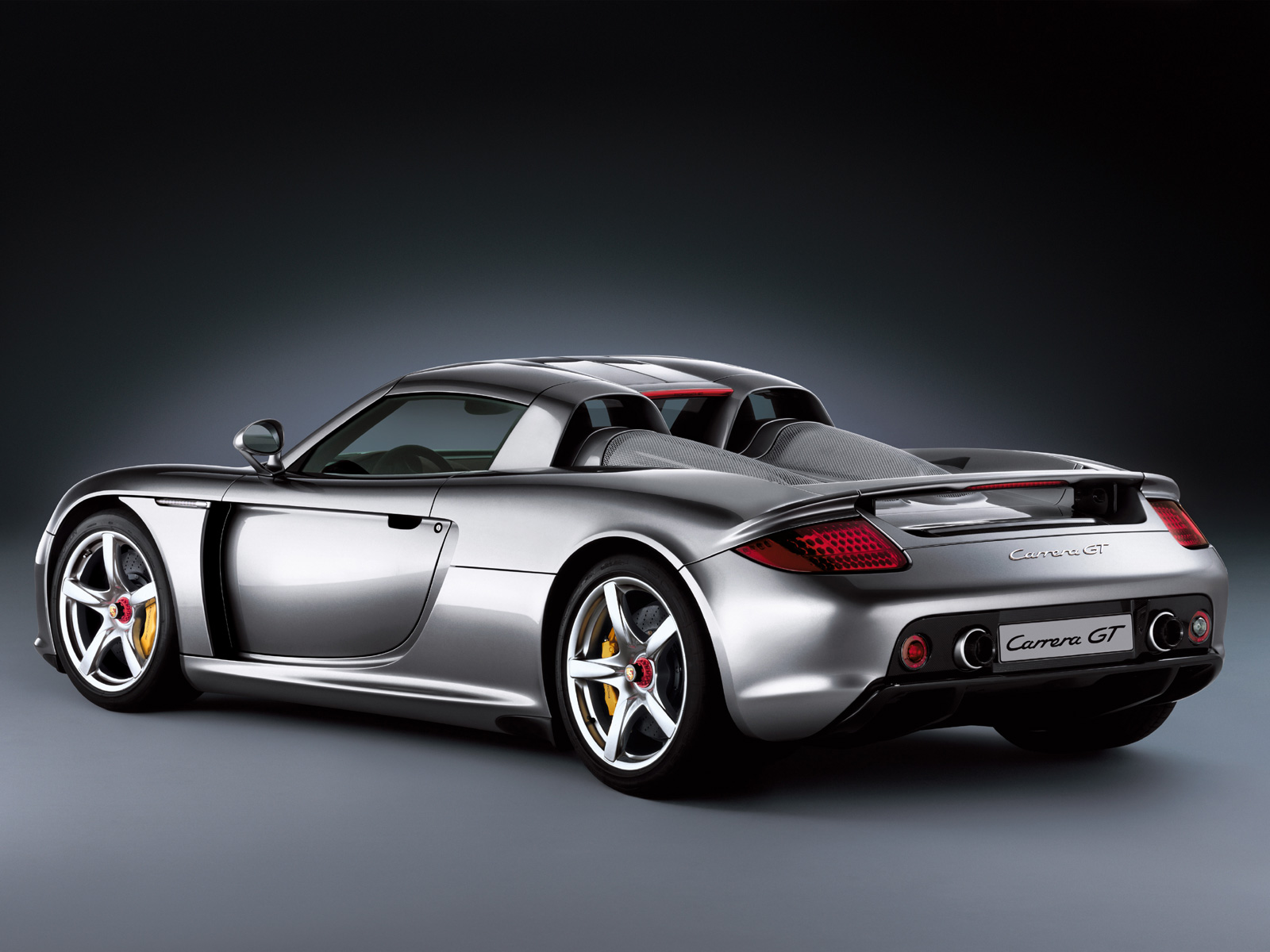 From the front particularly, the car is still undeniably a Porsche, with its headlights paying tribute to the Porsche 917 – the first Porsche race car to win at Le Mans. The bulgy front fenders extend across the doors and connect to the rear haunches of the car, which then blend into its extroverted rear deck finished off by the large, retractable rear wing.
The double-clamshell engine lid conceals the 5.7L power plant while complimenting the two roll hoops it sits purposefully behind. The windshield and windows are designed to provide maximum visibility to the driver from all angles.
The cockpit of the Carrera GT is relatively understated but still more than adequately appointed with its perfect blend of functionality, elegance, and convenience. The center console inclines at a sharp angle towards the front dash, and is fully made from carbon and bolted to the chassis of the car to promote rigidity and safety.
Mounted near the top of the center console, is one of the Carrera GT's most quintessential features – its ergonomically located manual gearbox fitted with a laminated birchwood shift knob, which pays tribute to the heritage of Porsche motorsport.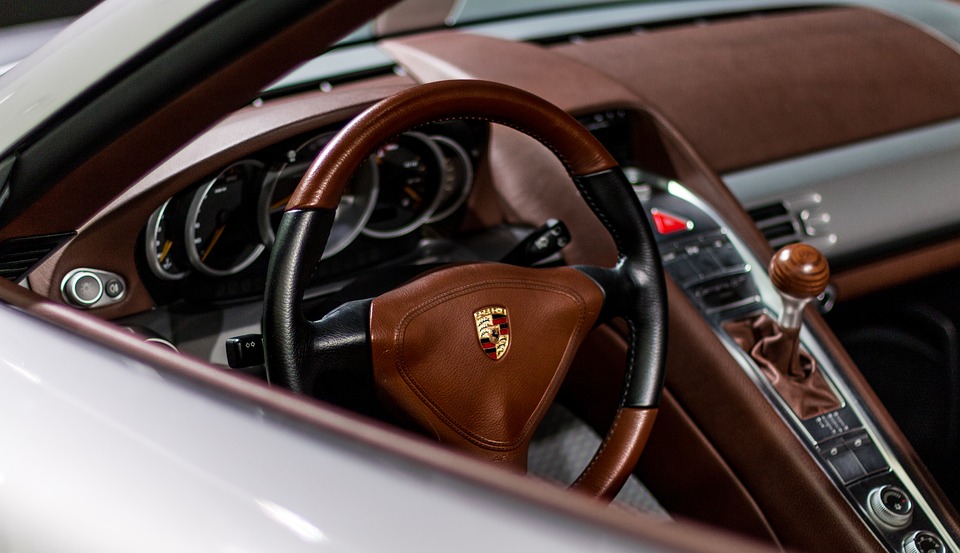 One of the Carrera GT's world firsts for production cars was its use of sport buckets made from a special hybrid of carbon fiber and aramid fiber, which is commonly known today as carbon kevlar. This super light and durable composite meant that the seats could be upholstered in high-end leather and still weigh less than 23 pounds each. With comfort still being a paramount feature in the Carrera GT, Porsche fitted the car with power windows, air conditioning, infotainment, and BOSE speakers.
Pricing
When the Porsche Carrera GT was released for the production year 2004, it had a retail price of $440,000 USD. Few would have guessed that its price would skyrocket over time to the levels they are at now – least of all Porsche, who cut production of the Carrera GT well before reaching its original target of producing 1,500 examples.
Today, a used Porsche Carrera GT can go for upwards of $700,000 USD. Some of the lowest mileage and best condition examples have been seen to fetch north of $1,000,000 USD. 
Over the past 15 years, the Carrera GT has become one of the most renowned supercars in history; thanks to its unique blend of driver-focused elements and advanced road-going technologies, it epitomizes what has now become the pinnacle of an era in which cars of this ilk would be produced.
Knowing what the Carrera GT represents and possessing a rudimentary understanding of economics, my guess is that these prices will only go up as time passes.
Performance & Specifications Summary
Model & Pricing Info
| | |
| --- | --- |
| Make | Porsche |
| Model | Carrera GT |
| Car type | Coupe |
| Category | Limited Series Production Car |
| Built At | Zuffenhausen, Germany |
| Introduced | 2004 |
| Base Price (US) | $440,000 |
| Units built | 1,270 |
Chassis, Suspension & Powertrain
| | |
| --- | --- |
| Curb Weight | 1,380 kg (3,042 lbs) |
| Layout | Rear mid-engine, Rear-wheel drive |
| Body / Frame | Pure carbon fiber monocoque and subframe |
| Suspension (F) | Independent double-wishbone with axle push rods made from aluminum |
| Suspension (R) | Independent double-wishbone with axle push rods made from aluminum |
| Steering | Power-assisted rack-and-pinion |
| Brakes | Porsche Carbon Ceramic Brakes (380 mm carbon-ceramic brake discs and 6-piston calipers, front and rear) |
| Tires | Michelin (F: 265/35/19, R: 335/30/20) |
| Transmission | 6-Speed Manual |
Engine, Output & Performance
| | |
| --- | --- |
| Engine | V10 |
| Displacement (Litres) | 5.7L |
| Aspiration | Naturally Aspirated |
| Power (hp) | 612 hp @ 8,000 rpm |
| Power (hp) / liter | 107.4 hp / liter |
| Power (hp) / weight | 0.44 hp / kg |
| Torque | 435 lb-ft @ 5,750 rpm |
| 0-60 mph time | 3.8 seconds |
| ¼ Mile (standing) | 11.3 seconds |
| Top Speed | 205 mph (330 km/h) |
| Average Fuel Consumption | 16 mpg (combined) |
Gallery & Videos
Image Gallery
The Porsche Carrera GT exudes a level of performance that can only exist in the highest echelons of road car hierarchy. It is rare that such a design can become so timeless in just 15 years, which can be the lifetime of a single iteration of vehicle.
In my opinion, the Porsche Carrera GT is a monument of automotive history which will only become more prominent in the years to come. It is the culmination of arguably the most ideal era of automobiles, in which technological prowess and puristic driving principles were combined in perfect harmonization. It serves as a reminder as to how powerful the connection between man and machine can be, without one overwhelming the other.
Video Gallery
Doug DeMuro never holds back when exclaiming that the Porsche Carrera GT is 'the single greatest car ever made'. The famed YouTube car reviewer provides an in-depth overview of the car, and takes it for a test drive in the streets near Cleveland, Ohio where he discovers that it is less intimidating to drive than it looks.
The most viewed review of the Carrera GT on YouTube is from Top Gear, where none other than Jeremy Clarkson admits that it is one of the most beautiful, exciting and fastest drives of his life. Also watch as the Stig attempts to beat the record-holding McLaren Mercedes, as the fastest car around the Top Gear test track.

I've always enjoyed the way in which EVO presents their video review documentaries, so here is Dickie Meaden taking the Carrera GT through its paces in an 'ICONS' episode. He credits the car's analog driving experience and its engine, as positive differentiators amongst its competition which includes the Ferrari Enzo, McLaren Mercedes SLR, and Ford GT.
Here is the only official video uploaded by Porsche on the web, which features the Carrera GT in an episode of 'Porsche Experience TV'.
Press Release: Carrera GT 'Recommissioned'
02/04/2019
The Porsche Carrera GT is still counted among the most exciting sports supercars in the world, more than 15 years after it first appeared. Now, Porsche Classic has implemented a spectacular reconstruction as part of a custom order.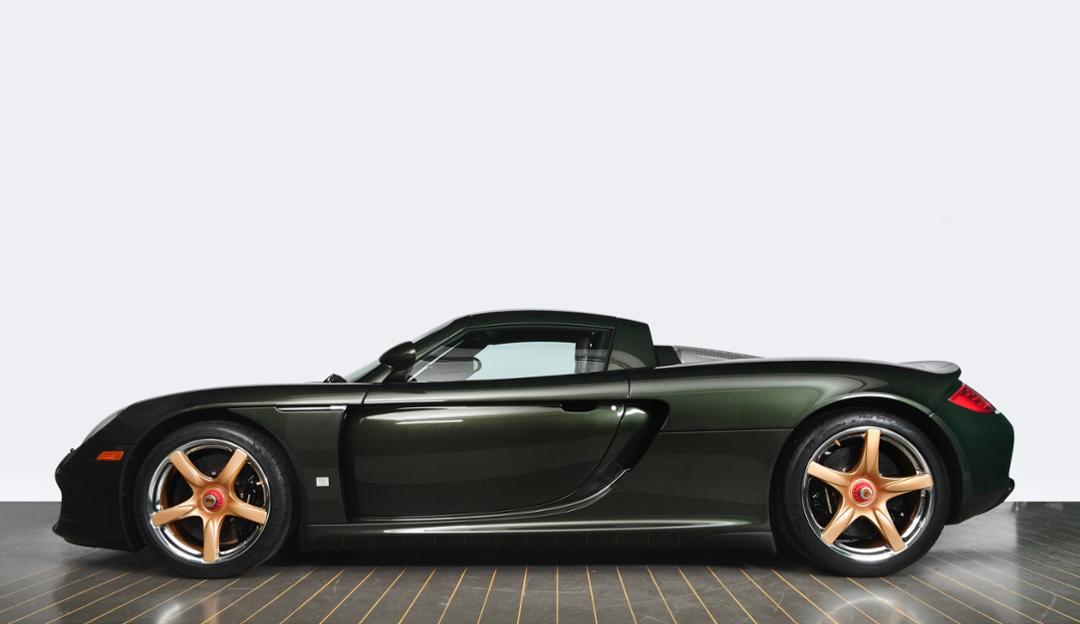 With a ten-cylinder V engine with 612 PS of horsepower derived from a Formula 1 powertrain, premium design, and – not least – the incomparable driving experience it offers, the Porsche Carrera GT remains a milestone in the world of sports supercars today, and a collector in the US has commissioned Porsche Classic to thoroughly rework one of their privately owned vehicles.
It was truly a spectacular project.
The collector wanted a complete, custom reconstruction of the vehicle, implemented at a manufacturing quality that can only be achieved by Porsche itself. The process involved the vehicle being entirely disassembled into individual parts, with every component extensively checked, and refurbished or replaced where necessary.
Extraordinary Paintwork in Oak Green Metallic
To set off the completely overhauled engine, transmission, and chassis components to their best advantage, the Carrera GT was also treated to a full refinish. Working with Porsche Classic, the owner chose Oak Green Metallic paintwork – a color that appeared for the first time in the 1970s, but which has never been available for the Carrera GT.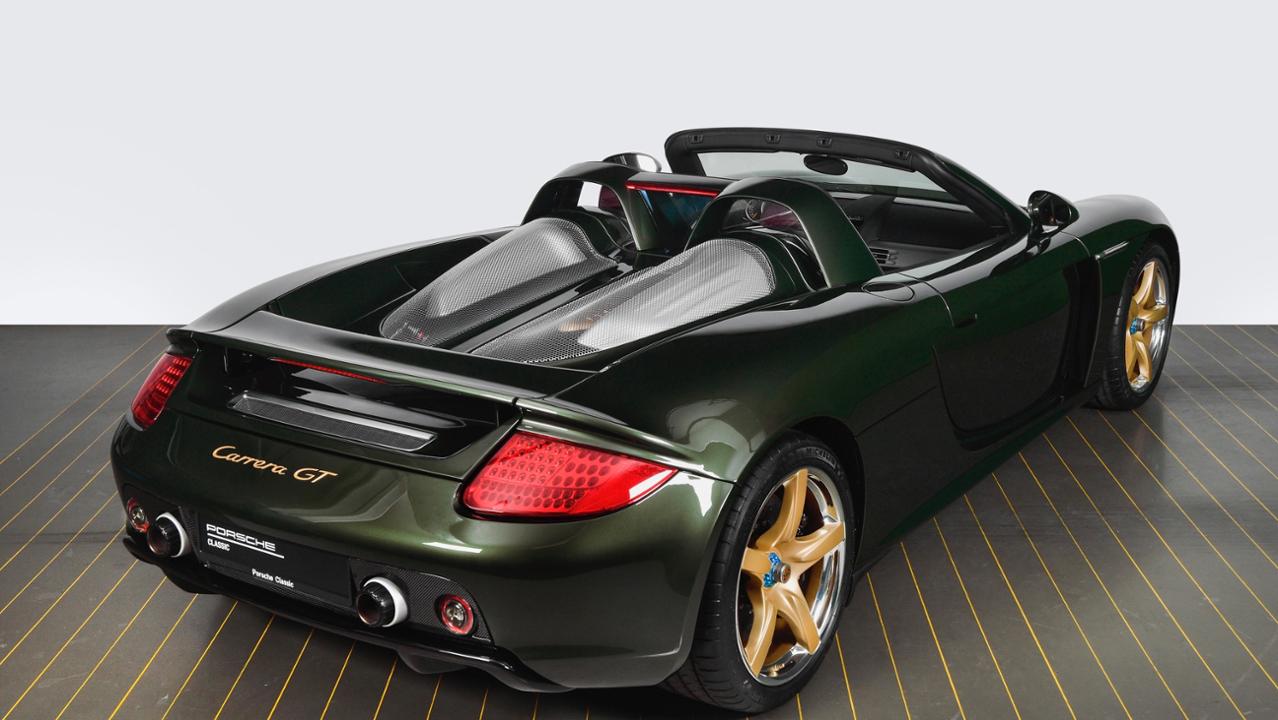 The complementary five-spoke magnesium tires were specially designed, taking their initial inspiration from the legendary motorsport tires from BBS, which had a star-spoke painted in gold and a polished rim ring.
However, material experts from the Porsche R&D center Weissach advised that polishing the rim ring would structurally alter the material in such a way that it would potentially be dangerously weakened, so an alternative engineering process was required to create the desired metallic high-gloss effect rim.
A Silver Ring Coated with Silver
The solution to the challenge lay in using silver, a precious metal. In an innovative procedure that had never before been used in series vehicle construction, a silver layer was applied to create a visually chrome-like surface finish.
This high-gloss silver layer requires a final protective coating though because silver is second only to iron in terms of metals that most readily oxidize: where prolonged   on iron results in rust, silver responds to exposure to atmospheric oxygen and water by accumulating unsightly black tarnish on its surface.
This is why the silver-coated rim ring required a protective layer of clear lacquer, and the star-spoke was painted in gold to match. Serving as a technical contrast to this is the blue-and-silver central wheel lock, bearing the Porsche emblem in color.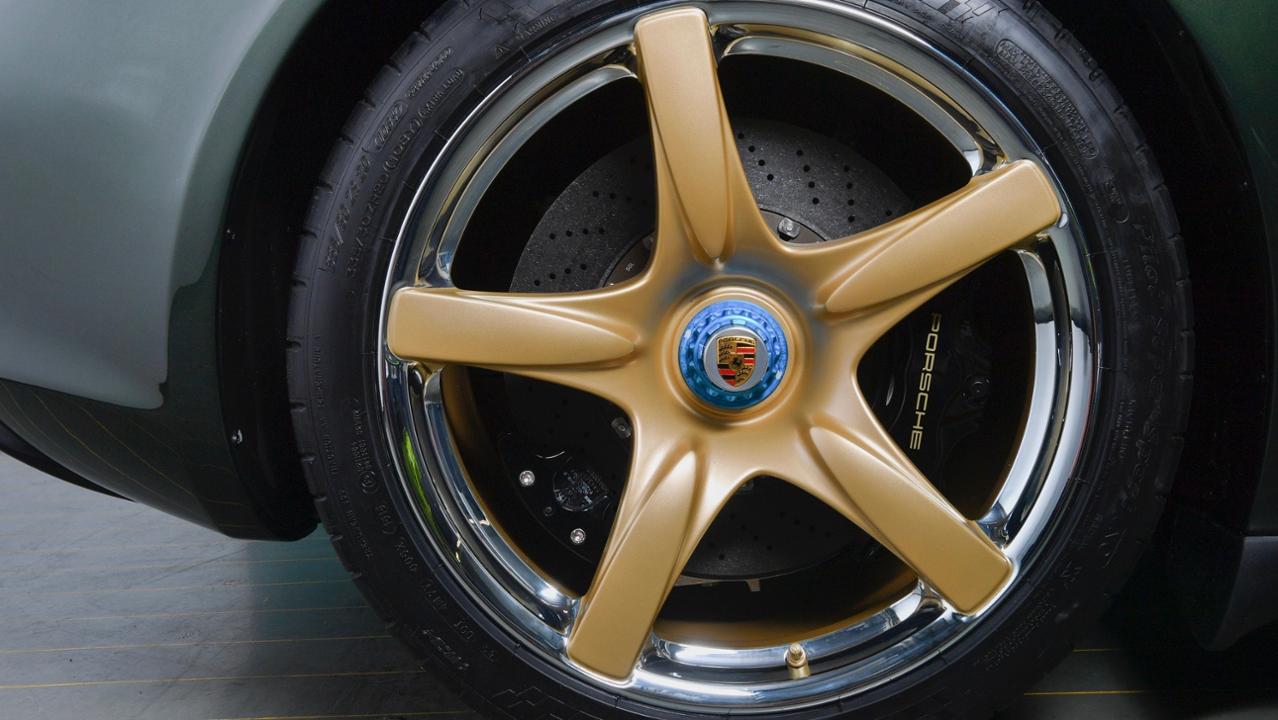 The gold of the star-spoke has also been picked up elsewhere, for example in the Porsche lettering on the brake callipers, in the engine compartment, on the intake housings, and even in the interior, where the top marking in the center of the steering wheel is adorned by a single gold stripe flanked on both sides by a stripe of Oak Green – a discreet and individual touch.
Elaborate Repair of All Carbon Fiber Parts
Even at this stage, the work on this special Carrera GT was far from complete. "Because the coating on older carbon fiber parts tends to yellow and fade, we spent 350 hours manually sanding and recoating all the carbon fiber components, including the monocoque," explains Uwe Makrutzki, Manager of Porsche Classic Factory Restorations in Stuttgart.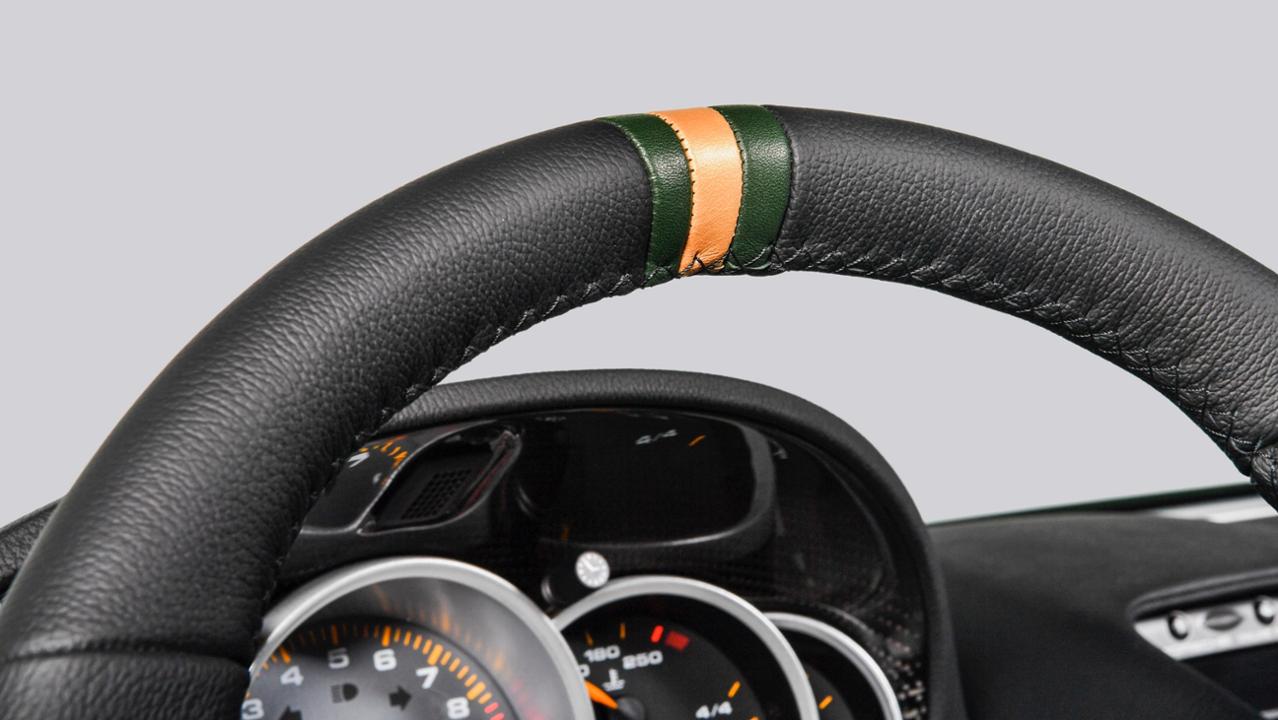 The vehicle is now ready for delivery, and at the invitation of Porsche Cars North America, Porsche Classic has presented it for the first time at the Porsche Experience Center in Atlanta, to a select group of 100 invited guests including the car's owner.
Porsche Classic also hosted a symposium to coincide with the event, moderated by motor journalist Pete Stout, and featuring Alexander Fabig, Head of Customer Center, Uwe Makrutzki, Manager of Porsche Classic Workshop Restoration, record-winning race driver David Donohue, and Porsche Designer Tony Hatter, who were all available to talk about the project and answer questions.
About Porsche Classic
Porsche Classic takes care of all vehicles whose production end date is generally more than ten years in the past. 
These include legendary sports cars, such as the 356, 914, 959 and 911 up to and including type 996, as well as all four and eight-cylinder vehicles, such as the 924, 928, 944 and 968, and the Porsche Boxster, type 986. Since 2016, Porsche Classic has also been responsible for the genuine parts supply of the Carrera GT super sportscar. Further information is available at Porsche.
Final Verdict
As my fellow Supercars.net colleague, Nick Dellis once remarked, "The world is full of armchair commentators when it comes to cars. At Supercars.net we have a number of journalists and automotive publications we rely on when we want to get unbiased opinions from people we admire."
Below are snippets from some of our favorite car reviewers and automotive personalities regarding the Porsche 911 Speedster. As always, we ask that you support the amazing publications they release, so that the automotive community continues to benefit from the hard work and enthusiasm they put into providing us with content that we love.
Car Magazine – "Brilliant. Pure, Full-fat Unadulterated Brilliance." – 5/5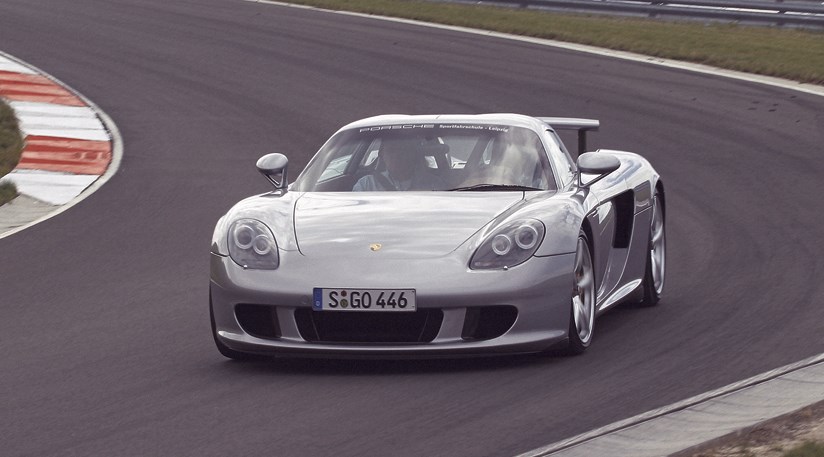 Ben Whitworth from carmagazine.co.uk reviewed the Porsche Carrera GT in 2008. He admits that the car can be a hassle to drive in low speed, stop-and-go traffic thanks to the sensitively operated clutch. Where things really start to get good are when "It's only above 3000rpm that the ride, steering, chassis, and engine really start to work their magic. But boy, what magic."
The Carrera GT's handling is the perfect compliment to its engine, where he notes that "One of the car's key attributes is its forgiving chassis and superb steering that together allow you to extract the best that fabulous engine has to offer. The more speed you add, the smoother and more fluid the ride becomes, allowing you to sew a series of bends together with real precision and confidence."
A disclaimer to end things off though, as he reminds us that "You can drive the Carrera GT at seven-tenths all day – which by normal standards is still phenomenally quick – but you'd better have your go-fast synapses all snapping together if you push harder."
More: Read full review
Autotrader- "…the greatest experience of my entire life." – DOUGSCORE: 71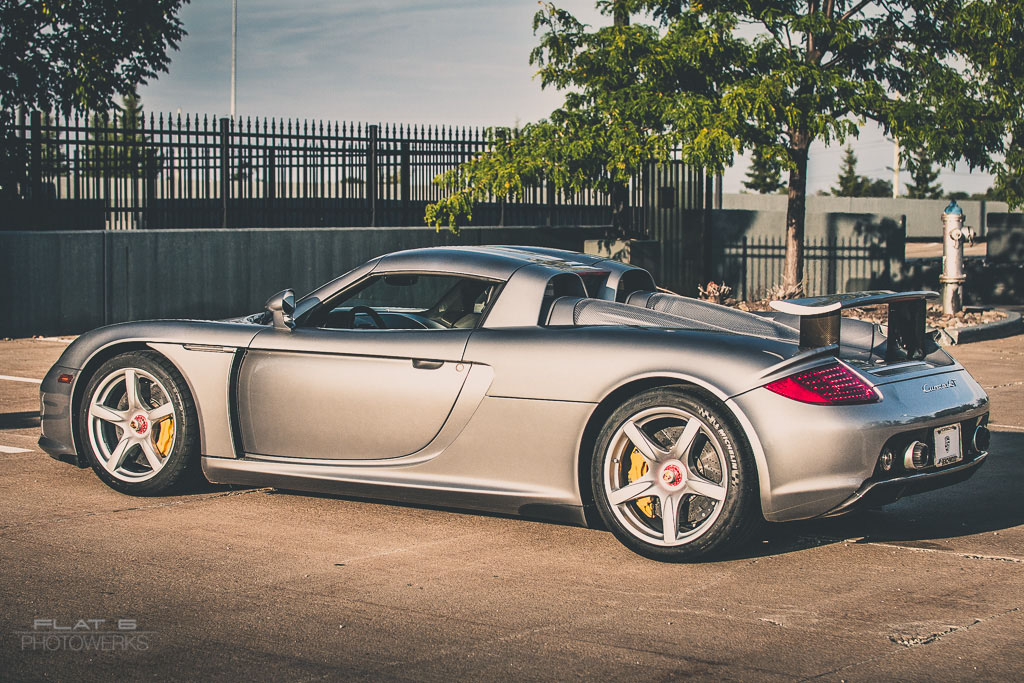 It's easy to forget that Doug DeMuro actually writes his reviews on behalf of Autotrader, as the charismatic – and often quirky – the presenter has transcended into his own form of celebrity through his entertaining video car reviews.
His written review of the Porsche Carrera GT is a loosely based transcript of his video performance, mentioned earlier in my review. There are some things he reveals in his written article which he didn't on Youtube, such as what was going through his mind before getting into the driver's seat. "I've never felt so much pressure in my entire life. Tom Brady has never felt so much pressure in his entire life," he remarked.
Doug knew that that car would be impressive, but he noted that "What was a surprise, however, was just how much I didn't feel intimidated when I was behind the wheel.", which is a testament to Porsche engineering principles.
His final word: "My all-time favorite dream car. And the greatest car ever made."
More: Read full review
My Final Verdict
5/5
The Porsche Carrera GT is one of the most distinguished representatives of an automotive era now concluded. It was the last supercar to be fitted with a true manual transmission. It introduced world-first technologies derived from racing, in a road car. It could very well be the last driver-focused car of its kind, with no successor – spiritually or materially.
In fact, Michael Hölscher who led the development of the Carrera GT has stated regarding a second iteration, "We don't want one. We have promised customers that there will be no successor. It would kill the value of the GT overnight. But we will always demonstrate that we are a leader in technology." 
However, we will continue to see the Carrera GT's influence in Porsche's production cars which have – and are yet to – come through the production pipeline. "We have learned from the Carrera GT programme how to work with carbon fiber, ceramics, and magnesium. It's a technology that will filter down into new products." Hölscher notes.
This is especially important as the automotive landscape is changing both drastically and exponentially, as time goes on. In a future that looks to be dominated by software and electronics, the Carrera GT will hopefully serve as a reminder for Porsche to continue engineering cars that elicit an emotional connection with their owners/drivers. I am confident that Porsche is well-positioned to be both a leader in technology, while also staying true to its heritage.
The Porsche Carrera GT will always be one of the most incredibly balanced and exquisitely engineered cars ever made. Many years into the future – perhaps when the role of the automobile as we know it, becomes obsolete – the Carrera GT will become the equivalent of scripture for the soul; something for us to deeply reflect on, as we look to rekindle our relationship with the simple and good things in life.
Rivals
Ferrari Enzo
Pagani Zonda C12S
McLaren Mercedes SLR
Maserati MC12
Koenigsegg CC8S