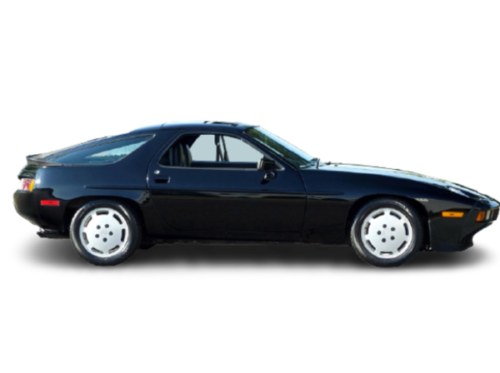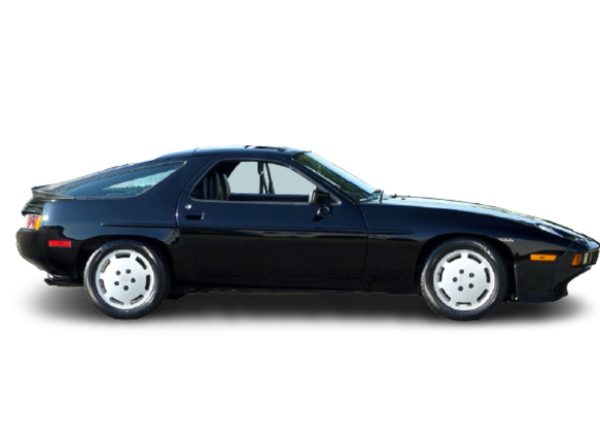 (1980 – 1986) Porsche 928 S – Ultimate Guide
Porsche 928 S / S2 / S3
To replace the base model 928, Porsche introduced an updated and redesigned 928 S into the European market in the 1980 model year, and in 1983 for North America. On the outside, the new 928 S had new front and rear spoilers and sported wider wheels and tires. The biggest updated was the engine, and the 928 S got a peach of a motor, a revised 4.7 L engine.
European versions came out with 296 hp (300 PS), and were upgraded to 306 hp (310 PS) for the 1984 model year. In 1985, North America received a new 5.0-litre 288 hp 32-valve engine equipped with Bosch LH-Jetronic injection. Mid-year 1986 models (a/k/a 1986.5) incorporated the upgraded suspension and Brembo brakes found on later 928 S4 models. During its production, the 928S was available in either automatic or a 5-speed manual transmission. It evolved into the 928 S4 for model year 1987.
Introduction of the Porsche 928 S
The 928 S launched in Europe in 1980 bu was not offered in North America until 1983. The 928S had a larger, 4.7 liter 16 valve V8 engine and larger brakes. Front and rear spoilers were present on S models from 1980 (1983 in North America) through 1986. Rear spoilers were neatly integrated into the hatch. As the faster S model was not available in the USA and Canada during the first three years of its existence, a "Competition Package" option was created to allow North American customers (learn more about the 1978-1982 Porsche 928).
From 1984 to 1986 ROW (Rest Of the World) S model was officially called S2 in UK. North American 1983 and 1984 S models used, among other differences, milder camshafts and additional emissions regulation equipment, and were limited to 239 hp (174 kW/242 PS) as a result. The Bosch EZF ignition system was also introduced, having dual distributors and allowing higher compression and increased torque. At 146 mph U.S. model top speed, Porsche advertised the 928S to be "the fastest street legal production car sold in the U.S."
In 1984 we also saw Bosch ABS brakes optional for the first time in Porsche (they became standard in 1985). Subsequently adopted by a number of other manufacturers, ABS does what any good driver would at the first sign of a skid: "pump" the brakes to get a locked wheel rolling again. The difference is that ABS does this more rapidly than any human can — up to 15 times a second in this case — and only at the affected wheel (via electromechanical means in response to signals from wheel-mounted sensors). That sort of braking is beyond human capability; the result is a virtual absence of skidding (except on hard-packed snow or gravel) no matter how hard the driver might push the brake pedal. Steering control is thus maintained. As past 928 brakes had been occasionally criticized for front-and/or rear-lock sensitivity, ABS was a worthwhile addition, mating beautifully with the Weissach Axle to set a new standard of active safety.
The Porsche 928S continued its upward bound for 1985. Porsche stretched bore another 3 mm and doubled the V-8's valves and camshafts. The result was 4,957cc (303 cid) V8 with 10.0:1 compression made possible by the four-valve head with spark plugs centrally located above new pentroof combustion chambers. SAE net horsepower came in at 288. Torque increased to 302 pounds/feet and peaked at the lowest crank speed yet, 2700 rpm.
North America got the revised 32-valve 928S before Europe and American journalists were quick to sing praises. Car and Driver tested it from 0 to 60 mph in just 5.7 seconds, with o to 100 mph over in just 13.5 seconds. A 14 second flat quarter mile time and top speed of 154 mph proved that the changes for 1985 were worth it. There were few other changes for 1985, though Porsche now extended its rust warranty to an impressive 10 years. Inevitably, price was more impressive, too: a cool $50,000.
In addition to the bigger engine, the 928 S was the first to receive large platter wheels. Its front and rear spoilers were polyurethane and colored matte black, and side panel moldings on the doors were added along with turn signal side indicators.
What They Said About the 928 S
Car and Driver's Rich Ceppos was impressed by the Porsche's newfound performance. He was more impressed with the 928S' "double-agent, personality: a killer instinct coupled with luxocar civility and the kind of bulletproof solidity you'd normally associate with a Mercedes…. The feeling around these parts is that the 928S actually gives you your money's worth in today's inflated market."
"These are amazing figures for a car with extremely tall economy-oriented gearing," C/D observed dryly. "substantial improvement over its predecessor." Braking was better, too, even though ABS had been left in Germany (it became standard in North America for the 1986 model year). Car and Driver termed the system "reassuring, thanks to linear performance, well-proportioned front-to-rear balance, and excellent modulation. These characteristics contribute to the 928S's ability to stop from 70 mph in just 175 feet. Perhaps even more impressive is [its] ability to absorb triple-digit speeds without fading or emitting any disconcerting squeals, groans or odors."
The folks at Road and Track agreed: "The 928S is simply a marvelously competent car…as close as anything to being the complete automobile as understood in the year 1983…. It's a judgment call to say a car this expensive is worth it, but at least the 928S gives you a good deal of substance to go with its costly image."
Porsche 928 S Evolution (1980 to 1986)
1980 MY Porsche 928 S
In 1980, the 928 S launches in Europe (while the North America has to make do with the base 928). The 928 S gets the 4.7 L V8 with 16 valves and 300 PS (221 kW) in power. The "S" model was first shown at Frankfurt in September 1979. Design-wise it gets front & rear spoilers and mechanically it also got larger brakes. The manual gearbox changed during model year requiring shorter torque tube and different rear subframe. The first 1,000 or so cars made had the older gearbox.
1981 MY Porsche 928 S
No changes. The 928 S is still not available in North America.
1982 MY Porsche 928 S
The 928 S is still not available in North America. Upgrades were made in 1982, including a new vibration damper added to torque tube between 2nd and 3rd support bearing on manual gearbox cars and behind 2nd bearing on automatic gearbox cars. Reverse gear lock added to manual gearbox.
141 "50th Jubilee" 928 S produced for world wide markets except North America. The special "50th Jubilee" 928 S models were available outside the U.S. and Canada to celebrate the company's 50-year existence as a car manufacturer. This model is also sometimes referred to as the "Ferry Porsche Edition" because his signature was embroidered into the front seats. It featured meteor metallic paint and was fitted with flat disc wheels, wine red leather and special striped fabric seat centers. Similar 911 and 924 specials were also made for world markets.
1983 MY Porsche 928 S
The Porsche 928S came to the U.S. for 1983 (as a result, the standard 928 (4.5 L) model dropped. The 4.7 litre engine produced 234 horsepower and had new hydraulic motor mounts. For North American markets, the standard 928 model was officially dropped in favor of having only the 928 S. Engine shocks were deleted at the same time and body and torque tube changes meant the 928 S was able to accommodate the longer 4-speed automatic transmission (offered in North America).
1984 MY Porsche 928 S
The "S" model renamed "S2" in the UK market (see below for the explanation). Bosch LH-Jetronic injection and 4-speed automatic transmission made available for world wide markets (previously available in North America only)
Torque tube shortened like on U.S. model in the previous year. Bosch EZF ignition system using dual distributors makes debut. This allows higher 10.4:1 compression and increased torque. Compression change done in middle of model year once 10.0:1 compression ratio resulting piston stock were used up in production. Bosch ABS brakes optional for the first time in a Porsche. At 146 mph (235 km/h) US model top speed, Porsche boldly claims the 928S to be "the fastest street legal production car sold in the US". Important safety related change to front suspension lower ball joints on all cars in September 1983.
1985 MY Porsche 928 S
The 928 S / 928 S2 (UK) are back. Big changes for the 1985 model year include a new engine. New 5.0-litre 288 hp 32-valve engine equipped with Bosch LH-Jetronic injection and Bosch EZF ignition made available for the US market. Top speed (for the US model) is now in excess of 250 km/h (155 mph). Special two-valve 4.7 L engine (9.3:1 c/r) option M151 for Australia. Compression change was done with different shape piston tops. Coupled only with automatic transmission. Engine number is same M28/22 as the high-compression 2-valve engines. LH-Jetronic control box design changed in international markets. New style front seats. Redesigned more modern looking door panels installed when multi speaker stereo was ordered. Gearbox synchromesh changed to BorgWarner design and shorter gear lever, improving driveability on manual transmission cars. Shims left out from front end of torque tube drive plate in automatic transmission cars, this sometimes cause engine thrust bearing failures. Radio antenna moved to embedded windshield wire.
1986 MY Porsche 928 S
Lowered 9.3:1 compression ratio four-valve engine optional for some markets along with catalytic converter, standard in Australia. Compression change was done with different shape piston tops. "S4" suspension package and Brembo brakes for 1986 models (from VIN 1001[7] and November 1985 onwards in North America). No U.S. models made with VIN ending between 0938 and 1000 due to parts change. ABS brakes became standard for all markets during model year production.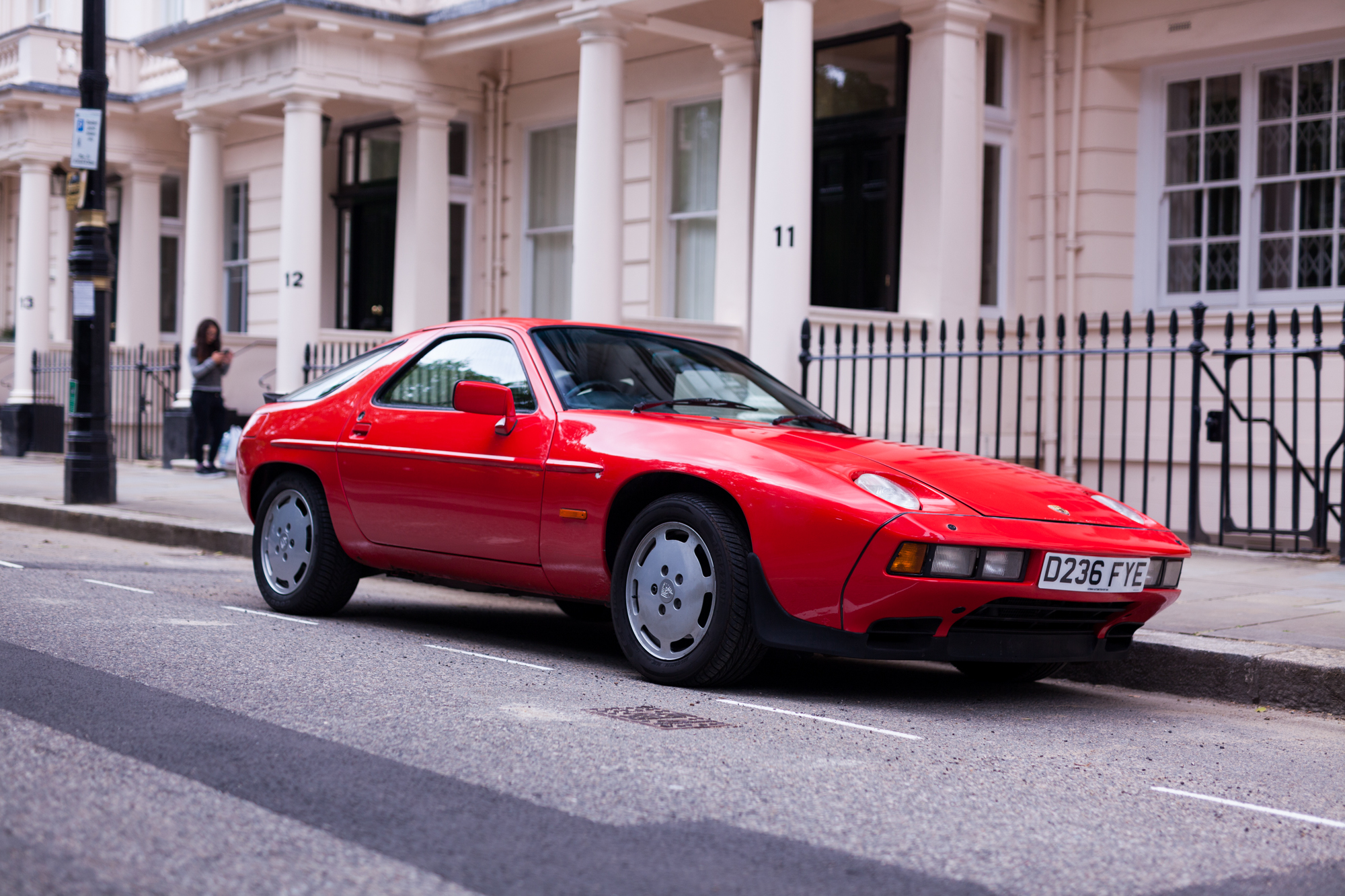 Porsche 928 S2 (1984 to 1986)
In 1984, the Porsche 928 "S" model was renamed "S2" in the UK market until it was retired after model year 1986. It was more than a name though. So while the U.S. 928 was all but unchanged for 1984, Europe was treated to this special S2 .
Bosch's advanced new LH-Jetronic injection teamed with electronic ignition and sky-high 10.4:1 compression to lift the 4.7-liter V-8 to 310 horsepower (DIN) and 295 pounds/feet of torque, gains of 10 and 12, respectively. Porsche claimed 10-12 percent better fuel economy, though you couldn't prove it by Autocar, whose test S2 proved "patently" thirstier than previous 928s. The same systems used on the later 32-valve cars, though without the pollution controls. They also got an electric airflow sensor. The S2 reference was never used by Porsche Germany but came mainly from journalists. In the UK Porsche issued the 928s2 model with decal on the rear.
Top speed was now a solid 155 mph. Autocar magazine said…"Even with all that luxury, you think the car is still too expensive?…Get behind the wheel of the 928S Series 2, drop the clutch, floor the accelerator…and think again."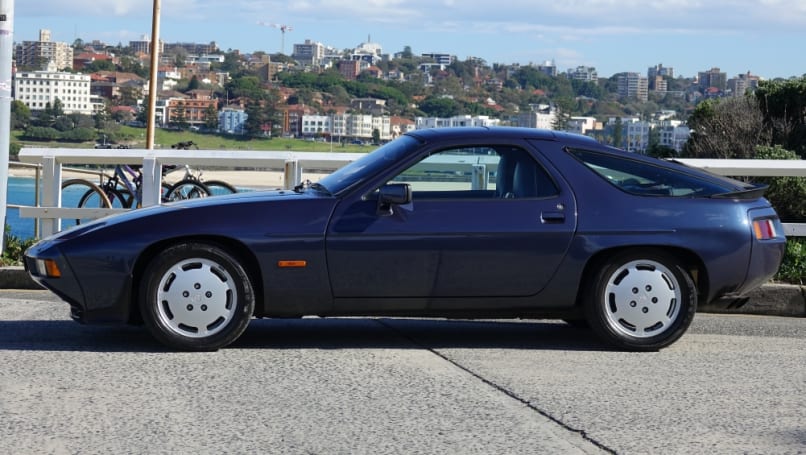 Porsche 928 S3 (1985 to 1986)
You will sometimes see the 1985 and 1986 Porsche 928s referred to as the "928 S3". The lack of overwhelming success caused Porsche to redesign the car in 1985, adding the newer, larger engine as well as design tweaks.  The injection system was changed to a state of the art very sophisticated electronic system (L-H Jetronic) that monitors all aspects of the engine including timing, quality of the gas and habits of the driver.  Six way sport seats with a narrower seat back for better rear and side vision were added.  The manual transmission was improved for better shifting. In 1986 anti lock brakes were added and mid year in 1986 (starting with VIN # 1000) improved multi piston brakes were installed. We have included the 1985 and 1986 here on this page as "928 S" models, but these cars were different enough that many pundits split them into that S3 category so it is an important callout.
Porsche 928 S Production Numbers
A total of 24,332 units were produced of the Porsche 928 S, S2 and S3 models from 1980 to 1986.