Chassis No: 911 460 9029
Engine No: 684 0053
Prod. No: 104 2302
G/box No: 716 1222 (15/1)
Colour: White/Gold
First delivered to: Sonauto Dealership , Paris, France
Aluminum roll bar fitted
First registered as: 556 ACR 75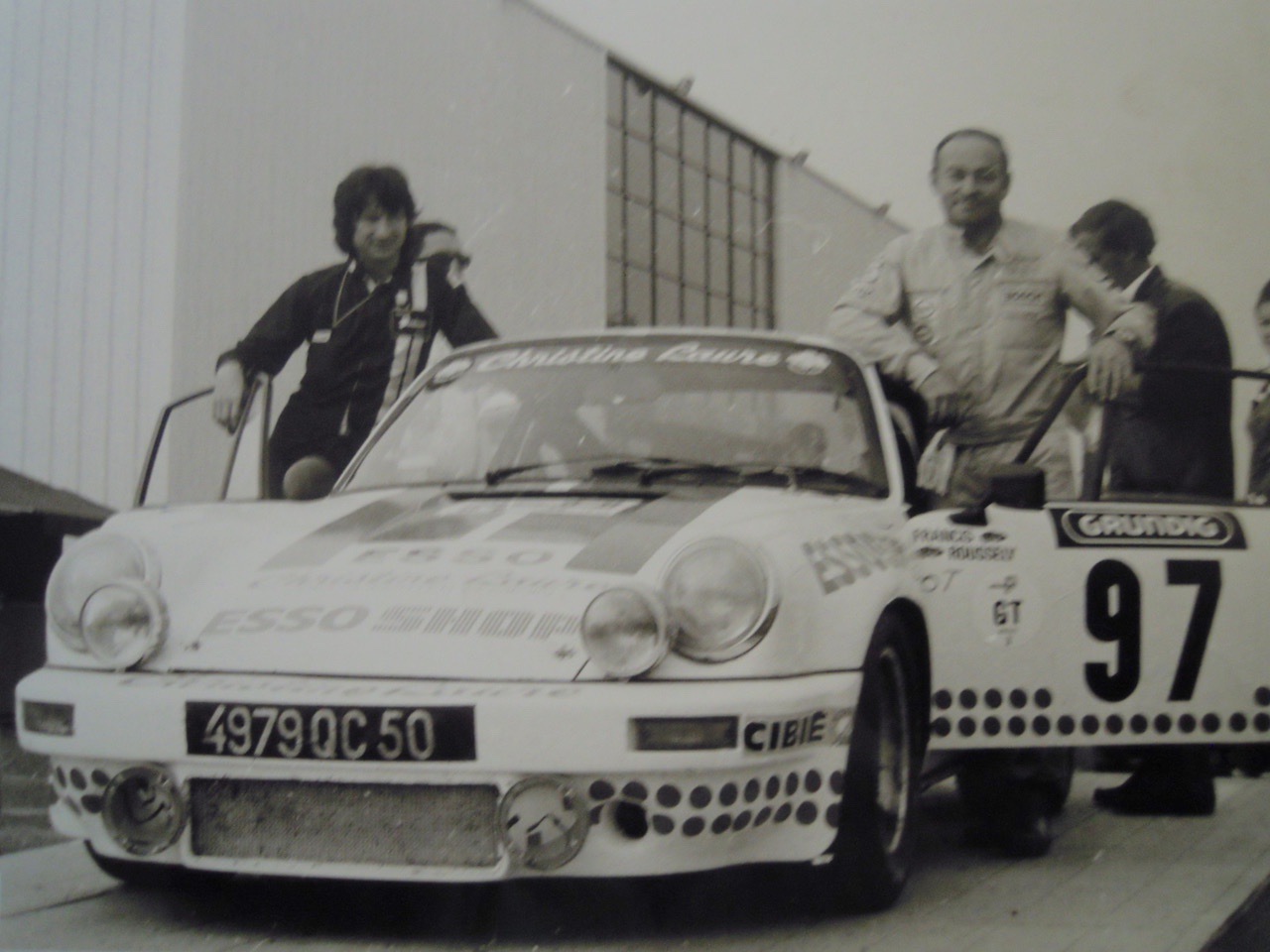 There are numerous racing Porsches that have somehow slipped "under the net" as far as the general public being aware of how great they were (and still are). Chassis number 911 460 9029 is one of them.
911 460 9029 was one of the fabled RS 3.0 Carreras that took the Porsche GT rallying and racing world by storm when it first appeared in late 1973. They were built by the factory from October of 1973, although most were delivered to their new owners in early 1974.
They would go on to compete with top honours in events such as the Le Mans 24 Hours, Tour de France Auto, Monte Carlo Rally, and many other races and rallies around the world.
One thousand, five hundred and eighty RS 2.7 Carreras had been built in 1972/73, but there were only fifty six RS 3.0s produced. Porsche had seen that by making this "Evo" Group 3 version of the RS 2.7, it could then homologate the 1974 RSR into the Group four GT class for their racing customers.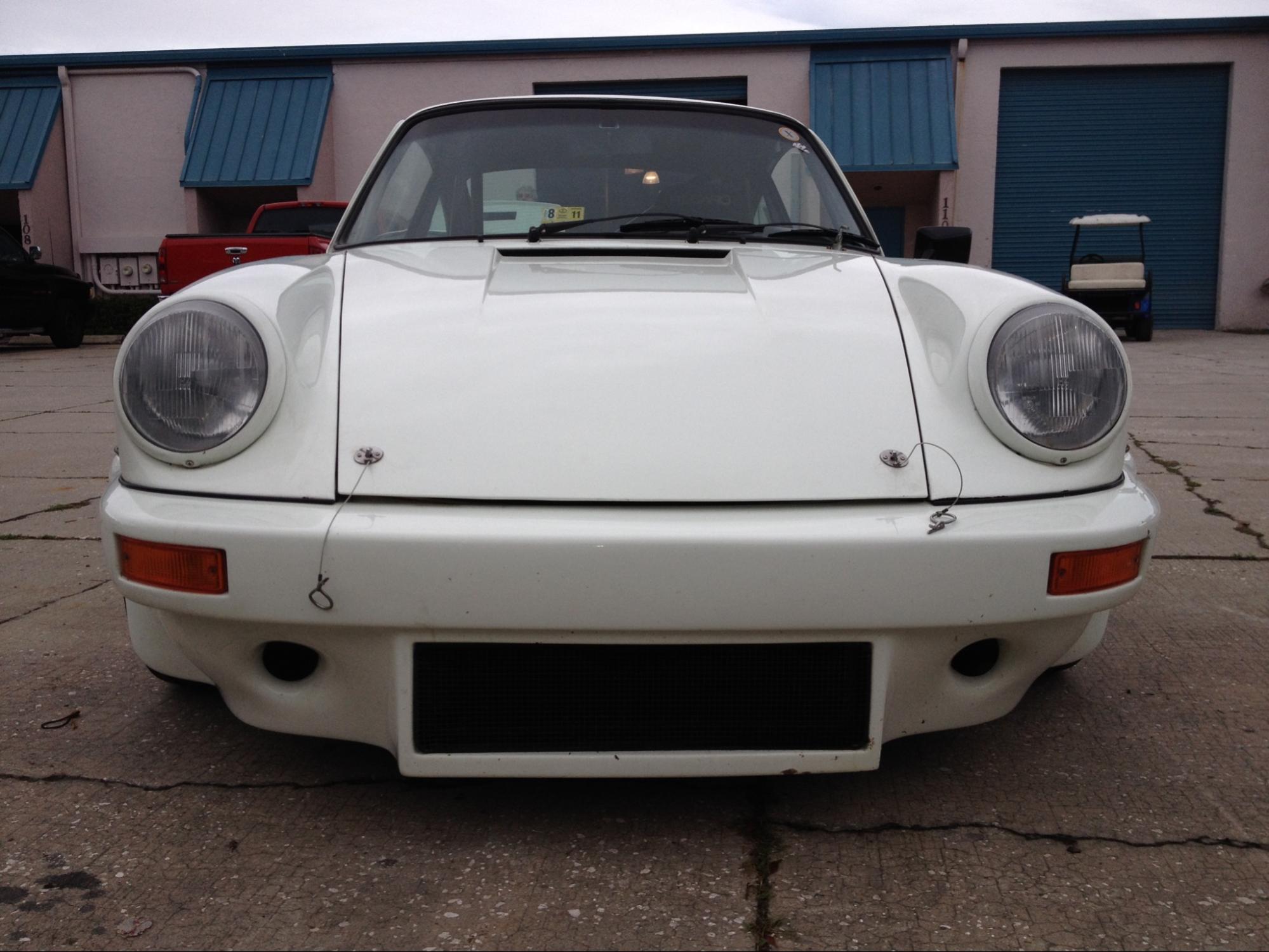 The RS 3.0 was a development of the great RS 2.7 Carreras of 1973. Basically, the RS 3.0 was a lightened version of the new-for-1974 model year "G" Type body shell/chassis, which was distinguished by its impact type bumpers and short front compartment lid.
The RS was fitted with even wider wheels and wheel arches (7 inch fronts and 9 inch rears) than the previous RS 2.7 Carrera. Underneath the engine cover was now a 3-litre engine (2993cc), which, unlike the previous 911s, now had a crankcase made of aluminum for extra strength.
Although nominally only producing 20 more horsepower that the previous RS 2.7 Carrera, the new 3 litre, with its much improved torque, was a rocketship on the road. Brakes were from the legendary 917 sports prototype. The new Carreras were also very expensive for the time—over twice the price of the previous RS 2.7 Carrera.
When the RS 3.0 was road tested, the magazine articles featured overflowing praise for the new lightweight 911; 0 to 62 mph came up in 5.2 seconds and 0 to 100 in 13.7, according to Paul Frere, who used the factory "demonstrator," 911 460 9025.
Roger Bell of the English "Motor" magazine reported that he received complaints from passengers about their suffering neck muscles under acceleration and braking when he took them for rides on a race track!
Bell also said, regarding the RS receiving a set of slicks and being let loose on Castle Combe's race track: "… within ten laps I was sufficiently in the groove and gaining confidence in a car that was really very easy to drive—provided you didn't fight it or let it scare you."
At one point in his report, Paul Frere pointed out that he had averaged some 124 mph for 78 miles of motoring, only having to slow down for roadworks. Top speed was quoted as being 149mph.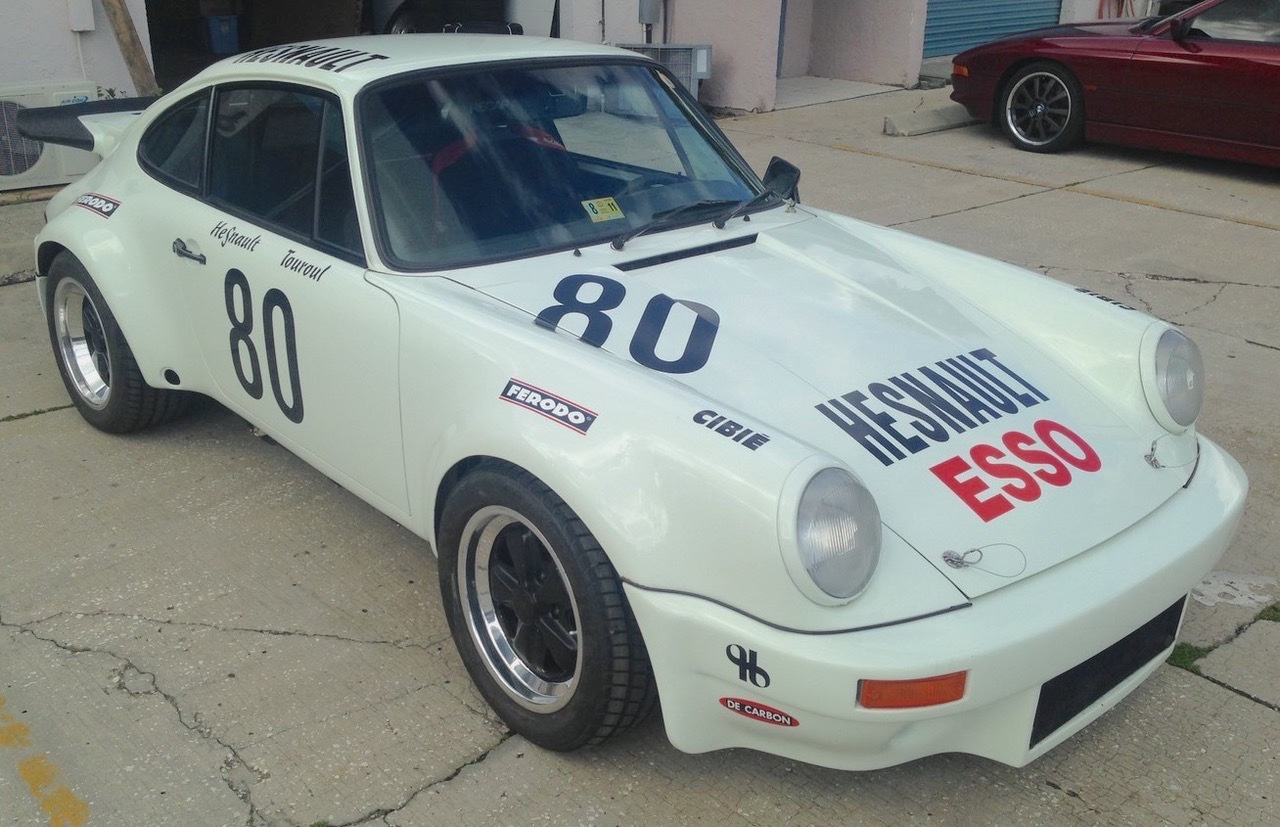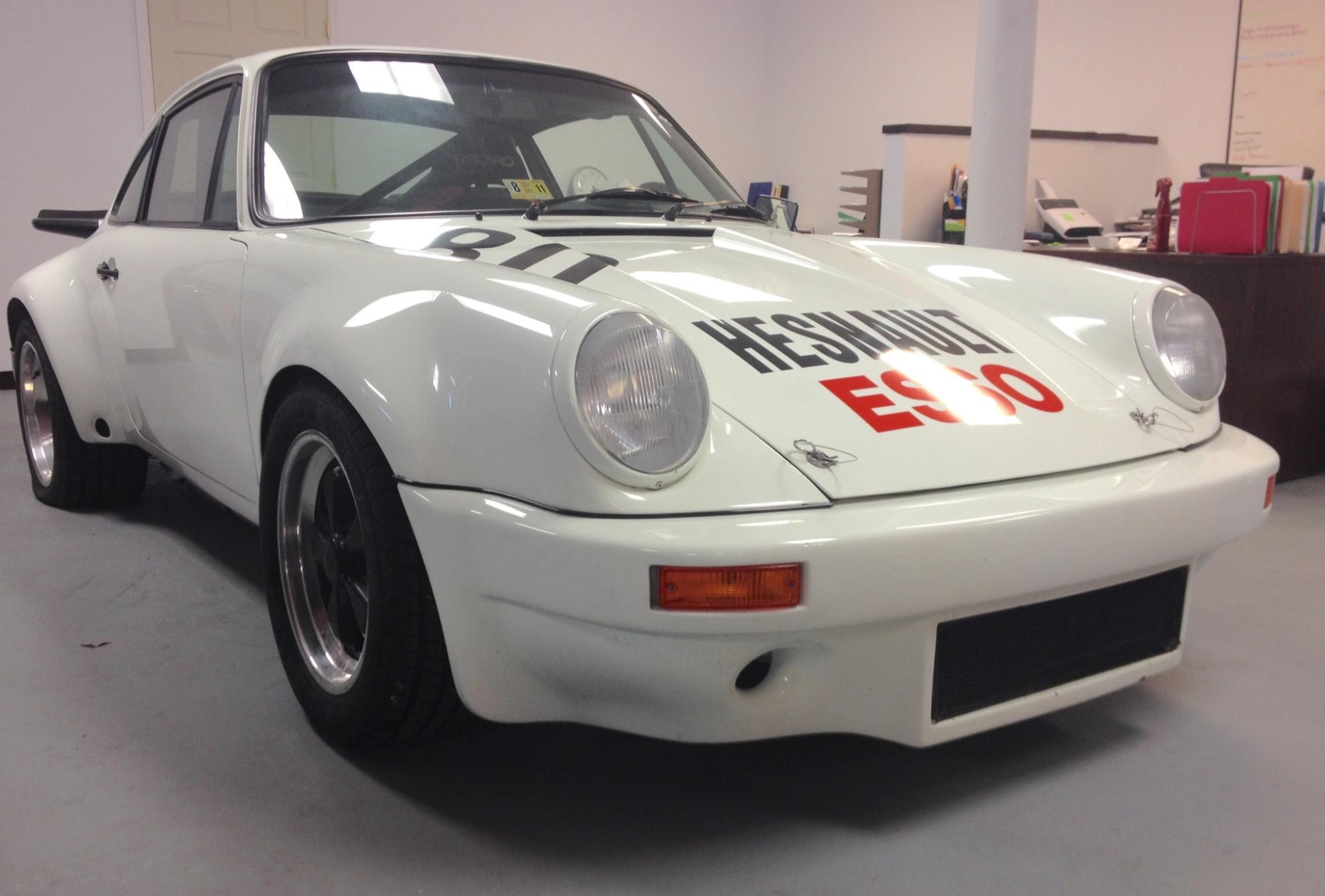 The lucky owner of an RS 3.0 Carrera was buying a car that could not only be raced and hill climbed in the Group 3 class, whilst being completely standard, but could also be "hotted up" with Group 4 parts, a la RSR—but with a narrower body, which allowed it to go faster down the straights than an RSR.
Nowhere were RS 3.0s raced, rallied, and hill-climbed more than in France. Quite why this was so, I do not know for certain, but we can hazard a guess. In the 1970s, two standout events took place in France: the 24 Heures du Mans (world famous, of course) in June and also the Tour de France Auto in September.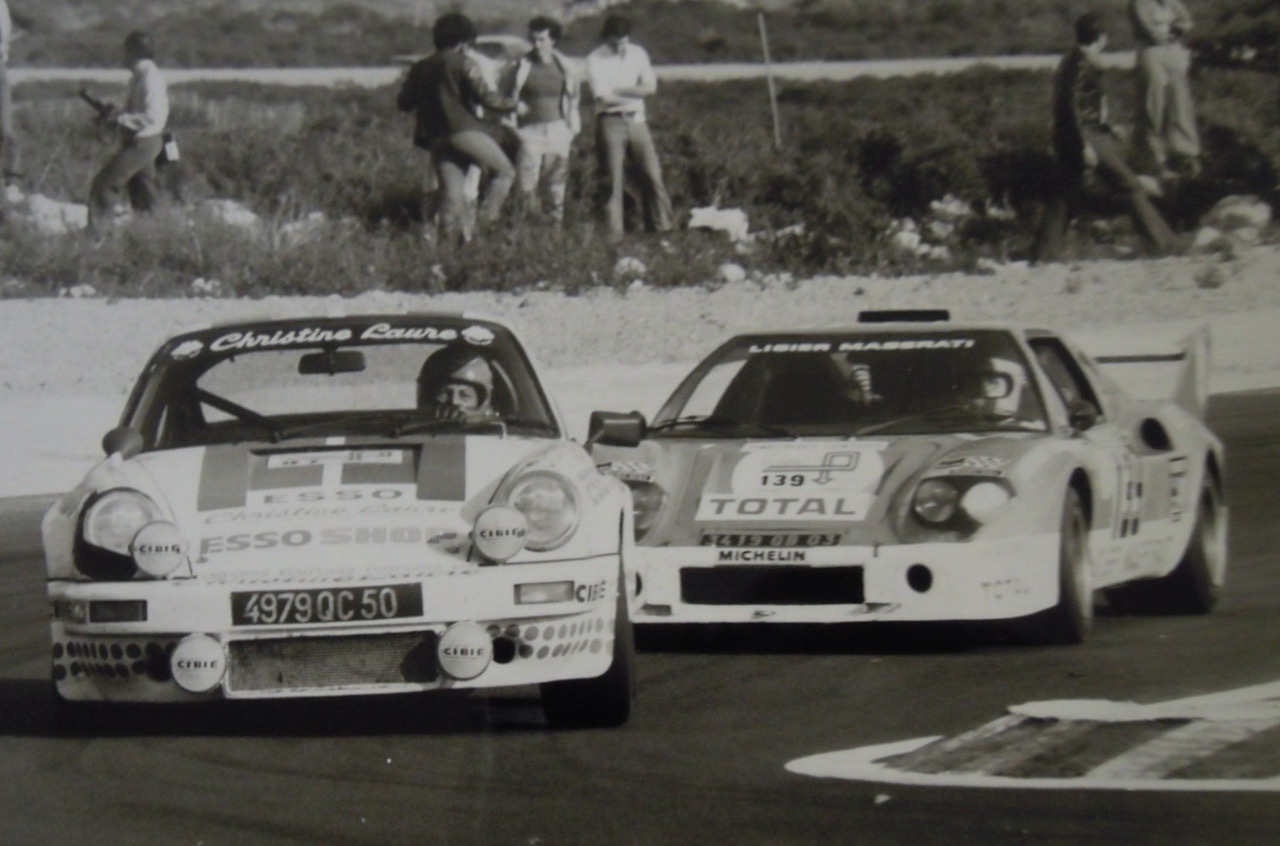 This last was an event that had up to nine days of rally stages, interspersed with races and hill climbs, and which was very hotly contested indeed. Add in many local rallies, each one of them hard-fought, plus hill climbs, and it's easy to see that if you owned a good Group 3 or 4 car in France, you were spoiled for choice in those days.
As well, there were several very good French race preparers who had cut their teeth on 911 Rs and STs in France, such as the Almeras Freres of Montpelier, Jean Egretaud in Bordeaux, Sonauto, the Parisian distributor, Louis Meznarie, also of Paris, and Raymond Touroul, a race preparer/driver himself (also based in Paris).
It would appear that Touroul, the Almeras Freres, Sonauto, and Meznarie (to name but a few), would rent out their cars to known drivers such as Gerard Larrousse, Jean-Paul Rouget, Christian Lefevbre, Francis Bondil, Bernard Beguin, and Michele Mouton.
There isn't the space to list all the events and successes of the RS 3.0 in France during the mid-1970s, but it should be pointed out that the Carreras were winning and placing for their private owners in much the same way as their Ferrari counterparts had done with the legendary 250 GT Berlinettas from the late 1950s through the mid 1960s. And both were three liter engined cars.
Only some nine RS Carrera 3.0s were sold in France originally—but certainly, one or two more were later on brought in from Germany and Italy, both of them being neighbours with a common border.
Here is the story of one particular competition success for the RS Carrera 3.0 #911 460 9029, which took part in over one hundred races and rallies, many of them long-distance endurance events such as Le Mans, the Tour de France Auto, and the Monte Carlo Rally:
Porsche RS Carrera 3.0 #911 460 9029 in the Ecurie Echappement
911 460 9029 was in 1974 the number 1 car of Ecurie Echappement (after the name of French motorsport magazine "Echappement"), whose headquarters were in Paris, hence the initial registration ending in 75 (556 ACR 75).
Although Raymond Touroul (a very skilful driver of Porsches), was the assigned driver of this brand new car, and despite his own tuning abilities, it was looked after by the Sonauto dealership of Paris during its Ecurie Echappement days.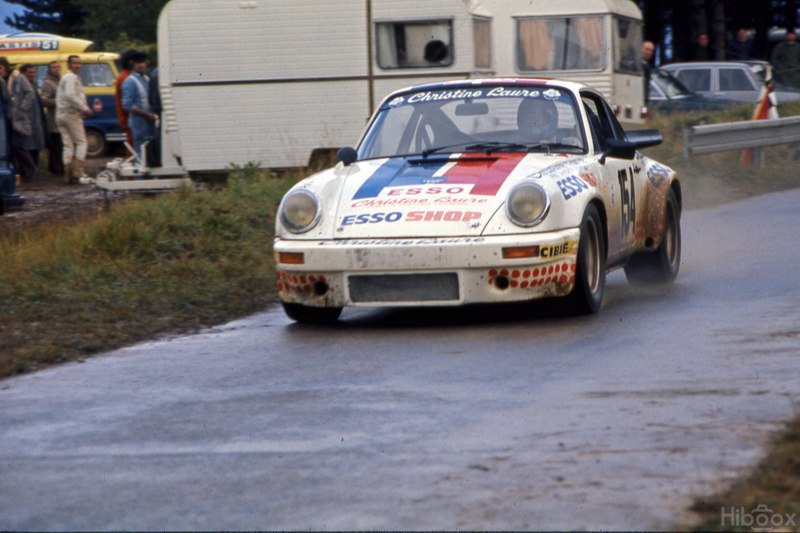 Ecurie Echappement discreetly disbanded in mid-1974 (probably because of a lack of funds—Porsches were a step too high for them after they had run Alpines in 1973), and the car was taken over by Sonauto (located in Levallois-Perret near Paris, département of the Hauts-de-Seine aka region 92).
That explains the WWA 92 registration, which was temporary. Notice that all French registrations from 1950 to 2006 with W, WW, or WWX were temporary registrations at the disposal of concessionaires and garages.
911 460 9029 got a new registration number again in September 1974, this time in the département of the Manche (aka 50- 4979 QG 50). Although 9029 had by then become a Touroul entry, for himself but also often for rental purposes, it is not certain that Raymond Touroul was the actual (or "official") owner, because his cars were normally registered in Departement 94 (Val-de-Marne where he had his garage), never in 50.
But don't forget that Touroul had Norman origins and the Manche is a Norman département. It's probable that Touroul was not wealthy enough in 1974 for the purchase of such an expensive car, and a friend of his in Normandy, Francois Lejuer, probably bought it on his behalf.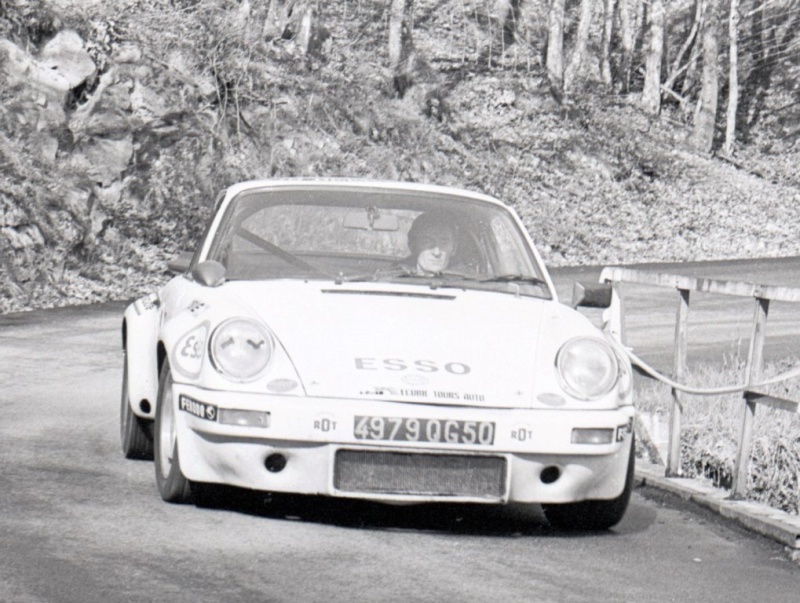 The 4979 QG 50 registration was still visible on a Touroul Group 3 Porsche at the 1977 Tour Auto, but this car may not have been 9029 by then. Touroul Racing had grown quickly between 1974 and 1977 and had several Carrera RSs available.
Adhesive registration plates were almost certainly swapped from time to time between cars, when repairs on one of them forced him to use a backup car. Touroul-entered Porsches raced, rallied, or hill-climbed almost every weekend in various hands in France, and it is easy to understand that they had a complicated life made up of crashes and repairs.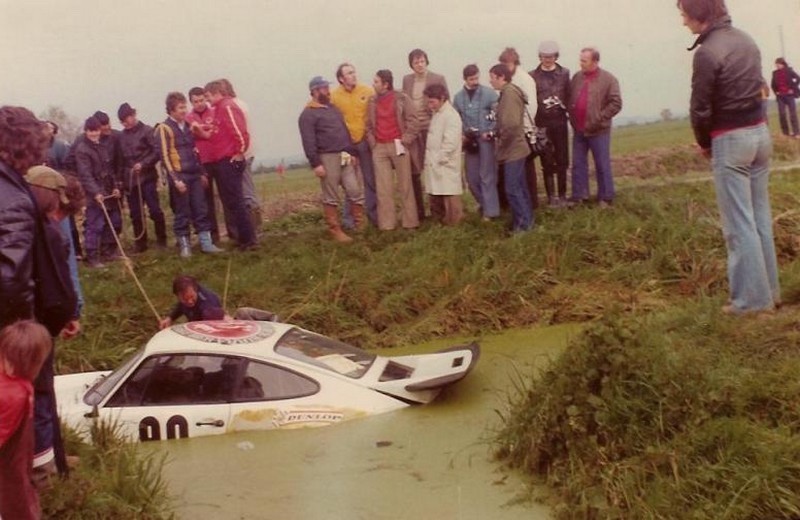 Known Drivers of 1974 Porsche RS 3.0 Carrera 9029
Some of the drivers of 9029 were:
The late Christian POIROT
Francis ROUSSELY (lives in Nancy, official pilot Sonauto BP in '72 and '73)
Jean-Pierre ROUGET (lives close to Monte-Carlo)
Christian LEFEBVRE (lives in Paris)
Bernard BEGUIN (lives in Grenoble)
René BOUBET (lives close to La Châtre)
All the drivers of 9029 had a long race history in Porsche Racing.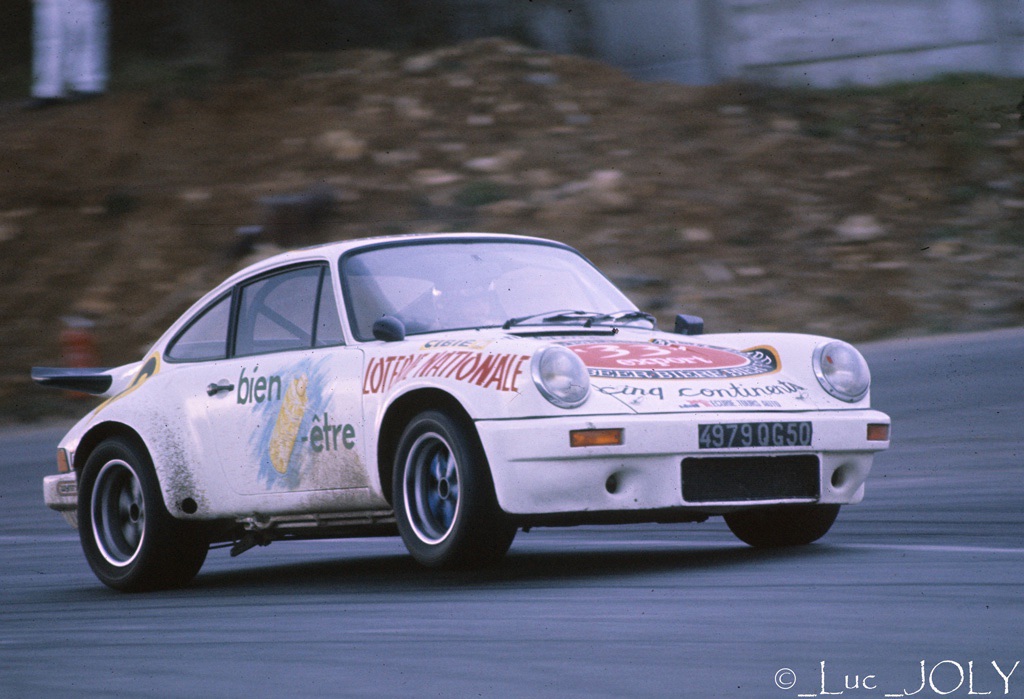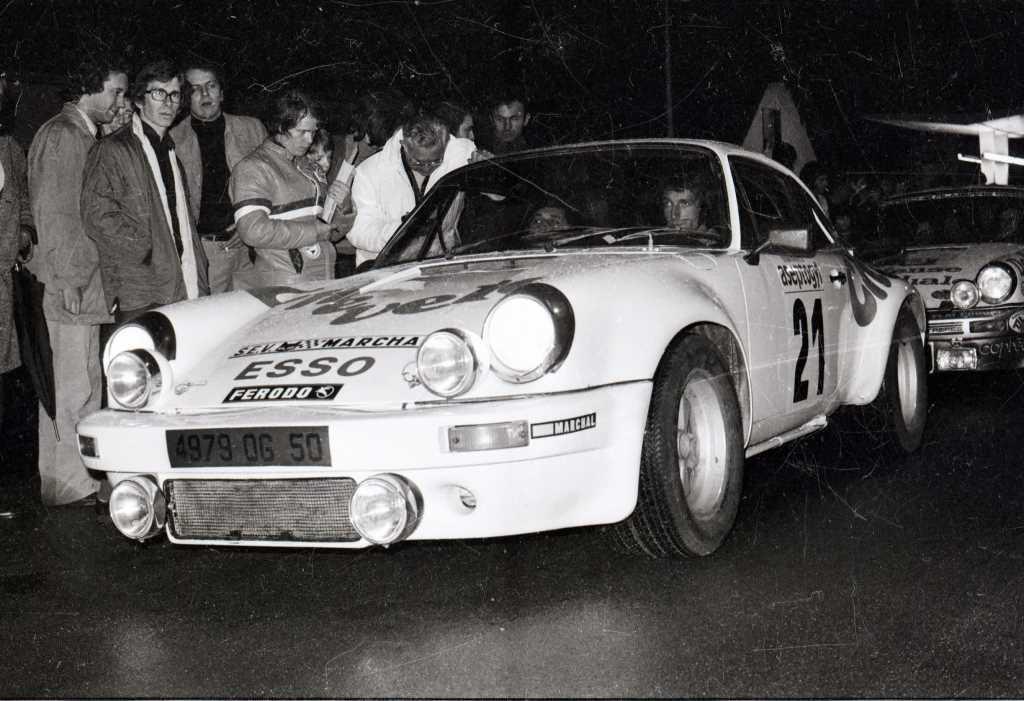 Race History of 1974 Porsche RS 3.0 Carrera #911 460 9029
Here is some race history of 9029 : (RU = Result Unknown. Course du Cote = Hillclimb).
Ecurie Echappement. White, with red/blue stripes a la Brumos USA colors.
Registered: 1174 WWA 92.
1974: French GT Racing Championship.
??/03: Bourbach Corse du Cote: R. Touroul, # 149; RU.
15/04: Nogaro, National GT, France #88 R. Touroul; 8th.
12/06/1974—12/10/1977 the car was registered 4979 QG 50.
20-21st/06: Le Mans 24 Hours:
07/07: Dijon GT, GP de France #18 R.Touroul; RU.
21/07: Chamrousse, Course-de-Cote #97 G.Frequelin; RU.
02/09: Belleau Course-de-Cote #154 F. Roussely, #154; 1st Grp 4/1st class 3.
Taken over by Touroul Racing.
28/09: Monza 6 Hours: R. Touroul/R. Boubet/P. Pagan, #34; 15th OA.
13-21/09: Tour de France Auto: C.Poirot/F. Roussely, #97; 10th OA.
Championnat de France des Circuits: R. Touroul, 3rd in Gr. 3
1975: With Touroul Racing. Reg: 4979 QG 50.
16/03: Montlhery: R. Touroul, #2; 1st.
??/03: Course de Cote Bourbach: R. Touroul, #127; RU.
??/??: Course de Côte de L'Anguille: R. Touroul; #90; 1st (car went into a pond, in practice!).
??/05: Course du Cote de l'Ouest: R. Touroul, #149; RU.
??/05: Imola: R. Touroul, #31; RU.
18-19/06: 24 Heures du Mans: R.Touroul/P. Hesnault, # 80; 18thOA/4th Group 3 (rocker broke towards the end of the race, denying the team a better finish).
??/??: Criterium Lyons-Charbonniere: J-P Rouget/C. Delferrier, #26: RU.
??/??: La Ronde de Picardie: J-P Rouget/Lefebvre, #46; 1st OA.
15-23/9: Tour de France Auto: J-P Rouget/J-C. Lefebvre, #156: 3rd OA/2nd Group 3.
17/10: Rallye de la Chataigne: J-P Rouget, #21; 4th.
24/10: Criterium Jeanne d'Arc: J-P Rouget; RU.
Championnat de France des Circuits: Touroul, 3rd OA/1st in Gr.3 class.
1976: Touroul Racing. Reg: 4979 QG 50.
13-14/06: Le Mans 24 Hours: Laplacette/Leroux/Bourdillat, #67; 17thOA/3rd in Group 4 GT.
??/??: Neige et Glace Rallye: C.Lunel/B. Rostan, #6; RU.
17-24/9: Tour de France Auto: B. Beguin/Boubet, #337; 2ndOA/1st Gr3.
23-24/10: Rallye Jeanne d'Arc: B. Beguin/J Duval; 1st OA.
20-21/11: Rally Criterium des Cevennes: B. Beguin/T.Bonnet; 1st OA.
1977: Reg: 4979 QG 50.
4-5/6: Flour et Touqet: C. Lunel/B. Rostan; 1st Group 3.
16-17/6: 24 Heures du Mans: Beguin/Boubet/Briavone, car n°80; DNF (engine).
24-25/6: Rally d'Antilles: Bondil/?, #15; RU.
15-23/9: Tour de France: B. Beguin/R. Touroul, #164; DNF.
??/10: Criterium des Cevennes: B. Beguin, #57; 2ndOA/1stGr3. Reg:5396 EF 93.
1978:
Rallye of Monte-Carlo: B. Beguin/W. Huret, #16; DNF.
??/??: Rally de Touraine: J-P Rouget, #30; 5thOA/2nd Group 3.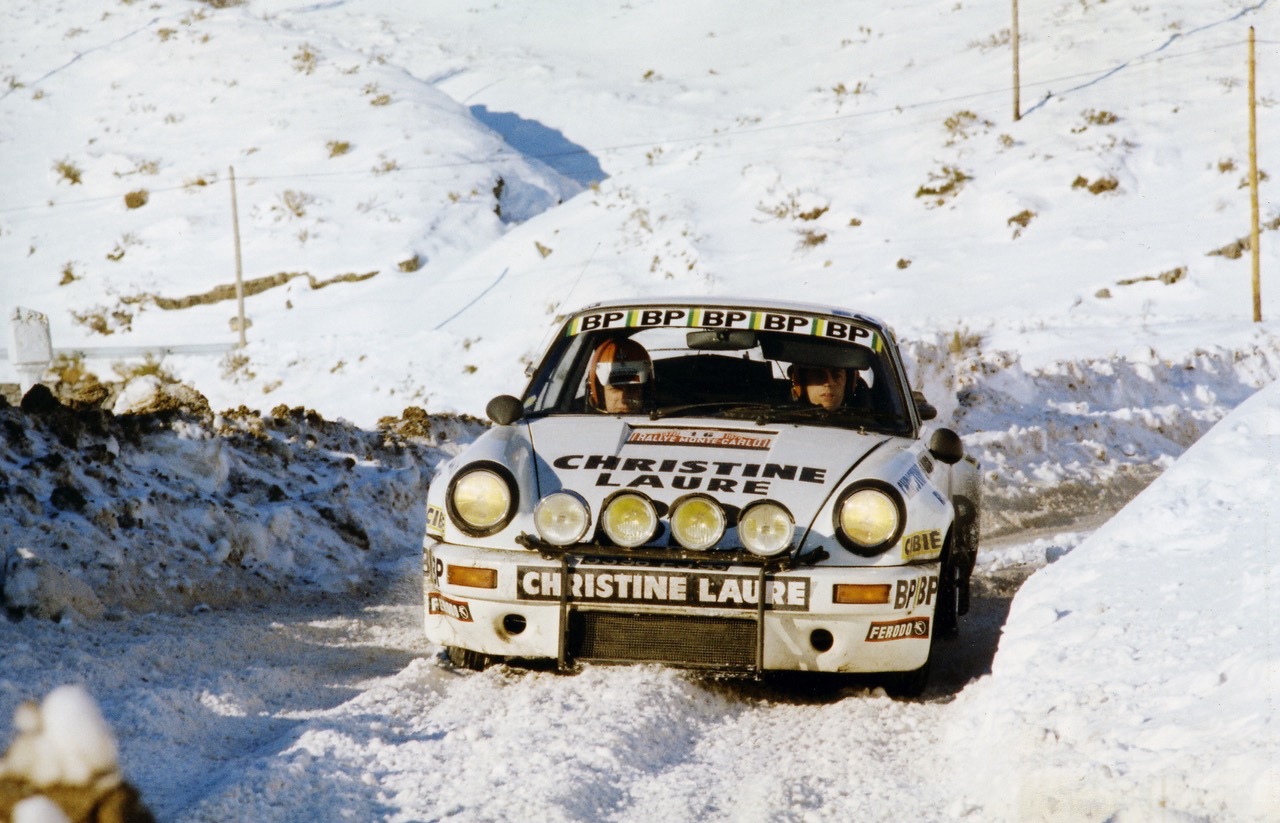 1979: Reg: 5396 EF 93
19-20/11: Rally Criterium des Cevennes: B. Beguin/Lenne; 1st overall.
12/10/1977—06/10/1987: the car was registered 5396 EF 93.
After its competition days were over, 9029 went through many more owners until being first restored by Jeff Sime in 2003. In 2007, 9029 was sold to the late George Tuma, who invited me to co-drive it with him in the USA. I loved that RS.
Although for most races, George and I shared a replica RSR, we would occasionally race George's real RSR, the ex-George Loos 911 460 9065, or if that was for some reason out of use, we would occasionally press 9029 into service.
It was in around 2010 that George asked me to discover the history of 9029, which proved to be a very enjoyable task. In this, I was very much assisted by Claudio Roddaro. When it was finally assembled, both George and I were astonished at how hard the car had worked in its first lifetime in France, and with how much success.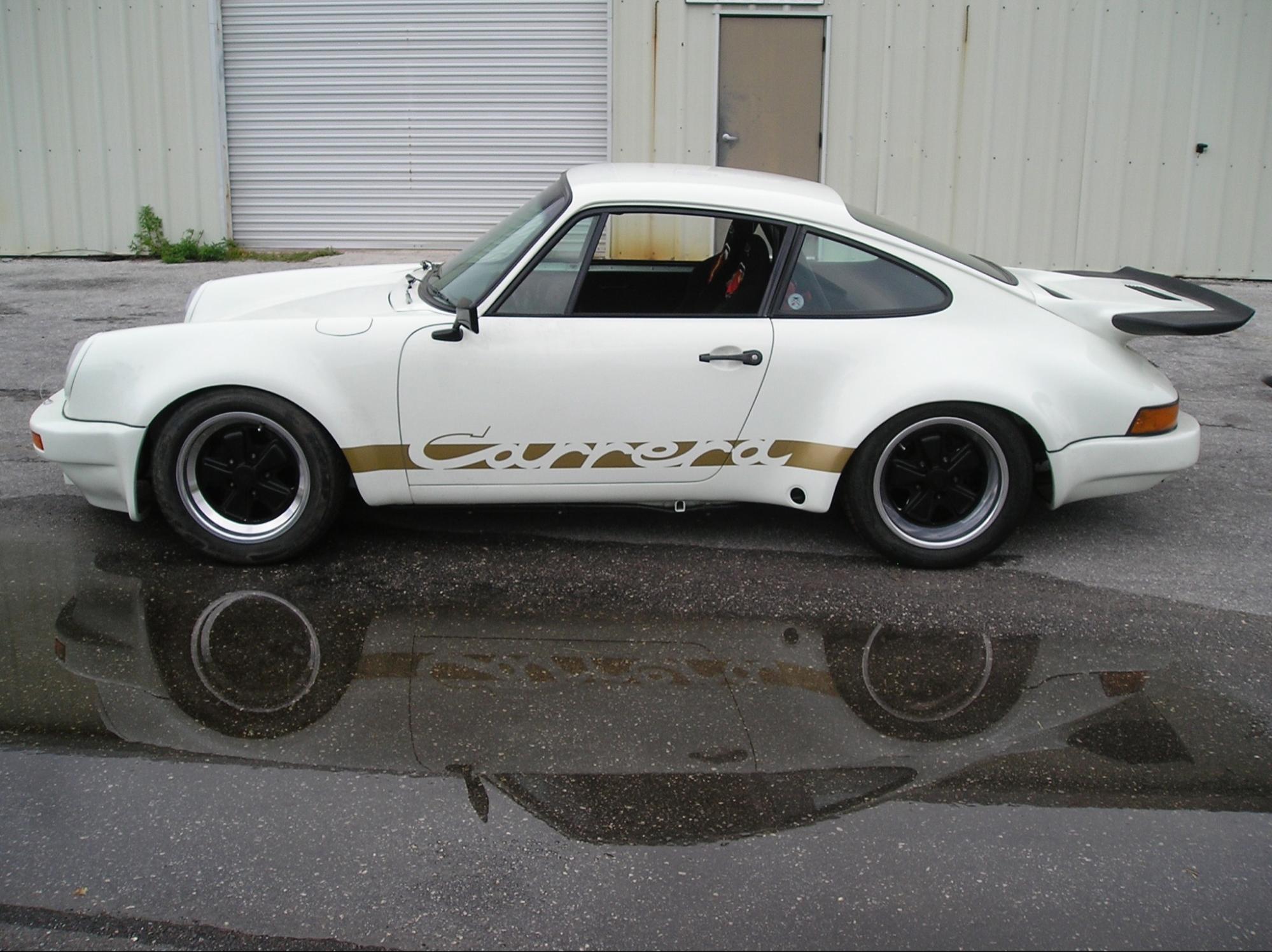 I sold 9029 for George in 2015 in England to a well-known historic racer, and I hope he has had as much enjoyment from driving her as George and I did.
1978: Sold to Forez Racing Services, France. Jean-Jacques Bayem.
1982: Sold to Siggi Brun, Germany.
1984: Sold to Rene Aussiett in Paris.
1984: Sold back to Jean-Jacques Bayem (Forez Racing Service, Montbrison, France).
1985: Sold to Robert Dermieux, Vence, France.
05/02/88: Sold to Francois Lejour in France.
1989: Sold to Dick Gundeck of New Jersey. U.S.A.
1996: Sold to Bob Jordan, Ill.
2000: Sold to Jim Ladwig, Chicago.
2003: Restored by Jeff Sime, Engine rebuilt by Aaron Hatz.
2007: Sold to George Tuma, Berlin, Germany. Factory documented.
2015: STPO. (Sold to present owner), UK.