Start your engines…
Porsche Cars North America (PCNA) has proudly unveiled an exhilarating schedule of on-track activities for the highly anticipated Porsche Rennsport Reunion 7. A momentous occasion that brings together the world's largest assembly of fervent Porsche enthusiasts, the event promises an awe-inspiring showcase of eight distinctive classes, featuring legendary Porsche race cars spanning an impressive seven decades of automotive history.
The venue for this extraordinary gathering is none other than the revered WeatherTech Raceway Laguna Seca, nestled in picturesque Monterey, California. Against this scenic backdrop, the celebration will pay homage to iconic racers from bygone eras, while also highlighting the cutting-edge marvels of contemporary times. Among the enthralling displays will be the awe-inspiring 963, Porsche's latest international prototype racer, proudly representing the brand's relentless pursuit of innovation.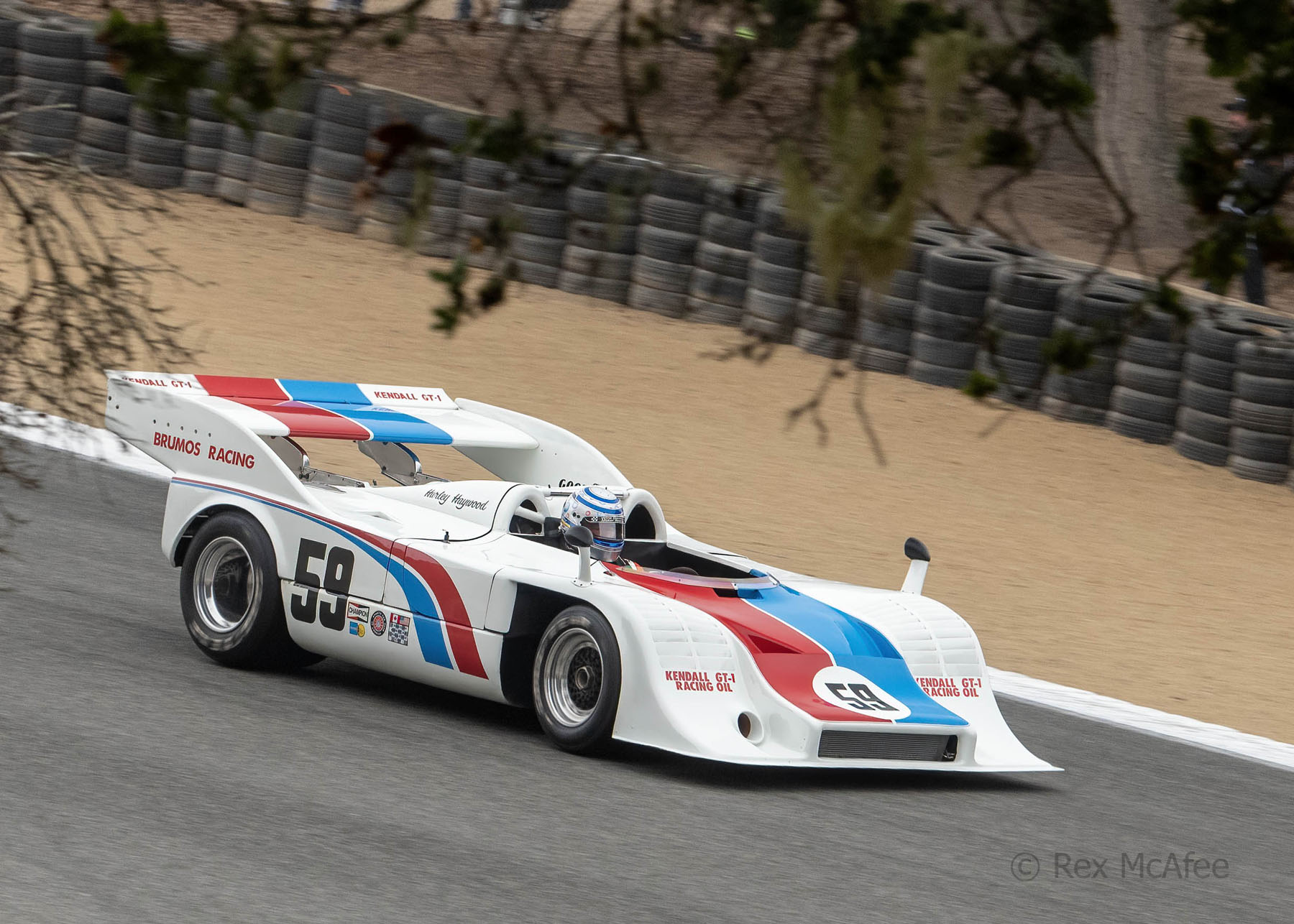 Porsche Deluxe Carrera Cup
Adding to the excitement, rounds 13 and 14 of the Porsche Deluxe Carrera Cup North America will captivate audiences with the powerful and sleek 911 GT3 Cup car. Beyond the riveting on-track competitions, a plethora of family-friendly activities will be scattered throughout the Monterey property, ensuring four days of boundless enjoyment and unforgettable experiences.
Over 300 entries
Anticipation is mounting as a record number of entries are expected to grace the track, participating in the high-octane action across the eight dynamic groups. Alongside the Porsche Deluxe Carrera Cup North America, enthusiasts will be treated to captivating exhibitions by the Porsche Club of America (PCA), making this a truly comprehensive celebration of the iconic German sports car manufacturer. The track itself, measuring 2.238 miles in length, is renowned for its signature "Corkscrew" turn, promising spectators nearly constant action from the early hours of 8:00 a.m. until the day's close at 6:30 p.m.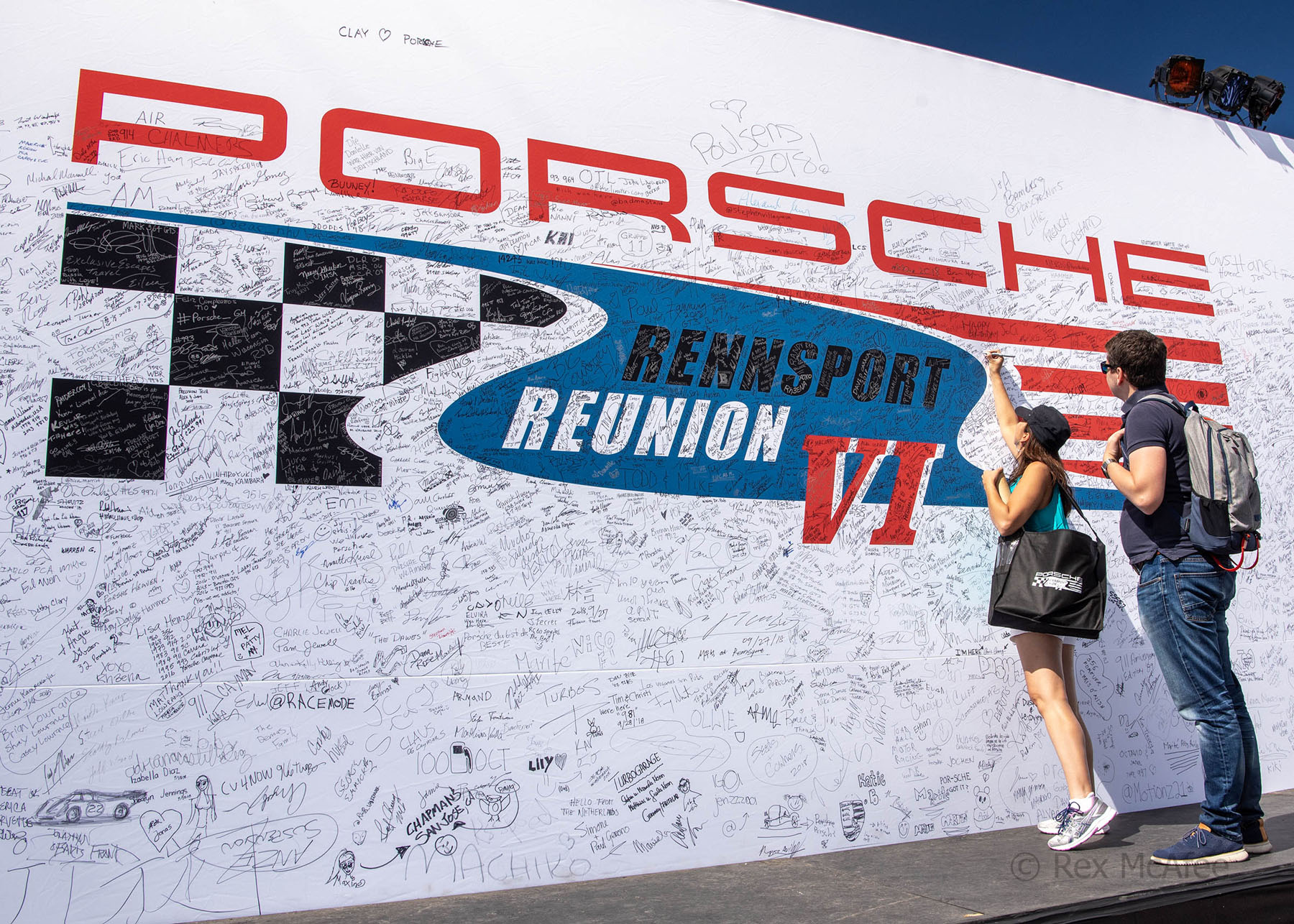 Total Porsche immersion
Porsche Rennsport Reunion 7 is a rare opportunity for aficionados and newcomers alike to immerse themselves in the rich heritage of Porsche, where the past converges with the present in a thrilling symphony of engineering prowess and motorsport excellence. This unparalleled event promises to etch indelible memories in the hearts of Porsche enthusiasts, solidifying the brand's legacy as a true visionary in the world of automotive engineering and performance.
Run Groups
Stuttgart Cup: 956, 962, GT1, WSC, RS Spyder
Werks Trophy: 904(6cyl.), 906, 910, 907, 908, 908/2, 908/3 (8 cyl. & turbo), 909, 917 (normally aspirated and turbocharged)
Flacht Cup: 964, 993, 996, 997 GT
Weissach Cup: 911 (over 2.5 liter), RSR, 3.0 RSR, 2.1 Turbo, 934, 935, 936, 924 GTS, 924 GTR
Eifel Trophy: 911 (911 up to 2.5 liter), 911TR, 911ST, 914, 914/6
Gmund Cup: 550, 550A, RSK, RS60-61 (4 & 8 cyl.), 2000 GSGT (Dreikantschaber), Abarth Carrera, 356, 904-4 cam, Porsche Specials
GT Exhibition: Porsche 911 GT3 R, Porsche 911 RSR, Porsche 911 RSR-19
ePerformance Exhibition: Porsche 963, Porsche GT4 ePerformance, Porsche 919 Hybrid
Porsche Deluxe Carrera Cup North America: Porsche 911 GT3 Cup (type 992)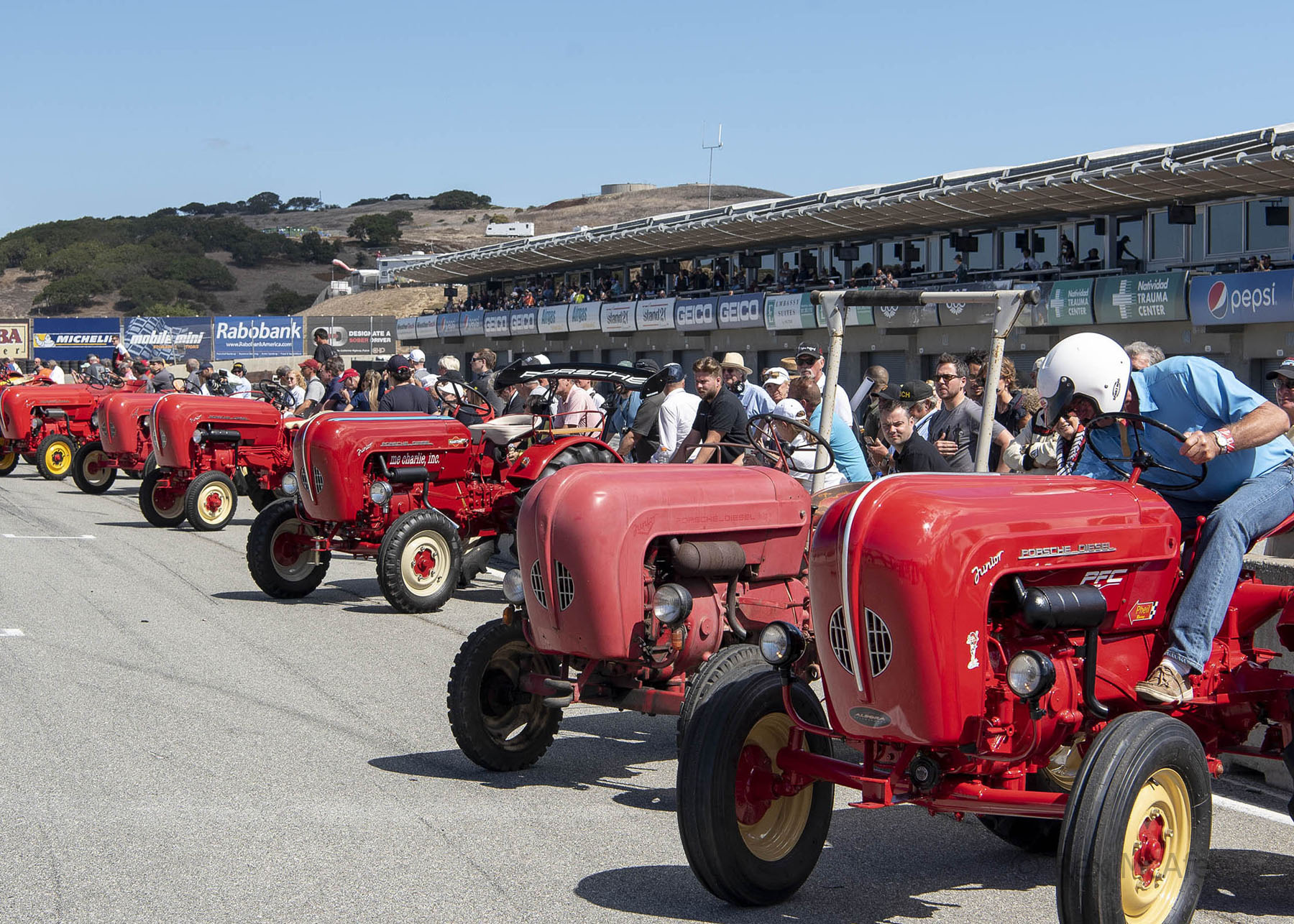 Schedule
| | | |
| --- | --- | --- |
| | | Wednesday, September 27, 2023 |
| Start | End | |
| 7:00 AM | 7:00 PM | Entrant Registration – TBC |
| 7:00 AM | 7:00 PM | Participant Load-in Opens |
| 9:00 AM | 6:00 PM | Roving Tech Inspection Opens (Entrants' Paddock Space) |
| 12:30 PM | 1:15 PM | Track Orientation – TBC |
| 1:30 PM | 5:00 PM | Group Photo – Invited Cars |
| | | Thursday, September 28, 2023 |
| Start | End | |
| 7:00 AM | 5:00 PM | Registration & Will Call – Embassy Suites Hotel |
| 7:30 AM | 7:50 AM | PCA Parade Laps |
| 7:45 AM | 8:00 AM | Mandatory Drivers Meeting |
| 8:00 AM | 8:20 AM | PCA Club Racing Practice 1 |
| 8:30 AM | 8:50 AM | Stuttgart Cup Practice 1 |
| 9:00 AM | 9:20 AM | Werks Trophy Practice 1 |
| 9:30 AM | 9:50 AM | Flacht Cup Practice 1 |
| 10:00 AM | 10:20 AM | Weissach Cup Practice 1 |
| 10:30 AM | 10:50 AM | Eifel Trophy Practice 1 |
| 11:00 AM | 11:20 AM | Gmund Cup Practice 1 |
| 11:30 AM | 11:55 AM | PCA Club Racing Practice 2 |
| 12:05 PM | 12:20 PM | PCNA Activity |
| 12:30 PM | 12:50 PM | Legends Showcase |
| 1:00 PM | 1:25 PM | GT Exhibition |
| 1:35 PM | 1:50 PM | ePerformance Exhibition |
| 2:00 PM | 2:30 PM | PCA Club Racing Qualifying |
| 2:40 PM | 3:05 PM | Stuttgart Cup Practice 2 |
| 3:15 PM | 3:40 PM | Werks Trophy Practice 2 |
| 3:50 PM | 4:15 PM | Flacht Cup Practice 2 |
| 4:25 PM | 4:50 PM | Weissach Cup Practice 2 |
| 5:00 PM | 5:25 PM | Eifel Trophy Practice 2 |
| 5:35 PM | 6:00 PM | Gmund Cup Practice 2 |
| 6:10 PM | 6:50 PM | Photo Session |
| | | |
| --- | --- | --- |
| | | Friday, September 29, 2023 |
| Start | End | |
| 7:00 AM | 5:00 PM | Registration & Will Call – Embassy Suites Hotel |
| 7:30 AM | 7:50 AM | PCA Parade Laps |
| 8:00 AM | 8:40 AM | PCA Club Racing Race 1 |
| 8:50 AM | 9:15 AM | Stuttgart Cup Practice 3 |
| 9:25 AM | 9:50 AM | Werks Trophy Practice 3 |
| 10:00 AM | 10:25 AM | Flacht Cup Practice 3 |
| 10:35 AM | 11:00 AM | Weissach Cup Practice 3 |
| 11:10 AM | 11:35 AM | Eifel Trophy Practice 3 |
| 11:45 AM | 12:10 PM | Gmund Cup Practice 3 |
| 12:20 PM | 12:35 PM | Legends Showcase |
| 12:45 PM | 12:55 PM | PCNA Activities |
| 1:05 PM | 1:30 PM | GT Exhibition |
| 1:40 PM | 2:20 PM | Porsche Carrera Cup North America Practice 1 |
| 2:30 PM | 3:10 PM | PCA Club Racing Race 2 |
| 3:20 PM | 3:40 PM | Stuttgart Cup Qualifying |
| 3:50 PM | 4:10 PM | Werks Trophy Qualifying |
| 4:20 PM | 4:40 PM | Flacht Cup Qualifying |
| 4:50 PM | 5:10 PM | Weissach Cup Qualifying |
| 5:20 PM | 5:40 PM | Eifel Trophy Qualifying |
| 5:50 PM | 6:10 PM | Gmund Cup Qualifying |
| 6:20 PM | 6:35 PM | ePerformance Exhibition |
| 6:45 PM | 7:30 PM | PCNA Activities |
| | | |
| --- | --- | --- |
| | | Saturday, September 30, 2023 |
| Start | End | |
| 7:00 AM | 5:00 PM | Registration & Will Call – Embassy Suites Hotel |
| 7:30 AM | 7:50 AM | PCA Parade Laps |
| 8:00 AM | 8:20 AM | 918, CGT, 959, R Group, Outlaw Parade Laps |
| 8:30 AM | 8:55 AM | Stuttgart Cup Race 1 |
| 9:05 AM | 9:30 AM | Werks Trophy Race 1 |
| 9:40 AM | 10:20 AM | Porsche Carrera Cup North America Practice 2 |
| 10:30 AM | 10:45 AM | Legends Showcase |
| 10:55 AM | 11:20 AM | GT Exhibition |
| 11:30 AM | 11:50 AM | ePerformance Exhibition |
| 12:00 PM | 12:20 PM | PCNA Activities |
| 12:30 PM | 1:00 PM | Porsche Tractor Race 1 |
| 1:10 PM | 1:35 PM | Flacht Cup Race 1 |
| 1:45 PM | 2:10 PM | Weissach Cup Race 1 |
| 2:20 PM | 2:45 PM | Porsche Carrera Cup North America Qualifying |
| 2:55 PM | 3:20 PM | Eifel Trophy Race 1 |
| 3:30 PM | 3:55 PM | Gmund Cup Race 1 |
| 4:05 PM | 4:25 PM | Legends Showcase |
| 4:35 PM | 5:00 PM | GT Exhibition |
| 4:45 PM | 6:30 PM | Concours on Pit Lane |
| 5:10 PM | 6:35 PM | PCNA Photo Session |
| | | |
| --- | --- | --- |
| | | Sunday, October 1, 2023 |
| Start | End | |
| 7:30 AM | 7:50 AM | PCA Parade Laps |
| 8:00 AM | 8:20 AM | 918, CGT, 959, R Group, Outlaw Parade Laps |
| 8:30 AM | 8:55 AM | Stuttgart Cup Race 2 |
| 9:05 AM | 9:50 AM | Porsche Carrera Cup North America Race 1 |
| 10:00 AM | 10:25 AM | Werks Trophy Race 2 |
| 10:35 AM | 11:00 AM | Flacht Cup Race 2 |
| 11:10 AM | 11:40 AM | Porsche Tractor Race 2 |
| 11:50 AM | 12:10 PM | Legends Showcase |
| 12:20 PM | 12:45 PM | GT Exhibition |
| 12:55 PM | 1:10 PM | ePerformance Exhibition |
| 1:20 PM | 1:40 PM | PCNA Activities |
| 1:50 PM | 2:15 PM | Weissach Cup Race 2 |
| 2:25 PM | 2:50 PM | Eifel Trophy Race 2 |
| 3:00 PM | 3:25 PM | Gmund Cup Race 2 |
| 3:35 PM | 4:20 PM | Porsche Carrera Cup North America Race 2 |
| 4:30 PM | 4:50 PM | Legends Showcase |
| 5:00 PM | 5:25 PM | GT Exhibition |
| 5:35 PM | 5:50 PM | ePerformance Exhibition |
| 6:00 PM | 7:00 PM | PCNA Photo Session |