Every year on a late winter weekend, the Porsche world turns its focus to Southern California. Crowds converge in Los Angeles for the LA Literature, Toy, and Memorabilia Show—and for the accompanying Porsche shop tours. Thankfully, the tradition resumed in 2022 after a 2021 hiatus.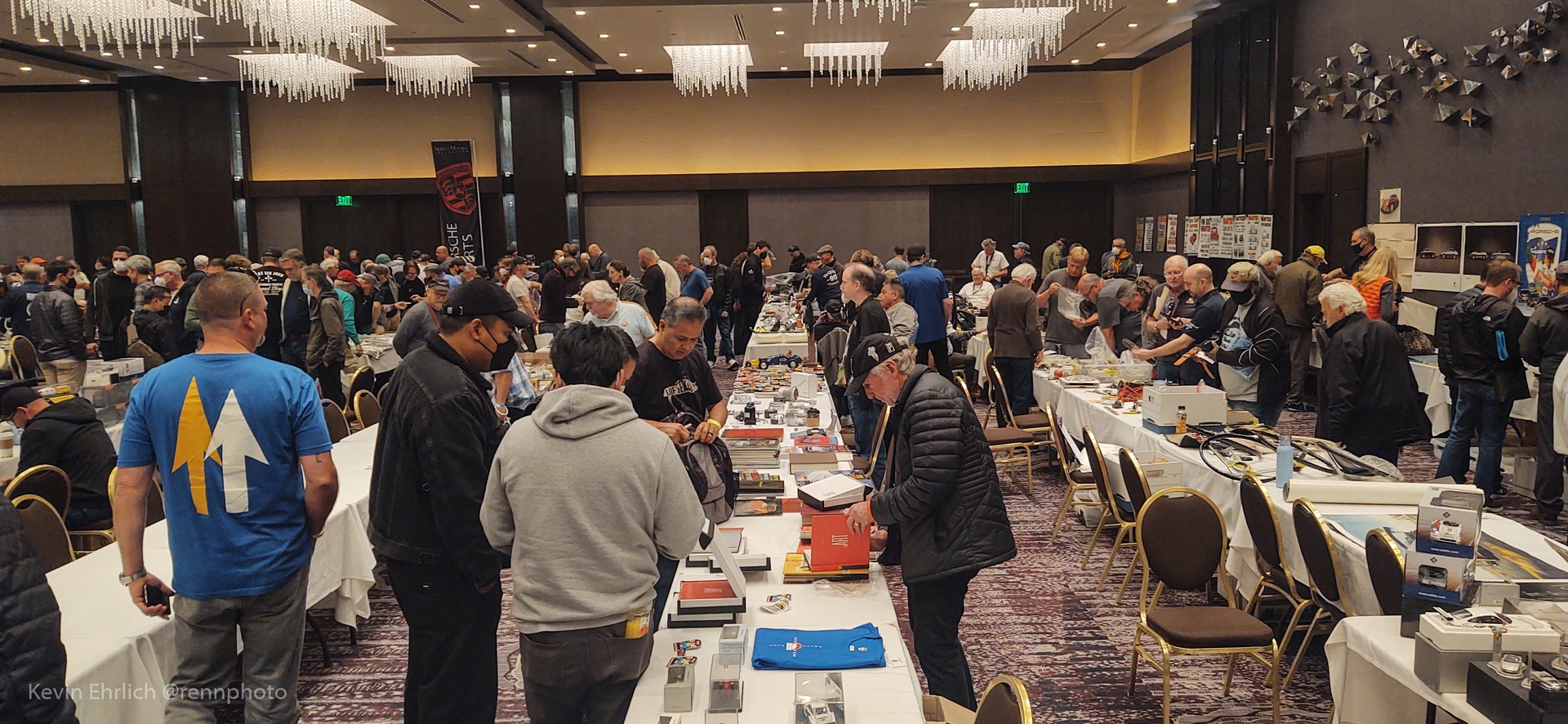 Staged in the ballrooms of the Los Angeles Airport Hilton, the "Lit Show" has been the place to find Porsche treasures for decades. Hundreds of vendors bring rare service manuals, dealer sales materials, reproductions of hard-to-find parts, clothing, badges, new and used books, racing posters, steering wheels, carpeting, artwork, die-cast models, magazines, and more. Vintage, rather than modern, is the predominant theme.
With such a draw, other events have also sprouted up over the years. Southern California has always been a stronghold for Porsche owners and the businesses that support them. While the Lit Show is the Saturday morning anchor, shops began opening their doors for tours on the days before and after. The sheer number of events makes it easier for those traveling to justify the time and expense required.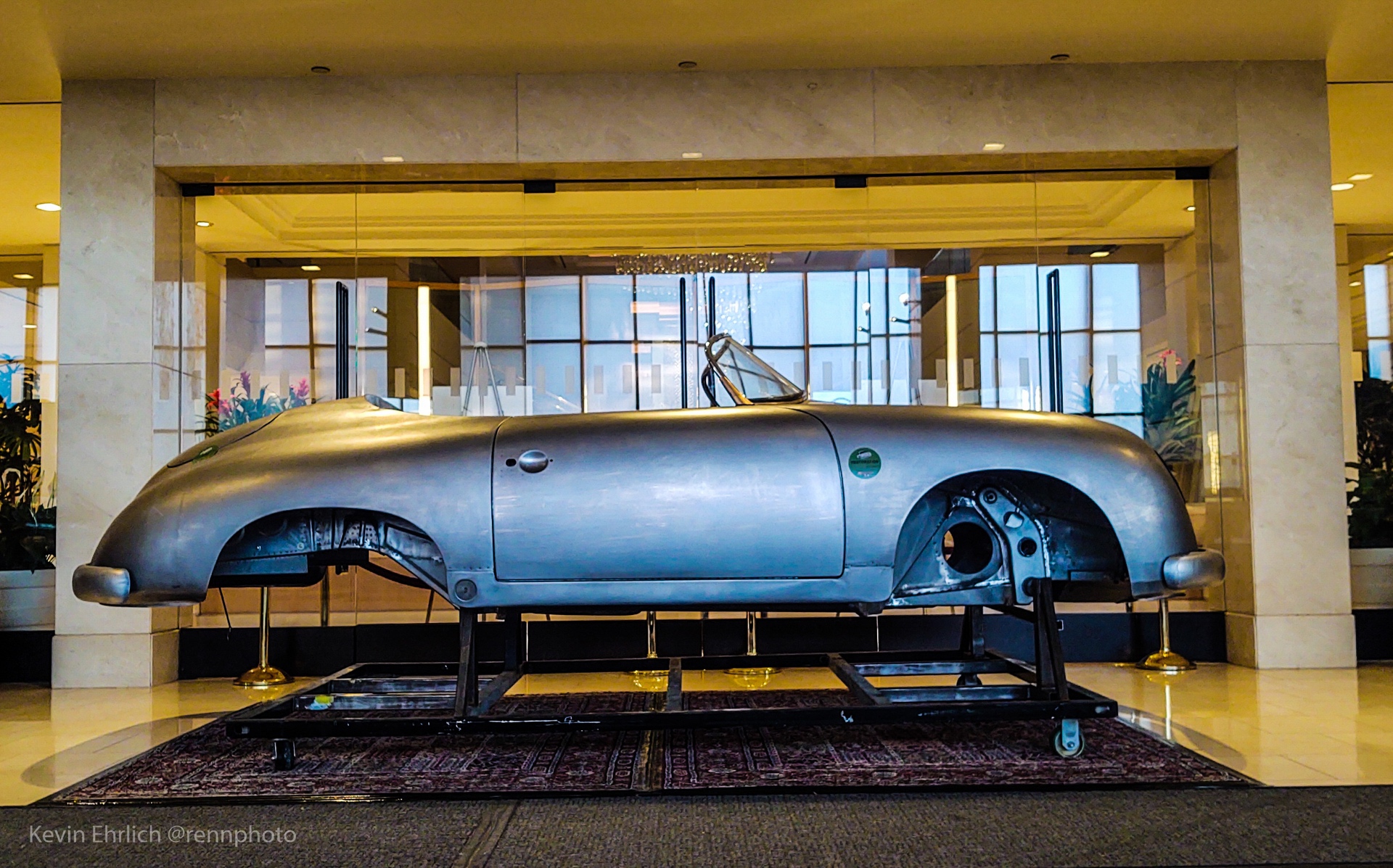 Porsche devotees can chart their own courses and stops (or sign up for bus tours to designated shops). Many shops generously provide food and/or beverages to the hoard of guests. The Porsche blizzard makes a rolling show on the surrounding roads and parking areas. The breadth is staggering—modern and vintage, faithfully restored and highly customized, shiny and worn, rare and common.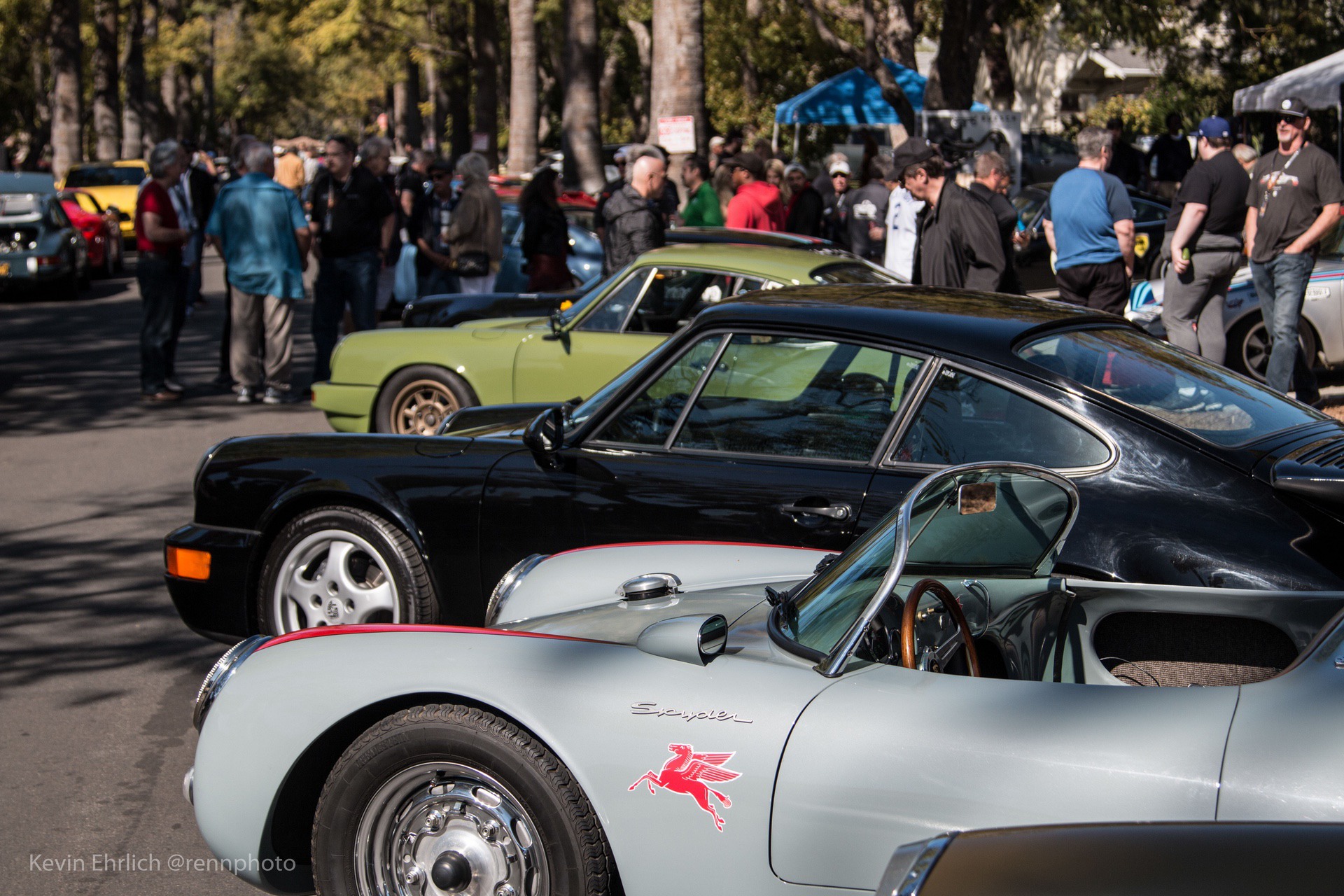 Our 2022 shop tour began on Thursday with a stop at the Sierra Madre Collection in Eagle Rock. The Porsche parts company blocked off tree-lined residential streets adjacent to its warehouse for over 200 Porsches to gather.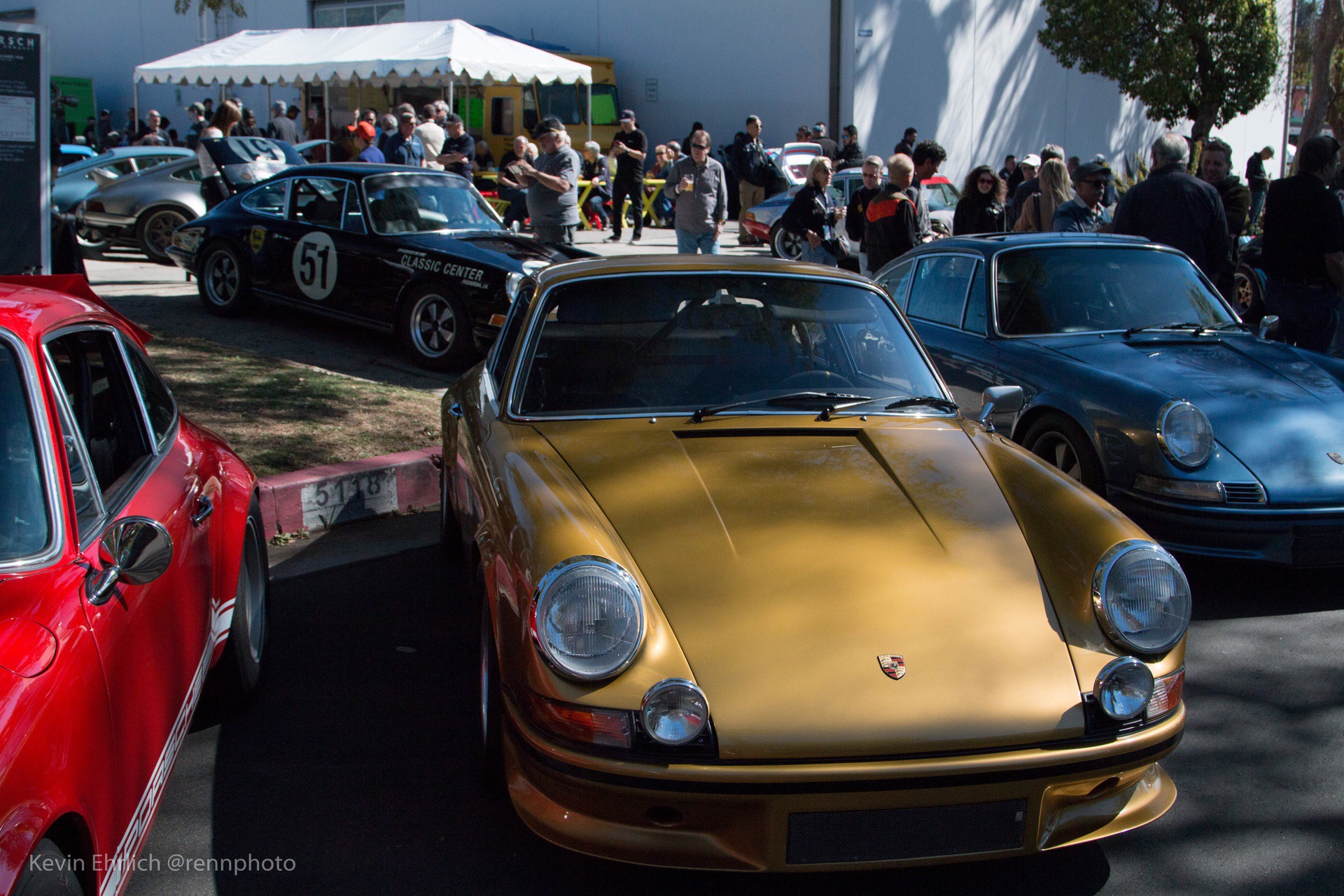 Music, beer, and a food-truck made for a festive atmosphere under sunny blue skies and swaying palm trees. Visitors arrived and departed throughout the day, continually changing the mix of people and cars.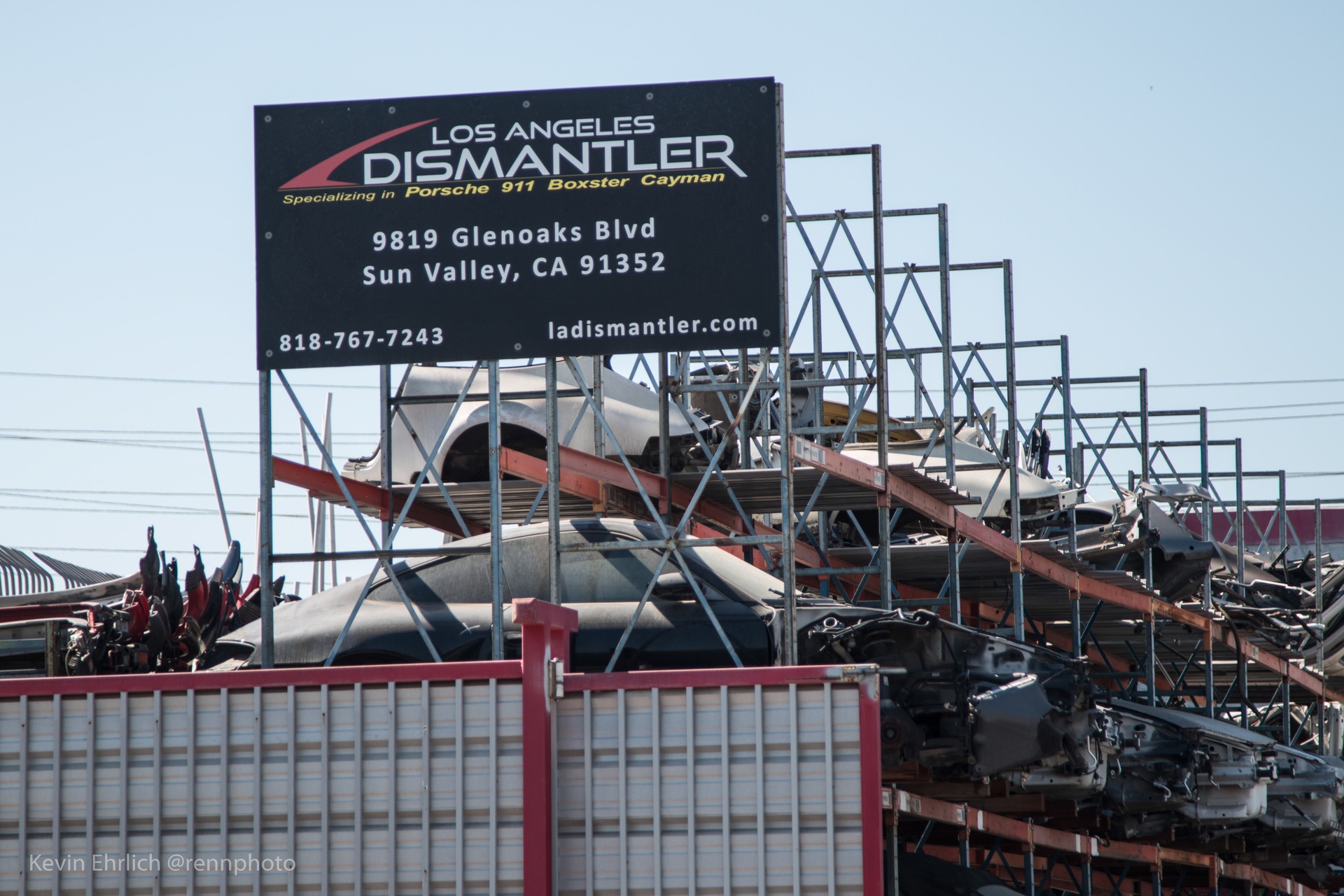 On Friday, our day began on a brisk morning at LA Dismantler in Sun Valley. Located about 20 minutes north of downtown Los Angeles, the sight of deconstructed Porsches was initially jarring.
Porsches that have met with misfortune end up here and are reduced to parts. Inventory typically comes through auctions of cars with shortened lives due to crashes, floods or fires. Engines are in high demand—especially those in running condition. The warehouse is stuffed with bins of brake calipers, stacks of wheels, shelves of bodywork and cabinets of dials.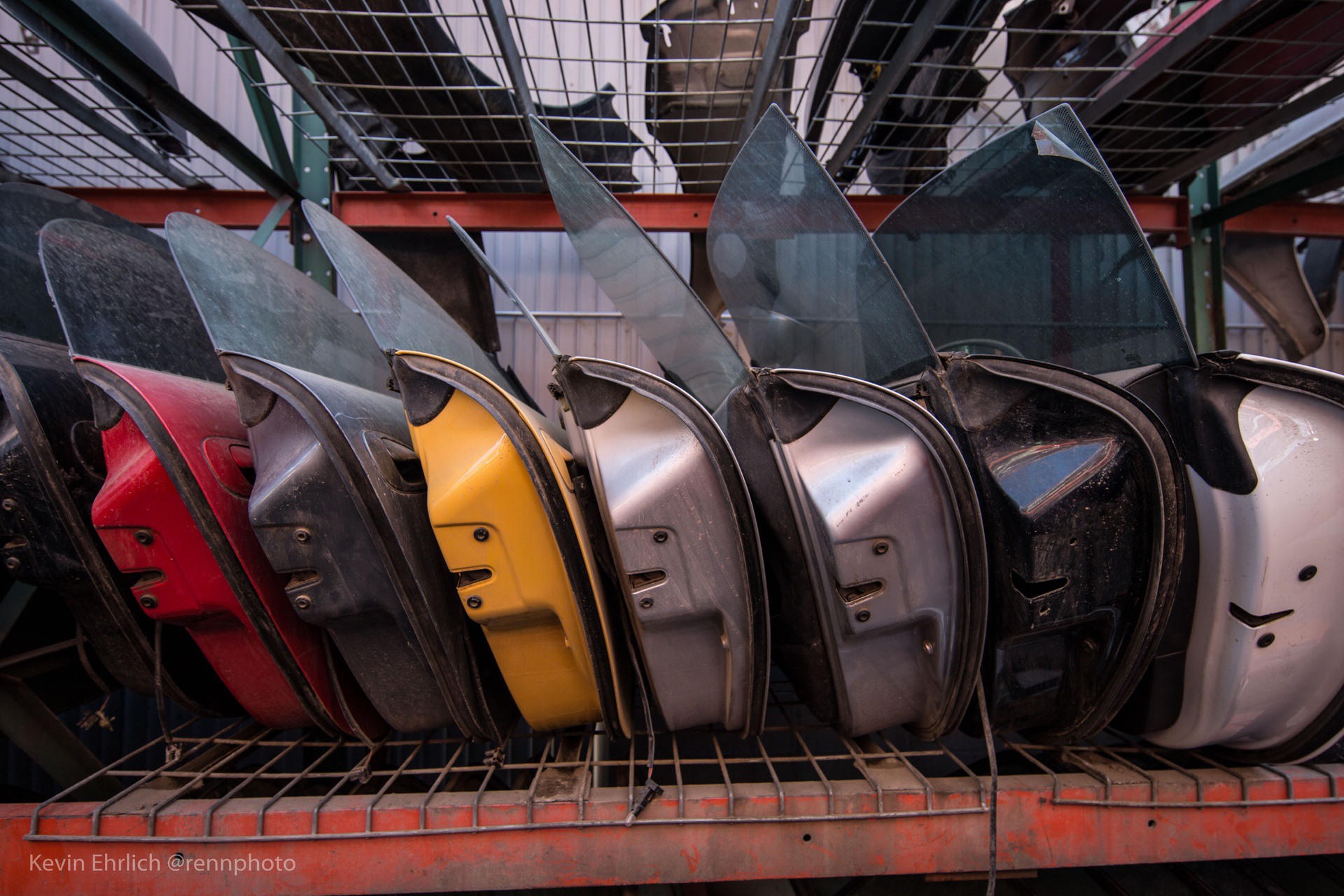 If it was part of any Porsche 911 since the early 1980s, LA Dismantler probably has it. Porsche 993 and 996 parts sit next to Boxster and Cayman pieces on the shelves. An unfortunate 992 was on the lift during our visit, having covered only 400 miles before its front left corner met an immovable object.
It is a true case of transforming trash into treasure. That one customer searching for a tool kit or interior door trim piece could call tomorrow.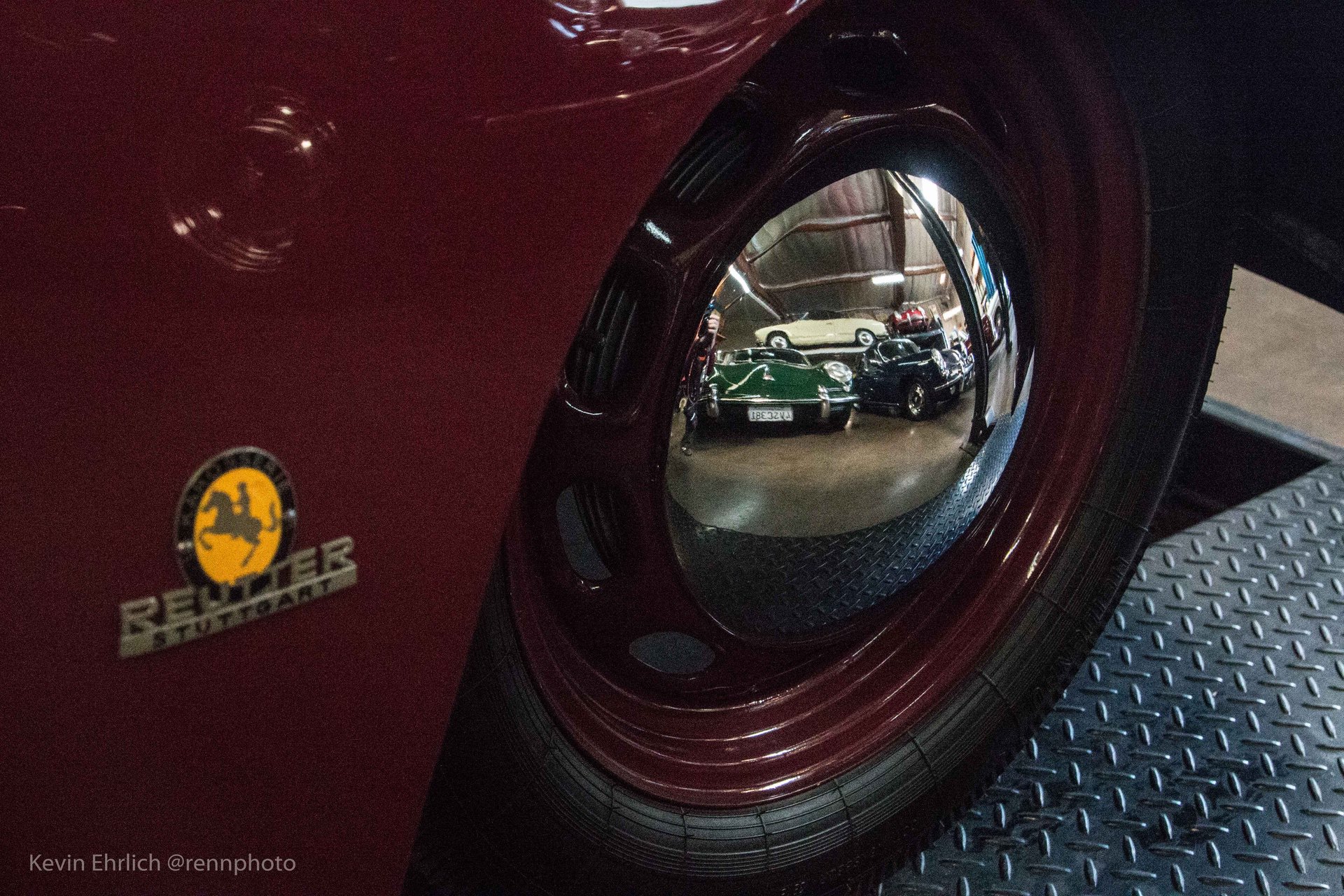 Tour complete, our next stop was The Parts Shop in Huntington Beach. Bill Perrone originally started selling parts to finance his racing. The foyer of his shop is a timeline of vintage racing events, with displays of trophies, ribbons, plaques and photos.
Bill generously shared stories of racing interesting cars such as the 550 he steered around Laguna Seca for the 1998 Monterey Historics in honor of Porsche's 50th anniversary.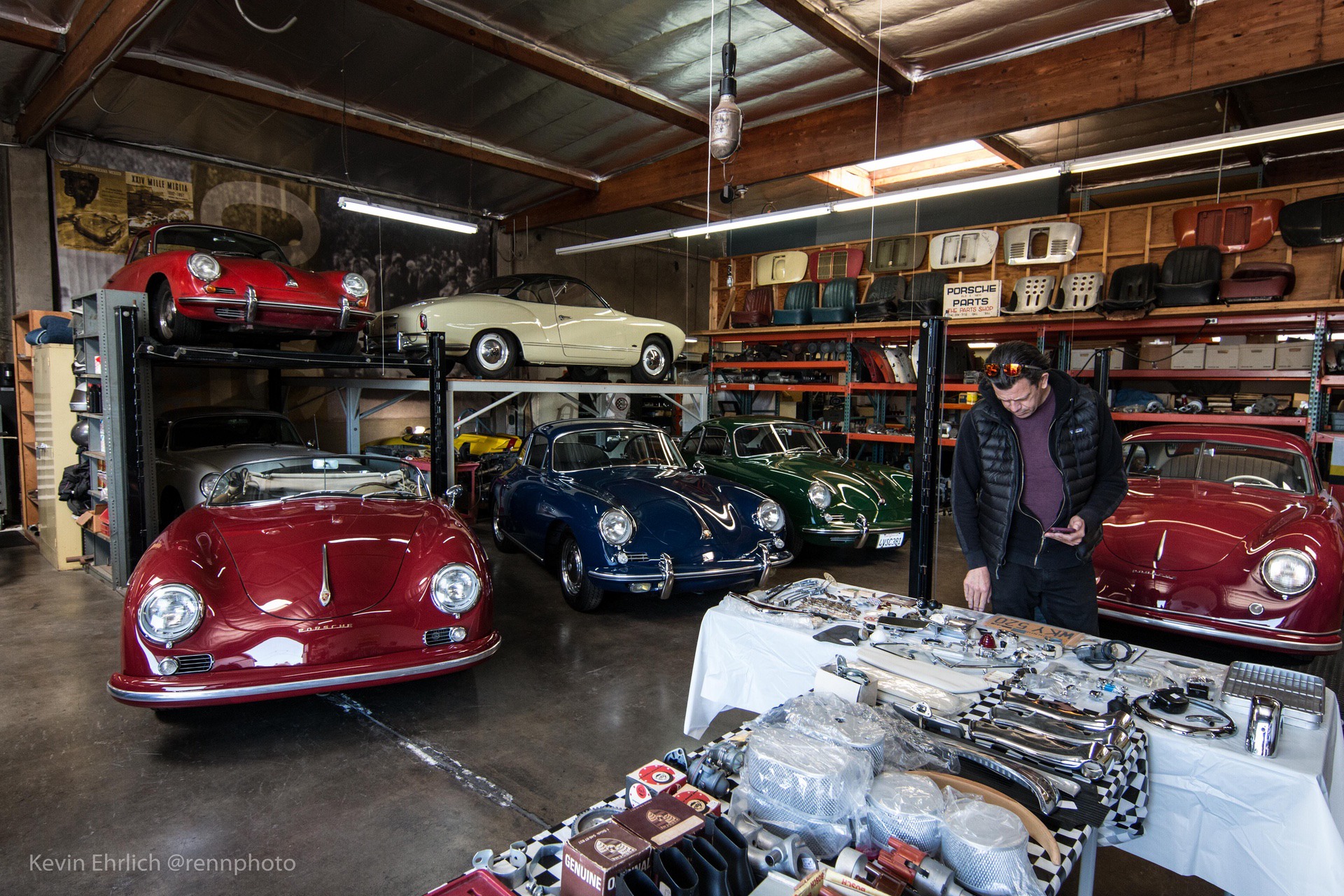 There was a quintet of Porsche 356 cars on display in his garage. The highlight was a red 1951 Pre-A 1300 Coupe.
It's easy to forget how relatively primitive very early Porsches were, but the shape is clean, classic and unmistakable. Guests looked over an assortment of 356 parts and manuals available for sale between bites of lunch provided by Bill and his team.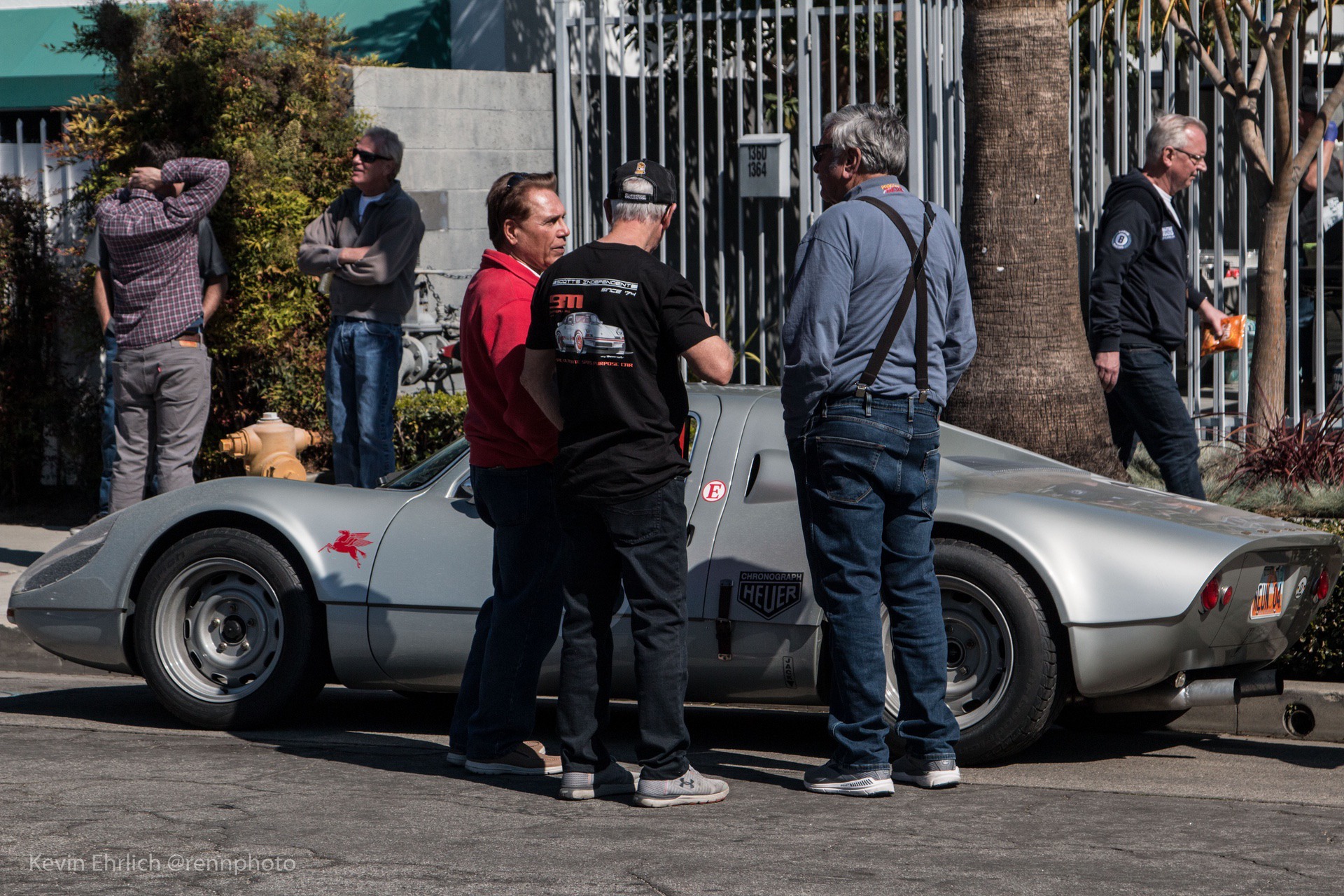 John Willhoit's shop in Long Beach was the next stop on our personal open house caravan. The volume of interesting Porsches parked along the streets nearby indicated we were in the right place. Since 1976, John and his team have set the standard for 356 restorations. Each room in the immaculate garages contained its own surprise. The 356 was the star, but a 911 or 912 here and there added variety.
The paint booth lit up the latest speedster project to receive a spray of shiny new black paint. An outlaw speedster high up on a lift allowed guests to get a close look underneath. After grabbing a bite of bratwurst, a mini-swap-meet across the street tempted those on the hunt for 356 parts. A door to another spotless garage with eight more gems beckoned nearby.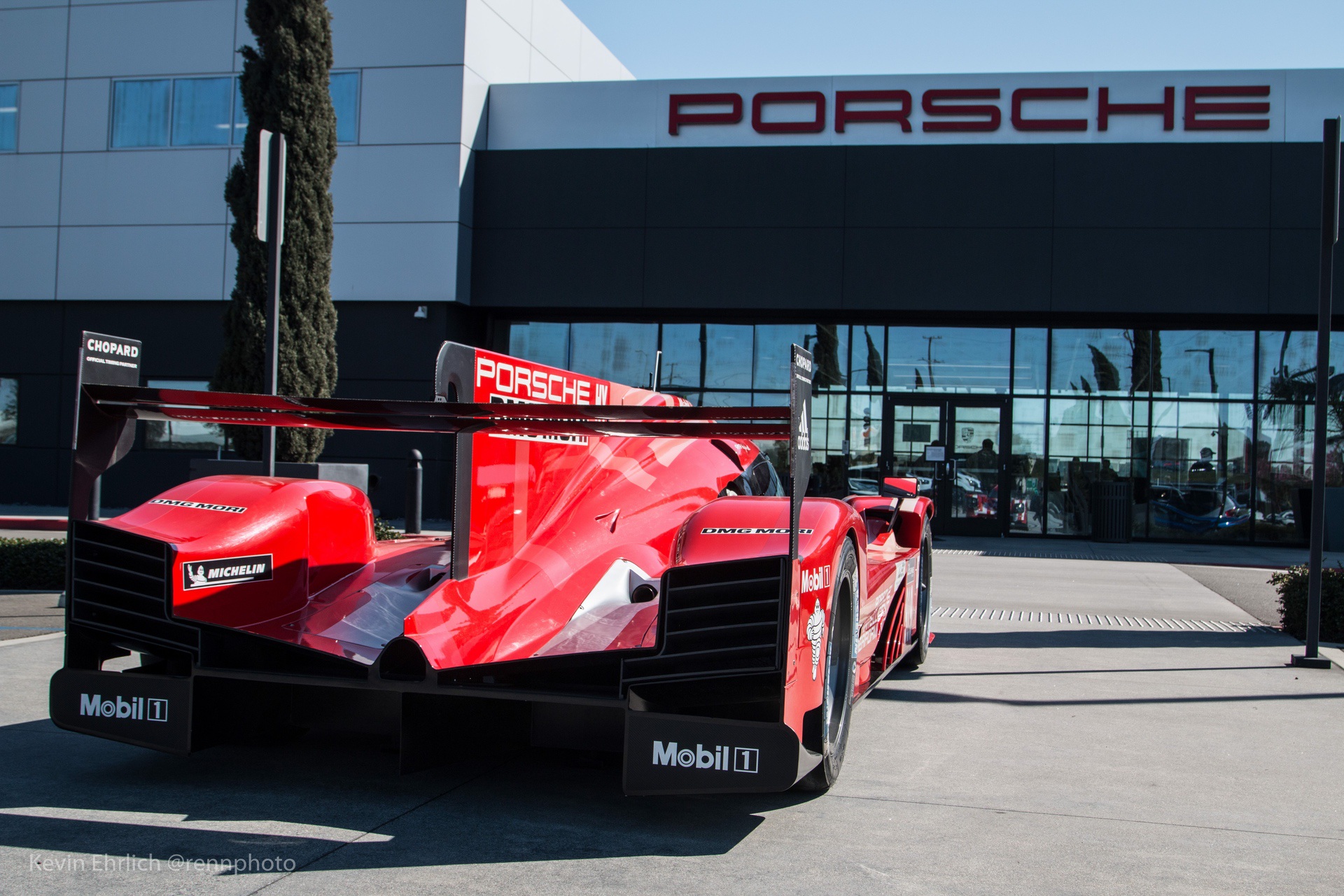 Before making our way to Torrance, we made two side trips in Carson. There are often goodies on display at the Porsche Experience Center Los Angeles or getting attention in the Porsche Motorsport North America workshop.
The stop did not disappoint. A red 919 LMP showcar pointed the way to the entrance and Jeff Zwart's Pikes Peak 2002 Porsche GT2 greeted us inside the front door.
Across the room, a 2016-spec IMSA 911 RSR and the first customer 1997 GT1 provided additional visual interest. Behind the glass, the Motorsports team looked after an array of racing hardware that included a pair of new white Cayman GT4 Clubsport MRs, a black carbon fiber 935/19 getting nose repairs, a red Fabcar 935 in iconic red Coca Cola livery, and a GT2 that ran at the 1998 LeMans 24 Hours.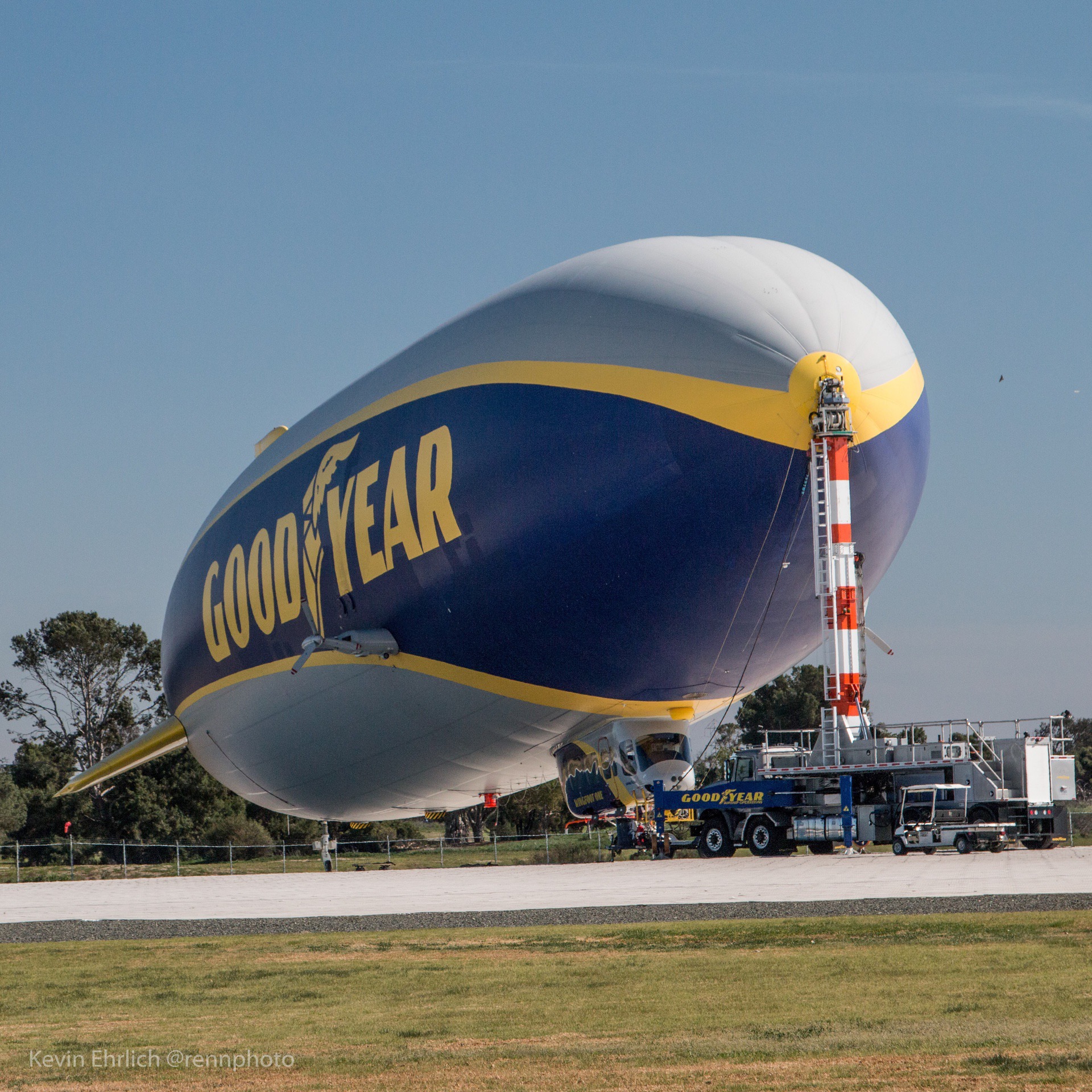 Nearby, we made another brief stop for a bonus that wasn't on any tour but had its own German roots. Carson is the west coast base for the Goodyear Blimp. Wingfoot Two, the particular airship in residence, was moored to its docking mast.
All three Goodyear Blimps in the United States are semi-rigid airships manufactured by ZLT Zeppelin Luftschifftechnik GmbH & Co. KG, located in Friedrichshafen in southern Germany near Lake Constance. The airships were assembled in Akron, Ohio before taking to the skies.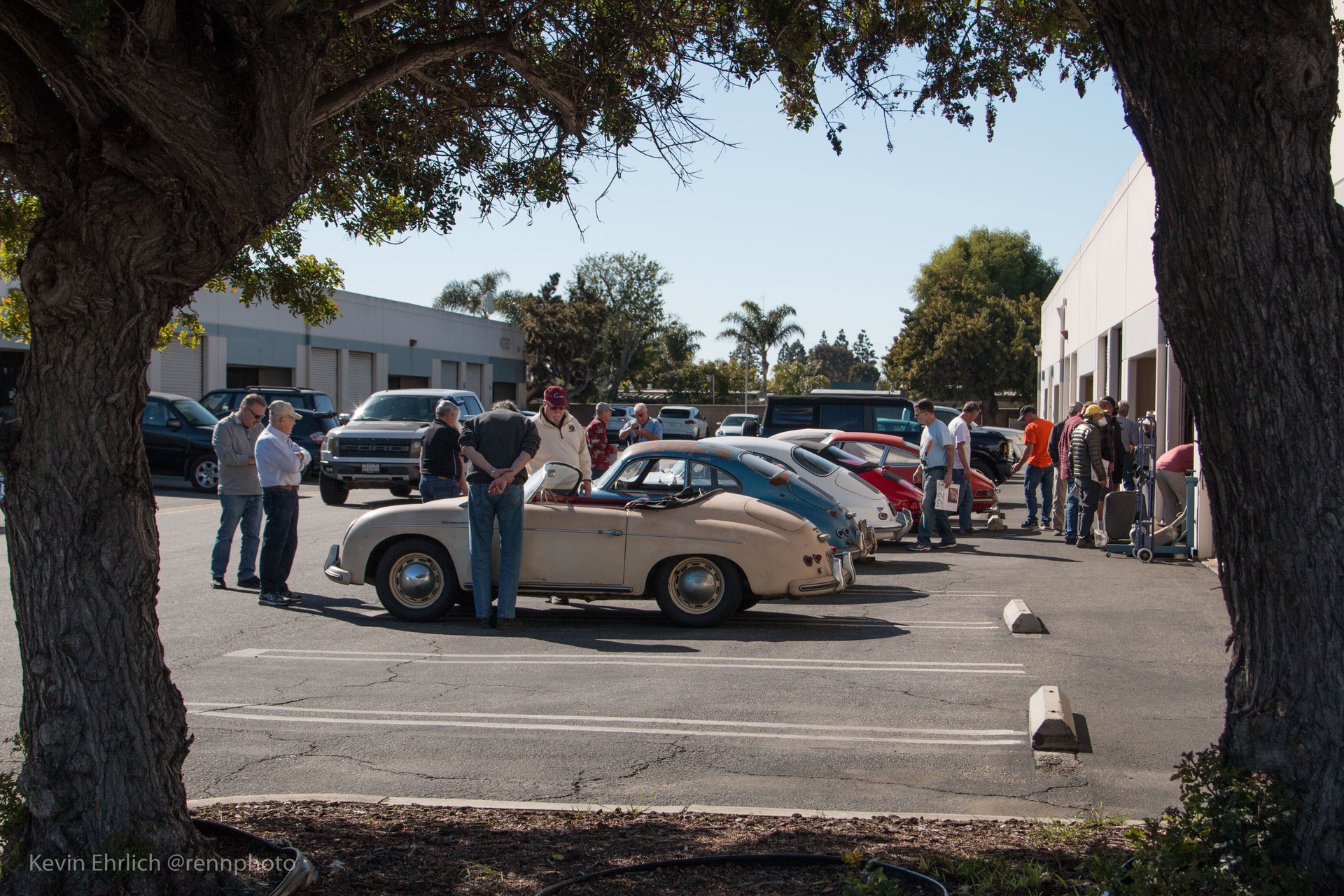 Turning toward Torrance, we found Klasse 356 Parts. A small gathering of vintage Porsches welcomed those who ventured to the back of a non-descript industrial park. A crème 356 Speedster with a very original patina sat next to a blue 356 coupe showing signs of rust.
On the more modern end, a red 1989 speedster with a "for sale" sign joined the group. The cars on display were the feature attraction here (rather than a facility tour).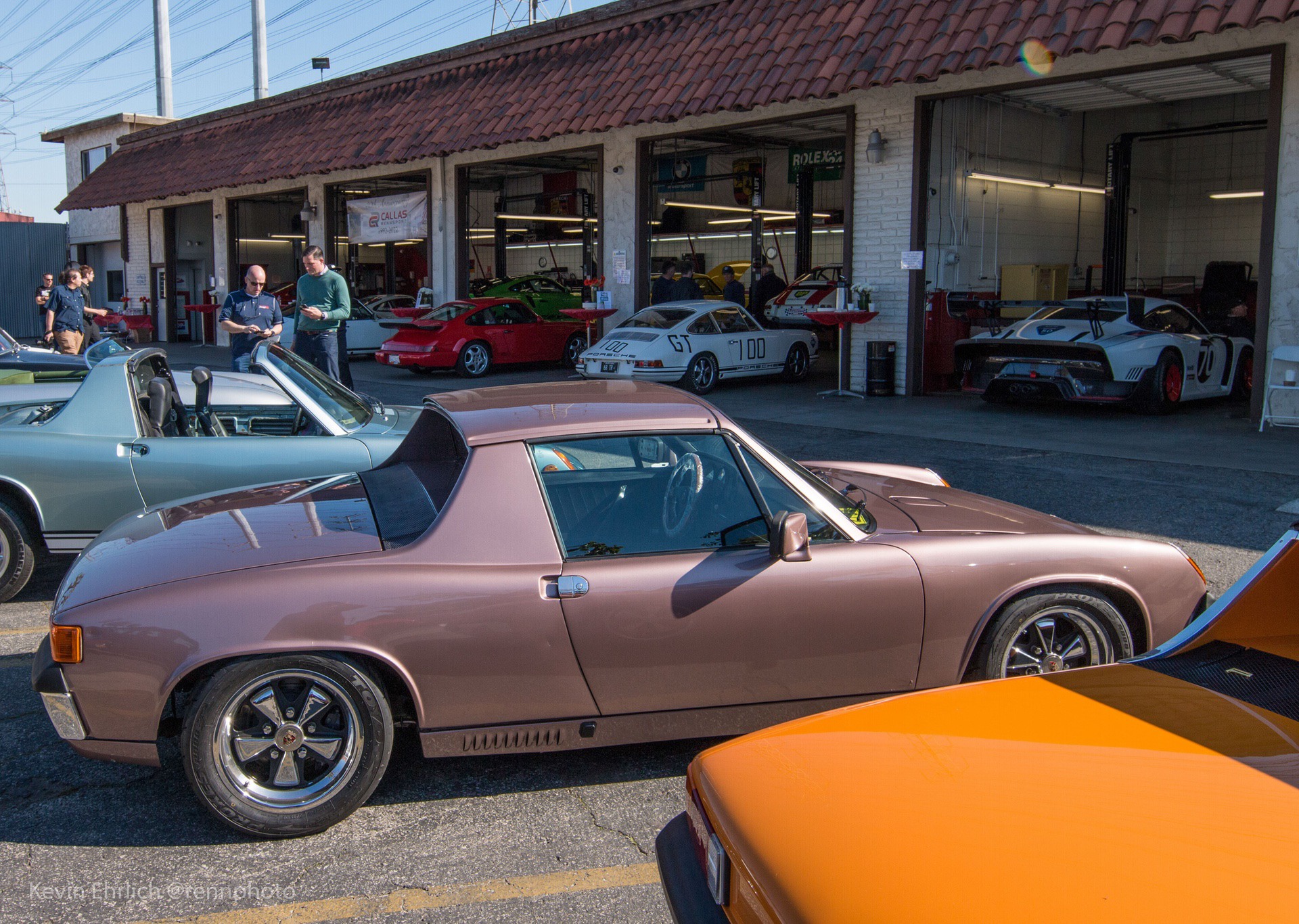 Another Torrance shop, Callas Rennsport, was our final stop for Friday. Tony Callas is well known in the Porsche world for motorsport and road cars, both vintage and modern.
Tony and his team hosted presentations from various subject matter experts on a wide variety of topics throughout the day, ranging from the state of the Porsche collector car market to rebuilding engines and engine lubrication. Tony himself capped the day with a presentation on the business of motorsport.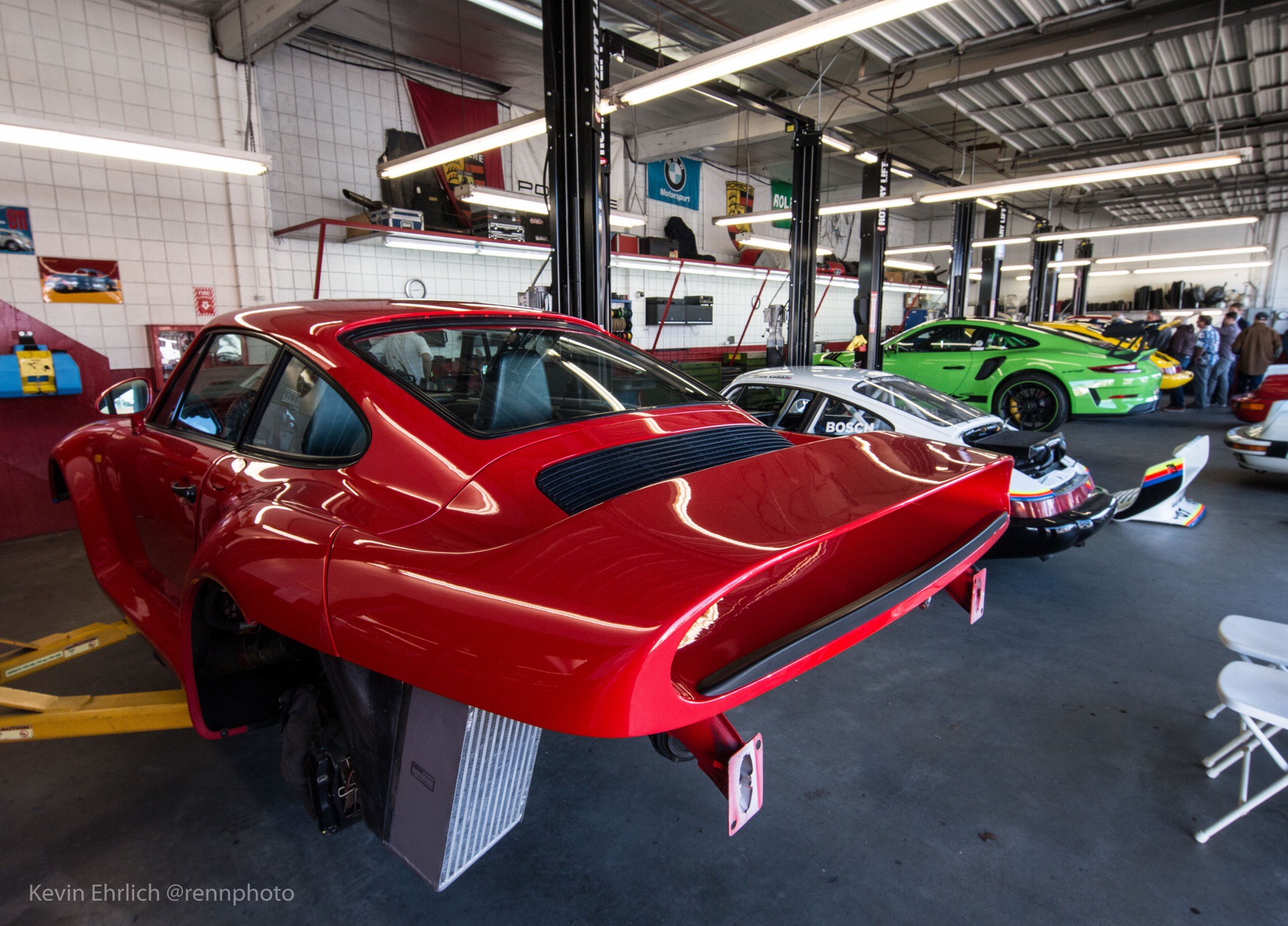 A wide variety of customer cars were also on display. A 959 Komfort with its engine removed and displayed on a stand nearby shared garage space with an ex-Kelly Moss 1994 Porsche Turbo race car driven successfully by Price Cobb.
Two 1967 Porsche 911R models were on hand—the fully restored chassis 001 that famously set records at Monza contrasted with chassis 019, stripped down to its bare body shell during its restoration journey. The 911R is a rare bird—the pair together comprised ten percent of the total 911R production run.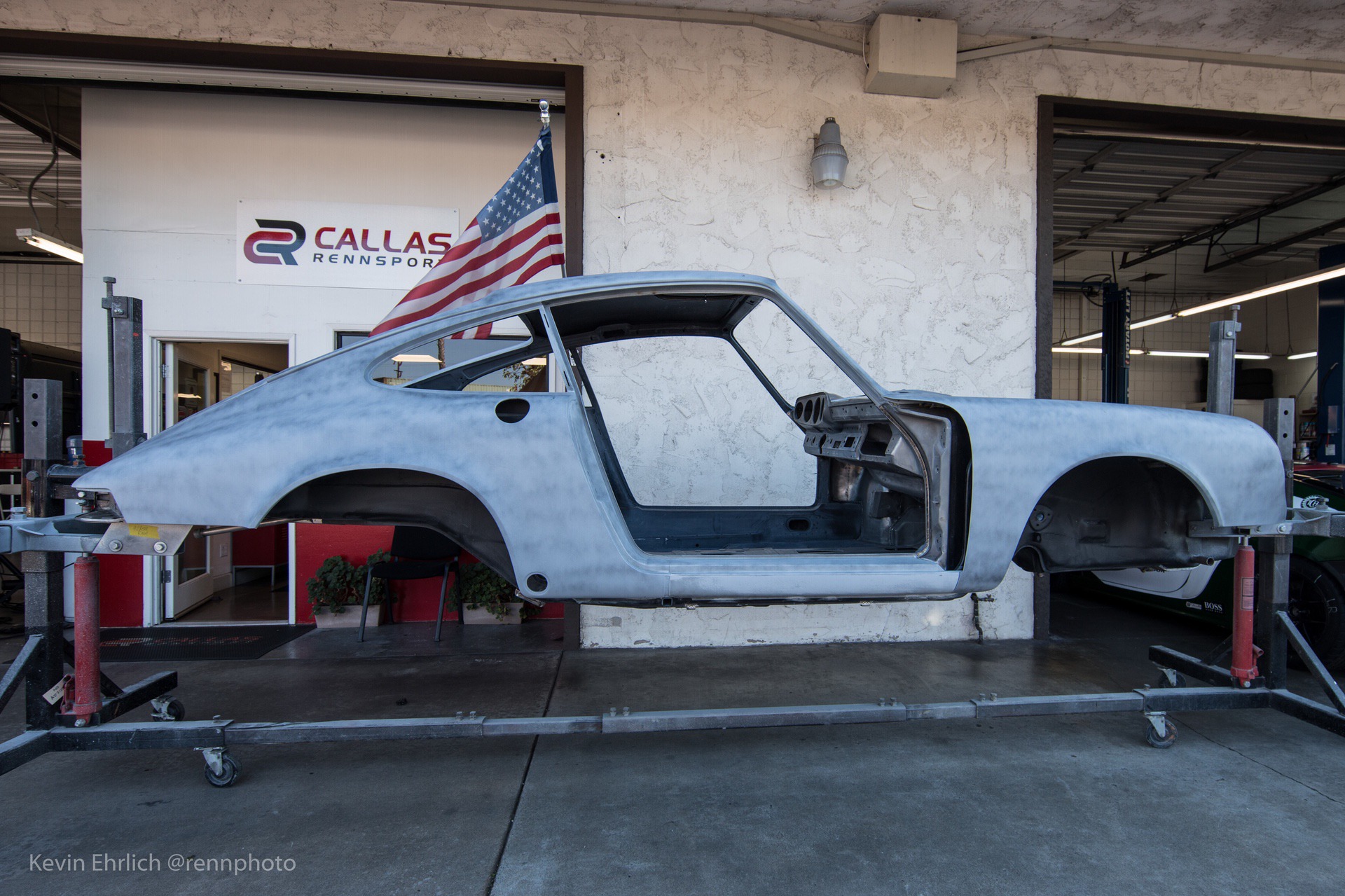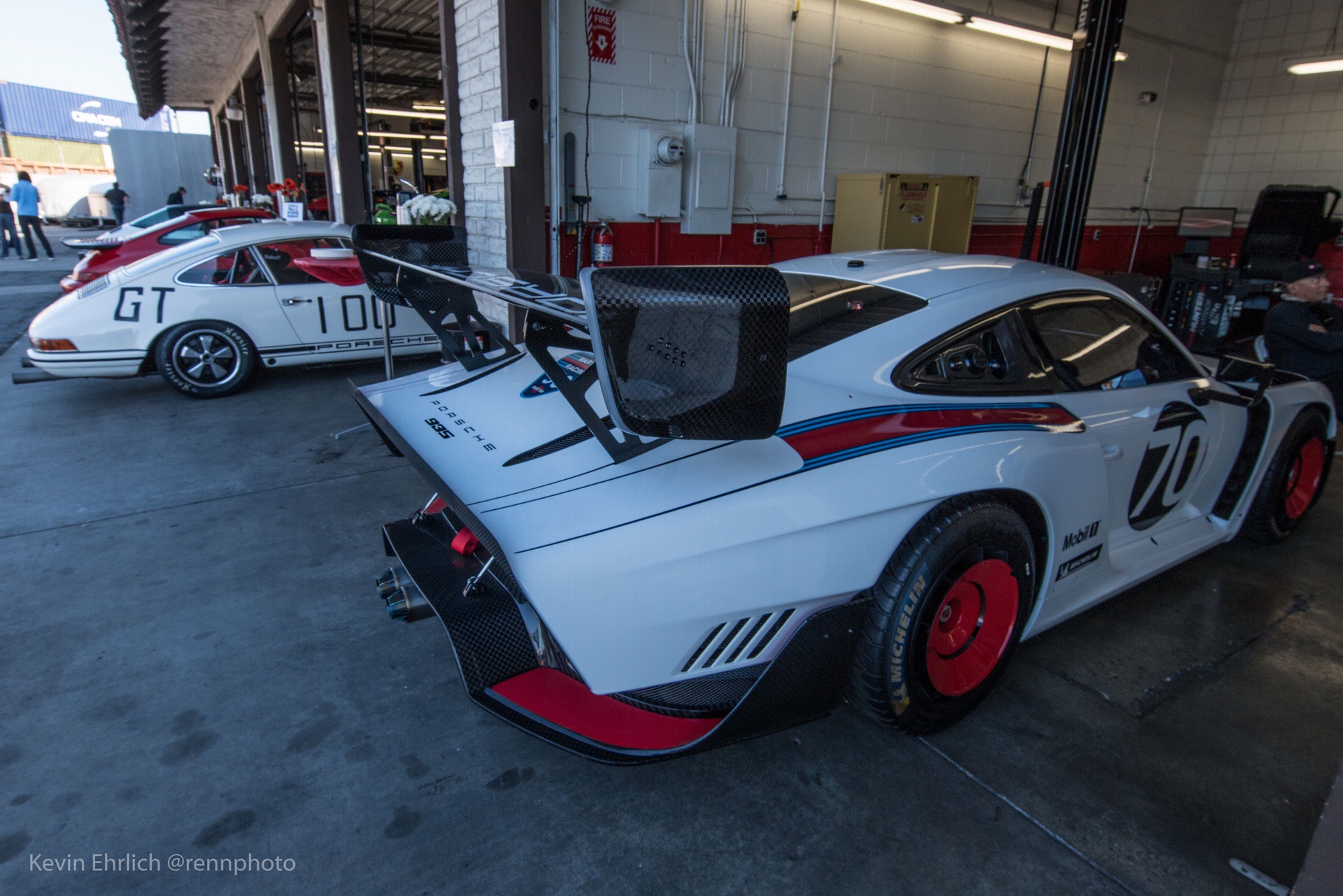 A 935/19 with Martini wrap livery was on hand, straddling the line between road and race. One of only 77 built, Porsche Motorsports built the 935/19 to celebrate Porsche's 70th anniversary with an homage to the 1978 935 Moby Dick racer.
The parking lot, filled with interesting customer and guest cars, was a perfect place to appreciate the spectrum of cars that wore the Porsche emblem across the years. It was also the perfect place to end our Friday tour.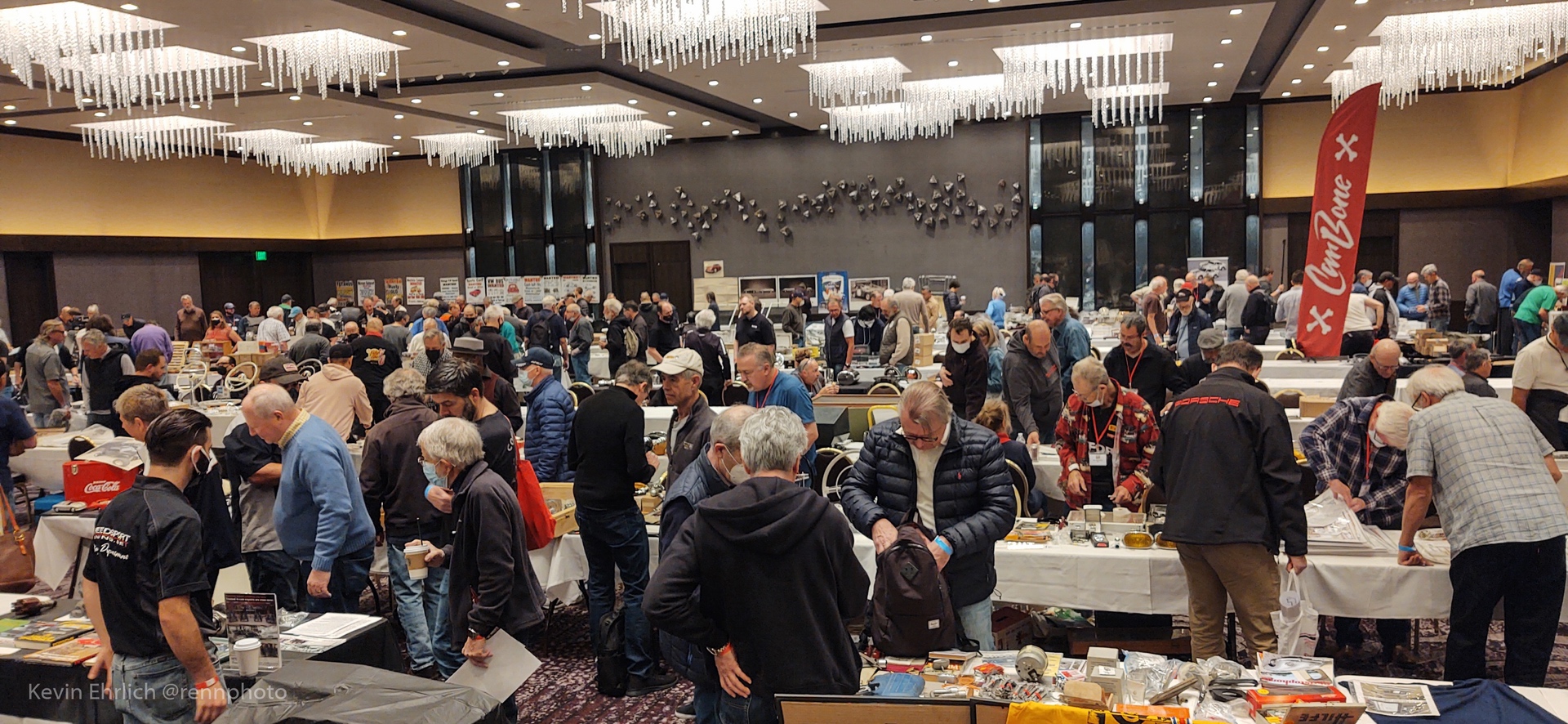 With an orange glow lighting up the early Saturday morning skies, all eyes turned to the Lit Show. Inside, tables covered with pieces, parts, posters and almost anything else you could imagine awaited.
Some looked for bargains to re-sell at a profit. For many others, however, these tattered magazines or battered die-cast race cars wouldn't make them financially rich but would serve to enrich a memory or open up a new area of interest.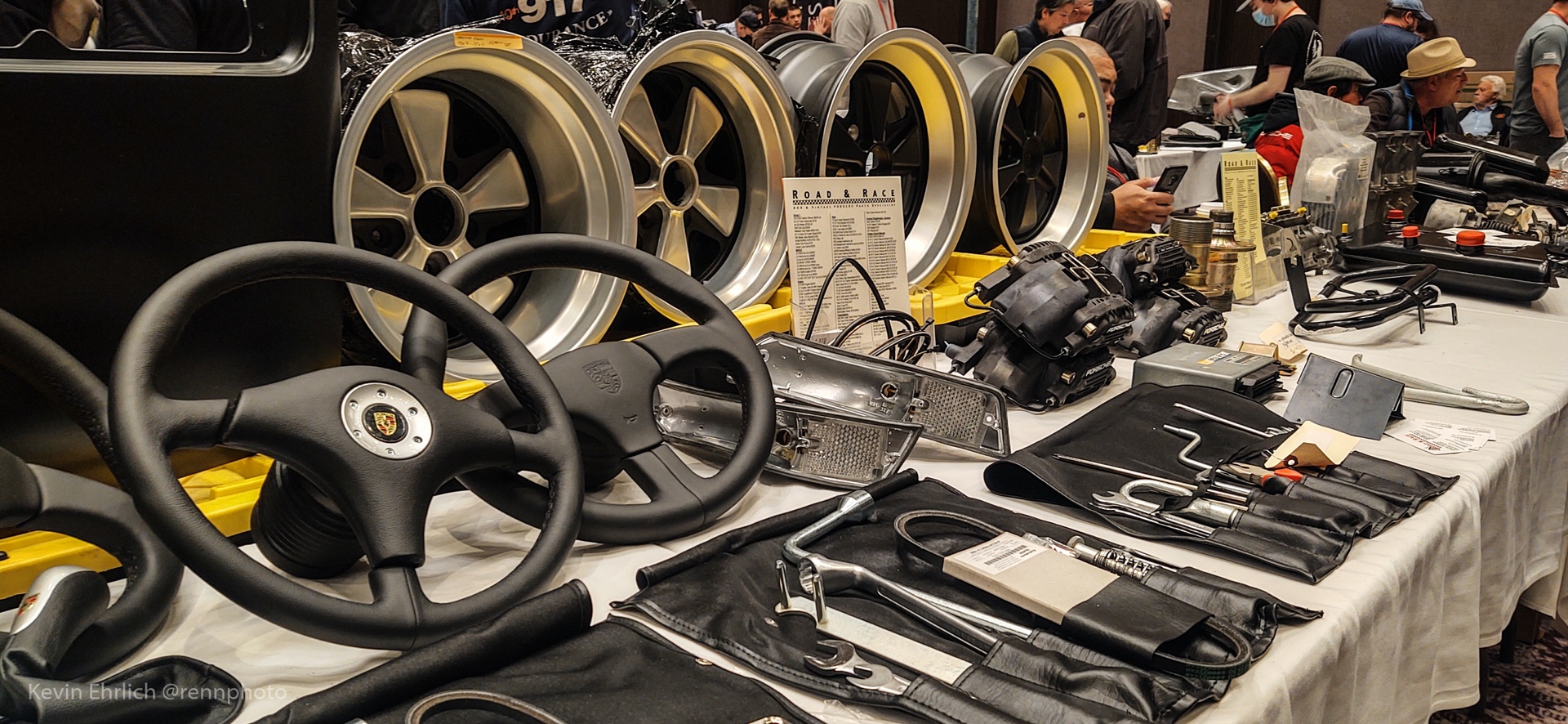 The allure of physically locating that "hard to find" piece of Porsche ephemera among the piles is the secret sauce. Shopping on-line can never replace the thrill of spotting a rare item, sifting through stacks, or chatting with others engaged in similar quests.
The chance to catch up with old friends and Porsche personalities made the event more of a reunion than a stale combination of business transactions—especially after the event was canceled last year.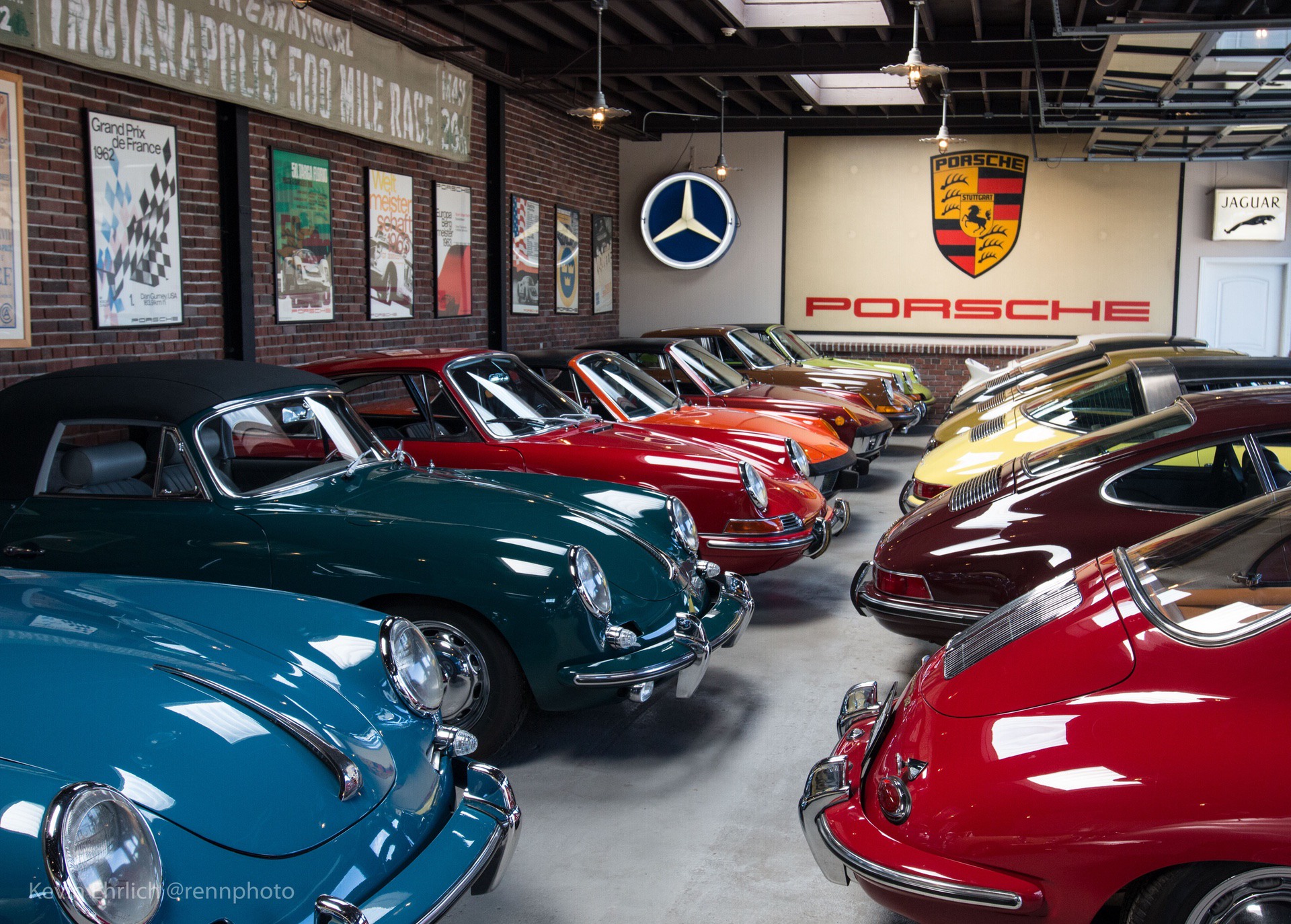 Treasures secured and friends greeted, the traditional sprint to Orange County for afternoon shop tours got underway. We visited a trio of stops located within blocks of each other in Costa Mesa. European Collectibles, CarParcUSA and California Porsches all specialize in early air-cooled Porsches.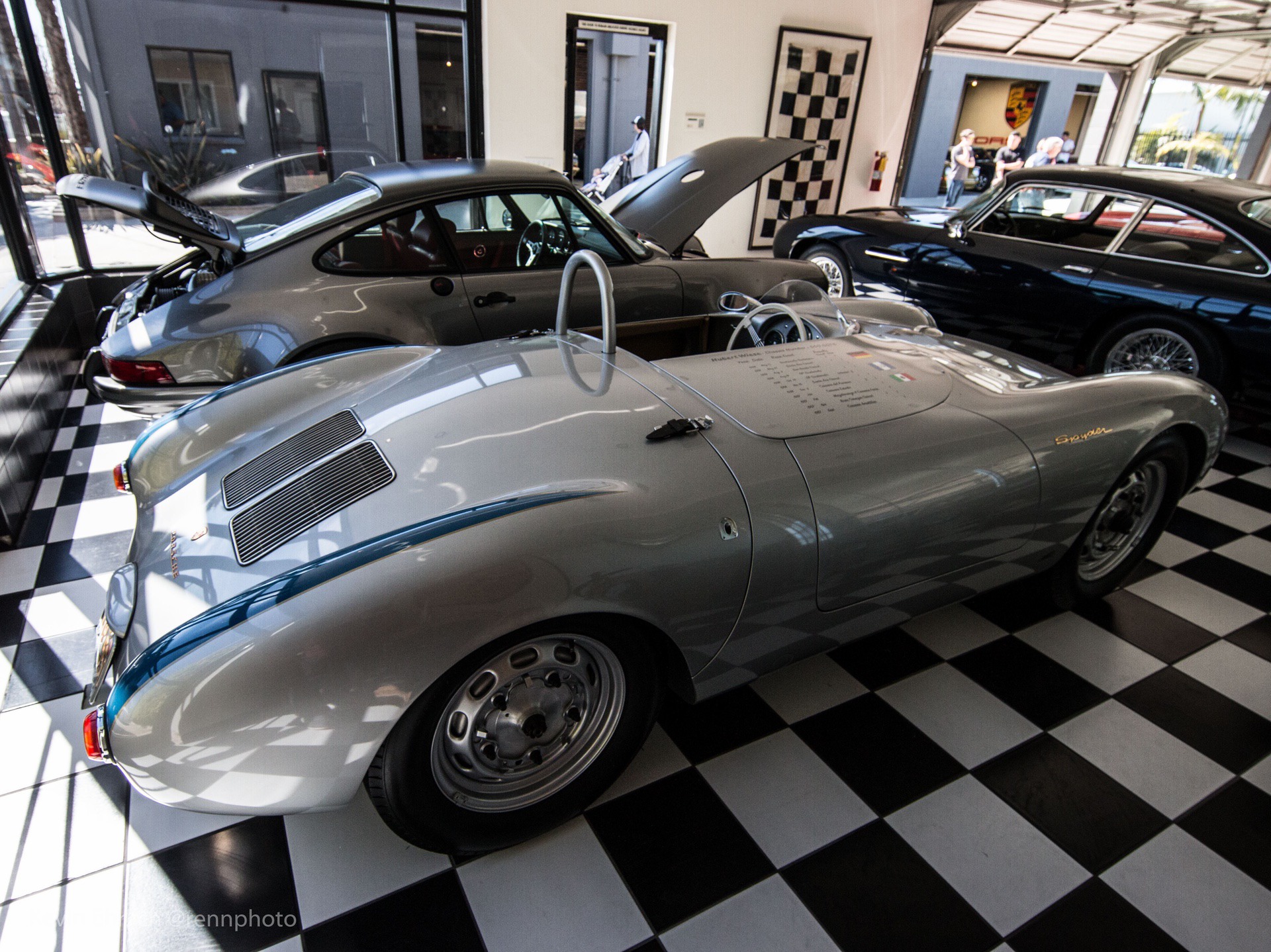 European Collectibles lined up dozens of cars, some for sale and others loaned from customers or in for service. Their indoor showroom sparkled. Guests eyeballed a timeline of 356, 911, 912 and 914 models. A special treat of a competition 550 with 1956 and 1957 racing history added spice.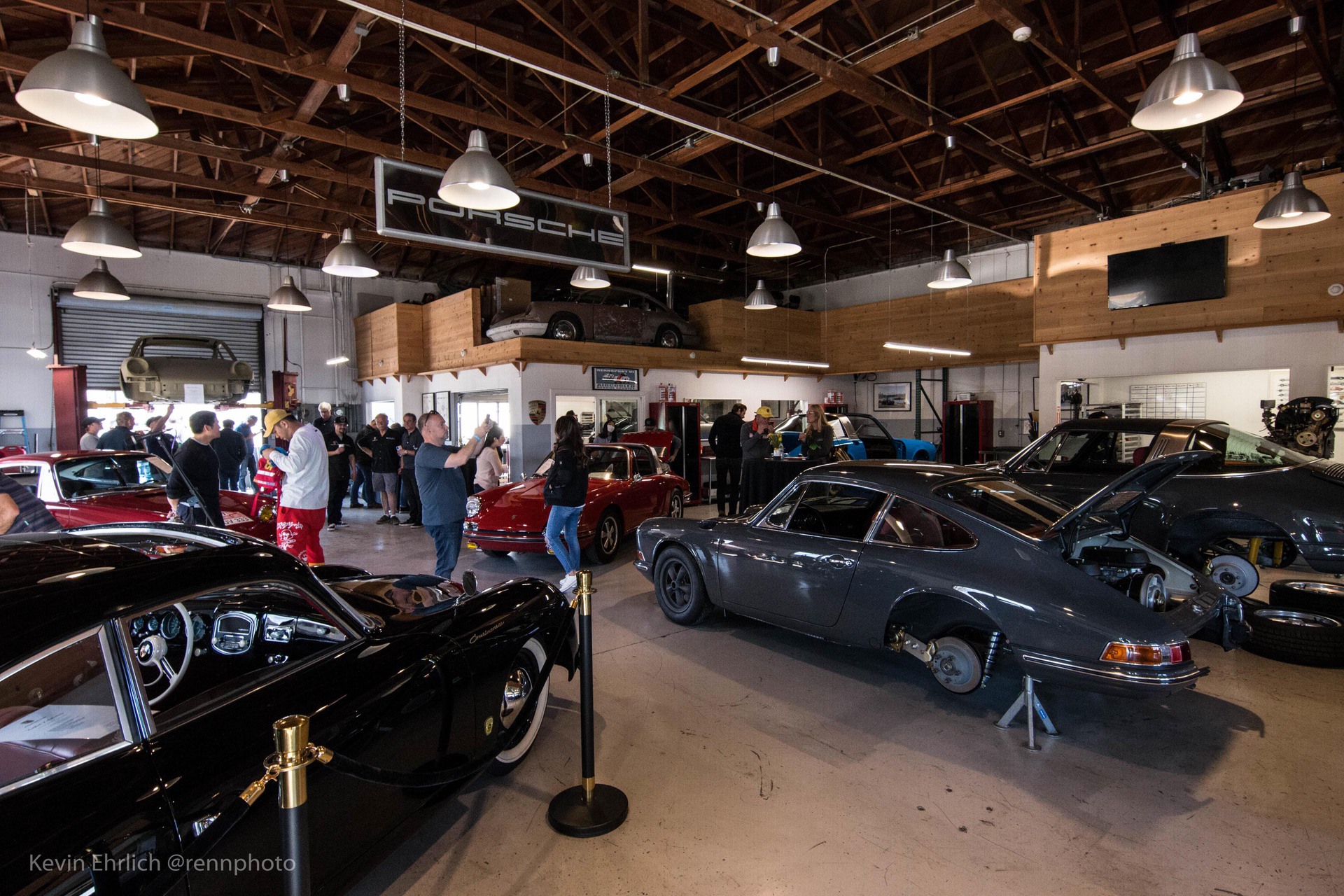 CarParcUSA highlighted a number of cars in various states of restoration. Some were complete, but others were stripped down to the metal. Demonstrating the restoration potential, a beautiful black customer-owned 1995 Pre-A Continental displayed the result of a long restoration project.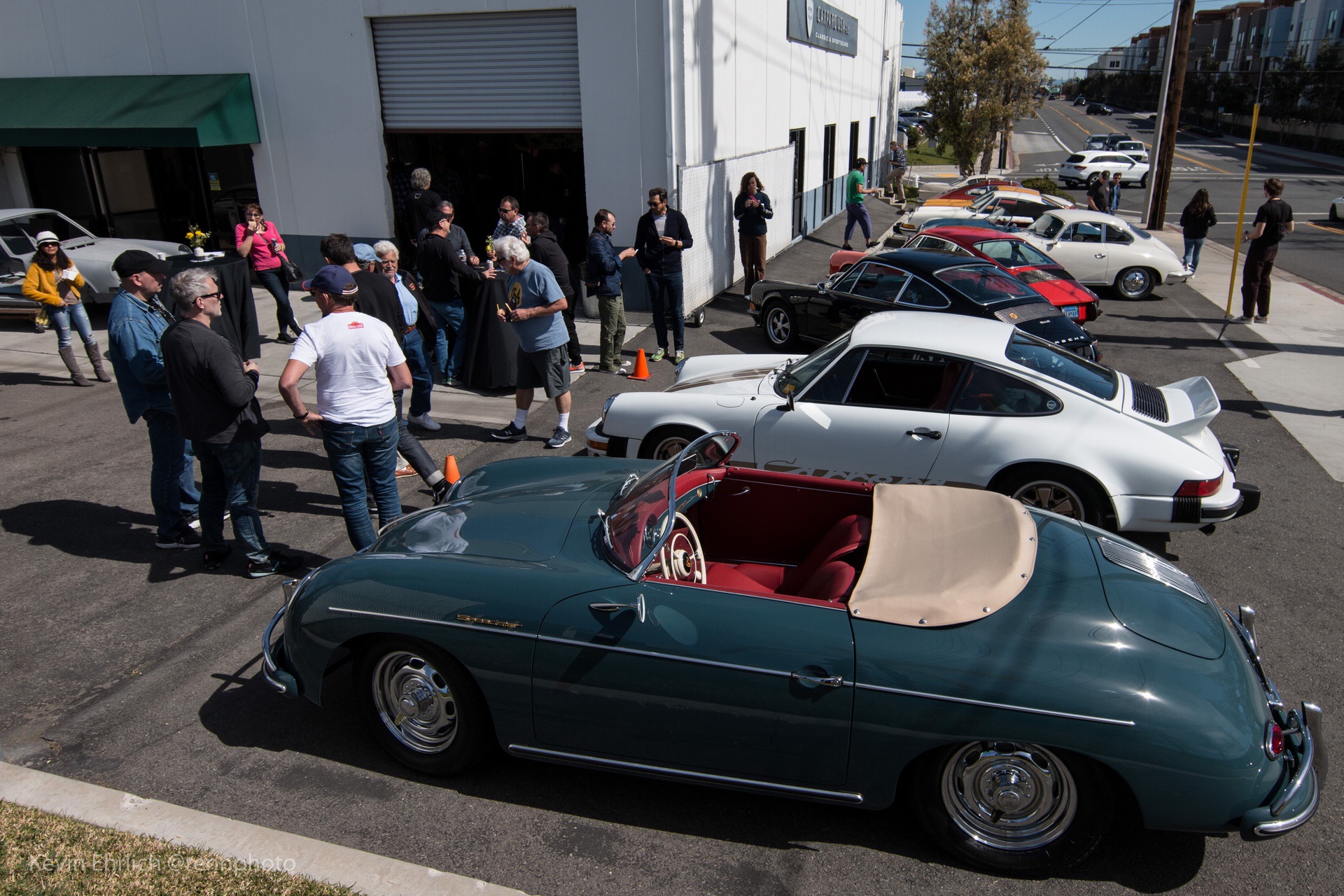 A blue 356B Cabriolet and a white 1954 356 Speedster looked for buyers willing to meet the six-figure asking prices and give them new homes. Visitor cars in the parking spots added their own flavor. The color combinations changed as owners arrived and departed, vividly illustrating the vast Porsche palette over the years.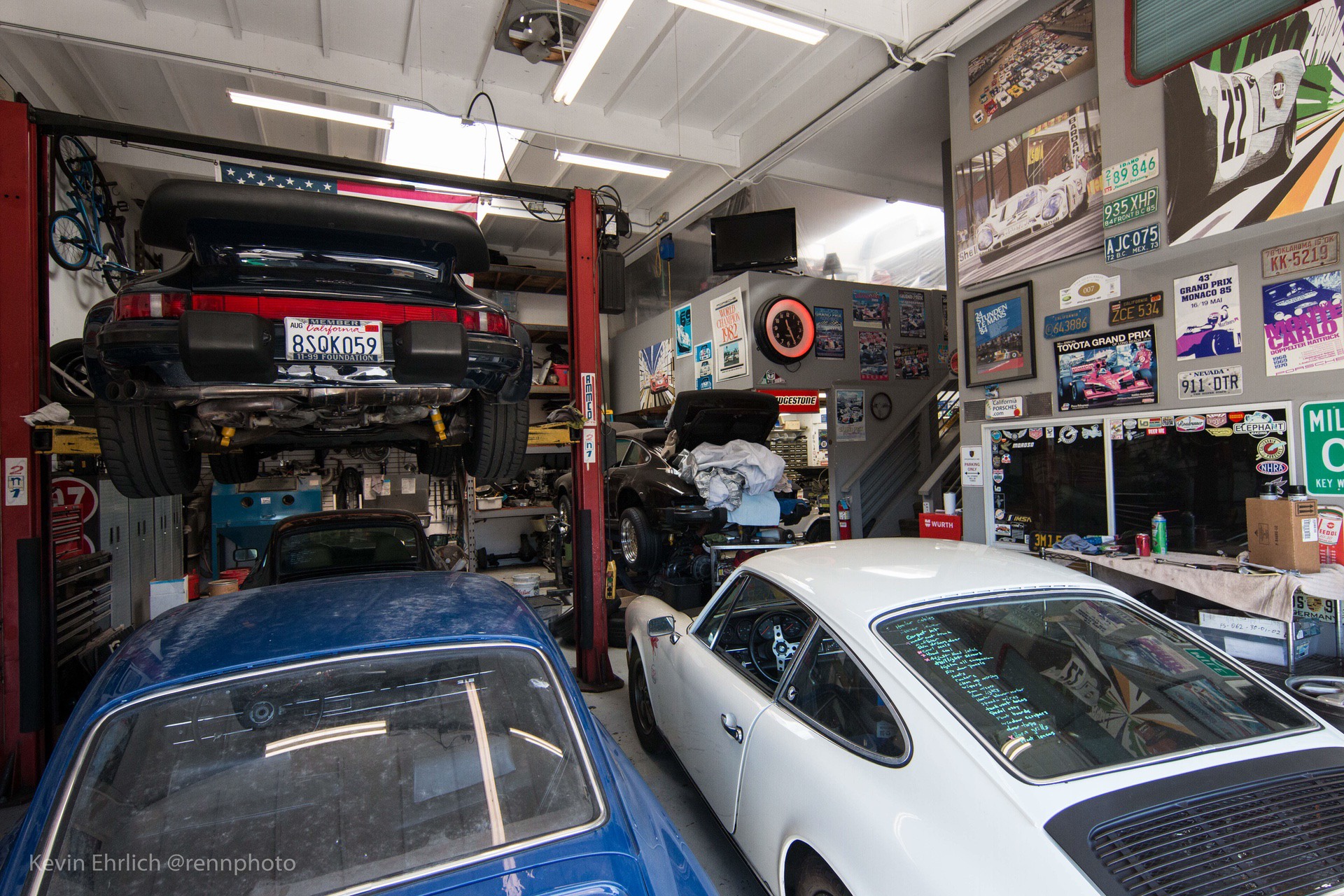 Our final stop of the day was a visit to the team at California Porsches. The shop is tucked inside an otherwise unremarkable row of garages. A project Safari 914 inside the fencing under a tarp was a clue of the work done inside.
Posters from many Porsche races and events covered the walls and were worth the visit alone. A half dozen cars in various stages of service were wedged into the tight confines. Every space was fully utilized for tools and parts.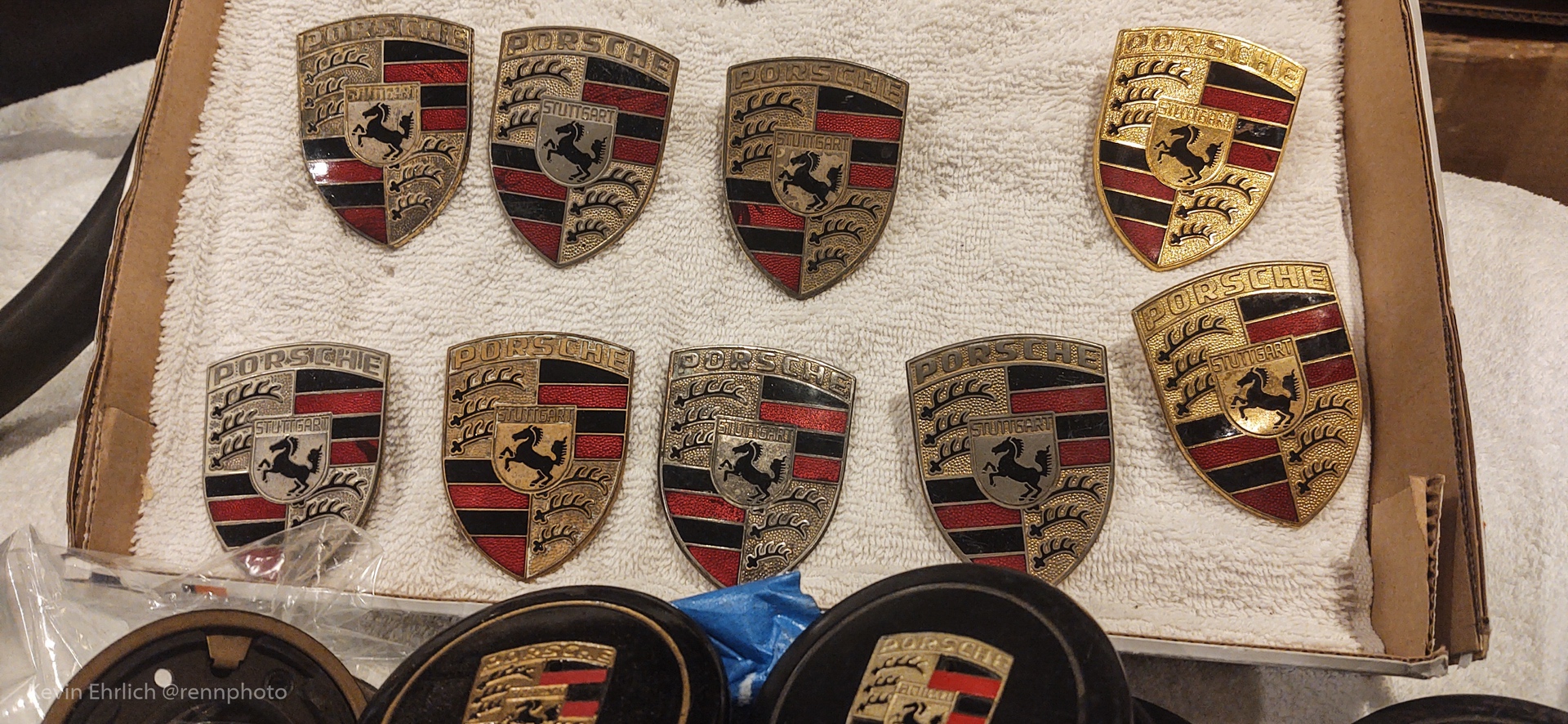 Our 2022 Lit Show tour ended on Saturday afternoon. Others extended their Porsche weekend into a Sunday swap meet hosted by the 356 Club. A hearty thank-you goes to all the shops and their teams and customers who worked to keep the annual Lit Show weekend tradition going strong.