Some men have crazy dreams and seek out a way to follow them. But how do you start an adventure or a quest; how do you gather compatriots around you?
You do that with a call to arms.
That's what happened at Speedsport Tuning when Todd Pajonas walked into the middle of the shop and yelled, "Which one of you Mother@#$&*ers wants to do something stupid?"
Bryan Shute's hand went up immediately.
Todd Pajonas & His Plan for His Porsche Cayman
Over dinner, Todd told me his plan. He wanted to drive his GTB1 Cayman on three tracks in one day: Lime Rock Park, Monticello Motor Club, and Watkins Glen. Like any self respecting Porsche guy, I said, "count me in."
The genesis for this odyssey germinated behind the wheel of his truck on multiple runs to the Finger Lakes. Towing his car up the route from his house to Watkins Glen took him right by the exit for Monticello. Todd thought he could pull in at the track, have lunch, take a few laps, and continue on to Watkins Glen—but hell, anyone could do that, so how could he make this adventure even more stupid?
3 tracks in 1 day; that's how. Adding that one extra step made it a challenge.
Todd did the math and looked at maps. It could be done. If you didn't hit too much traffic, you might just be able to pull it off. It would be no easy feat—towing over 360 miles between tracks; unloading the car to do a check of all systems, getting in to do some laps, getting out, and loading it back on the trailer. This would not be a walk in the park.
Next, he outlined his adventure to Spencer Cox of Speedsport. His response:
"It doesn't work out, you can't do it, you're being stupid."
Todd came back with, "Well, yeah, you gotta be lucky. I've worked it out; we should have an hour to spare."
"No, you're being stupid."
"OK, it's stupid—but it will be fun."
It's the nature of their relationship. But after a bit more lively discussion, name calling and remarks about each other's mothers, Cox warmed to the plan and wanted to be part of it.
The Big Day Arrives
On October 7th, somewhere shy of 6AM, Todd and I climbed into the tow vehicle and headed off onto the back roads of Redding, Connecticut.
First stop—pick up Bryan Shute, Director of Racing Operations and Lead Race Technician at Speedsport Tuning; a factory trained and certified Porsche technician and a guy who doesn't mind doing stupid things.
The first thing we heard as we pulled up in front of Bryan's house was his daughter yelling, "There's some asshole blocking the driveway." Such is the plight of the Porsche driver, even when it's in a trailer.
With the driveway clear, Bryan's daughter could go get coffee, and we were on our way to Lime Rock Park. All the tracks have something happening, so there was plenty of pre-production—allowing the Cayman to slot in seamlessly at each event.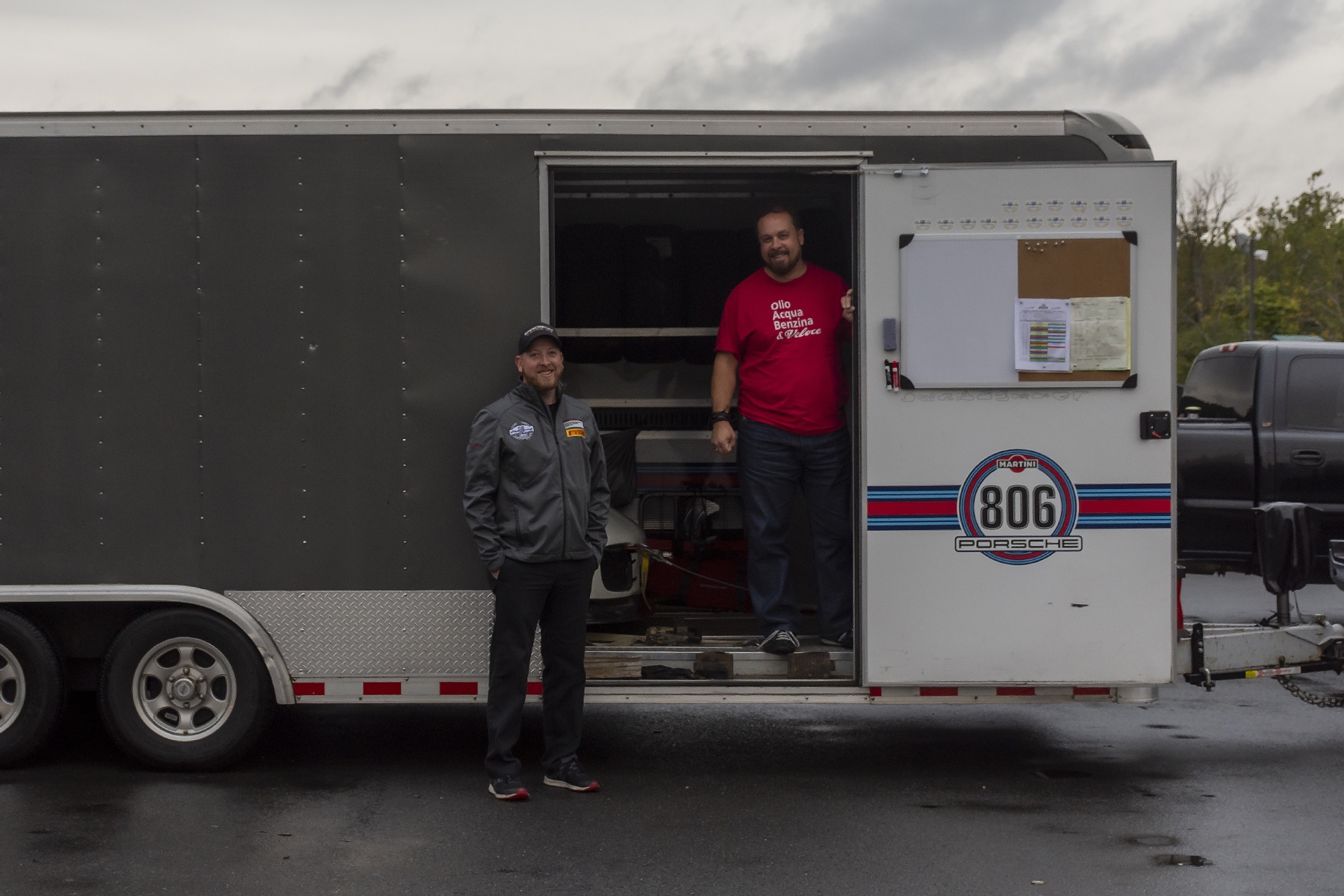 We arrived at LRP at 7:30 AM, pulled the Cayman out of the box, and Bryan got to work. He plugged in his laptop and went over all the settings, and the decision was made to put the car on rain tires. "Oh yeah," he said, "did I forget to mention it's kinda wet outside?"
The Sports Car Driving Association had the track for the day, but this was all worked out, and Todd could take the track with the first run group. The Cayman passed tech, no problem, and waited for 9AM.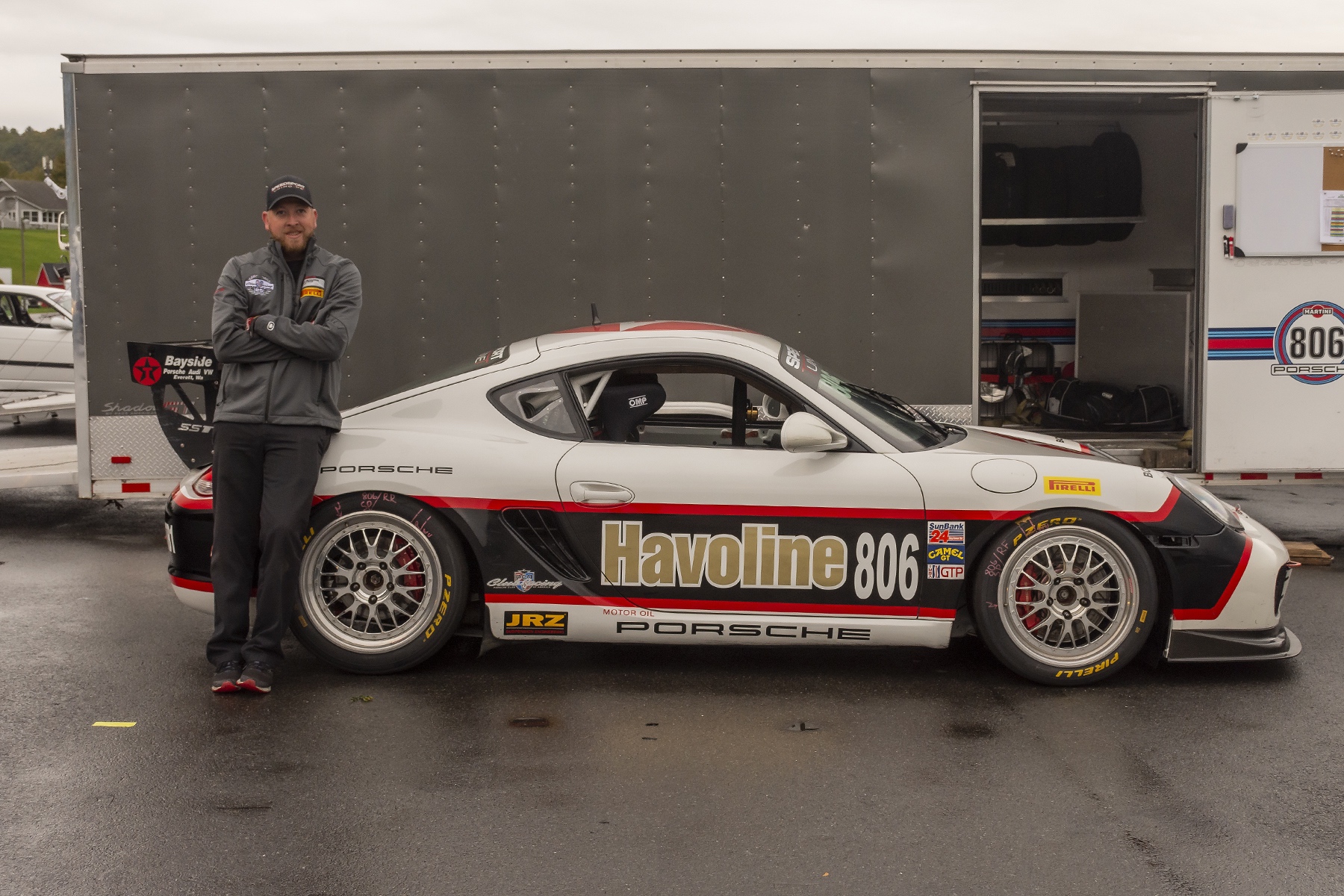 The SCDA is mostly owners of high-performance road cars getting some track time to do things that would normally get them arrested on the road. So members were quite intrigued by the race-prepped Porsche.
The appointed time rolled around and engines could be started.Then there were a few quick-but-cautious laps, and it was back to the pits and into the trailer by 9:17.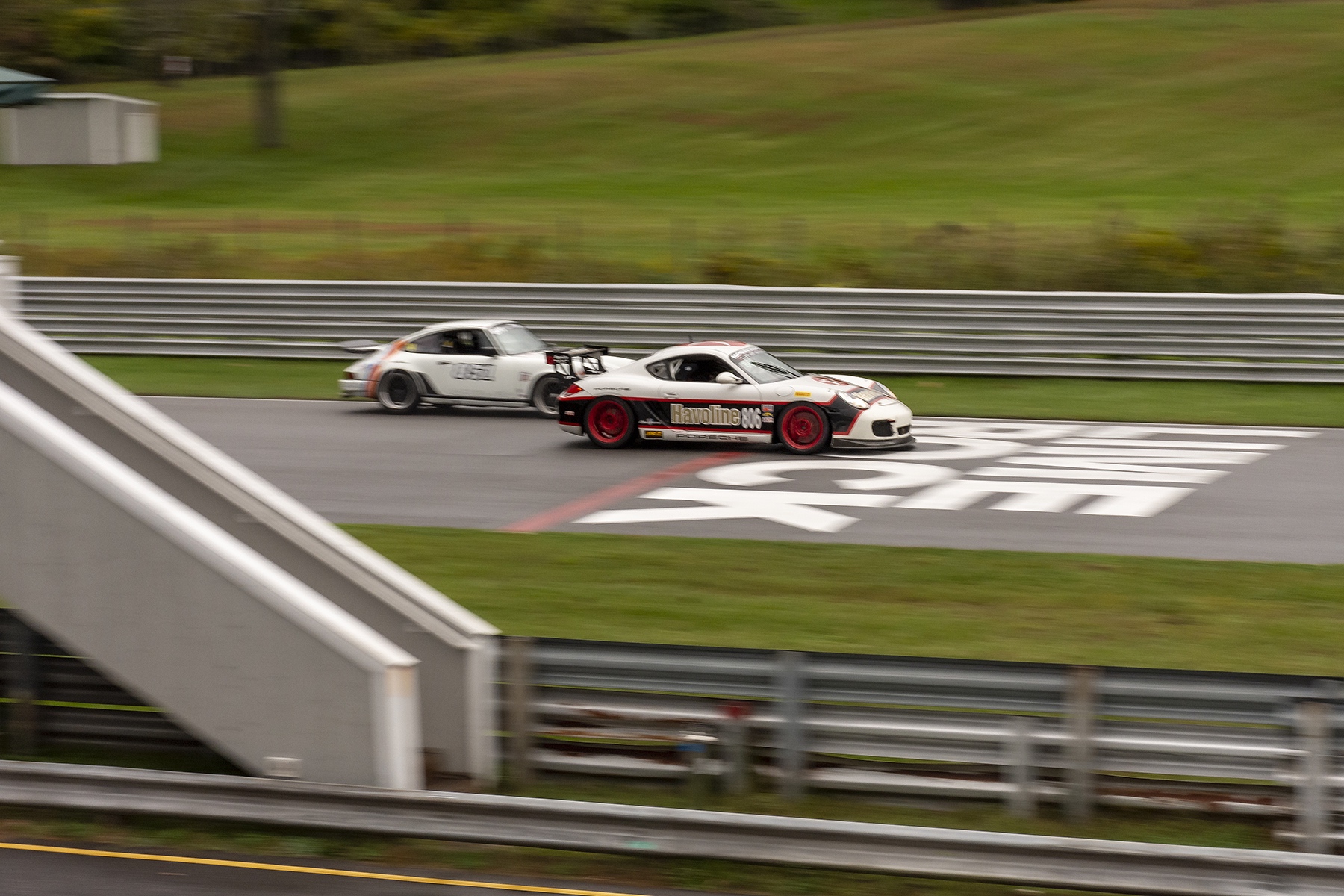 Other drivers came around with questions. "Did you have a problem? Did something break? Is it too wet out there?"
"No," answered Todd, "we have two more tracks to run on today."
The universal response was, "Cool." That's car people for you.
Taking the Porsche Cayman to Monticello
Back on the road, we set our sights on Monticello Motor Club and the rain came down again. But we just kept on trucking. Road games started—we kept track of how many times Todd called fellow motorists an insensitive name if they impeded our progress. The number grew as the miles flew by. As we pulled into our second track of the day, the rain let up.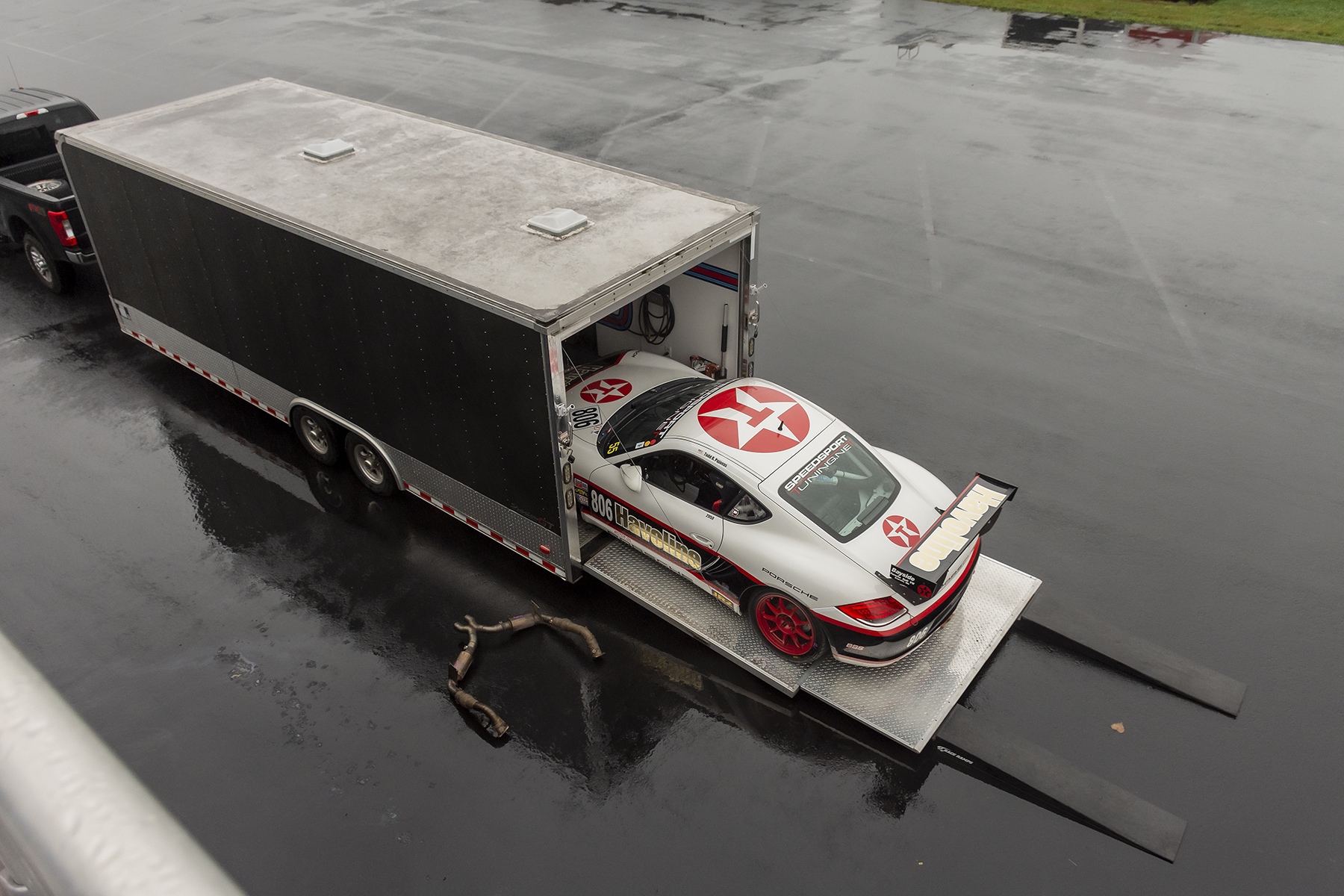 Again, the adventure had all been planned out with amazing detail months in advance, but Monticello had been rented for a private event for three days. They agreed to let us run a few laps at lunch time, then didn't, then did, then didn't, then finally did—we hoped.
We still weren't sure when we arrived at the track what would happen. We got the OK to enter the track and continue our quest, just as long as we didn't go anywhere but our allotted paddock. We made our way to the north parking area and were met by Monticello's Executive Vice President, Nat Mundy, driving a BMW 750iM.
At high noon, Nat got the all clear over the walkie talkie that the track was ours for 15 minutes. Nat offered the back seat of the Beemer, and we chased the Cayman for a lap; then we peeled off and gave Todd a solo run for a couple more laps.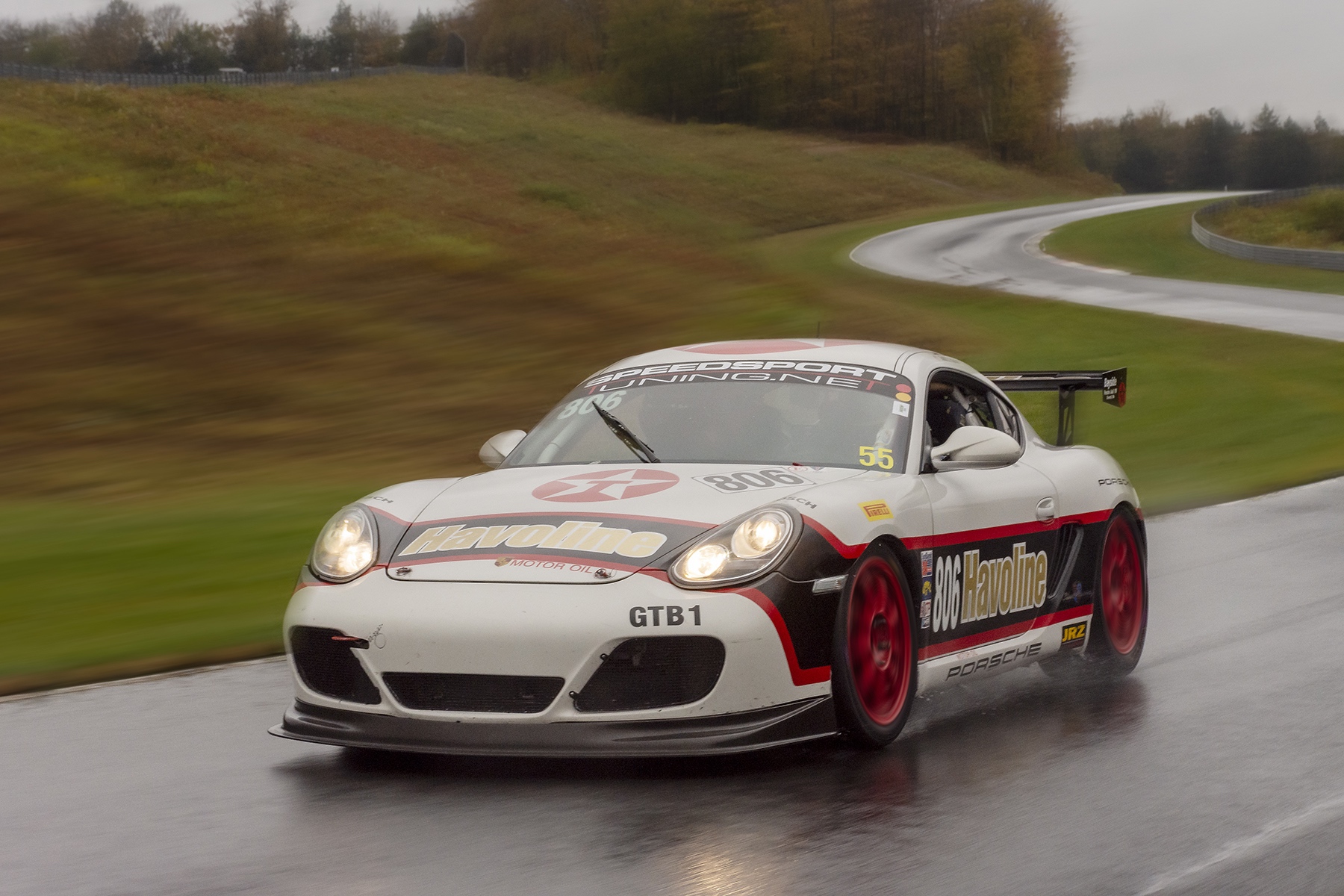 We repeated the process: pull in, climb out, attach the winch to the tow hook, and pull the pretty race car into its home on wheels. Our brief visit to Monticello went off like clockwork without a glitch. Then it was back on the road again for the longest tow of the day: north to the Glen.
The Porsche Cayman at Watkins Glen
After many miles and hours cooped up in a truck, three guys have certain subjects that need to be talked about. Don't worry; on the whole, we were very respectful of the opposite gender—but there was another subject that started a fierce discussion, and if we weren't on such a tight schedule, I think it would have come down to fisticuffs by the side of the road.
Donuts.
It started with Todd asking Bryan, "How can you not like Krispy Kreme?" Todd is a connoisseur and knows the location of many of the shops in a five state radius, especially the ones that can handle a truck and trailer. Bryan stated his preference for Dunkin Donuts' glazed chocolate stick, and I threw my two cents in with memories of the Chock-Full-O-Nuts whole wheat powdered sugar donut (my traveling companions had not had the pleasure).
We delved deeper, taking on Munchkins. But the discussion truly got heated when the subject of Entemann's was broached. Bryan and I felt the variety pack was best, with four different types in one box; Todd, as a lawyer, felt it was an actionable offense. The box had to be all chocolate. But I digress.
The miles melted away, and we were soon within striking distance of Watkins Glen. Luckily, we made good time and arrived at the Glen with time to spare. Enough time to take off the exhaust system with the muffler (The Lime Rock event was muffled and there was no time to make the change at Monticello).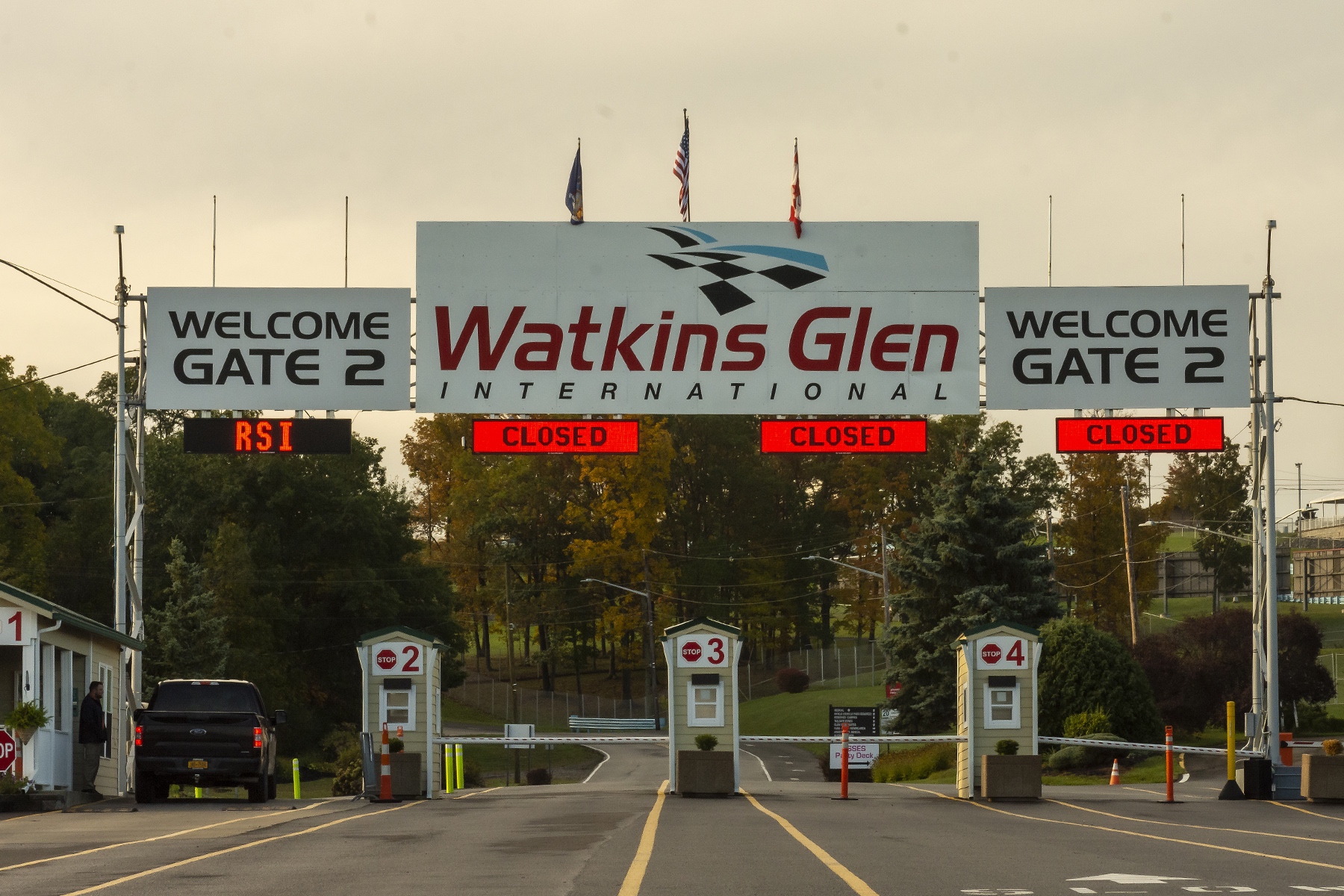 Todd had hated the way the car sounded; it didn't sound like a race car. Now, with its full-throated growl restored, the Cayman (and Todd) made its way to pit out and get onto the third track of the day.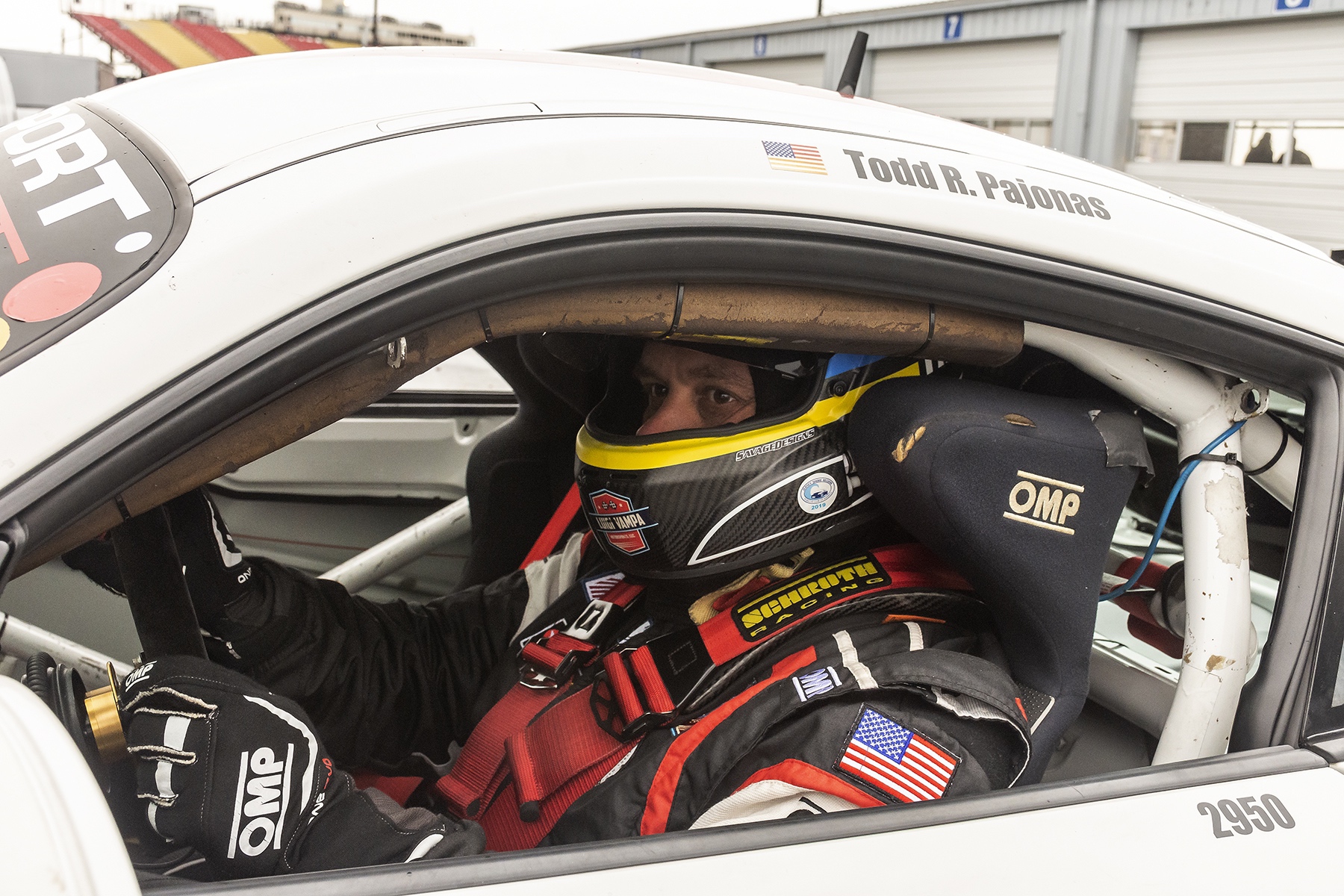 Back when this harebrained scheme started and Spencer Cox finally decided he wanted to be a part of the road trip, all was well—but what we didn't know was that he had been diagnosed with cancer, and by the time the date rolled around, Spencer was very weak. But Spencer was out to make the most of his time, and he made the trip to the Glen to see Todd on track to fulfill his stupid idea.
It was only one track, but Spencer was still a big part of the event just by his presence. And, totally out of character, Cox admitted he was wrong and Todd was right—he could actually do it. We lost Spencer a short time later, so this added extra-special meaning to the quest.
Champagne was later spilled, and more Porsche people agreed it was a cool idea that we pulled off the stunt. More toasts were made at the CVR dinner that night, and for the hell of it, Todd got on stickered slicks the next day and made a run at his Glen lap record. He broke it, so that just added the cherry on top of the stupid cake.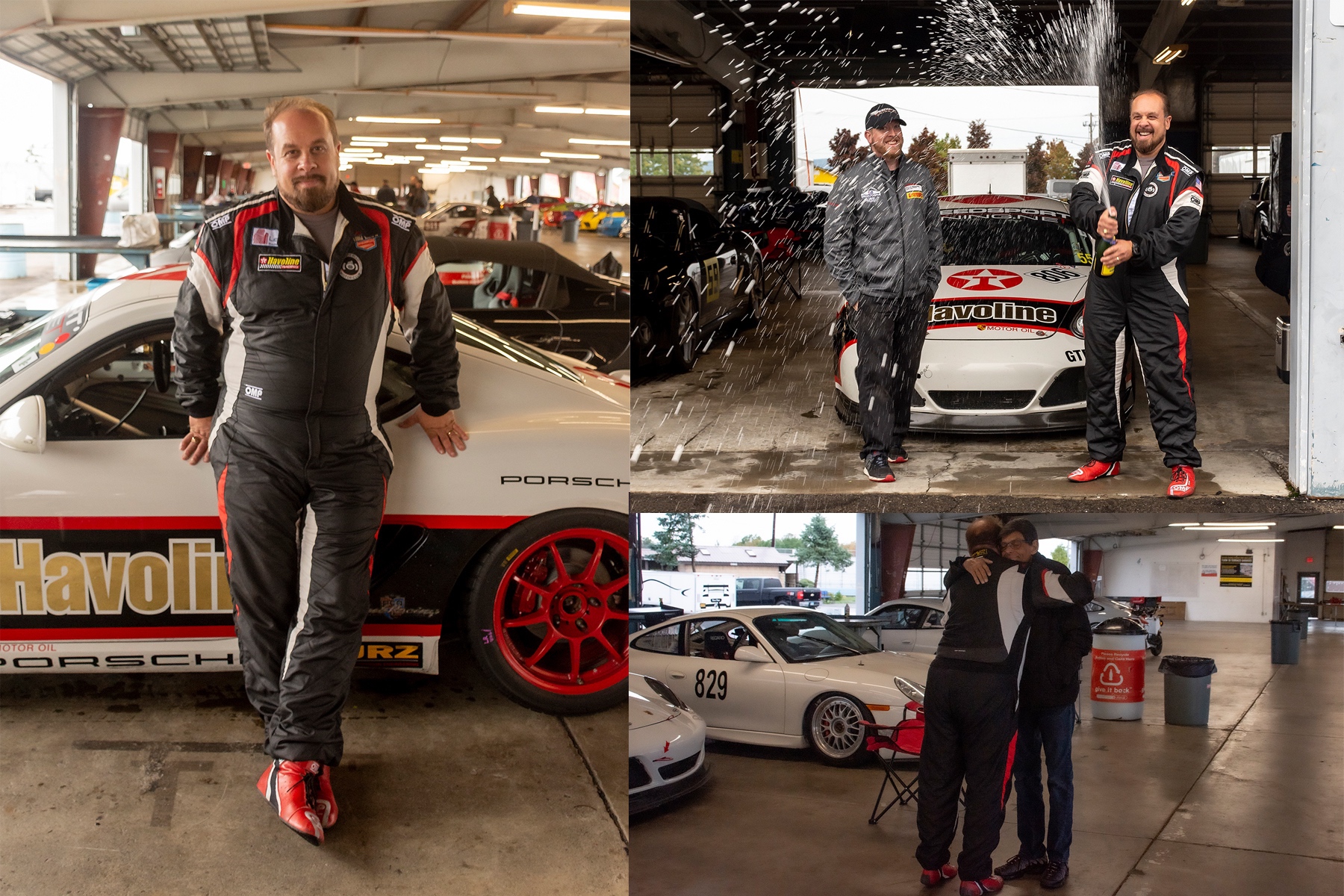 On the drive back, I asked Todd,"How do you feel now that your quest is complete?"
His reply was to paraphrase Plutarch (or Hans Gruber in Die Hard, if that's where you know the words from):
"And when Alexander saw the breadth of his domain, he wept, for there were no more worlds to conquer."
Or in a more current phraseology: been there; done that; got the T-shirt.
Another driver mentioned the next adventure should have a rally stage, a street stage, and then a drag stage. But whatever the next challenge is, it has to be more stupid or absurd. Todd has to top 3-in-1.
Also now that it has happened, Todd Pajonas wants to redefine the journey as being absurd and not stupid—not that it wasn't stupid; he just feels 'absurd' is a nicer word. But that probably wouldn't have made the same impact in his original call to arms.
In its genesis, it was stupid—now that it was complete, it was just absurd.
In the aftermath of this adventure, Pajonas didn't have a lot of thoughts—other than that it was a lot of fun, and wondering how he could top it.
Maybe it will be to take a boat to a plane to a race track. There will be a next level, and it will be more stupid and more fun—but Todd hasn't figured it out yet.
When he does, I will let you know.
Photo Gallery