Porsche 928 S4 Bonneville Record Breaker
Introduction
When it comes to land speed records speed is measured to the fifth decimal place (hundred thousandths). So when Carl Fausett's Porsche 928 hit 216.63537 MPH, that was more than enough to capture the title of World's Fastest Porsche 928 (previously set at 206 MPH).
The Details
On August 7, 1986 American racing driver Al Holbert set a speed record at Bonneville in a pre-production 928 S4. This 928 would turn 171.110 mph in the flying mile and 171.926 mph for the flying kilometer. In March 1986, the same car reportedly did 180+ mph at Nardo, but the Bonneville run netted United States Auto Club official record "at the time" for International Category A, Group 2, Class 9, for normally aspirated vehicles. That made 1987's 928 S4 the fastest non-turbocharged production car in the world.
On September 15, 2011 at the Bonneville Salt Flats, racing driver and owner of 928 Motorsports, LLC. Carl Fausett set the current world record as the fastest Porsche 928 in recorded history.[16][17] The record setting run was clocked by the Utah Salt Flats Racing Association at 216.63537 mph.[18] The car was a 900 BHP supercharged 6.54 liter 32 valve 928 specially built for the land speed record attempt.[19] dubbed by 928 Motorsports as the "Rekordwagen", which raced in the class Blown Gas Modified Sports B/BGMS.[18]
The Specs
6.5 Liter 32v V-8 built by 928 Motorsports
Composite high-flow intake runners
Custom intake system with 12.6 Liter twin plenums
Electromotive TecGT Engine Management system
Distributorless ignition
Pistons: Arias Custom forged w/graphite impregnated sleeves
Engine static and dynamically balanced to within 0.1 gram
Heads extensively ported and flow-benched
Stainless Steel valves, race springs, titanium keepers
Custom gear-driven supercharger with 928MS Patented Impeller
Transaxle: 5-speed Borg-Warner Euro w/LSD, 2.20 FDR
Torque Tube: Custom lightweight aluminum by 928MS
Clutch: 928 Motorsports GT1 Twin Disc Clutch, Aluminum flywheel
Wheels: 5.0 x 15, custom steel wheels
Tires: Goodyear 28x15x4.5 on rear, 23.5x15x5.0 on front
Springs: 928 Motorsports complete Hypercoil kit (1200 lb front, 1000 lb rear)
Sway bars: Custom sway bars and Adjustable Drop Links by 928 Motorsports
Exhaust: Jet-Hot coated headers and custom lightweight SS dual exhaust
Body: 928 Motorsports complete composite front clip
Furo Racecraft 8-point Chrome Moly Roll Cage
Two Halon Fire Suppression System systems
Weight: 4675 lbs as raced
CHP: 900 Torque: 825 lb ft.
Top Speed: Approx 240 MPH
Underbelly: Custom complete belly pan by 928MS
Rear Diffuser: Custom complete rear diffuser by 928MS
Height: 30mm at front of chin splitter, 70mm at back of rear diffuser
Fausett's next goal is to work on traction and down force in order to take advantage of all that horsepower. If he can find away to get that power to the ground he'll most likely have a great shot at breaking another record, the blown gas modified record set at 231 mph. Blown gas modified class is for any modified car that runs only gas. This Porsche 928 qualifies.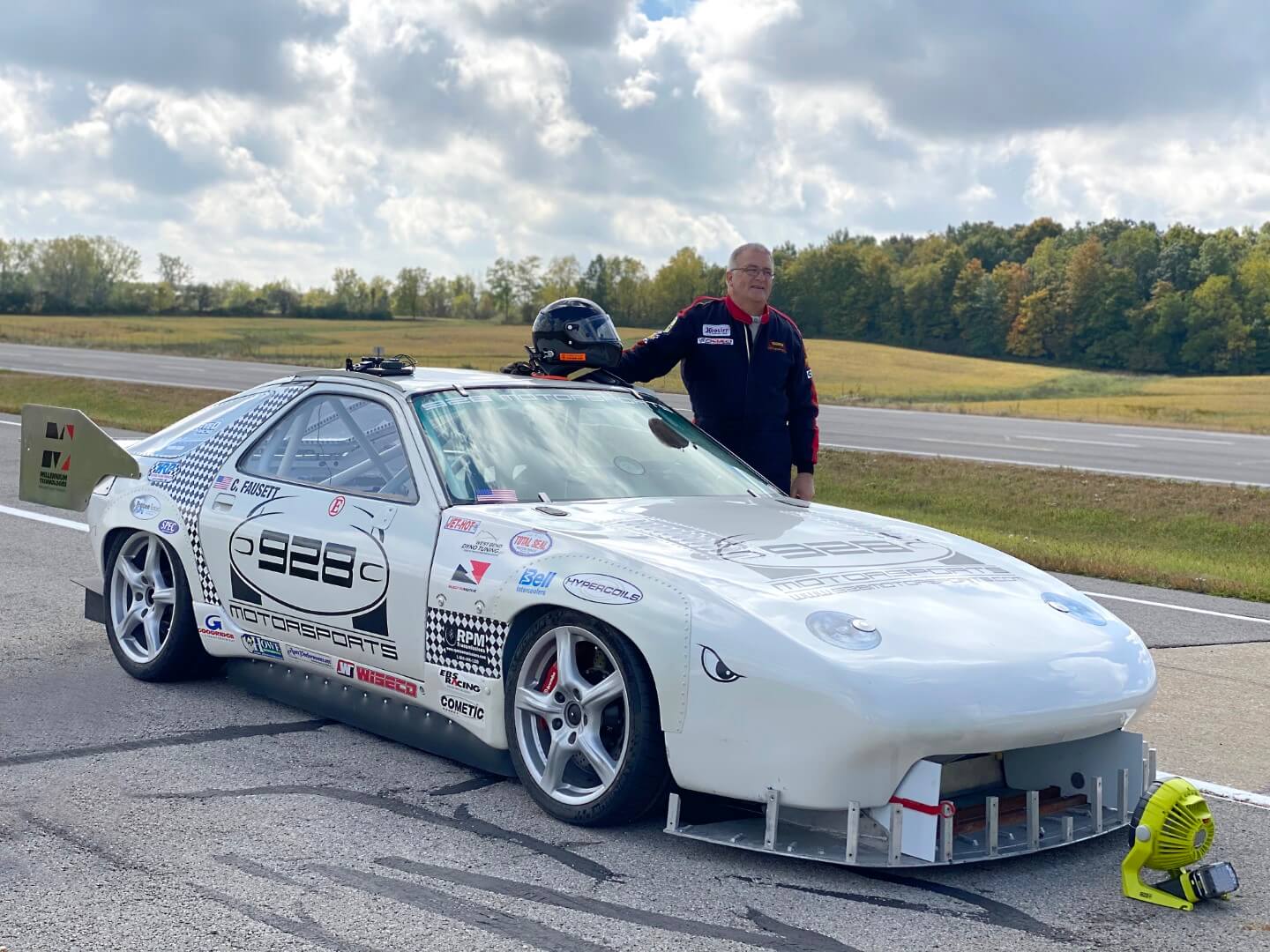 The New Record Run – October 5th 2020
On October 5th, 2020, a 1978 Porsche 928 built and driven by Carl Fausett achieved 234.434 MPH at the Transportation Research Facility (TRC) in East Liberty Ohio. This is a top speed record for the 928. Fausett broke his own previous record that was set at 216.63537 MPH at the Bonneville Salt Flats. The car, nick-named "The Meg" after the Megalodon, had 1114 HP at the crank and a 6-speed gearbox with two overdrives. The record-setting test was performed on a 7.5 mile oval at the TRC facility, on a section of straight that was approximately 2 miles long. The timing equipment was set up and operated by the TRC staff, and consisted of two independent systems; a light-beam triggered speed trap wired to a Tag/Heuer chronograph at trackside, and a V-Box data collection system mounted within the vehicle itself. Both timing systems reported results identical up to the hundredth of a MPH. While not the fastest Porsche in the world, this did place Fausett's "Meg" in rare air as one of the fastest Porsche's on the planet.